Black Ridge Canyons Wilderness encompasses a large area of semi-arid landscape in the Colorado Plateau Region. It's located on the Western Slope by Fruita, with a small section extending into Utah.
Located on the northwest flank of the Uncompahgre Plateau, the sprawling Black Ridge Canyons Wilderness contains over 75,000 acres of land, approximately 5,000 of which is in Utah. It's comprised of seven major canyon systems that form red rock cliffs. These canyon systems dissect the high Black Ridge and converge into the Colorado River.
It was designated as a Wilderness Area in 2000 and is now being governed by the U.S. Bureau of Land Management.
Activities at Black Ridge Canyons
While the Black Ridge Canyons Wilderness offers visitors a wide variety of activities to choose from, its claim to fame is the opportunity for challenging but peaceful and rewarding camping or hiking experience. It's a great spot for hikers or campers who are looking for quiet and solitude.
The Black Ridge Canyons Wilderness is also home to the second-highest concentration of natural arches in the United States located in the Rattlesnake Canyon. Another location of note in the wilderness is the Arch Tower, which can be found in Mee Canyon.
For visitors who prefer water activities, kayaking, rafting, and canoeing are all permitted on the Colorado River. Although the river itself is not part of the wilderness, visitors can use it as an access point to various parts of the wilderness including both the Rattlesnake and Mee Canyons.
Read about the camping near Palisade, Grand Junction, and Fruita.
Getting There
The Black Ridge Canyons Wilderness has two other main access points in addition to floating up the Colorado River. From Grand Junction, visitors may head to Fruita where the urban-wilderness interface is located nearby. This access point leads to trailheads heading to Devil's Canyon and other locations perfect for undisturbed camping.
The other access point is through Glade Park, which leads to Knowles Canyon and provides wonderful views of the wilderness scenery.
Details
Nearby Towns: Fruita, CO
Phone: 970-244-3000
Season: Year-round
Established: 2000
Management: BLM
Website: blm.gov/…
Latest in Black Ridge Canyons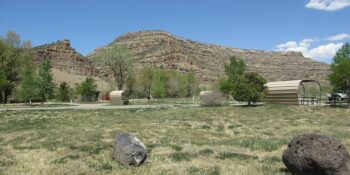 Located on Colorado's far western slope, Mesa County is home to the largest city west of…