Drive up Loveland Pass during the winter and you're bound to see skiers looking for a lift back to the top. Skiers ride both sides of the Loveland Pass, though the front-side (side nearest I-70) is far more popular.
Backcountry skiing is suited for experts only and carries great risk. Always ski with a friend, be extra-prepared, and have all necessary avalanche gear: shovel, probe, beacon.
Riders will need to access the summit of the paved Loveland Pass/U.S. Route 6. Most will park a car at the bottom and hitchhike up, as that puts you back down at your car at the end of the day, in case you can't catch a ride back up.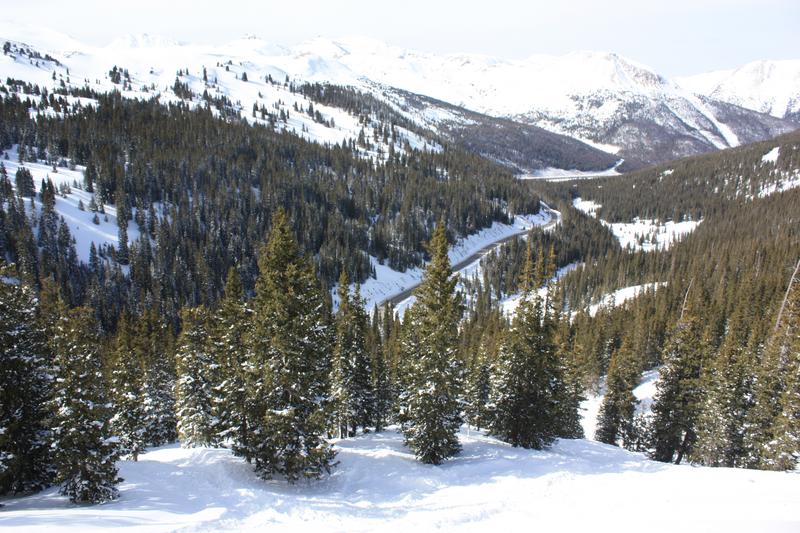 Terrain (I-70 Side)
Most of the terrain on the front-side (the Loveland Ski Area-side) all funnels out back to the highway at the same point. From the top you can head straight down and into the trees. This area tends to be less risky for avalanche since it's almost all in a forest.
The other option is to traverse along the top and go bowl skiing. You can traverse as far you want but the avalanche risk is greater above tree line in these open bowls. Whether you ski a bowl or head straight for the trees, you eventually find yourself in the trees.
Ski down through the trees until you hit a catwalk-type path and follow it "right" to the road. Always try and follow other skiers tracks to help find your way.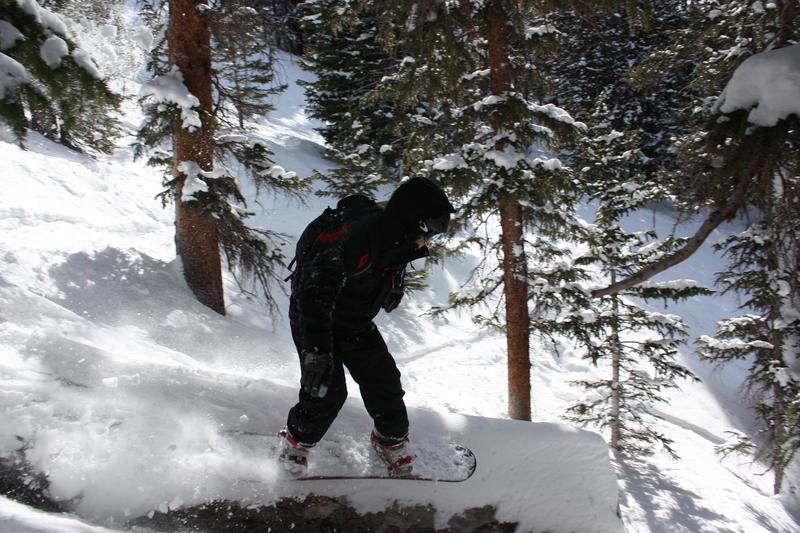 There is an area known as "Idiot's Cornice" because of the avalanche risk. Don't end up there. As with all back-country, proper education and gear is recommended. Always ski with a friend.
Village
The closest towns are Georgetown to the east or Keystone and Silverthorne to the west. All the towns are within a 15 minute drive.
Most skiers park their car at the bottom of the pass around the corner from Loveland Ski Area. Then you can "hitch" a ride to the top and your car will be waiting for you at the bottom. Other options include having someone in your party take turns driving people to the top.
Hiking and snowshoeing are popular on trails from the summit of Loveland Pass. It can get windy at the top though.
Arapahoe Basin and Loveland Ski Area are located on opposite sides of the pass. Both mountains encompass the Continental Divide, and have less than $100 a day lift tickets. Read our post on a Loveland Pass smoke shack.
Details
Address: Loveland Pass/Highway 6, between Georgtown and Keystone, CO
Season: November-May, weather permitting
Elevation: 11,990 ft – summit
Latest in Loveland Pass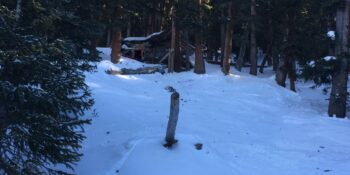 Loveland Pass is probably the most skied backcountry terrain in all of the Rockies. On any…