White Mountain Tours has been guiding guests through thrilling, unique adventures since 1990 on their 2,500-acre piece of private heaven. Located seven miles north of Leadville and fifteen miles south of Copper Mountain, the wonderland is situated on the slopes of Mt. Arkansas, a peak that just narrowly misses "Fourteener" status at 13,795 feet.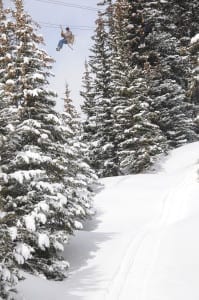 Colorado's
highest snowmobile tour
company provides a fleet of 120+ top-of-the-line Polaris machines and a veritable smorgasboard of a la carte and combo platter options among their adventures. Beginners and families will feel well cared for by the experienced guides on the groomed trails that lead to alpine meadows. Experienced riders can seek thrills in high performance tours through powder-filled backcountry paths.
In 2012, the Top of the Rockies Zip Line was added to the White Mountain menu. The course has six separate zip line sections connected by easy walking trails and takeoff decks comfortably located at ground level.
Two-Hour Adventures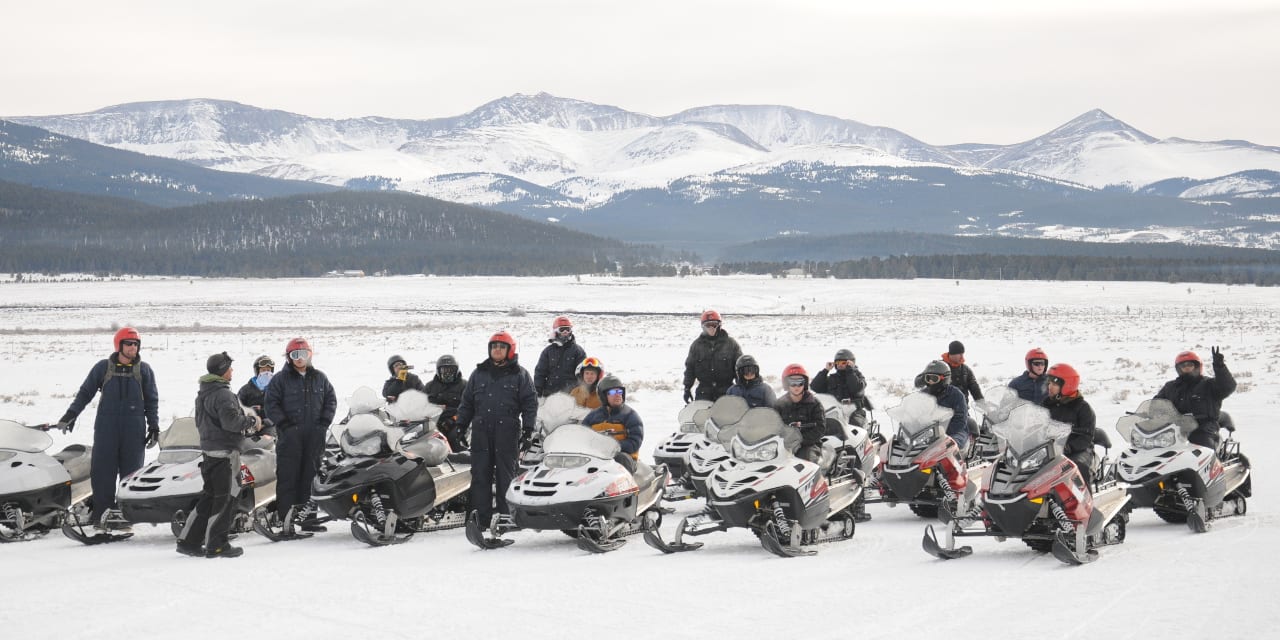 The Prospector Snowmobile Tour is a family-friendly outing that offers groomed trails and spectacular 14,000 feet Continental Divide views. Perfect for kids, beginners, or couples wishing to share a snowmobile. Children can take their turn at the wheel during this tour and there is plenty of time for confidence-building practice on flat terrain. You can find a ton of recent, gorgeous photos and many reviews that bear witness to the personalized care the guides take with the more meek and inexperienced on White Mountain's Facebook page.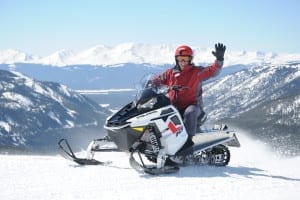 For the slightly bolder, the
Two-Hour Performance Snowmobile Tour
on Polaris 550s promises a thrilling, fast moving ride through forest and meadow at altitudes from 10,000 to 12,600 feet. Single riders only on this one; no seat sharing.
Single, experienced riders up for a challenge will want to seek out the Two-Hour High Adventure Snowmobile Tour on Polaris 550 RMKs. This exhilarating ride blasts through high valleys and powder-filled bowls above tree line, delivering 360-degree views from 10,000 to 12,600 feet.
Hop into the Snow Coach and gather up courage for the Two-Hour Zip Line Tour as you climb 1,000 straight-up feet to the first push off deck. (Four-wheel drive vans, a 6-1/2 ton Monster Truck, or Polaris Rangers may be used to convey you, depending on snow conditions.)
The course has six separate zip lining sections, each offering its own unique twist. "All zips have double lines for safety, we hook to both the top and bottom cable with two separate carabineers for ultimate safety. Our automatic braking systems eliminates the need to 'self brake'. This is particularly important for families with children."
The side-by-side flying through the air offered in four of the course sections is a once-in-a-lifetime experience to share with friends and family! The Big Nugget delivers three zips, side-by-side-by-side, landing on a 100-foot tall tower with spectacular views of Mount Massive, Mount Elbert, and Mount Arkansas.
Extremely Adventurous Tours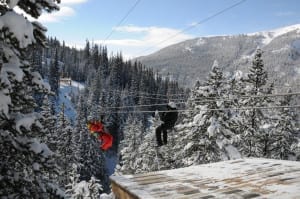 Guests can custom design their own perfect day, choosing the tour length and level of challenge desired. Those with prior riding experience can take the Two or Three-Hour High Adventure snowmobile sport ride through more remote areas, reaching altitudes up to 12,600 feet. Combine that with the zip line and add a box lunch in the yurt to replenish strength.
The "I Want it All" Tour
If more (not less) is more for you, go for the
five-hour blow out combo!
Choose any one of the three snowmobile tours, add a box lunch served in the cozy high mountain yurt, and spend the rest of the afternoon experiencing the entire Zip Line menu. Trained and certified guides will loan you gloves and a helmet, provide a practice run on a short line, and then lead you on to greater heights from the first takeoff deck at 11,200 feet.
White Mountain provides complimentary transportation from most local hotels and condos in Summit County, including Breckenridge, Keystone, and Copper Mountain.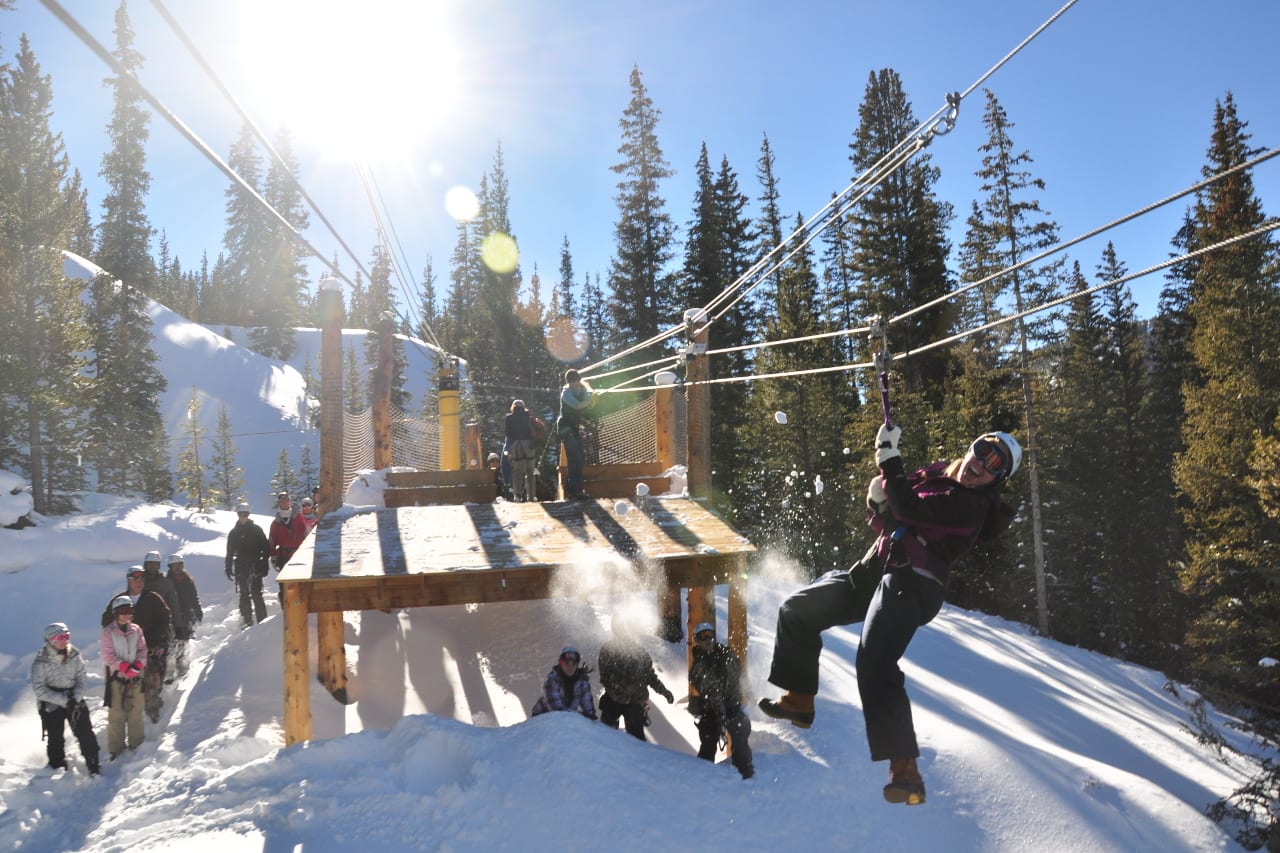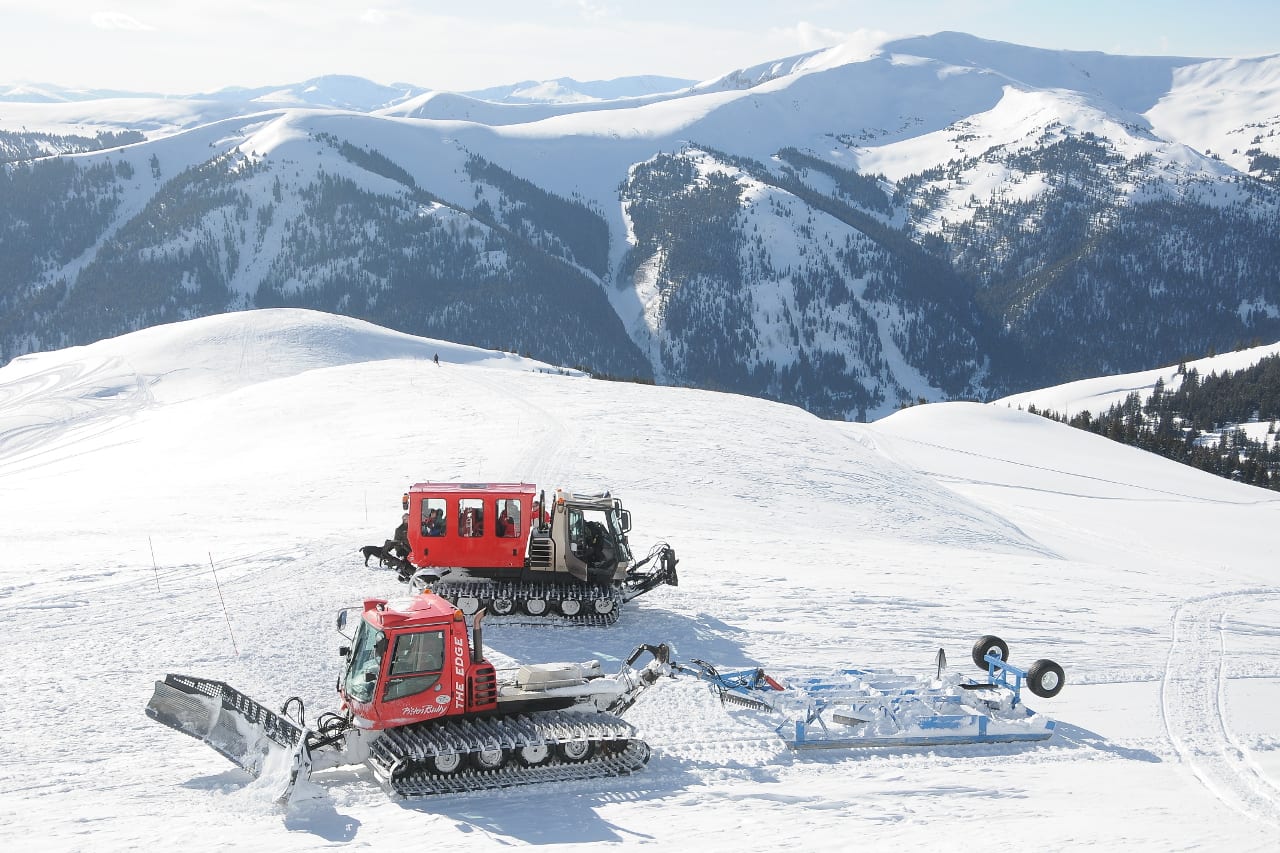 In the devoted and enthusiastic words of White Mountain Tours:
We ride seven days a week – snow or shine!