It's safe to say that the above definition has a few readers squirming in their seats. Winter athletes who crave the ultimate powder skiing or boarding experience – who are able to claim advanced-intermediate level creds – are blessed with an embarrassment of riches from which to choose.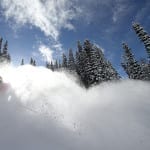 Off-piste: Existing or taking place on snow that has not been compacted into tracks.
Off-piste skiing: Of or relating to skiing on virgin snow off the regular runs.
The San Juan Mountains, in the southwest region of the state, are home to three of the most extraordinary deep powder tour companies.
Purgatory Snowcat Adventures: Undulating Gullies and Cornice Jumps!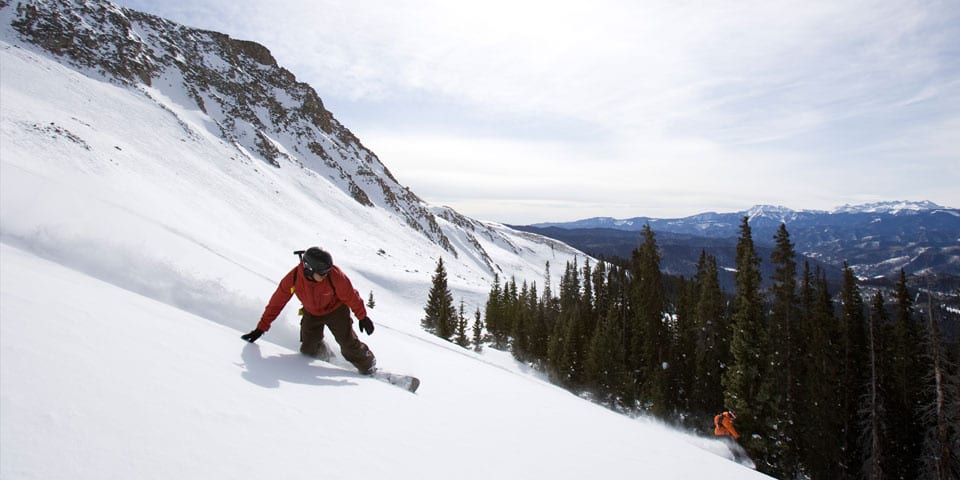 Just north of downtown Durango, departing from Durango Mountain Resort but skiing in backcountry destinations far from the resort itself, Purgatory Snowcat Adventures is the largest snowcat skiing and snowboarding operation in the United States. It was formerly called San Juan Untracked. "We have more acres than all the snowcat skiing operations in Colorado combined." 35,000 approximate acres, to be exact.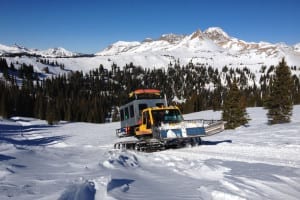 Purgatory Snowcat Adventures offers daily guided trips over a huge chunk of terrain, stretching between Telluride, Silverton and Durango, offering "rolling glades to wide open bowls, cliffs, chutes, gullies and trees." Their special-use permit, courtesy of the U.S. Forest Service in the San Juan National Forest, includes northern markers Grayrock and Graysill Mountain and western points Hotel Draw and Scotch Creek. Cascade Creek forms the east boundary, the East Fork of Hermosa Creek the south.
Be ready to roll at the Purgatory snowcat office at 8 a.m., returning to the resort around 4:30 p.m. Runs vary in length from 500 feet to almost 1,900 feet. Expect anywhere from 8 to 13 runs and between 10,000 to 15,000 vertical feet of bliss.
With so much terrain from which to choose, there is plentiful flexibility of movement to hone in on the day's best possible pick of powder. Snowfall here averages over 300 inches annually, and the light, untracked powder lingers on and on, long after the last storm of the season has passed through. through.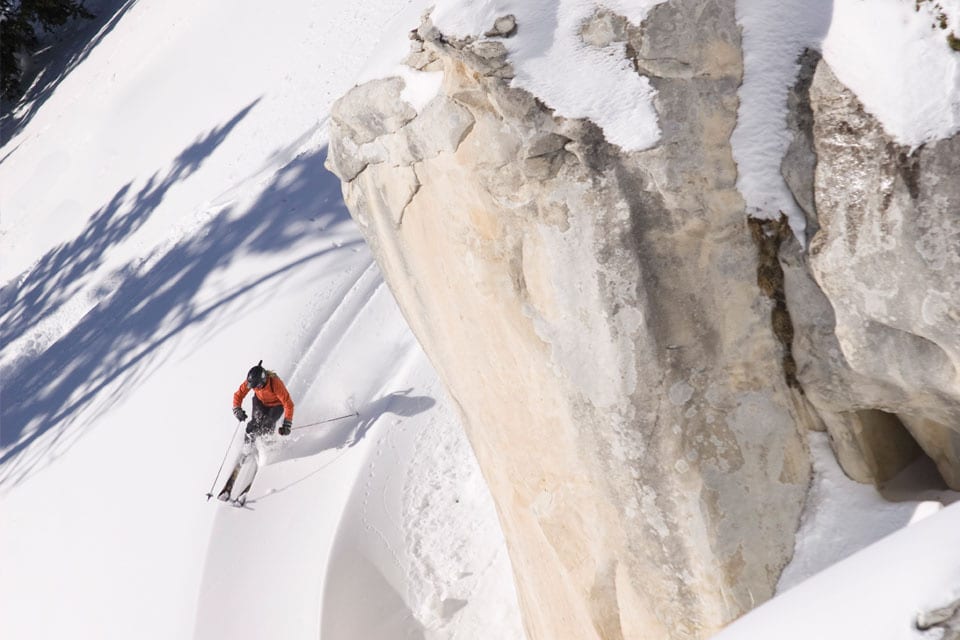 Silverton Powdercats: Shredding the Big Mo'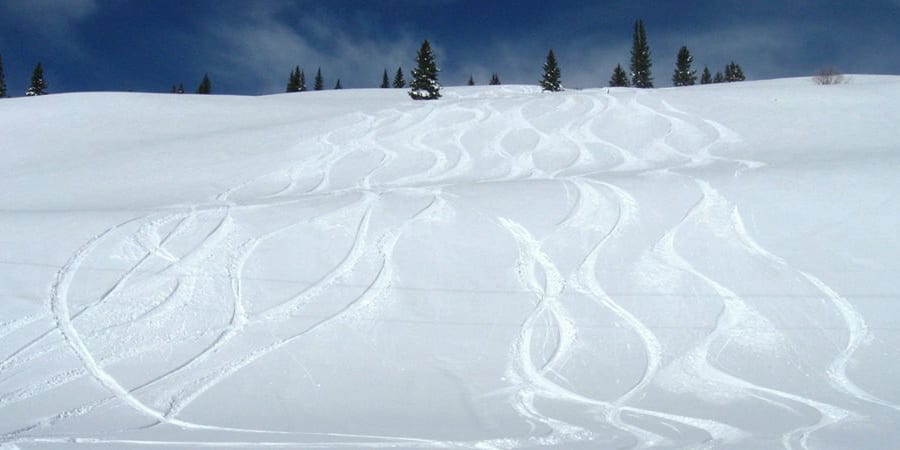 Silverton Powdercats guides their cat skiing and snowboarding guests on Molas Pass, where "chutes, steeps, glades, trees and open bowls" await, much of the terrain above tree line and stretching up to 12,500 feet. This alpine adventure caters to both the experienced backcountry rider and those still in need of some skill refinement. The guides tailor the runs and terrain to everyone's needs.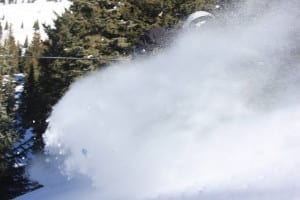 The safety drill begins at 9:00 a.m., and you're pulling out of the parking lot en route to the first run by 9:30 a.m. After seeking out the best snow offerings the peaks have in store, expect 9 to 14 runs before calling it a day around 4:00 p.m. A lovely lunch is served a la Cat. Find Silverton Powdercats at the Molas Lake, Molas Trail sign one mile north from the top of Molas Pass, and go get your Mo' better powder on!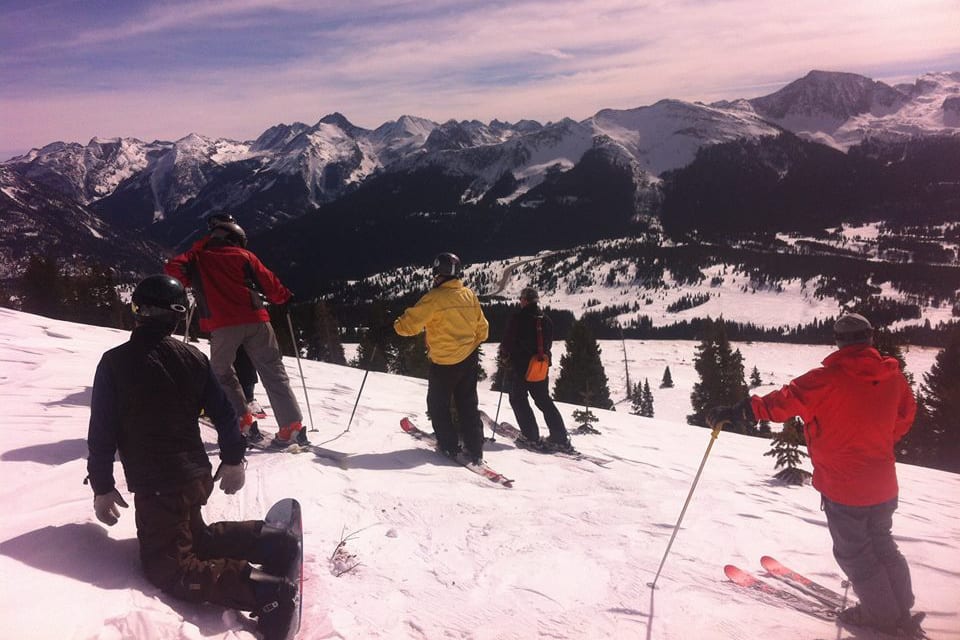 Silverton Mountain: Heli Ski / Heli Board/ Hecka Fun!
For athletes who crave the backcountry pristine tracks experience, but have no desire to expend precious energy schlepping back up hills, here's your solution! Access to the highest elevations blanketed with the most virgin snow in North America, thanks to helicopters. And chairlift backups! Because Silverton conducts avalanche control with a small helicopter, the premiere ski terrain in outlying, remote locations is easily spotted and made available to unguided skiers on a quickly communicated basis.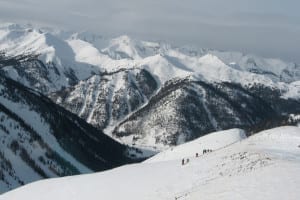 Be warned, however: this is not your father's mountain. (Unless your father is Klaus Obermeyer): "Silverton Mountain is for advanced and expert skiers only. You must be comfortable on black diamond slopes, in variable snow conditions and hiking 5-20 minutes along ridgelines." PowderHounds.com ranks Silverton as one of the top three U.S. ski resorts for powder hounds. Guests can expect peak elevations of 13,514 feet, vertical drop maximums of 3,100 feet, and over 22,000 acres of chutes and bowls. The season ends soon, in early March, so treat yourself to a bucket list, single run ticket for just $179 (plus lift ticket).
For those with bigger bankrolls, Silverton Heli Skiing offers the $999 per person Heli Day delivers six runs. And for that bachelor or bachelorette party you'll be talking about even after the Golden Anniversary has come and gone, $8,900 gets you and your BFFs sole custody of the helicopter, countless runs, and "you had to be there" photo opps to share at the rehearsal dinner.
And hey! If that rehearsal dinner is being held in Aspen, Vail, or Telluride, no worries! Hop a charter plane out at 7 a.m., ski a full day at Silverton, and be back in Aspen or Vail in time for cocktail hour. Talk about memories to last a lifetime!