Breckenridge is home to two wineries and one cider producer, as well as several other wine makers nearby. Both the Continental Divide Winery and Carboy Winery give wine enthusiasts a chance to sample wine produced at high elevations. For cider lovers, Ten Mile Cider is making small-batch beverages right on Main Street.
There are also wineries located outside of Breckenridge in surrounding areas within an hour's drive, including in Bailey, Vail Valley, and Minturn. In addition to sipping wine, many of these spots also offer something unique – creating your own blend, in-depth tours with experts, curated wine flights, and a food menu to accompany it all.
In addition to the wineries, Ridge Street Wine is also a popular wine store and wine bar owned by a Certified Sommelier. Aurum Food & Wine Breckenridge is a restaurant serving a large variety of wines along with snacks, shared plates, and wine-friendly main dishes.
Keep in mind that hours of operation and wines can vary at a winery, so it's always best to confirm with the winery before visiting.
Continental Divide Winery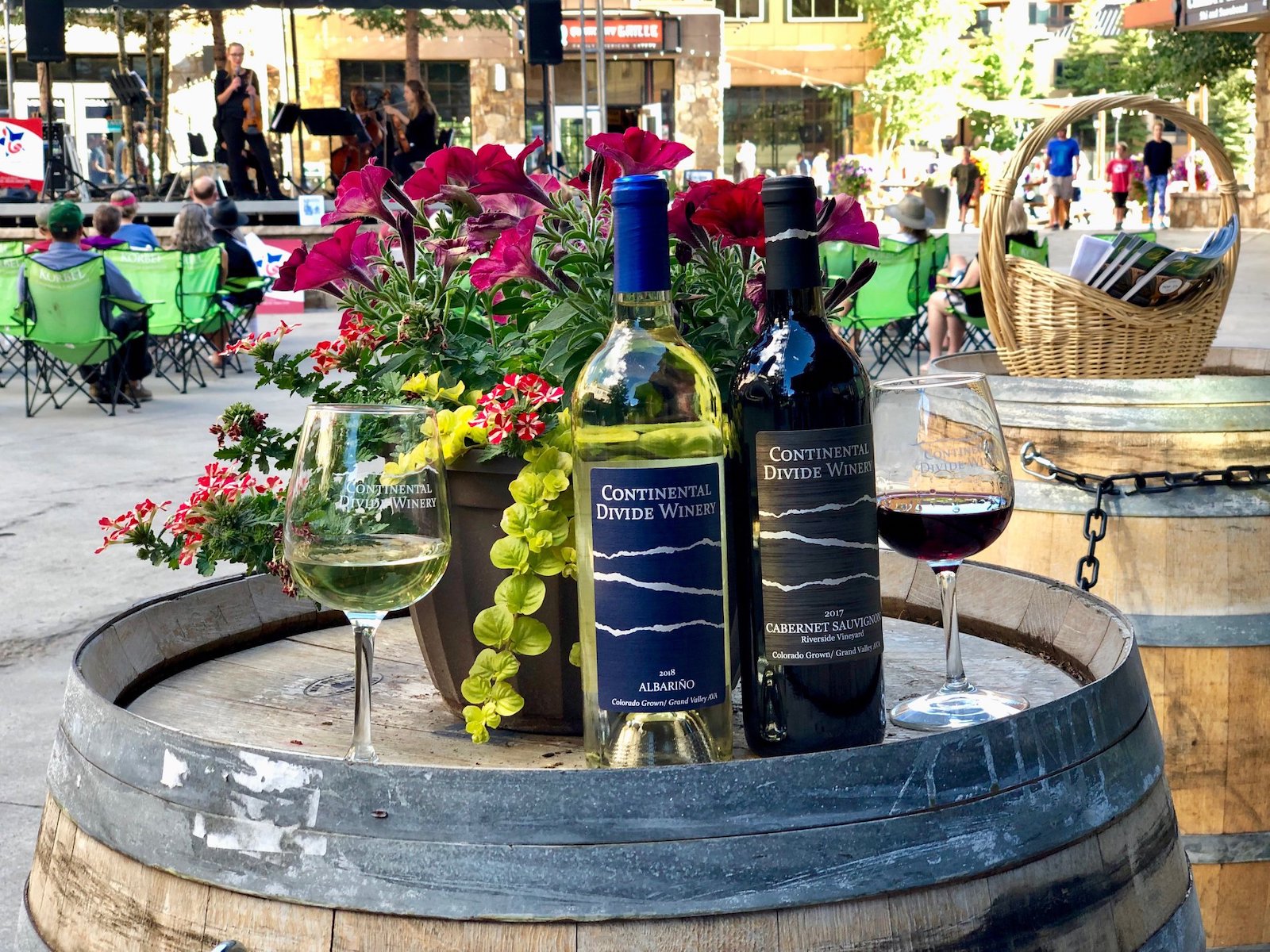 Seeing that The Continental Divide Winery is the world's highest altitude winery, it gives wine lovers an opportunity to experience how climate and elevation can impact the wine produced. The Continental Divide wines are crafted with both local Colorado grapes, as well as grapes sourced from California.
Many of the wines have received prestigious awards in various local as well as international wine competitions. Some of the wine awards include the Denver International Wine Competition, Colorado Governor's Cup Wine Competition, Sunset Magazine International Wine Competition, and Toast of the Coast Wine Competition.
The award-winning wines vary in style and include, an Albarino, Merlot, Rose, Gewurztraminer, Red Blend, Riesling, Cabernet Sauvignon, Old Vine Zinfandel, and Chardonnay.
In addition to the Breckenridge location, there is a second tasting room located in nearby Fairplay as well. Tasting flights of four different wines are available to sample, as well as wine by the glass or bottle. There are suggestions for nearby local businesses for food options available to accompany the wine.
Voted one of the best things to do in Breckenridge, Continental Divide offers an approximately two-hour wine blending experience where guests can experiment to blend four wines to create their own enjoyable blend. The staff walks guests through the process and helps bottle the wine to take home.
The wine club gives access to limited edition wines, reserved seating in the tasting room, free wine tastings, discounts, and invitations to events.
Continental Divide Winery has won awards for various sustainable actions and positive environmental practices, including having the fermentation process using up to 90 percent less waste water, donating grape waste to be turned into animal feed and using solar power and energy efficient lighting and windows and doors.
Address: Main Street Station, 505 South Main Street, Breckenridge
Phone: 970-771-3443
Season: All-year
Website: breckwinery.com
Carboy Winery Breckenridge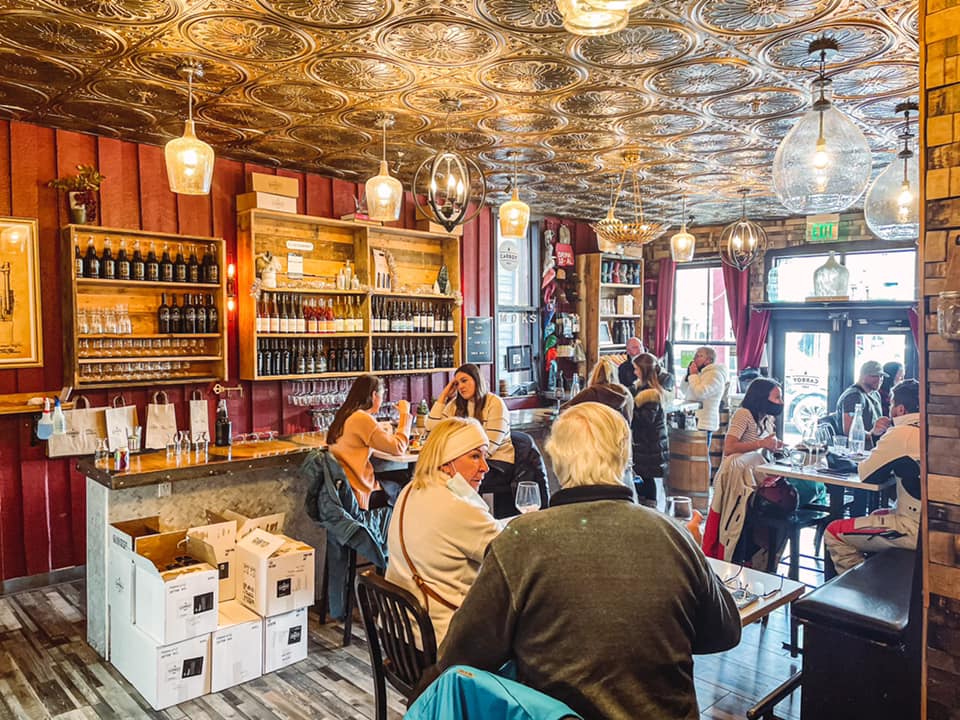 Carboy Winery has multiple locations, including Denver, Littleton, Palisade, and Breckenridge. The Breckenridge hot spot offers flights of red wines, white wines, and featured wines to sample, in addition to wines by the glass or bottle. The location also offers hosted tastings with five selected wines, where a wine specialist discusses the winery's history, the basics of wine making, and the wine itself.
In Carboy's winemaking, the grapes selected are chosen specifically for ones that grow well in Colorado's Western Slope, in addition to other prominent wine regions in the country. Carboy also owns two estate vineyards nearby right in the Grand Valley appellation.
Cabernet Franc, Albarino, Chardonnay, Gewurztraminer, Mourvèdre, Rose, Tempranillo, Viognier, and Sauvignon Blanc are a handful of wines available. There are various blends, too, as with one Malbec, Cabernet and Merlot blended together.
The food menu is designed to pair nicely with wine and includes an eclectic selection of snacks, bruschetta, boards, and sweets. The Breckenridge location also offers a daily happy hour with wine and appetizer discounts. There are a few alternative drink options, including rotating beers on tap, cider and a barrel-aged Manhattan.
Address: 103 North Main Street, Breckenridge
Phone: 970-771-3944
Season: All year
Website: carboywinery.com
Aspen Peak Cellars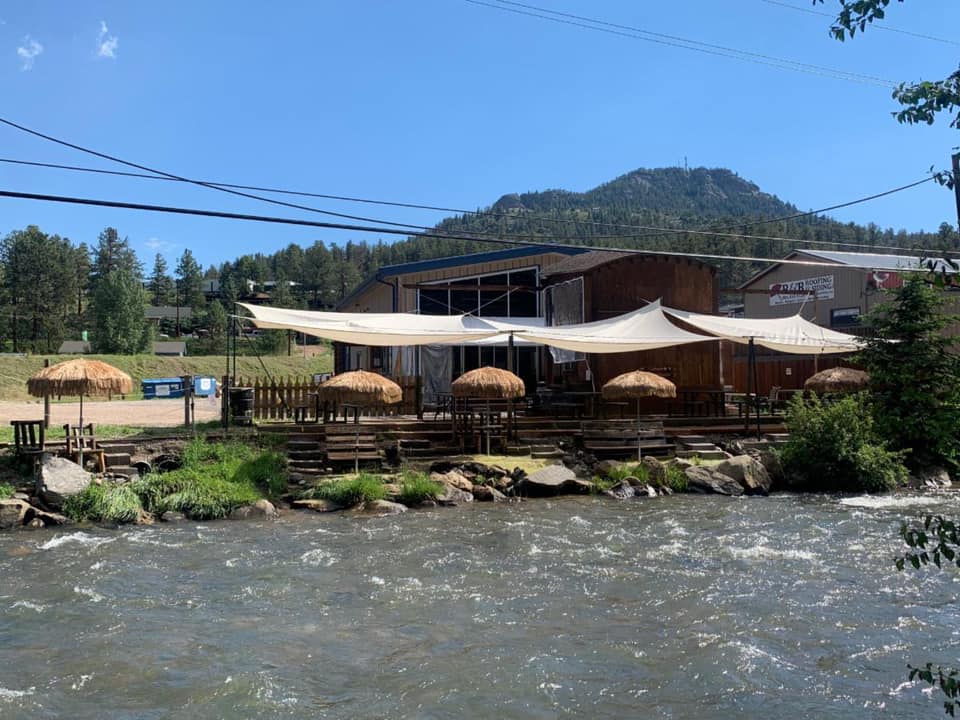 About 60 miles away from Breckenridge in Bailey, is Aspen Peak Cellars, which is a micro-winery producing small-batch wines that change frequently. The inspiration for the winery began when Marcel Flukiger gave his wife Julie a wine kit for Christmas in 2005. The rest is history.
Aspen Creek Cellars produces wines from grapes grown right here in Colorado, as well as from California and Washington – about 2,000 cases of wine annually. The Pinot Gris is crisp with notes of citrus, pear, and honeysuckle, while the semi-sweet Riesling has a refreshing acidity with notes of green apple.
Other wine varieties include a Sangiovese, Barbera aged in new American Oak, Cabernet Sauvignon, Cabernet Franc and a blend of Zinfandel, Merlot, Cabernet Sauvignon, Syrah and Petite Verdot.
On weekends, live music plays outside as well as other types of events – three-course dinners, brunches, and happy hours. There is a heated patio as well for chillier days. The wine club offers members a quarterly party, free tastings, and discounts.
Address: 60750 US Hwy 285, Bailey
Phone: 303-816-5504
Season: All year
Website: aspenpeakcellars.com
Vines at Vail Winery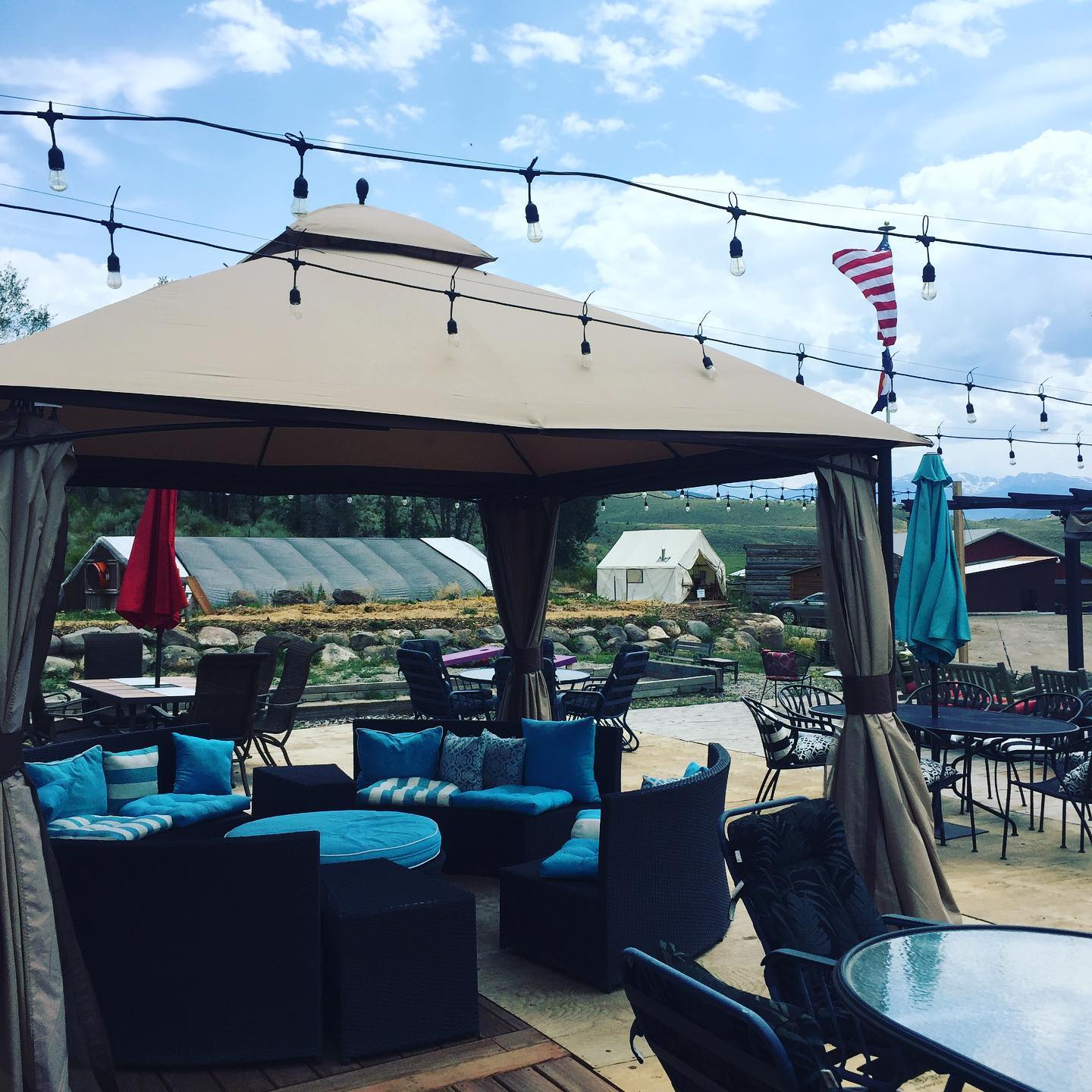 About one hour away from Breckenridge is a boutique winery located in Vail Valley, Vines at Vail Winery in Wolcott. The tasting room hours change seasonally and are only available by appointment through winter. Guests can enjoy a tasting flight to sample wines such as the fragrant Sauvignon Blanc or Sangiovese, a popular grape in Italy. Tempranillo, Syrah, Cabernet Franc and Petite Syrah are a handful of other options.
Winemaker Patrick Chirichillo comes from a family of Italian winemakers, getting inspired to pursue wine-making himself while helping his grandfather make wine at home. Grapes are sourced from California and crafted locally in Colorado.
There are many wine blends available, such as the Vail Bella, which consists of a Petite Syrah, Barbera, and Grenache. The Super Tuscan is a blend of Sangiovese, Cabernet Sauvignon and Syrah.
In addition to tasting flights, guests can enjoy wine by the glass, or bottle or do a barrel tasting with the winemaker. In September, there is even an opportunity to be a part of the crushing experience in wine making.
Address: 4098 Highway 131 Unit W, Wolcott
Phone: 970-949-9463
Season: All year but hours change
Website: vinesatvailwinery.com
Monkshood Cellar
Located in Minturn, about an hour away from Breckenridge, is Monkshood Cellar. Previous wines produced have included a delicate Syrah, which was aged in oak for 13 months, as well as a Chenin Blanc. Also produced is a dry cider made from apples grown on the Western Slope.
The winery is open by private tasting appointment only. During a scheduled tasting appointment, the team enjoys spending time discussing Colorado's unique wine-growing region. A 45-minute entry-level tasting provides a taste of the current wine offerings. The more involved hour and a half offerings include a wine barrel tasting and a more technical wine conversation led by winemaker Nathan Littlejohn, as well as a charcuterie board.
While building a foundation as a winemaker, Littlejohn has traveled to many different places all over the world – Corsica, Australia, New Zealand, and New York and has previously worked as a winemaker at Mayacamas Vineyards in Napa.
Address: 107 Williams Street, Minturn
Contact: Cellar@monkshoodcellars.com
Season: All year
Website: monkshoodcellars.com
Ten Mile Cider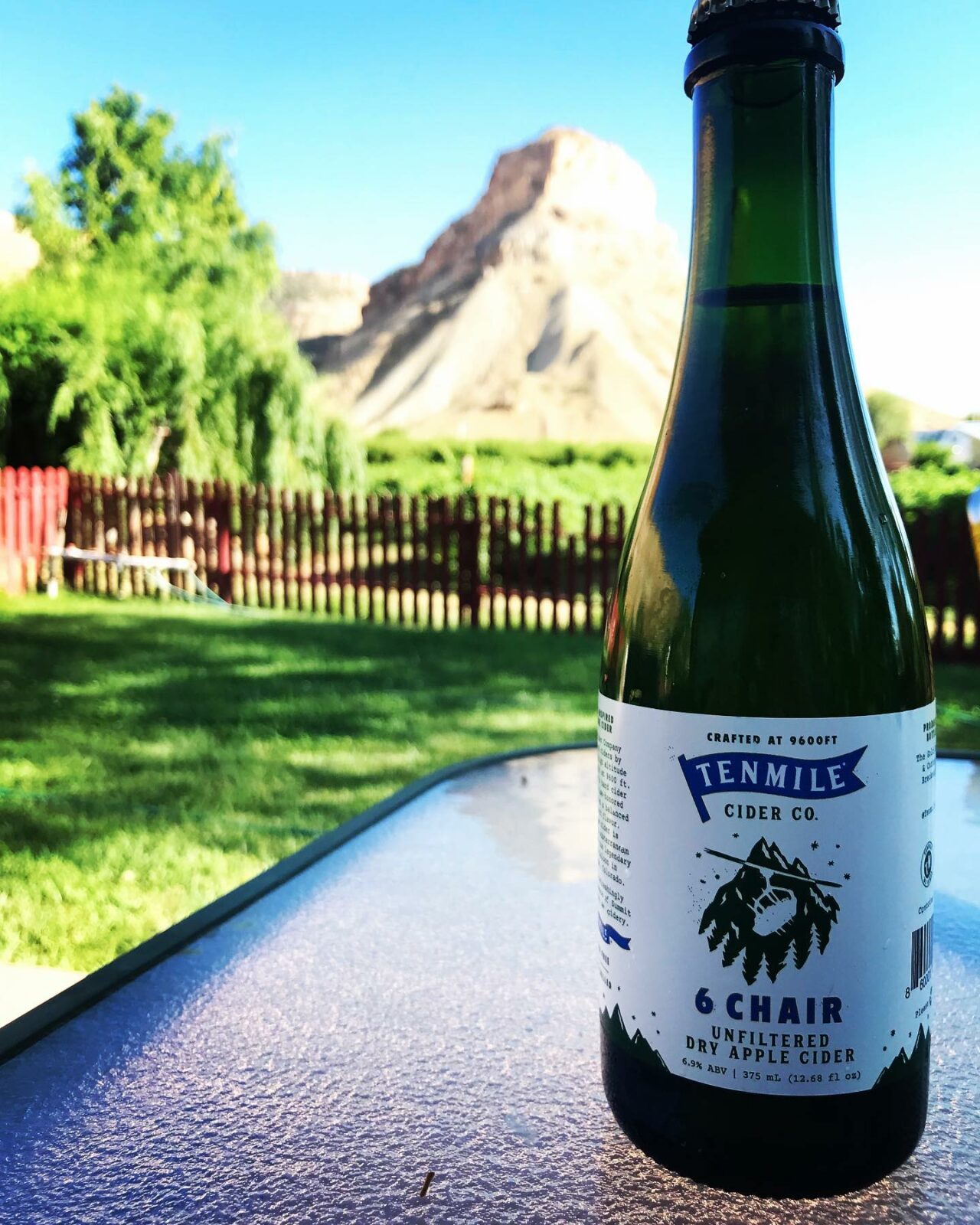 Located in Breckenridge, Ten Mile Cider is producing local small-batch ciders at 9,600 feet in elevation. The hard cider is unfiltered and made with Colorado-grown heritage cider apples.
Cider will vary and include options like a bourbon barrel-aged cider with Saigon cinnamon, and imported Tahitian Madagascar vanilla beans. Six Chair cider is a crisp, refreshing dry hard apple cider that is aged in neutral French oak barrels and fermented a second time.
Ten Mile Cider is located at the historic Gold Pan Saloon in Breckenridge. Cider is also available in a can.
Address: 103 North Main Street, Breckenridge
Phone: 970-453-5499
Season: All year
Whether it's helping crush grapes, creating your own uniquely made wine blend, or simply sampling locally produced Colorado wines, these spots make a fun addition to any trip to Breckenridge.