Like so much of Colorado, Denver is dotted with historic mansions and homes that rose in the mid to late 1800s as a result of the lucrative gold and silver boom. Rich and opulent Victorian mansions were built as a sign of wealth and stature from those who made their fortune from mining and the railroad.
Some of these mansions still stand today in the city as working bed and breakfasts that offer modern amenities with historic charm. Discover these bed and breakfasts in Denver for truly a one-of-a-kind experience.
This section contains referral links. If you click through and take action, we may receive a commission, at no additional cost to you. 
Here are among the best bed and breakfast hotels in Denver, CO, in no particular order:
Capitol Hill Mansion Bed & Breakfast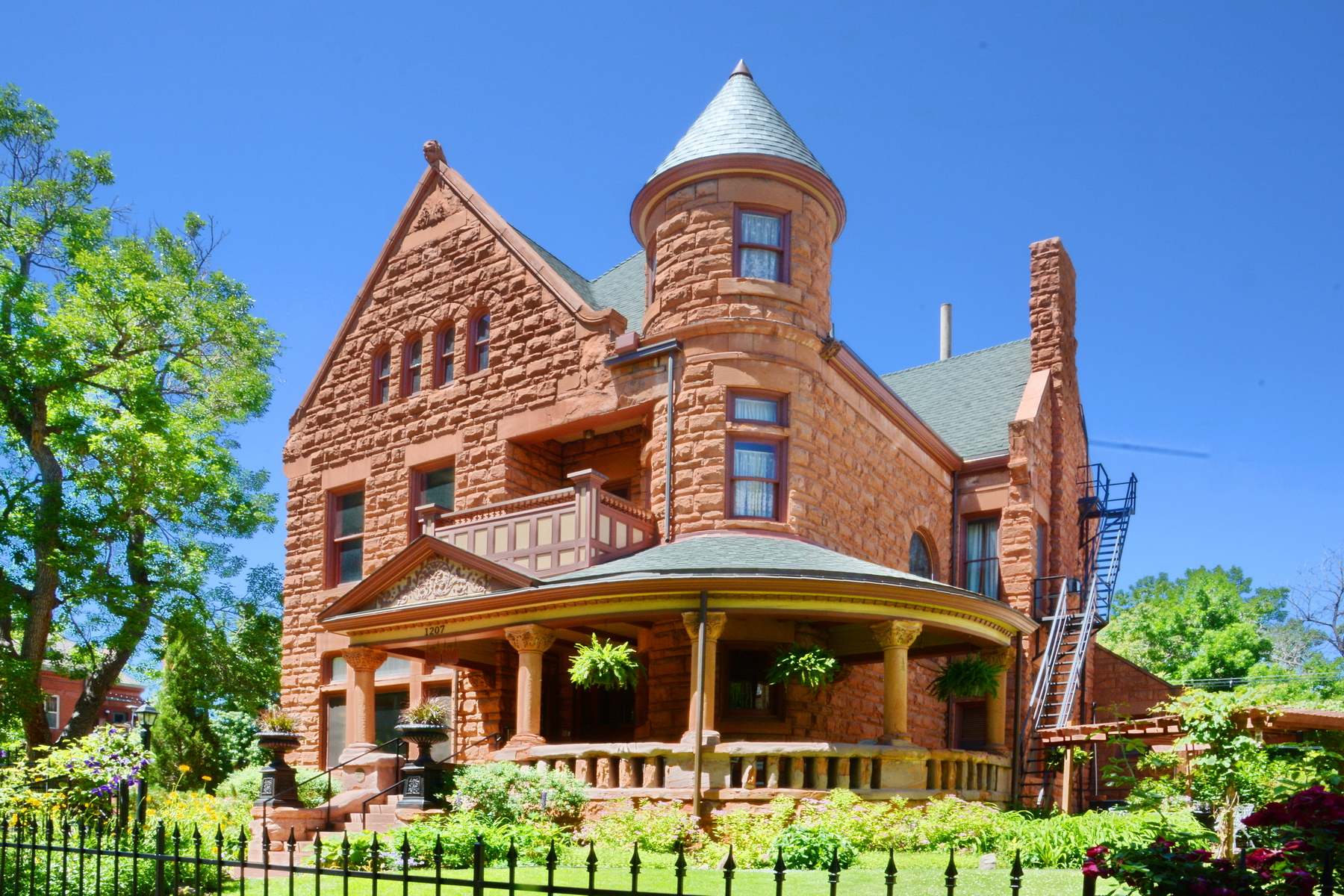 Located in the heart of Downtown Denver, the Capitol Hill Mansion Bed & Breakfast is an urban inn offering style, elegance, and history. The home was one of the last vintage homes built before the silver crash in the late 1800s.
It remained a family home until 1923 and since then has seen several iterations as a hotel and B&B. The building is a fine example of Victorian-era architecture and impeccable craftsmanship that guests can enjoy throughout their stay.
Take in the inn's elegance, both inside and out, in the luxurious parlor with fireplace, walking the statuesque staircase, sampling the daily gourmet breakfast, and enjoying the evening wine social hour with other guests and the innkeepers. Plus, with its convenient location downtown, many restaurants, bars, and shops are within walking distance of the inn.
Amenities:
Historic
Downtown location
Mountain views
Updated rooms
Daily gourmet breakfast
Elegant parlor with fireplace
Wine & beverage social hour every evening
Concierge service
Free Wi-Fi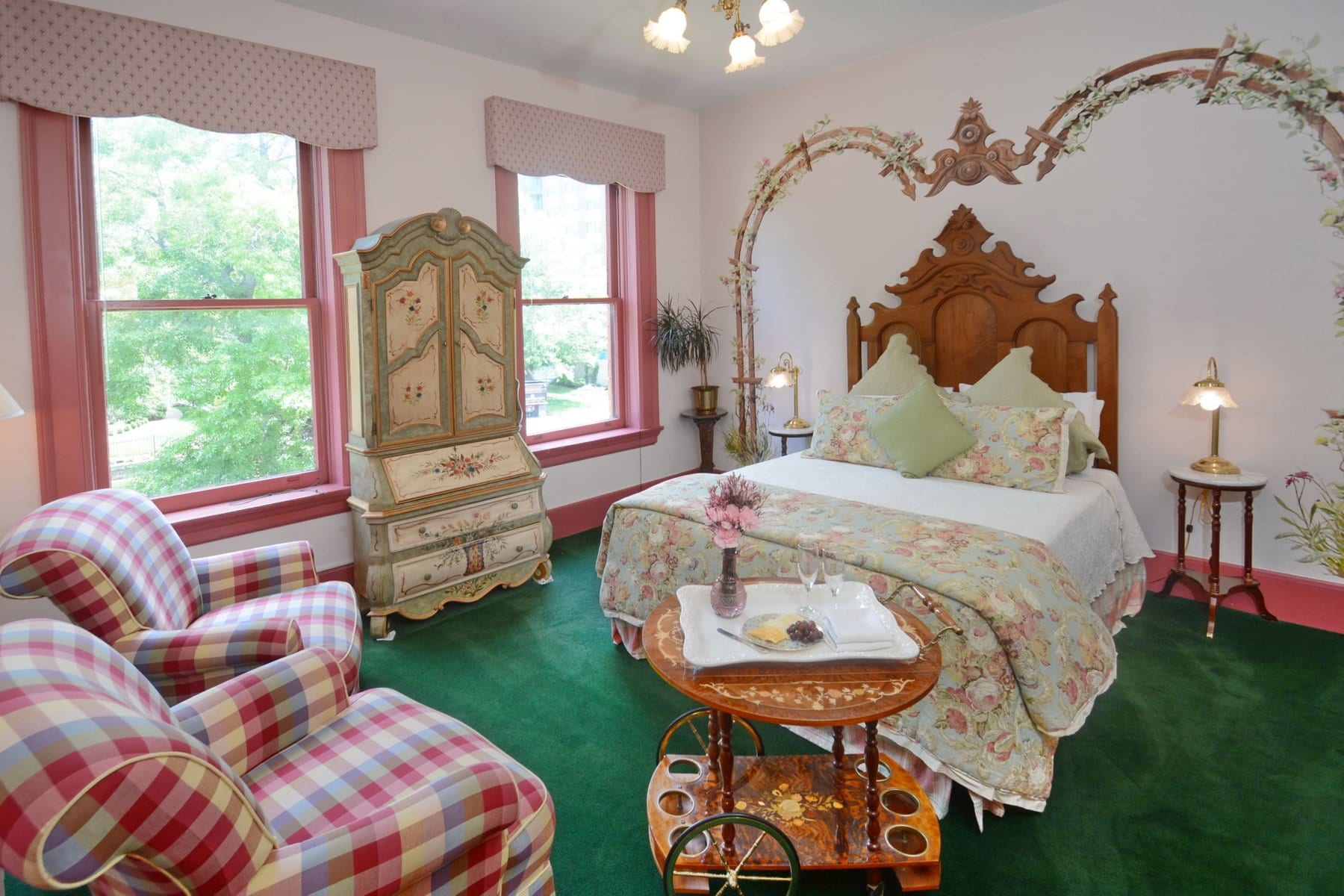 Choose from eight guestrooms, each of which is named after a Colorado wildflower and adorned with fresh flowers and plants. Each room is individually designed and uniquely furnished featuring, private baths, a writing desk, a refrigerator, and free Wi-Fi.
There are three two-room suites, the Bluebell Suite, Gold Banner Suite, and the Elk Thistle Suite. Some rooms offer a fireplace, a balcony, and whirlpool tubs in addition to the basic in-room amenities.
Queen Anne Urban Bed & Breakfast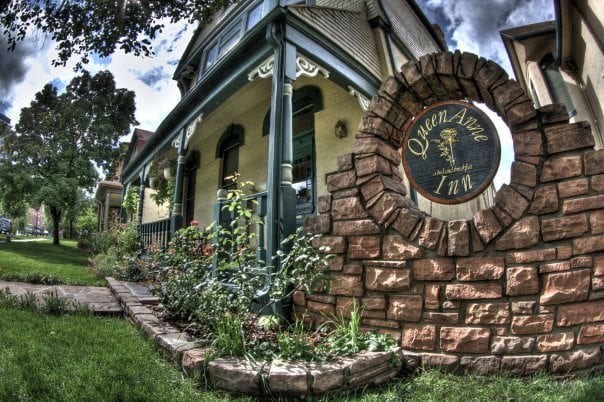 For a romantic getaway in downtown Denver, book your stay at the Queen Anne Urban Bed & Breakfast. The two houses were built in 1879 and 1886 by the famous Tabor family, who owned the popular Tabor Opera House in Leadville and opened to the public in 1987.
Located four blocks from 16th Street Pedestrian Mall, this quaint B&B offers the convenience of walking to downtown attractions but is tucked away from the hustle and bustle of it all for a quiet retreat. Between the two grand 1880s mansions, the urban B&B features stately architecture, a beautiful lobby with a community gathering area, an outdoor garden, and beautiful rooms decorated by local artists.
One of B&B's main attractions is its daily fresh breakfast. Priding themselves on using products from local purveyors, you know you are eating fresh, locally sourced foods, with some ingredients even from their own garden out back. Plus, you can feel good about your stay, as they are part of the Green Hotels Association, taking proud steps to ensure an environmentally friendly stay.
Amenities:
Historic
Downtown location
Mountain views
Locally sourced daily breakfast
Updated rooms
Outside garden and courtyard
Green amenities
Free Wi-Fi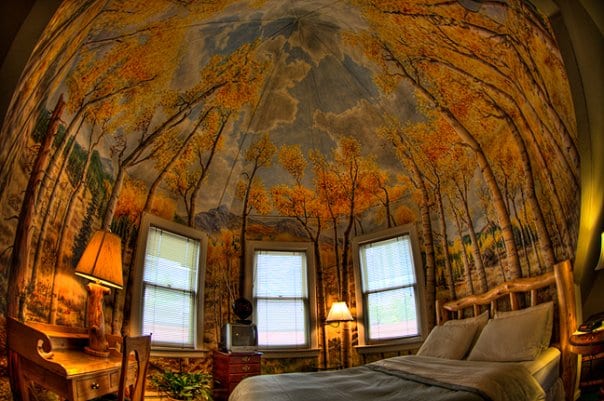 Guests can choose from nine rooms and four suites, which are each individually decorated by a local artist. Each room is different in style but offers the same green practices and comfort level the B&B prides itself on.
Several of the rooms and suites feature a fireplace, whirlpool, or large soaking tubs, and two rooms with an on-suite hot tub, including the Rooftop Room with a private deck and view of the city skyline. Guests will find unique features like the original mural of an alpine aspen forest covering the walls and ceiling, which is the peak of the Victorian turret in the Aspen Room.
Patterson Inn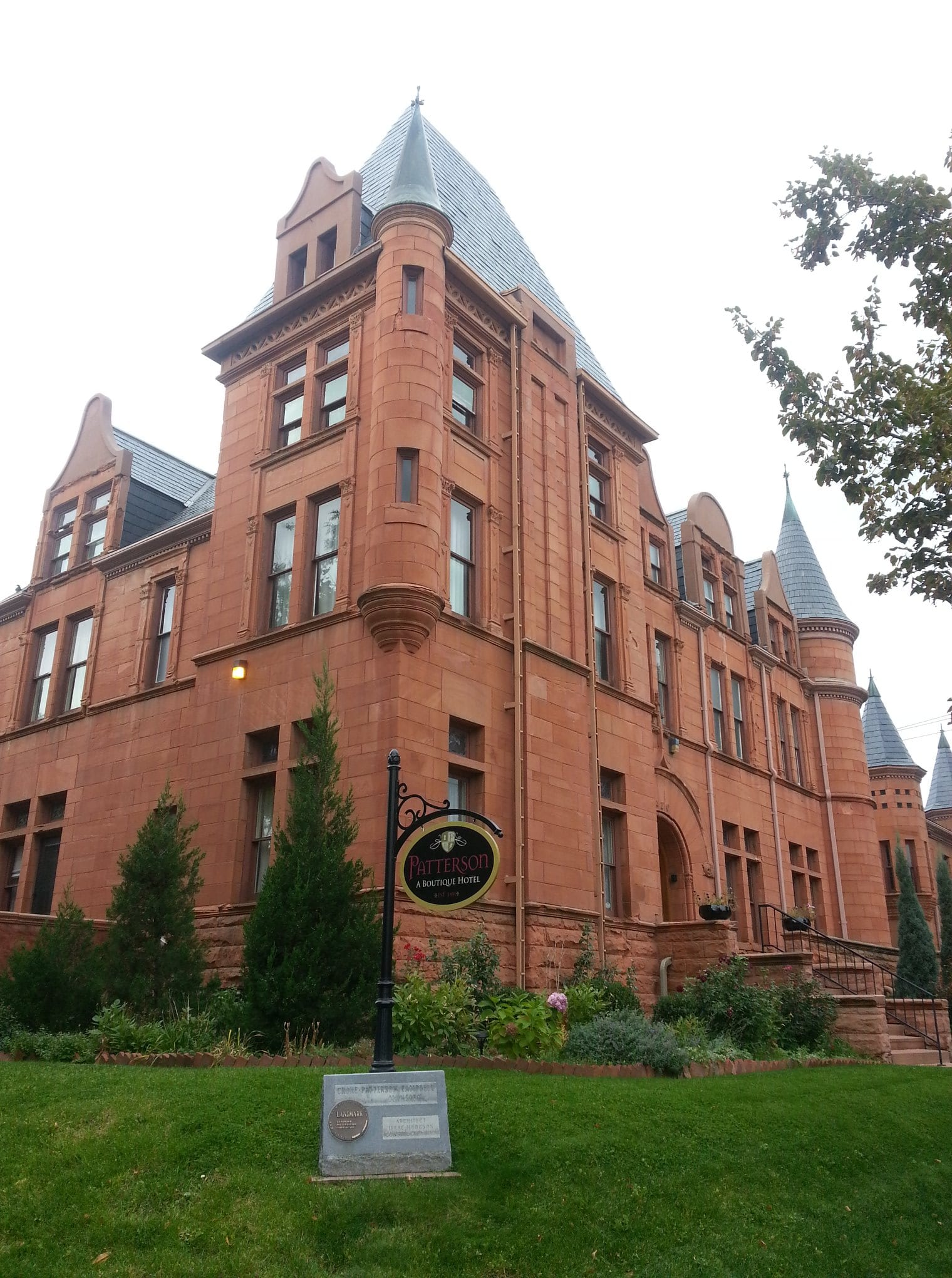 A distinguished landmark in one of Denver's most prestigious neighborhoods, the grand Patterson Inn offers a historical intrigue and spirited past. Built-in 1891, the inn was originally owned by Sen. Thomas Patterson and his wife, and it is believed their spirits still linger at the residence.
The regal mansion is beaming with unique features such as the hand-carved oak stairway, restored hardwood floors, wood beams, formal furniture, and exquisite crown molding.
Start your day off right with their made-to-order, complimentary breakfast that is made fresh daily. Enjoy an afternoon relaxing in the outdoor courtyard or rooftop terrace before you head out on the town to the nearby restaurants and bars on Capitol Hill.
Whether you come to experience the ghosts of Patterson Inn or to enjoy an urban oasis in the Mile High City, there is one thing for certain, you will live like a king or queen with a stay in one of their opulent suites.
Amenities:
Historic
Convenient location
Concierge
Daily breakfast
Sun deck
Terrace and garden
Grand lobby
Free parking
Free Wi-Fi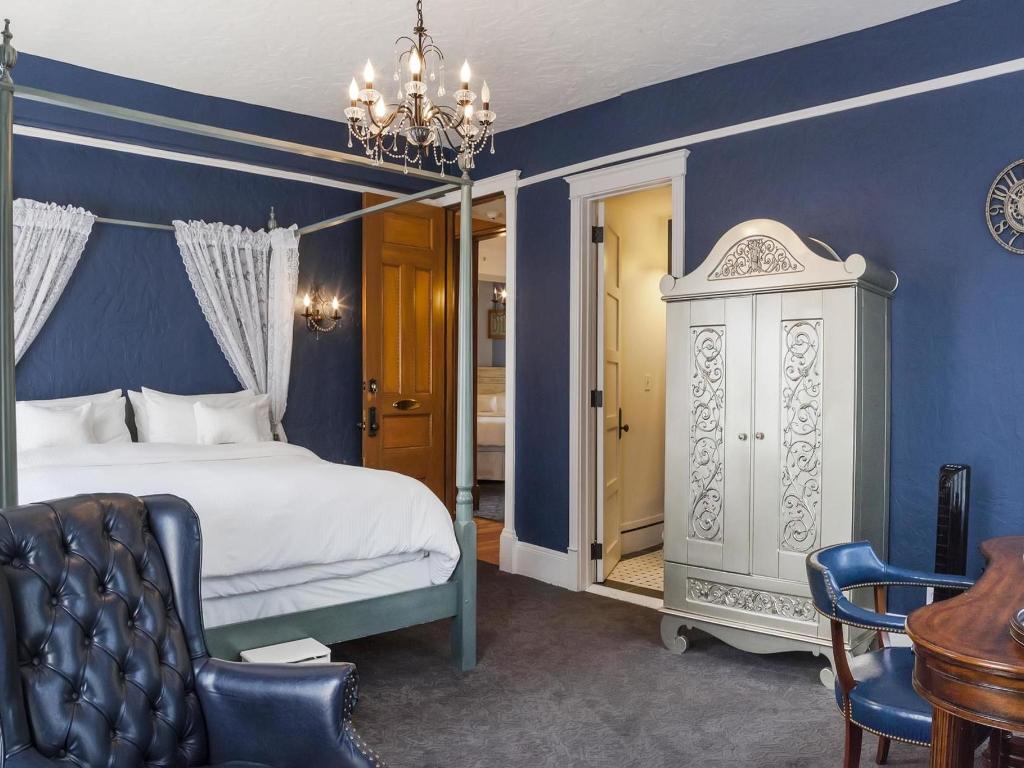 Each designed with its own theme, a stay in one of their nine luxurious suites is a true treat for the senses. Decadent furnishings outdo themselves by highlighting the history and elegance of the B&B.
From the ornate chandeliers and sconces in the Antoinette room to the chateau-esque design of the Biltmore suite (reminiscent of the Biltmore Estate in North Carolina), each suite provides its own unique experience. Enjoy all your basic modern amenities and a private bathroom in all suites, with a few suites featuring a fireplace and additional room with their two-bedroom suite, the Cheshire.
420 E 11th Ave, Denver, CO 80203 | 303-955-5142
Check prices, availability or book Patterson Inn
Flora House Denver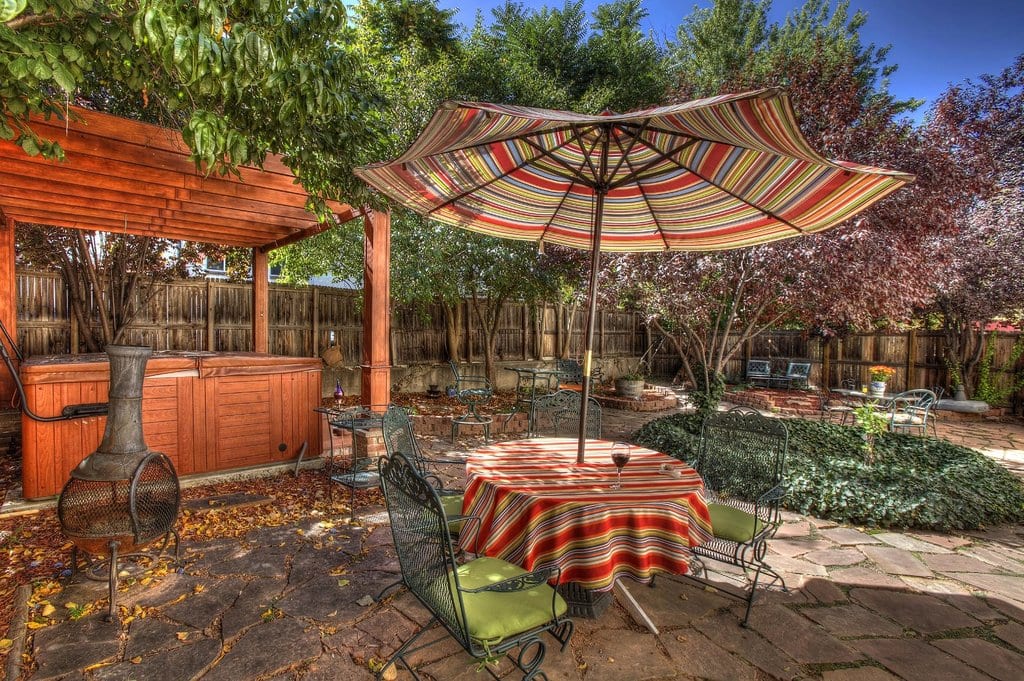 Previously known as the Adagio Bed & Breakfast, the Flora House is a Victorian home that was built in 1892 and now serves as a bed and breakfast, and in more recent years, a Bud + Breakfast. As the first 420-friendly hotel in the city, the Flora House models itself after a traditional B&B, highlighting its love for cannabis.
For those who enjoy cannabis, relax in their private smoker-friendly 420 lounge area. Guests, cannabis lovers or not, enjoy a complimentary breakfast prepared by their in-house chef, a generous daily happy hour, and an outdoor patio with a garden and hot tub.
Amenities:
Historic
Convenient Capitol Hill location
Daily breakfast & happy hour
Outdoor space with garden
Outdoor hot tub
On-site restaurant at the Conservatory
420-friendly smoking area
Free Wi-Fi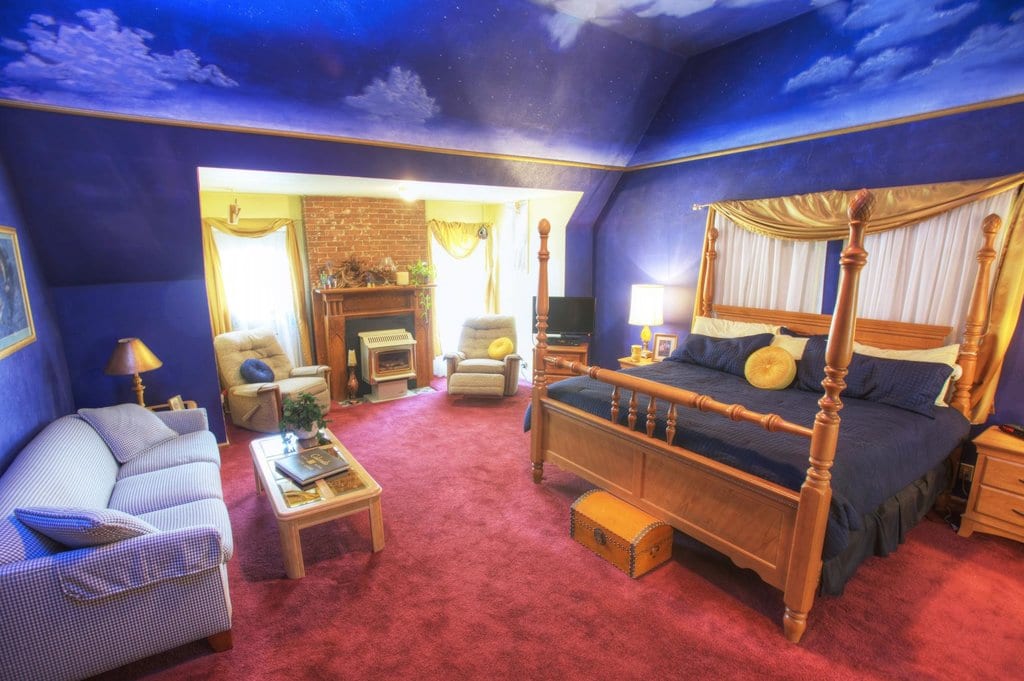 Choose from six newly updated rooms and suites that offer details inspired by the world's greatest composers. Each room features its own private bathroom, a view of the garden, modern amenities, and a variety of sleeping accommodations.
The two suites provide two bedrooms, a jetted hot tub, and plenty of room to spread out. Enjoy unique details such as a hand-painted ceiling and an exposed brick accent wall.
1430 Race St, Denver, CO 80206 | 720-531-2169
Check prices, availability or book Flora House Denver
The Lumber Baron Inn & Gardens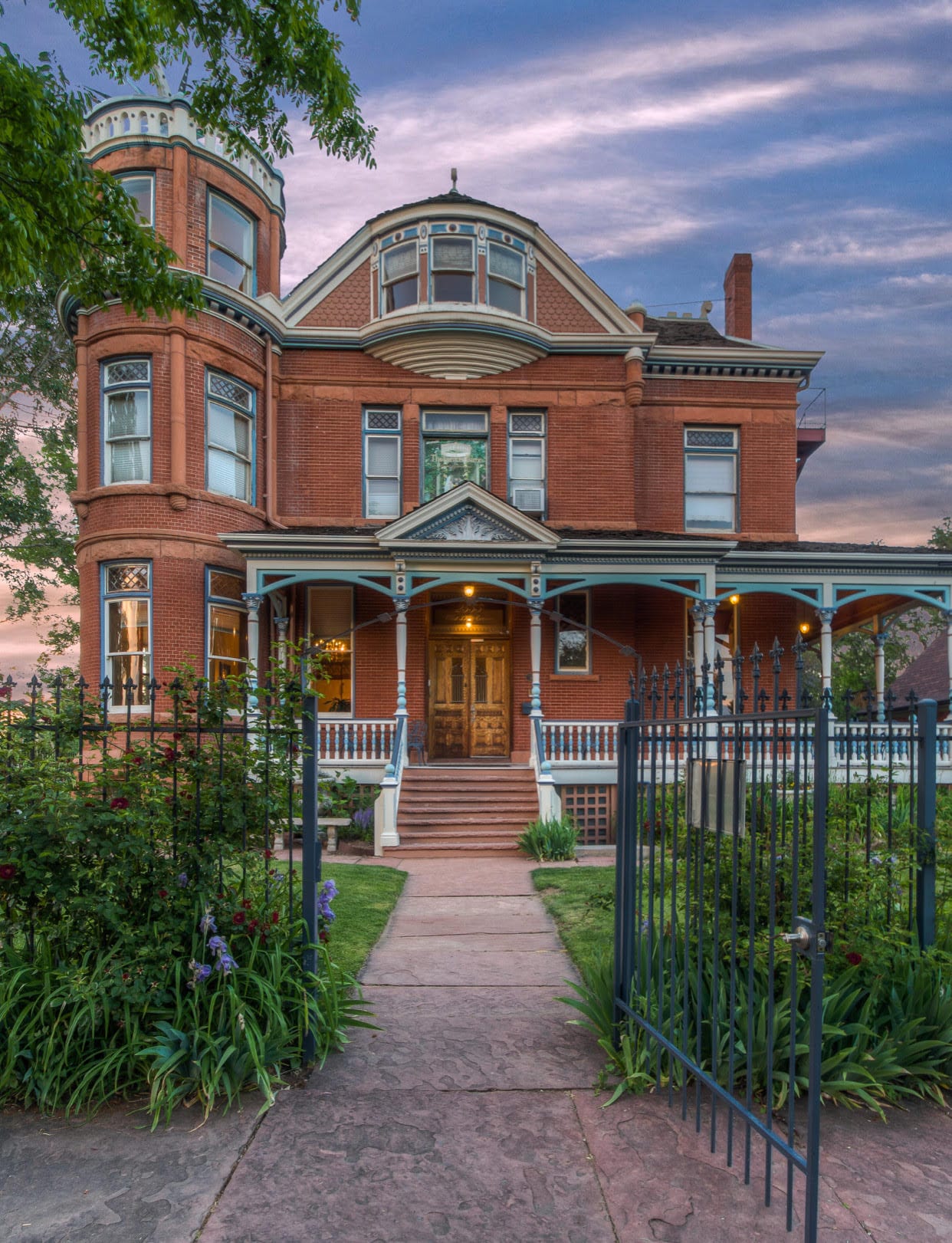 Located in northern Denver's Potter-Highlands neighborhood, the Lumber Baron Inn & Gardens is an elegant Victorian mansion that provides luxurious accommodations for those looking for a romantic getaway. Originally built in 1890 as a family home, today it serves as a charming B&B and premier wedding venue.
Guests relish in the mansion's third-floor ballroom that provides access to the Victorian turret and views of downtown Denver, the magnificent staircase, colorful stained glass, and the beautiful outdoor garden.
Enjoy afternoon tea in their Victorian parlor at the Tea House. Prepared in the traditional English way, afternoon tea is served with finger sandwiches, crumpets, and fresh cookies. Everything is freshly baked from their on-site restaurant and served in their collection of fine china. Reservations are required.
Amenities:
Historic
Luxurious furnishings
Outdoor garden
Daily fresh breakfast & Sunday brunch
On-site restaurant
On-site massage therapist
Free Wi-Fi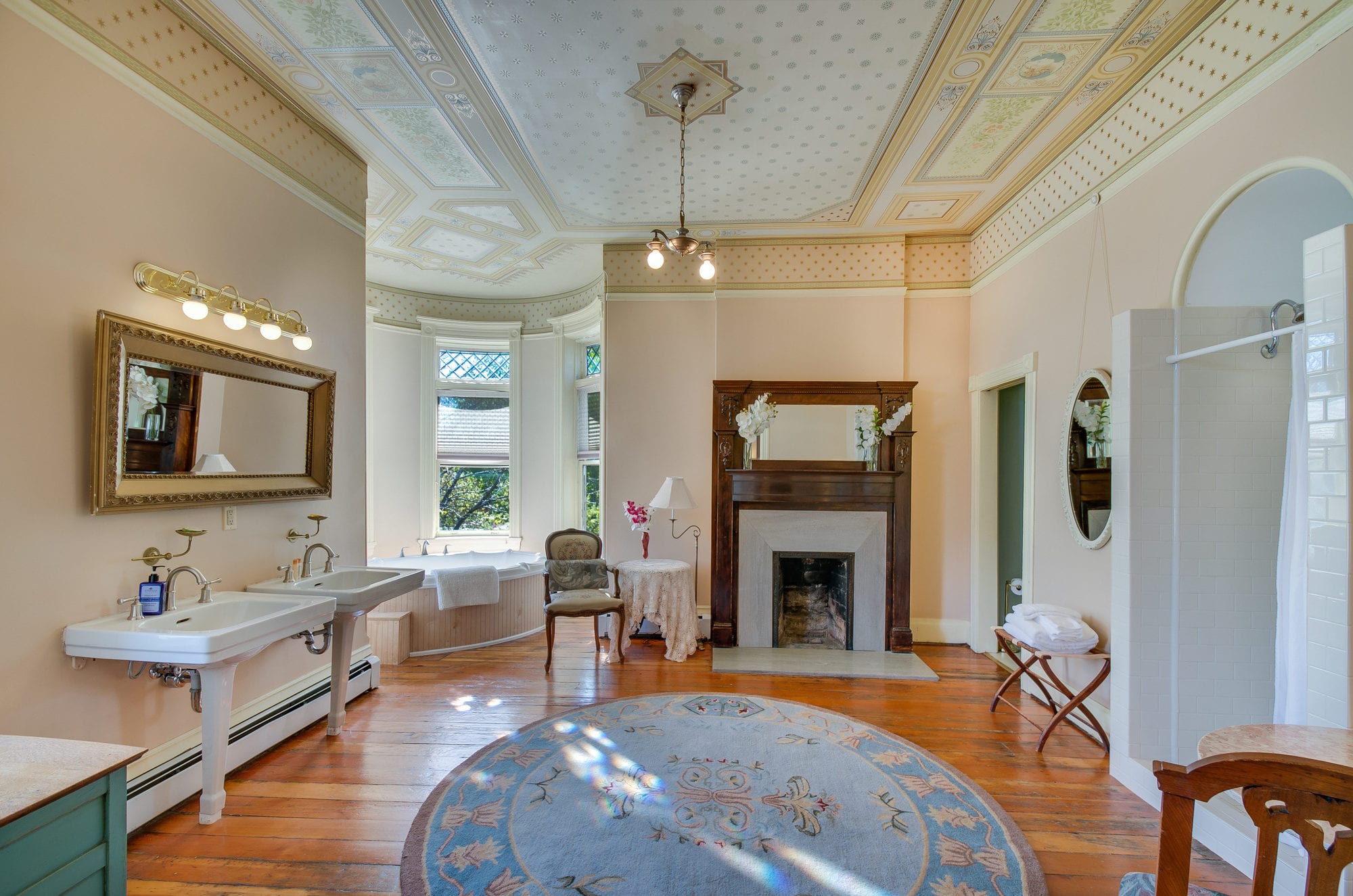 Guests can choose from four suites and one room, the Colorado Room. All historic suites and rooms feature luxurious antiques, lavish bedding, private Jacuzzi baths, and ornate ceiling wallpaper designs by Bradbury and Bradbury. Perfect for a romantic getaway, each room is complimented with a bottle of champagne upon your arrival, gourmet breakfast in bed, and in-room massages.
2555 W 37th Ave, Denver, CO 80211 | 303-477-8205
Check prices, availability or book The Lumber Baron Inn
The Curtis Park Club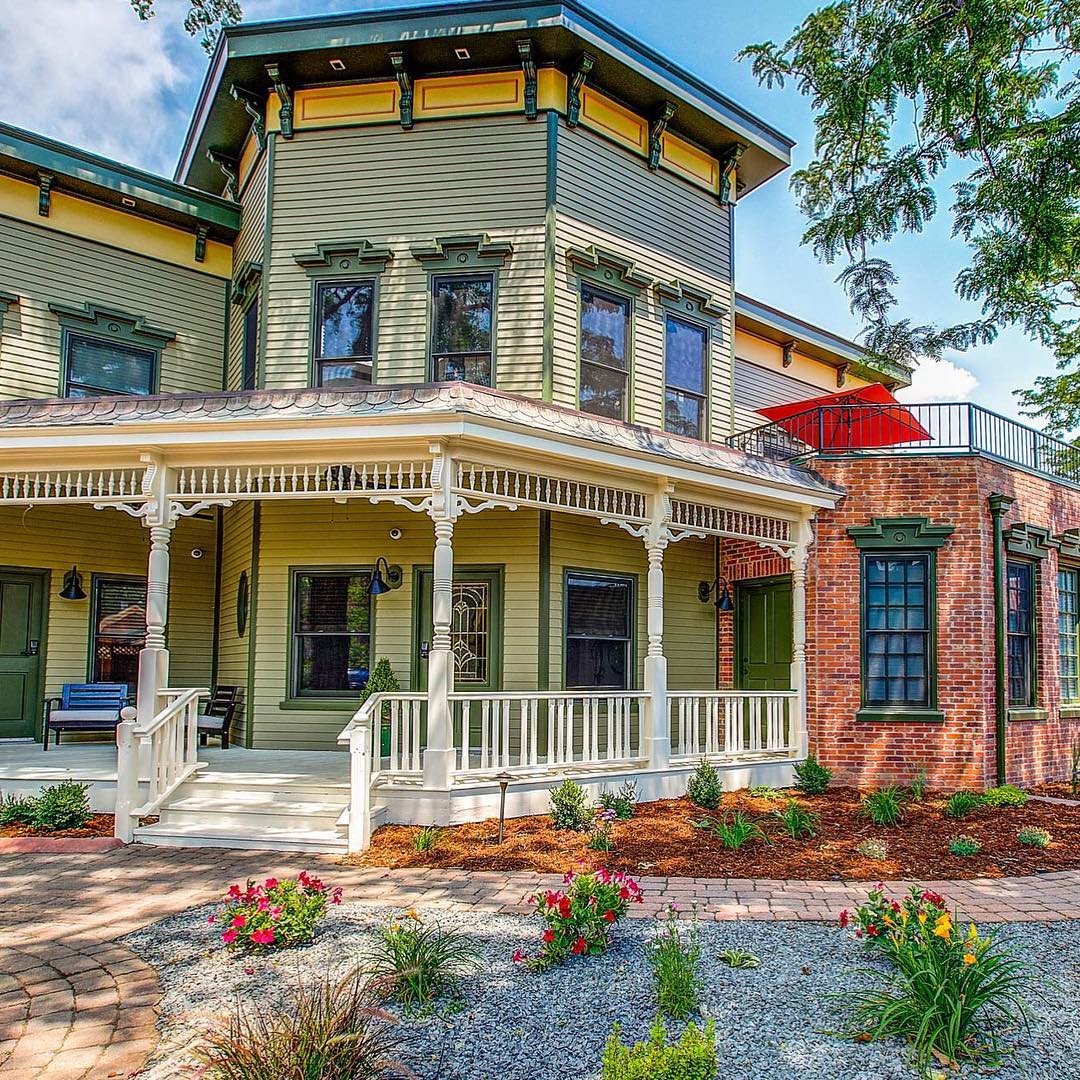 A boutique hotel twist on the traditional bed and breakfast, the Curtis Park Club is located in the heart of Denver's RiNo district and offers guests hip yet elegant accommodations. Guests enjoy the main house's natural charm, large parlor, dining area, and outdoor space, all within walking distance to some of Denver's best restaurants, bars, and shops.
Unique amenities include cruiser bikes available for guests to ride, a polaroid camera located in the upstairs lobby to capture your stay at the Curtis Park Club, and a beautiful balcony terrace to enjoy those sunny days in the Mile High.
Amenities:
Historic
Downtown location
Daily fresh breakfast
Cruiser bikes available
Polaroid cameras to capture your stay
Balcony terrace
Parking
Free Wi-Fi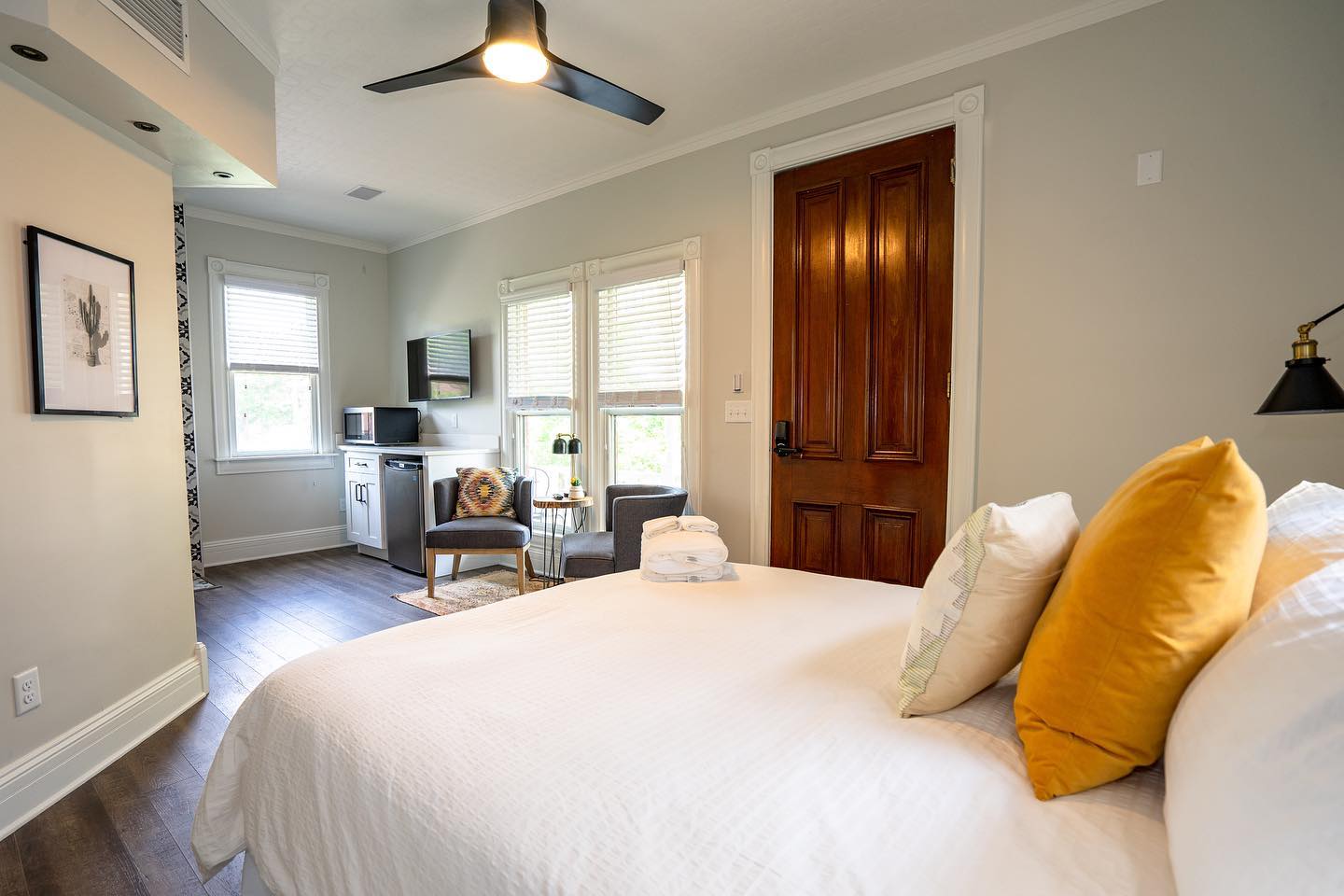 Choose from nine rooms, each decked out in boho modern attire, and featuring a cozy electric fireplace, modern amenities, and a private bathroom. Guests enjoy the rooms' ample space, updated features, large windows, and decorative details that make a stay here truly memorable.
2500 Arapahoe St, Denver, CO 80205 | 303-990-1294
Check prices, availability or book The Curtis Park Club
Uncover a bit of the city's history and find your urban oasis with these bed and breakfasts in Denver!