Even though life in the mountains can be frigid much of the year, taking a dip at one of Colorado's swimming holes is a great way to cool off during the warmer months. Many outdoors enthusiasts like to embrace the natural environment for a peaceful swim, while others love the rush of cliff jumping into refreshing waters.
Before going to a swimming hole, verify that weather hasn't caused the areas to close. Dryer summers might have lower water levels, and a lot of snowmelt might bear more than average.
Some of Colorado's swimming holes provide opportunities for cliff jumping. Anyone interested in this activity must ensure that all safety precautions are taken before going to the ledges. Test the depth prior to your first jump every single time.
People get hurt and die cliff jumping in Colorado, so use extreme caution…
Never go cliff jumping alone.
Make sure that your swimming skills are good enough to handle abrupt waters.
Always look before leaping.
Scout out the ledges and cliffs before jumping.
Have the right mindset.
Wear water shoes to protect your feet from the rocky surfaces in and out of the water.
Always make sure the water levels are deep enough for a jump.
Pay attention to warning signs.
But most of all, have a great time and expect to see other people at these spots on days with excellent weather. Come by and be a spectator to all the crazy people making the leaps.
Here are some of the top swimming holes and cliff jumping areas around the Centennial State.
Paradise Cove – Guffey
Located two hours south of Denver and an hour from Colorado Springs, Paradise Cove is one of the state's most popular swimming holes. Officially named "Guffey Gorge," this naturally fed pool has everything that you could want in a natural pool.
Thrill-seekers will love the cliff jumping with heights anywhere from 20 to 80 feet, allowing daredevils to choose what they are comfortable with. The area around the water is beautiful, too, offering canyons and mesas to explore and photograph.
To get to Paradise Cove, visitors have to hike a short one-mile trail out and back. There is a small entrance fee in the parking lot, but the walk to the water is less than 10 minutes long. Crowds are much smaller during weekday mornings, so go early if possible. Dogs are allowed on a leash, but alcohol is prohibited, and that's strictly enforced.
There is nowhere to camp right at the swimming hole, but a few campgrounds are nearby. Cove Campground and Lost Burro Campground are both just a few miles away. The town of Cripple Creek is also less than half an hour away and has hotel options.
Devil's Punch Bowl – Aspen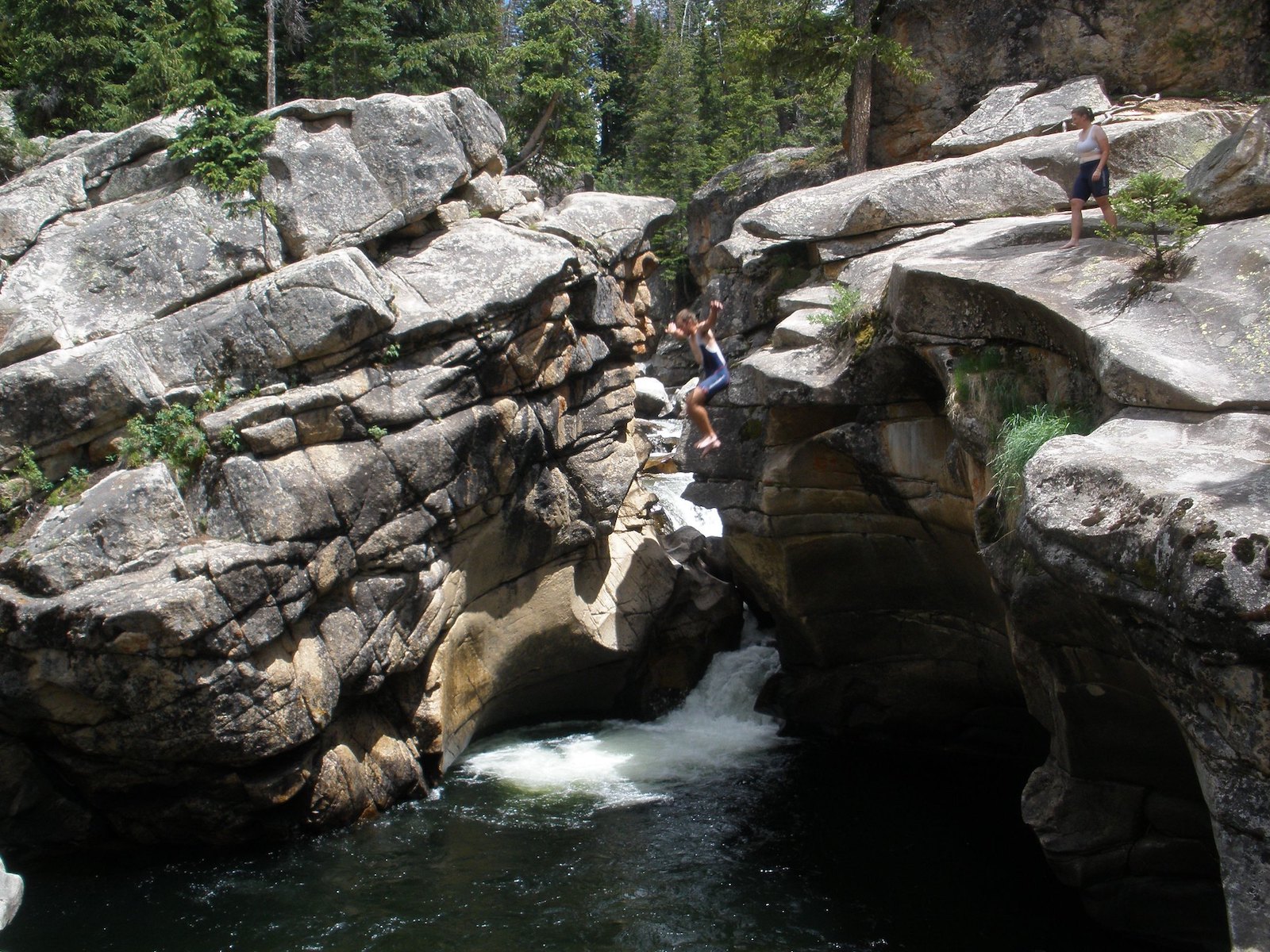 It would be a shame to travel through Aspen in the summer and not arrange for a few hours at the famous swimming hole, Devil's Punchbowl. This natural gem is popular among locals and tourists, alluring outdoor lovers to take a dip in its refreshing blue waters that average about 12 feet deep.
Swimmers that like to go for an extra adrenaline rush can jump off the 25-foot cliffs into the pool or start on smaller ledges. People who aren't up to going swimming can explore the rocks or easily watch cliff jumpers from many spots.
No camping at the Devil's Punchbowl is allowed, but sites at the Weller Campground are close by.
Adrenaline Falls – Durango
Adrenaline Falls is a locals' swimming hole, as it can be tricky to find but is well worth the search. It's located about 2.2 miles down Lime Creek road and off on a path past a grove of Aspen trees, which opens up to the grand 18-foot falls.
Cliff jumping here is a popular thing to do and can be done from heights 15-40 feet above the water. It's essential to bring durable footwear on this trek as the route down is steep, and anywhere that involves water means surfaces can be slippery.
Lime Creek Campground is located just south of the falls and is an ideal place to pitch a tent for the night in a rural environment. Little Molas Lake, north of Adrenaline Falls, also has campgrounds with incredible scenery and several amenities.
Boulder Creek – Boulder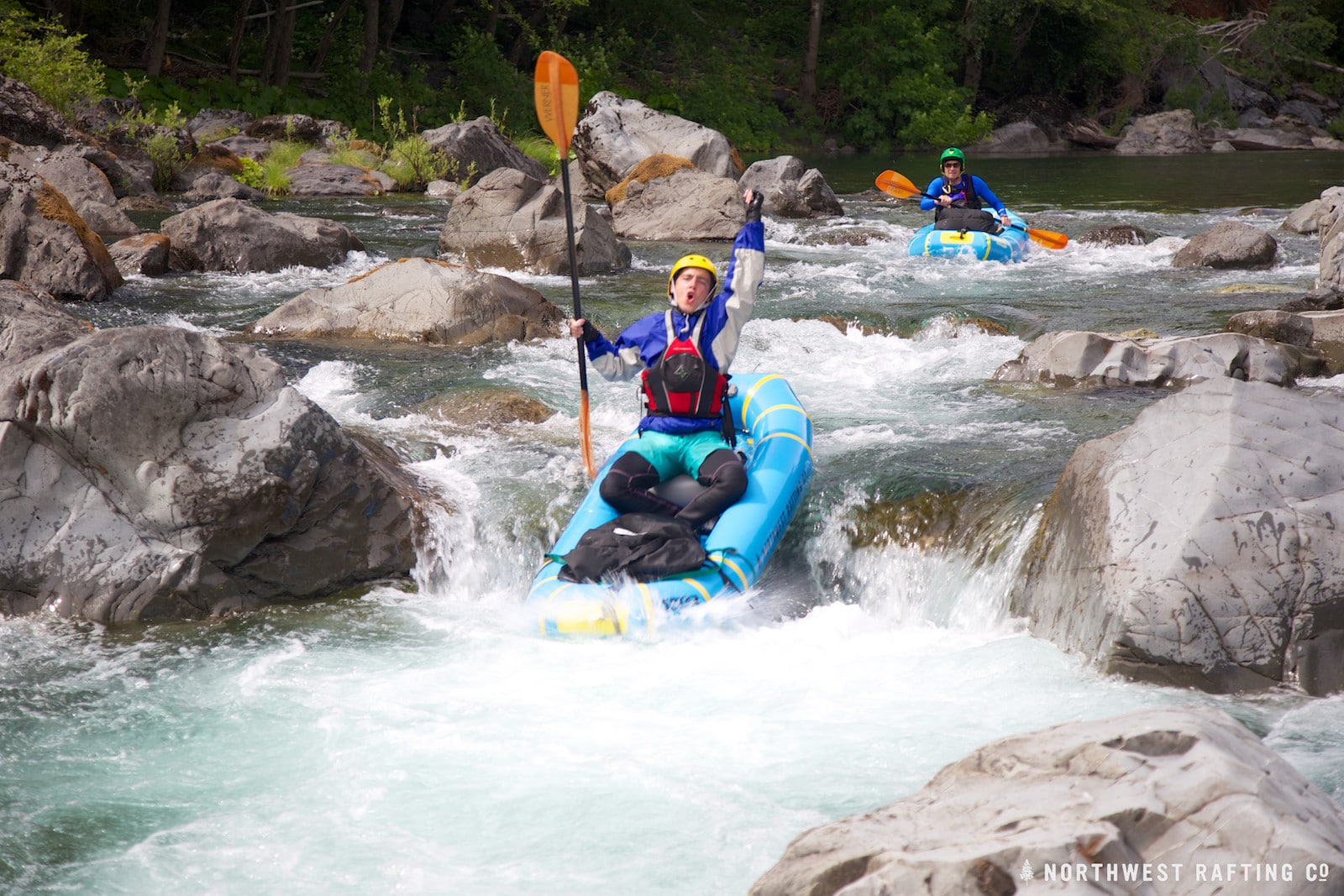 Boulder Creek is a 31.4-mile-long creek that travels through the city of Boulder, making it a hot spot to cool off on a hot day. Since a good portion of it is in the metro area, residents of the town flock to the water during spring and summer.
Some popular activities here include tubing, kayaking, swimming, wading, and rafting. The White Water Tube company in Boulder rents out a lot of water activity equipment.
Since this creek flows through Boulder, there are many hotels nearby. Camping can also be found by the town.
Jackson Lake – Orchard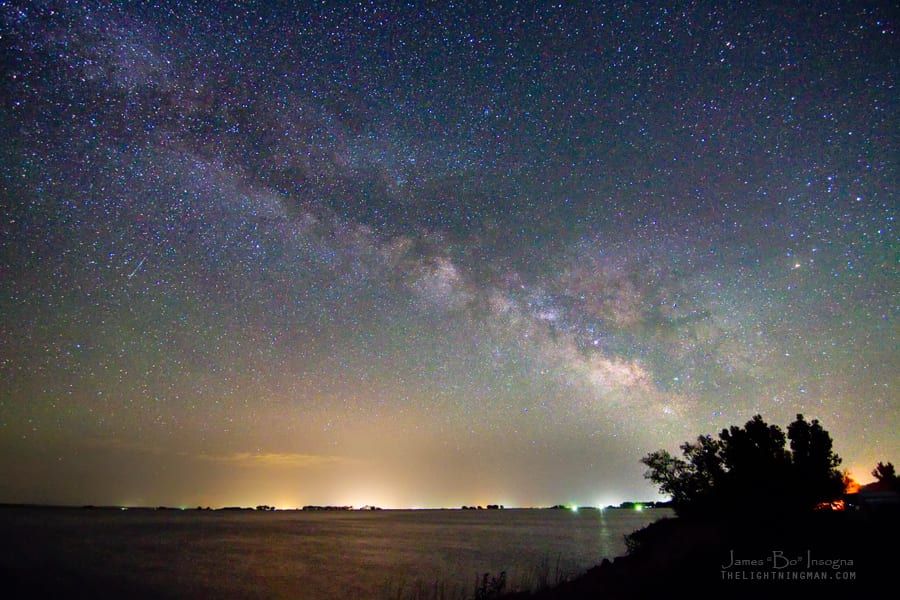 Rated as one of the "Top 15 Park Beaches" in the US by Reserve America, Jackson Lake is a paradise for outdoor activities. Especially in the summer, visitors flock to the south and west shores to cool off on those warm sunny days. There are no lifeguards at the lake, so swim at your own risk. Going into the lake without a vessel is permitted out to the no-wake buoys.
Aside from swimming, Jackson Lake is also an excellent place for boating, hiking, geocaching, water skiing, picnicking, and more. The park is dog-friendly as long as pets are on a six-foot-or-less leash. Come back to the lake during the winter for some ice skating and ice fishing.
Camping at the lake is very popular and requires reservations and a valid park pass. Some grounds are open all year long, while others are seasonal for summertime use. Each site comes with various amenities and can fit up to six people. Check-in time is 1 pm, and check-out is at noon. Quiet hours are between 10 pm, and 6 am.
Big Dominguez Canyon Swimming Hole – Whitewater
Set about 20 miles south of Grand Junction, this swimming hole is a hidden gem that can only be accessed on a hiking trail. The Bridgewater Trailhead leads hikers on a 12.3-mile hike out and back with stunning scenery and a natural swimming hole featuring a waterfall.
Petroglyphs are on some canyon walls, and the trees with rocky landscapes in the background are well worth stopping for a few photos. This hike takes a little over four hours to do plus whatever time is spent at the water and brings plenty of sun coverage as there isn't too much shade present.
This area is trendy for camping. Big Dominguez Canyon has many places to set up for the night, but one of the most visited ones is the Dominguez Campground.
Lost Man Lake – Aspen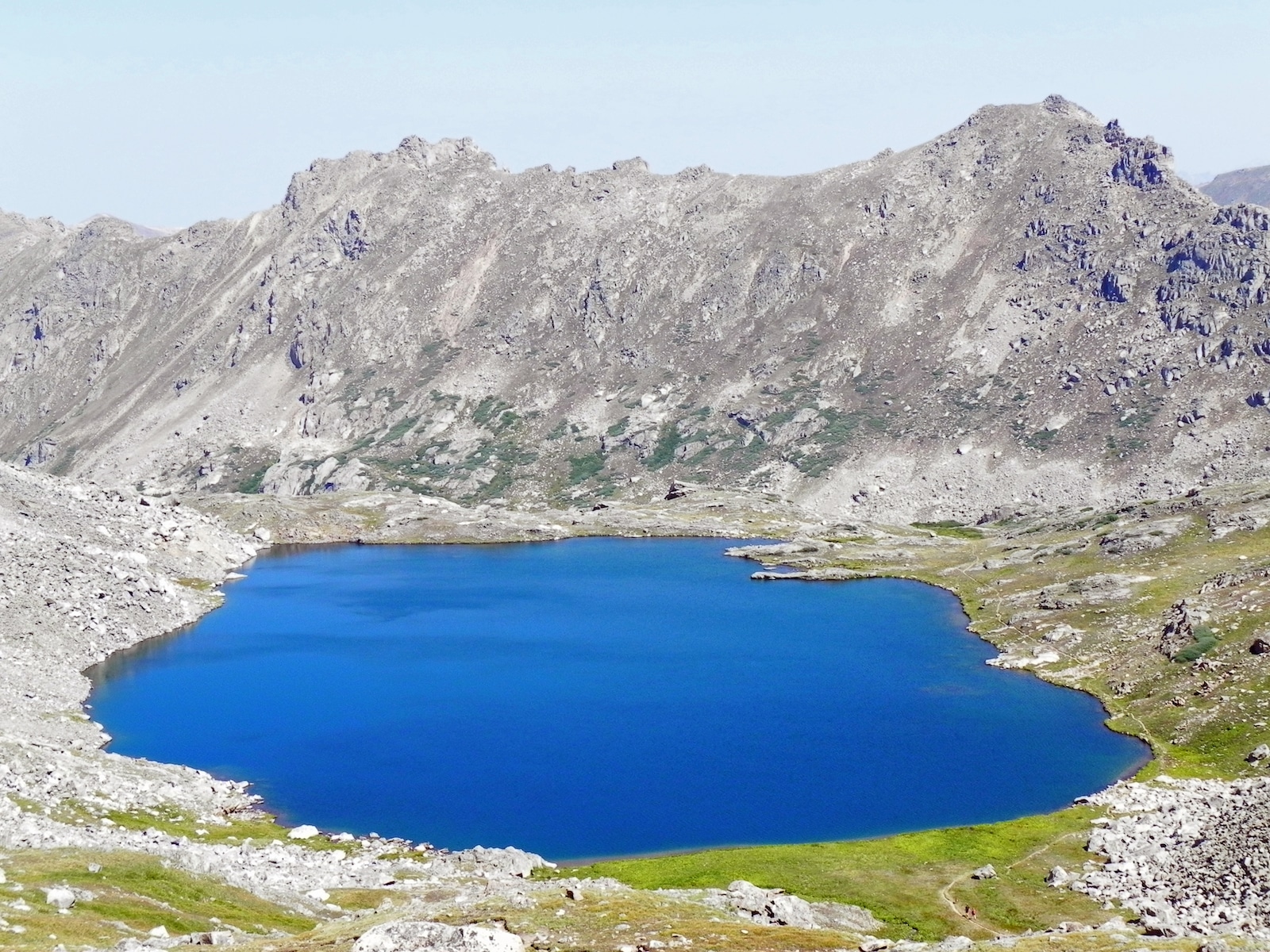 For an adventure that ends with a refreshing, but polar-bear-plunge-level swim, take the Lost Man Trail in Aspen to discover this lovely little alpine lake. From the start of the trail, it's roughly three miles to reach Lost Man Lake at 12,482 ft.
Swimming is acceptable but be warned that the water is very chilly even during summer. Visiting this area is best to do in June, July, or August after all (or most) of the snow has melted.
The trailhead for Lost Man Trail begins at the Lost Man Campground and is a great place to rest before or after hiking out to the lake.
Medano Creek – Mosca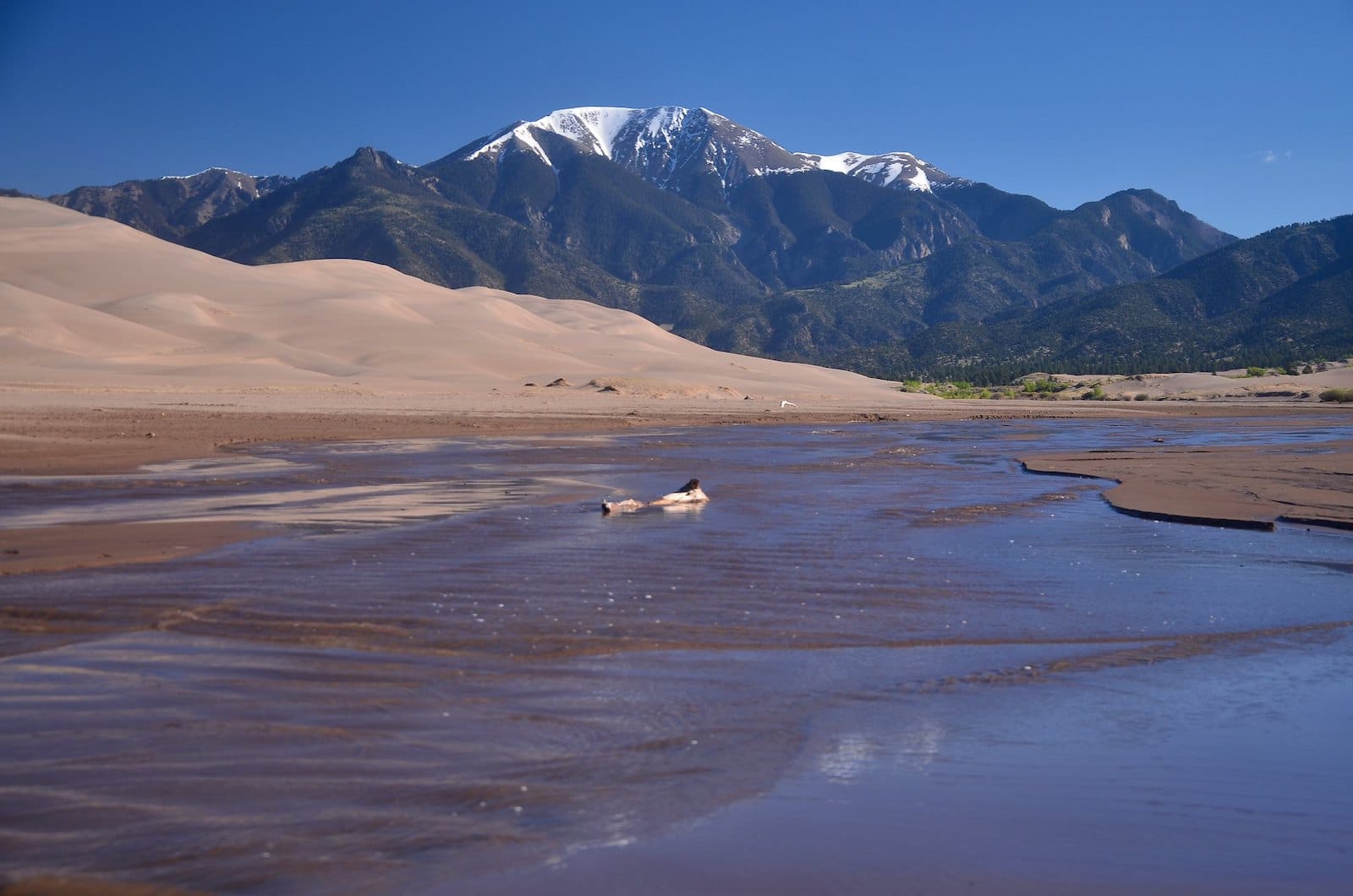 Located just north of Alamosa in the Great Sand Dunes National Park and Preserve, the Medano Creek is one of Colorado's most unique water experiences. This distinctive "beach" area gets a flowing stream thanks to the snowpack melting in the Sangre de Cristo mountains.
The water is most robust during springtime and early summer mornings and can get as wide as 20-40 feet and a few inches deep. Even though the water doesn't have a depth conducive for swimming, the snowmelt comes down in rhythmic ocean-like waves that make it fun for splashing around and even tubing on the creek.
There are a few campgrounds located near Medano Creek. Piñon Flats Campground, Indian Grove, Sand Creek, and Little Medano are the closest campgrounds to the water area.
When the sun comes out, and temperatures rise, any one of these swimming holes should provide an exciting outdoor swimming experience.