Steamboat celebrates its 48th annual Cowboy Downhill, one of the most unique ski racing events in Colorado. It invites competitive cowboys from all over to strap on their skis and race to the base.
This year it will be held on Monday, January 16th, 2023. Professional rodeo cowboys are invited from as far away as Canada and New York. Cowboys race each other two at a time, with the best overall time winning.
January Ski Racing Festival in Steamboat Springs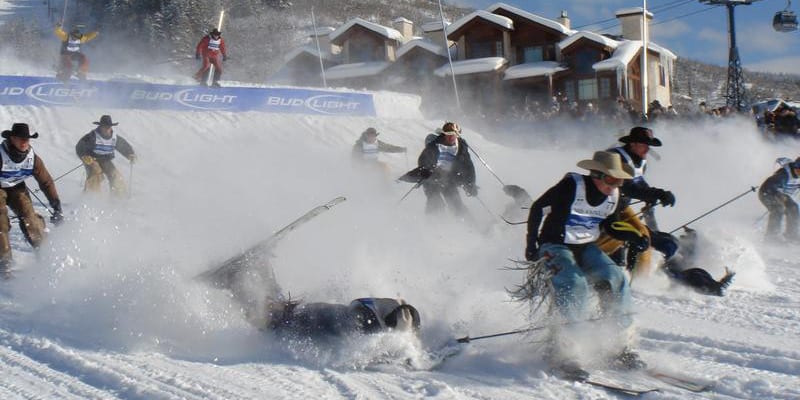 The Cowboy Downhill started in 1974 when world cowboy champion Larry Mahan and skiing Olympic medalist Billy Kid gathered ProRodeo stars from the Denver Stock Show to Steamboat Springs for ski races. The event was such a hit that it's become an annual tradition.
Festivities start early on in the day in true Western style. Visitors can expect live music, Bud Light tents, Broncos cheerleader appearances, and even some 4H farm animals. Food and drink vendors will be on-site so you can grab a bite while you enjoy the races.
Requirements:
There are several requirements that event participants must adhere to.
Registered in National Western Stock Show & Rodeo in Denver.
Member of ProRodeo Cowboys Association or Professional Bull Riders
Wear chaps and cowboy hats while competing.
Events at Cowboy Downhill
This video shows the Cowboy Stampede, the final event of the Cowboy Downhill.
The party kicks off at the base with a 4H animal petting zoo, a learn-to-rope clinic, and limited edition Bud Light Cowboy Downhill logo wear. The dual slalom races begin at 1 pm down Headwall, a green trail at the base of the mountain. Two cowboys ski between flags, hit a single jump, and at the end, they must lasso a person, saddle a horse, and sprint across the finish line.
The final race is the Stampede, which pits every cowboy against one another in a mass race down Headwall. After the individual races are over, all participants are invited to the Cowboy Stampede where they rush for the finish line simultaneously. It's fun to watch.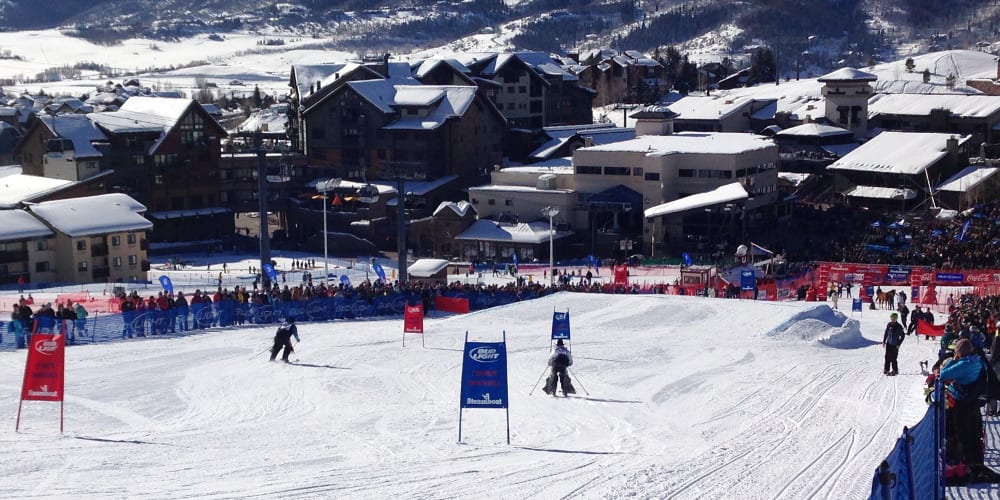 Accommodations
Check out the best hotels in Steamboat Springs.
Details
Address: Gondola Square, 2305 Mt Werner Cir, Steamboat Springs
Phone: 970-871-5472
Date: Monday, January 16, 2023
Website: steamboat.com/…