Powderhorn seems almost hidden on Colorado's Western Slope, in the tiny town of Mesa. This adds to the allure and beauty of the place.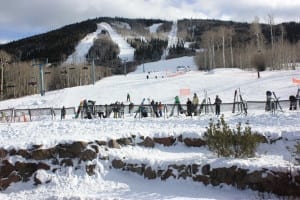 It's a laid-back locals' mountain that offers up some of the best light, dry snow, and unique views from the side of the Grand Mesa. Its 1600 acres are comparable to Loveland and Crested Butte in size, so there's no shortage of trails to explore.
The drive is fours hours from Denver and almost all highway 70. Once you arrive you'll be rewarded with few crowds and flexible pricing. The base village consists of a few places to stay and a couple of restaurants.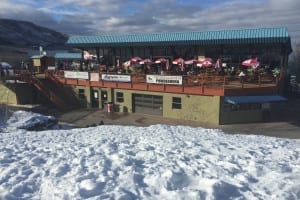 Powderhorn has a good vertical of 1,650 feet and a summit of 9,850 feet, so it's well below the treeline making for not super windy conditions. Tree skiers will appreciate the open glades spread across the mountain. They also have bag jumping and a tubing hill.
The miniature town of Mesa, located ten minutes from the slopes, has a couple of general stores and a bar/coffee shop. Pick up breakfast on the way to the hill at Blink Twice, or stop by after for a beer. Good lodging is available in town, but why not stay in a cabin at Vega State Park.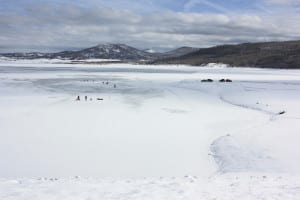 Vega is located thirty miles east of the resort, almost tucked into its own section of the Rockies. The park offers five cabins for rent year-round, each with heat and electricity. Amenities include typical campground bathrooms shared among the cabins, as well as a fire pit with grill, microwave, and mini-fridge for each cabin. Unfortunately, there is no running water in the units and the water pump only works in the summer.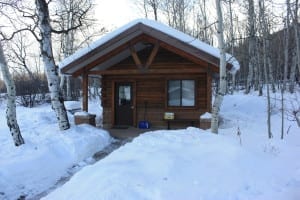 Three out of five of the cabins are dog friendly and there's plenty of space to play outside. Park activities in the winter include ice fishing and snowshoeing, or just chilling in your own alpine hideaway. A cabin runs a reasonable fee per night, a bargain for the front yard you're getting. They sleep six and you can reserve them online.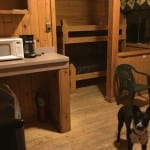 Collbran lies twenty minutes from the park on the way to Mesa and Powderhorn. Like Mesa, it's quiet and friendly. There's a locals' bar in town, The Grand Mesa Tavern, a supermarket, and a few places to eat. Be sure to get gas here since there's nothing in Mesa.
While in the area, take time to drive over the Grand Mesa Byway to Cedaredge, a cool little gem forty-five minutes away. Get a meal at RJ's Steakhouse and beers at The Pondy. Or skip Cedaredge altogether and just get lost on the largest flatted topped mountain in the world for a few hours.