[Rock climber on Garden of the Gods. Photo:
Michele ONeill
] Colorado is revered for its mountain views and stunning scenery so it's really no wonder that its landscape attracts the best rock climbing enthusiasts from around the world on a regular basis. Its natural rock formations offer incredibly challenging and satisfying climbs for everyone.
With some areas only suitable for the very experienced climber, Colorado's peaks do have something to offer climbers of all levels and it really is an area of the world that should be on every rock climber's bucket list.
Colorado's Best Rock Climbing Routes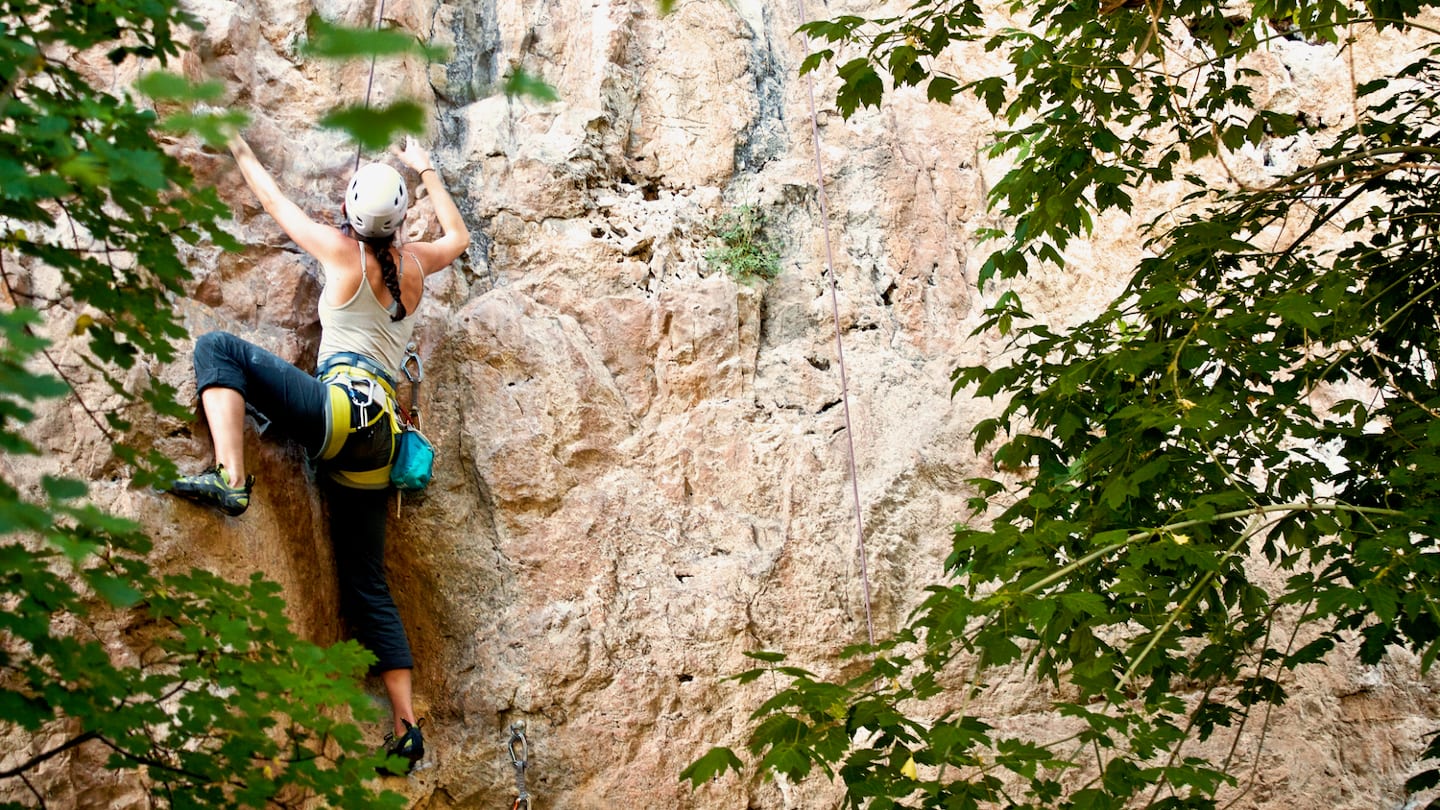 Any level of climber, from beginner to expert, will find routes they are comfortable with. There are plenty of rock climbing guides who can help you have a safe, fun time. The best part is that thanks to Colorado's varied topography and elevations, you can rock climb the top spots year round.
Here is a round-up of some of the best places that Colorado has to offer when it comes to making the most of the natural scenery for rock climbing enjoyment. So get your safety gear ready, get some comfortable climbing shoes, pack some chalk and check out some of these incredible locations.
1. Climbing in the Garden of the Gods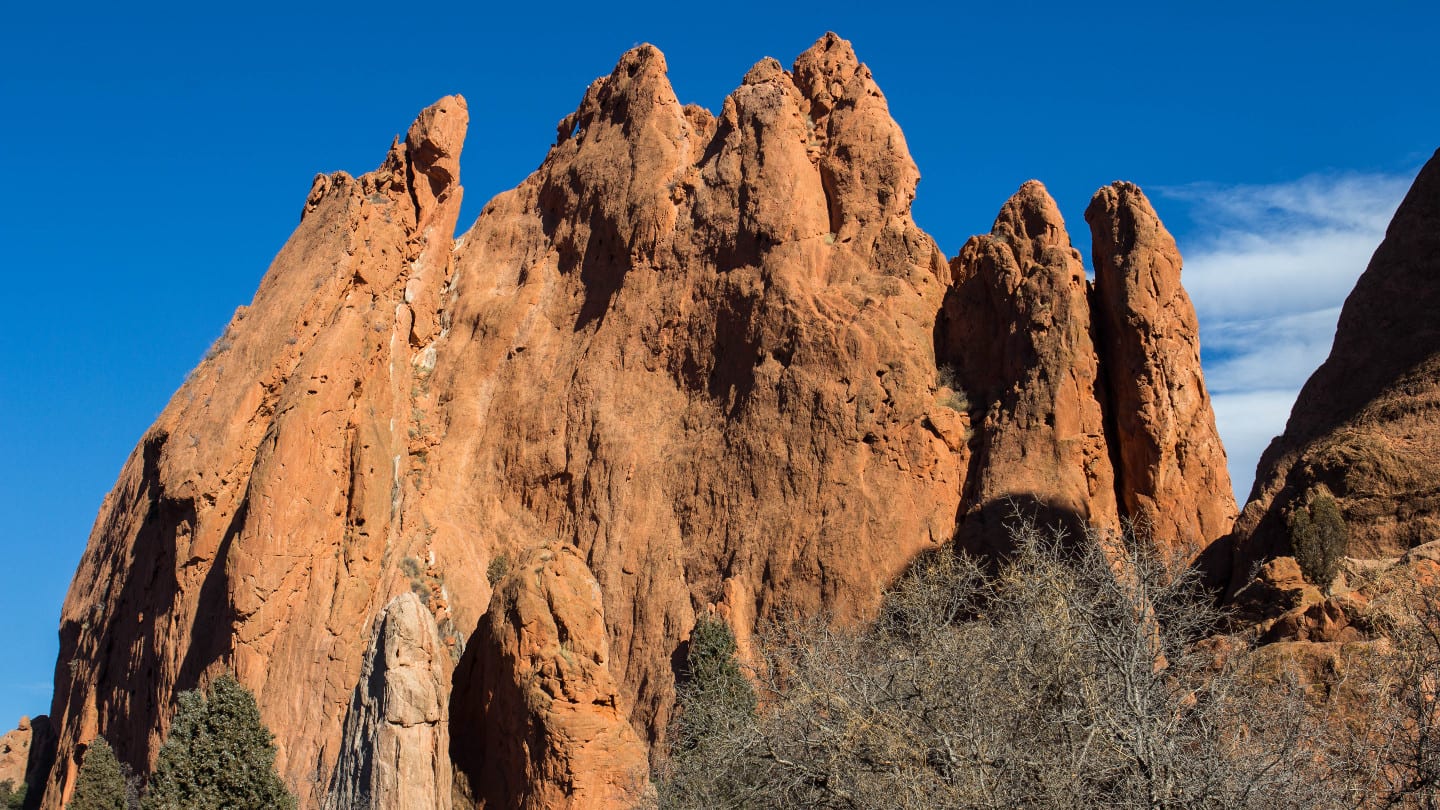 This amazing place is one of the favorites for locals and visitors alike partly due to its location – it is very near to Colorado Springs – one of the state's largest cities. Attracting more than 2 million visitors per year, Garden of the Gods features hiking paths that are paved, and wind their way through this natural rocky landscape. The sandstone is a striking red color, making for some stunning scenery as you travel through this part of the world.
When rock climbing here you need to speak to the park rangers first as not all the rocky areas are suitable for climbers. It's important to check in at the visitor centre before making any attempts to climb in this beautiful area. Once you have checked in and got all of the advice and guidance required, you can head out and enjoy the stunning scenery this park has to offer.
2. Climbing in Rocky Mountain National Park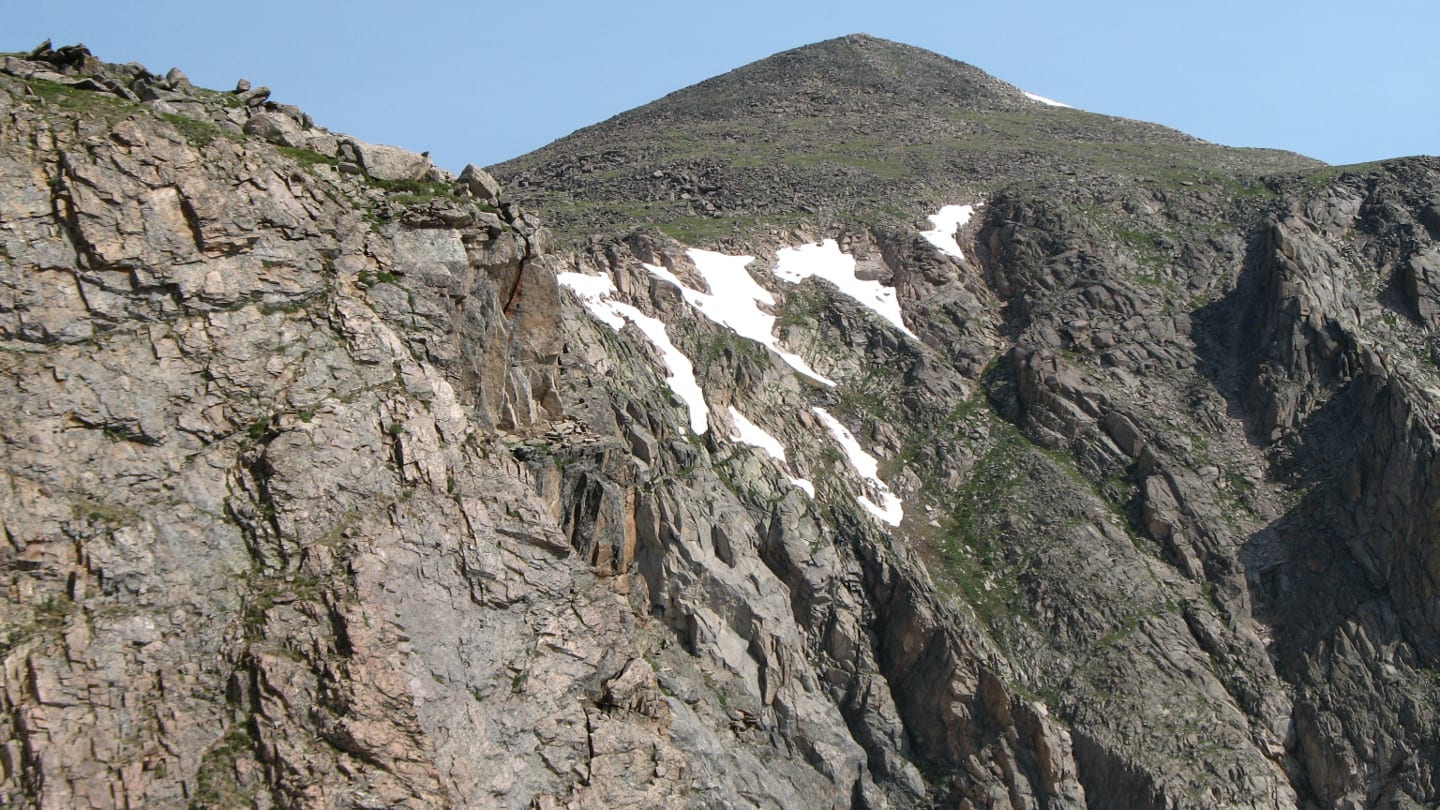 This really is the perfect place for the rock climber – whether you are a novice or an expert, there is something for everyone in this particular park. You can go for rock climbing, boulder climbing or ice climbing and you will be spoilt for choice with around 265,000 acres of granite Rockies available to choose from. It lies between the Grand Lake and Estes Park.
There are guided tours available for beginners, who will make sure you have everything you need and guide you on the most appropriate routes for your ability and fitness levels. Rocky Mountain National Park is a massive park with something for everyone, including convenient campgrounds and two mile high views.
For expert climbers there is no end of options to choose from including spending days climbing incredible heights with a tent – this needs to be agreed in advance with the park management though so make sure you have permission before you begin your climbing experience.
3. Climbing in the Black Canyon of the Gunnison National Park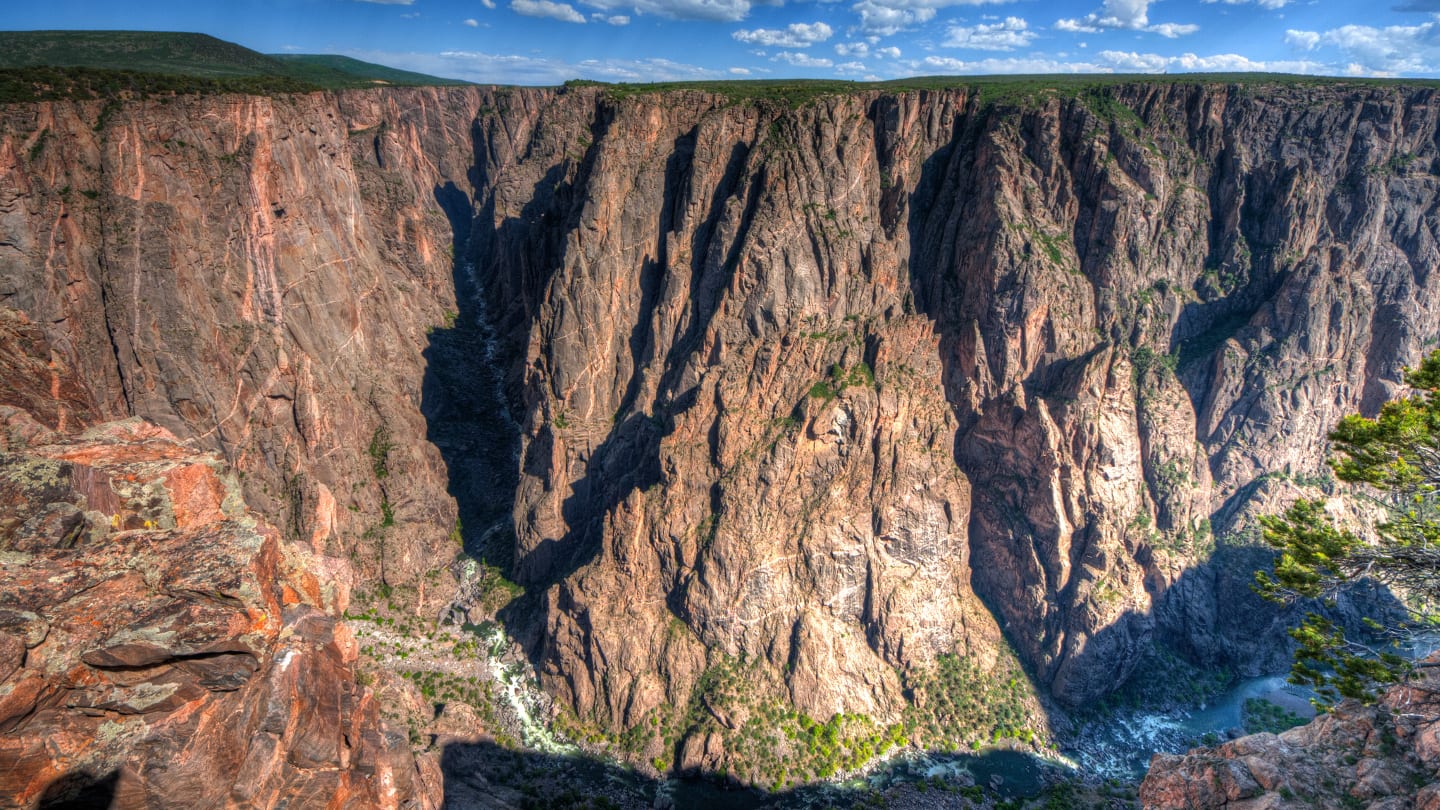 Definitely not one for beginners, or the faint-hearted, the black canyon sees cliff walls of 2,722 feet high, rising above the Gunnison River. There are many available routes here which are all guaranteed to provide an adrenaline rush for expert climbers.
You start from the canyon floor, which is in a wilderness so you must register with the ranger station before you start and make sure you follow all the rules and guidance before heading out on the ultimate Colorado climbing experience.
There are more than 140 planned routes at Black Canyon of the Gunnison and probably many more that have yet to be discovered by climbers so it's definitely a trek that will increase your street cred among the climbing community.
4. Climbing in Rifle Mountain Park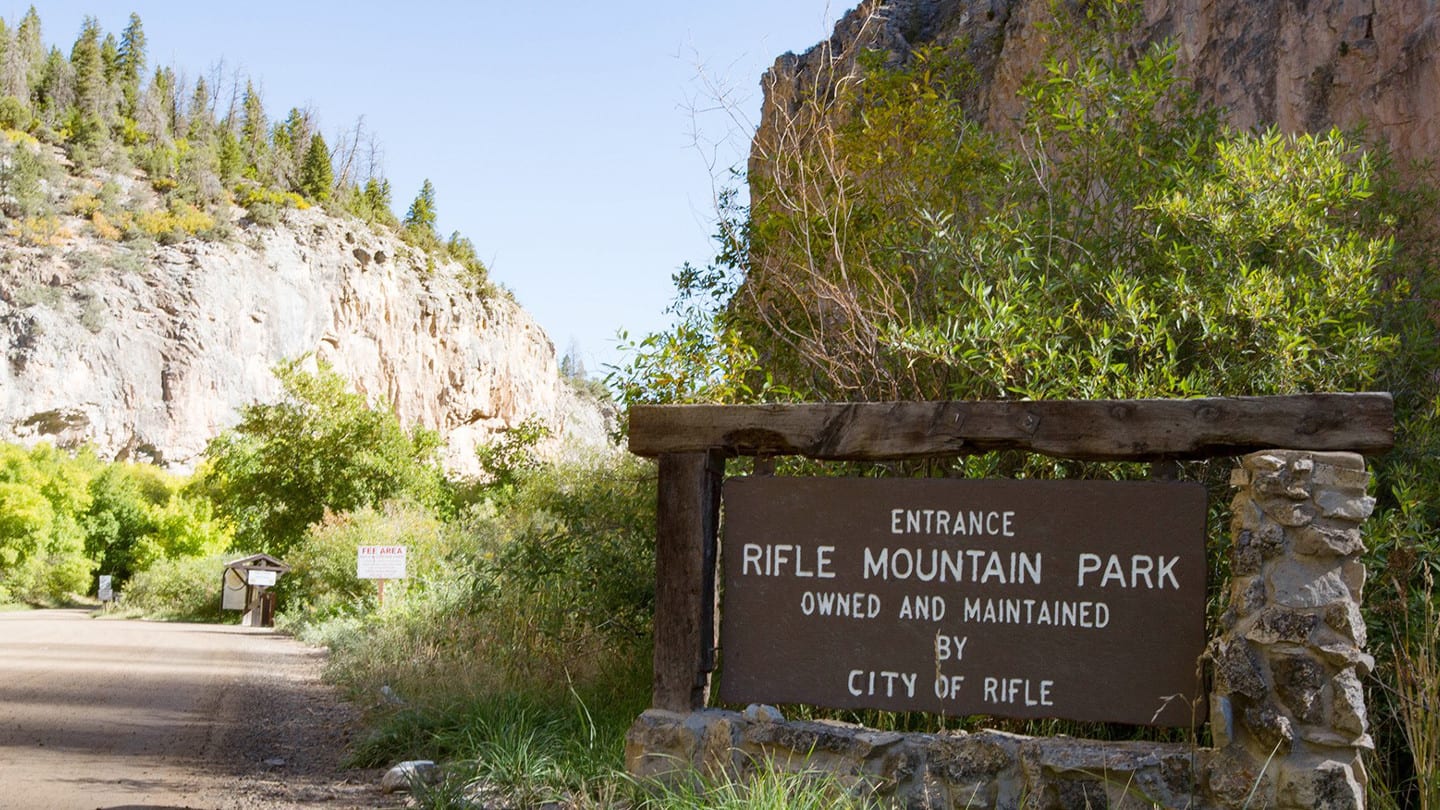 This mountain park is perfect for those climbers looking to take part in limestone sport rock climbing with its many challenging overhangs. The only issue with Rifle Mountain Park is that it's very well-known among the locals as well, so you might find it a bit more crowded than you'd perhaps like.
However, there are a large number of routes and climbing choices so you should still manage to find your own space and there are around 25 camping zones if you want to make the challenge last for a few days.
5. Climbing in Castlewood Canyon State Park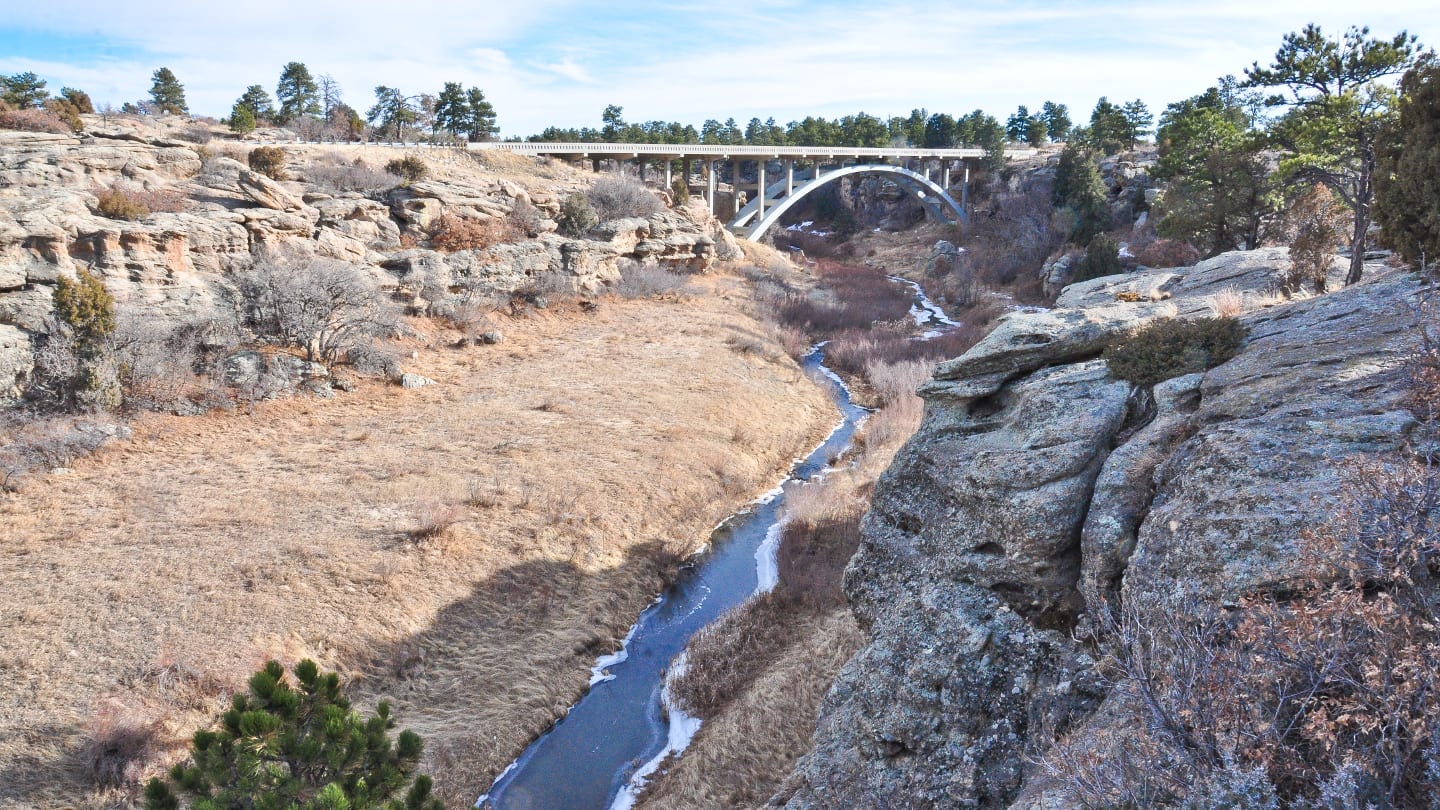 This park is actually the perfect place for beginner rock climbers to improve confidence levels and practice their skills. Castlewood Canyon features twenty feet up to sixty feet climbs, including using rope lines or crack climbing options.
Located in Franktown, there is a paved trail, which takes visitors up to the best climbing routes and most of them are short and quick to complete. It is not a park where you can camp – its day use only – however, you can always stay in the nearby town if you wanted to come back over the course of several days.
With its beautiful scenery, multitude of climbing parks, and options to try your hand at a variety of climbing techniques, Colorado is really is the go-to place for anyone with an interest in outdoor rock climbing. Two other of the most renowned options for rock climbing include: Eldorado Canyon State Park in Eldorado Springs by Boulder, along with Grand Junction's famous Colorado National Monument. With options to camp and climb, or just spend a day in most places, there really is something for everyone.