[Chinese New Years Festival in Colorado Springs. Photo: cscci.org] Happy New Year! No, not that New Year, the Chinese one! It's time for the 18th annual Chinese New Year Celebration on Saturday, January 26th, 2019 at the City Auditorium in Colorado Springs.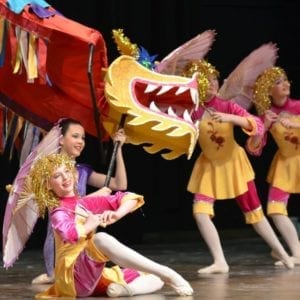 The Chinese New Year celebration originates from a lunar calendar that begins with the new moon and falls on February, 5, 2019. For the Chinese, the year is 4717 according to the traditional Chinese Lunar Calendar and it's time to celebrate! This ancient celebration has been going on for longer than there has been written language and is shrouded in myth, legend, and tradition.
Chinese New Year's Celebration in Colorado Springs
According to the Chinese Zodiac, it's the year of the Pig, one of the 12 animals traditionally associated with specific years, and if you were born in 1923, 1935, 1947, 1959, 1971, 1983, 1995, 2007 and 2019, your a pig too so it's kind of a celebration for you. (Other animals are welcome too, of course!)
Above: 2014 Chinese New Year Festival
Held by the CS Chinese Cultural Institute, the
Chinese New Year Festival
has become a popular cultural event in Colorado Springs and introduces celebrators to the fascinating history and heritage of the Chinese culture. The Chinatown exhibit features merchants and artisans offering traditional Chinese and Asian themed items and the "Taste of China" exhibit provides a variety of Chinese inspired food and drink.
Performances will include traditional Chinese dancing, some pretty amazing yo-yo demonstrations, Kung-Fu exhibitions, and an array of Chinese musical performances, all on the Main Stage. The "Teahouse" provides visitors a chance to chill out and relax while learning the beautiful art of calligraphy, learning to play mahjong, and learning to play "Go", the traditional Chinese version of checkers.
So get ready to celebrate and get an insider's look at some fascinating Chinese culture, chow down on some authentic Chinese cuisine, or just sit back and enjoy all the performances.
January 26, 2019, 10AM | City Auditorium, 221 East Kiowa St, Colorado Springs
Colorado Springs Accommodations
Details
Address: City Auditorium, 221 East Kiowa St, Colorado Springs
Date: Sat, January 26, 2019
Website: cscci.org/CNYF