With the opening of The Source back in 2013, the somewhat new concept of modern food halls was brought to Denver. Craft beer, coffee, spirits, wine, and food all in one place. That's exactly what The Source brought to Denver and ever since then, food halls around the mile-high have been popping up all over town.
And while the concept of a modern food hall has almost become commonplace and no longer considered innovative, it's still a trend that doesn't show signs of stopping anytime soon. So, we've shared below the top food halls and marketplaces in Denver
to eat, drink, and be seen.
Denver Central Market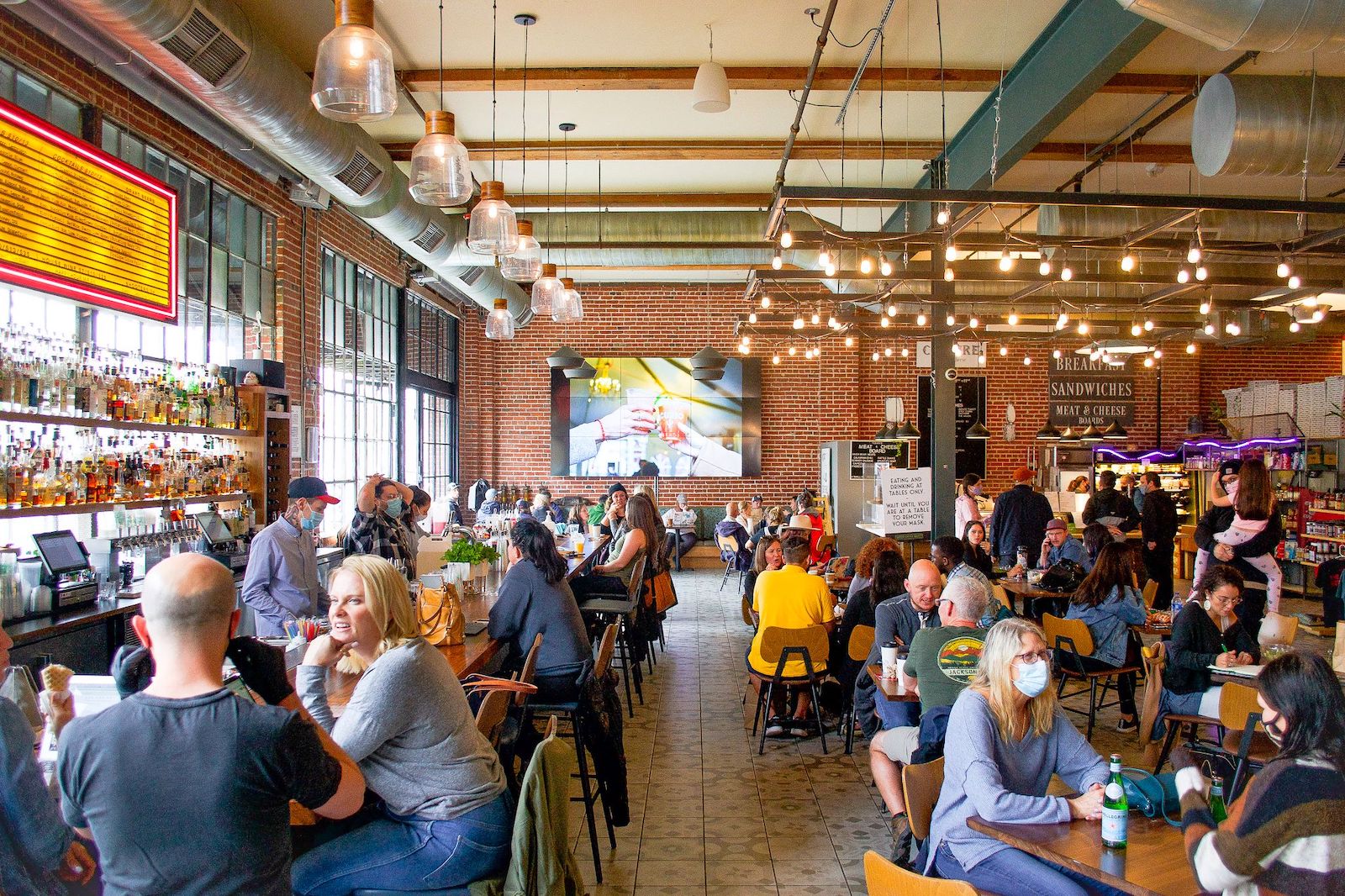 With two locations in LoDo and at the Denver International Airport, the Denver Central Market is making a name for itself as "the" food hall to visit. Located in the middle of the River North neighborhood, the space offers a classic food hall feel with few frills.
The Denver Central Markets open concept houses a bakery, coffee shop, fish market, rotisserie, ice cream, chocolate shop, pizza, sandwiches, and more – basically something for everyone. From breakfast until dinner, this community gathering place is perfect for hanging out with friends and family. Or shop their retail selections including fresh bread, oils, and a full-service butcher shop.
2669 Larimer St, Denver, CO 80205 | denvercentralmarket.com
The Source Hotel & Market Hall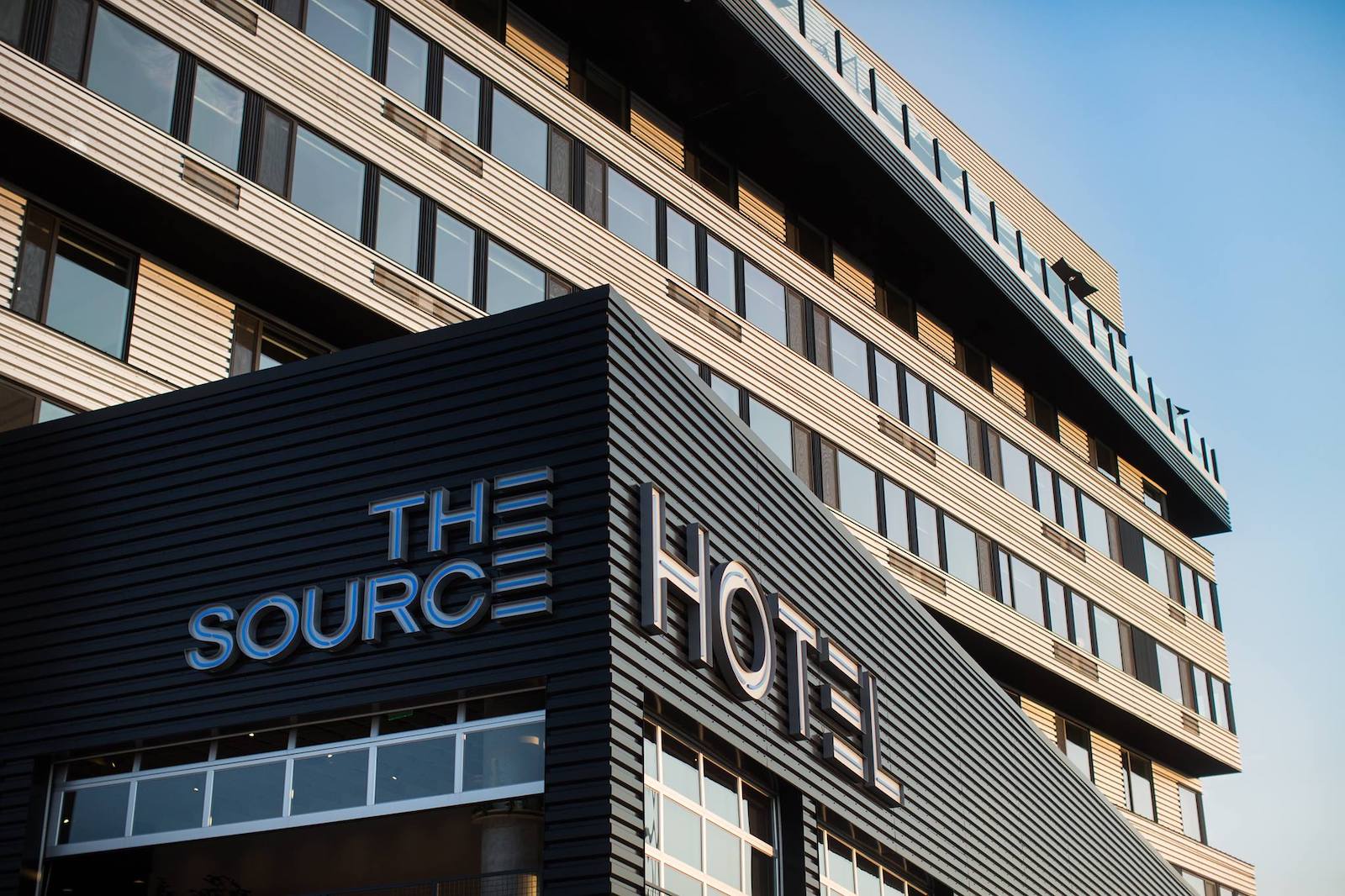 As the first food hall to open in Denver, and one of the first to open in Colorado, The Source Hotel + Market Hall sets the standard. Over the years, it's expanded to include a hotel, market hall, and rooftop bar. As a staple of the RiNo district, the building houses two halls that span 45,000 sq ft, offering a collection of 25 artisans including Grabowski's Pizzeria, Safta, and the Proper Pour.
Take in the views of Denver from their rooftop bar and restaurant, The Woods Restaurant, complete with a New Belgium Beer Garden. Serving up breakfast, brunch, lunch, dinner, and happy hour, this is the place to enjoy those summer evenings or cool fall days. And if you don't feel like leaving, book a room with local touches and design work from Winter Session at their hotel.
3330 Brighton Blvd, Denver, CO | 720-409-1200 | thesourcehotel.com
Avanti F&B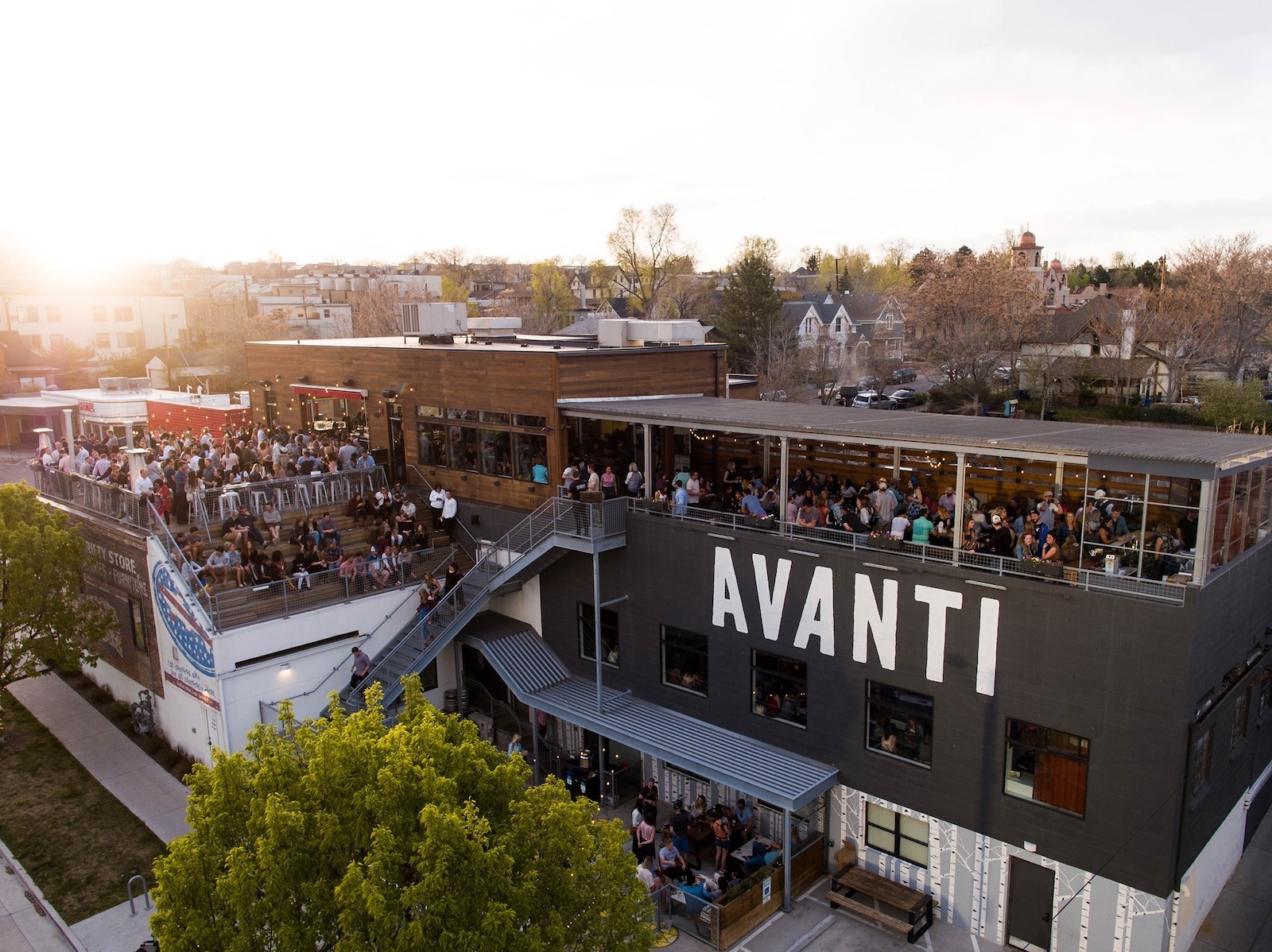 The launchpad for several Denver eateries, Avanti Food and Beverage has two locations in Colorado: one in Denver's LoHi and another in Boulder. Spread throughout two levels, the collective eatery houses a smattering of food stalls complete with two bars and items like pizza, poke bowls, and arepas.
While the food is delicious and the drinks are great, Denver's Avanti Food and Beverage's biggest draw is its stunning rooftop patio with plenty of room to take in beautiful views of Downtown Denver.
3200 N Pecos St, Denver, CO 80211 | 720-269-4778 | avantifandb.com
Denver Union Station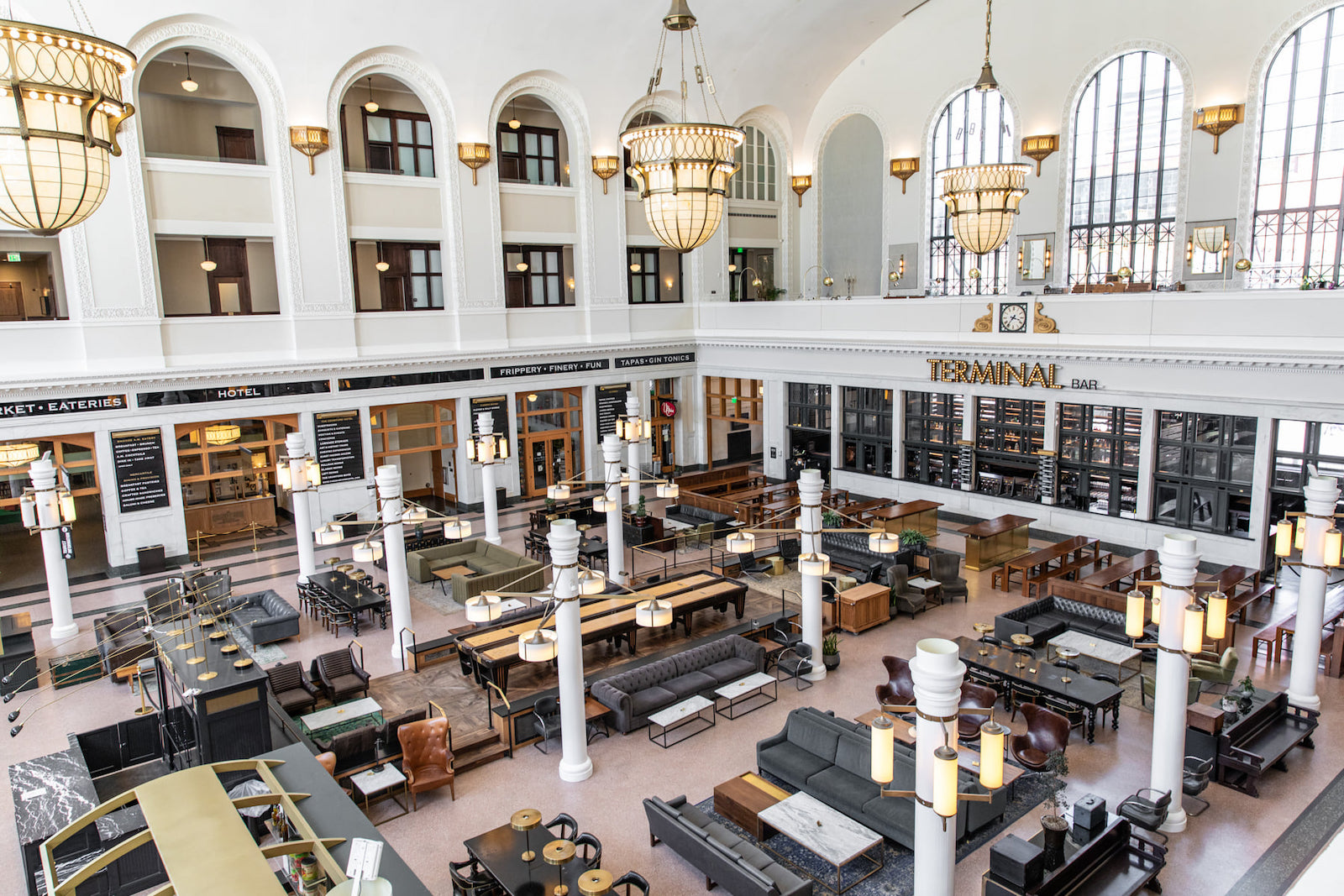 Denver's Union Station is much more than a place to catch a train, plane, or automobile. A hub for social gatherings, late-night cocktails, and home to one of the best Christmas tree displays every holiday season, the historic station was first established in 1881 as Denver's main train station. Now also home to several restaurants, bars, a bookstore, a creamery, and the swanky Crawford Hotel.
Local favorites include Snooze an A.M. Eatery and Stoic and Genuine. After work, you'll often see late-night socials gather at the Terminal Bar for beers and crafty cocktails. Once a historic ticket office, guests can now walk up to the window and order a beer. Be sure to also stop by their farmers market, May through October, and shop local vendors and artisans.
1701 Wynkoop St, Denver 80202 | 303-592-6712 | unionstationindenver.com
Denver Milk Market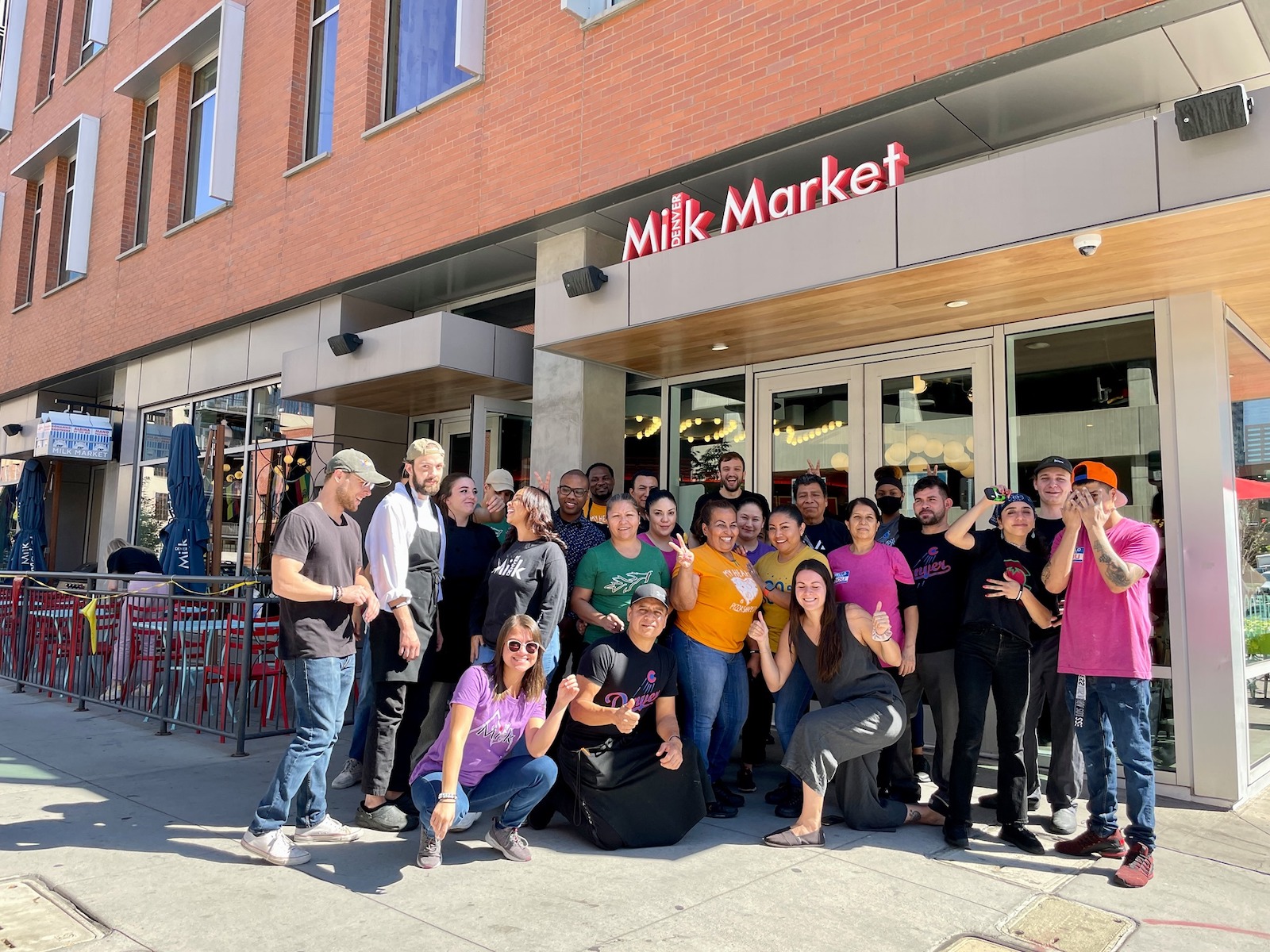 Found in Denver's Ballpark Neighborhood, one block from Union Station, the Denver Milk Market provides visitors with a unique array of restaurant options, bars, and retail food vendors. Whether you're looking to grab some fresh meat at Ruth's Butchery or find something to start your day off right at Morning Jones, there are over a dozen options to choose from.
The Denver Milk Market has a true sense of a marketplace, acting as a site to not only grab a drink with friends but also to stock up on a few of your groceries for the week. Food options include everything from poke bowls to pizza and even ice cream.
Perhaps one of the things that makes this food hall unique is its location within the historic Dairy Block. Guests will find a plethora of shops, restaurants, a few bars (seven, but who's counting), a coworking space, and a boutique hotel, so you don't have to leave the fun.
1800 Wazee St #100, Denver, CO 80202 | 303-792-8242 | denvermilkmarket.com
Stanley Marketplace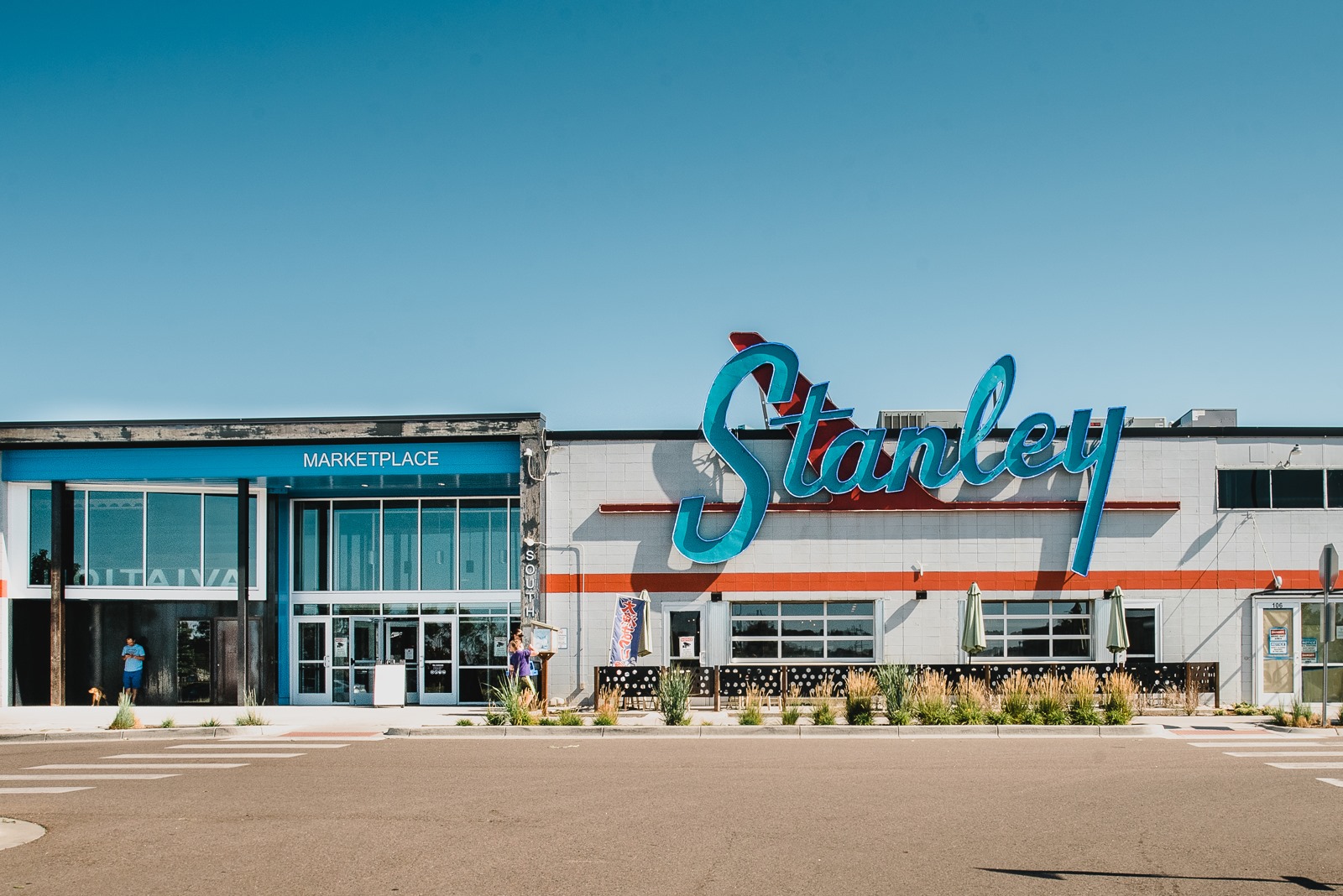 The Stanley Marketplace is a spot where you can eat, drink, shop, exercise, play, and even work (but who wants to do that?). Boasting 50+ independently owned Colorado businesses within a large building that was originally home to Stanley Aviation, guests can enjoy a meal in an area that once was used for testing planes.
This huge market has grown in size over the years to include a brewery, restaurants, a gym, retail shops, and even a place to get your nails done at the Denver-based Base Coat Nail Salon. Their massive outdoor space also provides places to sit and play games.
2501 Dallas St, Aurora, CO 80010 | 720-990-6743 | stanleymarketplace.com
With a range of options spread across Denver's metro area, planning a visit to any one of these food halls is sure to be a delight. Boasting diverse menus, independently owned shops, and unique retailers, Denver's food hall scene is only growing. For anyone planning on taking their special someone out to one of these locations, also consider some of the date ideas in Denver.