Between the state's immense, snow-capped mountains to its vast, open plains, Colorado is home to a unique, storied wilderness. For those looking to truly experience the wild west, all while taking in stunning scenic views, head to one of the many diverse dude ranches sprinkled across the state.
The word "Dude ranch" is actually quite a broad term that is loosely defined as a ranch that's been converted into a vacation destination. Some of Colorado's dude ranches offer exciting hands-on experiences, while others are geared more towards relaxation.
Whether you are looking for something family-oriented, upscale, or very rustic, you're bound to find one that fits your specific needs.
This section contains referral links. If you click through and take action, we may receive a commission, at no additional cost to you. 
Here are among the best western guest ranches in Colorado, in no particular order:
Drowsy Water Ranch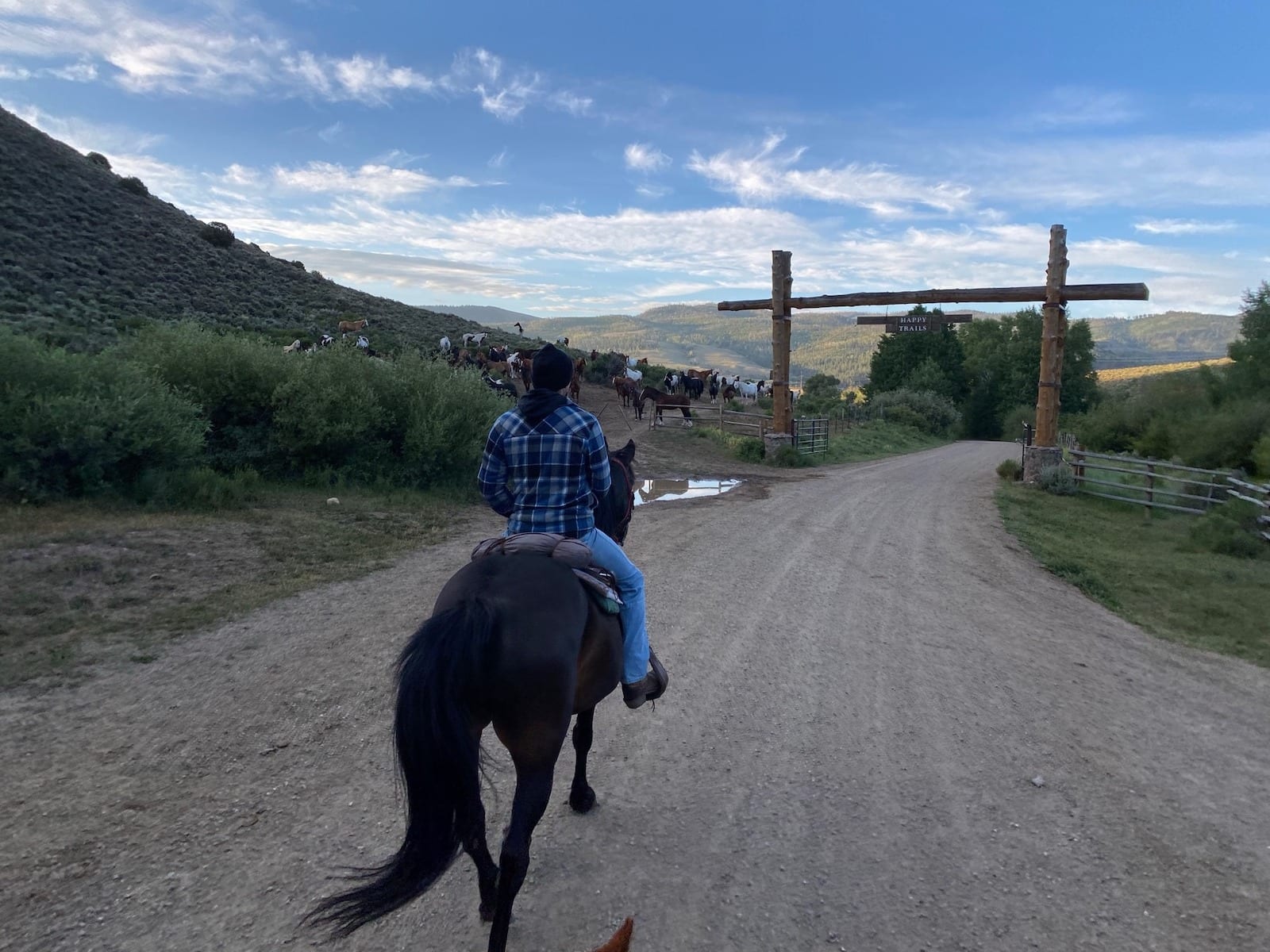 With 700 acres and 90 years of history to its name, Granby's Drowsy Water Ranch is a family-friendly dude ranch that hosts unforgettable adventures ranging from zip-lining to rafting to fly fishing. While all of these activities are undoubtedly exciting, if you love horseback riding, his is the dude ranch for you.
A typical week at the ranch offers trail riding on horses almost every day of your stay. Drowsy Water Ranch prides itself on being accessible for families, which means it goes out of its way to provide terrific experiences for children.
1454 County Rd #219, Granby, CO 80446 | (970) 725-3456
Check prices, availability or book Drowsy Water Ranch
Majestic Dude Ranch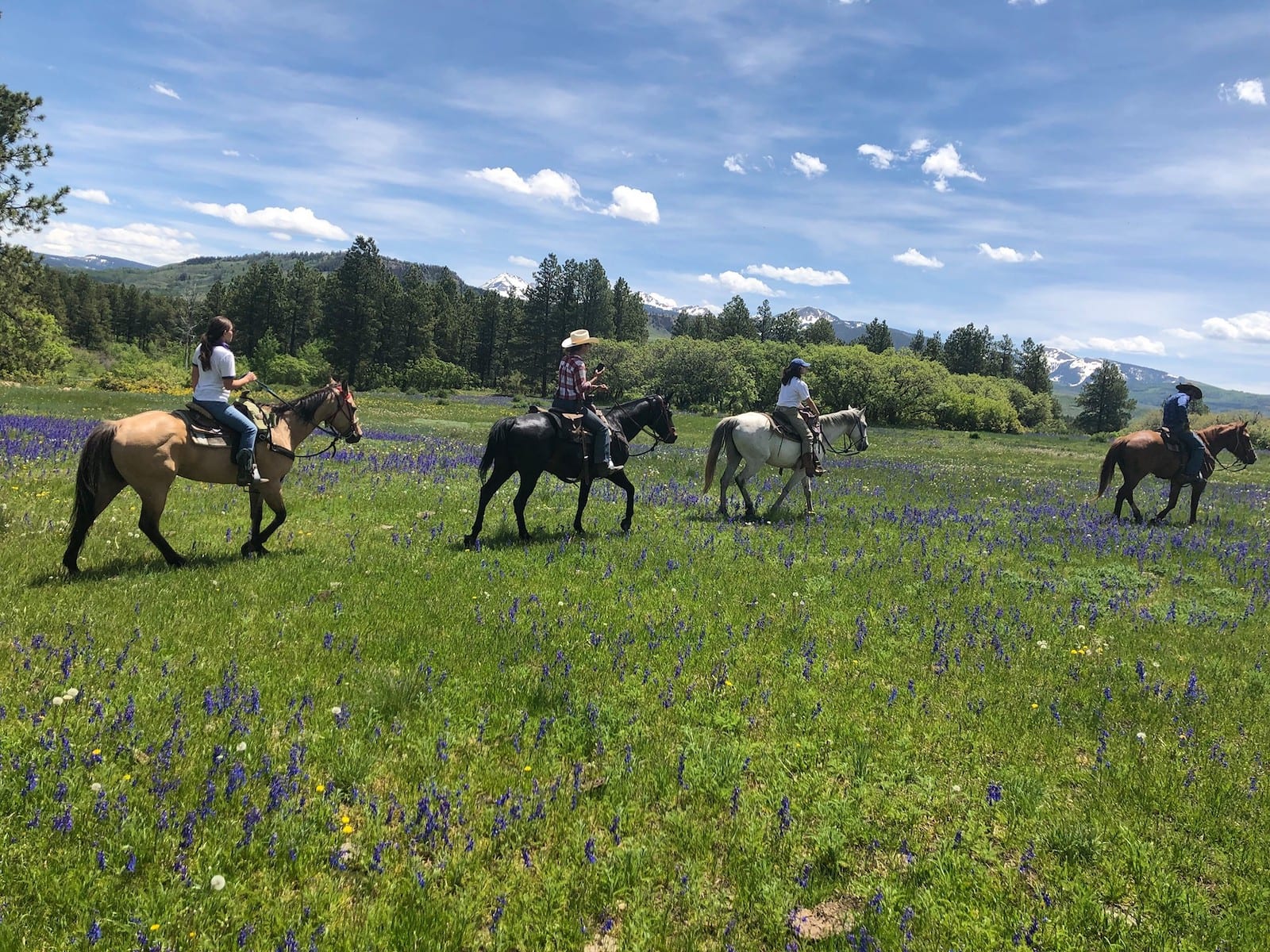 Offering archery, fly fishing, mountain biking, snowmobiling, and skeet shooting, Majestic Dude Ranch, located in the town of Mancos, can be found by traveling to the sparsely populated southwest corner of the state.
For kids and adventurous adults, this ranch a place where you can ride horses all morning and spend your nights playing laser tag to your heart's content. The all-inclusive Majestic Dude Ranch aims to provide an all-encompassing vacation experience, offering posh accommodations, surrounded by a gorgeous mountain setting.
42688 Road N, Mancos, CO 81328 | (

970) 533-7900

Check prices, availability or book Majestic Dude Ranch
Sylvan Dale Guest Ranch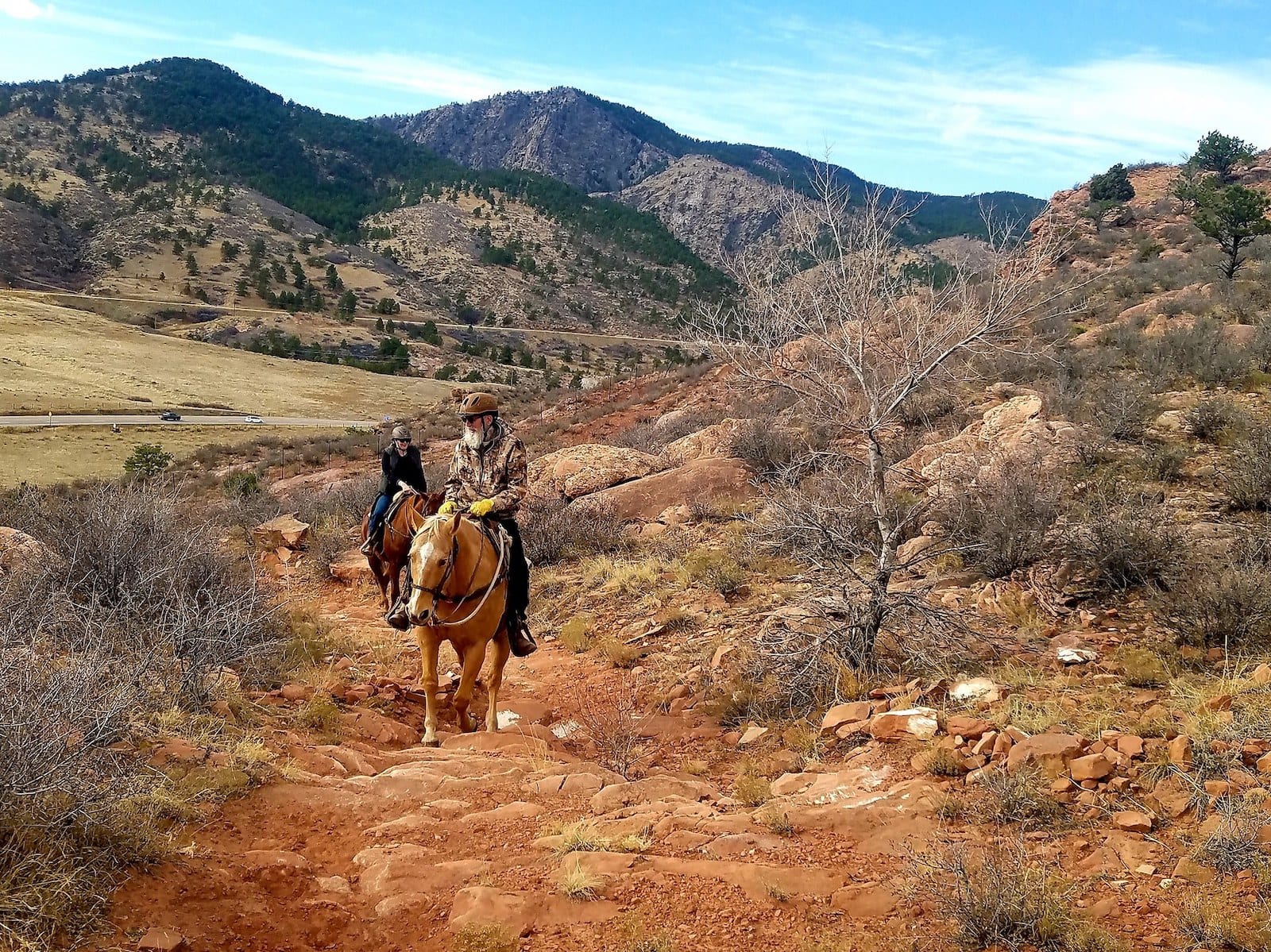 Weighing in at an impressive 3,200 acres, Sylvan Dale Guest Ranch has been providing guests with the opportunity to disconnect from the pressures of everyday life since 1946.
A dude ranch vacation at the Sylvan Dale Guest Ranch includes hearty home-cooked meals, trap shooting, bass fishing, and horseback riding on nearby trails and at the Ranch's arena. Additionally, fly fishing excursions are included for an extra fee.
Located in Loveland, Colorado, this is an excellent option for those who don't want to stray away from Colorado's Front Range Urban Corridor.
Latigo Ranch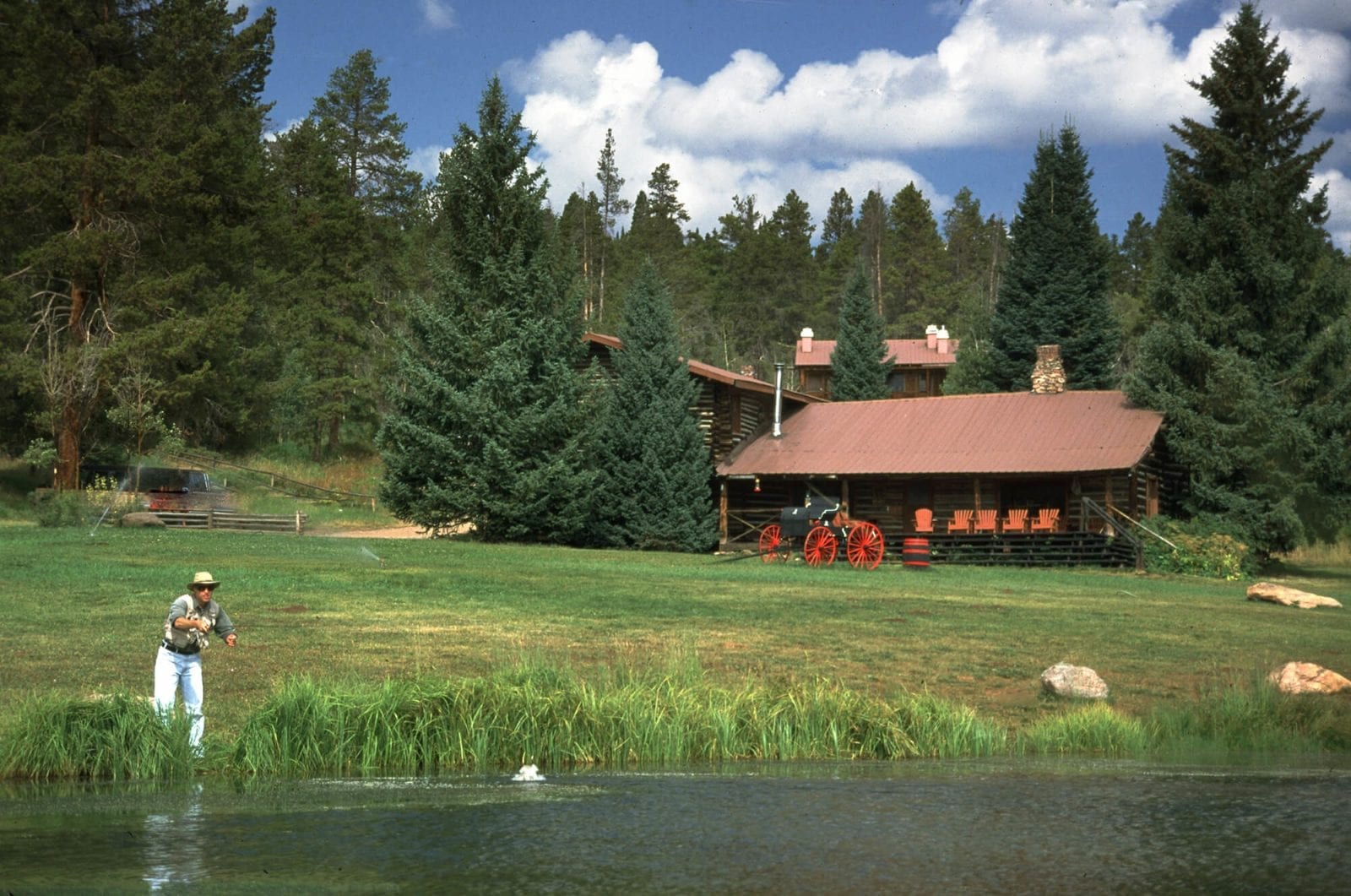 This world-class dude ranch boasts a dizzying array of prestigious awards and recognitions, such as landing a spot on USA Today's prestigious "Top 12 Best Family Vacations" list.
At Latigo Ranch, guests are spoiled with an astounding 200 miles of horseback riding trails, 40,000 acres of national forest to explore, and fine, western-inspired dining. From cattle roundups to fly fishing, backpacking, and skiing, Latigo Ranch is on a mission to thrill every person who steps foot on their impeccable ranch, and it shows.
While some of Colorado' dude ranches are designed purely for relaxation, you'll find unique, inspiring adventures at Latigo that you and your family will remember forever.
201 Co Rd 1911, Kremmling, CO 80459 |

(970) 724-9008

Check prices, availability or book Latigo Ranch
Bar Lazy J Guest Ranch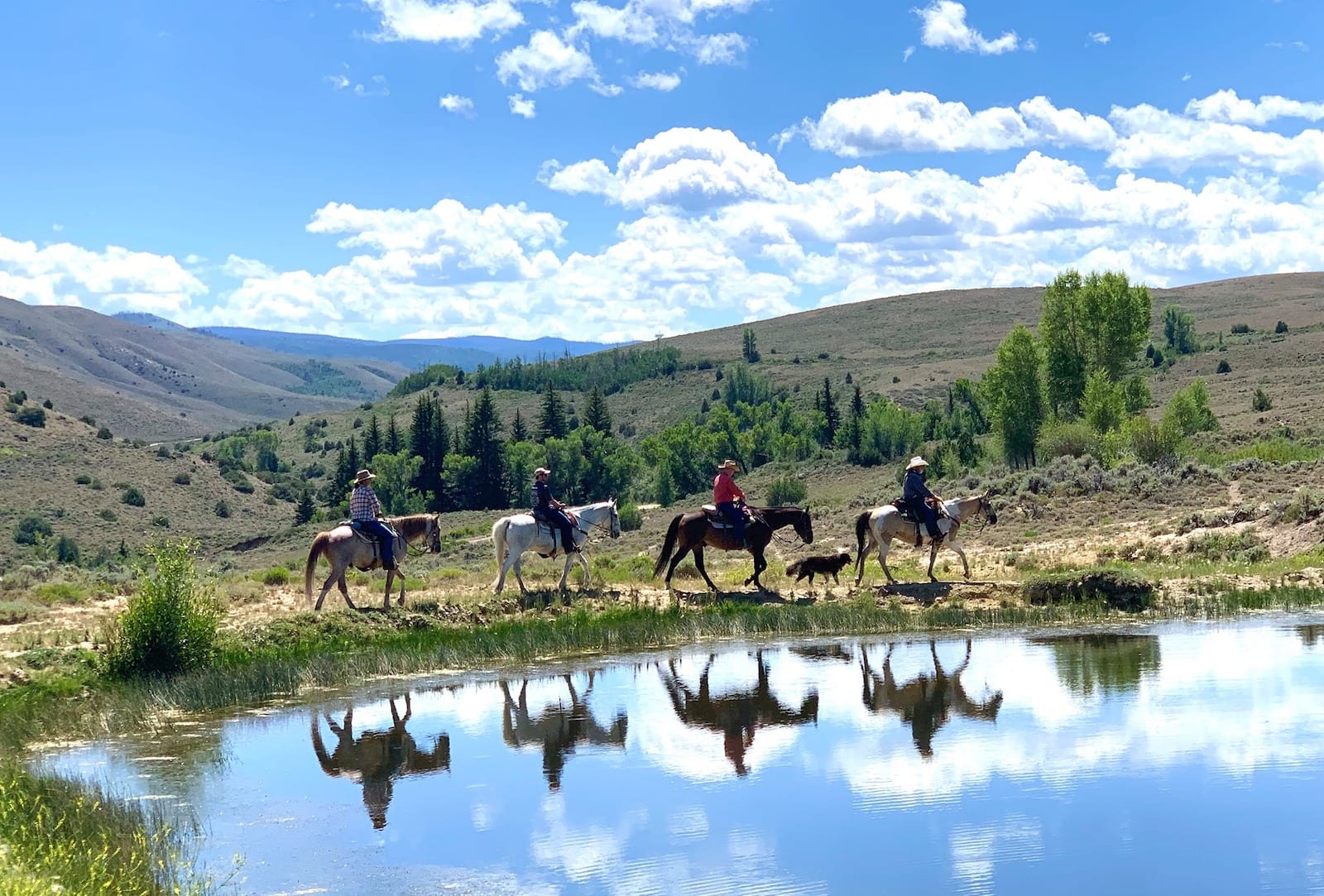 Nestled alongside the majestic Colorado River in the state's Middle Park region, the curiously named Bar Lazy Jay Guest Ranch is famous for being the state's longest continually operating dude ranch.
This rustic ranch sells itself as being ideal for families and large groups intent on enjoying a stress-free vacation filled with activities such as Gold Medal fly fishing, guided hikes, trap shooting, mountain biking, and more.
As an all-inclusive dude ranch, you'll pay one price for an unforgettable mountain experience at the Bar Lazy Jay Guest Ranch.
Cherokee Park Ranch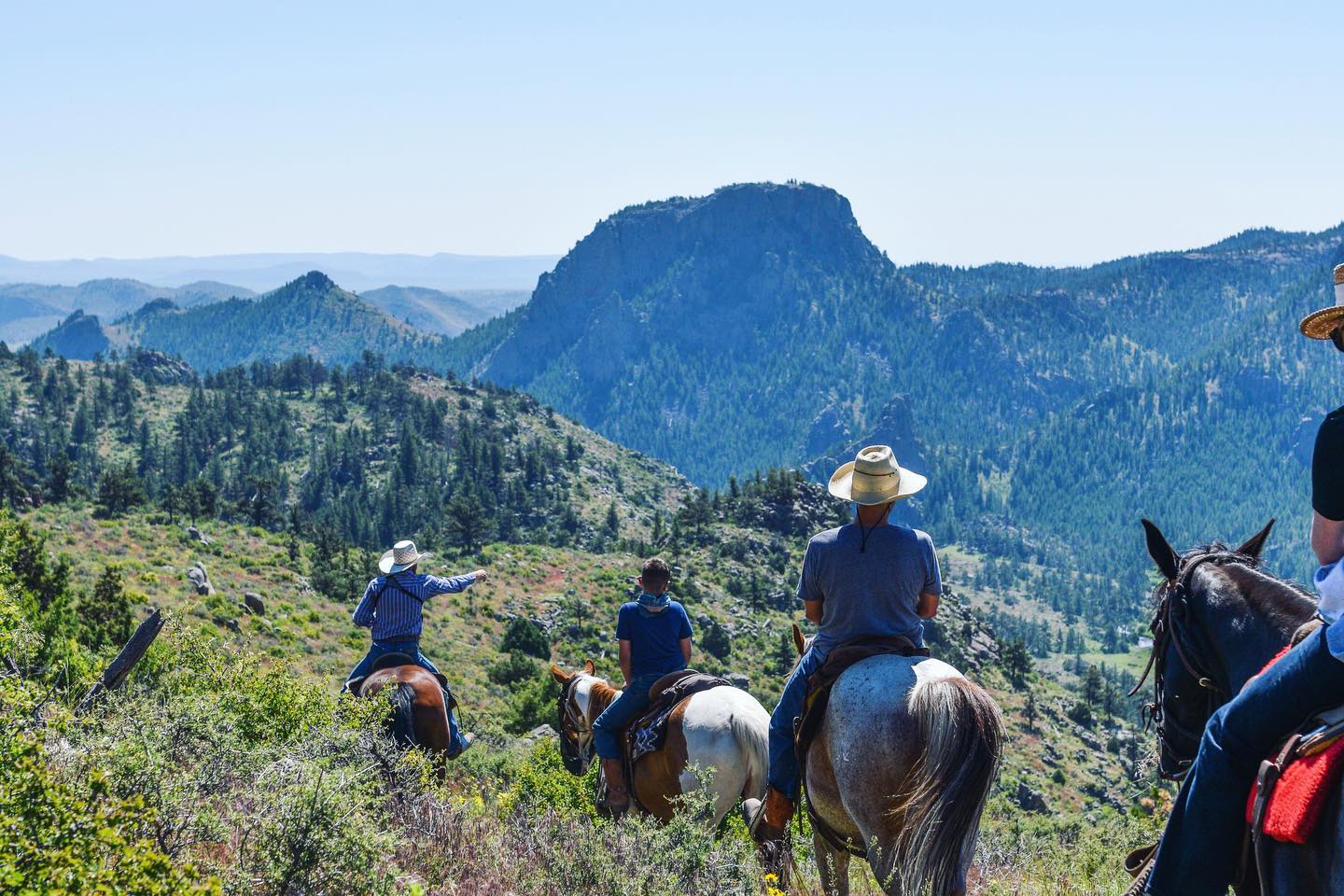 Proudly self-described as a "Cowboy Paradise," the Cherokee Park Ranch pulls out all the stops when it comes to giving families adventurous western experiences and cozy accommodations.
This all-inclusive dude ranch offers daily horseback rides, square dancing, rodeos, and even includes a petting zoo for the kids. Furthermore, white water rafting is offered for an extra charge.
At Cherokee Park Ranch, you'll be serenaded by old cowboys next to the campfire and smitten by the scenery, which includes stunning mountain views, fresh air, and plenty of wildlife.
6113 N Daniels Park Rd, Sedalia, CO 80135 |

(303) 688-5555

Check prices, availability or book Cherokee Park Ranch
Sundance Trail Guest Lodge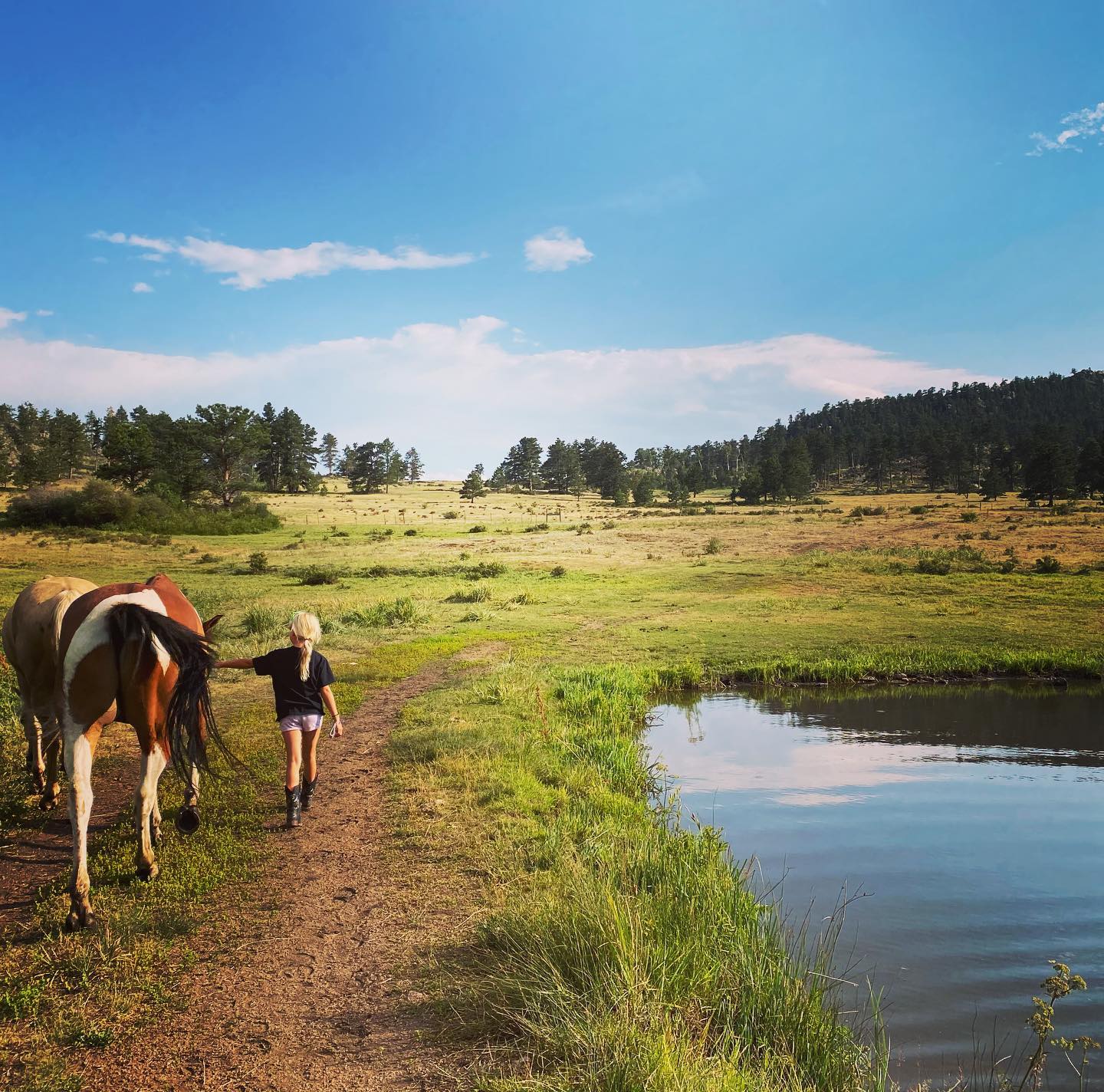 Although smaller than some of the other dude ranches, Sundance Trail Guest Lodge prides itself on its staff's ability to create authentic personal connections with visitors.
This quaint, friendly ranch aims to help its guests unwind through scenic horseback rides, rock climbing, and tomahawk throwing. At night, snuggle up under a blanket and take part in campfire sing-alongs, square dancing, or even try your hand at solving a murder mystery.
Visitors report loving the authentic, welcoming nature of this unique ranch, which is located in Colorado's scenic and remote Red Feather Lakes region.
The Broadmoor's Ranch at Emerald Valley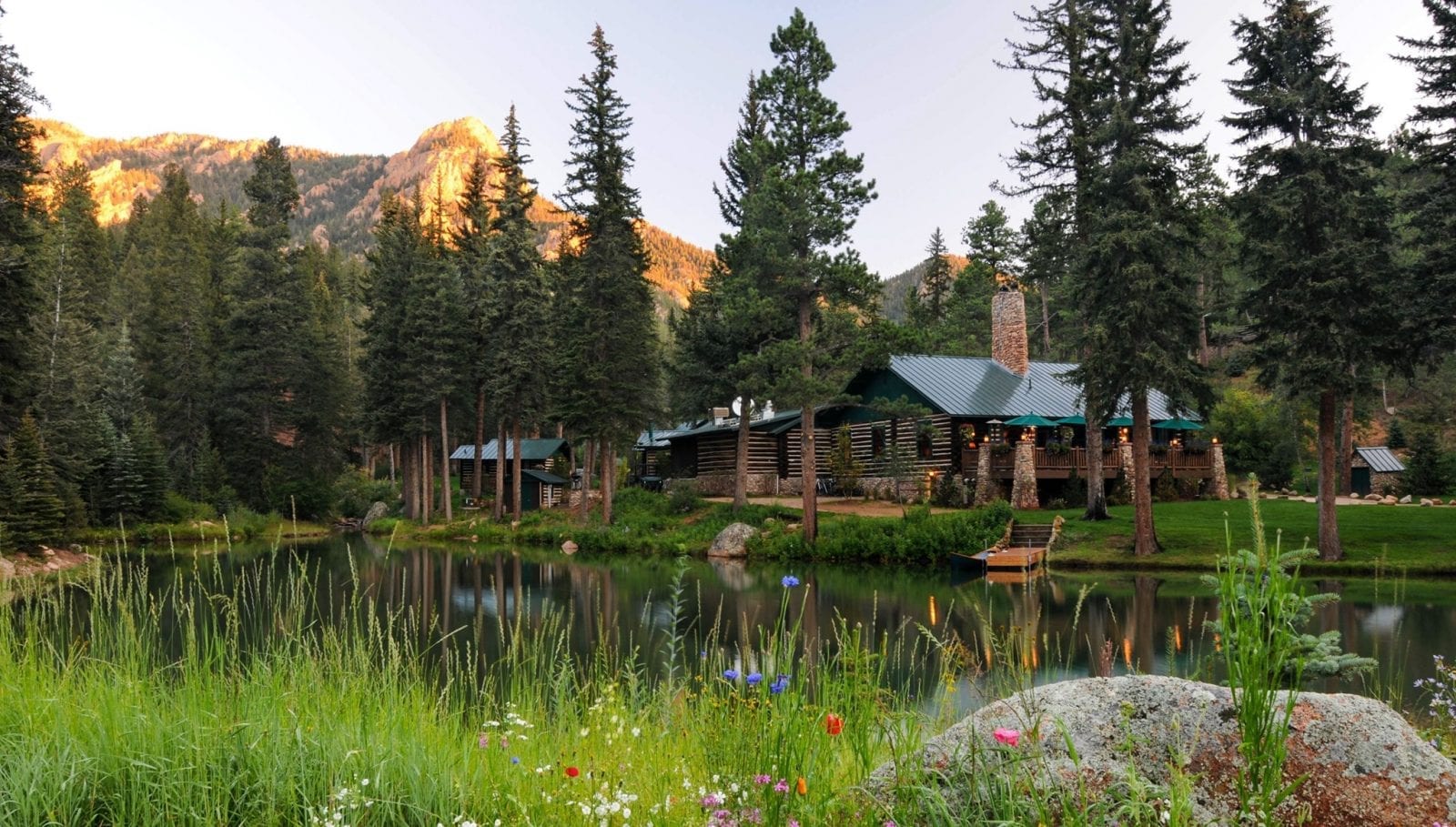 Like everything that carries the Broadmoor name, The Ranch at Emerald Valley is sophisticated, thrilling, and carefully engineered to delight guests.
During the day, guests can go fly fishing for Trout, hike nearby trails, and ride horses. Meanwhile, at night, there's no better place to curl up by the fire or take a dip in the hot tub underneath the stars. Located less than a mile from the ranch, you'll find Seven Falls, which happens to be one of the most scenic waterfalls in Colorado.
A stay at the Ranch at Emerald Valley proves that founder Spencer Penrose's vision of marrying the adventure and ruggedness of the American West with east coast luxury and comfort is alive and well.
Elk Mountain Ranch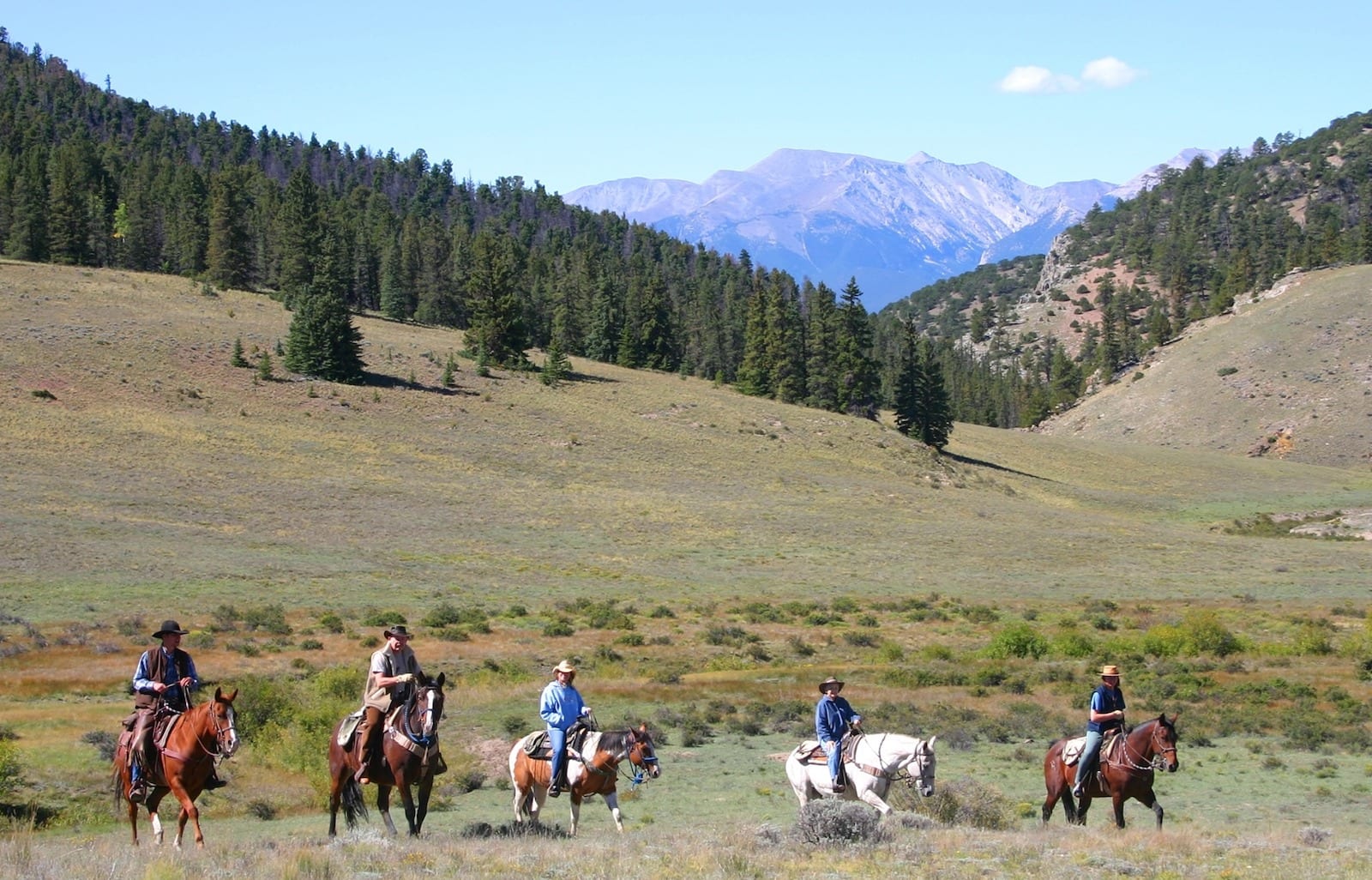 Located in the San Isabel National Forest, beneath some of the tallest and most scenic peaks in the state, Elk Mountain Ranch delivers a memorable all-inclusive dude ranch experience.
A stay here provides guests with the chance to try their hand at riflery, white water rafting, horseback riding, and fishing in one of the most breathtaking landscapes in Colorado. Geared towards all types of groups and travelers, Elk Mountain Ranch serves up delicious, Colorado-inspired meals and accommodations that are anything but rugged.
00 81211, Road 185B, Salida, CO 81201 |

(719) 539-4430

Check prices, availability or book Elk Mountain Ranch
Black Mountain Ranch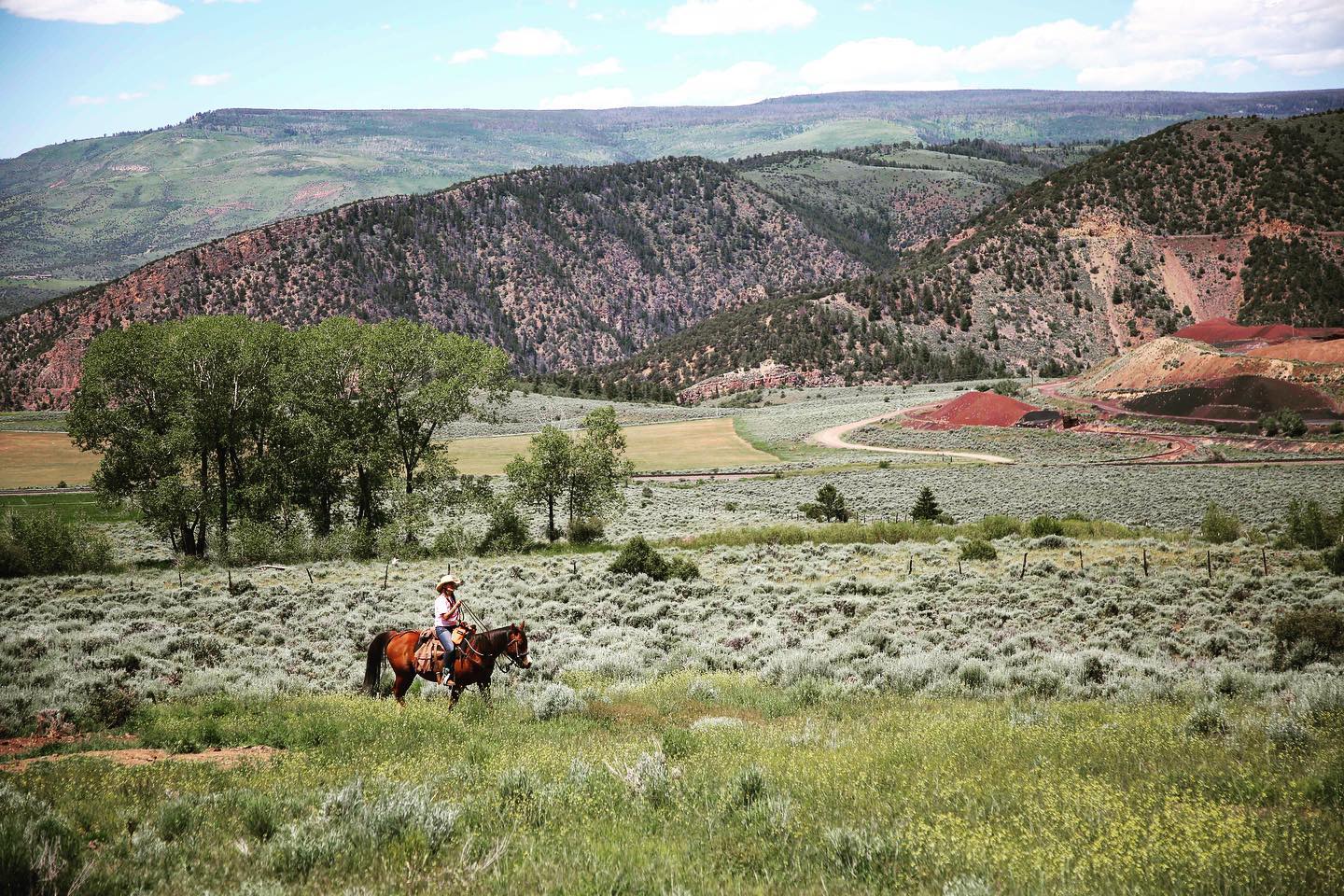 With an impressive legacy that dates back to 1890 when the area was first homesteaded, Black Mountain Ranch is a cattle-driving, skeet-shooting, horseback-riding lot of fun. This all-inclusive dude ranch is located in north-central Colorado deep in the Rocky Mountains.
You'll spend your day white water rafting on the Colorado River, handling a bow and arrow, and living it up in the resort's pool and hot tub. Black Mountain Ranch even has baby goats for the kids in your party to fawn over and more activities than this brief paragraph can contain.
4000 Conger Mesa Rd, McCoy, CO 80463 |

(970) 653-4226

Check prices, availability or book Black Mountain Ranch
4UR Ranch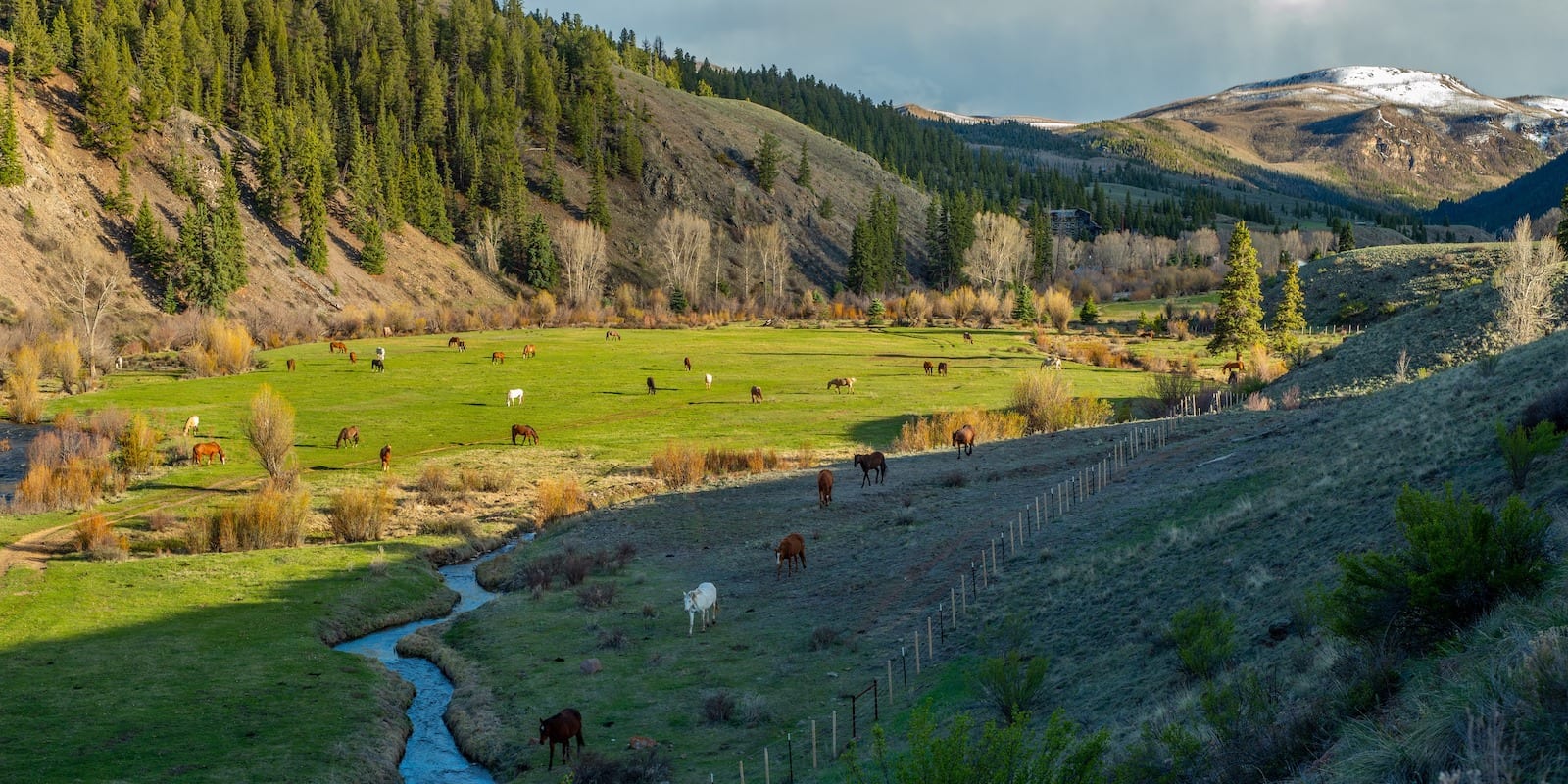 If you're serious about your dude ranching, look no further than the 4UR Ranch. This ranch has been delighting visitors for over 135 years on a gorgeous plot of land situated in a valley in southeastern Colorado.
There's a lot to do here, from soaking in the ranch's natural hot springs to horseback riding and eating meals prepared by a Le Cordon Bleu-trained chef. However, the standout activity you'll find at this exciting ranch is fishing.
4UR Ranch gives visitors access to 6.5 miles of private streams as well as two pristine alpine lakes. If kids are a part of your vacation, the ranch has a special program chock full of fun activities to keep them occupied and engaged with the natural setting of the area.
One Goose Creek Rd, Creede, CO 81130 |

(719) 658-2202

Check prices, availability or book 4UR Ranch
Rawah Ranch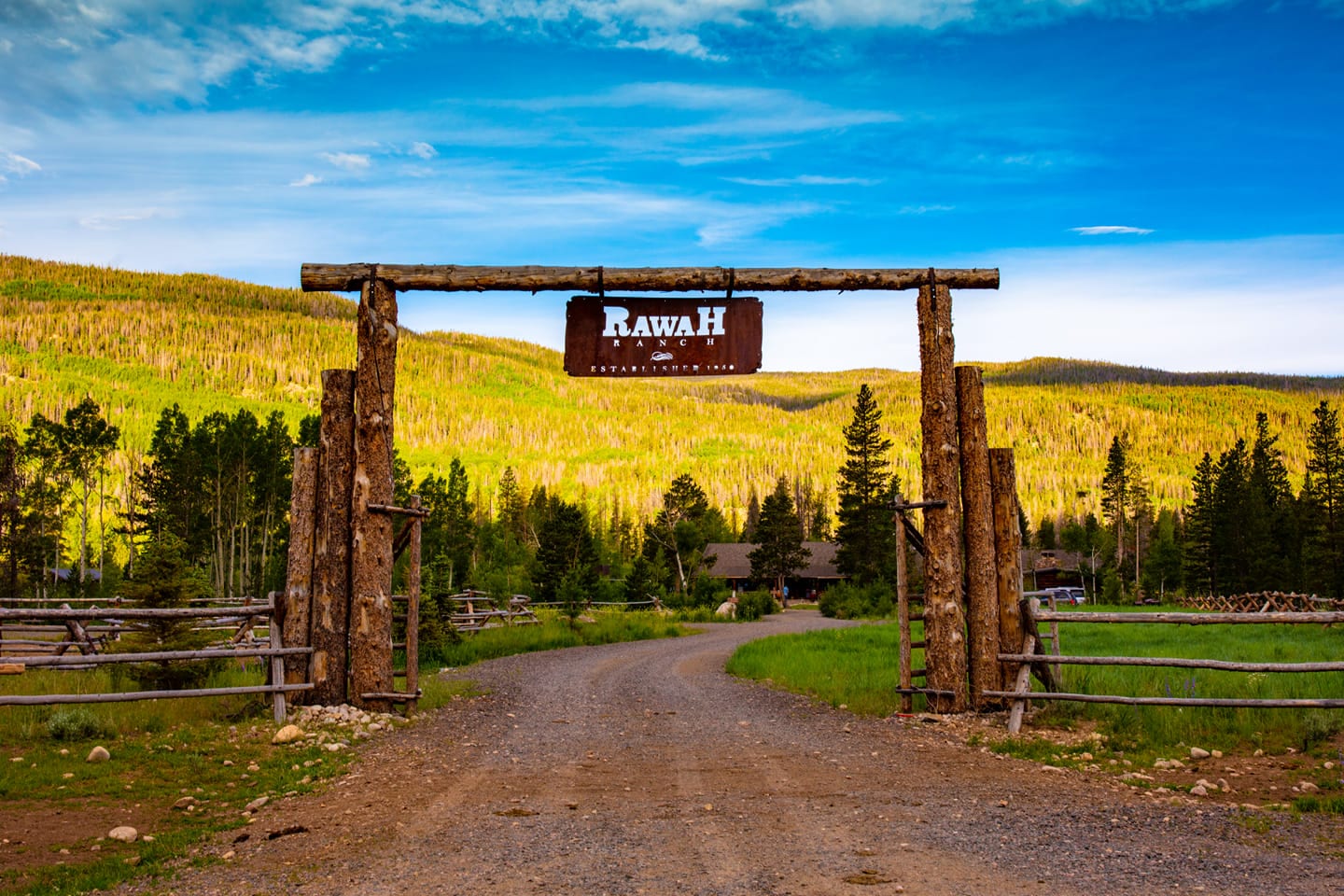 The Rawah Ranch boasts a notably gorgeous and serene setting, even by Colorado's high standards. Located in a lush valley adjacent to the Laramie River, Rawah Ranch derives its name from a mountain tribe of Ute People's word for abundance and is located just south of the Wyoming border way up at 8,400 feet.
The ranch gives guests access to a private stretch of river that is ideal for fly fishing. It's a place that offers plenty of adventure as well as prime opportunities for relaxing, such as easing into a rocking chair on the front porch with a cocktail while taking in the unforgettable landscape.
Unlike some of Colorado's dude ranches, Rawah Ranch is only open from June 1st through the end of September due to its remote and elevated location.
11447 Co Rd 103, Jelm, CO 82063 |

(800) 820-3152

Check prices, availability or book Rawah Guest Ranch
Tumbling River Ranch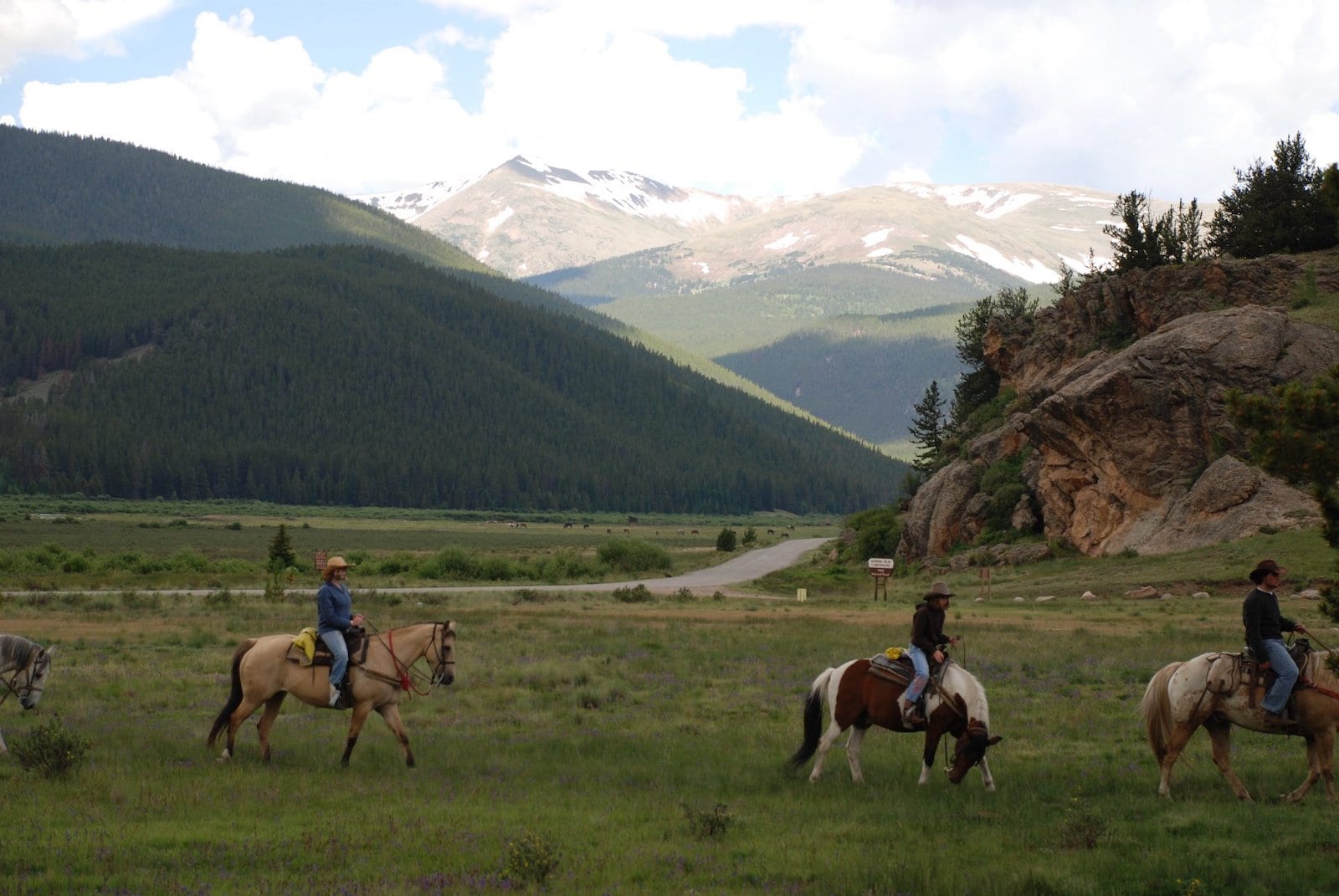 Located in a secluded valley south of Guanella Pass, the Tumbling River Ranch aims to offer an authentic Colorado experience that can't be found by visiting the state's major cities or posh ski resorts.
In addition to fly fishing, white water rafting, and horseback riding excursions, Tumbling River Ranch also offers an impressive program designed to promote health and wellness that includes yoga and fitness classes as well as an on-site massage therapist.
3715 Co Rd 62, Grant, CO 80448 |

(303) 838-5981

Check prices, availability or book Tumbling River Ranch
Lost Valley Ranch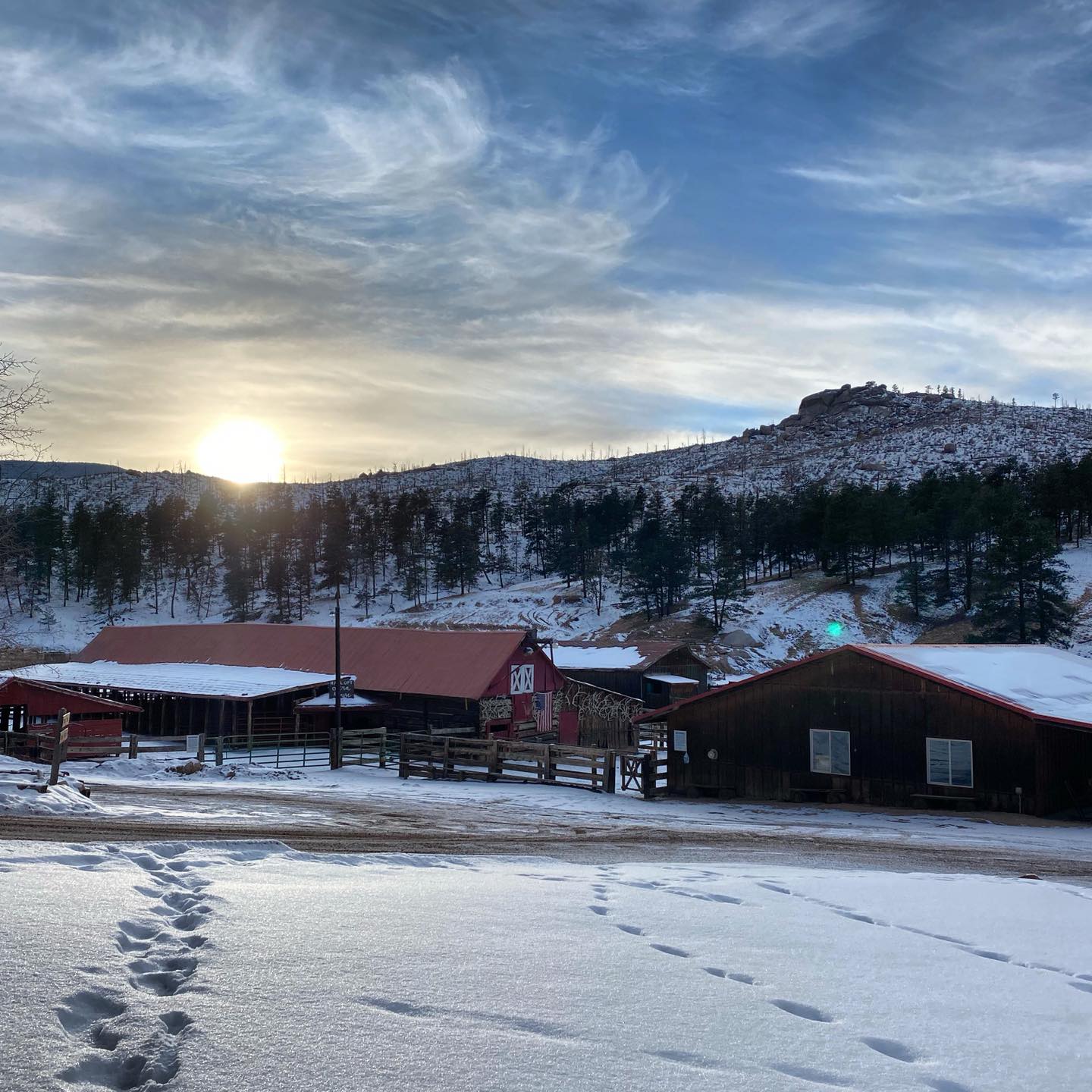 If you're looking for a ranch that exudes friendliness and authenticity, look no further. Located near the charming mountain town of Sedalia in Colorado's sprawling South Park region, the Lost Valley Ranch has been awarded the prestigious AAA Four Diamond for an astounding 44 consecutive years.
An all-inclusive dude ranch, Lost Valley prides itself on being a place that lets visitors unwind and explore at their own pace.
From thrilling cattle roundups to fly fishing and cowboy cookouts, the Lost Valley Ranch's legacy of bringing authentic western experiences to guests is informed by more than half a century of experience and story-worthy history.
29555 Goose Creek Rd, Sedalia, CO 80135 |

(303) 647-2311

Check prices, availability or book Lost Valley Ranch
Colorado Trails Ranch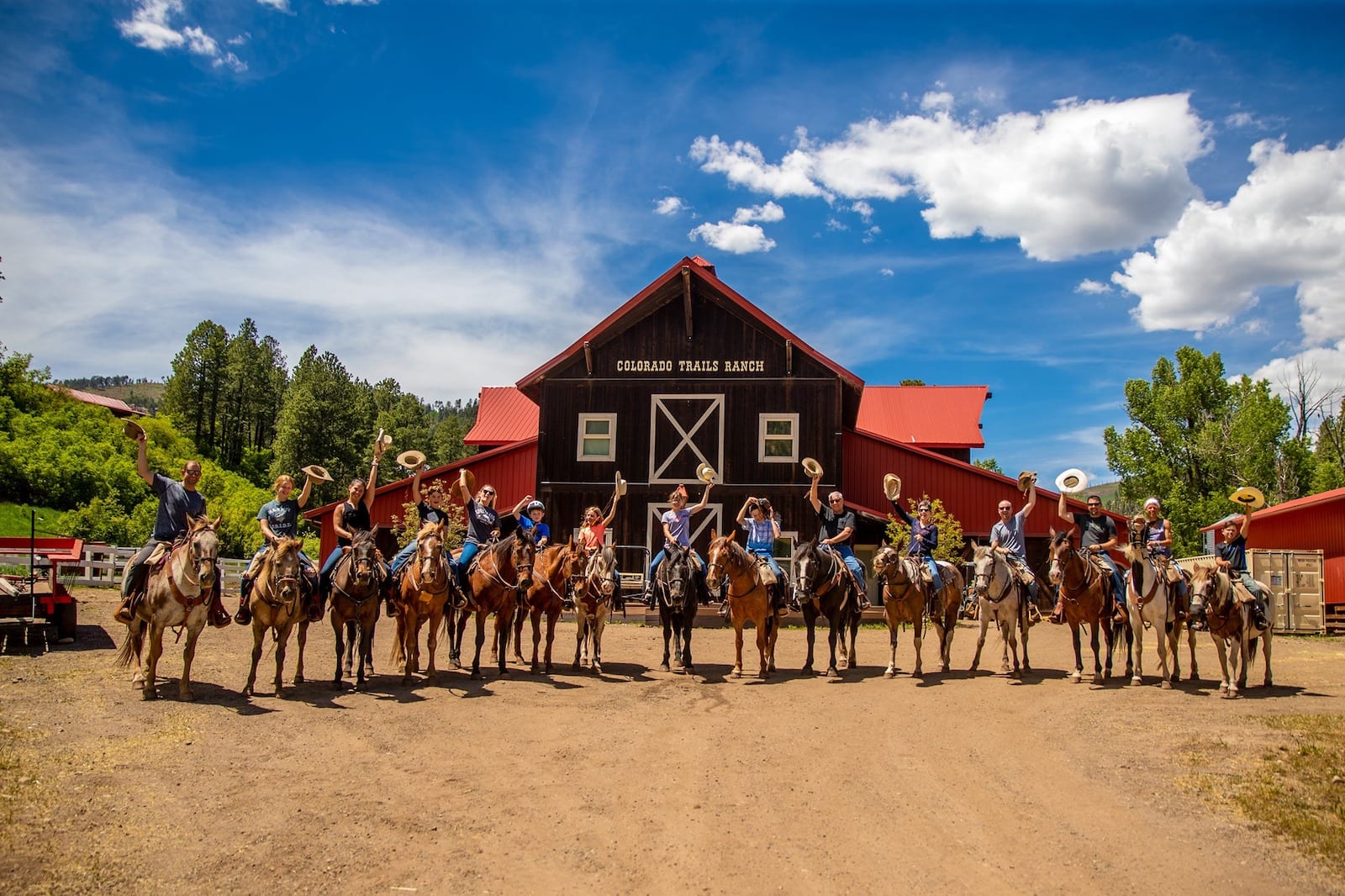 This all-inclusive dude ranch hails from Durango in the remote and scenic southwestern corner of the state. The Colorado Trails Ranch embodies the rugged spirit, attitude, and look of the old west, and it's a place where you and your family can enjoy a milkshake made by an old fashioned soda fountain.
Guests spend their days at Colorado Trails Ranch fishing, swimming, going on hayrides, and riding horses underneath the stunning backdrop of immense peaks. It's a place that encourages guests to set aside the concerns of daily life and form stronger bonds with one another.
12161 Co Rd 240, Durango, CO 81301 |

(970) 247-5055

Check prices, availability or book Colorado Trails Ranch
Rainbow Trout Ranch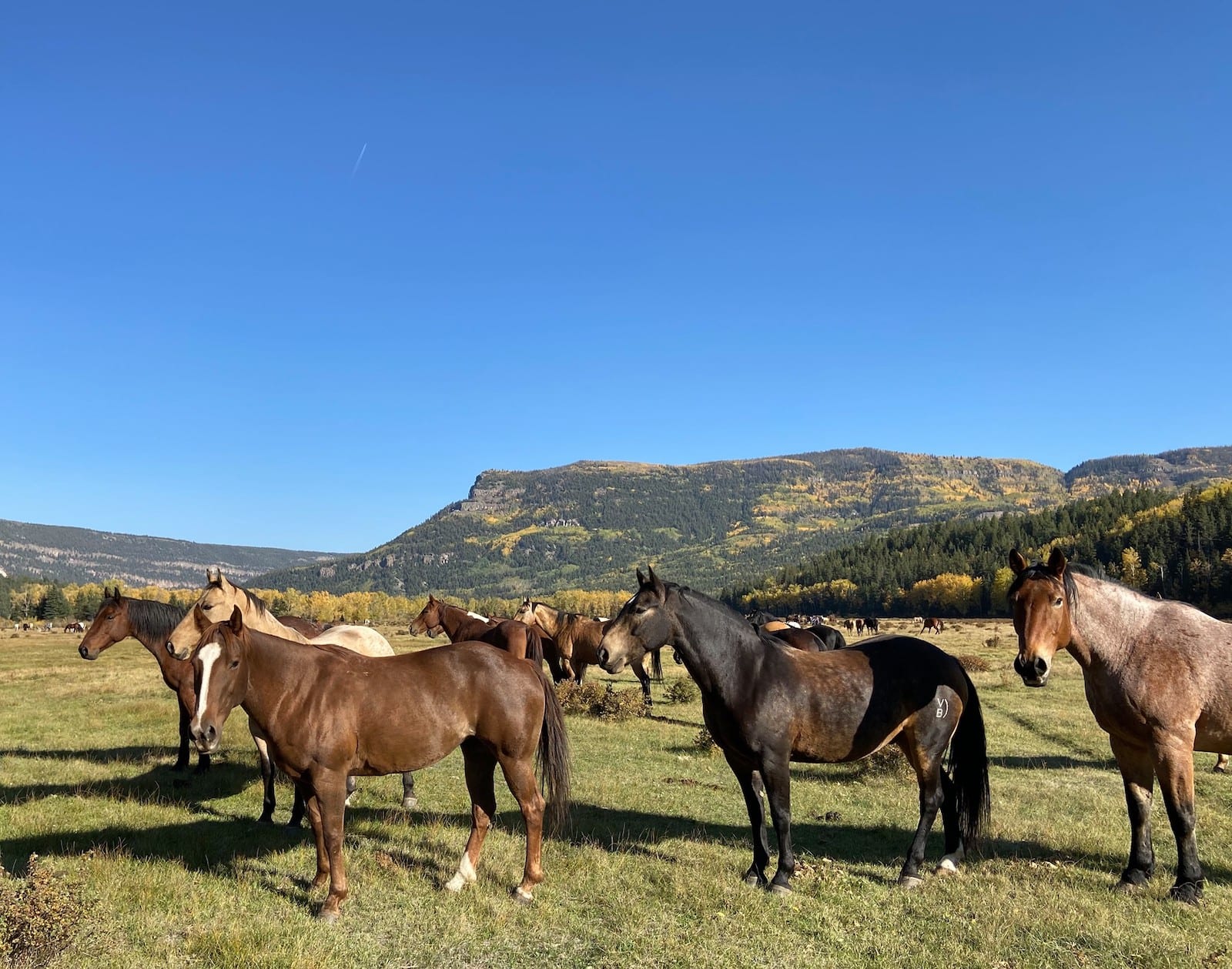 As the name suggests, the Rainbow Trout Ranch is fanatic about fishing, and it offers guests direct access to the beautiful Conejos River. The on-staff fly fishing guides expertly guide visitors through the art of reeling in large fish of the ranch's namesake.
However, this ranch offers much more than fishing, including white water river rafting, horseback riding, and loads of hospitality. Located in the remote and gorgeous Rio Grande National Forest, the Rainbow Trout Ranch also offers exciting historic and cultural excursions.
1484 Forest Service Rd 250, Antonito, CO 81120 |

(719) 376-2440

Check prices, availability or book Rainbow Trout Ranch
C Lazy U Ranch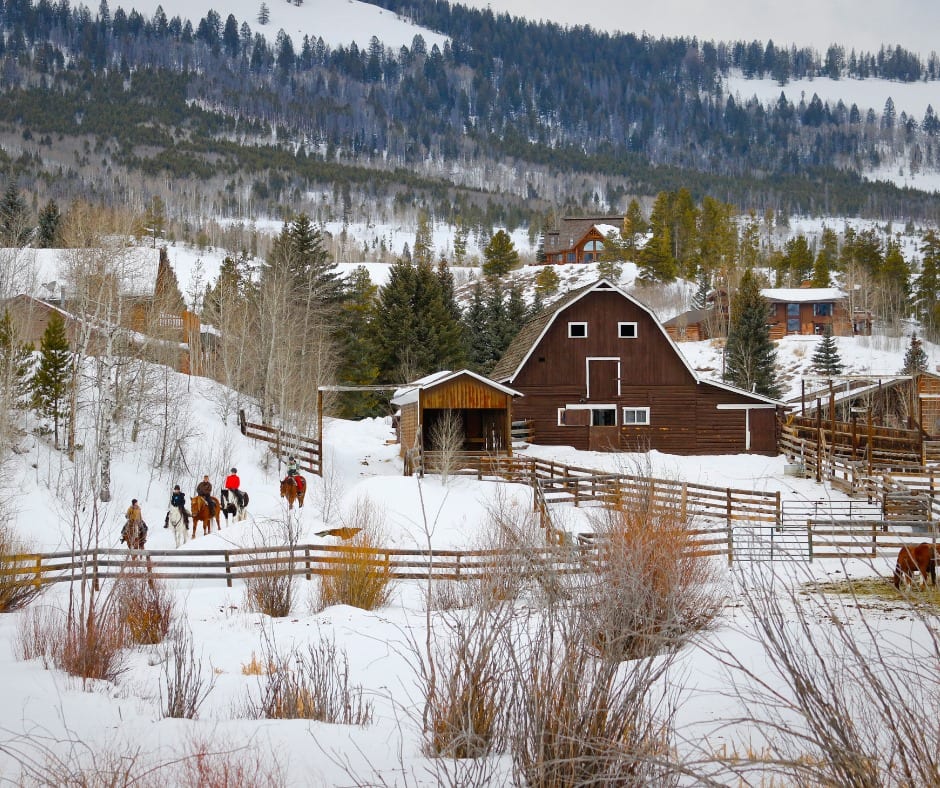 The C Lazy U Ranch has racked up an impressive amount of awards and recognitions over the years from the likes of Forbes and USA Today.
Located in Granby, Colorado near the entrance of the sprawling and majestic Rocky Mountain National Park, this well-known ranch has earned a reputation for being one of the best family-oriented dude ranches in America.
Opened over a century ago, the C Lazy U Ranch offers guided fly fishing trips, daily horseback rides, and a thrilling suite of winter activities like ice skating, cross country skiing, snow tubing, and sleigh rides.
3640 Colorado Hwy 125, Granby, CO 80446 |

(970) 887-3344

Check prices, availability or book C Lazy U Ranch
Vista Verde Ranch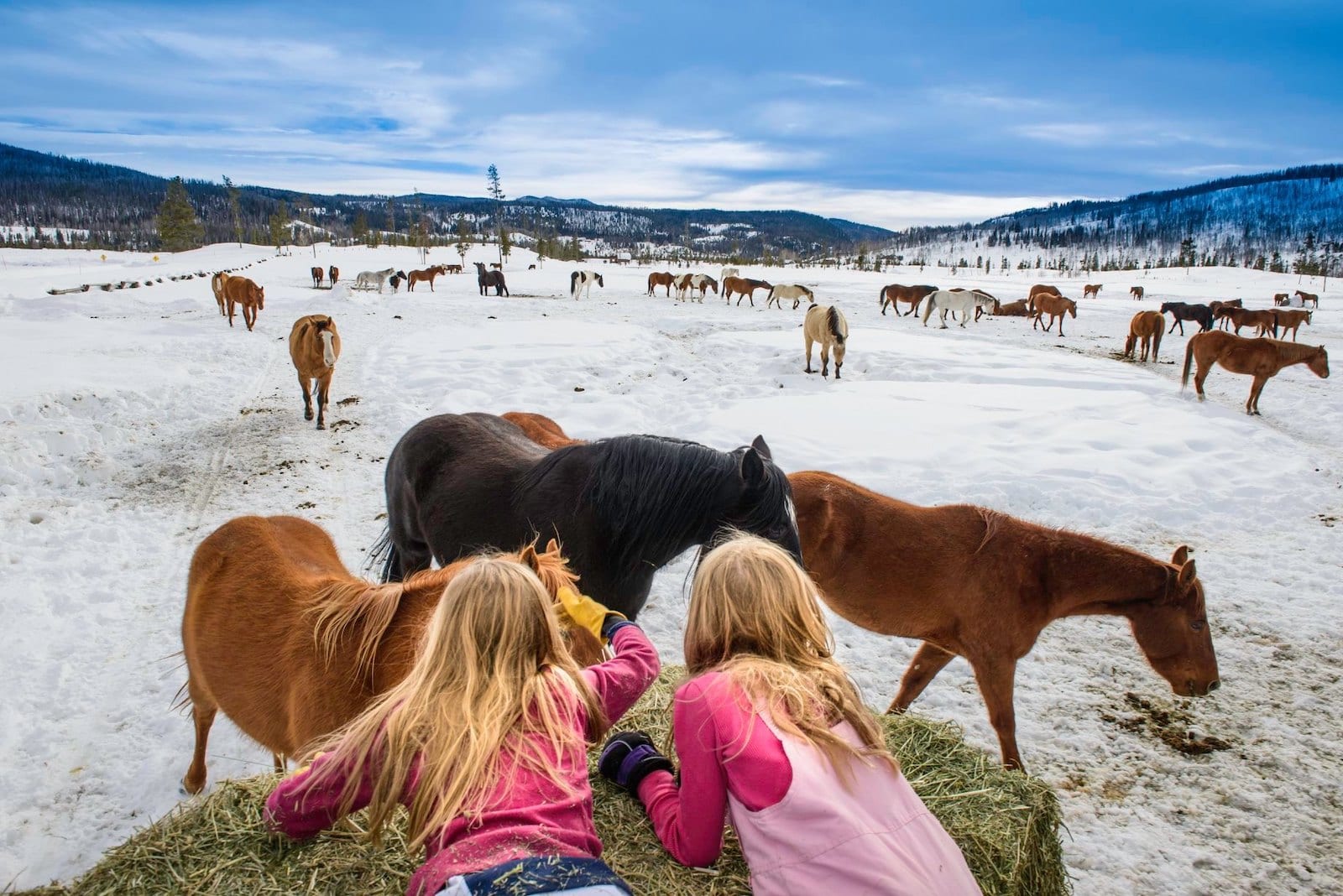 Vista Verde is located north of Steamboat Springs is one of the most remote and arrestingly beautiful mountainous regions of Colorado. This all-inclusive ranch blends western adventure with hospitality and comfort for both summer and winter seasons.
The sort of experience you're likely to encounter at Vista Verde entirely depends on whether you're traveling alone, with your family, romantic partner, or group of friends or colleagues. This is due to the ranch specially tailoring specific visits based on the guests they will be accommodating at the time.
The usual activities found at dude ranches are featured here, such as horseback riding and fly fishing. However, Vista Verde sets itself apart with unique offerings like a summer photography program, paddle boarding, skiing, snowboarding, and yoga.
58000 Cowboy Way, Clark, CO 80428 |

(970) 879-3858

Check prices, availability or book Vista Verda Ranch
If you're looking for a vacation away from the city, packed full of outdoor adventure and horseback riding, check out any one of these dude ranches in Colorado. By the end of your trip, you will truly feel like you've experienced the wild west!