When it comes to rustic retreats, there is certainly no shortage here in Colorado. From cozy cabins to backcountry huts and yurts, there are a plethora of options for creating your affordable mountain getaway.
These alternative accommodations are ideal any time of year, no matter where you stay. Not quite sure where to go? With just over 60 cabins and yurts located throughout the state, Colorado's state parks offer affordable and unique accommodations for your perfect mountain escape.
State Forest State Park – 15 cabin and 7 yurt and 2 hut rentals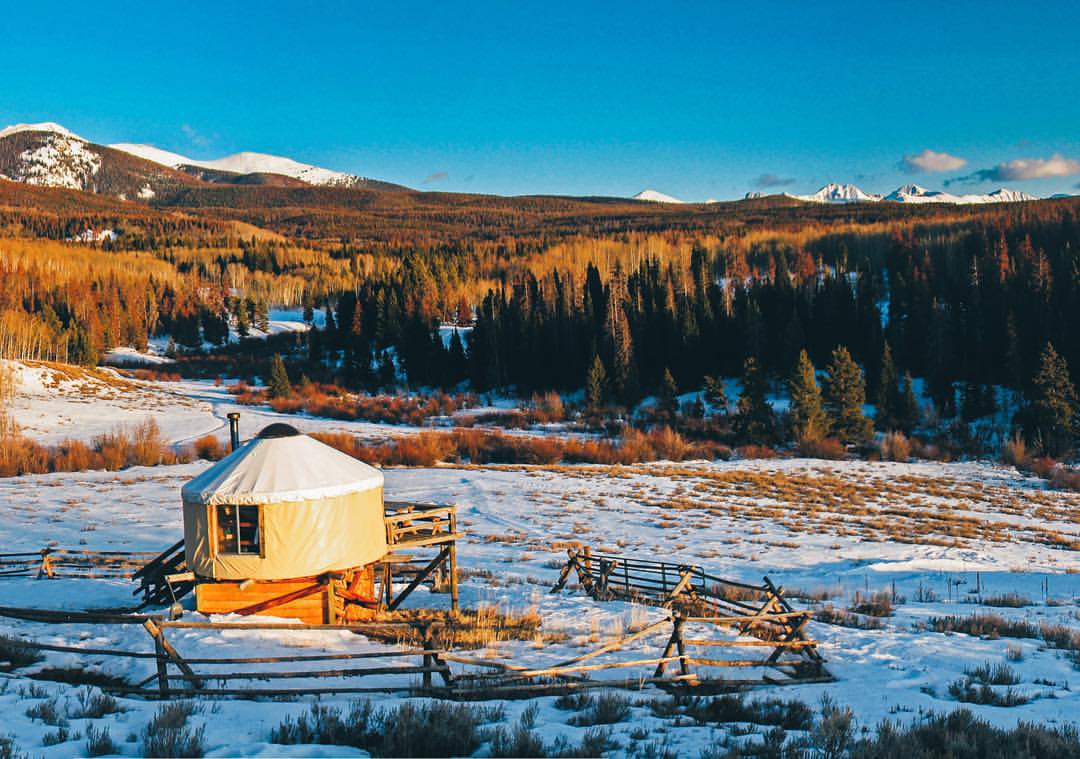 As Colorado's largest state park, State Forest offers visitors an unforgettable rugged landscape to explore. Situated along the west side of the Medicine Bow Mountains and stretching into the Never Summer Range, there is no shortage of scenic beauty to be enjoyed. Open year-round, State Forest is home to a variety of recreational activities including biking, boating, camping, hiking, and so much more.
While camping is available the park also offers other sleeping arrangements with cabins, yurts, and a few huts. Depending on how much you want to rough it, some cabins have running water and electricity while others offer only basic accommodations – without running water or electricity. There are thirteen rustic cabins to choose from offering basic amenities, as well as two deluxe cabins with all the bells and whistles. Seven yurts and two huts are located in the Never Summer Nordic and offer the backcountry enthusiast an epic retreat. Rates vary from $70 – $110 per night.
Golden Gate Canyon State Park – 5 cabin and 2 yurt rentals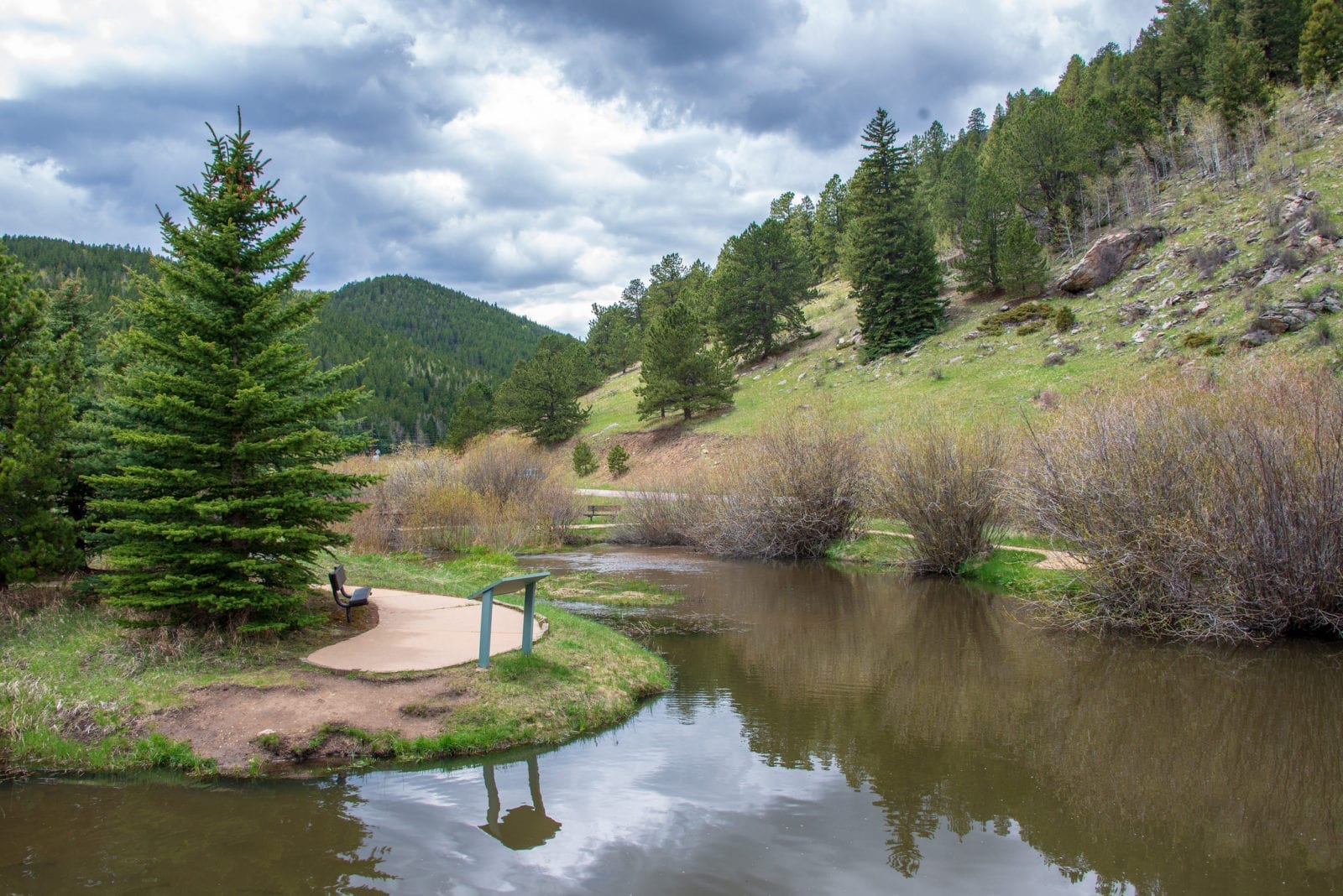 Nestled along the Front Range, Golden Gate State Park is a large park with 12,000 acres of landscape waiting to be discovered. While there are many ways to enjoy the area such as hiking, biking, fishing, and hunting – another great way to enjoy the park is spending a peaceful night amongst the stars in one of the park's cabins or yurts. Five rustic cabins, sleeping up to six, are nestled amongst lush aspen groves and pine forests. Two yurts are available, also sleeping up to six people, year-round with basic amenities.
Mancos State Park – 2 yurt rentals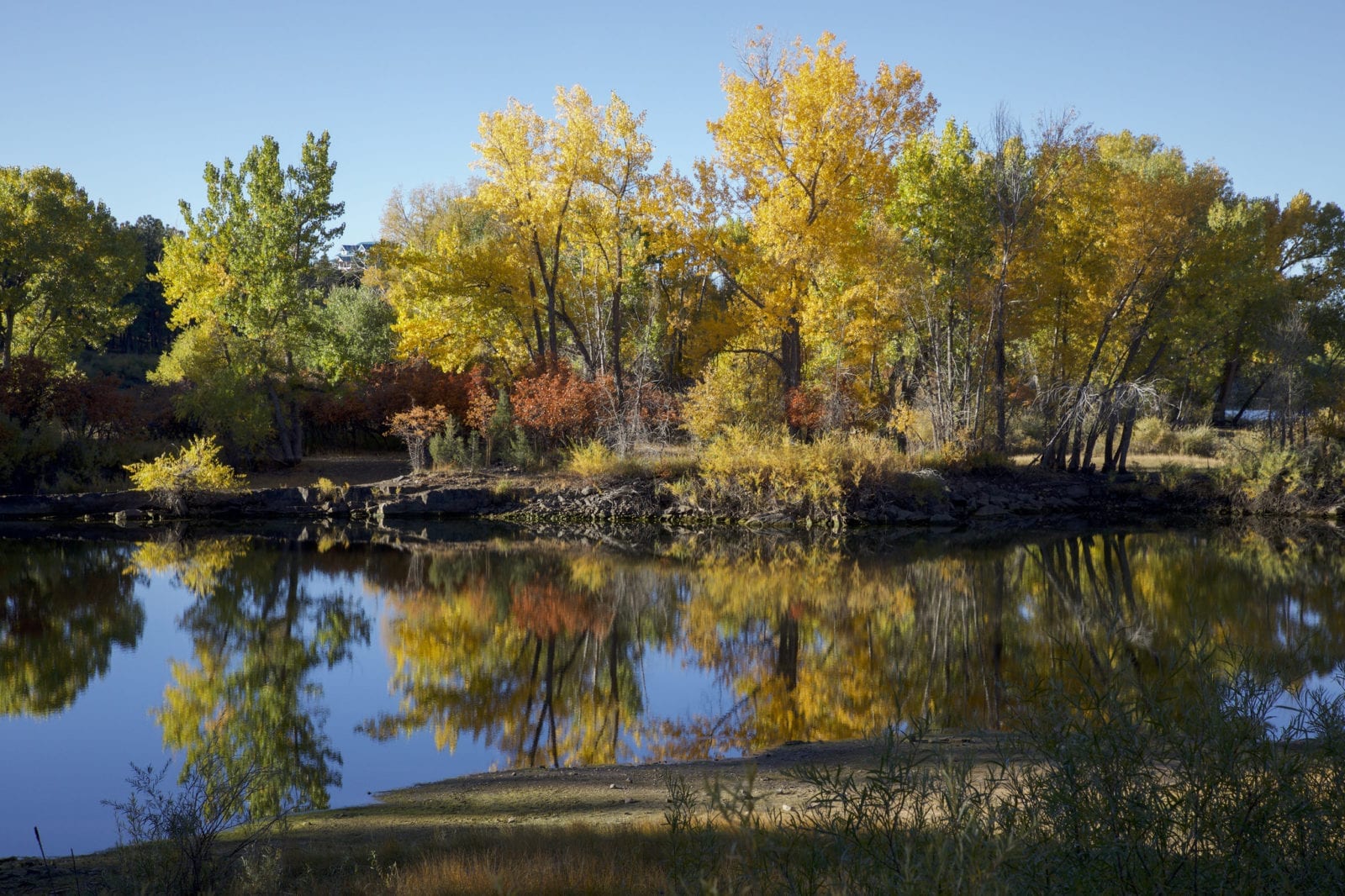 Discover the beautiful landscapes of the southwest corner of Colorado while uncovering a little bit of history with a visit to Mancos State Park. Located near the beautiful San Juan Skyway, this fishing haven is open year round to visitors and offers 32 campsites and two yurts – all within view of the park's 225-acre lake.
The yurts are all-weather structure heated by a propane fireplace with modern amenities including a microwave and refrigerator. Each yurt sleeps up to six people. For an affordable $70 a night you won't mind that you need to bring your own cooking utensils and bed linens.
Mueller State Park – 3 cabin rentals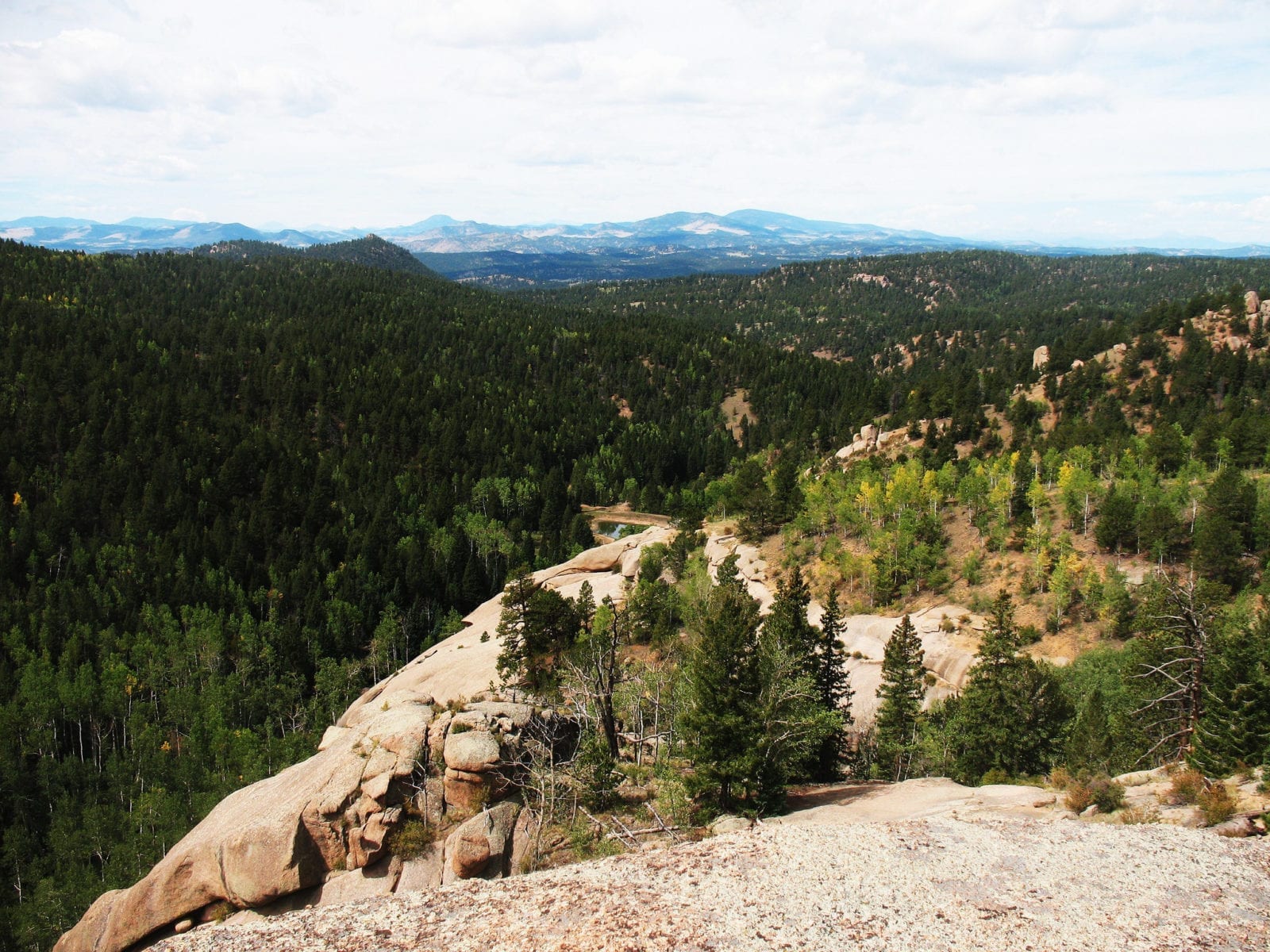 On the smaller side at just over 5,000 acres, don't let the size fool you. With over 55 miles of trails to explore, Mueller State Park is an outdoor junkie's paradise. Also a popular wildlife area, visitors are likely to encounter deer, black bears, hawks, and elk. While there is ample camping available, the state park also offers three different cabins – one-bedroom, two-bedroom, and three-bedroom options.
Nestled amongst the meadows and conifer forests of the park with views of Pikes Peak, the cabins are a peaceful retreat with luxurious furnishings that are just like what you might find at a quality wood furniture retailer.
Pearl Lake State Park – 2 yurt rentals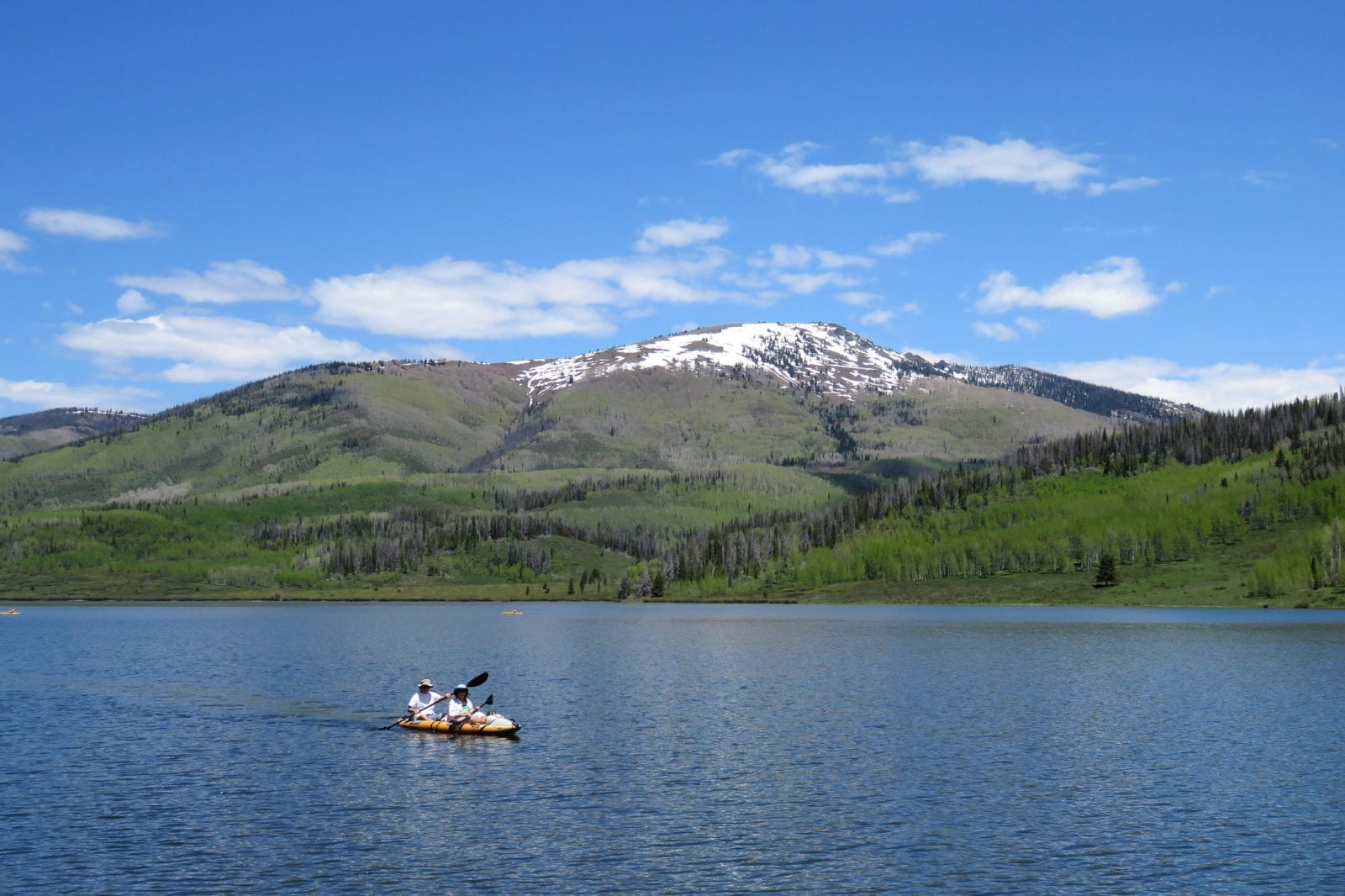 For a quick escape from the daily grind head out, just north of Steamboat Springs, to Pearl Lake State Park. With views of Farwell Mountain, camping along the lake's shoreline and ridge, offer undeniable views. The lake brings in fly fishers and paddle boarders with its calm and serene waters.
In winter visitors can enjoy an overnight stay in one of the yurts, snowshoeing, ice fishing, and snowmobiling. The two yurts are available year round for $90 a night with breathtaking views of the valley and surrounding mountains.
Ridgway State Park – 3 yurt rentals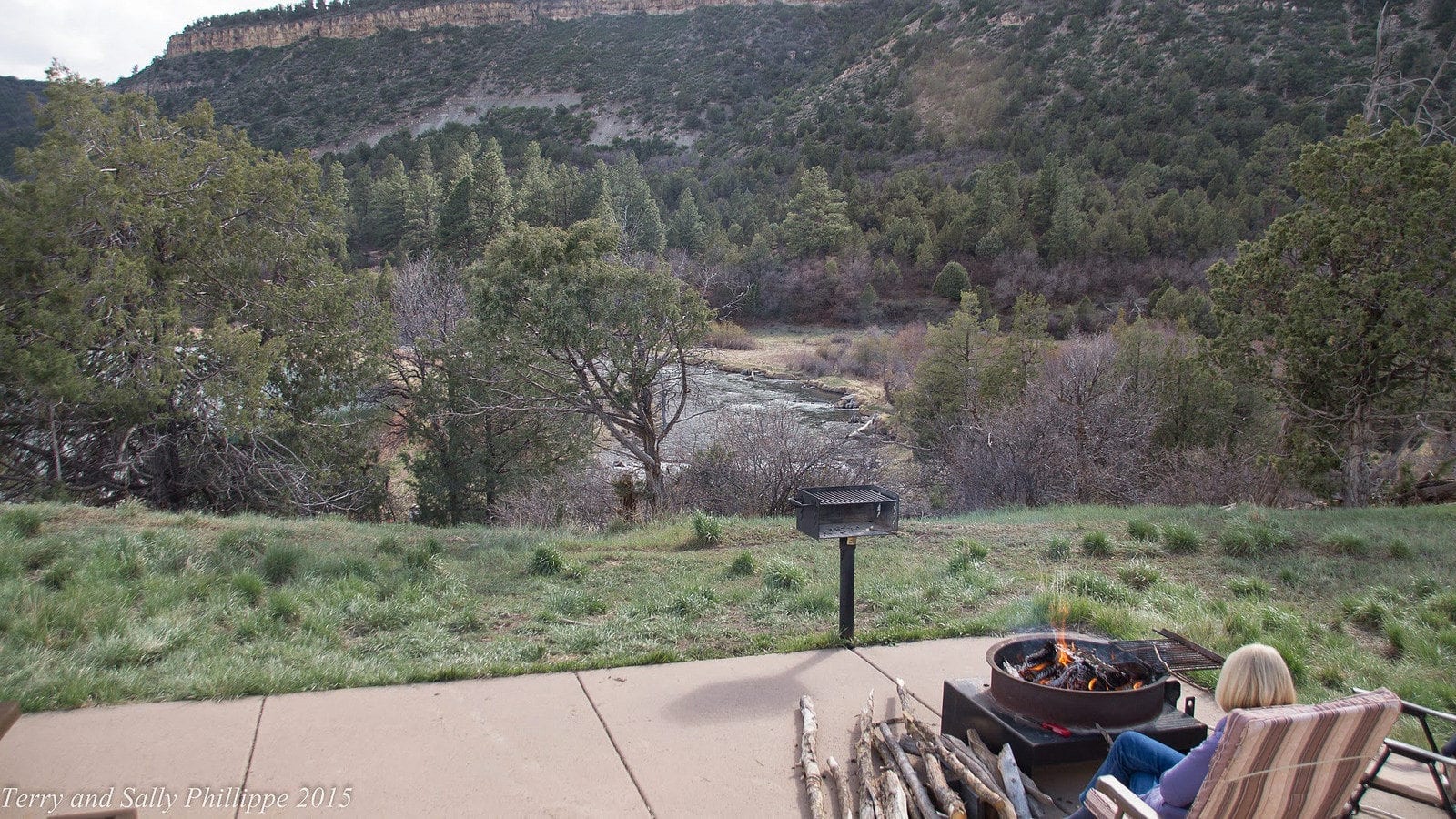 Located near Ouray, Ridgway State Park is the westernmost state park in Colorado. Where mountain landscapes meet the calming waters of the Ridgway reservoir, visitors can enjoy a multitude of year-round outdoor activities for any outdoor enthusiast. During the peak season (April – October) there are over 250 camp and RV sites available as well as three yurts (available all year).
Enjoy peace and quiet amongst the yurts' wooden lattice walls and ceiling with beautiful pinewood floors to complete the rustic look and feel. Modern perks include a microwave, refrigerator, electricity, and a propane gas stove. Each yurt sleeps up to six people with recommendations to bring your own towels, linens, and cooking utensils. Rental fee is $70 a night.
Steamboat Lake State Park – 10 cabin rentals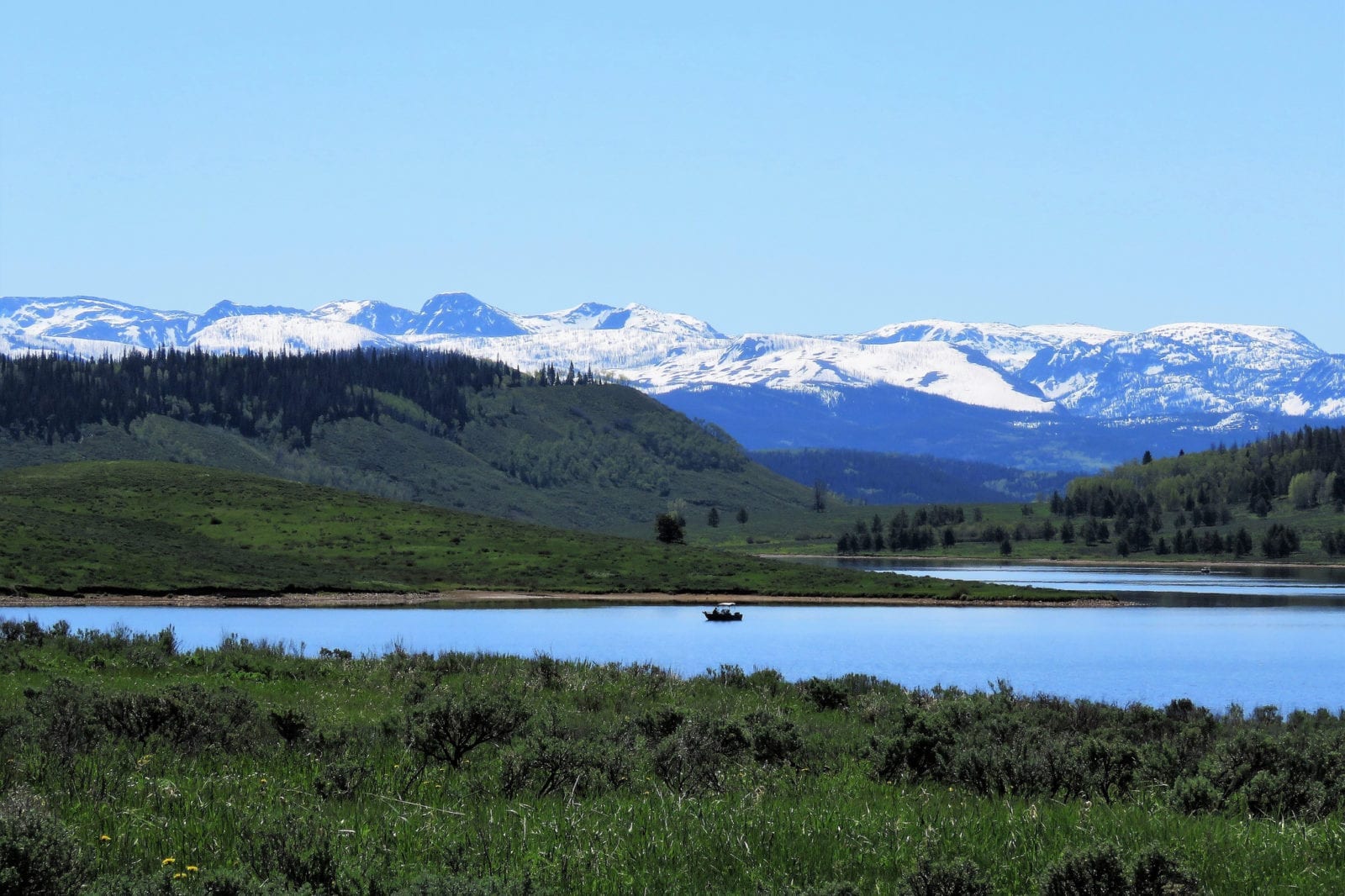 Relaxation and recreation await you in Steamboat Lake State Park. Nestled at the base of Hahn's Peak, Steamboat Lake is home to plenty of year-round activities to keep you busy. While the park offers 188 campsites, for those cozier nights there are ten camper cabins located near the marina. Each cabin provides the basic necessities with not so basic views. Furnishings are meager with cooking only allowed outside of the cabin. The cabins sleep up to six people for $90 a night.
Sylvan Lake State Park – 9 cabin and 3 yurt rentals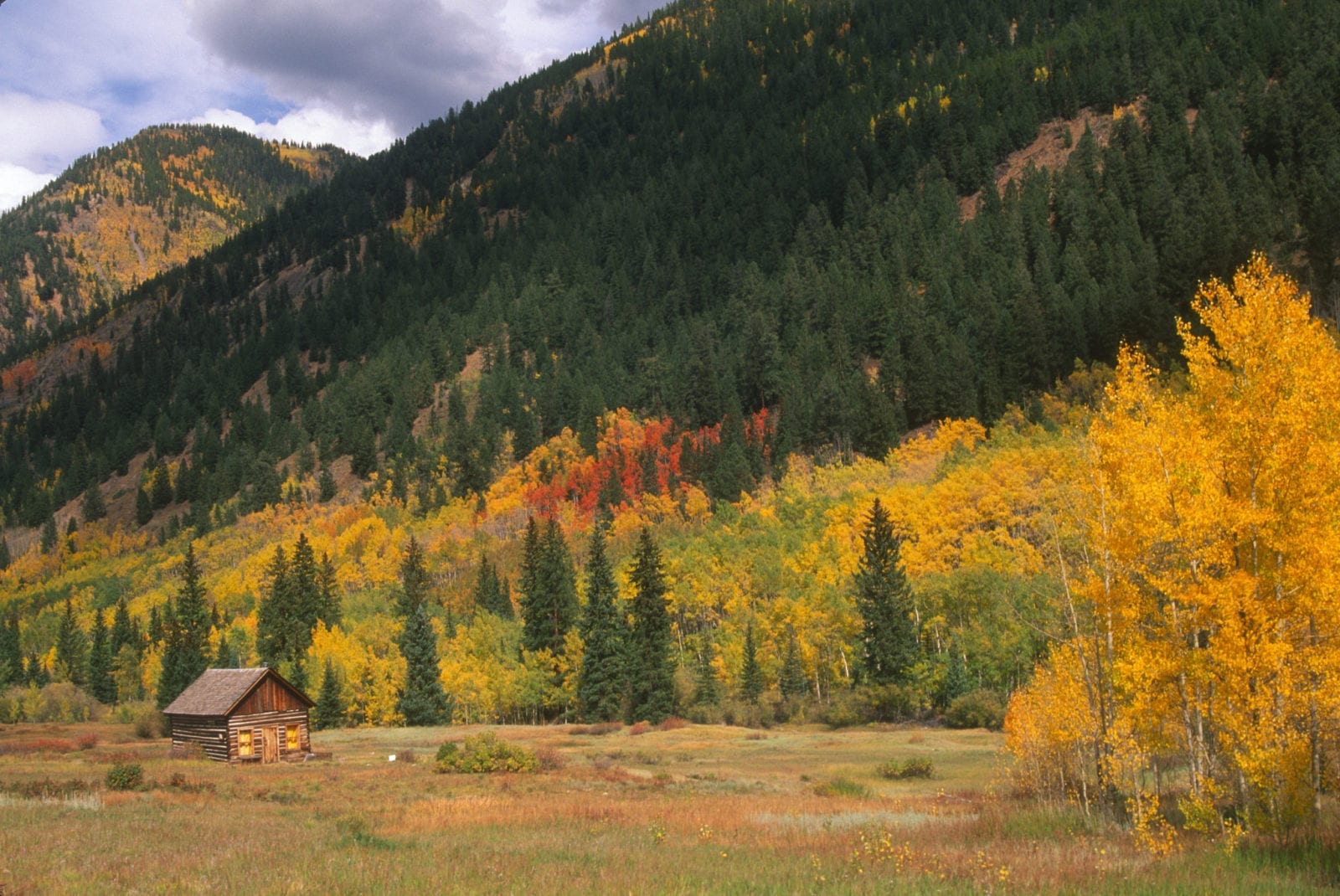 Located in Eagle Colorado, Sylvan Lake State Park feels like it is tucked away from the rest of the world. Surrounded by the White National Forest, there is no shortage of beautiful mountain scenery and peaceful surroundings. An angler's paradise, the high mountain-lake is well stocked with fish and is open to kayaking and canoeing.
For those seeking cozier accommodations, the park has eight camper cabins and one large cabin – all located lakeside. The large cabin sleeps up to 12 people with a spacious interior, while the camper cabins sleep up to six people. Another sleeping option is the park's three yurts located roughly 9.5 miles from the lake surrounded by a large aspen forest. Rates vary.
Navajo State Park – 3 cabin rentals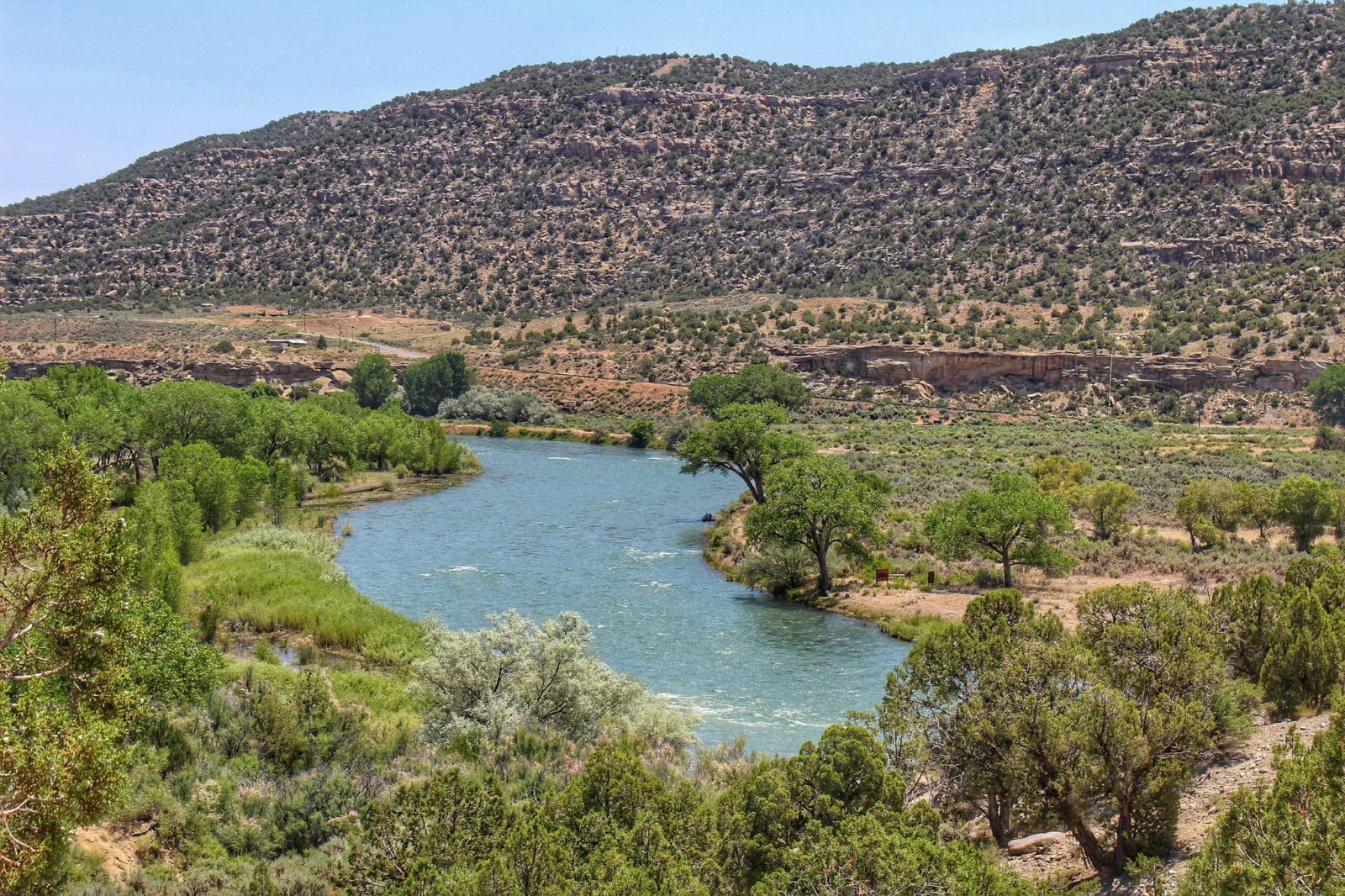 Colorado's alternative to Lake Powell, Navajo State Park, is home to the large Navajo Reservoir in southern Colorado. Spanning 15,600 acres across both Colorado and New Mexico the reservoir provides visitors with ample recreational activities including boating, fishing, swimming, hiking, and camping.
Within the park there are three two-bedroom log homes, sleeping up to six people, and fully furnished with all the modern conveniences and comforts of home. Enjoy the rustic setting with beautiful details like a wooden dining table and chairs and comfortable bedding – much like what you would find at a high-end wood furniture store, selling cozy wood bed frames. It is suggested to bring your own towels and linens. The log homes are available for $110 a night.
Vega State Park – 5 cabin rentals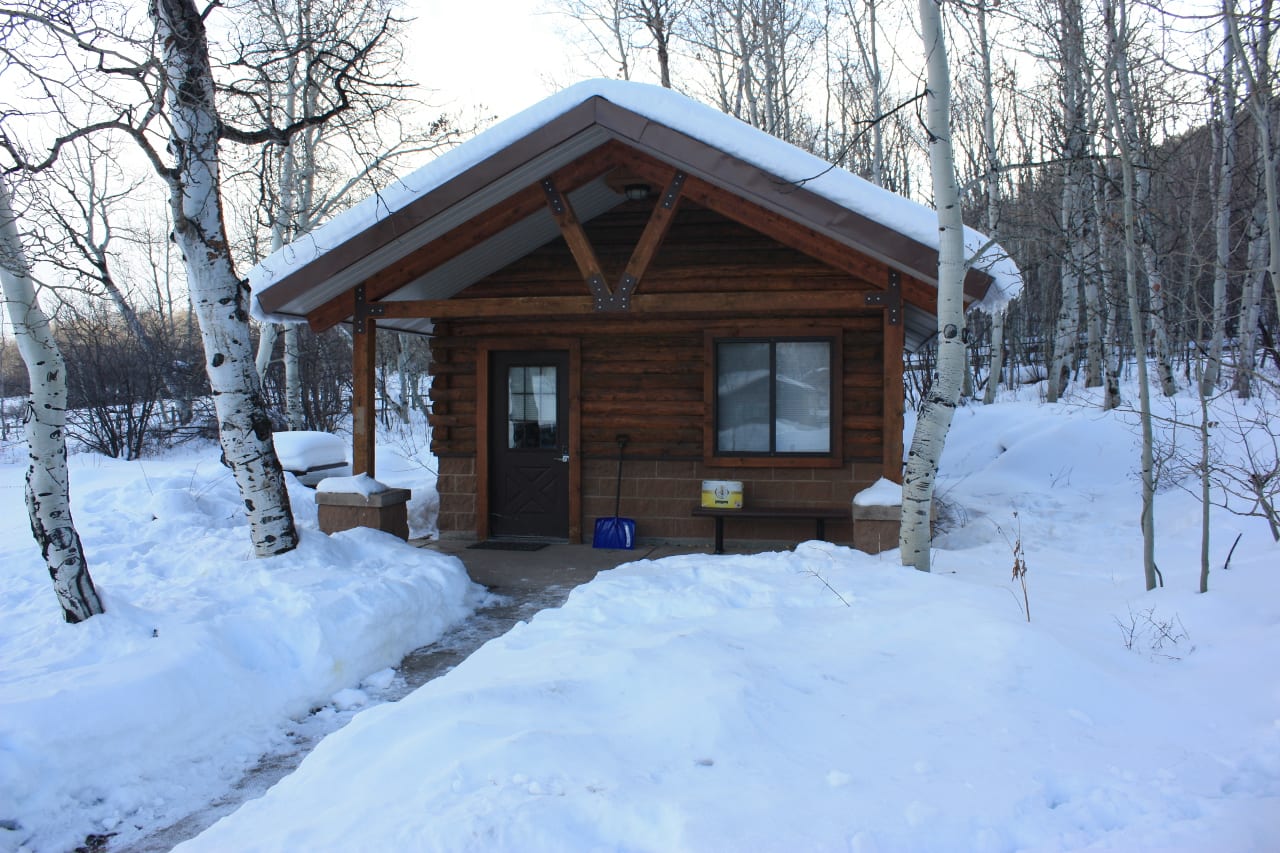 Hidden in the Colorado Rockies close to Grand Mesa, Vega State Park offers year-round campgrounds and five cabins for rent. It's centered around the massive Vega Lake. The primitive rustic cabins share men's and women's vault toilets. Aside from fishing and seasonal boating, visitors to the park can snowshoe, cross country ski, bike, hike or birdwatch depending on time of year. Nearby attractions include Powderhorn Mountain Resort and Palisade wine country.
Your next adventure is waiting, so pack your bags and discover some of Colorado's most beautiful landscapes with a stay in one of these Colorado State Park cabin rentals.