Who says camping can't be glamorous? Well, you certainly don't have to be Daniel Boon to enjoy the outdoors in Colorado. With the latest trend in fancy camping, there are plenty of top glamping locations for those willing to rough it, but only with bedsheets.
Get outdoors and discover these glamping retreats in Colorado. These are just a few of the best sites for glamping in the Rockies. You can browse platforms such as AirBNB and VRBO for a "glampsite", you'll find a number of yurts and special rustic accommodations listed.
There's numerous state parks with yurts and cabins to rent as well. Another big benefit to glamping is the longer season, many of these sites have heaters extending the fun into winter. Some don't though, and are open for seasonal summer excursions.
Here are some of the best glamping locations in Colorado, in no particular order:
1. Joyful Journey Hot Springs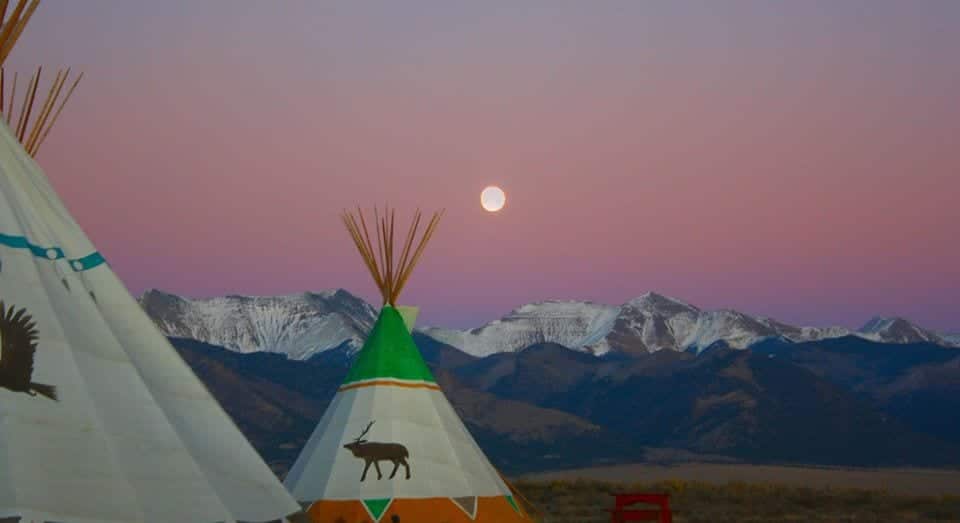 Sitting at the base of the Sangre De Cristo Mountains in the San Luis Valley is the casual and chill Joyful Journey Hot Springs. This small hot spring offers three different pools ranging from 98 degrees to 108 degrees and is said to have special healing powers. The property offers several accommodations, including glamping options of tipis and yurts. Their Native American-inspired tipis offer the bare minimum in terms of glamping with provided cots and mats, and beautiful views of the Sangres.

For a bit more luxury opt-in for their fully furnished, heated yurts. Choose from a variety of bed configurations that sleep up to four people. Separate bathhouses are provided for those staying in the yurts and are a short walk to the pools. The resort is located in Moffat, CO.
2. Arapaho Valley Ranch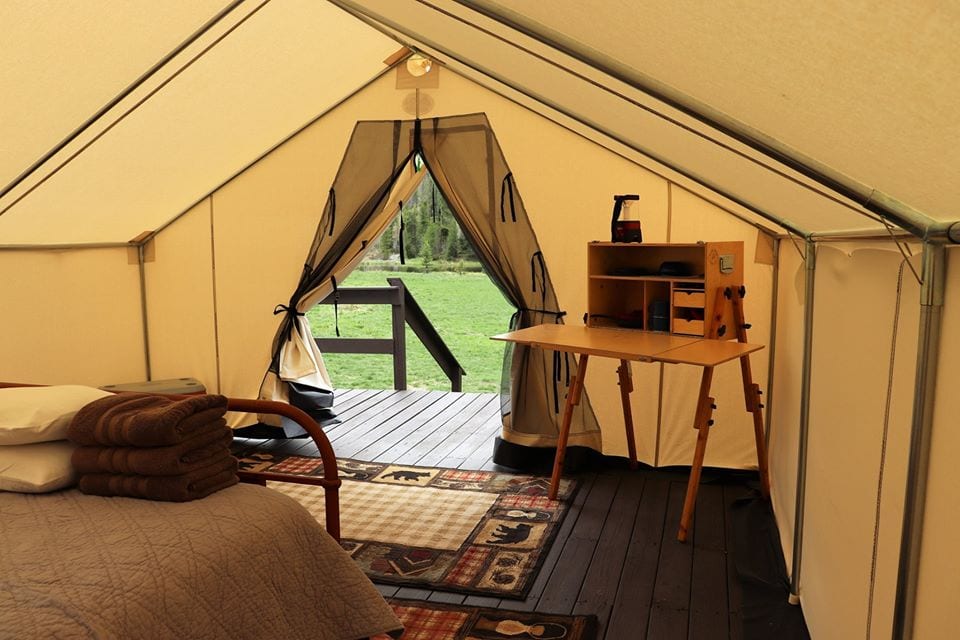 Located in Granby, Colorado, the Arapaho Valley Ranch is a 200-acre, family-owned ranch that is at the base of Indian Peaks Wilderness. While they offer camping sites for those who want to rough it, they also provide "glamping" accommodations that include tipis and tent structures.
Each glamping tent at Miners Camp overlooks Little Indian Lake and offers a wooden deck, perfect for taking in the beautiful scenery. Glamping tents are complete with a Queen-size bed with bedding, kitchen, a fire pit at the base of your tent, and everything else you might need for your glamping adventure! Just bring your food and beverages, and they will take care of the rest.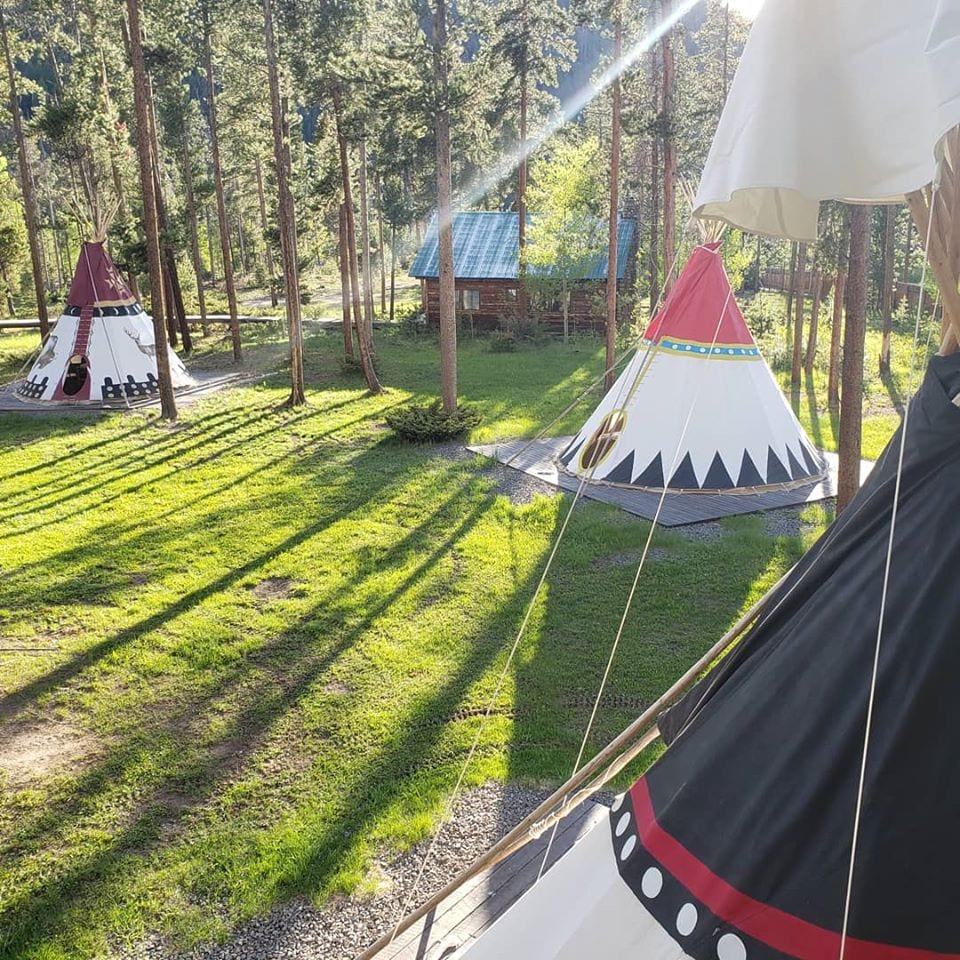 Similar to the glamping tents, the 20-foot tipis come with a Queen-size bed, kitchen, ideal for a couple or a family of four. The tipis are set in a village-like setting, surrounded by trees and green grounds, the perfect outdoor setting in the middle of the Colorado wilderness. It's a fabulous resort and way to experience Middle Park, Colorado.
The guest ranch is seasonal and is only open Memorial Day through Labor Day.
3. Tennessee Pass Sleep Yurts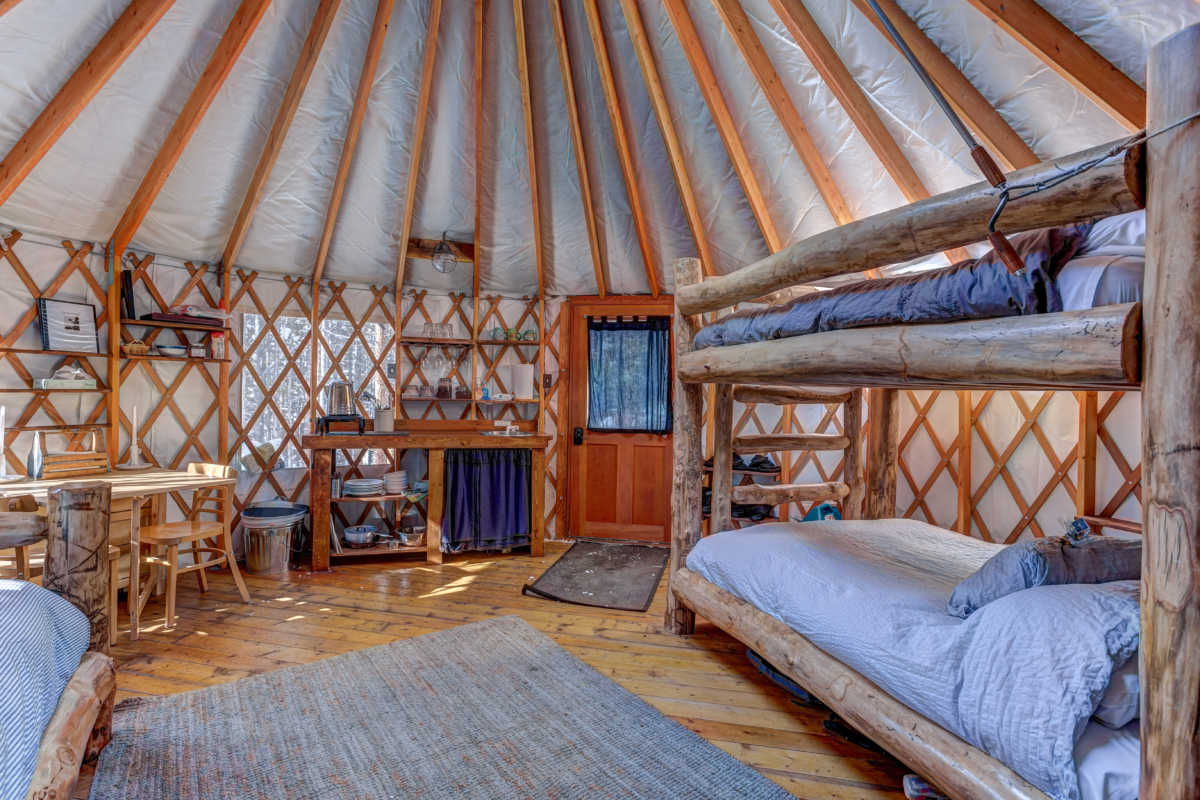 The Tennessee Pass Nordic Center, cookhouse, and sleep yurts is one of Colorado's premier destinations for outdoor adventures. Located near Leadville, the Nordic center offers ample terrain for cross-country skiing, fine mountain dining, and some of the plushest, overnight yurt sleeping around.
Bring the luxe life to the backcountry with a stay in one of the sleep yurts, equipped with handcrafted log beds (with linens), wood stoves, kitchenette, sink, water, dining area, and solar lighting. If you choose to do some cooking on your own, the yurts provide necessary cookware and dishware for minimal cooking. Of course, you don't want to cook, make reservations at the on-site cookhouse.
4. Green Sky Yurt Retreat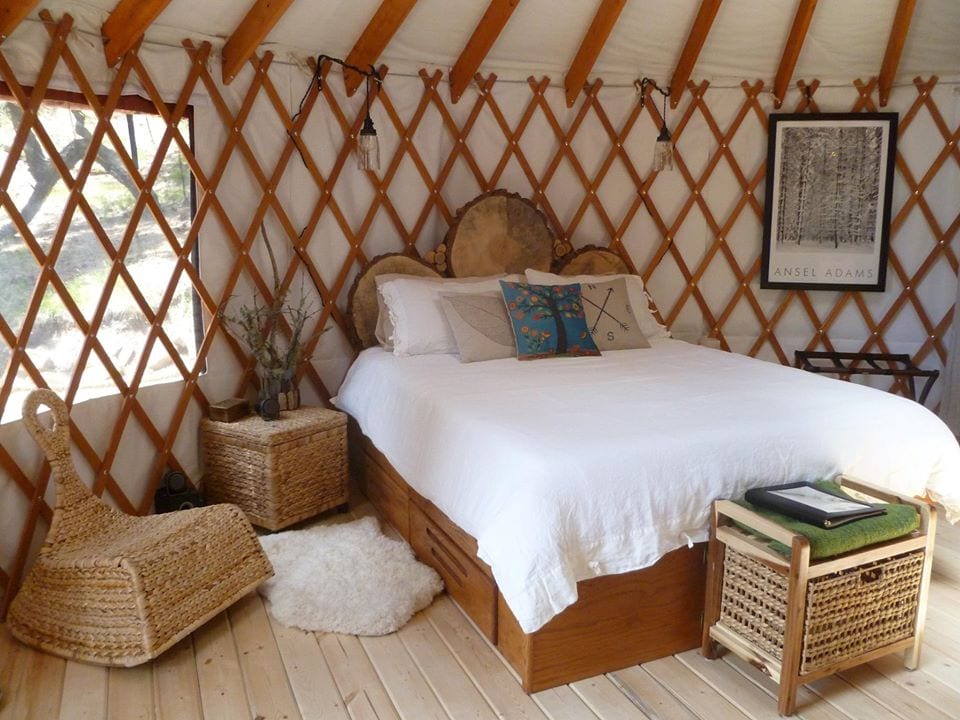 This deluxe-rustic retreat is located near Durango, between Vallecito Lake and Lemon Reservoir. The cozy yurt come with a bed, kitchenette, grill, wood stove, full bath, and an outdoor deck with seating. Take advantage of the many outdoor activities available in the area including, hiking, biking, fishing, swimming, and even canoeing using your complimentary canoe.
Rent the Green Sky Yurt Retreat for an unforgettable overnight adventure in the San Juan National Forest.
5. Never Summer Nordic Yurts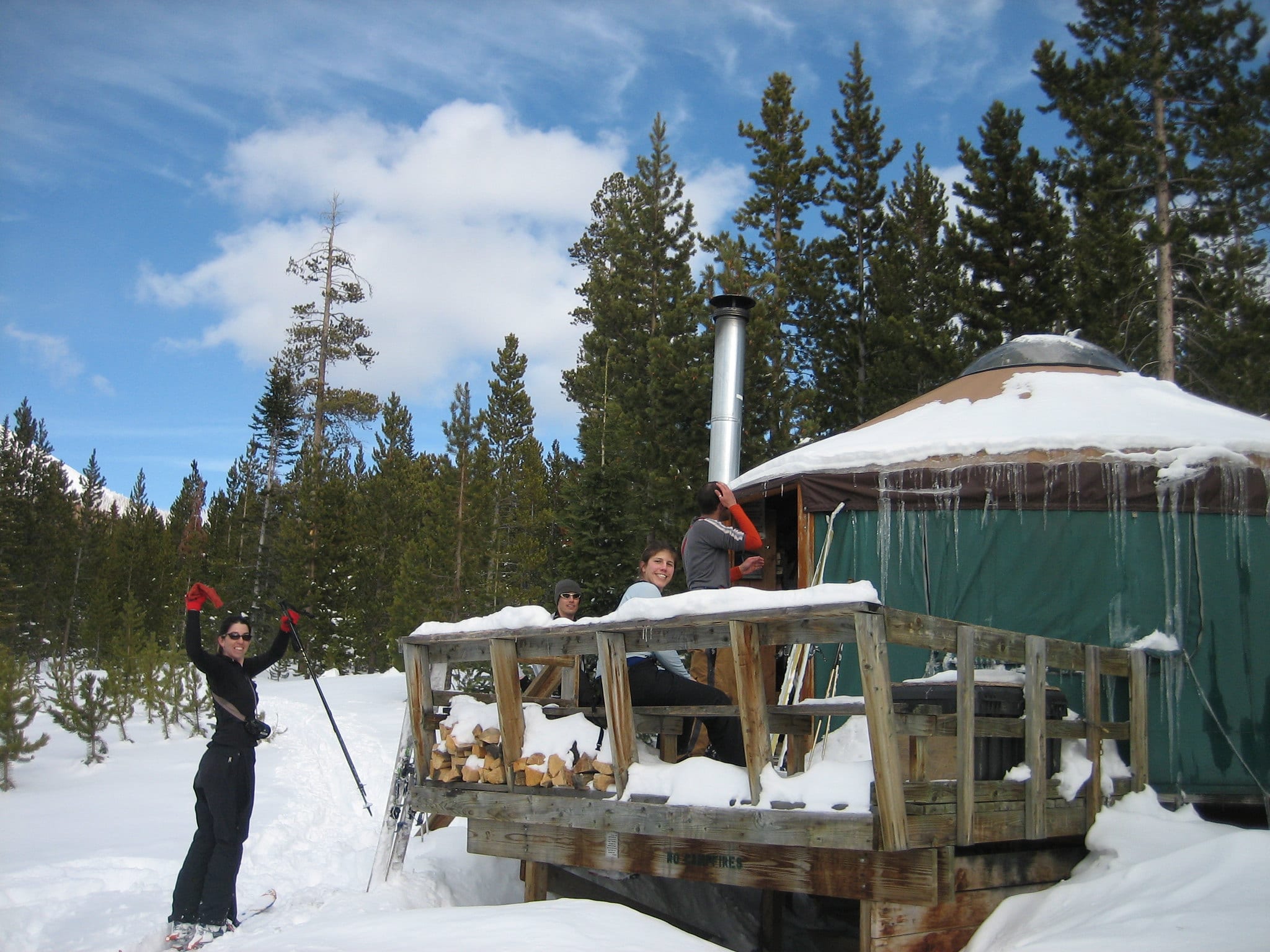 Situated in Walden, Colorado in the North Park basin, surrounded by over 70,000 acres of wilderness in Colorado's State Forest State Park, the Never Summer Nordic Yurts are perfect for your backcountry adventure. The yurts are as basic as you can get without actually camping as they offer no running water, no electricity, only outhouses, and most likely no cell service. But they do include a comfortable bed, wood stove, cooking supplies, and lanterns.
Enjoy access to what seems like an endless amount of trails for hiking and biking in the summer and skiing and snowshoeing in the winter. They have 8 yurts for rent, as well as 3 cabins. Some of the yurts require a non-motorized trek to reach, such as via cross country skis in the winter. There are some two wheel drive-up and wheelchair accessible yurts available though too.
6. Royal Gorge Cabins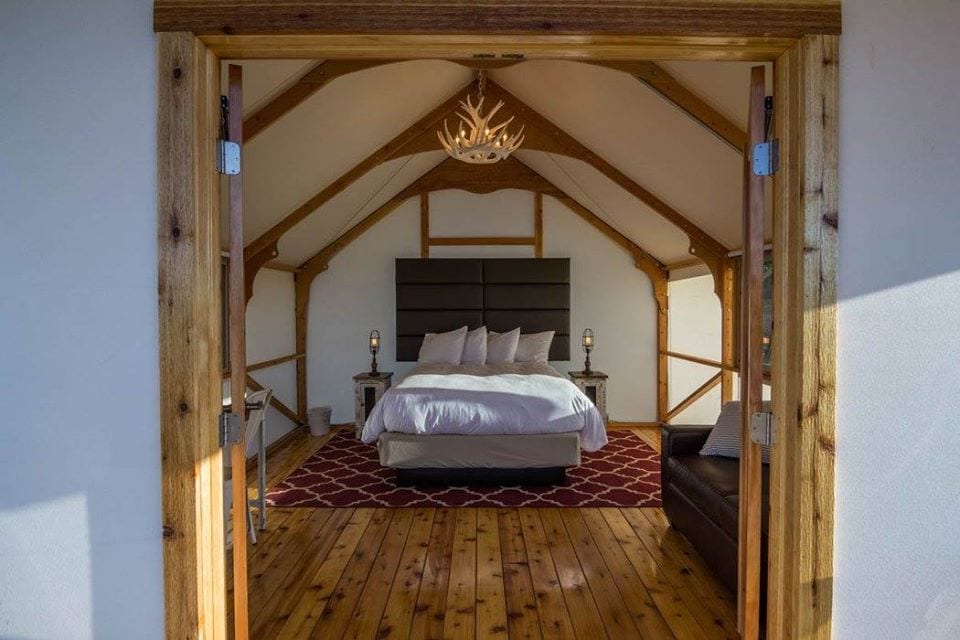 Located in Cañon City, just minutes from the Royal Gorge recreation area, the Royal Gorge Cabins (affiliate link) offer all outdoor adventurers modern accommodations with a rustic look and feel.
While they provide luxurious hill-top cabins for those who need a solid four walls, they also feature several glamping tents for those on a budget and who want to feel a bit more connected to nature. Offering both single queen tents and double queen tents, each is equipped with bed linens, chic furnishings, a sitting area, reclaimed wood desk, plus outdoor porches with seating. Take your evening outdoors and enjoy a crackling fire pit to keep you warm on those cool Colorado nights.
7. Dunton River Camp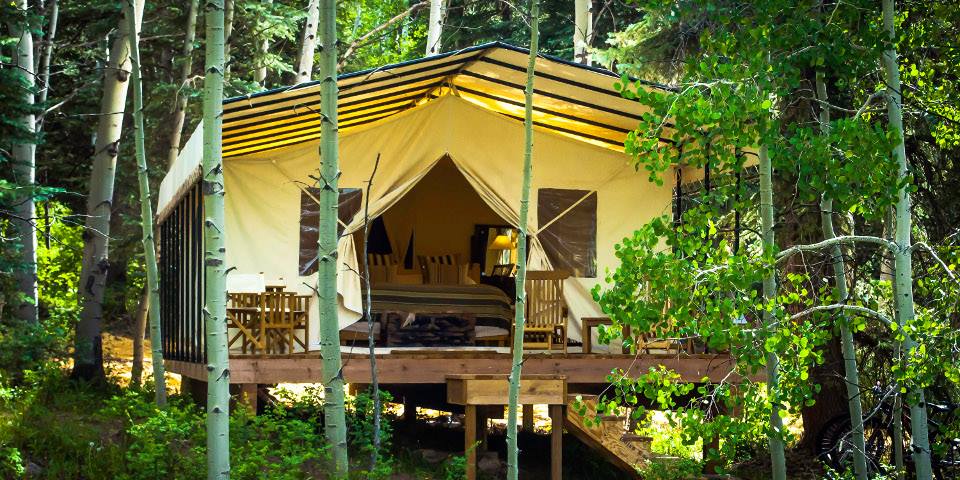 In Dolores, Colorado, the Dunton River Camp has a variety of custom mountain or river tented cabins, which provide a bit of luxury in the outdoors. Each spacious tent lies atop a square wooden platform and comes with amenities that you would get from a luxury resort.
Nestled within the trees, the four mountain tents offer stunning views of the San Juan Mountains and surrounding area. Each is complete with a King-size bed, en-suite bathroom with a six-foot soaker tub, gas stove, Wifi, and luxurious furnishings. The river tents come with all the same features but are situated along the West Fork of the Dolores River. Both also provide access to two mountain bikes for exploring.
Beyond the glamping tents, guests can also enjoy a sauna that sits by the river, wine tastings at their own vineyard in McElmo Canyon, and evenings by the fire pit with a cocktail in hand. Only open during the summer, between June and October.
8. Vail Collective Retreats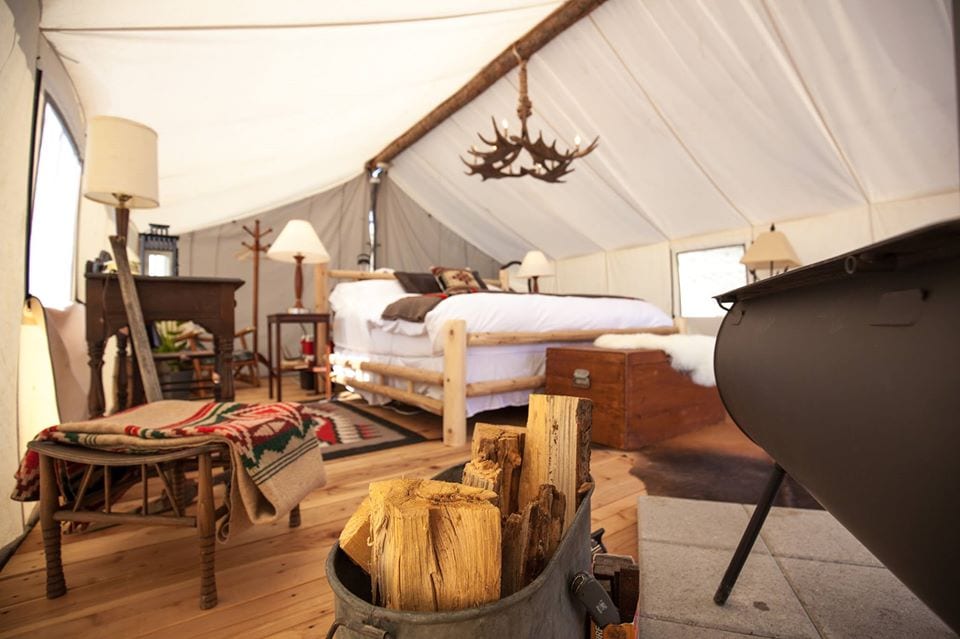 For something even more luxe, book a stay at the Vail Collective Retreats. Whether you have a full outdoor itinerary or plan to do nothing at all, Collective Vail glamping tents are sure to suit your needs. The instant you step inside one of the tent structures, feel as though you have found accommodations fit for a king. An over-sized king bed acts as the centerpiece to your luxurious glamping retreat. Other amenities include fitted, 1,500 thread-count sheets, modern décor, sitting area, desk with chair, and, of course, stunning mountain views.
Surrounded by 1,000 acres of ranchland in Wolcott, CO, feel miles away from it all with the beauty of Colorado all around you, but feel rest assured you are only a short drive into town for whatever you might need. Activities available in the area include fly fishing, wine tasting, hiking, and horseback riding.
9. Black Tree Resort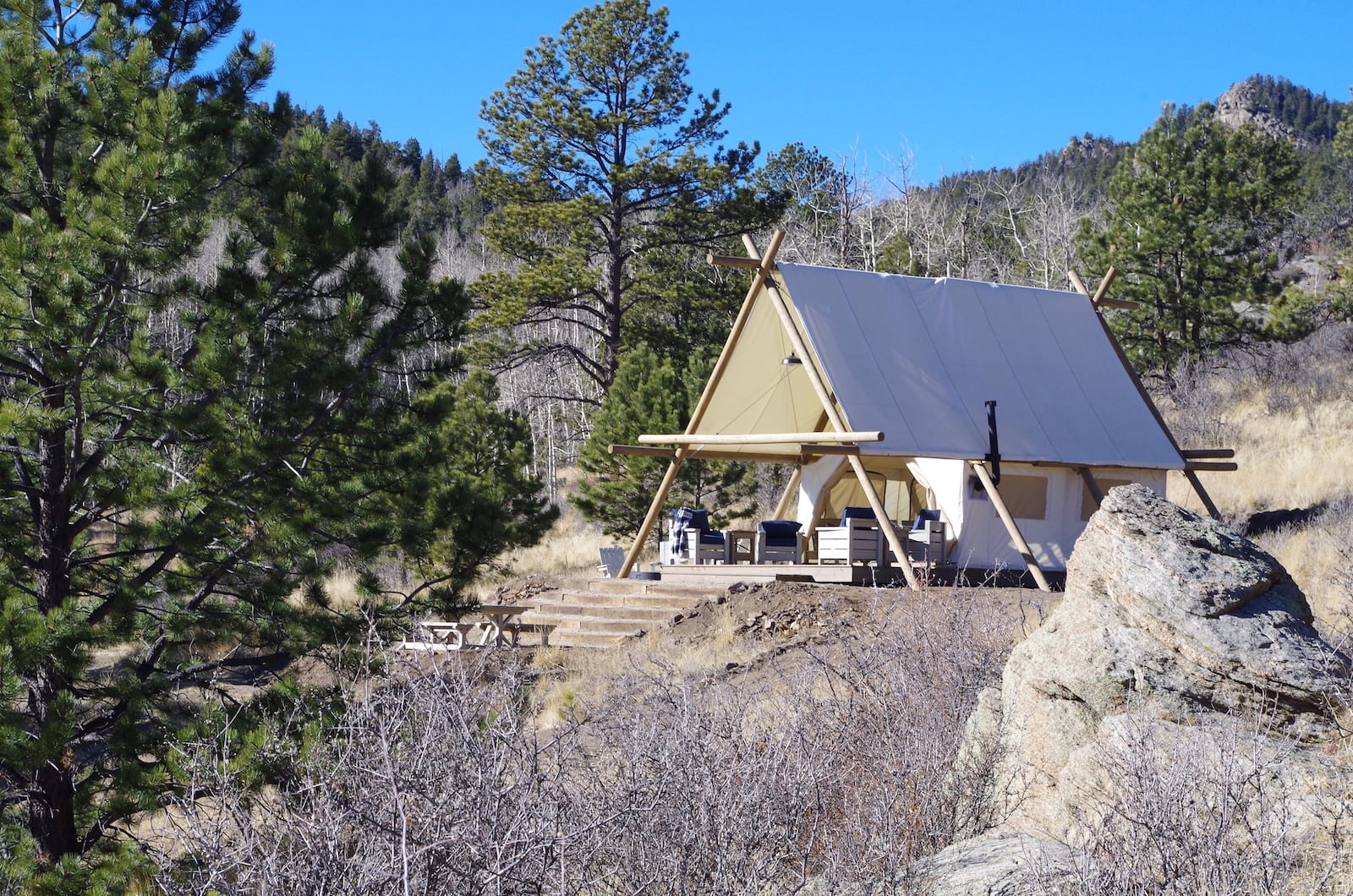 Nestled only five minutes from Eleven Mile State Park, Black Tree Resorts offers a luxurious camping experience. They seamlessly combine the comforts of modern life with the natural state of mind that comes with camping. The resort is located less than 15 minutes from Lake George and Highway 24, making it very easy to access from both Colorado Springs and Denver.
Experience the best that South Park has to offer with terrific fishing in the South Platte River, Spinney Mountain and Eleven Mile reservoirs. Rock climbing, horseback riding, hiking trails and more abound in the surrounding Pike National Forest. Then retreat back to your own private oasis. Each spacious tent structure is located far enough from your neighbors to give you a private campout.
Fully-furnished wall tents each come with two queen beds draped with luxury bedding, a dining table, solar powered lights and outlet, as well as a wood burning stove. Plus your own private bathroom. Outside there's a covered patio, cushioned seating, picnic table and fire pit. Every campsite comes with its own golf cart to haul yourself around. Meals are all-inclusive too, so breakfast, lunch and dinner are delivered to your glampsite.
So, don't sweat it! You can enjoy the outdoors too without sleeping on the ground!