Denver's a big time sports town, with professional teams competing in all the major leagues. To host these pro games, there are a myriad of sports stadiums capable of housing large, passionate crowds.
There are professional teams in the top five sports: baseball, basketball, football, hockey, and soccer. Plus there a couple of pro lacrosse teams, as well as rugby matches. Some stadiums host multiple team. Seasons vary based on the sport and how well teams do. Year round, there's usually some kind of sport to watch. Let's take a look at where all these games take place around the Mile High City.
Here are the professional sports venues near Denver, CO, in alphabetical order:
Coors Field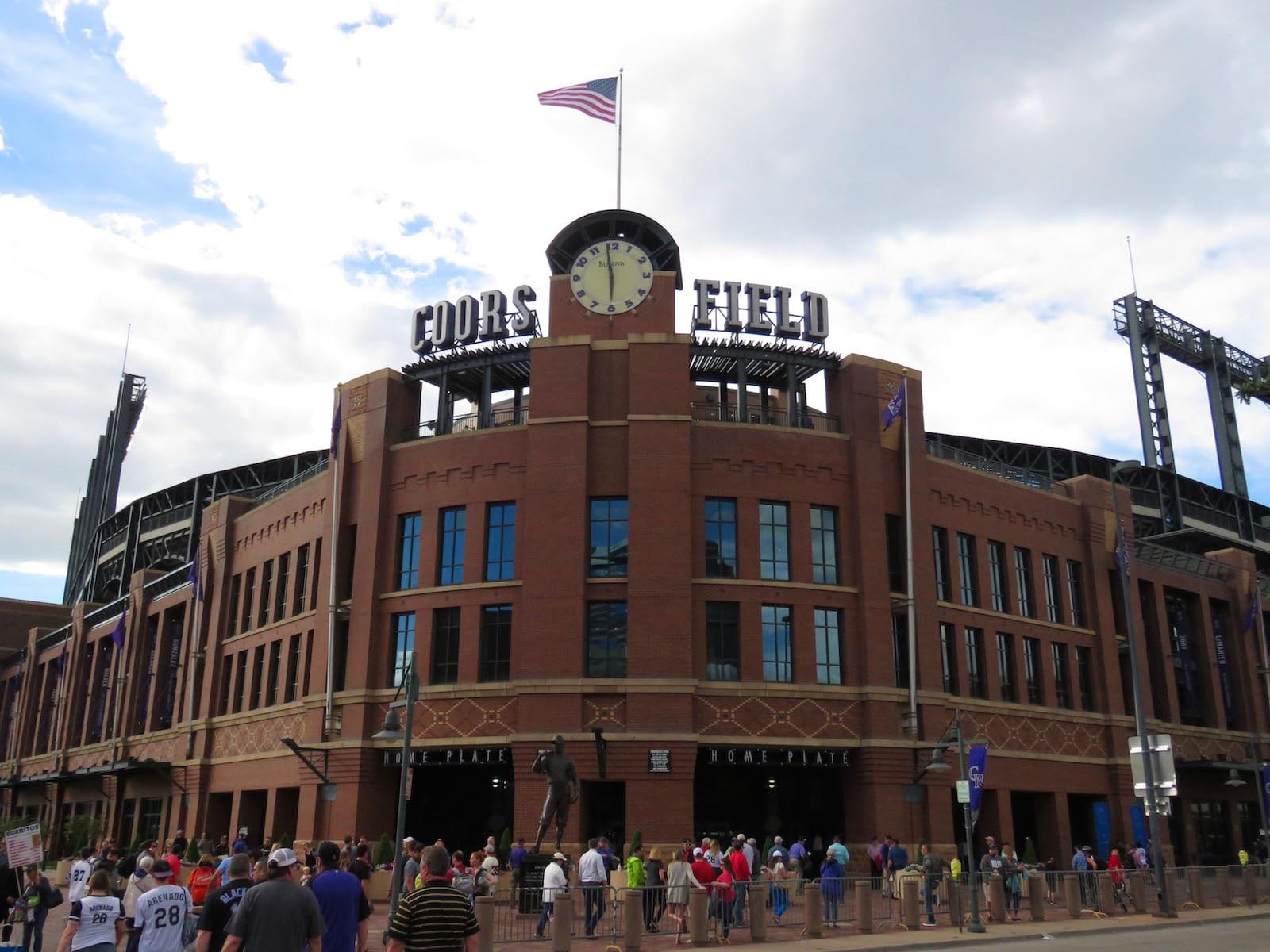 Located in Lower Downtown Denver, Coors Field is home to the Colorado Rockies. It's located only two blocks from Union Station in a neighborhood appropriately called the Ballpark District. The stadium opened in 1995 and before that Major League Baseball (MLB) in Denver was played at the former Mile High Stadium (a new Mile High Stadium has been built in a new location). The Rockies got their start in 1993, playing two seasons there before getting their own stadium.
Coors Field can hold just over 50,000 fans for its April to September MLB season. It boasts 63 luxury suites and 4,526 club suites, on top of its wide assortment of traditional seating. A party deck called Rooftop was built in 2014, adding in standing seats and a lively bar area. Although it's primarily used for baseball, it has been used previously for an array of events. One such festivity was a Stadium Series NHL hockey match between the Colorado Avalanche and Detroit Red Wings.
Dick's Sporting Goods Parks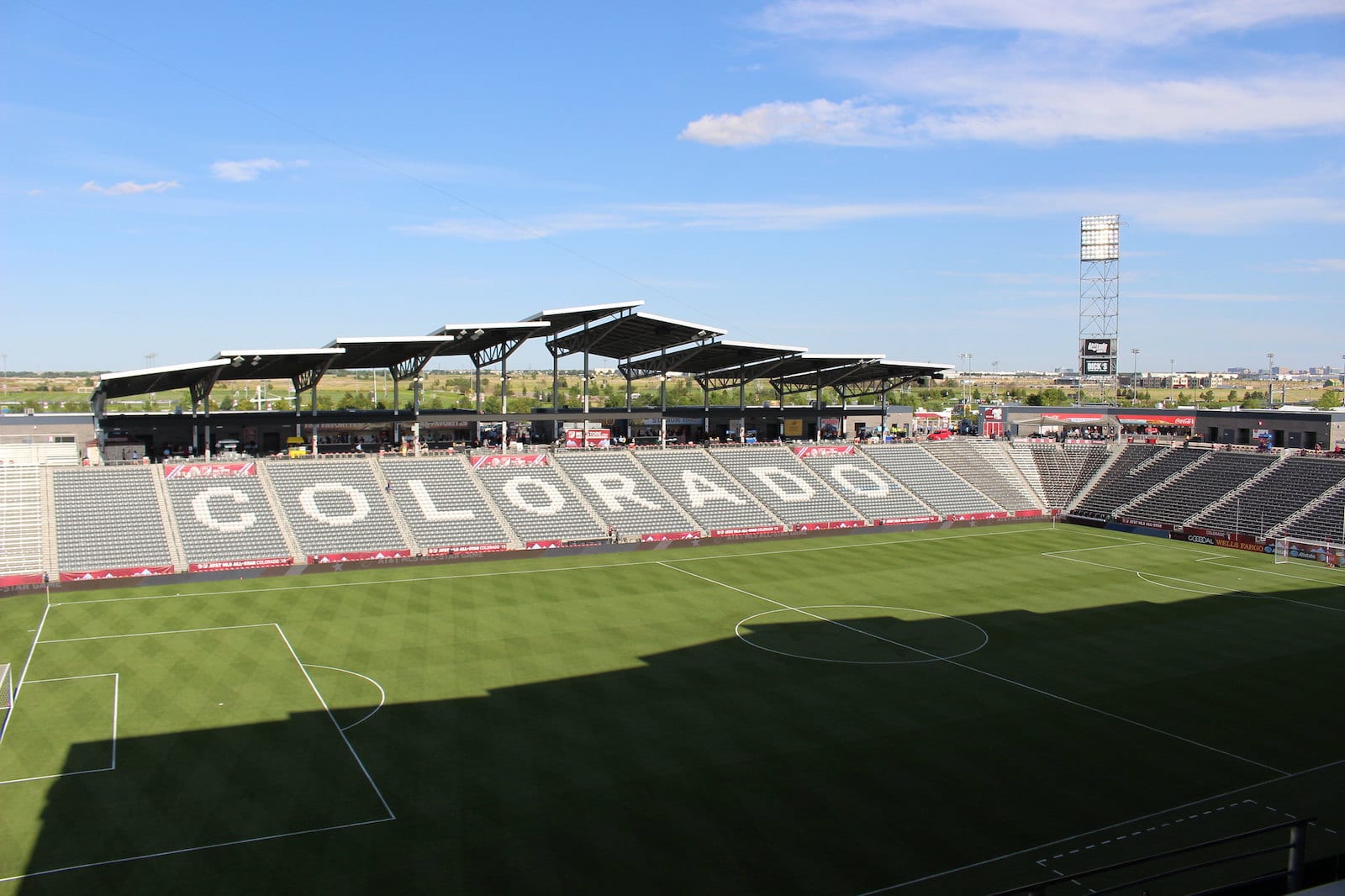 The local football pitch, aka soccer field, for Major League Soccer (MLS) competition is Dick's Sporting Goods Park (DSGP). It was built over 18 months in Commerce City, a suburb just 15 minutes from Downtown Denver. The first MLS game there was between the Colorado Rapids and DC United, on April 7, 2007.
DSGP can house just over 18,000 people for one its professional soccer games. For concerts, like its annual September Phish series, it can hold up to 27,000 screaming fans. There are the typical food and drink concessions you'd find at a pro sports stadium wrapping around the field. Surrounding the big outdoor stadium are a slew of recreational and practice fields, used for local leagues such as soccer and rugby.
Empower Field at Mile High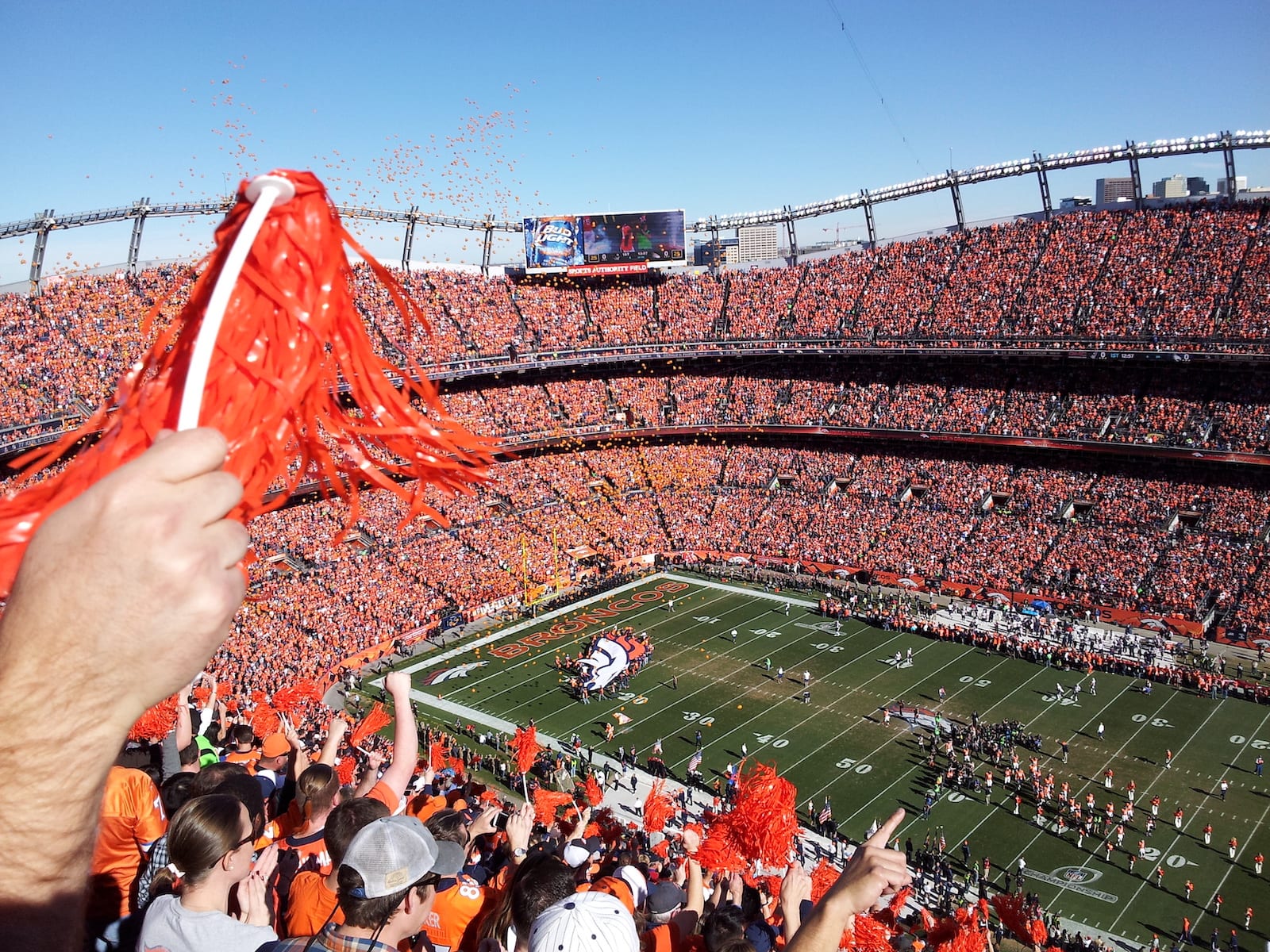 Built over two years and finishing in 2001, this stadium west of downtown and I-25 has held many names (or more appropriately, sponsors). There was a previous shared baseball/football field that hosted the Denver Broncos from their AFC start in 1960 through 2000, called Mile High Stadium. This new one is technically known as Mile High, with whatever company is sponsoring it labeled first in the name.
It started as Invesco Field at Mile High, then Sports Authority Field at Mile High, before briefly becoming sponsor-less and known as Broncos Stadium at Mile High for the 2018 and start of 2019 season. Empower Retirement then took the job and named it Empower Field at Mile High. Locally called Mile High Stadium, it has a seating capacity of just over 76,000 people.
In addition to hosting the National Football League's (NFL) Denver Broncos from September to January, you can watch the Denver Outlaws play professional box lacrosse between late April and early August. They are members of Major League Lacrosse (MLL).
Infinity Park at Glendale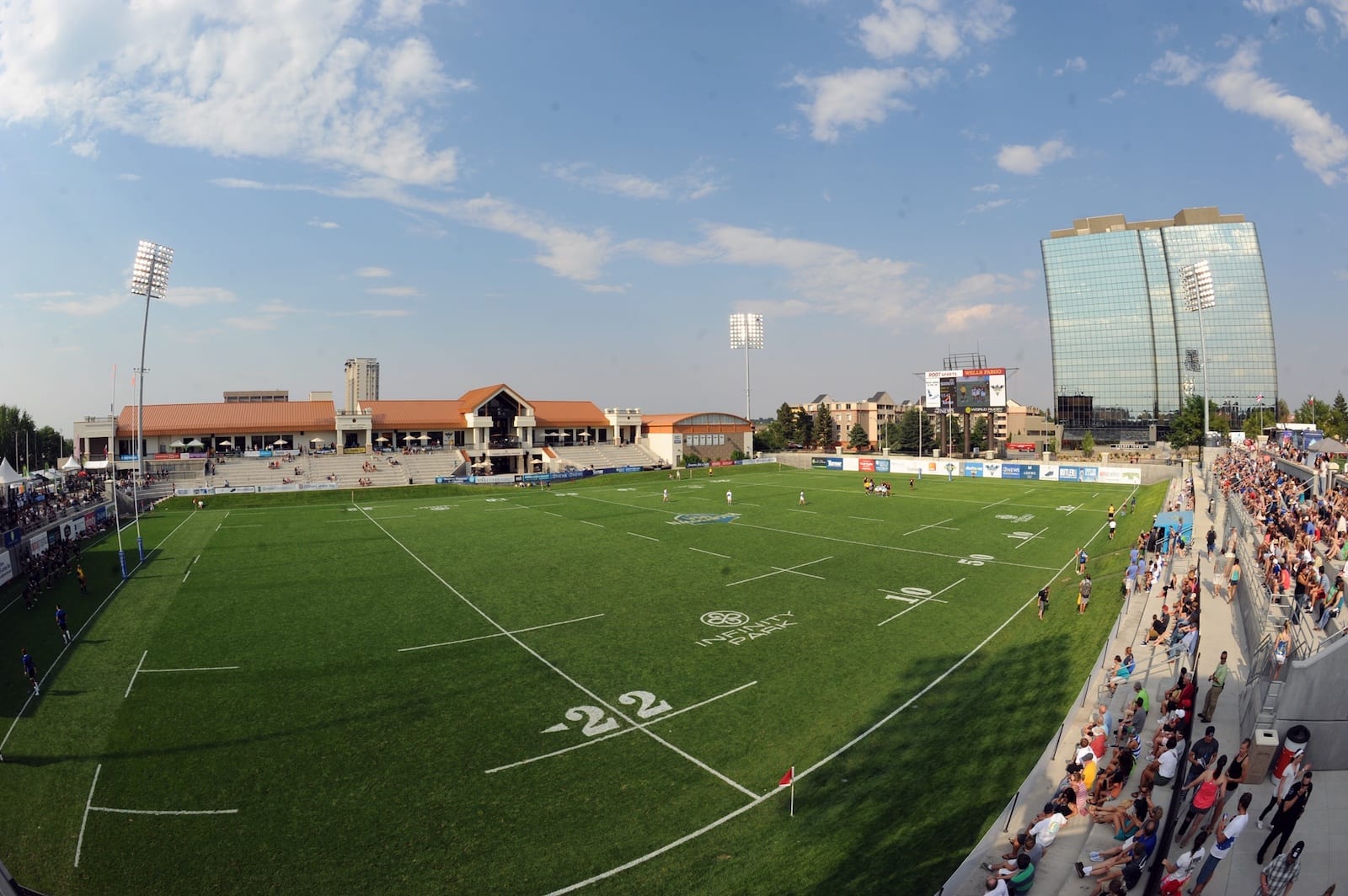 In 2007 when it was opened, Infinity Park became the very first rugby-specific, municipally-owned stadium in the United States. It's located in Glendale, a small Denver enclave of about 5,100 residents. Surrounded by Denver on all sides, it's situated only 5 minutes to Cherry Creek Shopping District and 15 minutes to downtown Denver. It has helped to grow the sport of rugby in Colorado.
The seating capacity for rugby matches is about 5,000. From early February to May, catch the Colorado Raptors compete in Major League Rugby (MLR) games. On top of their league matches, year round there's some type of sporting event going on. It's used throughout the summer for co-ed soccer leagues, and various other rugby matches. The northern front range of Colorado has a number of competitive rugby union teams, playing in various national and regional leagues.
Ball Arena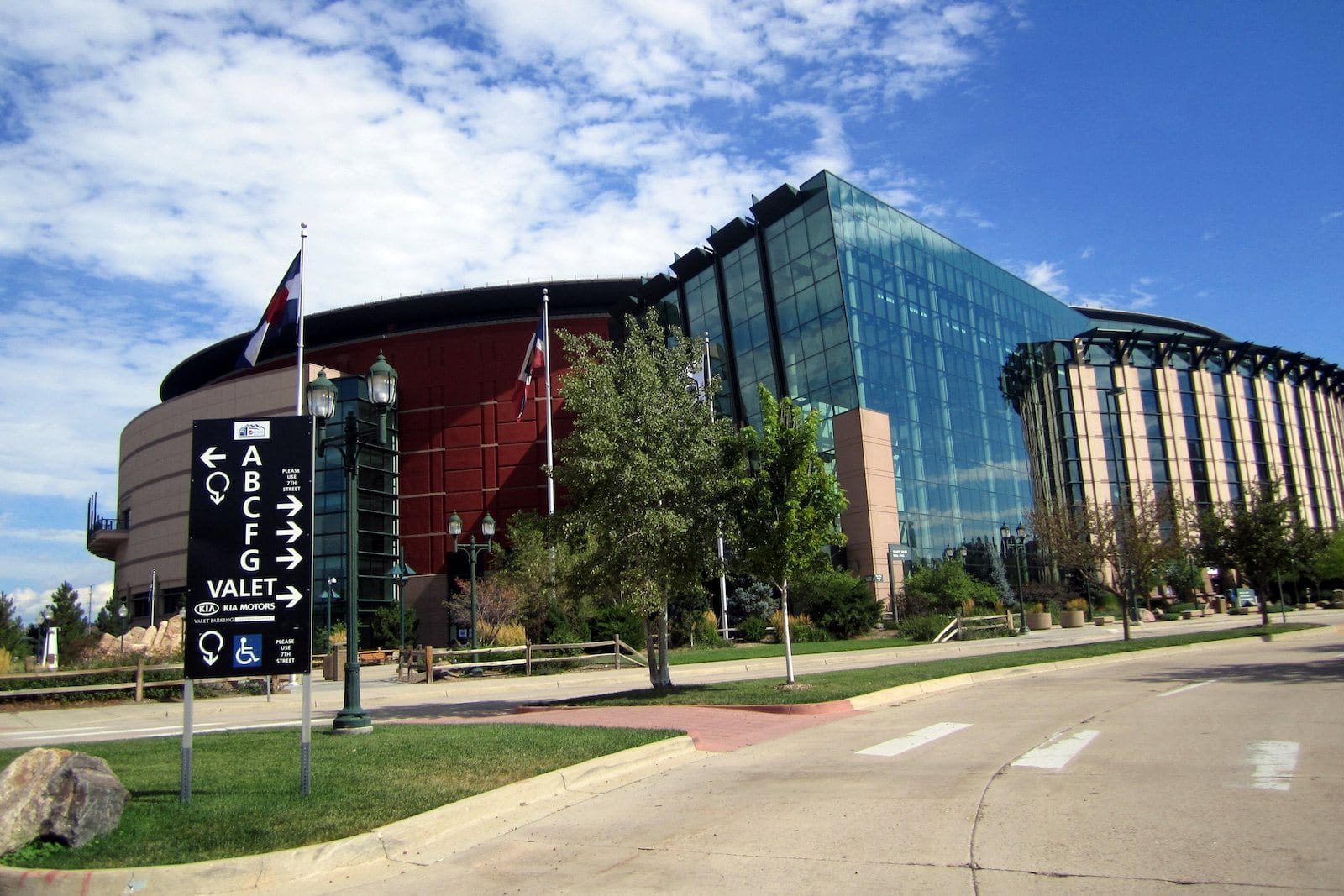 In addition to Coors Field, the Ball Arena ais the other big sports stadium located directly in downtown Denver. With a capacity of just over 18,000 for sports matches and 20,000 for concerts, it hosts three professional teams and a slew of the biggest named musicians/bands touring through Denver.
From October to June, catch the Denver Nuggets compete in the National Basketball League (NBA). The National Hockey League's (NHL) Colorado Avalanche plays from September to June, sharing a similar fall/winter/spring season time frame as the Nuggets. Lastly, but certainly not least (in terms of screaming fans and an amazing Ball Arena experience), is the Colorado Mammoth. They compete in the National Lacrosse League (NLL), playing professional box lacrosse from December to April.
That's a roundup of the professional sports stadiums around the Denver Metro. Support our local teams compete at the highest level!