No matter how you like to take in the great outdoors, from conquering a mountain to a pleasant lakeside family picnic, there's a Colorado state park that fits the bill. The state's second-largest city, Colorado Springs (COS), is one of the top destinations for both day trips from Denver and overnight holidays.
For those looking to experience nature and the wild Rocky Mountains, but also savor the cosmopolitan vibes of the city, we located the closest Colorado state parks to COS. All can be driven within an hour of downtown. Here, in no particular order, are our top picks for state parks near The Springs.  But don't take our word for it, get out there and experience them for yourself!
Cheyenne Mountain State Park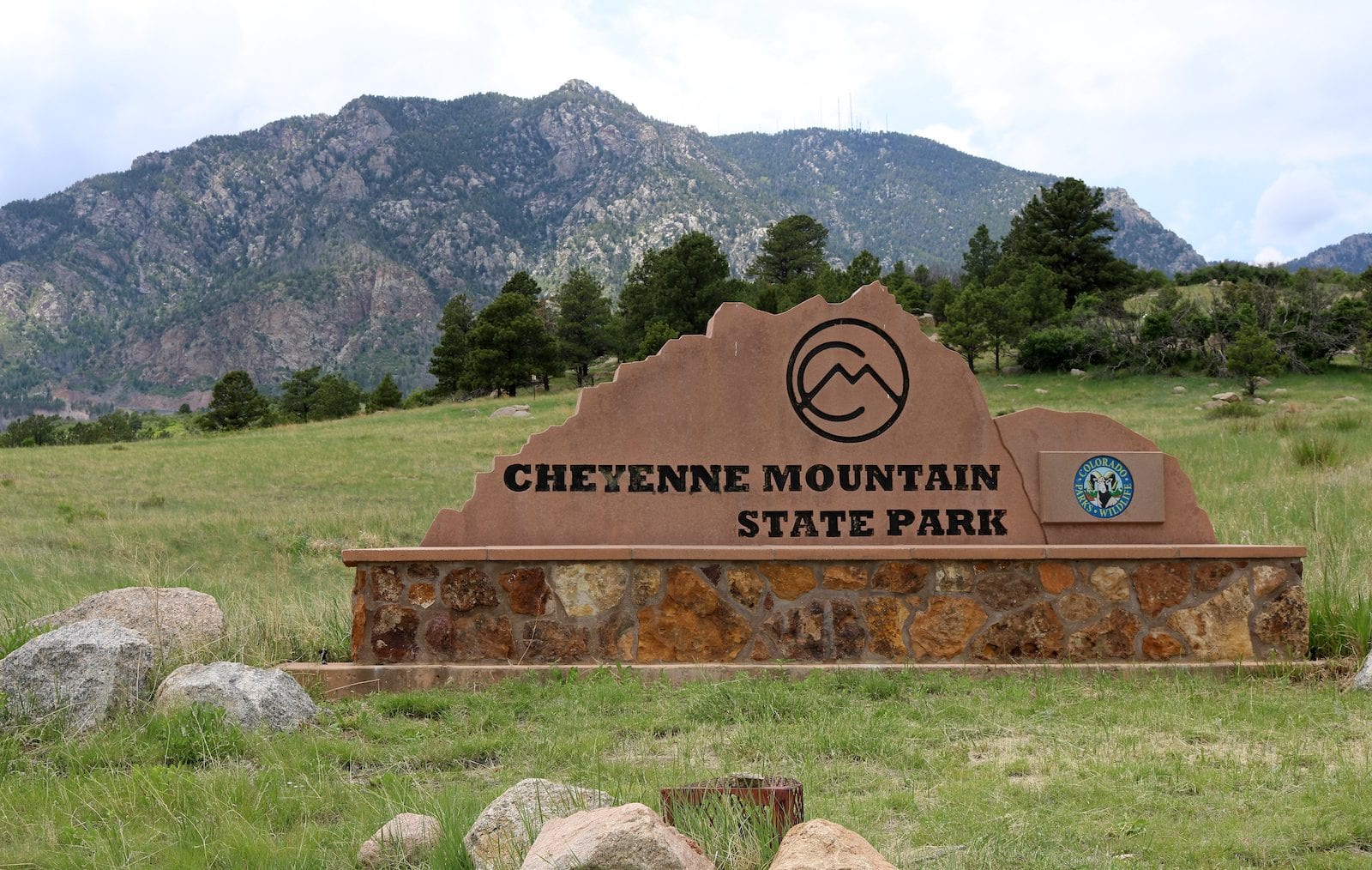 Sitting at the base of the mountains just west of Fort Carson and only 8 miles from Downtown Colorado Springs is the closest state park on our list and the only state park in El Paso County, Cheyenne Mountain State Park. Founded in 2006 and has expanded since then, the park now offers over 27 miles of trails that range from under a mile in length with little elevation gain to much longer and more demanding treks.
The gem of the park may well be the recently opened Dixon Trail, which is a strenuous out-and-back that (together with the Talon and North Talon trails that lead from the trailhead to the Dixon Trail itself) rises 3,700 feet in elevation over the course of the 8.5-mile one-way hike.
The trail is not for the faint of heart, but those dedicated enough to take on the Dixon Trail are rewarded by the curious sight of a debris field left over from a military plane crash in late 1957. There are stunning views of Colorado Springs far below the summit.
The park also boasts an archery range and dozens of picnic tables for those looking to take in the outdoors without exploring the hiking trails. Camping is excellent here, offering both RV and walk-in tent sites in the shadow of Cheyenne Mountain.
Mueller State Park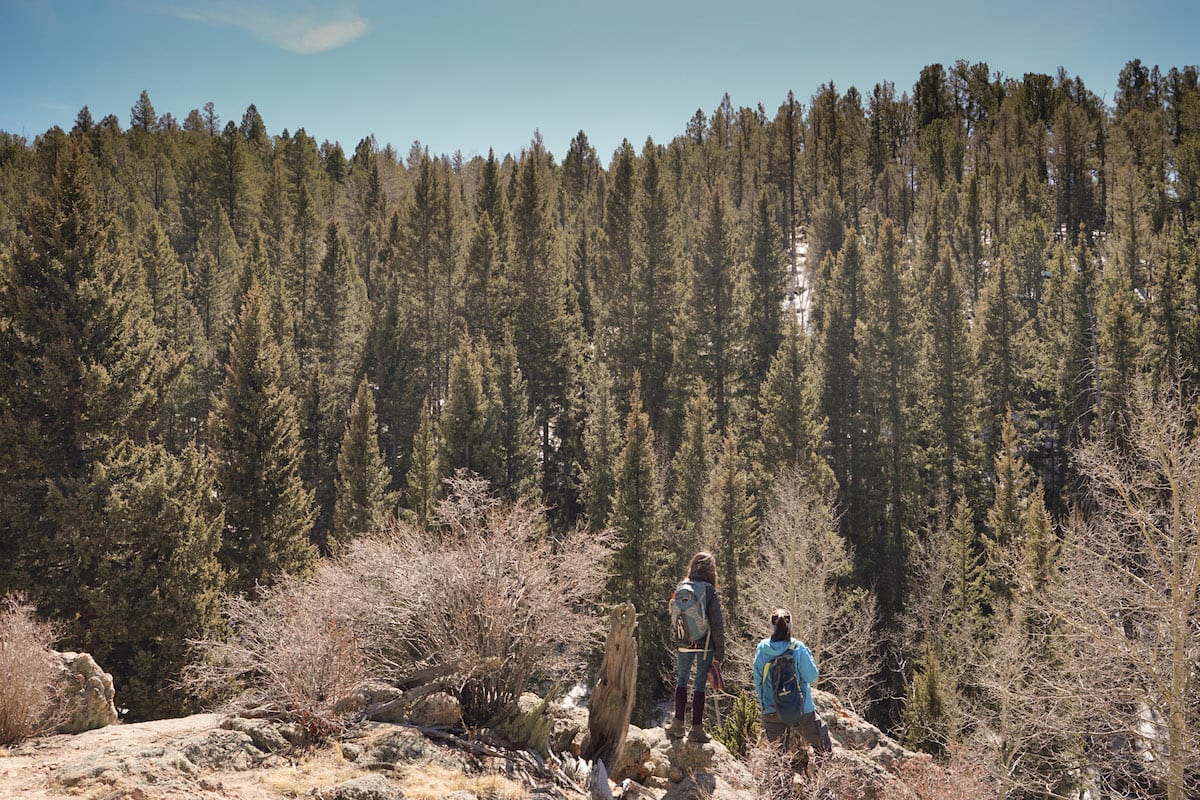 Just west of Pike's Peak sits the next park on our list, Mueller State Park.  This one features an extensive network of over 44 miles of trails ripe for exploring by hikers, mountain bikers, and horse riders.
The trails surround a large and well-maintained campground, which includes 22 sites designated as walk-in tent sites along with over 100 other campsites designed for RV or car camping.  Campers are well provided for, and arguably even pampered, with water hydrants, restrooms, dumpsters, and electrical outlets all provided.
A small stocked fishing pond sits adjacent to the campground and several other fishing ponds lay within a short hike. Being so close to the much more well-known Pike's Peak means the park is often overlooked and can make for a wonderfully serene getaway.
Unlike other most parks, however, pets are not permitted on any trail within Mueller State Park, so if you're looking for a pet-friendly getaway, there are plenty of better options.
Eleven Mile State Park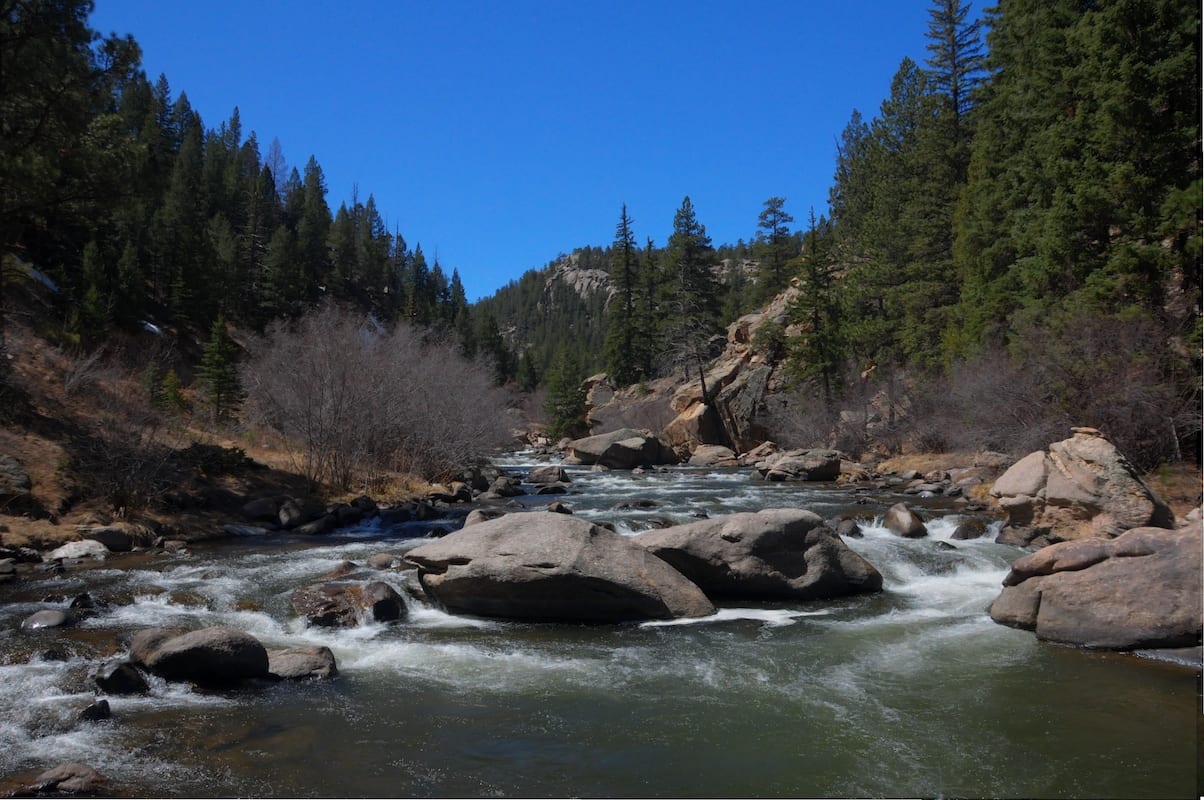 Located about an hour west of Colorado Springs, near Lake George and in the high country of Park County, is Eleven Mile State Park. Centered around the 6-mile-long Eleven Mile Reservoir this park offers amazing fishing both from the shoreline or trolling from a boat. There is also plenty of space to explore in a kayak, sailboat, or on a standup paddle board.
The marina provides fishing equipment, boats, kayaks, and canoes for rent so anyone can enjoy everything the park has to offer. Do, however, keep in mind that swimming is not permitted here.
Encircling the reservoir are 335 campsites, mostly designed to support RVs or car campers. Many of which offer stunning views of the continental divide.  In addition to all the reservoir activities, the park features a few hiking trails to enjoy. Hunting licenses for big game, small game, and waterfowl are available during their respective seasons.
Spinney Mountain State Park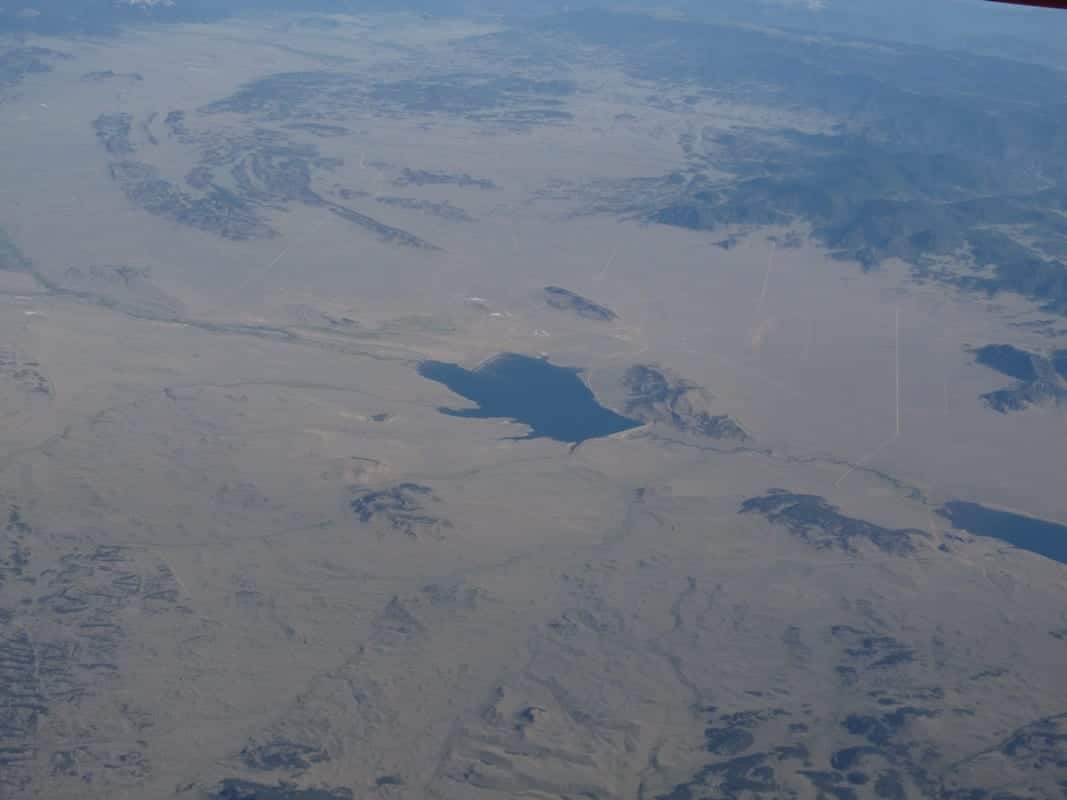 Just a few miles northwest of Eleven Mile State Park is another fantastic option for summer boating, fishing and hunting, Spinney Mountain State Park. The main feature of this park is a 2,500-acre reservoir celebrated for its northern pike, rainbows, cutthroats, and browns.
Like at its neighboring park, hunting licenses for big and small game, and water fowl are also available during their respective seasons. The reservoir, with its staggering views of the Collegiate Peaks in the distance, is an ideal place to spend a day on the water whether you're fishing, kayaking, or paddle boarding.
The park is heavily focused on fishing and hunting, so while there are no established trails and camping is not permitted, all the campsites, trails, and amenities of Eleven Mile State Park are a quick 30 minutes down the road.  For those looking for a closer camping option, the Chaparral General Store maintains a popular private campground just outside the entrance to the park.
Lake Pueblo State Park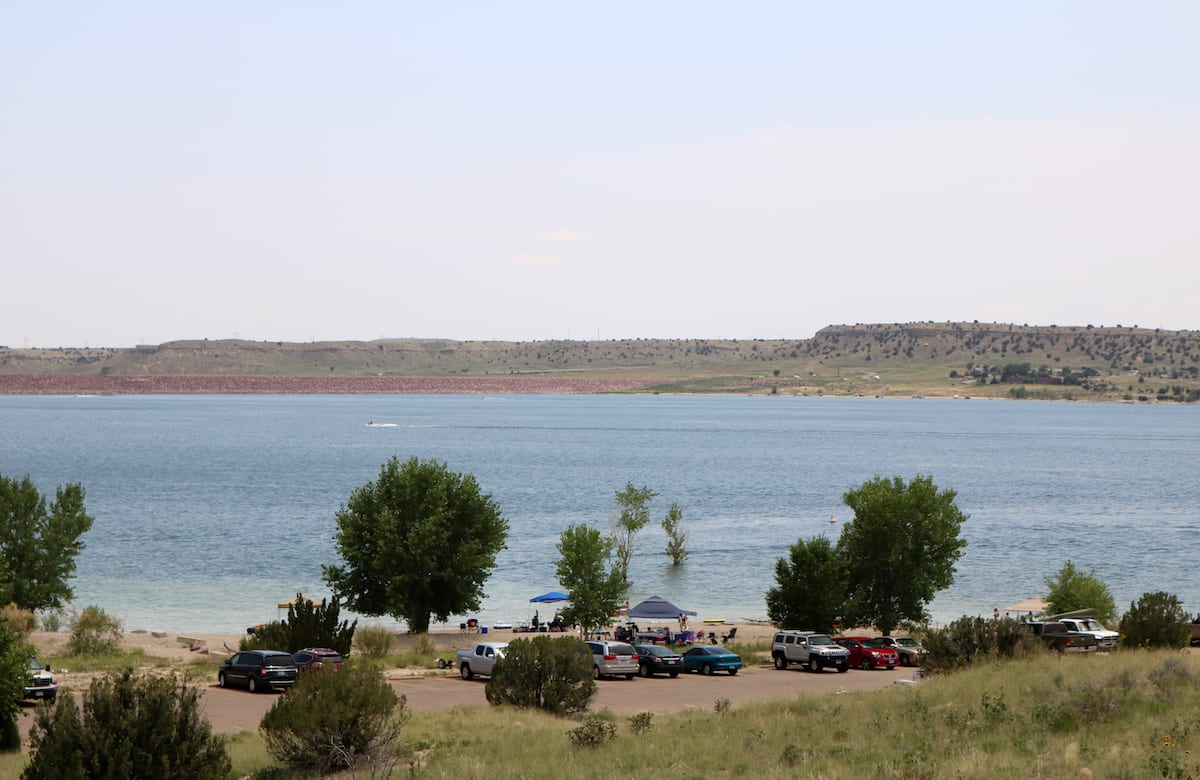 Just 8 miles west of Pueblo and around an hour south of Colorado Springs sits Lake Pueblo, a small oasis of all things Colorado.  All types of boating are permitted on the park's 4,600-acre reservoir fed by the Arkansas River. Hikers and mountain bikers can enjoy a network of around 15 miles of trails.
The routes meander around the northern and eastern shores of the lake, as well as along the Arkansas River as it flows out of the reservoir to the east.
The reservoir is also one of Colorado's top fisheries for walleye, wiper, and bass. Fishermen are welcome as fishing is permitted almost anywhere in the park. Like many state parks, swimming is not permitted in the reservoir itself, but the park features a designated summer swim beach on the Arkansas River, complete with its own sandy shores.
With all its amenities Lake Pueblo State Park is one of Colorado's most popular camping destinations. It's well suited for its numerous visitors with nearly 400 campsites. Whether you're from out of town and looking to get a taste of what Colorado outdoors has to offer, or a local looking for a weekend getaway, Lake Pueblo State Park with its countless amenities and views of Pike's Peak will not disappoint.
These state parks nearby Colorado Springs make a great base for adventuring into central Colorado and further down the southern front range. For those looking to explore some of the northern front range's top gems, you should consider these state parks near Denver. All ten of them can be found within an hour's drive of Denver.
More information about all of Colorado's state parks, and all they have to offer, can be found at cpw.state.co.us/placestogo/parks/Pages/default.aspx.