Nothing quite says the "Old West" like a pack of wild horses, and Coloradans may be closer to seeing a stallion in person than they think. There are estimated to be more than two thousand wild horses in the western part of the state, free-ranging in herd management areas.
While the national wild horse population began to steeply decline in the 1950s and 1960s, with vehicle-assisted wrangling becoming commonplace, the 1971 Wild Free-Roaming Horses and Burros Act established protection for these majestic, feral animals.
Today, tens of thousands of protected wild horses can be found spread across 28 million acres of land in the western United States. Beyond Colorado's Western Slope, wild horses can also be found in Utah, Idaho, Wyoming, Montana, New Mexico, Nevada, Arizona, Oregon, and California.
How many wild horses are in Colorado?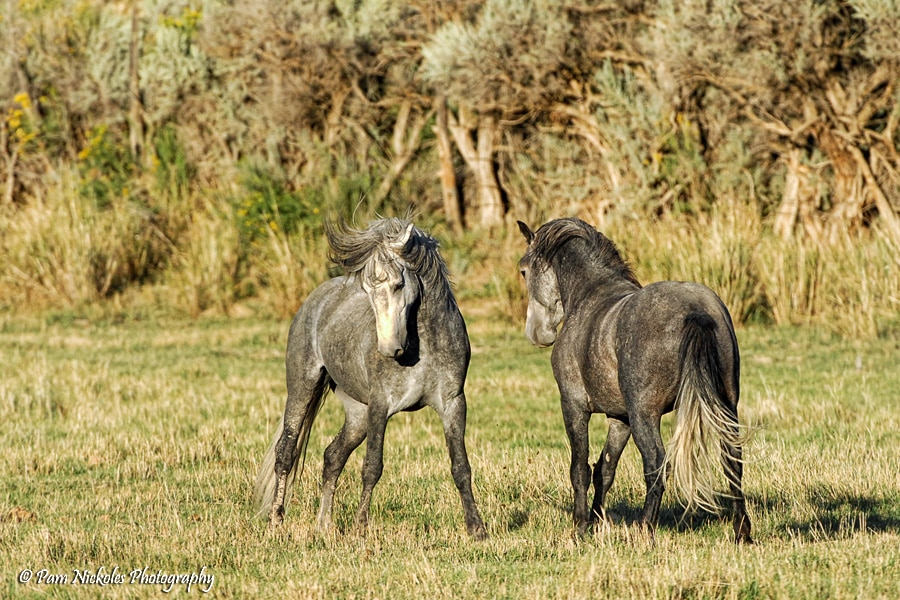 Within Colorado, wild horses can only be found on the western slope of the Rocky Mountains. Currently, the Bureau of Land Management (BLM) manages the existing herds in four specific Herd Management Areas (HMAs):
The Little Book Cliffs Wild Horse Area HMA
The Piceance-East Douglas Area HMA
The Sand Wash Basin HMA ​​
And the Spring Creek Basin HMA
Beyond these public lands, some wild horses may also be found in adjacent locations such as the West Douglas HMA, which was the site of a large 2021 wild horse round-up.
Little Book Cliffs Wild Horse HMA – north of Palisade
Sitting on 36,113 acres north of Clifton and Palisade, the Little Book Cliffs Wild Horse Area HMA is one of the most easily accessible ways to see wild horses in Colorado. With heavy public visitation, many of the horses within the Little Book Cliffs HMA are used to seeing humans, so photo opportunities may be easier here than in other areas.
Horses within the Little Book Cliffs HMA travel in small bands, typically with only three or four members together at one time. Aside from a recent introduction of a curly horse, visitors may be able to spot appaloosas, palominos, paints, sorrels, blacks, bays, and grays, as well as red and blue roans. Today, an estimated 124 wild horses live in the area.
Located under 10 miles from Grand Junction, it's very easy to find camping or accommodations to complement a visit to the Little Book Cliffs Wild Horse Area. Within the range, popular access points include the Mt. Garfield Trail for hikers, as well as the Coal Canyon Trailhead and Tellerico Trailhead for exploration on horseback.
Much of the area can also be explored in a 4×4 vehicle via a network of dirt roads extending to De Beque, Colorado.
Map: blm.gov… (PDF)
Piceance-East Douglas HMA – southwest of Meeker
Among the mining, oil operations, and livestock, the Piceance-East Douglas Area HMA is the home to many bands of wild horses living on 90,130 acres of public land southwest of Meeker, Colorado. Visitors can spot wild horses on hiking and 4×4 trails, with the best chances to see herds along the banks of Yellow Creek.
The Piceance-East Douglas Area HMA maintains a population anywhere between 100-250 wild horses, ranging in size and temperance from quarter horses to workhorses. The herd is full of sorrel, bay, grey, and black mustangs, mares and foals as well as a handful of mixed breeds with buckskin, roan, paint, palomino, and chestnut horses abound.
Directly adjacent to the site of 2021's horse roundup in the West Douglas Herd Area, volunteers have worked to create the Piceance Mustangs to support the long-term maintenance of a healthy herd in the Piceance-East Douglas Area HMA.
Map: blm.gov…(PDF)
Sand Wash Basin HMA – west of Craig
Covering 157,730 acres of northwest Colorado (98% of which is public land), the Sand Wash Basin HMA is the largest area to find wild horses in the state. While previous estimates found that the HMA was home to nearly 900 stangs, mares, and foals, the ongoing Sand Wash Basin HMA Wild Horse Gather is planning to transport over 700 excess horses from the area.
The horses that remain in the Sand Wash Basin HMA are primarily sorrel and gray, with Spanish, Arabian, and North American heritage. Visitors are advised to enter the HMA via County Road 67, where there is a kiosk with up-to-date information about the horses in the area.
Map: blm.gov…(PDF)
Spring Creek Basin HMA – between Dove Creek, Norwood, and Telluride
Located in southwest Colorado, the Spring Creek Basin HMA is made up of 21,932 designated acres west of Telluride and east of Dove Creek. Although the Spring Creek Basin HMA physically resides in Disappointment Valley, visitors ironically have a high likelihood of spotting wild horses in this small area, along Disappointment Road, and near Disappointment Creek.
In 2020, the herd size in Spring Creek Basin HMA was increased to a range of 50 and 80 horses in the area. Lineage in the living members of today's herd can be traced back to a stolen batch of mostly Spanish horses that a Montana rancher brought to the area over a century ago.
Today, the wild horses of Spring Creek Basin have a large range of colorations including pintos, bays, gray, sorrels, and buckskins.
Map: blm.gov…(PDF)
Observing Wild Horses in Colorado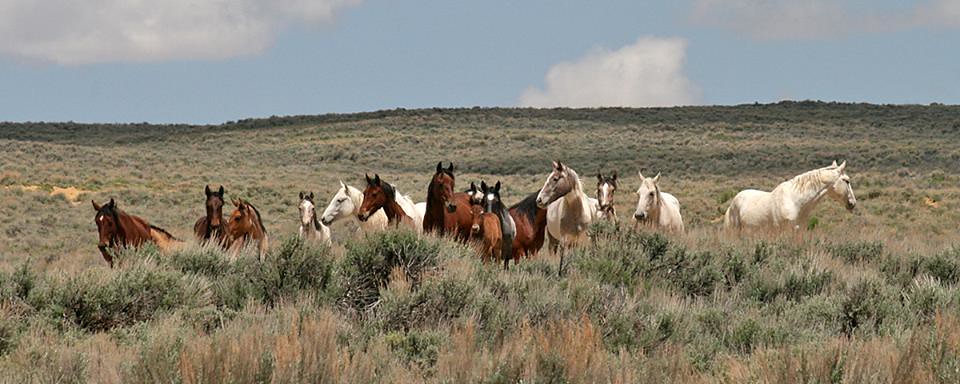 There are no fees to enter any of the public lands in Colorado that are home to bands of wild horses. Visitors hoping to fully explore any herd management area should be prepared to travel on rough dirt roads, with 4×4 and high clearance vehicles required. Most HMA roads are not well maintained, which means snowy and muddy conditions can limit year-round accessibility.
When observing a wild horse in its natural habitat, it's important to never approach an animal closer than fifty feet. While camping is permitted throughout much of Colorado's HMA land, visitors should refrain from setting up camp anywhere close to a herd or its water source.
Use caution at all times and always keep pets and children under control while exploring any area where wild horses may be present.
For those interested in seeing horses closer to the Denver Metropolitan Area, you can head an hour southeast to the Great Escape Mustang Sanctuary. Tours here are year-round on weekdays and features time with Ambassador Burros and Mustangs.