Formerly known as Stapleton, Central Park is an affluent neighborhood to the east of Downtown Denver. Nearly all of the Central Park neighborhood is covered by the 80238 zip code, which is one of the wealthiest in Denver.
The largest neighborhood in the Mile High City, Central Park has 12 sub-neighborhoods: Beeler Park, Bluff Lake, Central Park North, Central Park West, Conservatory Green, Eastbridge, East 29th Avenue, North End Neighborhood, South End, Westerly Creek, Wicker Park, and Willow Park East.
The vast majority of Central Park is designated as residential with single-family homes, duplexes, townhomes, row homes, condos, and apartments. Architectural styles range from traditional to contemporary and modern revivals. Among the many homes, there are a few business districts and shopping centers.

Packed with national chains and Denver-owned businesses, residents and visitors can enjoy a wide range of shops and restaurants sitting just outside of their door. Other attractions in the neighborhood include 50 parks, 7 pools, a recreation center, and the Denver Public Library. For young residents, there are also 11 public and private schools.
Well-known for being extremely family-friendly, the average age of residents in Central Park is 34.8 years old. Nearly ⅓ of the neighborhood's population of 30,000 people is under the age of 18. Most of the residents are White (73%), but diversity is growing. About 27% of the residents are diverse and they identify as Hispanic/Latino, African American, Asian, or of multiple races.
Boasting a tight-knit community, local businesses, green space, and entertainment areas, Central Park is frequently named one of the best neighborhoods for living and visiting in Denver.
Location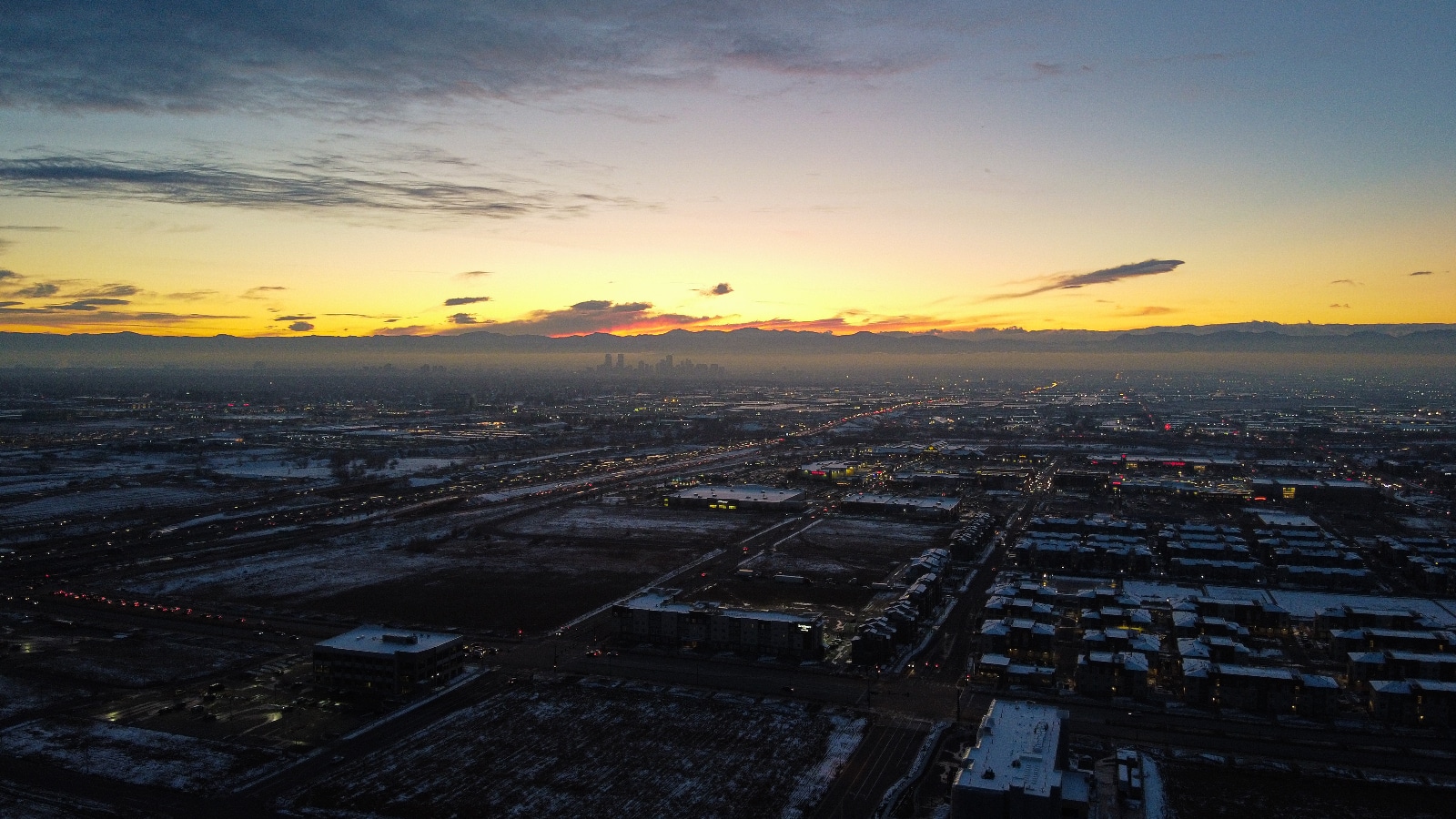 Situated in eastern Denver, the Central Park neighborhood was built on top of the former site of Stapleton International Airport, which operated as Denver's primary airport from 1929-1995.
Oddly shaped, the neighborhood has a few sections that jut out from a mostly square-shaped body. Ignoring a few of the odd cutouts, the major boundaries of Central Park include the Rocky Mountain Arsenal National Wildlife Refuge in the North, Montview Boulevard and 26th Avenue in the South, Quebec Street to the West, and Havana Street to the East.
Due to the sheer size of the neighborhood, most of it is located in Denver, however, the Bluff Lake sub-neighborhood lies partly in Aurora, which is Central Park's neighboring city to the east. Downtown Denver sits 8.1 mi (13 km) to the southwest of Central Park.
When Central Park was first envisioned, the developers wanted the neighborhood to be pedestrian-oriented as opposed to automobile-oriented. The goal of the design and development of Central Park was to ensure that residents and visitors could easily navigate by foot, car, and bicycle. As the neighborhood continued to grow, new transportation services were built.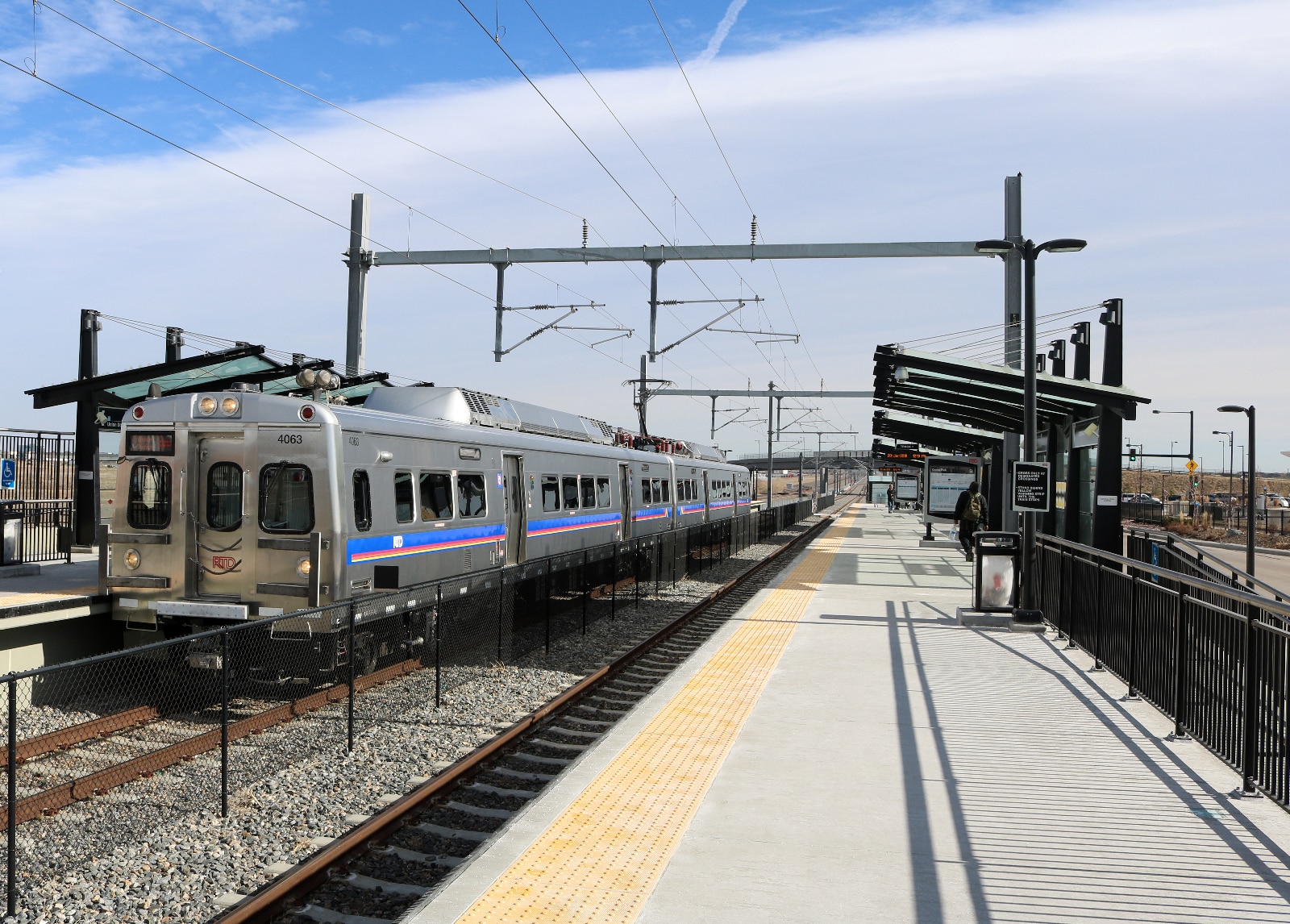 In 2016, the Central Park Station was opened by the Regional Transportation District (RTD) to provide commuter rail and public buses to residents. Individuals can walk to or leave their vehicle at the parking lot of the Central Park Station and then hop on the train to go into Downtown Denver or out to Denver International Airport.
Public bus routes can take visitors around Central Park or to nearby neighborhoods. Other transportation options in Central Park include renting a scooter or bicycle from Denver's Ride Share Program or using well-known driver companies like Lyft and Uber.
History
Central Park began as a development project by Denver civic leaders. Created by a private group called the Stapleton Development Foundation in 1990, a master plan for the neighborhood was completed by 1995.
During this time, the new Denver International Airport was under construction and plans to close Stapleton International Airport were underway, officially occurring in 1995. Construction of Central Park, which was then called Stapleton, did not begin until 2001. By 2007, the neighborhood's main green space, which covered 80 acres and was called "Central Park", was opened.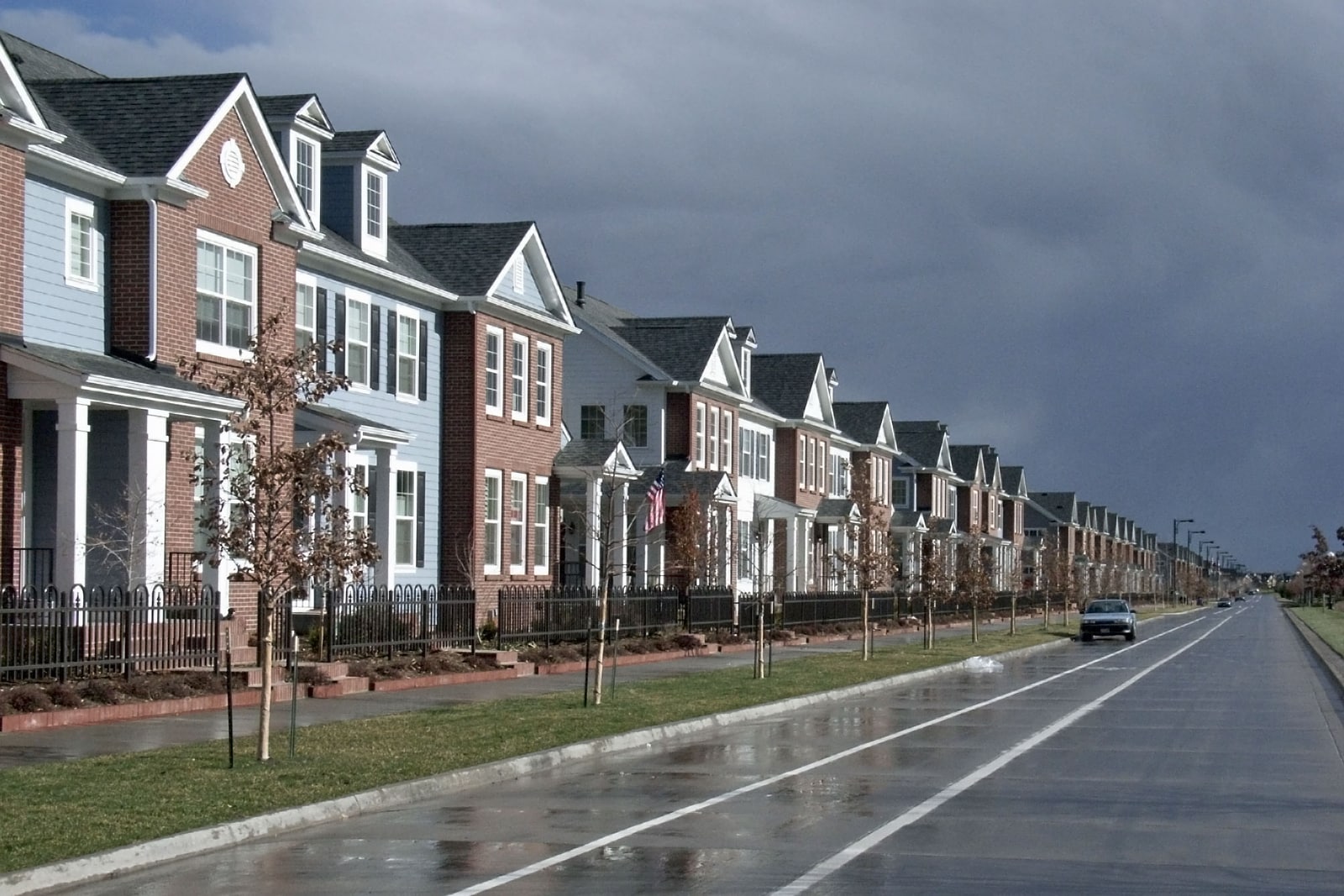 Along with the park, the additions of the Shops at Northfield and the Denver School of Science and Technology helped the local population grow to more than 5,000 residents. Since then, it has continued to boom and currently has the last of its houses being completed with much smaller expansions planned for the future.
In 2020, the neighborhood was officially renamed. As mentioned earlier, Central Park was originally called Stapleton after Benjamin Franklin Stapleton, the Mayor of Denver from 1923 to 1931 and 1935 to 1947. However, Mayor Stapleton was also a known member of the Ku Klux Klan, and neighborhood residents voted to change the name, unsuccessfully, in 2015 and 2019.
It wasn't until 2020 that the vote passed and residents voted on a new name. Both "Central Park" and "Skyview" were in the running, with Central Park winning with 63% of the votes.
Main Attractions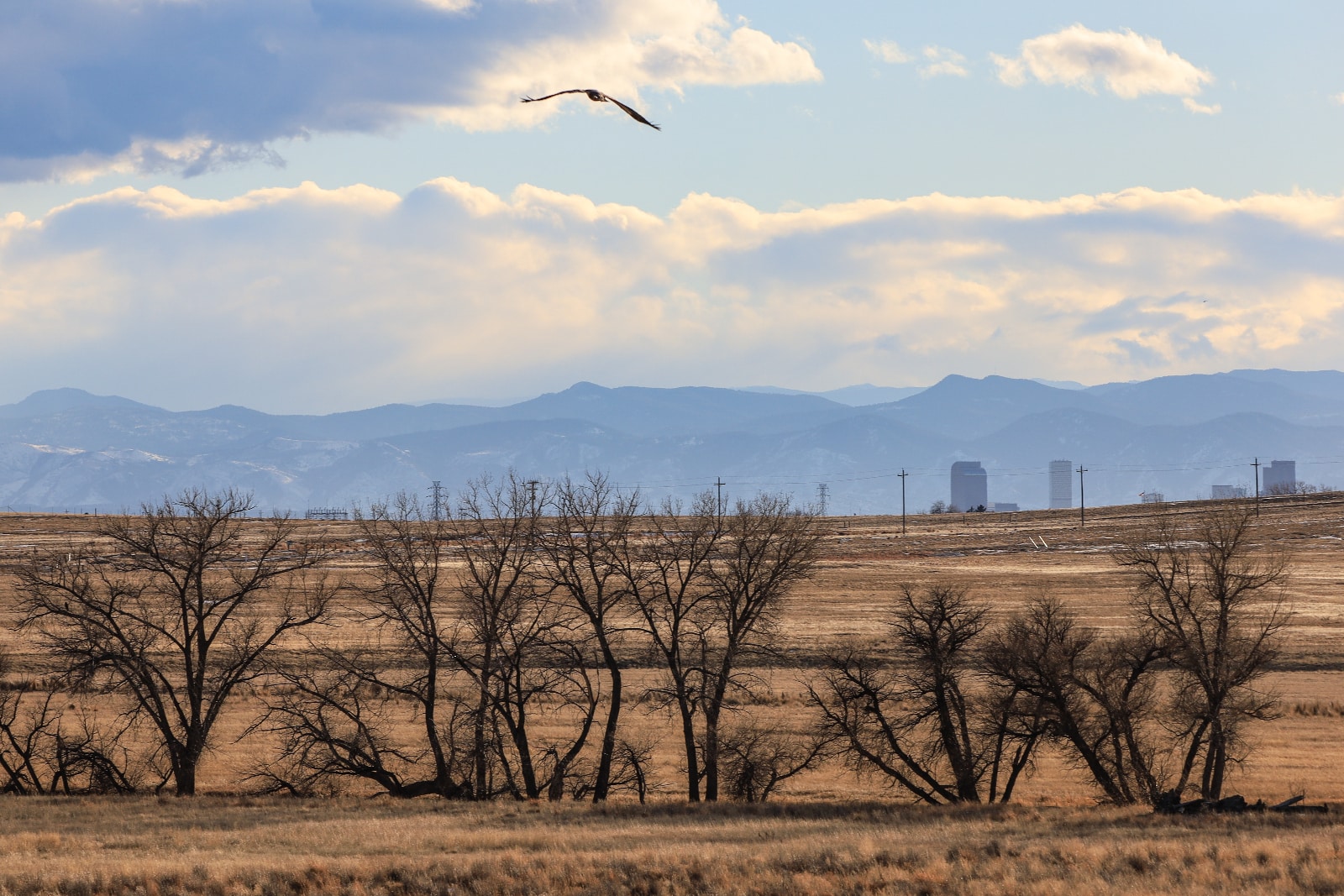 Central Park is a big neighborhood and although it's mostly filled with homes, there are lots of activities for residents and visitors. One of the best parts about this large neighborhood is that nearly 33% of the space has been left as huge open spaces or pocket parks. Residents and visitors will also have access to unique wildlife areas too.
Additional attractions in Central Park include the public art installations, recreation center, public library, and business centers. With plenty of attractions and businesses open to residents and visitors, everyone can enjoy the perks of the neighborhood.
Central Park
The greenspace that was originally called Central Park also inspired the 2020 name change for Stapleton. Covering an area of 80 acres, Central Park is Denver's third largest. Sitting on M.L.K Jr Blvd, the park is bounded by the sub-neighborhoods, Central Park West & Central Park North, as well as Westerly Creek.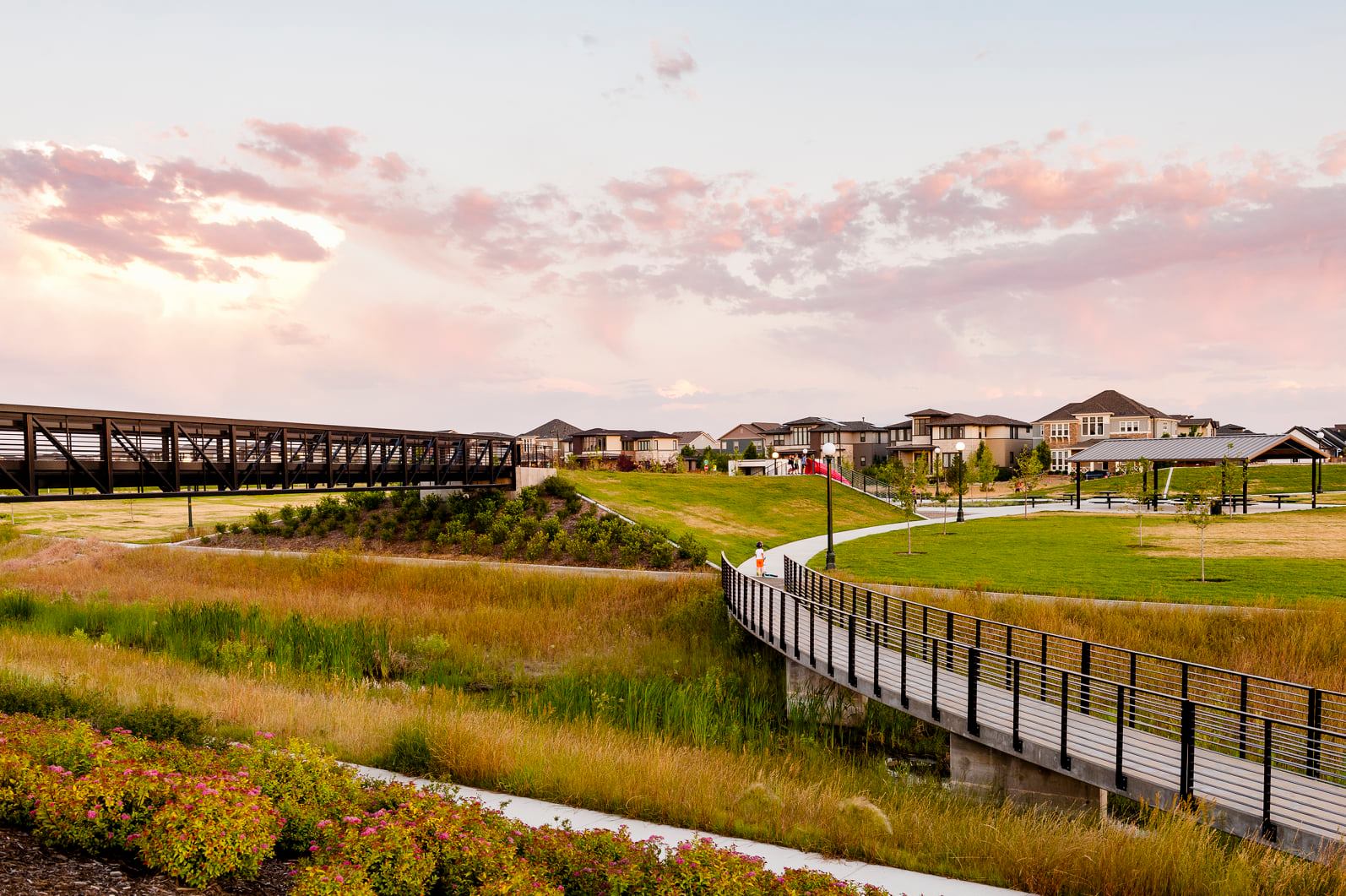 A wide-open lawn is perfect for playing games and picnics. Large pathways go around the park, so visitors can easily walk or run laps around the perimeter. Additional features include a children's playground, climbing wall, pond, multi-sport fields, barbecues, gathering spaces, shade structures, a lookout spot, and a sledding hill.
Centrally located within the neighborhood, the park is just a short walk away from the East 29th Avenue Town Center and Central Park Station.
Urban Hiking
Urban hiking is one of the newest trends on the rise and Central Park has two excellent places where residents and visitors can escape the noisy city. The Bluff Lake Nature Center has 123 acres of open space where wildlife flourishes living with the trees and along a lake. With indoor and outdoor activities, visitors can take a tour of the nature center to learn more about the lake and its ecosystem.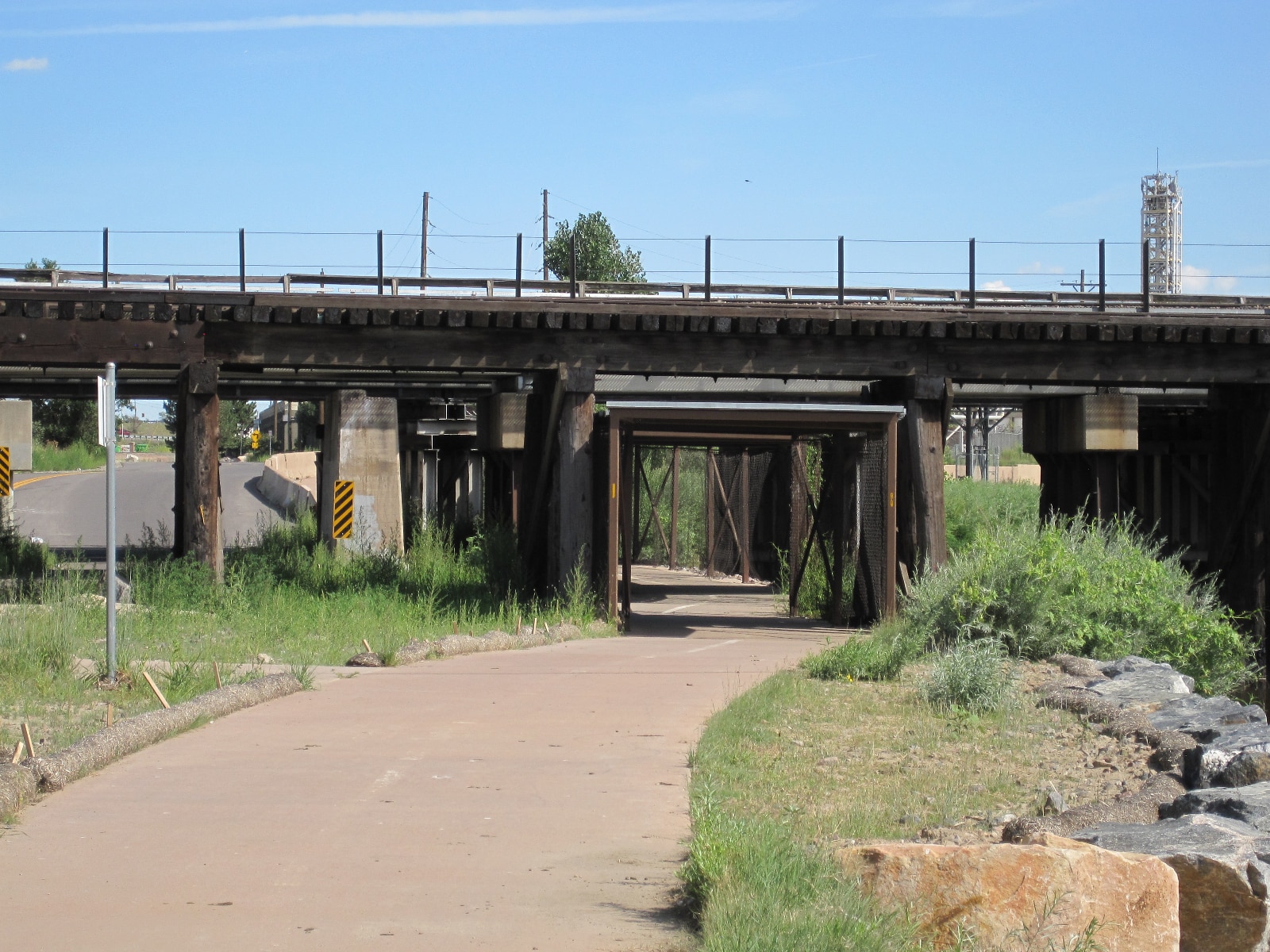 Connecting the South Platte River, High Line Canal, and Westerly Creek is the Sand Creek Regional Greenway. Stretching for 14 miles, this park has an extensive network of trails where visitors can stroll through wide open spaces, woodlands, and historic landmarks. It's also known to have wildlife living in the area that is frequently spotted.
Sand Creek Regional Greenway is open from dawn until dusk and visitors are welcome to walk, run, or horseback ride through the park. Dogs are also welcome but they must be on a leash.
Rocky Mountain Arsenal National Wildlife Refuge
Part of the Central Park neighborhood goes into the southern portion of the Rocky Mountain Arsenal National Wildlife Refuge. Covering nearly 25 square miles (15,988 acres) of open space, the arsenal was previously used to manufacture chemical weapons. Due to the dumping of the chemicals, the land was deemed unfit for human habitation.
However, the U.S. Fish and Wildlife Service found that there were more than 330 animal species living within the park. In a bid to protect some of the United State's most endangered species including the Bald eagle and bison, the arsenal was converted into a wildlife refuge. Although not all of the refuge is safe to tour, there are a few areas that have been opened up to the public.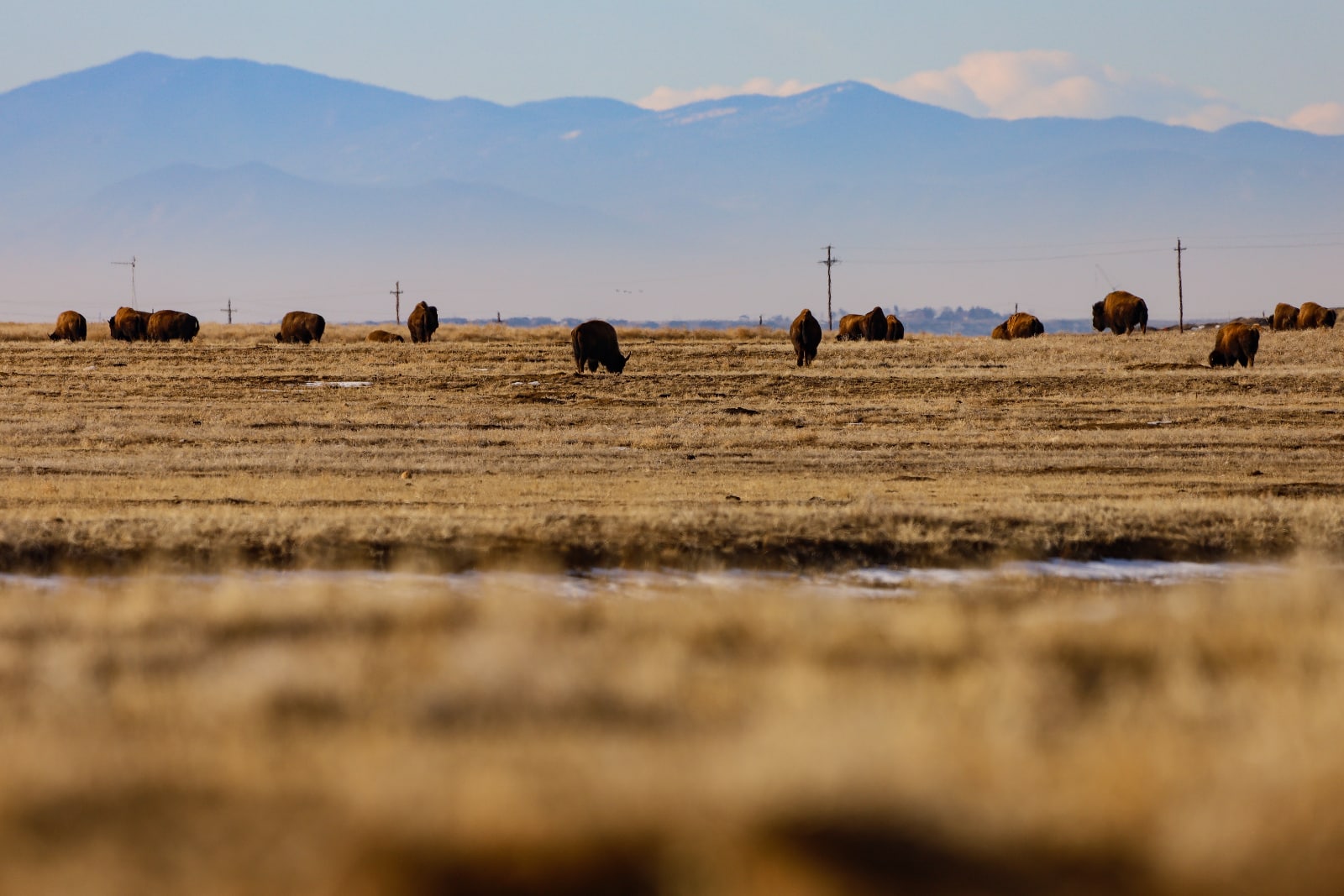 The top attraction at the Rocky Mountain Arsenal is the Visitor Center. Overlooking the park and the front range, the Visitor Center provides plenty of information about the history, wildlife, and current use of the wildlife refuge.
Public Art
Scattered throughout Central Park are various public art installations. Hoping to enhance the community and add value, Denver created the 80238 Program to vote on the installation of pieces created by local artists, with 20 currently found throughout the 12 sub-neighborhoods of Central Park. Mostly outdoors in neighborhood parks, but a few are located inside community buildings too.
Visitors interested in taking a tour of Central Park's public art can find a map of all the installations on the community's main website. Otherwise, most of the popular art pieces are found in busy places like Central Park, the East 29th Avenue Town Center, and the Central Park Station.
Denver Public Library – Sam Gary Branch
For access to books, computers, and entertainment material, Sam Gary is the place to go. A branch within the greater Denver Public Library system, Sam Gary is open year-round and welcomes all ages. Visitors who are not Denver residents and would like temporary access can request a Computer User Card.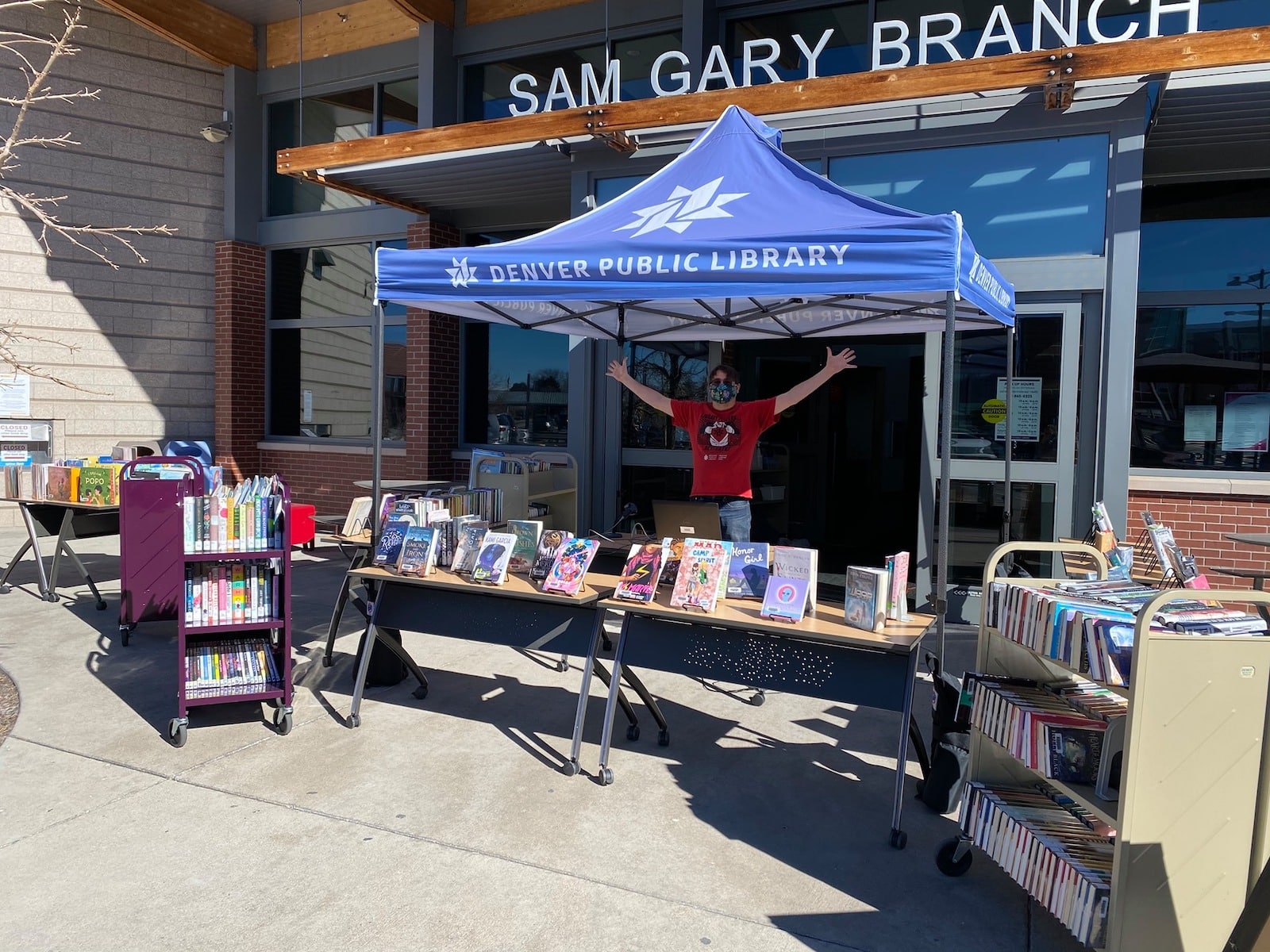 In order to be able to check out material from the library, visitors must be staying in Colorado for a minimum of 30 days to be issued a Provisional Card. Visitors who do not meet that requirement will be unable to check out any books or materials. However, all visitors are more than welcome to spend time at the library to use its resources.
Central Park Recreation Center
Providing state-of-the-art workout facilities, the Central Park Recreation Center is a popular place for local residents as well as visitors. One of the best features of the Central Park Recreation Center is the leisure pool with a lazy river and zero-entry design, which means that it gradually slopes in like a natural body of water as opposed to stairs or a ladder.
For serious swimmers, there is also a lap pool. Outfitted with weight, cardio equipment, and ball courts, visitors can enjoy a full workout with friendly locals. Large windowed rooms open up the center and provide excellent views of the mountains. Locker rooms are divided into men's, women's, and family spaces. Childcare is also available with special outdoor play areas.
The Shops at Northfield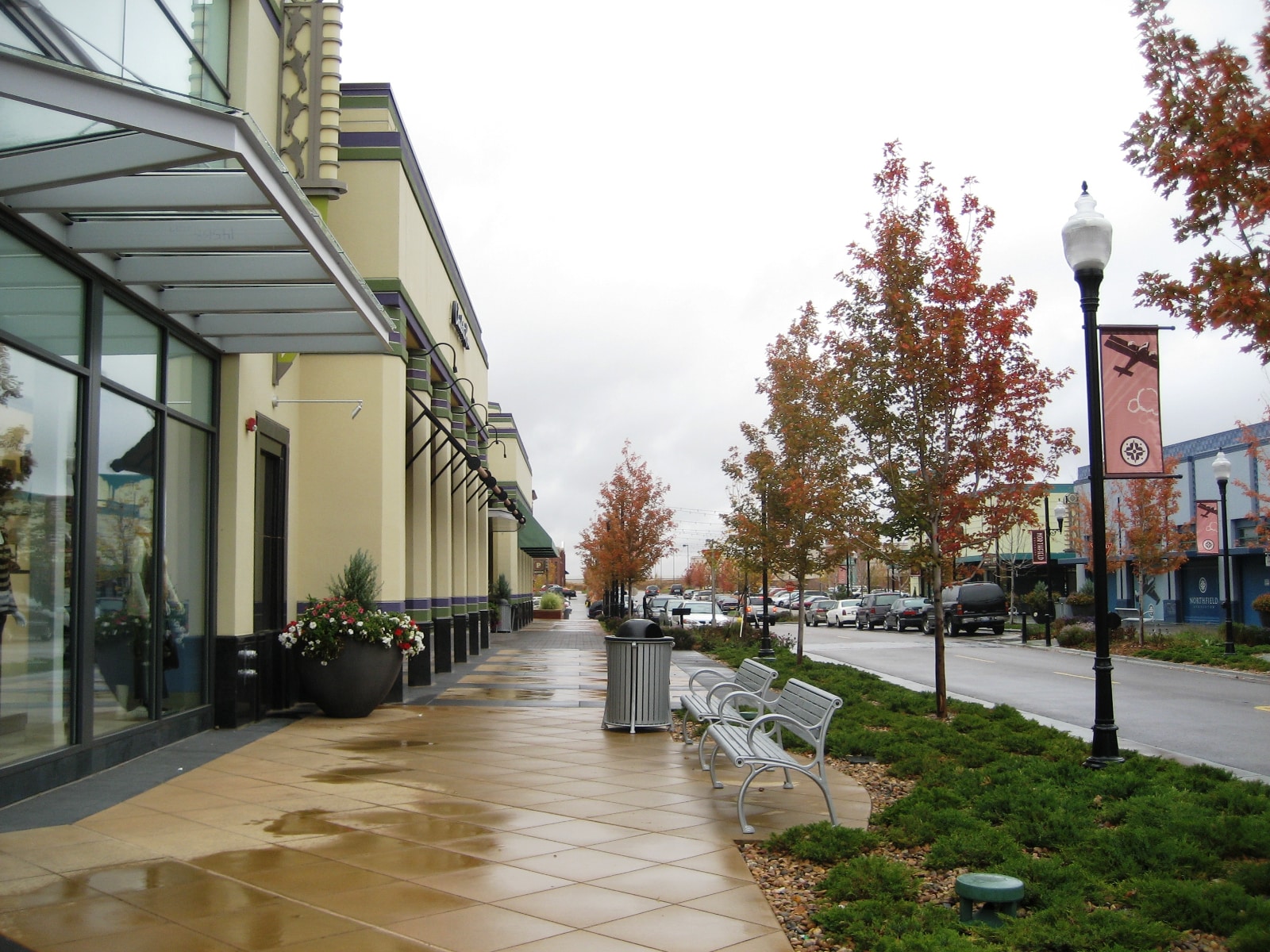 One of the largest business centers in Central Park is called The Shops at Northfield. Featuring an open-air design, visitors will find many big-name stores, restaurants, clubs, and entertainment facilities as well as a movie theater.
More recently, the Shops at Northfield have also turned residential. Just north of the main shopping plaza are new neighborhoods with single-family, apartments, townhomes, and duplex models. Visitors can also stay overnight at Northfield in quality hotels owned by large chains like Hilton, Marriott, and IHG Hotel.
East 29th Avenue Town Center
A much smaller shopping and dining center in Central Park is the East 29th Avenue Town Center. Located at the epicenter of the neighborhood, the Town Center has plenty of shops, restaurants, and events to keep residents and visitors fed and entertained.
Open year-round, summer is the best time to visit the East 29th Avenue Town Center as the community hosts free events like concerts, outdoor movies, and a weekly Farmers Market.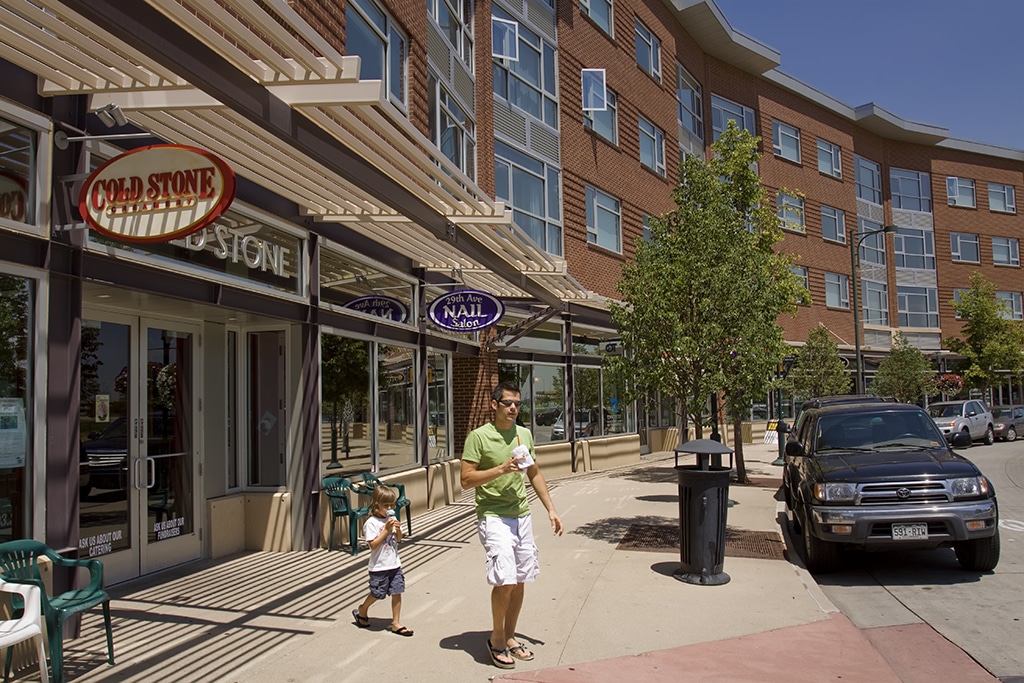 Along with the neighborhood attractions, Central Park's beautiful design and friendly community make it stand out as one of the best places to live and visit in Denver. Touring the wide open spaces, people will love visiting the shops, restaurants, and venues too. With activities that suit the weather, no matter the season, Central Park is a fun place to explore.