Large, majestic animals that are deceivingly hard to spot, moose are a popular animal for wildlife enthusiasts and tourists to hope to see on a trip to Colorado. Weighing up to 1,200 pounds with a shoulder height of up to 6 feet, these impressive animals are a treat to witness in the wild.
Approximately 3,000 moose are located throughout the state. Despite their sizeable numbers today and the fact they are native to the Rocky Mountains, moose were nearly absent from Colorado until the late 1970s. In 1978, 12 moose were transplanted to the North Park area from Utah, and another dozen were introduced a year later. These animals thrived, reproduced, and spread across the state.
Though they can be found throughout the mountains, moose are most common in the north, particularly around North Park and Rocky Mountain National Park. They're also often seen around Gunnison County and south to Hinsdale County nearby Lake City. Another good area that's full of lakes is on top of the Grand Mesa. What follows is our guide to spotting a moose in Colorado.
Moose Habitat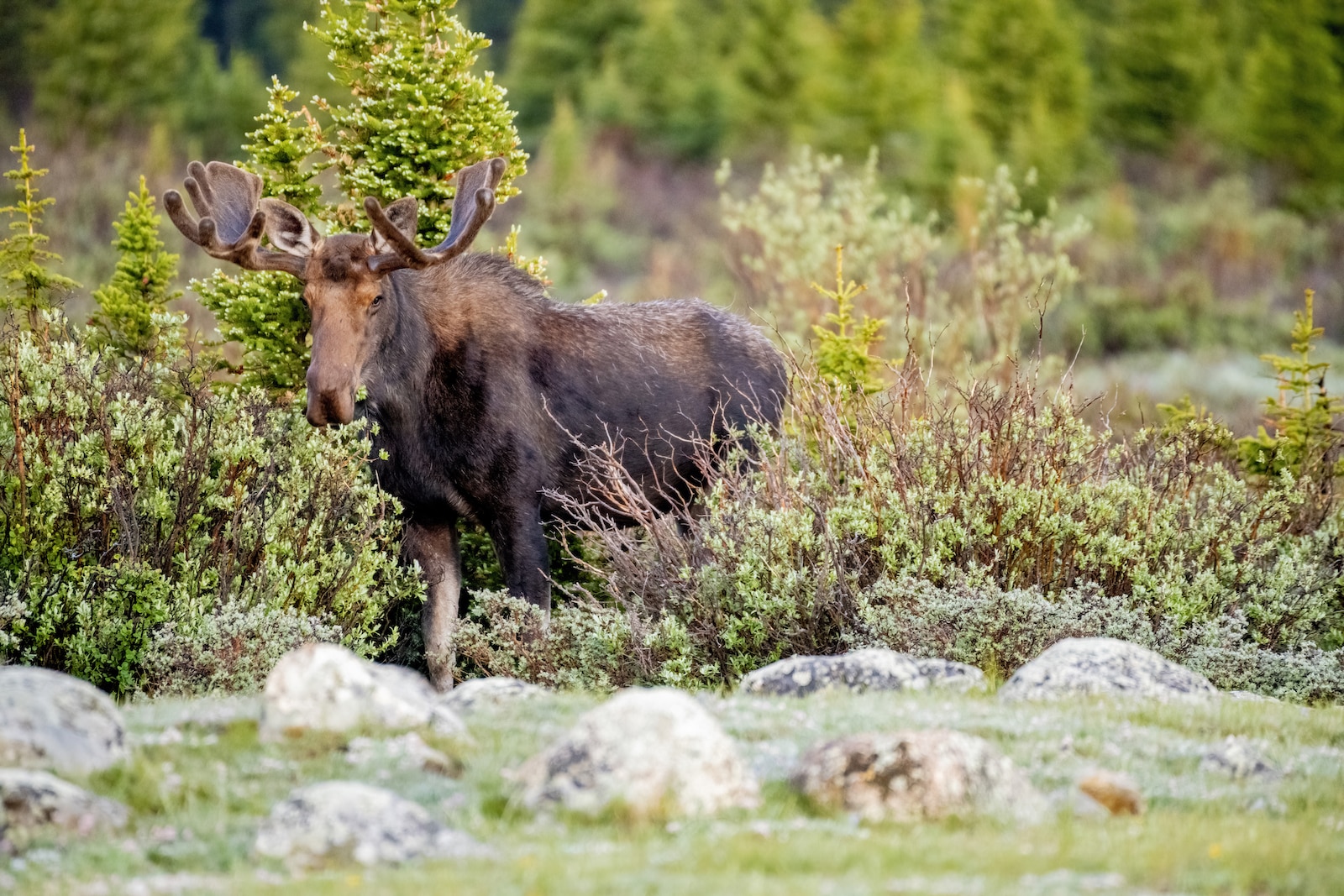 The etymology for "moose" traces back to an Algonquin word meaning "eater of twigs", and they're commonly found in areas with lots of brush, twigs, and leaves for them to browse on. Moose often live around riparian areas along rivers and lakes, and they generally avoid drier low elevation areas.
Thanks to their long legs, moose can traverse easily through deep snow, water, and uneven, thick terrain. One of their main food sources is willows, and they often spend time above treeline as well as in traditional aspen and pine forests.
When looking for moose, stick to riparian areas. Despite their size, moose are easy to miss in thick brush and dense forests, so keep a close eye out while driving and hiking for the best chance at a sighting.
Go slowly when looking out for them in their preferred wet, marshy landscapes; very slowly. They can be tricky to sight. However, if you're driving your car maintain a steady speed and pull over if you're trying to see one, don't cause a traffic jam if you do see spot one.
North Park, Colorado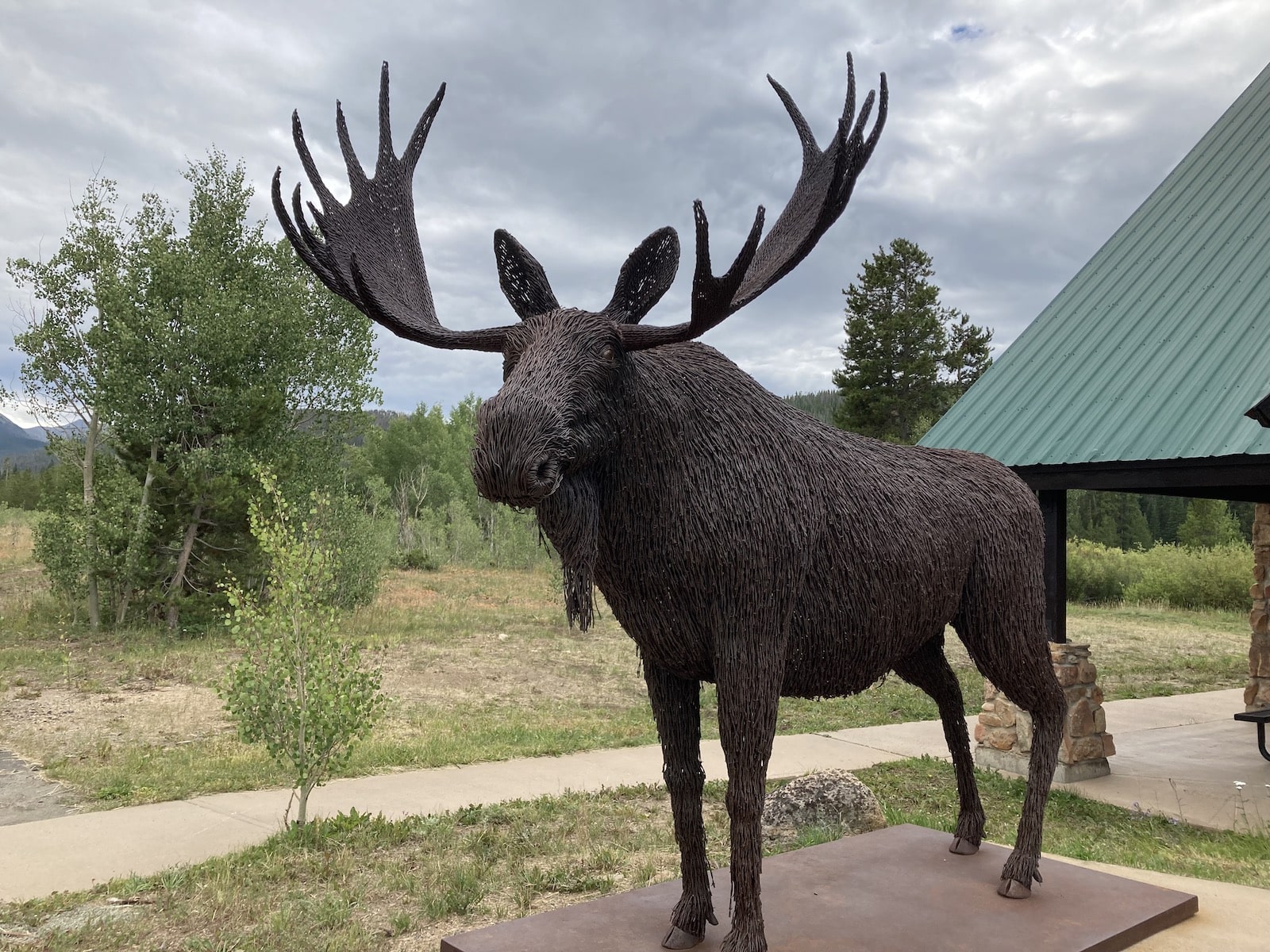 An expansive and isolated valley located near the Colorado/Wyoming border, North Park is generally considered the top area in the state to see moose. While visitors have a good chance at spotting moose from nearly anywhere within Jackson County, including near Walden and Cowdrey, visitors should head to either State Forest State Park or the Arapaho National Wildlife Refuge for the best chance.
State Forest State Park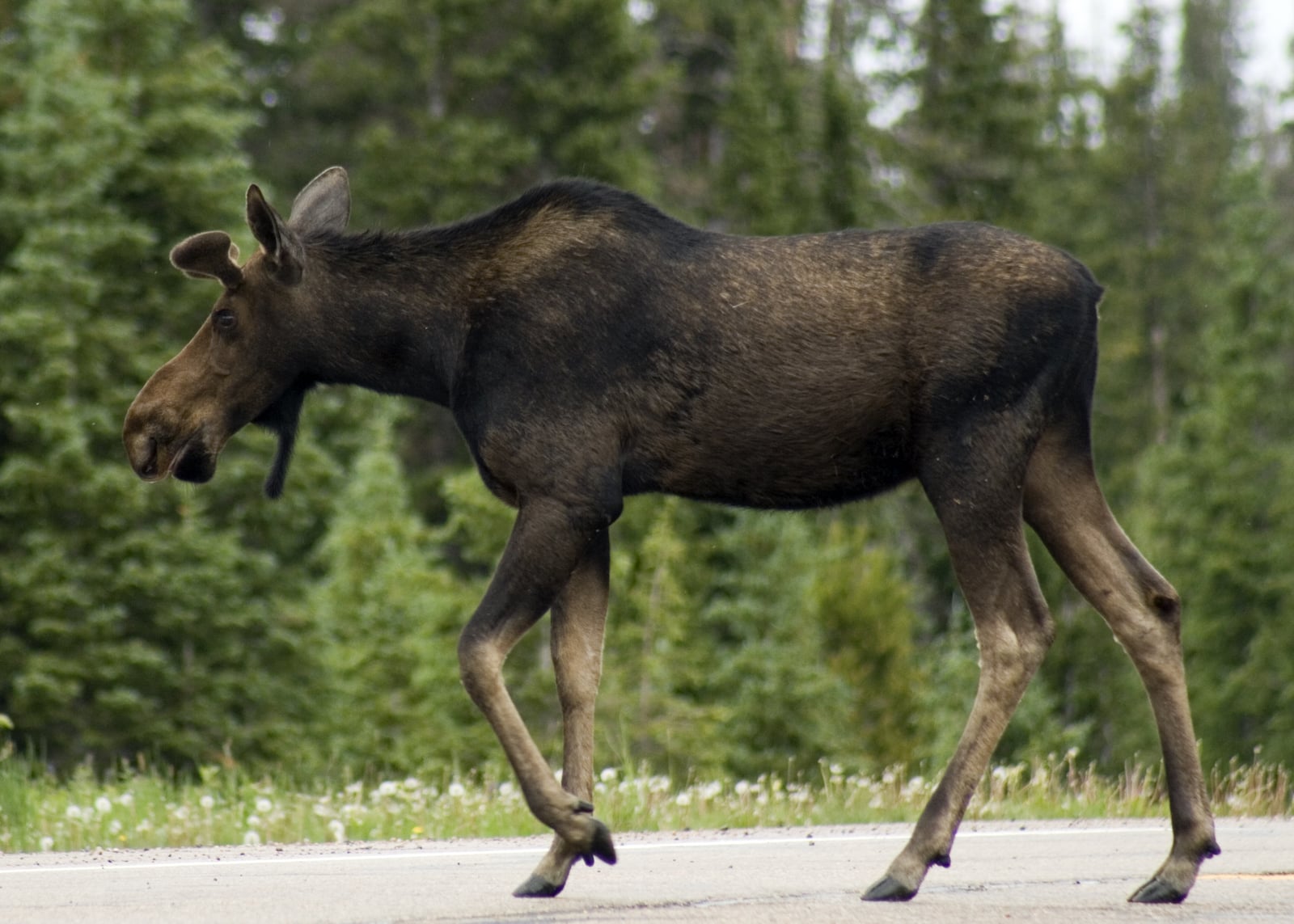 Known as the moose viewing capital of the state, the 71,000-acre State Forest State Park is home to over 600 moose. Be sure to stop by the Moose Visitor Center for information on recent sightings, safety tips, and interpretive signage about the park and its history.
Biking or mountain biking on one of the park's many trails is a great way to spot wildlife of all kinds, including moose, bighorn sheep, deer, elk, and much more. Popular trails include the 2.3-mile Lake Agnes Trail and the longer 7.1-mile American Lakes Trail to Michigan Lakes. In addition to hiking, visitors can also enjoy the park by camping at one of 5 on-site campgrounds, boating, and fishing.
Visitors should keep in mind that there is a daily vehicle fee to enter the park. Campsites, cabins, and yurts can be reserved online in advance.
Arapaho National Wildlife Refuge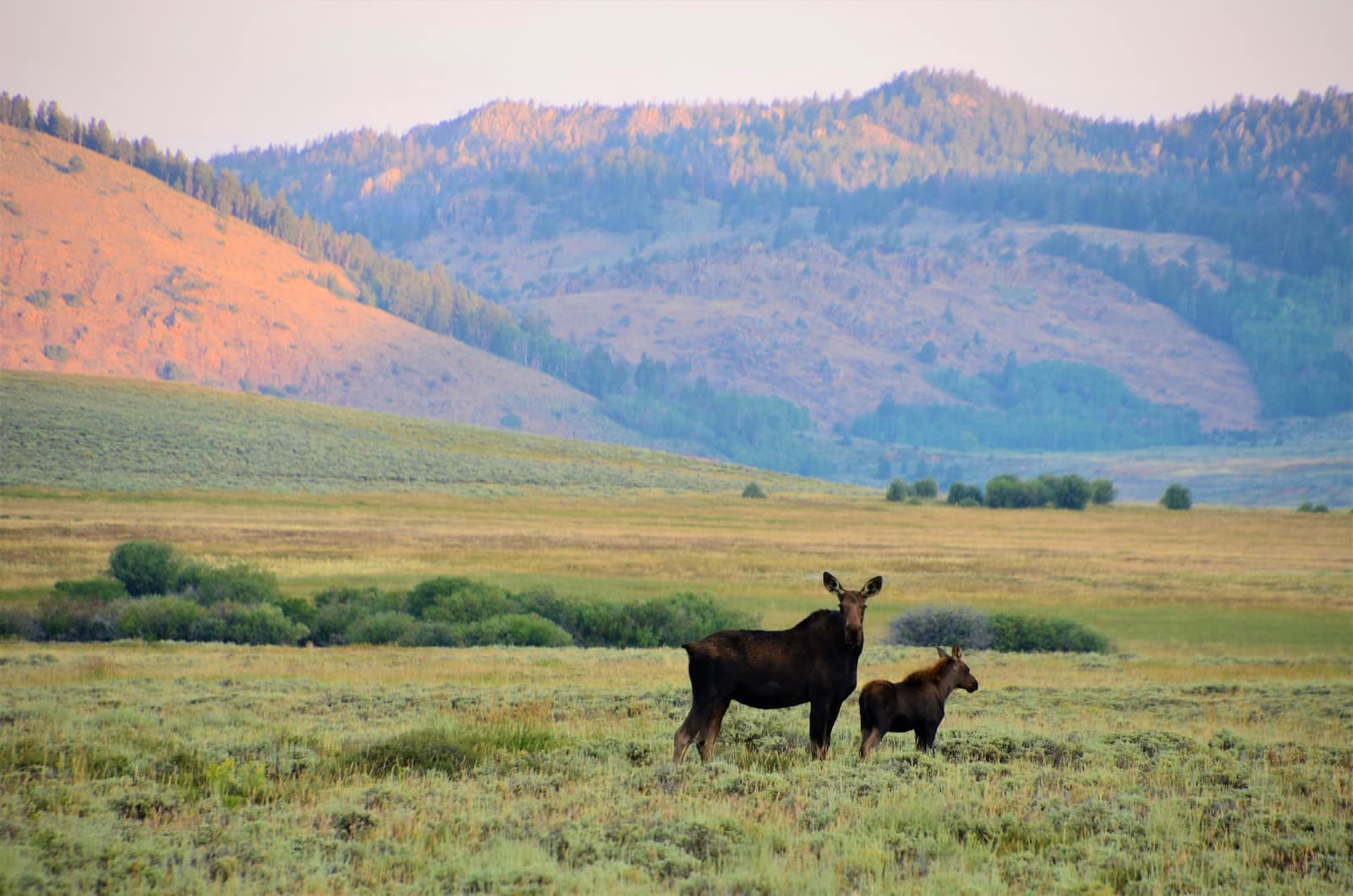 Located south of Walden in the North Park area of Colorado, the Arapaho National Wildlife Refuge was founded in 1967 as a protected site for the nesting and reproduction of waterfowl. Though much of the refuge is not easily accessible, there are a few worthwhile activities that give visitors a good shot at spotting moose and other wildlife.
The Wildlife Auto Tour is the best option for those wanting to see the refuge without leaving their cars. It's a 6-mile loop on a dirt road, and it passes through picturesque meadows and marshes.
For a better chance at spotting moose, consider taking a short walk on the Wetland Nature Trail. The path winds above the marshes and streams on a boardwalk and visitors have a great chance at spotting birds, moose, and other small mammals.
Rocky Mountain National Park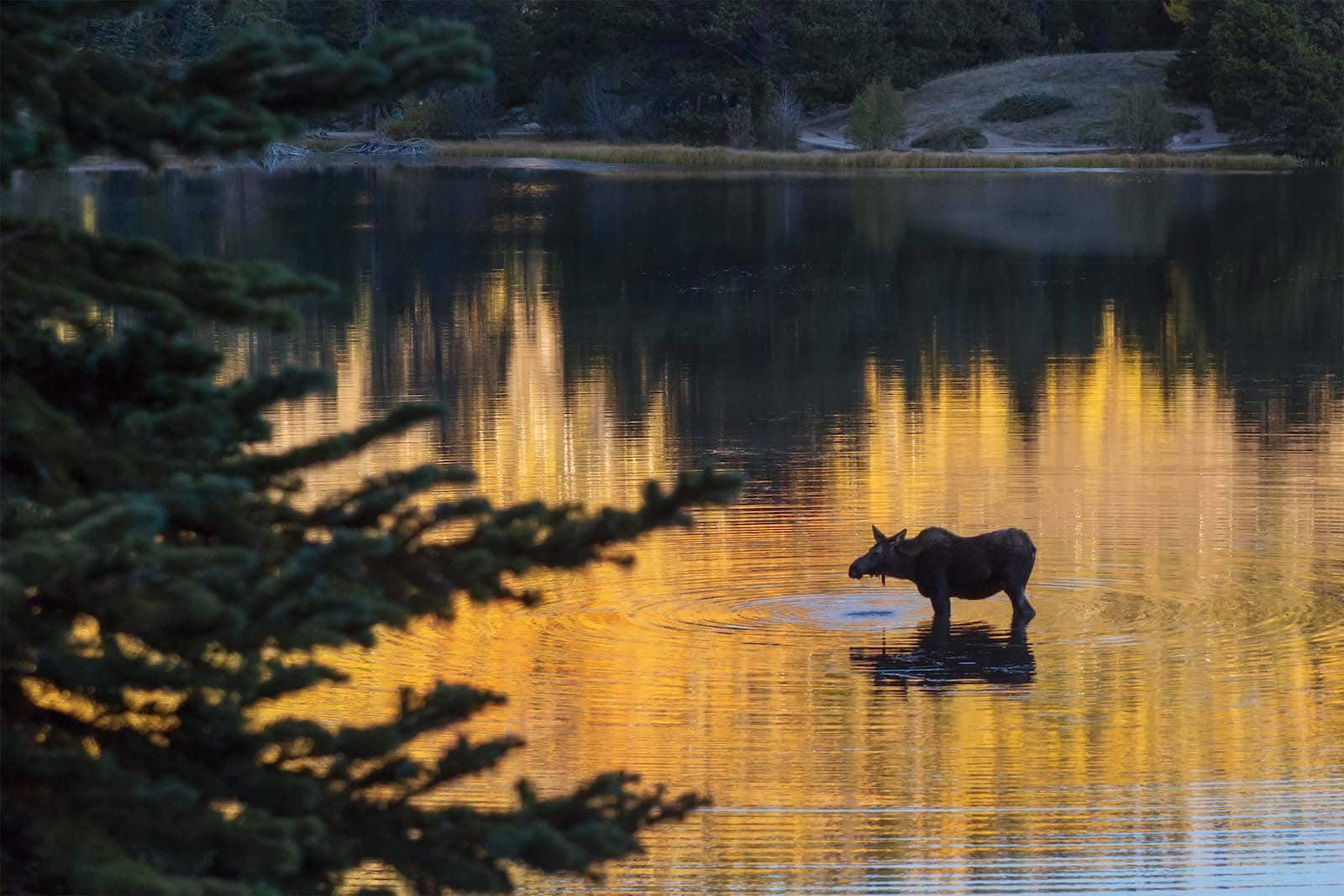 In addition to the North Park area, moose are also relatively common in the expansive Rocky Mountain National Park. Moose are most common in the western side of the park, and many tourists report sightings along Highway 34 in the Kawuneeche Valley, which is near the park's Grand Lake entrance. Coincidentally, Grand Lake is located in the northern region of Middle Park.
One popular spot in this area is the Timber Creek Campground, where visitors can watch for moose along the Colorado River.
For visitors hoping to head to this section of the park, keep in mind that Trail Ridge Road is only open during the summer months. This means that the Grand Lake entrance is the only way to access this section of the park during the winter.
Though moose are generally spotted more often on the west side of the park, sightings on the east side are becoming more common. In this section of the park, consider heading to Sprague Lake or Cub Lake, both of which feature the riparian environment where moose are often seen in.
Sprague Lake is just a short walk from the trailhead, while Cub Lake is accessible via a 5-6 mile round-trip hike.
Grand Mesa National Forest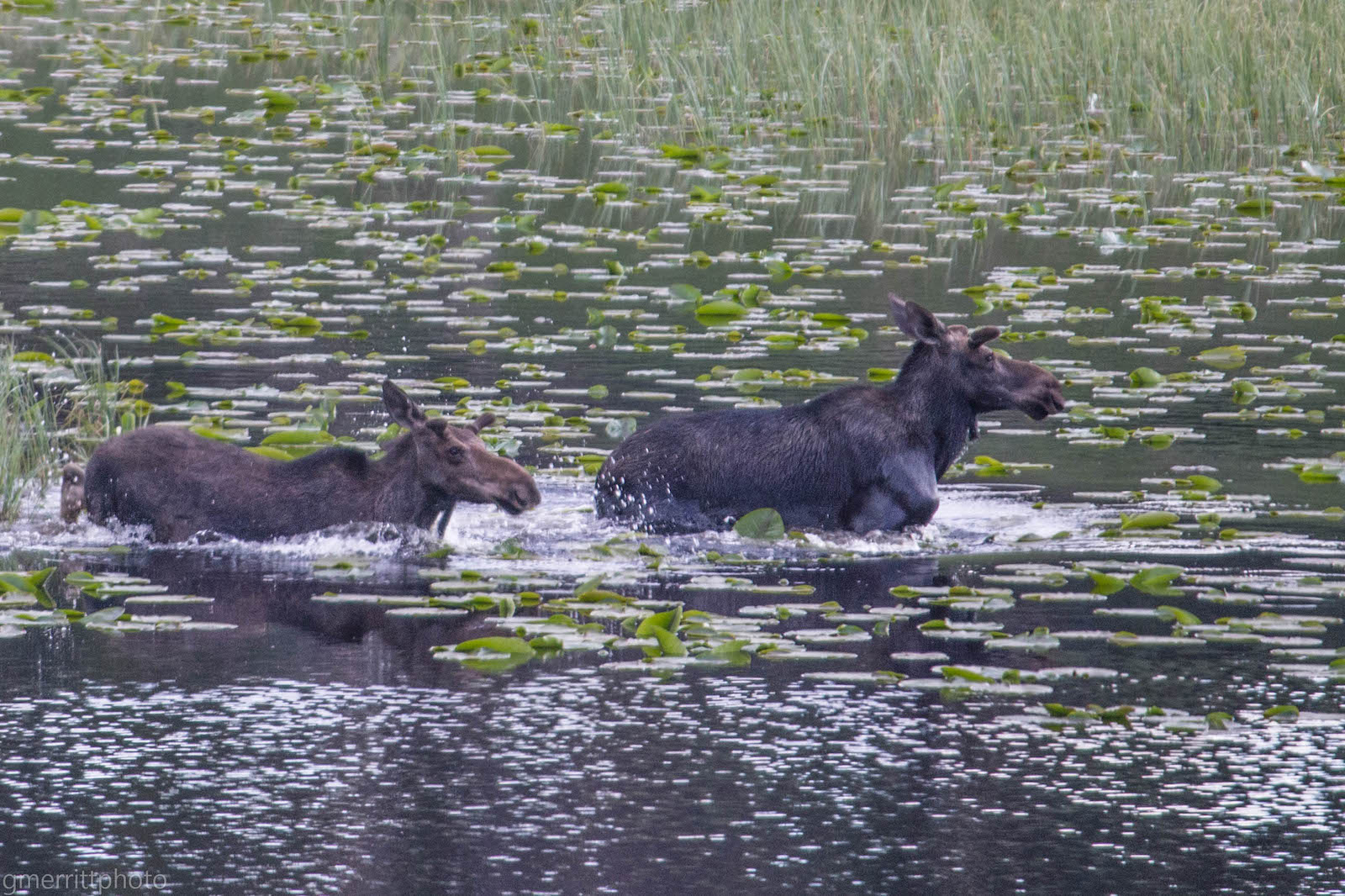 Introduced to this giant flat-topped mountain in the early 2000s by Colorado Parks & Wildlife, today there are over 400 moose in the Grand Mesa area. Though they can be found throughout the national forest and beyond, CPW claims that there are a few spots where visitors are more likely to report a sighting including along Highway 65 between Powderhorn and the Mesa-Delta County line as well as in Vega State Park.
The largest flat-topped mountain in the world has a myriad of lakes, so it makes a prime habitat for moose.
Best Practices and Time to Spot Moose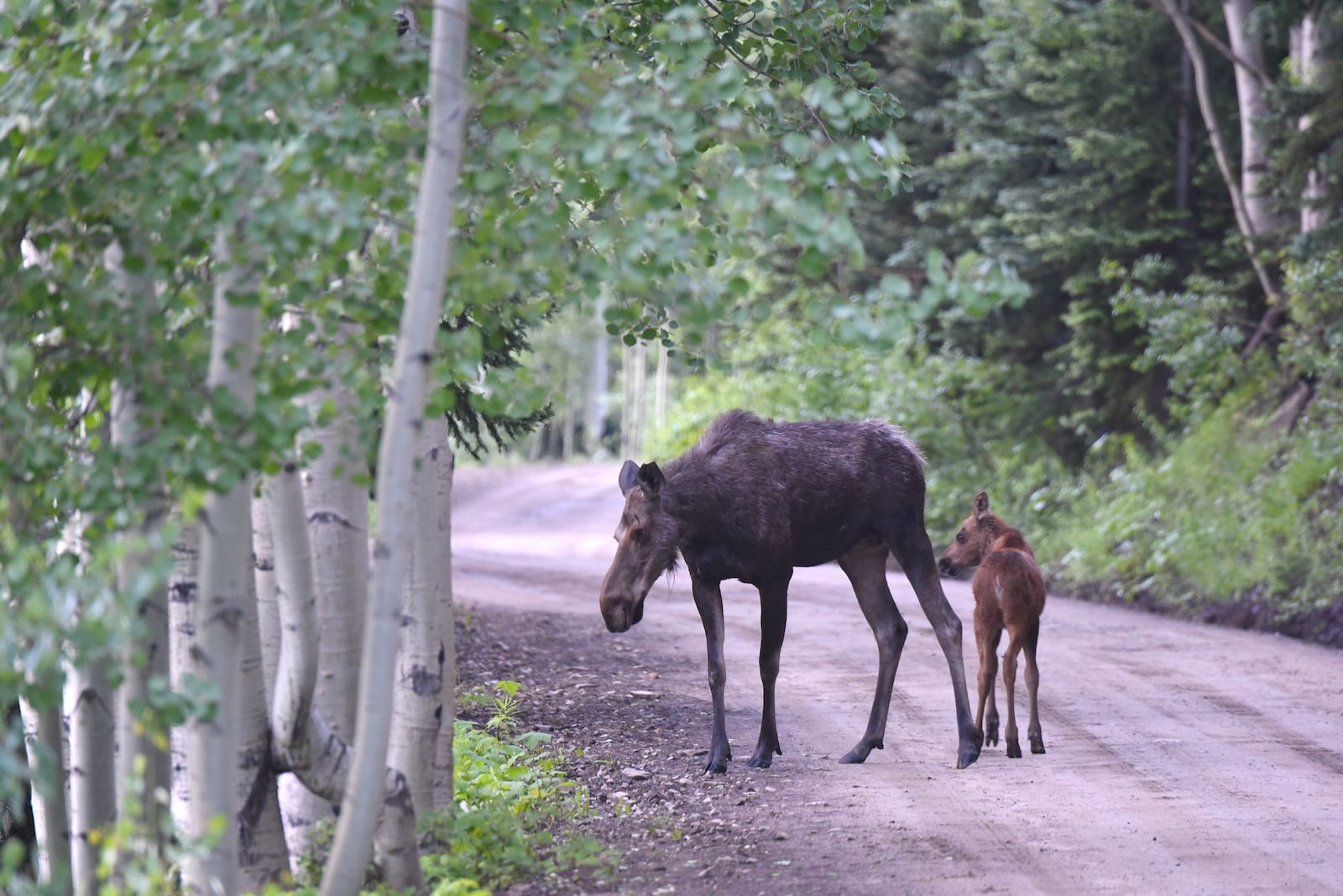 As with all wildlife, visitors should be sure to enjoy moose from a distance. Despite their appearances, moose are unpredictable and sometimes dangerous, so visitors should keep their distance when possible. If you stumble upon a moose, only run away if it begins to charge. Otherwise, slowly back away while talking gently to the animal.
They also do not like dogs. Your four-legged friend(s) resemble their wolf ancestors and are natural predators of moose. Keep your pets at home if you're out trying to find a moose, as your dog can startle them and cause more trouble, possibly triggering the larger mammal to charge.
Naturally too, you want to stay far away and always go out sightseeing for this wildlife with a friend or companion. And if you're driving along and discover one, don't block traffic. Pull over where it's safe to take a better look. Be respectable of your fellow man too.
While you can potentially see them at any time of day or night, the early morning and early evenings (around dawn to sunrise and sunset to dusk) are your best chances to see them.
These have been some of the top areas in Colorado to see a moose. Good luck spotting one!