In May of 2020, sportsbook betting officially became legal in the state of Colorado for both in-person and mobile wagers. One year and $6.6 million in state tax revenue later, nearly every major Colorado casino has adopted a digital sportsbook and many have transformed their gaming floors for amplified in-person betting.
By law, Colorado only permits gambling in the towns of Central City, Black Hawk, and Cripple Creek as well as on Native Reservations. So if you're looking to bet on the big game, or think you know something about the upcoming match, consider placing a bet in-person. Below, we'll take a tour through all of Colorado's casinos that currently offer live retail sportsbook betting.
Barstool Sportsbook at Ameristar Black Hawk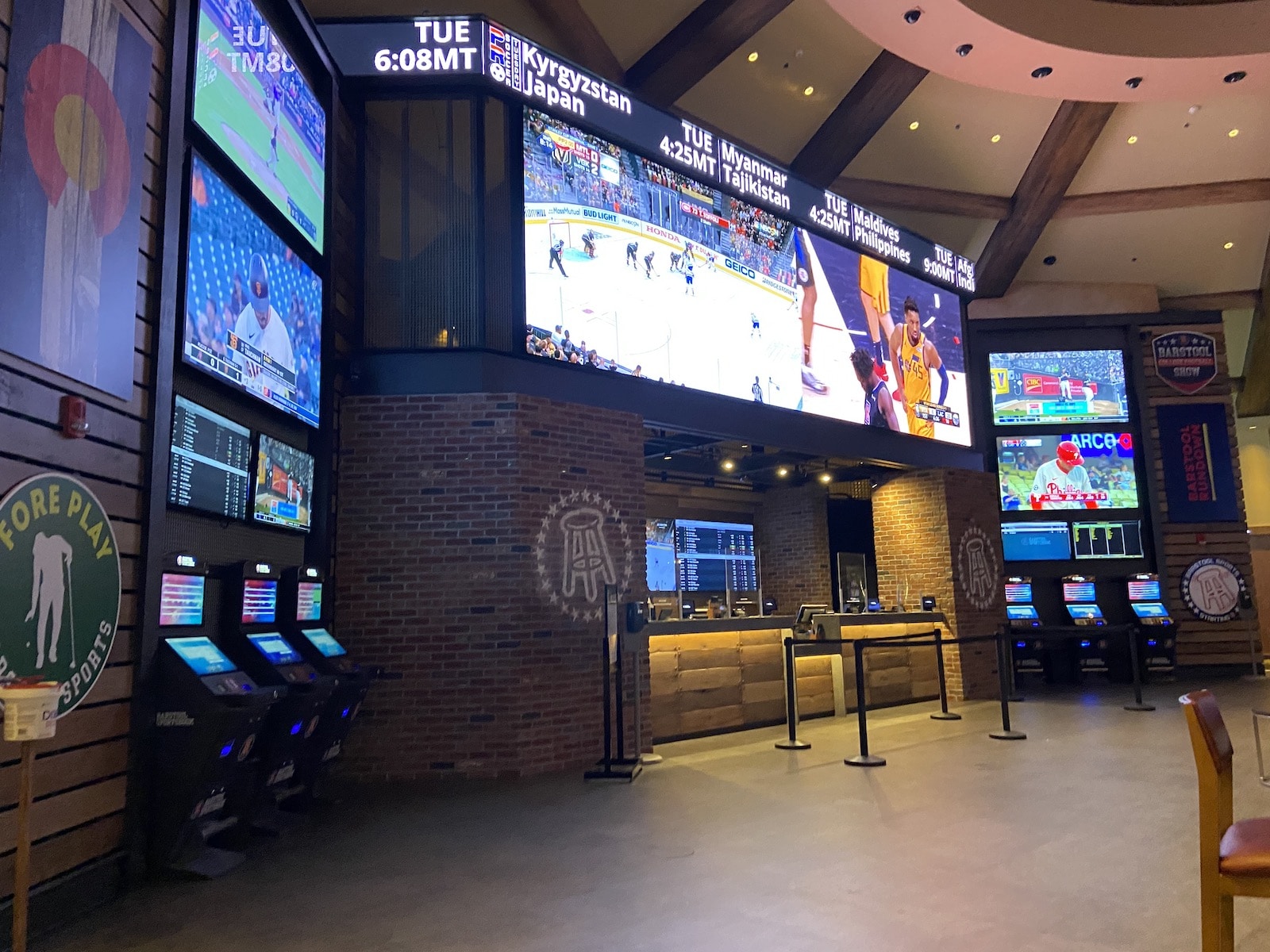 Built as the tallest building between Denver and Salt Lake in 2010, the Ameristar Black Hawk Resort is Colorado's largest casino. On the second floor of the 33-story building, visitors can find the brand new Barstool Sportsbook open daily from 8 am to 12 am. Sponsored by Barstool Sports, Ameristar's sportsbook area is comprised of 13 betting stations and 29 HDTVs, including a 24-foot high video wall.
The sportsbook includes real-time odds, over/under, and spreads with parlays and prop bets. Within the sports betting area, patrons are welcome to drink specials and a variety of table games. There are also several sportsbook kiosks located in Ameristar's Bar 8042, which remain open 24/7 for sports wagers.
Website: ameristarblackhawk.com…
DraftKings Sportsbook at Bally's Black Hawk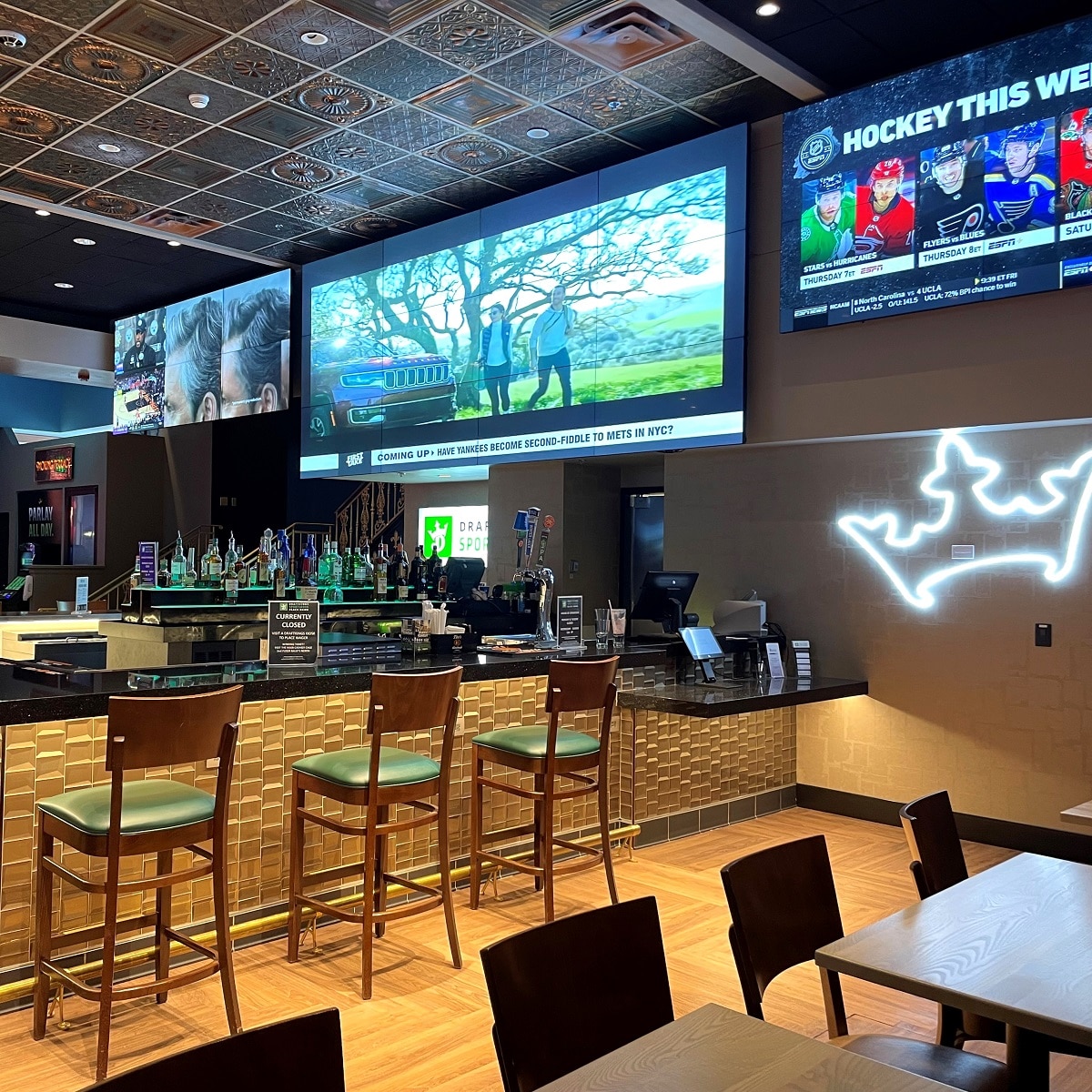 Formerly the Golden Mardi Gras Casino, Bally's Black Hawk is one of Colorado's most popular gaming destinations. Within the casino, the DraftKings Sportsbook features 32 TVs, 11 boards displaying odds, and ten betting stations, as well as a full-service restaurant and bar.
For exclusive comfort, there is also a VIP lounge for high rollers visiting the DraftKings Sportsbook at Bally's Black Hawk. Full-service betting for common and exotic wagers is available, and the casino's dedicated sportsbook area is typically open daily from 11 am to 10 pm.
Website: ballys.com…
SuperBook Sports at The Lodge Casino – Black Hawk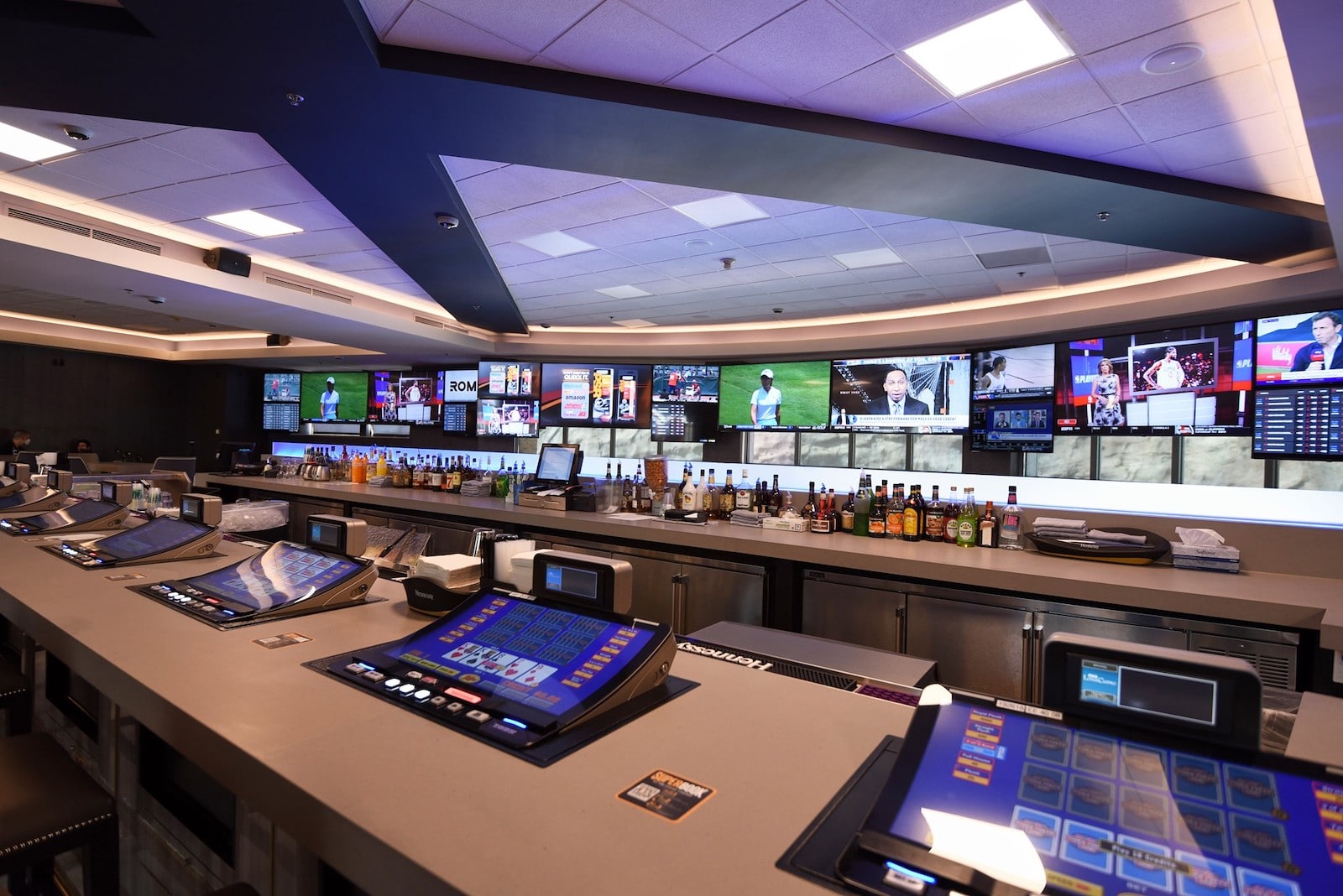 Across the street, Black Hawk's Lodge Casino opened its SuperBook Sports betting area in the summer of 2021. Located on the casino's second floor, The Lodge hosts SuperBook Sports' first in-person sports betting destination outside of Las Vegas.
Onsite, the Lodge Casino's new sportsbook has an extensive wagering menu, 28 TVs, Las Vegas-style seating, and full bar service. Beyond in-app betting, visitors are welcome to use the facility's three retail sportsbook terminals.
Website: thelodgecasino.com…
Saratoga Casino Sportsbook – Black Hawk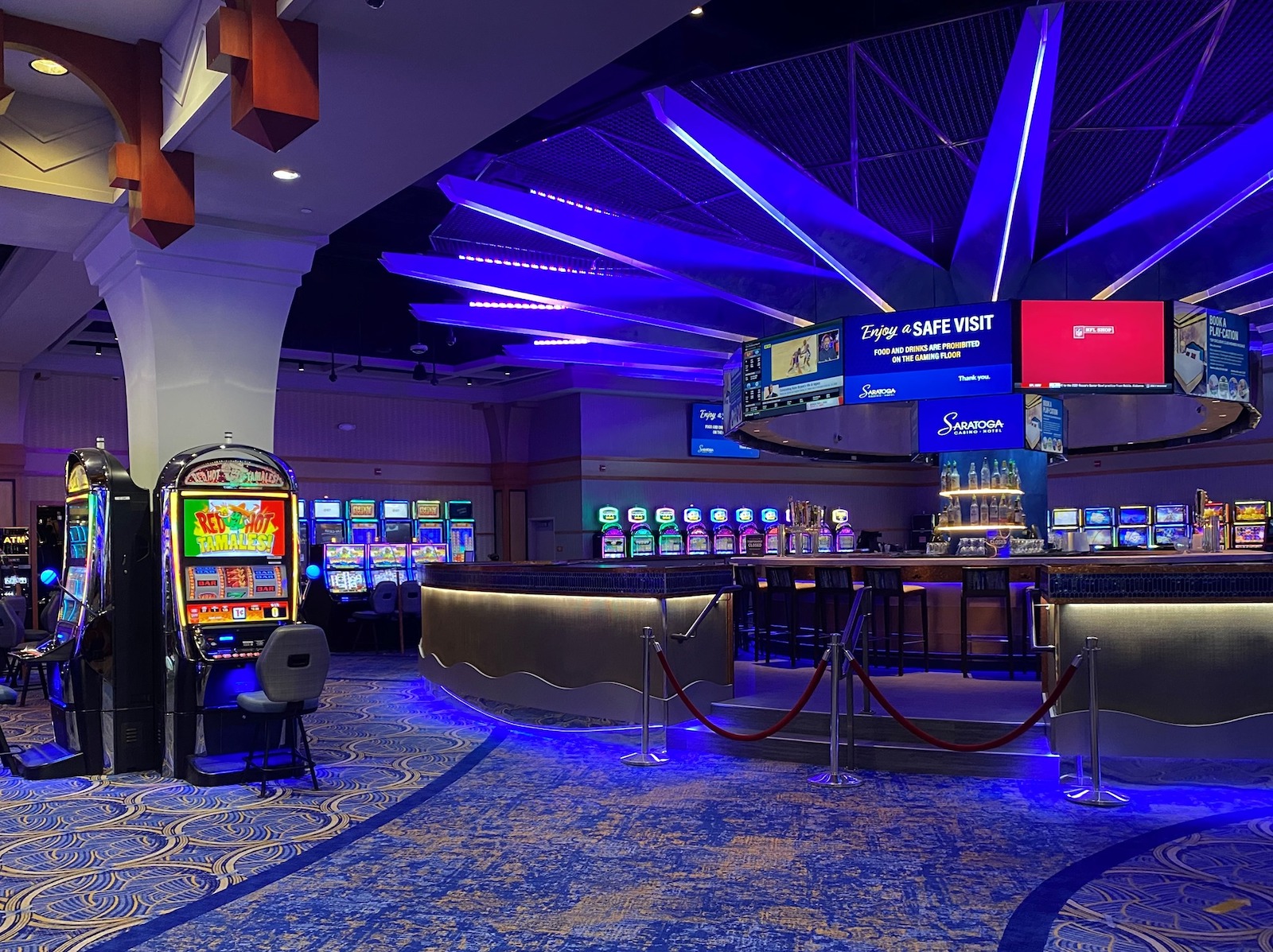 On the corner of Main St. and Gregory St, the Saratoga Casino hosts sports fans in a new 1400 square feet sportsbook area. Assisted by BetFred Sports, the Saratoga Casino offers app-based betting as well as retail sports wagers at dedicated kiosks.
The lounge area has various hours depending on the day of the week but is generally open between 11 am and 11 pm. On-site, there are plush chairs, tables, and plenty of televisions for viewing all of the action live.
Website: saratogacasinobh.com…
Elite Sportsbook Kiosks at Red Dolly – Black Hawk
Further west down Gregory Street, the Red Dolly Casino is a small, Black Hawk staple that now offers sports wagers. Powered by the Elite Sportsbook App, there are several kiosks around the casino property to place various bets on most sporting events.
Website: thereddollycasino.com…
Monarch Casino Sportsbook – Black Hawk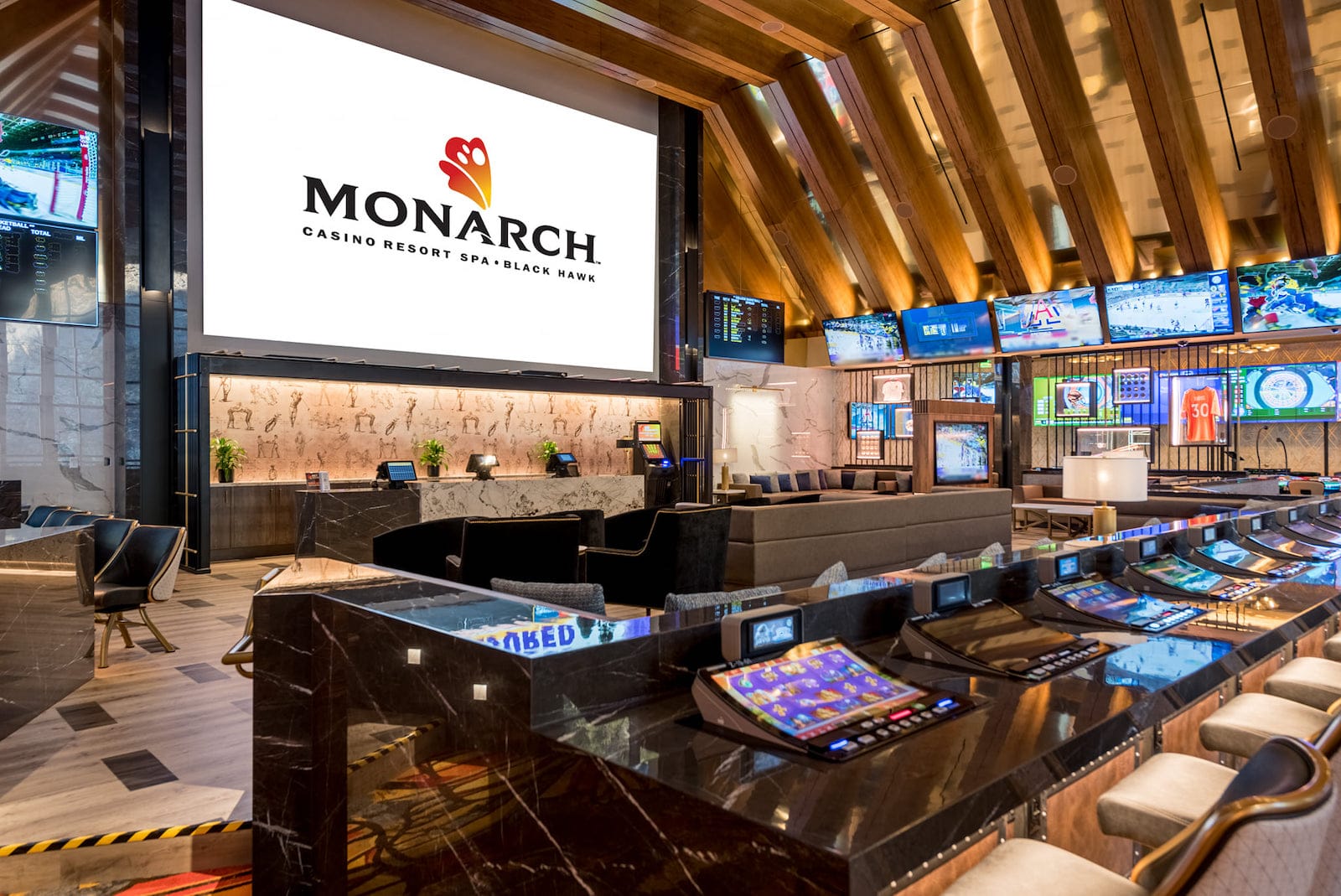 Famous for its seafood buffet, the Monarch Casino boasts a state-of-the-art sports betting area in Black Hawk, Colorado. With massive screens and multiple areas to bet as well as having the BetMonarch Sports Betting App, this luxurious location is the ideal place to put money on the big game.
Website: monarchblackhawk.com…
Sasquatch Casino & Wild Card Saloon IGT Playsport Kiosks – Black Hawk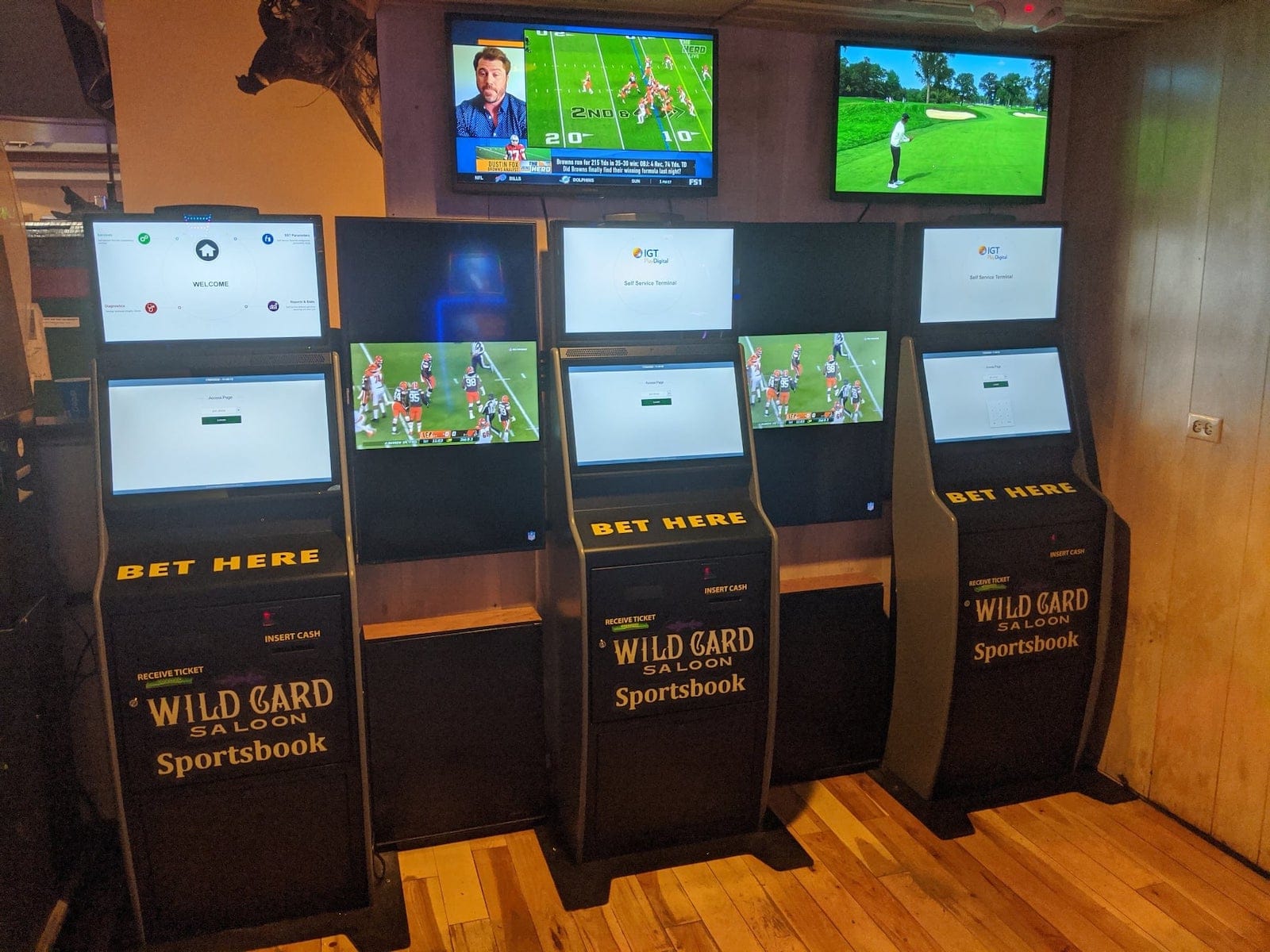 Finally, both the Wild Card Saloon and the Sasquatch Casino offer sportsbook betting available on each property's IGT Playsport kiosks. The pair of small, locally-owned casinos are great for placing sports wagers in a more relaxed environment.
More information about the partnerships can be found in this news release.
Maverick Sportsbook at Grand Z Casino – Central City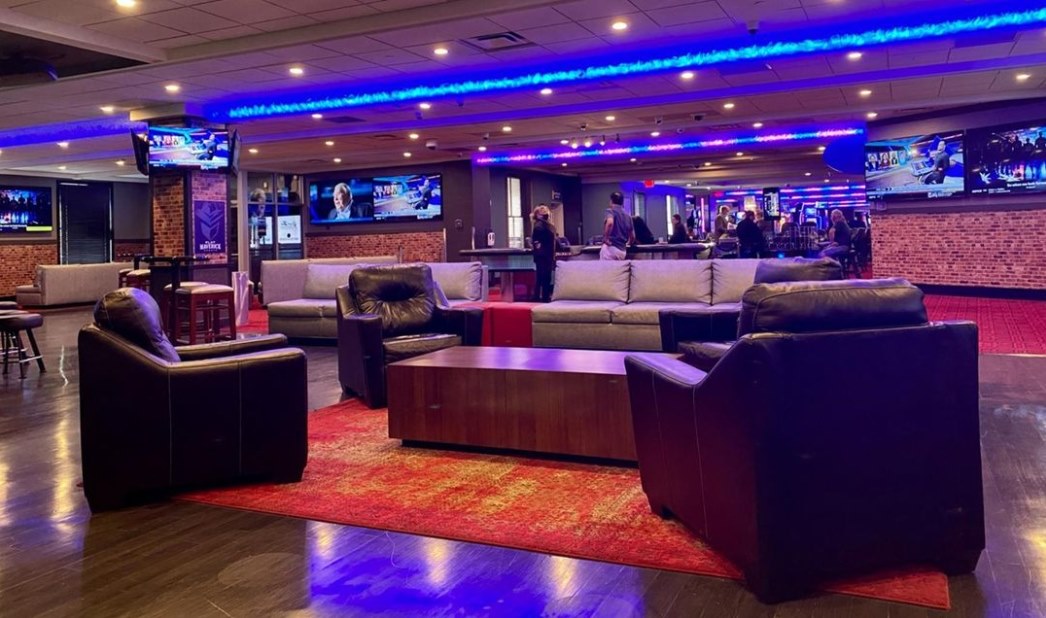 Powered by Maverick Sports, the Grand Z Casino & Hotel is among the first to offer retail sports betting in the small town adjacent to Black Hawk. The sportsbook lounge is in a large separate area dedicated to watching and wagering on live events.
Down the street, there are also several Maverick Sports betting kiosks available at Grand Z's sister property, Johnny Z's Casino. Likewise, sportsbook stations are also planned for the Z Casino in Black Hawk.
Woody's Sportsbook at Wildwood – Cripple Creek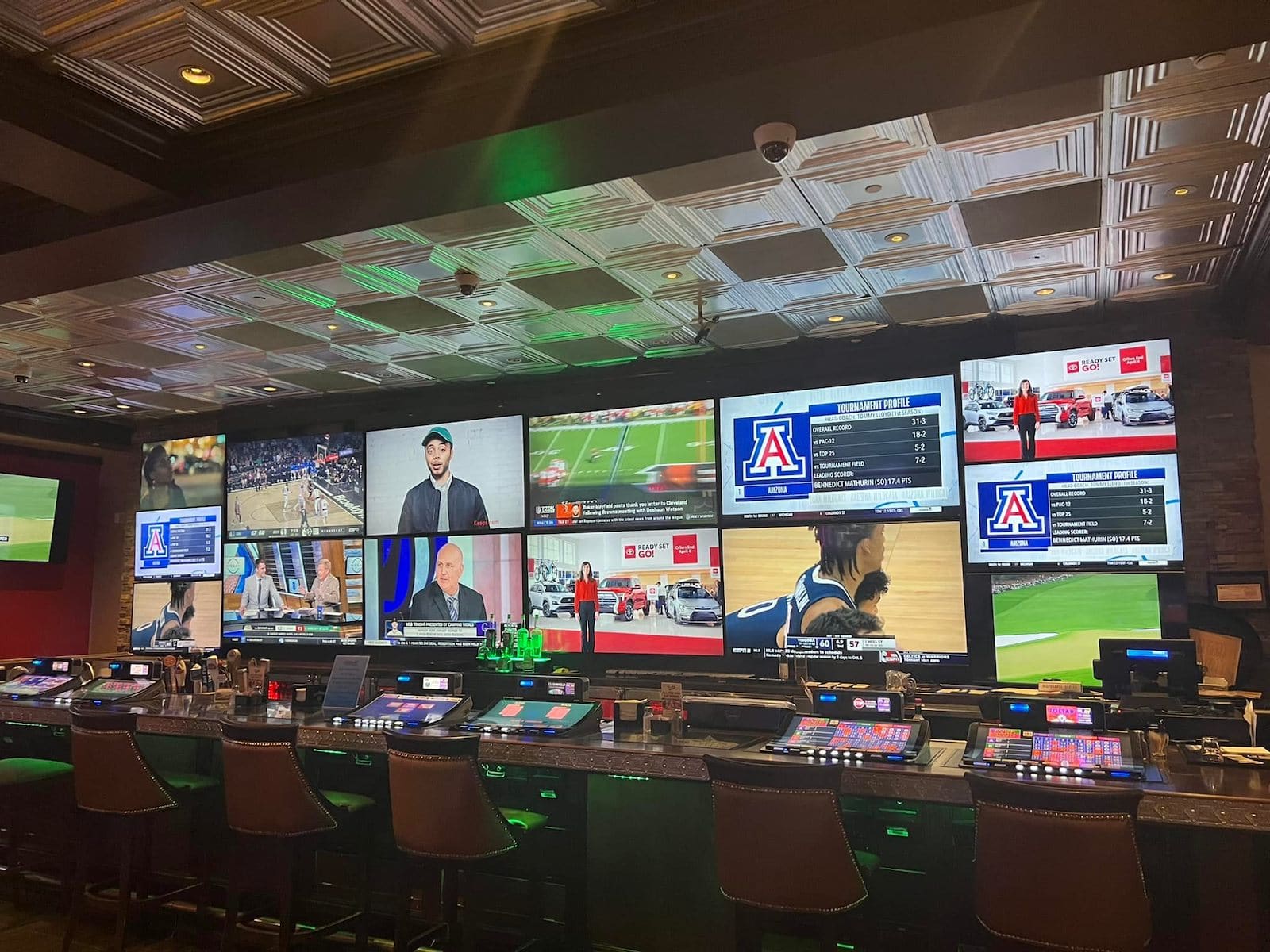 Heading south to Cripple Creek, Woody's Sportsbook at the Wildwood Casino was the first retail sports betting destination in the area. In addition to their online platform, the Wildwood Casino invites patrons to enjoy their new Sportsbook area which includes a bar, restaurant, TVs, and live betting option updates.
Website: wildwoodcasino.net…
Twinspires SportsBook at Bronco Billy's – Cripple Creek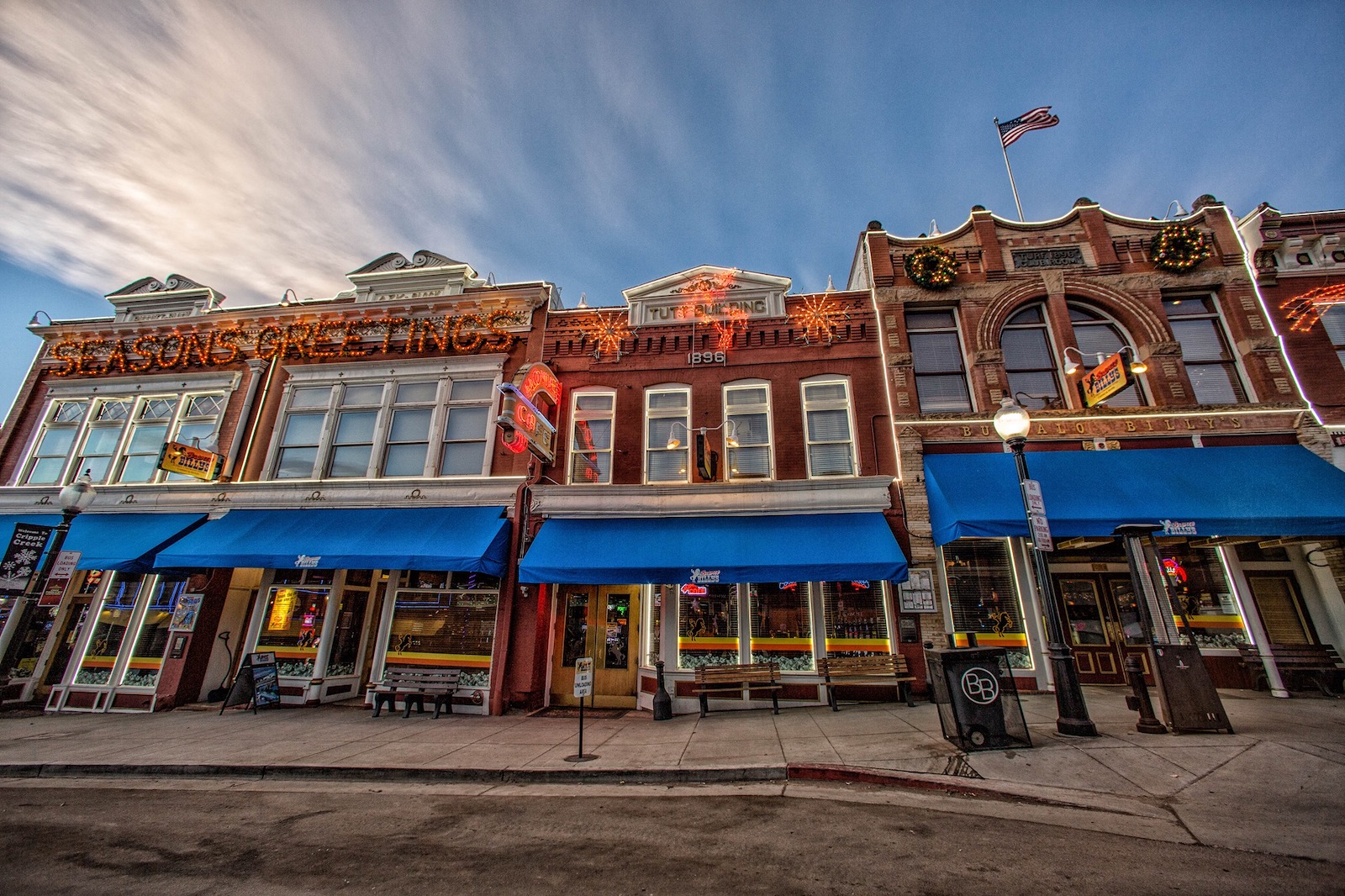 On East Bennett Ave, Bronco Billy's Casino welcomes sports fans for live betting with its new Twinspires Sportsbook. Also known as the Bronco Sportsbook, wagers can be accessed from several state-of-the-art kiosks on the casino floor with plenty of televisions to watch the action in a casual atmosphere.
Website: broncobillyscasino.com…
BetRivers at McGill's Casino – Cripple Creek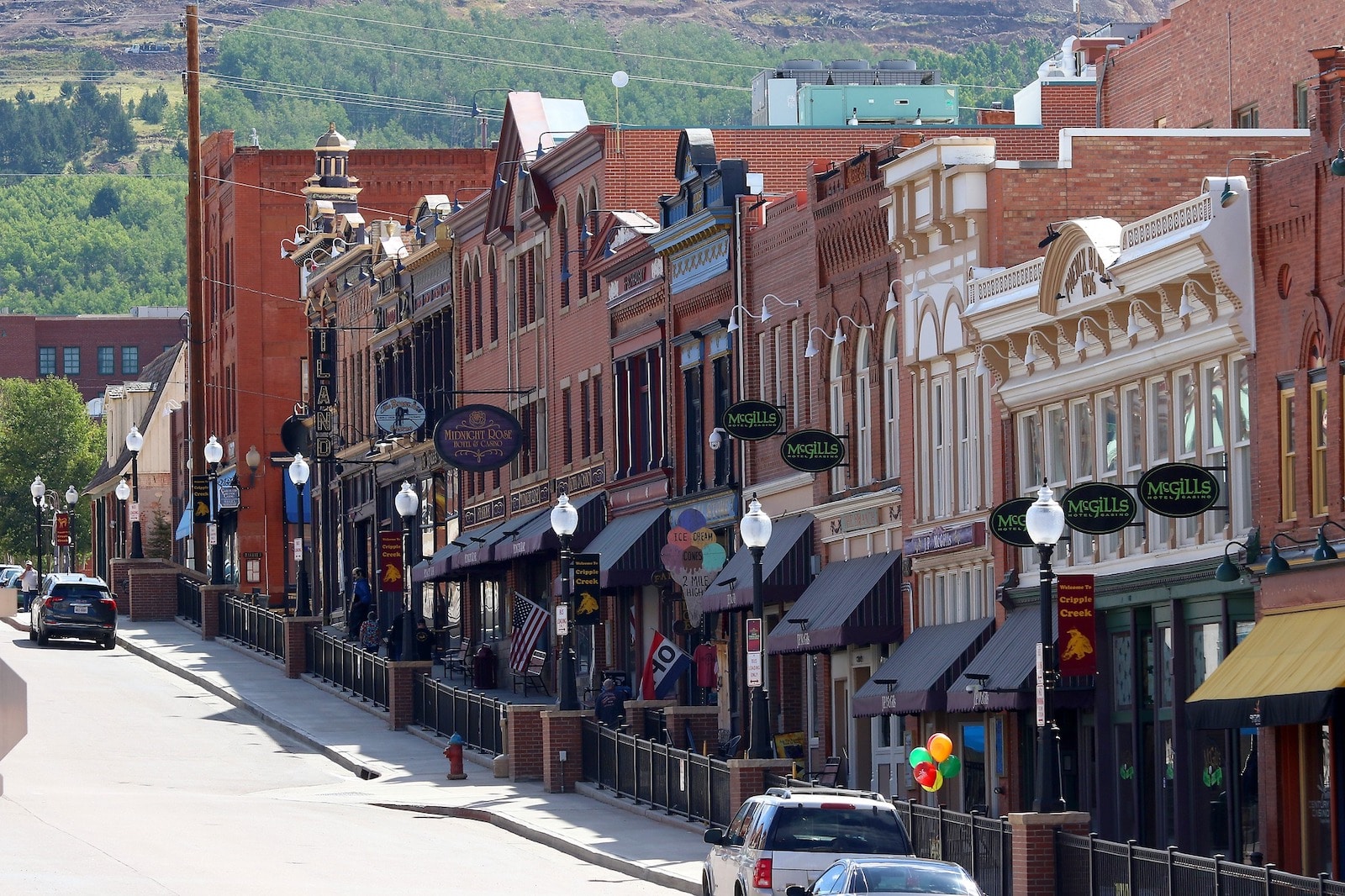 At the McGill's Hotel & Casino, the BetRivers Sportsbook is open for business. In an Irish-pub-style atmosphere, patrons can enjoy retail sports betting from behind McGill's bar while enjoying a Guinness on tap, or any of the other offerings from the bar/restaurant.
As a nationally recognized brand, BetRivers allows for a myriad of wagers including live sports betting and daily promotions. Additional non-sports gaming can be enjoyed in McGill's Casino, as well as its sister properties, The Midnight Rose and The Brass Ass.
Website: triplecrowncasinos.com…
ISI Kiosks at Colorado Grande and Johnny Nolon's – Cripple Creek
Lastly, retail sports betting kiosks can be found in two more Cripple Creek casinos: the Colorado Grande and Johnny Nolon's. The booths are powered by Las Vegas-based ISI Sports and are available throughout both properties' casino floors.
Colorado Casinos with Online Sports Gambling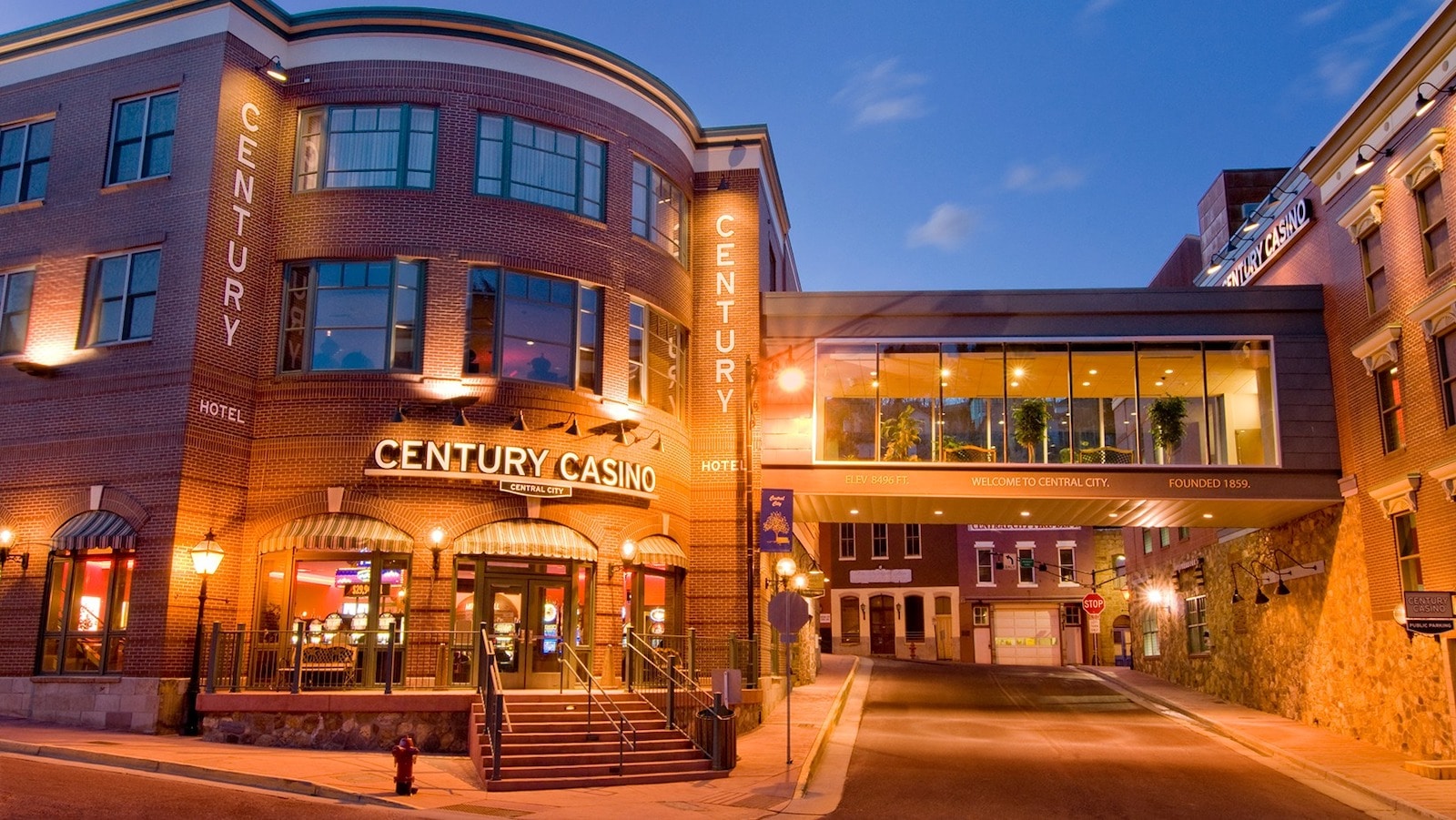 While not every casino in the state was able to quickly evolve and offer retail sports betting in the midst of the coronavirus pandemic, many have begun the process by offering a strictly online sportsbook.
Today, online sports betting is also available through the Pointsbet Sportsbook at the Double Eagle in Cripple Creek as well as the Circa Sports Betting App at the Century Casino, with locations in both Cripple Creek and Central City.
On the other side of the continental divide, the Sky Ute Casino near Durango and Pagosa Springs has launched its own sportsbook app. In a similar fashion, the Ute Mountain Casino outside of Cortez is planning to do the same.