Denver is a near perfect jumping-off point for visiting some of America's most spectacular and rewarding national parks. While some states don't have any national parks to speak of within their borders, Colorado is home to four iconic parks, with others that are easily accessible just one state over.
From a sprawling, idyllic mountain paradise to areas known the world over for their stunning and otherworldly geologic features, the following is a list of national larks located near Denver.
Rocky Mountain NP – 65mi | 1.5hr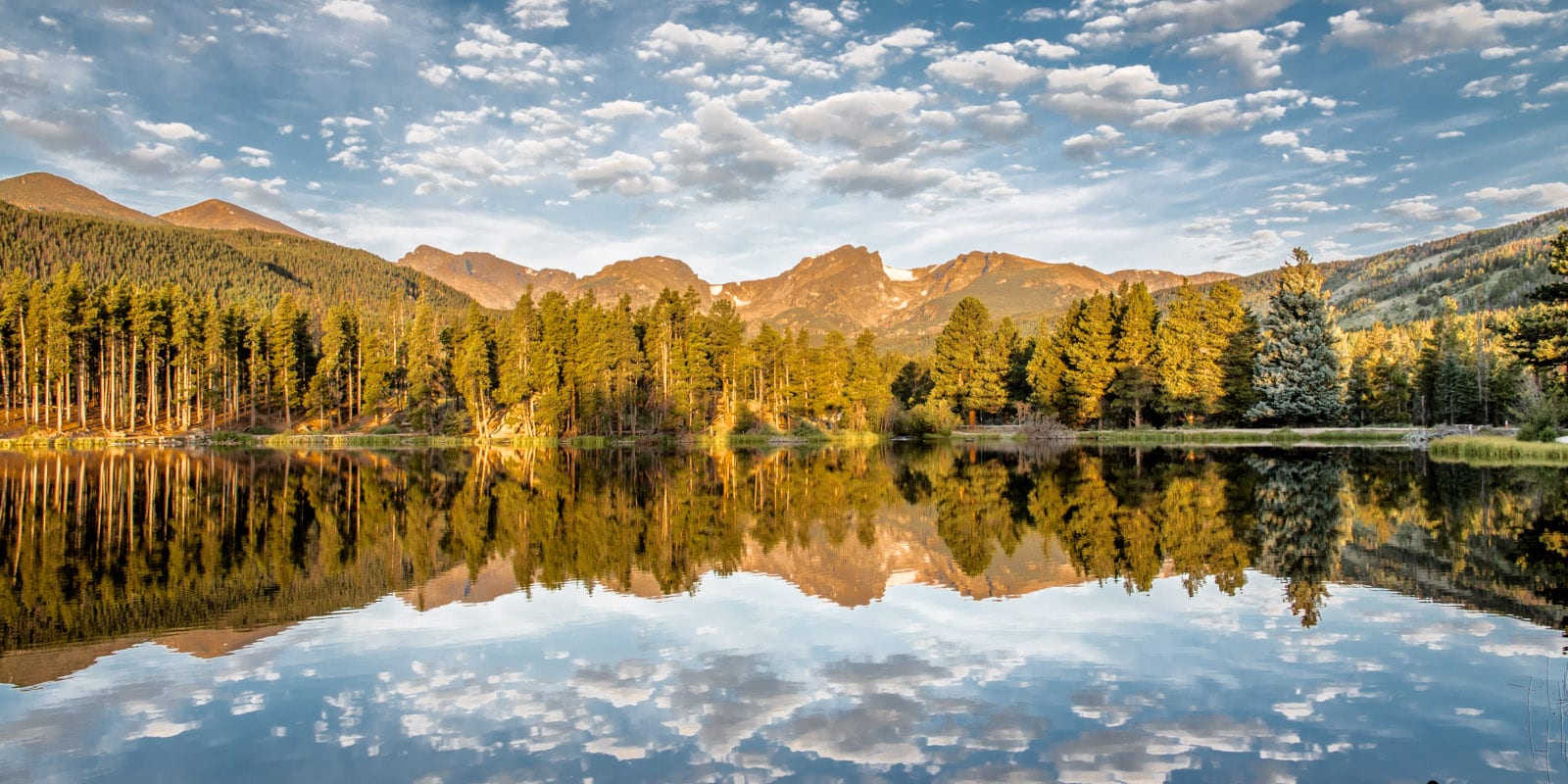 Two hours northwest of Denver sits Rocky Mountain National Park (RMNP), which is comprised of 415 square miles of some of the most pristine and rugged mountain environments in the United States. It's a place where visitors stand in awe in the presence of majestic natural landmarks like the 14,259-foot Longs Peak, view fascinating wildlife like bighorn sheep, and camp beside remote and crystal clear alpine lakes.
Trail Ridge Road, which takes drivers as high as 12,183 feet, passes through the heart of Rocky Mountain National Park and links the communities of Grand Lake and Estes Park, earning it the title of America's highest continuous highway. This national park isn't just a gift to Coloradans, but for people everywhere who long to be moved and astounded by being in the presence of natural beauty.
Great Sand Dunes NP & Preserve – 223mi | 3.75hr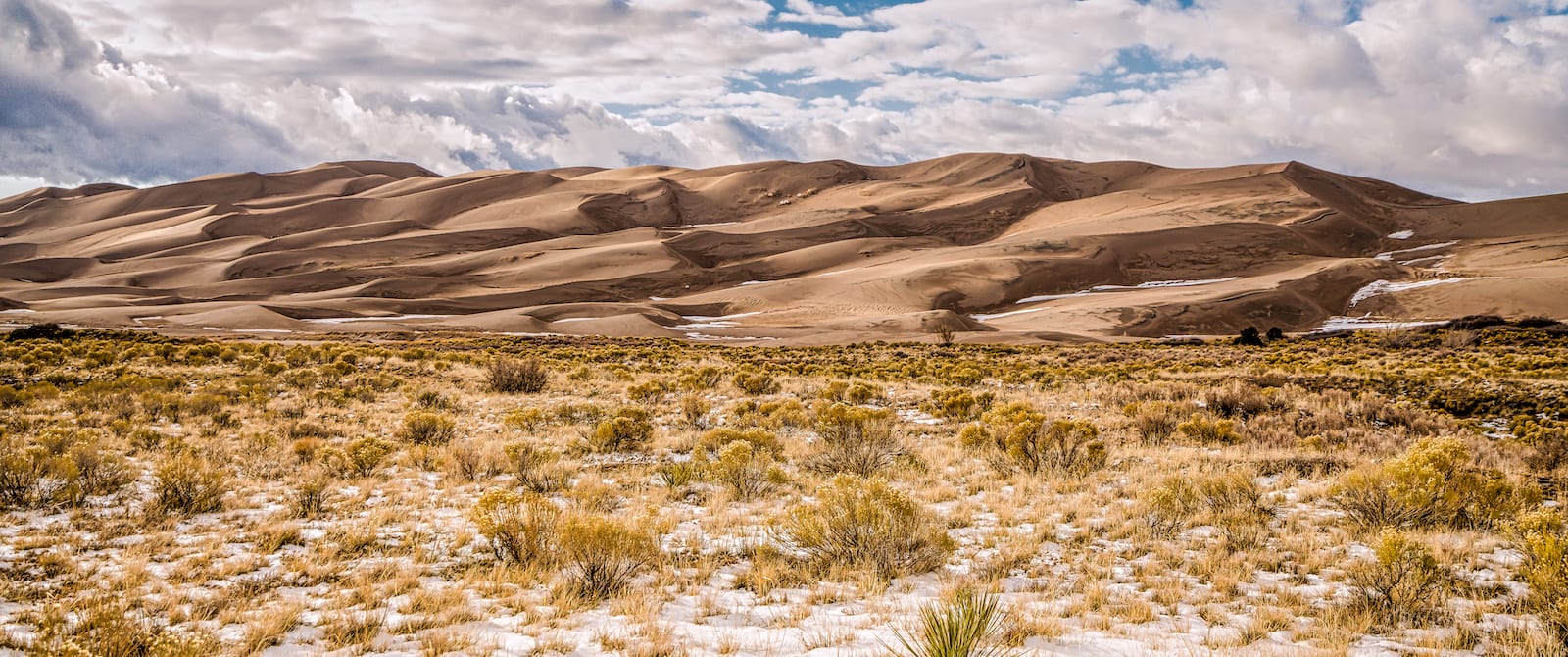 The Great Sand Dunes National Park and Preserve is located on the eastern edge of the San Luis Valley, a sprawling alpine valley that is home to one of Colorado's least populated and most beautiful regions. A tight frame centered on a thirsty traveler would have you believe the sand dunes in this park are a part of the Sahara Desert in northern Africa. But zoom out and you'll see the immense Sangre de Cristo Mountains, which are capped with snow for much of the year.
The formation of this remarkable landscape is still playing out the way it has been for thousands of years. Fragments of sediment from the nearby mountains erode little by little each day and are then carried off by the winds and dropped off in the location of the dunes.
While running, tumbling, or boarding down the immense mounds of sand are the main attractions here, there's plenty more to see and do in the surrounding areas. And at under four hours from Denver, it doesn't take too long of a drive to get here.
Black Canyon of the Gunnison NP – 251mi | 4.75hr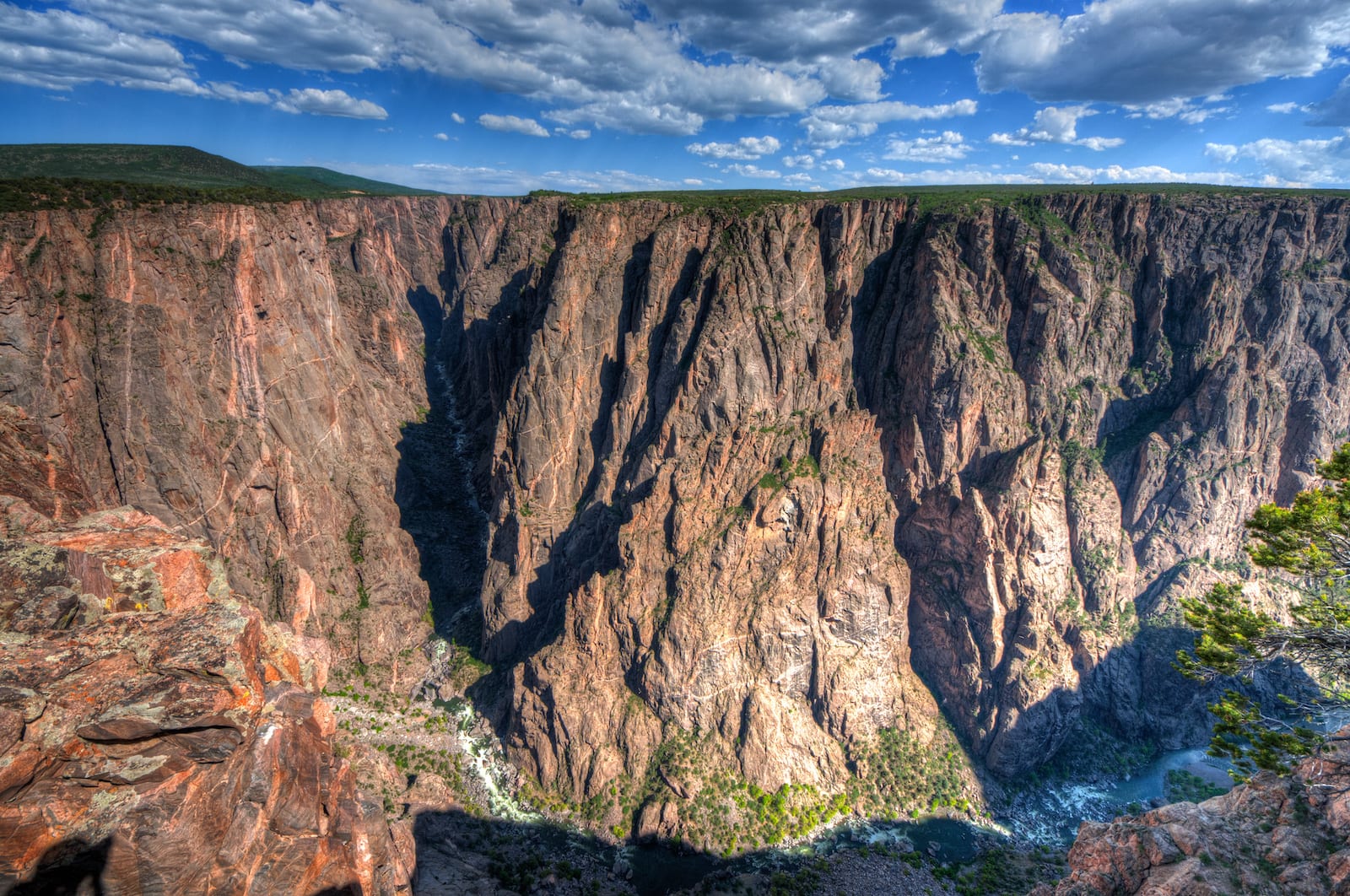 Boasting some of the most scenic, steep, and oldest cliff faces and rock spires in North America, the Black Canyon of the Gunnison National Park is a little less than a five-hour's drive southwest of Denver. Designated as a national park just over 20 years ago, the Black Canyon of the Gunnison is carved out by the river of the same name, which drops an incredible 240 feet per mile at its steepest point, making it one of the steepest mountain descents in the nation.
Instead of finding monolithic slabs of black colored rock here, you'll see long, drawn out shadows cast out by the area's tallest rock formations. The darkness of these shadows inspired the canyon's name.
For those that venture down to the steep cliffs into the canyon, there's not only the spectacular views of the surrounding canyon to explore, but also a river so alive with trout that its earned Colorado's coveted Gold Medal status for fishing.
Arches NP – 351mi | 5.25hr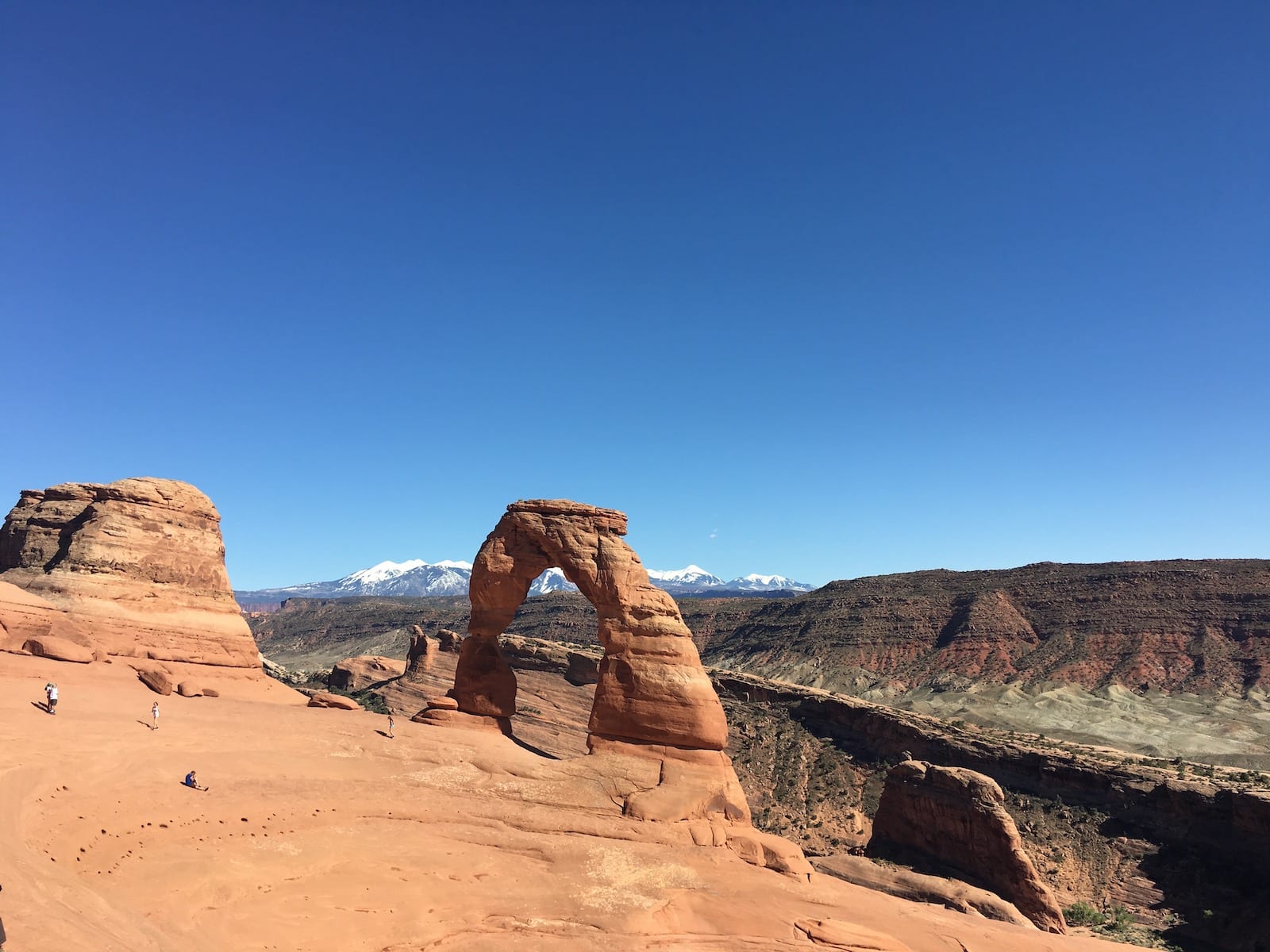 Colorado has plenty of fascinating red-rocked destinations to brag about, but it's not the only state with these incredible geologic features. In neighboring Utah just five hours west of Denver lies Arches National Park, which is chock full of over 2,000 natural red stone arches and hundreds of other stunning rock features.
Dotted with the iconic imagery often used as the backdrop for old westerns and modern outdoor sports documentaries alike, Arches National Park is prime for backpacking adventures, mountain biking excursions, and camping in one of the most memorable settings on earth. It's also an internationally fawned over wonderland for rock climbing and bouldering.
Canyonlands NP – 365mi | 5.5hr
Located in eastern Utah, this national park is home to hundreds of miles of scenic hiking trails, rugged backcountry that can only be accessed on foot or four-wheel-drive vehicles. It also showcases some of the most distinctive geologic sites in the United States.
Despite being in a different state than Denver, Canyonlands National Park is located just five and a half hours from Colorado's capital city. The park is split into different sections naturally by the Green and Colorado Rivers and their tributaries.
According to the National Parks Service, each section is so large and remote, it's not practical to visit more than one area in a single trip. Weighing in at 337,598 acres, Caynonlands National Park is brimming with rugged canyons, mesas, and rock formations that are waiting to be explored.
Mesa Verde NP – 391mi | 7hr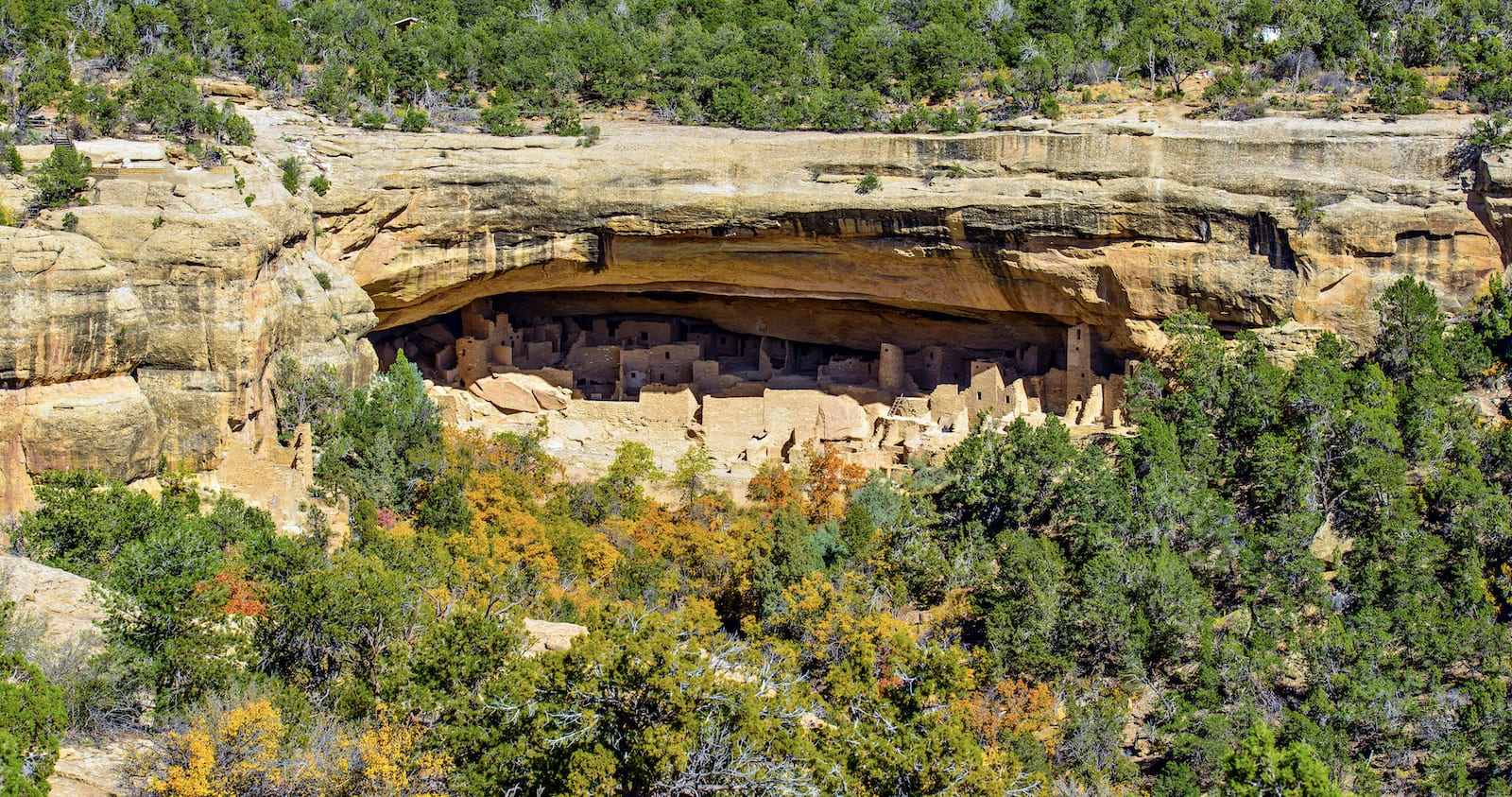 This massively important archeological site is just under a seven hour's drive from Denver, making it the furthest national park from Denver on this list. However, the extra time in the car is well worth it when you consider just how spectacular Mesa Verde National Park is.
Established in 1906 with the mission of preserving the heritage of the Ancestral Pueblo people, Mesa Verde contains a dizzying array of archeological sites numbering at 5,000, which include 600 cliff dwellings. Inhabitants of the ancient dwellings are said to have lived in the area for 700 years, from 600 to 1300 CE. Guided and self-guided tours aimed at educating visitors about the area's fascinating legacy are offered at the park.
Those are the Mile High City's closest national parks. While really only one, RMNP, is day trippable, all of them are worth a weekend or longer exploring their special landmarks.