Evidence of Colorado's early Native American cultures exist at sites across the state, existing in various forms from ancient tools and pictographs, to stone-made dwellings. Some of the most spectacular and oldest ruins exist in the southwest part of the state, which was home to the Ancient Puebloans.
You can visit ancient ruins year round, with winter being an especially magical time away from the crowds. Summer brings hot days and there's often little shade, so plan accordingly when visiting these Southwest Colorado landmarks. Bring water, sun protection and some sturdy walking shoes.
Who were the Ancient Pueblo Peoples?
The Ancestral Puebloans were formerly called the Anasazi, which has since been found to be a Navajo word translated to "enemy ancestors" or "ancestors of the enemy" and therefore no longer used. For starters, it's not from the Ancient Puebloan language, but Navajo, and it has a very negative connotation. The Ancient Puebloans would often clash reciprocally with nomadic tribes, but also trade and intermarry.
The Ancestral Pueblo peoples inhabited the Four Corners region of the United States from approximately 100 to 1600 CE (same as AD) which covers southwest Colorado, southeast Utah, northwest New Mexico, and northeast Arizona. They arrived in Southwest Colorado around 500 CE and left around 1300 CE, and migrated southeast, but nobody knows 100% why. The common consensus is that they faced a number of  "push" and "pull" factors.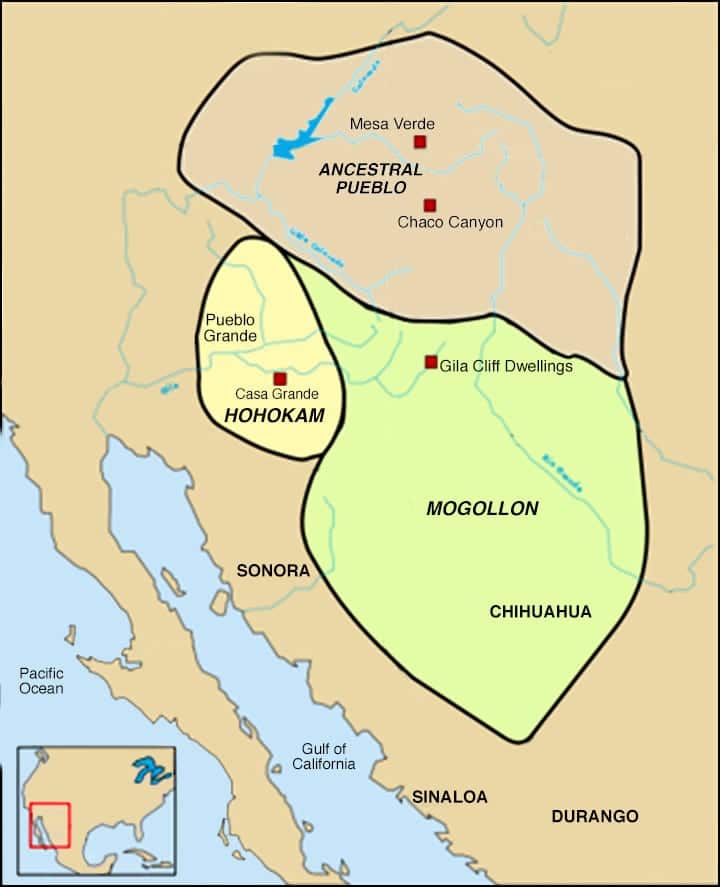 Perhaps they exhausted their natural resources like lumber, big game and faced severe long-lasting drought. They were farmers at heart. There's evidence of increasingly defensive structures being built as time progressed, so perhaps they were at war, maybe with themselves, but more likely nomadic tribes such as Ute, Navajo and Apache. This pushed them away to the south and east.
Others believe they were pulled further southeast closer to the Rio Grande River drainage, to larger safer cities, with more reliable rainfall and farmland, as well as spiritual centers. In the end it's a big mystery why thousands upon thousands all left their ancestral homelands for new lands, blending with new people and cultures.
Colorado's Ancient Pueblo Sites and Dwellings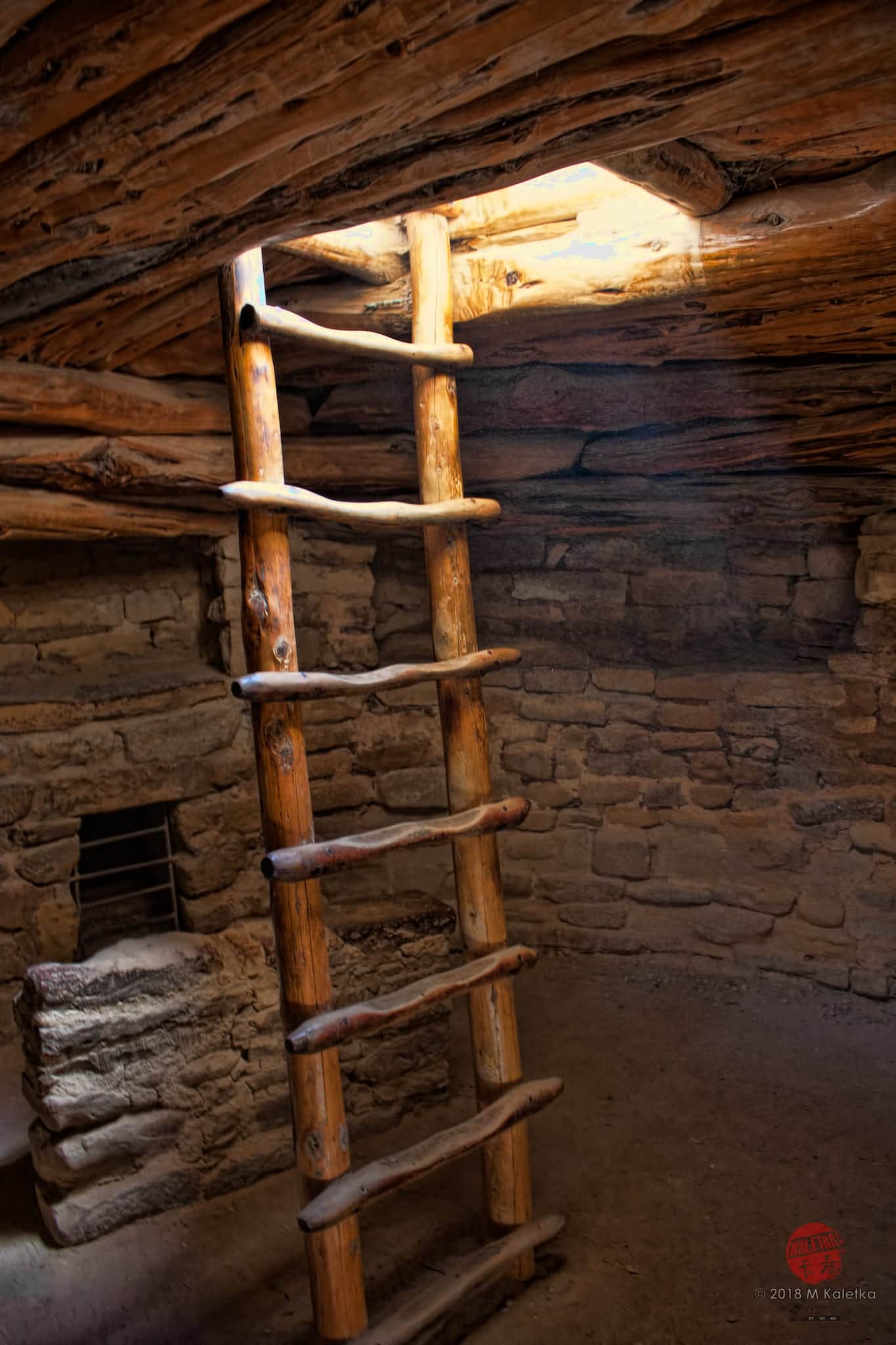 There are cliff dwellings and mesa top villages spanning more than a thousand years at several locations in the southwest. It was said that there were more people living in Southwest Colorado back in these peak days than today. In addition to all the amazing Native American ruins we'll cover below, you can extend your journey with a Four Corner road trip passing by additional ancient sites like Chaco Canyon.
List of the Native American ruins in Colorado, in no particular order:
Mesa Verde National Park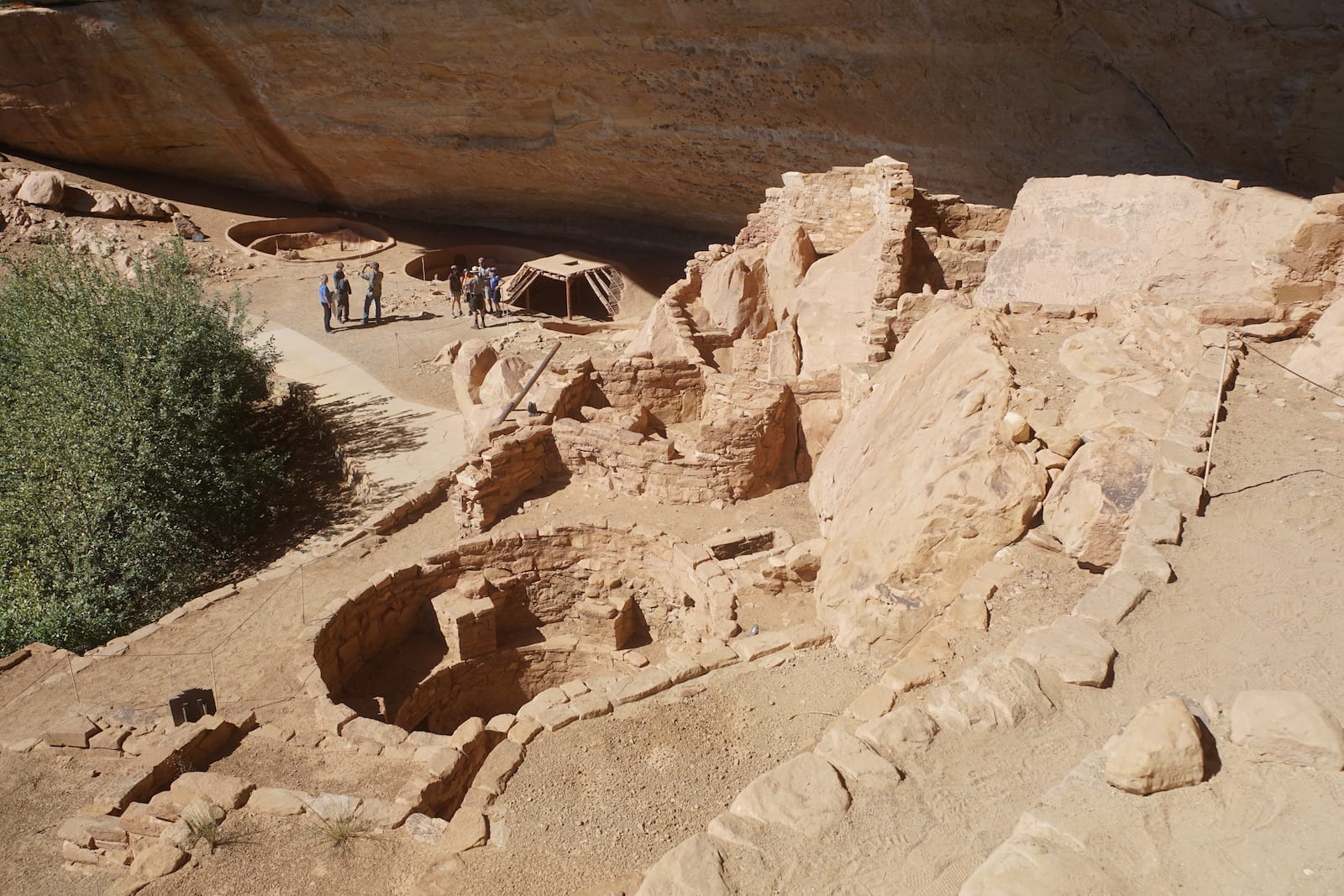 Located between Cortez and Mancos, this national park was established in 1906 and preserves almost 5,000 discovered archaeological sites of the Ancestral Puebloans ranging from 600 to 1300 CE. For more than 700 years these people called Mesa Verde home. Some of the best preserved ruins are found here, which includes 600 cliff dwellings.
The most famous dwelling at Mesa Verde is Cliff Palace, seen in the most popular photographs of the park. In addition to cliff dwellings, there are pit houses and mesa top villages to discover. You can tour many of the ruins on your own, but some are reserved for visitation with a tour guide. Definitely opt for the ranger-led tours!
One very important thing to note is that because it's a national park with many restrictions, you should leave your dog at home. You can't bring them on the tours and shade is very limited in the parking lot. If traveling with four-legged companions, your best best is Hovenweep and Canyons of the Ancients national monuments, both with significantly less restrictions.
Ute Tribal Park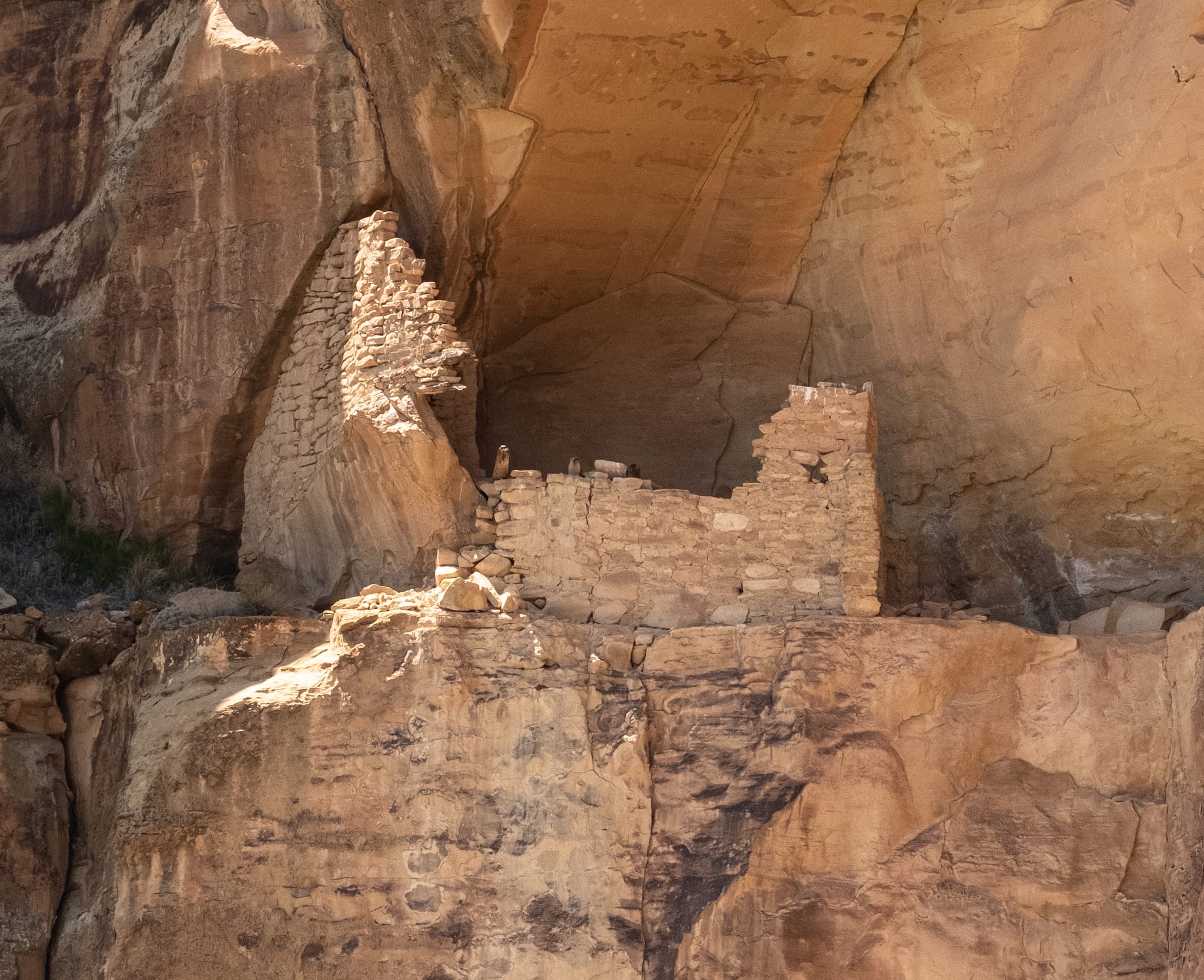 The visitor center to this unique park is located about ten minutes south of Towaoc at the junction of US-491 and US-160. There are a variety of ruins to see, as well as other relics like rock art. The Ute Mountain Tribal Park offers guided tours in half (9am-12pm) and full day (9am-4pm) increments, led by knowledge Ute guides. You can also book a special or private tour, but there are no self guided tours available.
Another fascinating tour they offer is the Inaccessible Casa Cliff Dwelling Tour, located at the entrance of Mesa Verde from 8:30am-5pm. In addition to touring the park's historic sites, you can camp on-site or rent a cabin. Dogs are permitted in the Ute Mountain Tribal Park, nor is professional photography.
Before or after your visit to the Ute Mountain Tribal Park, stop by the Four Corners Monument, which lies only thirty minutes to the southwest. Not only will you get to stand in four states at once, but you can browse a myriad of handcrafted Native American arts and crafts at the booths there. Pick up a hand painted arrow or a colorful piece of jewelry.
Canyons of the Ancients National Monument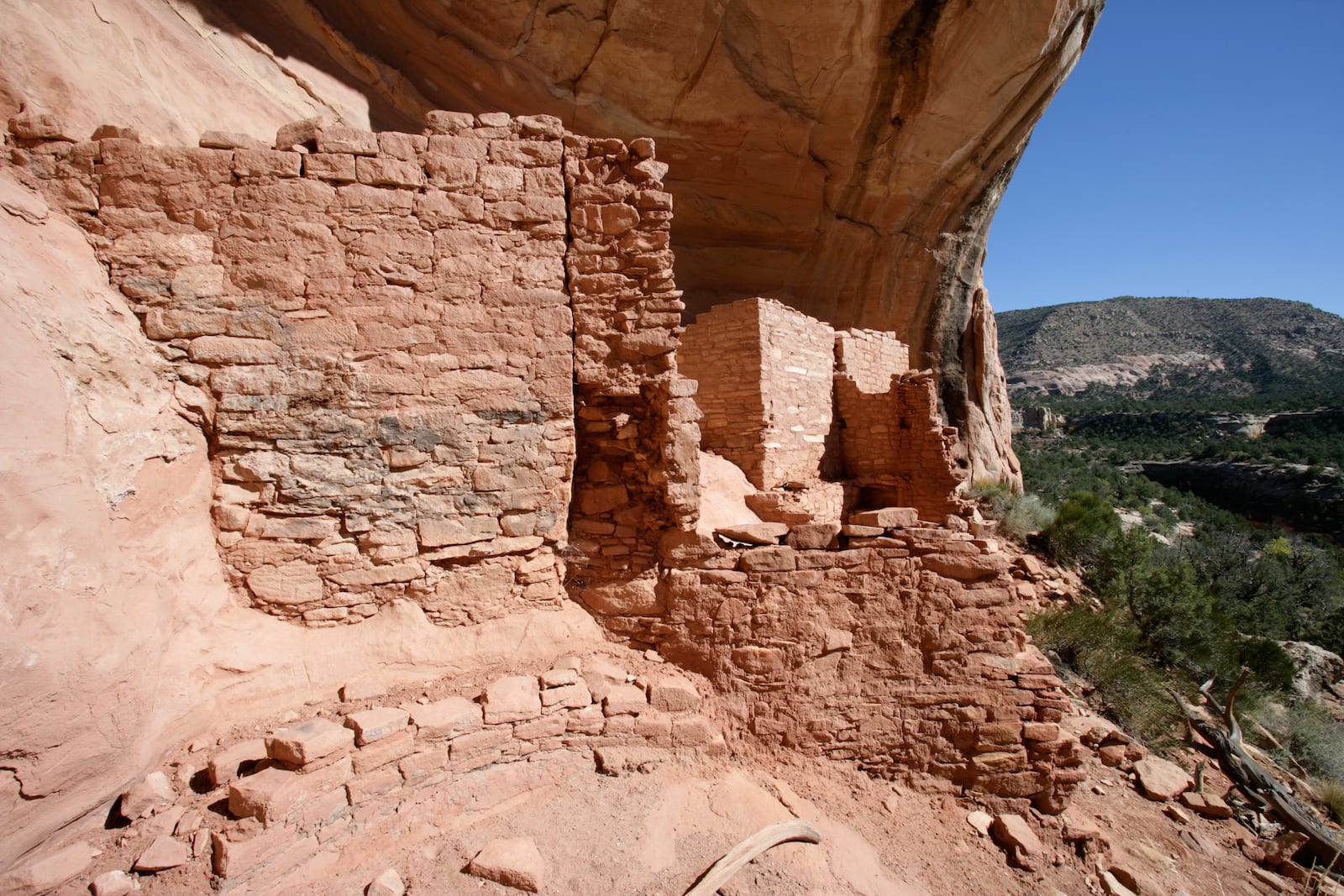 Designated in 2000 as a national monument, BLM manages 176,000 acres of federal lands within the Canyons of the Ancients. Located about 10 miles west of Cortez, this national monument has the biggest archaeological site density in the country, with more than 6,355 sites recorded, but estimated to be closer to 30,000.
The ruins show a myriad of Ancient Puebloan culture, including villages, kivas, shrines, check dams, reservoirs, petroglyphs and so on. The Canyons of the Ancients region has been used for more than 10,000 years, as a home and hunting grounds, for raising livestock, developing energy and recreation.
In addition the plethora of ancient ruins to discover at Canyons of the Ancients, one can also go on a variety of hikes, dispersed camp for free (PDF) on much of the BLM land (some restrictions in front-country recreation areas and not in archeological sites or within 300 feet of water), and tour the Visitor Center and Museum. The museum is the prime place to learn about the Ancestral Puebloans, as well as other Native cultures of the Four Corners.
Hovenweep National Monument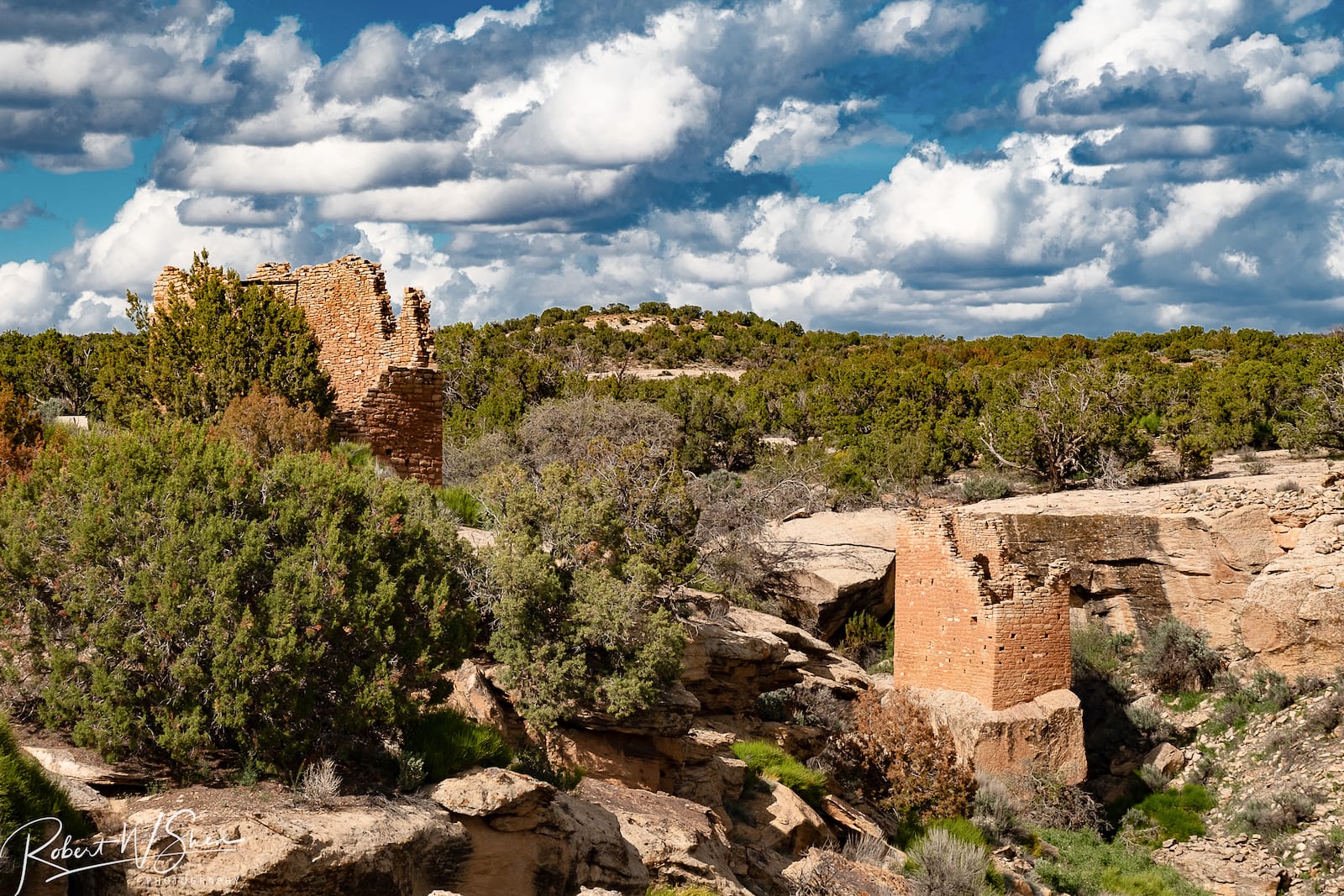 Spanning two states, southwestern Colorado and southeastern Utah, Hovenweep is a wonderful national monument to visit any time of year. Although it does get hot in the summer with highs over 100ºF, so keep the weather in mind for your hikes. Late spring is known as the "biting gnat season" and mid to late summer is "monsoon season".
Like the aforementioned Canyons of the Ancients, the Hovenweep area was first home to nomadic Paleoindians more than 10,000 years ago. Agriculture supposedly moved in around 900 CD. Hovenweep was thought to have 2,500+ people at its peak in the 1200s. You can tour six villages created between 1200 and 1300 CE. There are big stone towers masterfully built, overlooking canyons and perched atop giant boulders.
The park is headquartered in Utah, where the visitor center and year round campground is, which is non-reservable. It sits beside a stellar hike along the Rim Rock Trail, which traces the canyon's edge, passing by numerous towers and ruins. It takes about 1.5 hours to complete and is a definite bucket-list item and perfect compliment to the high desert camping. Go for a cool evening hike and catch the sunset.
Chimney Rock National Monument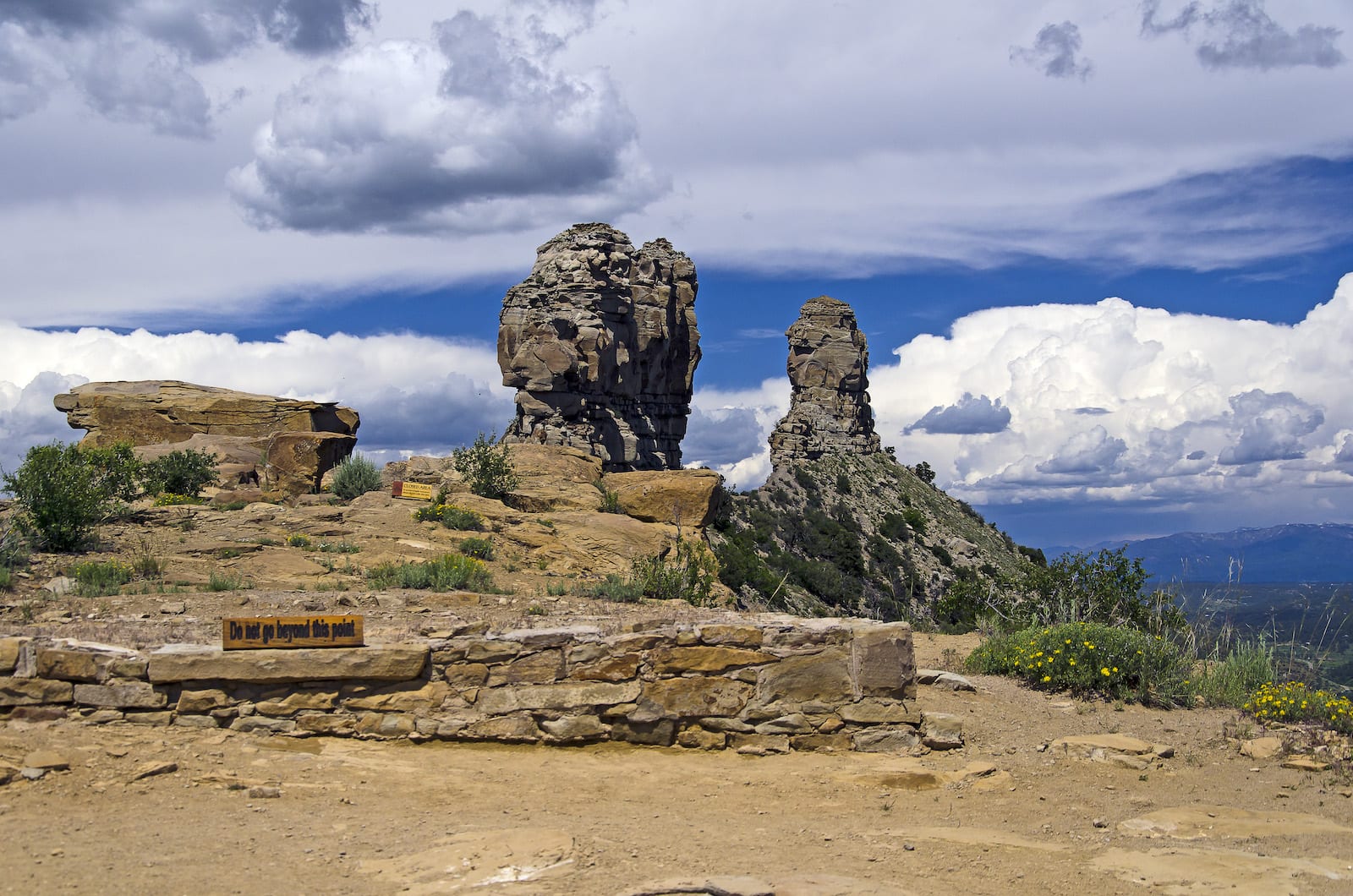 Located nine miles southeast of Piedra, CO, and twenty miles southwest of Pagosa Springs, this sacred national monument is another that houses some incredible Native American ruins, and one of America's best archeo-astronomy sites. Spanning 7 square miles, Chimney Rock National Monument preserves 200 ruins from the Ancestral Puebloans of Chaco Canyon. It's open from May 15th to September 15th.
Most of the ruins are from around 1000 CE. The ancient natives of Chimney Rock vanished in 1125 CE for unknown reasons. Some of the ancient ruins have been excavated, including a Great Kiva, Multi-Family Dwelling, Pit House, and Chacoan-style Great House Pueblo. The monument sits at 7,000 feet of elevation, higher than other Chacoan sites. You can access the top via a half mile hike and be rewarded with stellar 360º views of both Colorado and New Mexico
There are a variety of tours offered by knowledgable, local guides, as well as self guided options. Dogs aren't welcome on tours, but shaded kennels are available on first-come, first-serve basis. Something very unique here are their Full Moon Program, which treks out to the Great Kiva to witness the moon rise high above the San Juan Mountains. A Native American flute player adds melody to this lantern-lit tour.
Yucca House National Monument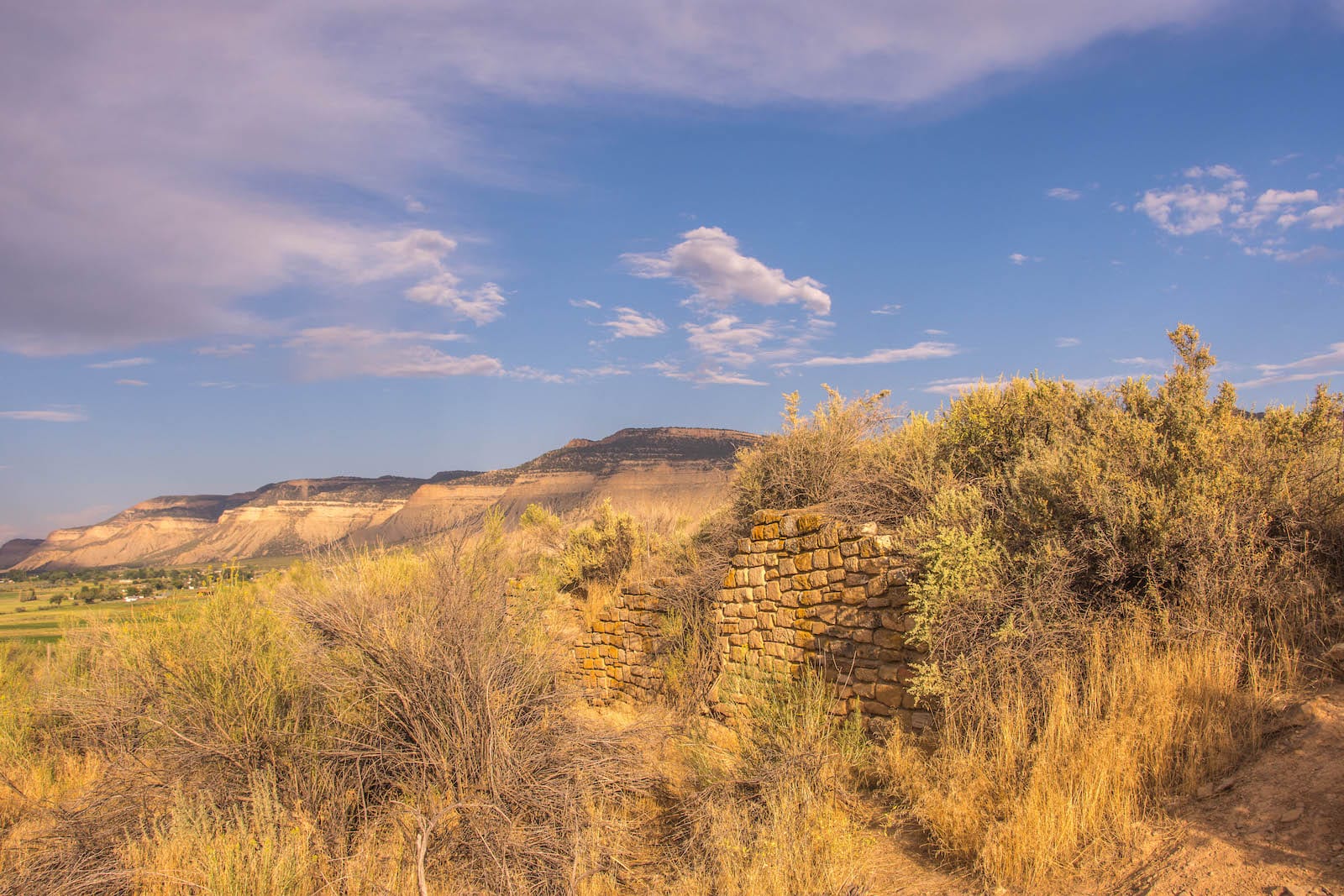 The least visited national monument in Colorado is Yucca House. It preserves a vast community center of the Ancient Pueblo peoples. The reason for its limited popularity is that its unexcavated, so the ancient ruins lie hidden beneath the earth's dirt and rocks.  You can only see a limited amount of stone ruins.
Underneath the surface, it's supposed to house among the largest archeological sites of the Ancestral Puebloan in Colorado. It's dated from 1150 to 1300 CE. Although the buried nature of the site leaves little to visualize, you'll be able to use your imagine and gain a sense of discovery.  You can pick up a Visitor Guide (PDF) to help with your exploration.
The Yucca House National Monument has been basically untouched for 800 years. It was made a national monument in 1919. The special left-along preservation will ensure that scientists have a chance to study it for years and years to come. The nearby Sleeping Ute Mountain was known to the local native tribes as ""mountain with lots of yucca growing on it", thus Yucca House was given its name (although there is no yucca growing there now).
Other Native American Relics in Colorado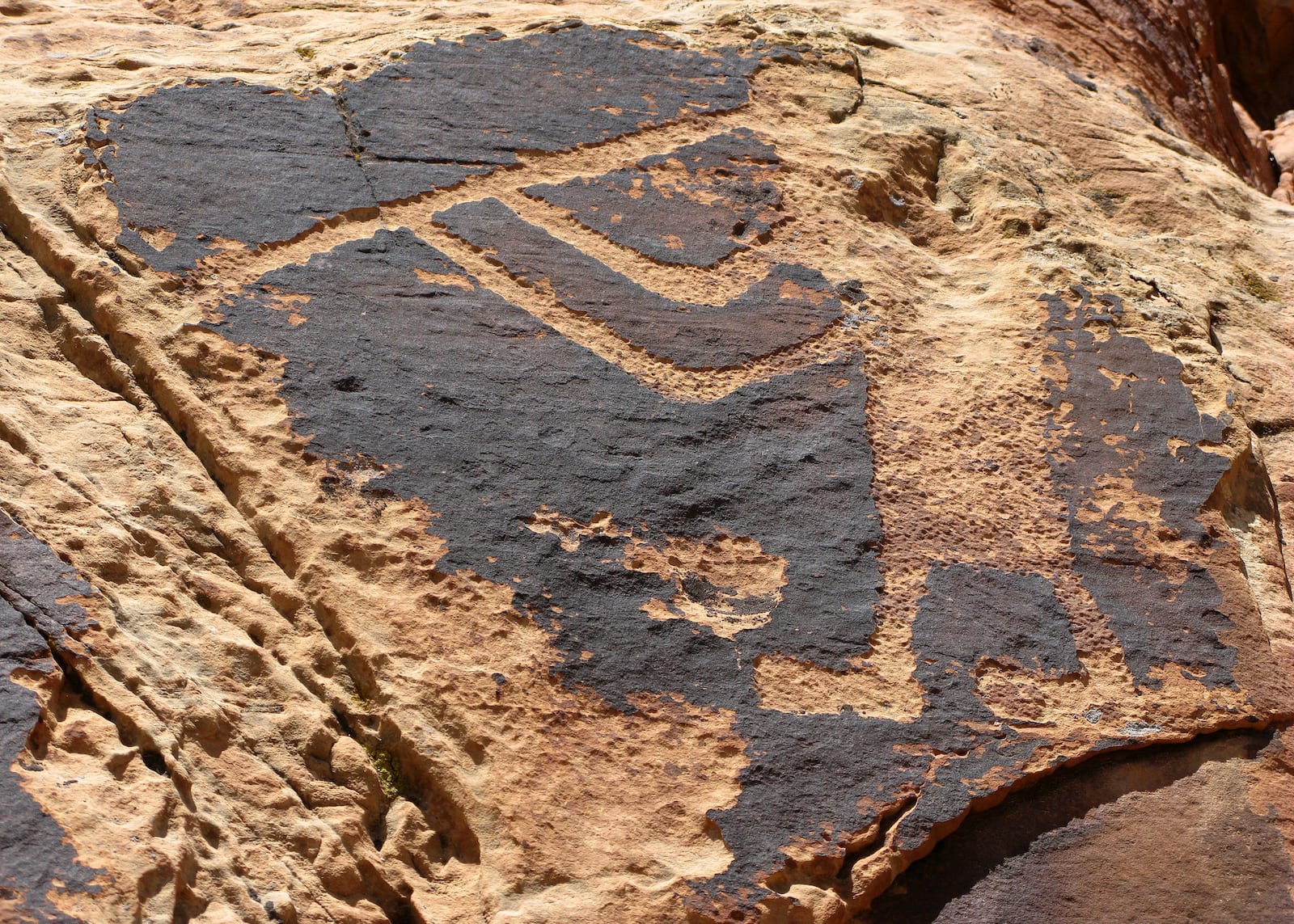 The Ancient Puebloans of Southwest Colorado weren't the only Natives to inhabit the land that now makes up the Centennial State. There have been Native Americans living in all regions of the state long before the first Europeans showed up, and even well before recorded history – prehistory.
Most evidence of prehistoric Paleoindians have been found in the form of kill sites, but some tool caches have been found too. Three Clovis tool caches were found here, as well as the Dent Site by the South Platte River in Greeley, which is the only Clovis kill site of the great mammoth found in Colorado. Around 11,000 years ago the Folsom culture began to show up. Larimer County's Lindenmeier Site is one of the best examples of Folsom culture on the continent.
Native Americans drew pictographs (rock paintings) and petroglyphs (rock carvings) on the rocks, mountainsides, caves walls and even buffalo hides. You can view these authentic petroglyphs at a myriad of locations. Some of the most famous displays of rock art are in Northwest Colorado at Dinosaur National Monument. They were used to illustrate famous battles, significant messages and other warnings and life lessons to be passed down to the next generation.
So next time you're strolling through the great state of Colorado, you really never know who walked there long before you. Maybe if you keep your eyes peeled you'll find an arrowhead or come across a pictograph.