Colorado ski resorts consistently rank as some of the best in the country and it's easy to see why with our dry climate, high altitude, and 300 days of sunshine. From almost anywhere in Colorado's Rocky Mountains, you aren't far from at least a few ski resorts and world-class terrain, even in south-central Colorado in the small town of Buena Vista.
This is a list of ski resorts near Buena Vista all under an hour's drive, making the perfect day trip for exploring more of Colorado and its epic ski terrain. One of the best parts about Chaffee County, and BV in particular, are the hot springs nearby, awaiting your triumphant return for an apres ski soak.
Here are the ski areas near Buena Vista, CO, in order of proximity:
Monarch Mountain – 40 miles / 45 min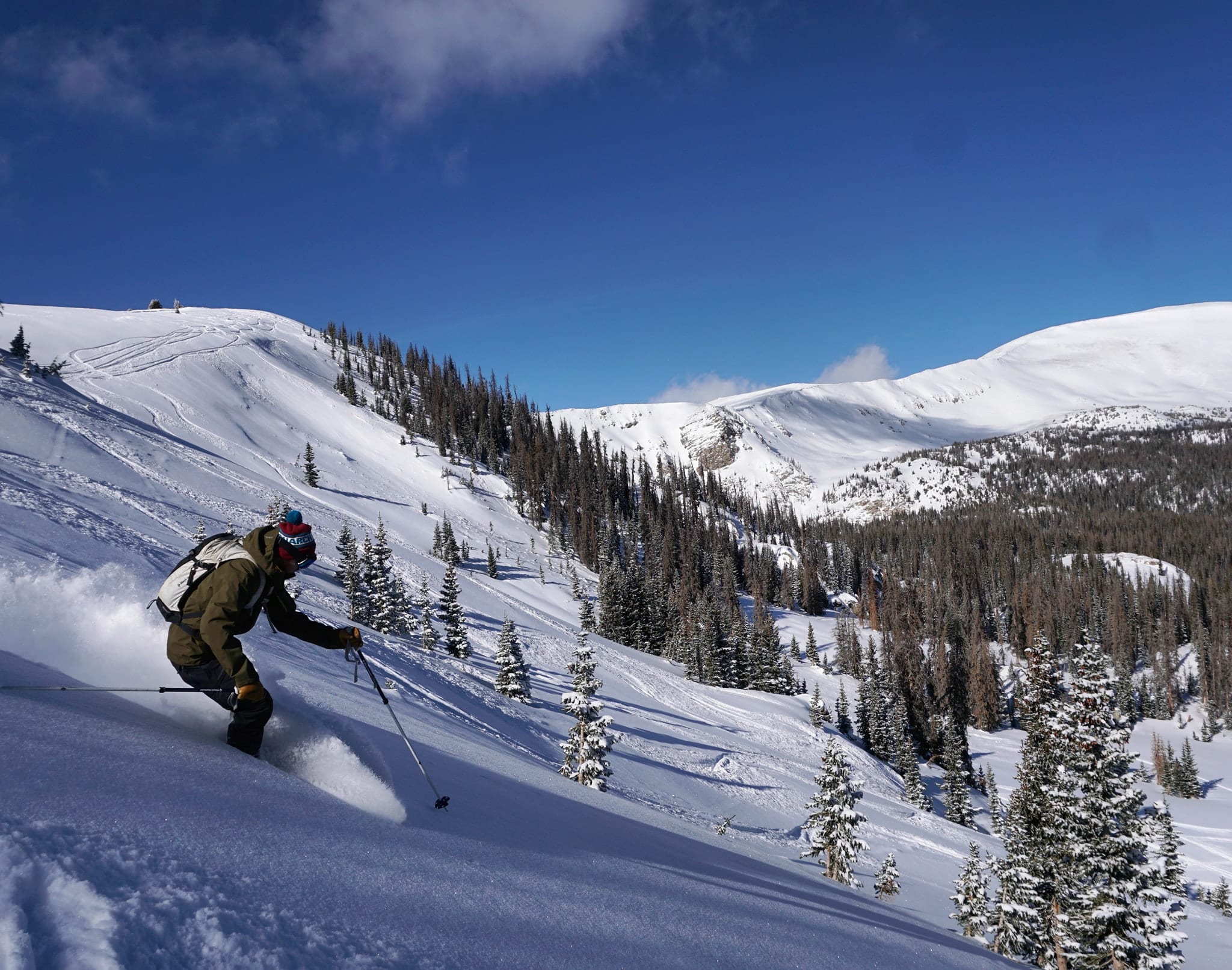 Located just outside of the town of Salida is the small but mighty Monarch Mountain ski area. In operation since 1939, the mountain originally ran as a ski area with the infamous Gunbarrel run. With a 500-foot rope, people were towed up the mountain, all powered by a gearbox from an old oil derrick and a Chevy engine that was located in what is now the parking lot.
Since those days, Monarch Mountain has grown up since then and now is a popular ski area with multiple chair lifts, groomed runs, and a low-key vibe for those who are looking to get away from the crowds of the larger ski resorts.
Monarch boasts an affordable and easily accessible mountain experience where you can park your car, for free, at the base of the mountain, and walk right to the lifts. And because of its location near the top of Monarch Pass, the ski area sees a heaping pile of snow every year and does not need to make its own snow.
Perhaps what Monarch Mountain is best known for are its back bowls and expert terrain. With 1,635 acres of guided backcountry, Monarch Cat skiing features steep chutes, wide open bowls, and nearly untouched tree skiing for one of the best experiences around.
Monarch Mountain offers 800 acres of skiable area, two terrain parks, bowl skiing, 66 trails, seven chair lifts, and runs for beginners up to experts. The ski area sits at a base elevation of 10,790 feet (3,289 meters) and its summit elevation reaches 11,952 feet (3,643 meters). The annual average snowfall is 350 inches.
Ski Cooper – 45 miles / 54 min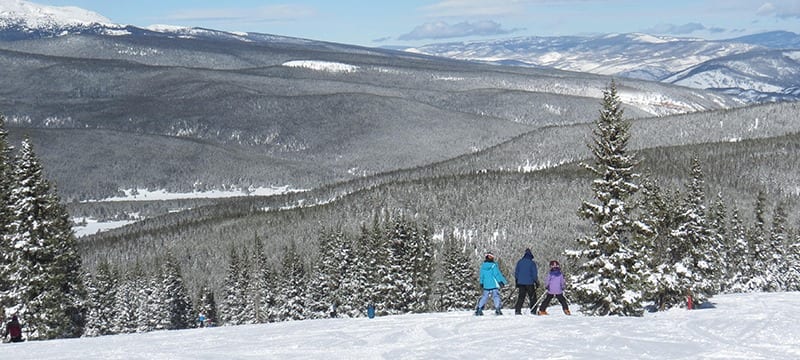 For your most authentic ski experience in Colorado, head to Ski Cooper in BV's US-24 northern neighbor of Leadville. Known for its family-friendly atmosphere, affordable prices, good food, and good times, its claim to fame is the snow.
With ample snowfall every year and an elevation well above 10,000 feet, the snow stays soft, dry, and light. Plus, combined with their unique grooming techniques, Ski Cooper is unlike any ski experience you've tried.
For those who want to test their skills, join the snowcat skiing tours on Chicago Ridge for long, mammoth runs across 2,600 acres of wide-open bowls. Or check out the Tennessee Creek Basin with a nice collection of steep double blacks, with bailout options if needed.
Ski Cooper offers 480 acres of skiable area, one terrain park, over 60 trails, five chair lifts, and runs for all skill levels. The ski area sits at a base elevation of 10,500 feet (3,200 meters) and its summit elevation reaches 11,700 feet (3,566 meters), with a vertical drop of 1,200 feet. The annual average snowfall is 260 inches.
Copper Mountain – 59 miles / 1 h and 11 min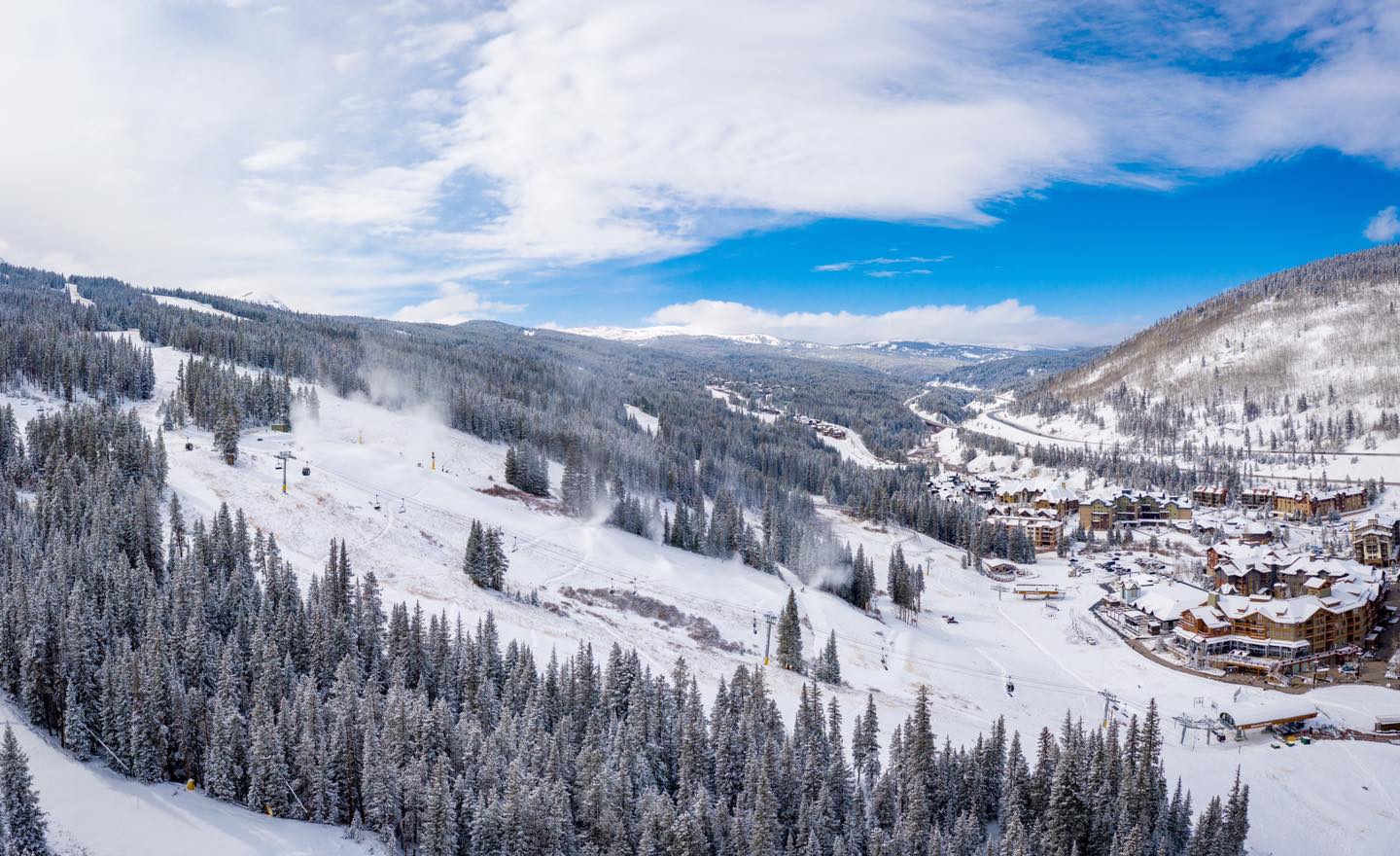 Explore the beauty of the White River National Forest and world-class skiing and snowboarding terrain at Copper Mountain. Known not only for its ample challenging bowls but also for its sizable collection of beginner and intermediate runs, making this a ski resort for all skill levels.
Off the mountain, Copper ski resort is home to several pedestrian-only villages filled with restaurants, shops, lodging, and activities for the entire family.
A unique attraction of Copper Mountain is the Woodward Copper Barn, a nearly 20,000-square-foot indoor and outdoor sports training facility. The Barn offers year-round skiing and snowboarding on real snow outside, in addition to an indoor training facility featuring skateparks, ski jumps, Olympic-grade trampolines, and more. A wide variety of programs are offered, including skiing lessons for those who are true beginners, all the way up to training professional Olympians.
Copper Mountain offers 2,527 acres of skiable area, 10 terrain parks, 24 chair lifts, and 140 marked trails, with slightly over half as advanced or expert trails. The ski area sits at a base elevation of 9,712 feet (2,960 meters) and its summit elevation reaches 12,441 feet (3,792 meters), with a vertical drop of 2,738 feet (835 meters). The annual average snowfall is 305 inches.
Breckenridge Ski Resort – 60 miles / 1 h and 14 min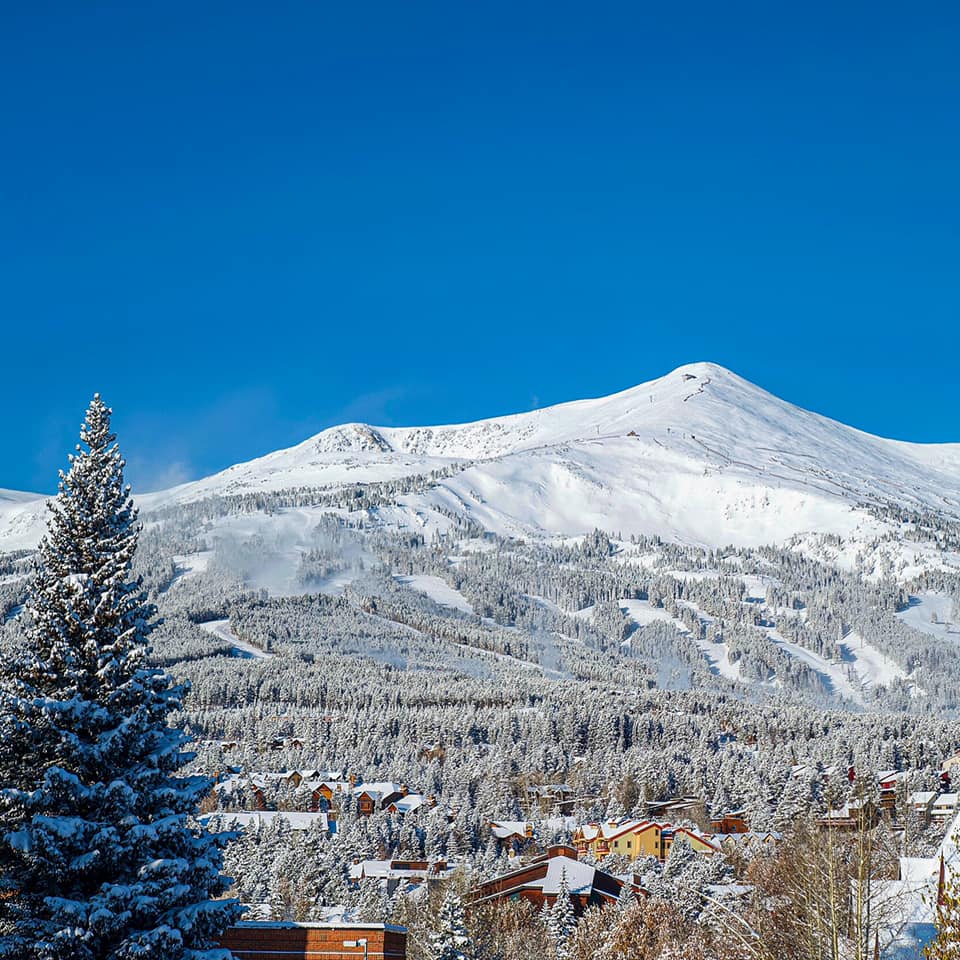 At just over an hour's drive from Buena Vista brings you to one of the most iconic ski resorts in the state. Breckenridge Ski Resort is known for many things including, the first major Colorado resort to allow snowboarders, the highest lift-served skiable terrain in the country, and its vibe known as The Breck Effect.
It's what they claim is a "catch-me-if-you, go-big-or-go-huge kind of vibe. It's a send-it-til-your-thighs-cry, last-down-gets-first-round kind of vibe." Now, who wouldn't want to ski here?
Part of Breck's allure is its small-town charm. It isn't just about the mountain experience, it's also about the off-mountain experience in Breckenridge. After a day on the slopes take a stroll along the streets of the historic downtown and discover art galleries, restaurants, shops, and so much more.
Breckenridge Ski Resort offers 2,908 acres of skiable area, four terrain parks, 5 peaks, 34 chair lifts, and runs for all skill levels. The ski area sits at a base elevation of 9,600 feet (2,926 meters) and its summit elevation reaches 12,998 feet (3,961 meters), with a vertical drop of 3,398 feet. The annual average snowfall is 353 inches.
If you've made it this far to Breckenridge, the ski resorts of Arapahoe Basin and Keystone are just a hop skip, and a jump away. Skiing in Summit County offers a variety of experiences, for both the novice and expert skier. From the low-key, high-country terrain at Arapahoe Basin to the family-friendly, ski resort experience at Keystone, there is something for everyone!