You would need a lifetime to see all the Centennial State has to offer since the region is filled with stunning scenery at every turn. The best RV parks in Colorado are ideal for getting up close and personal with the local wildlife and reconnecting with nature.
Campers looking for scenic mountain views or tranquil riverside settings will have little trouble finding them on their journey. RV parks are convenient staging areas for day trips and overnights in the wilderness. These all come equipped with a range of hookups to ensure you have what you need for your travel trailer or RV. Tent campsites are usually available as well.
Here are the top RV campgrounds in Colorado, listed in no particular order:
Riverbend Resort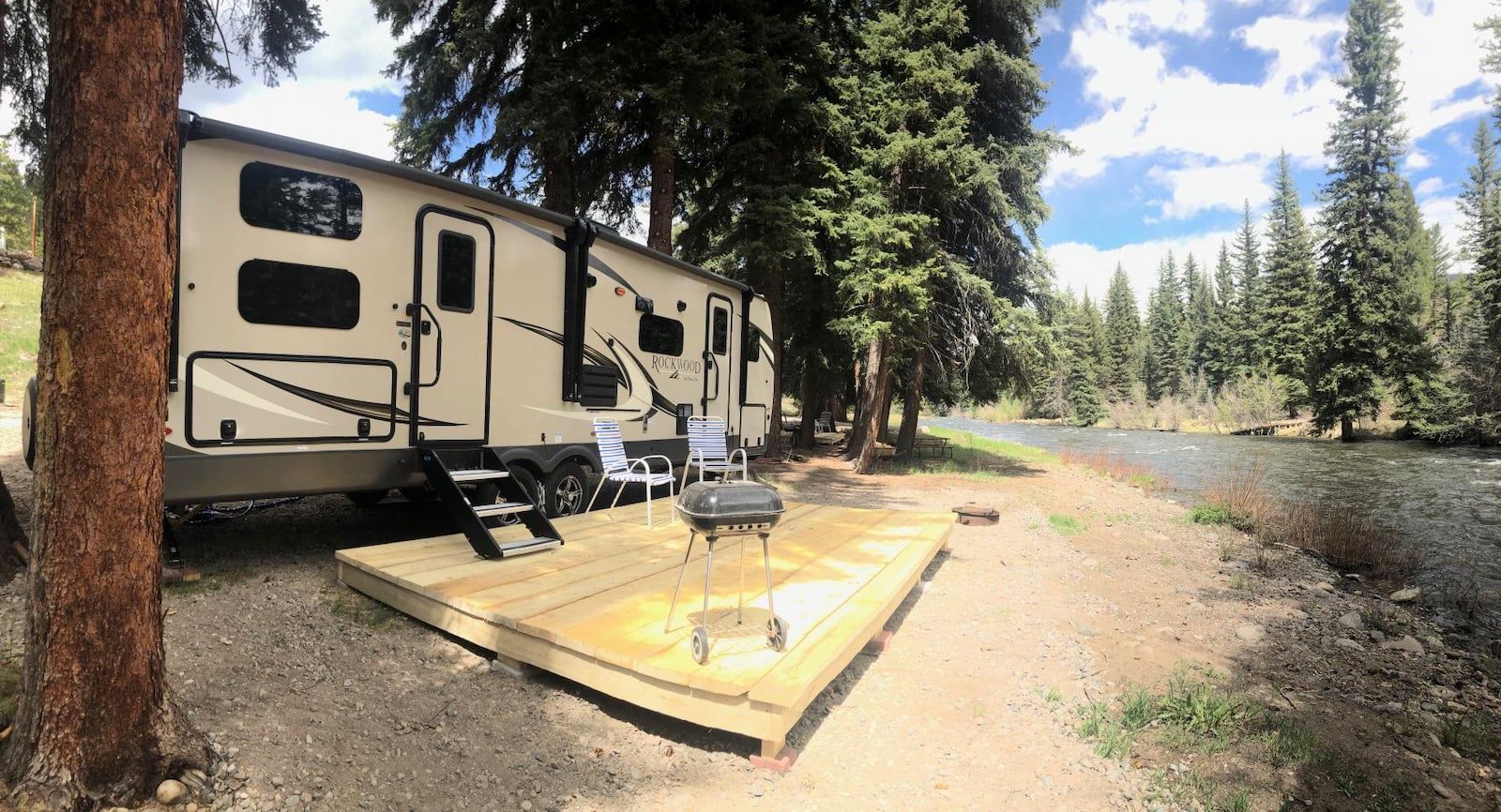 In southern Colorado's San Luis Valley, there are many fun things to do and see. Riverbend Resort, on US 160, about 3 miles southwest of South Fork, is the perfect place to stay while you check out all of them.
Spend your next trip to Colorado at a resort on the South Fork of the Rio Grande River and soak in the scenic surroundings and peaceful atmosphere. Lodgers may choose between riverfront cabins, RV sites, and tent areas on the property, all of which are located close to South Fork and the Wolf Creek Ski Resort.
This establishment is open year-round, so guests may enjoy its many features whenever they choose to visit. Explore the local culture while enjoying activities like fly fishing in the summer, hunting in the autumn, skiing in the winter, and hiking in the spring.
There are tent and RV sites on the riverbank, as well as seasonal sites with full hookups. They allow pets and have a central hot tub, free Wi-Fi, cable TV, a playground, a game room, a gift shop, a laundromat, showers, and a recreation hall.
33846 US-160, South Fork, CO 81154 | 719-873-5344 | riverbend-resort.com
The Views RV Park & Campground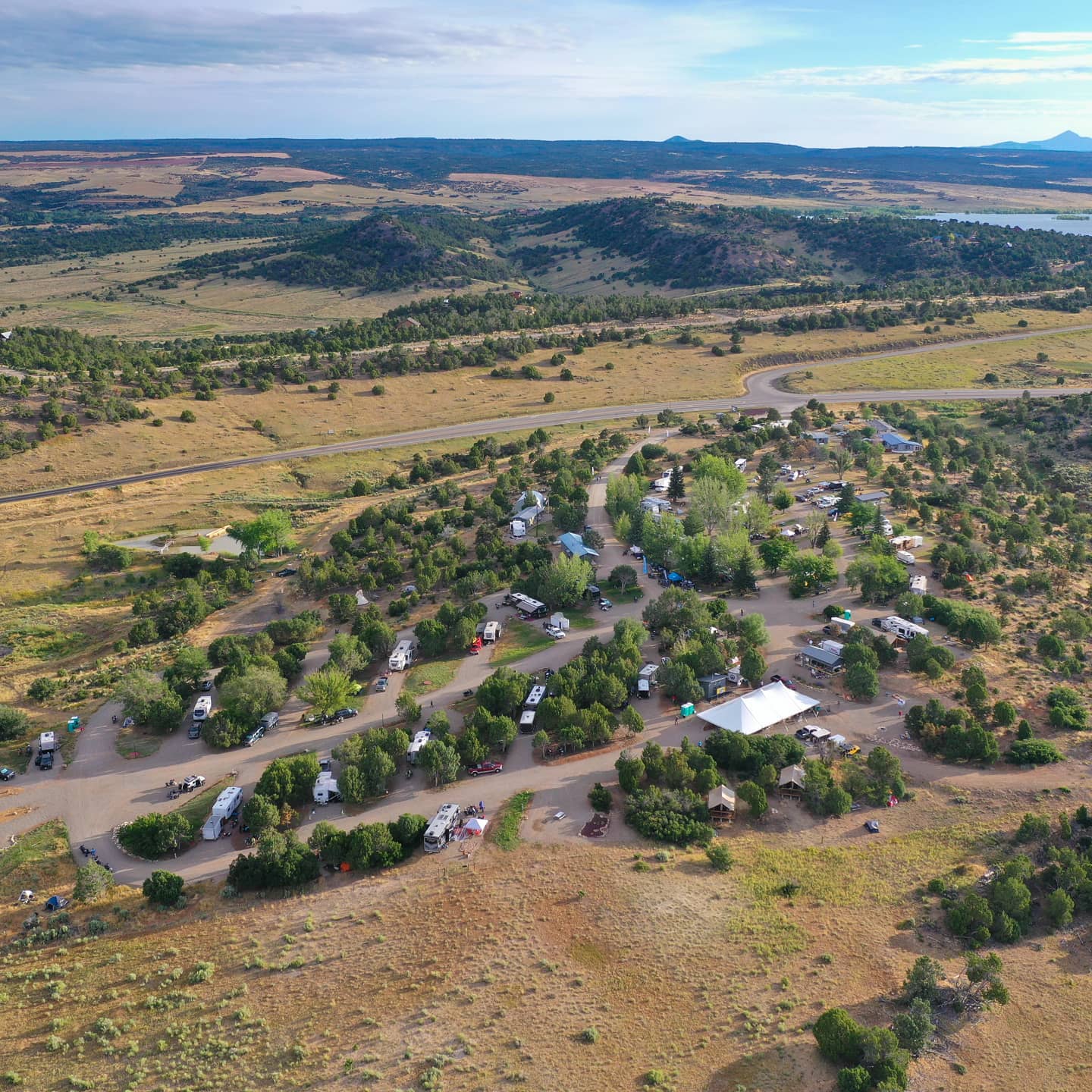 Outside the town of Dolores in Southwest Colorado, visitors may take in breathtaking views of four different states and enjoy a variety of outdoor activities. The property has a 50-site RV park and campground with full hookups and various amenities that keep their customers coming back.
This seasonal camping area is open from mid-April to the end of October, so plan trips accordingly. Aside from tent and RV sites, guests also have the option of renting two fully-furnished glamping tents or one partially-furnished glamping tent.
The renovated bathhouse with its showers, laundry rooms, free Wi-Fi, and pavilions with barbecue grills are among the most sought-after features. In addition, this campground is located close to the Dolores River and McPhee Reservoir's entrance; the outdoors are right at your fingertips.
The Four Corners Monument is also close, as are several museums, historical sites, hiking trails, biking lanes, and a selection of excellent local breweries and wineries, all of which make for a great happy hour. The Conquistador Golf Course isn't too far away and offers a beautiful space to tee off with incredible mountain views.
24990 CO-184, Dolores, CO 81323 | 970-749-6489 | theviewsrvpark.com
Glenwood Canyon Resort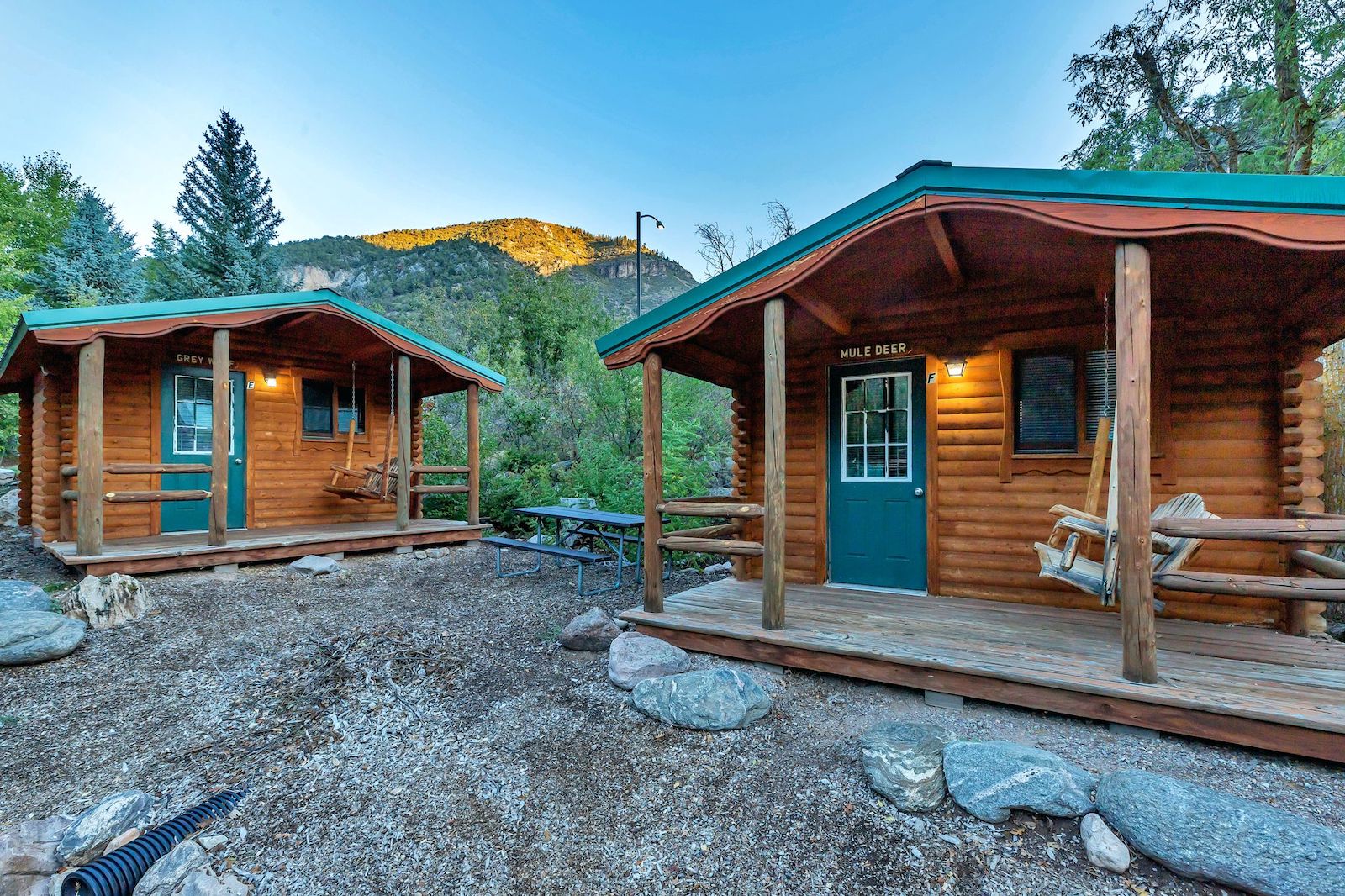 Glenwood Canyon Resort is only a short drive from Glenwood Springs, along Interstate 70 in the middle of the Colorado Rocky Mountains between Aspen and Vail. Their cabins are open all year and are great for family vacations, romantic getaways, reunions, RV and travel groups, and conferences.
Accommodations range from riverfront tent sites to riverside penthouse suites, camper cabins, resort cabins, glamping tents, efficiency cottages, and full hookup Big-Rig RV sites.
In the winter, guests may go skiing and snowboarding at Sunlight Mountain Resort. While the rest of the year, they can enjoy rafting on the property's own river access, inflatable kayaks, fly-fishing, a Bar & Grill, bike trails, conference facilities, and more. After a day of hiking, biking, or doing something else outside, go to the local hot springs pool to relax.
A newer addition to the campground is the Sprinter Village, which comprises a few campsites for truck campers, roof-top campers, sprinter vans, and Class C 25′ or less vehicles.
1308 Co Rd 129, Glenwood Springs, CO 81601 | 800-958-6737 | glenwoodcanyonresort.com
Elk Creek Campground & RV Park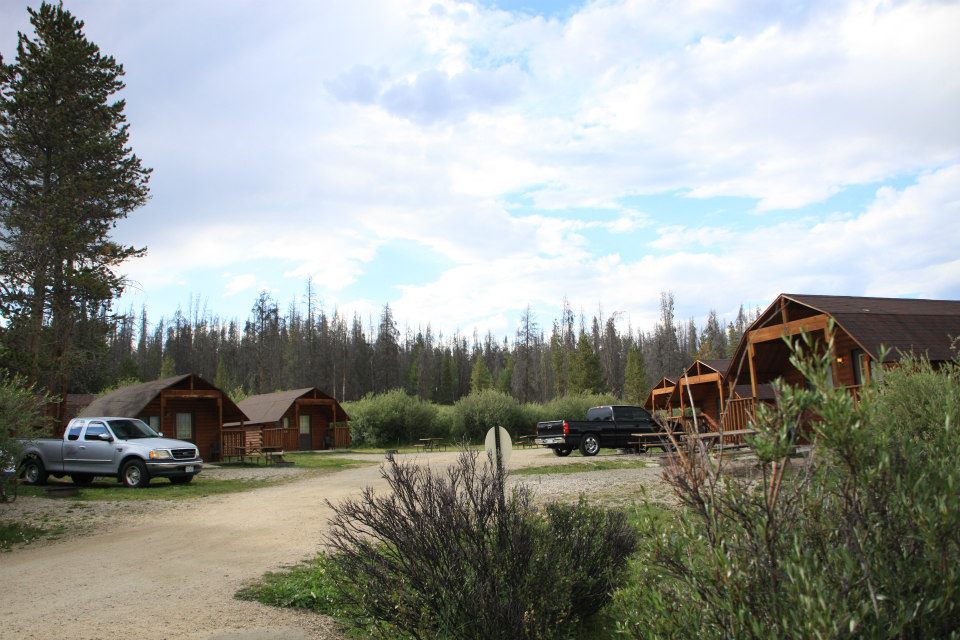 Elk Creek Campground in New Castle is a seasonal campground and an excellent choice if you're seeking a cool, shaded area beside the river. Only 15 minutes from Historic Glenwood Springs, the region immediately around the property is rich in sightseeing opportunities.
The property has cottages and RV sites available in a variety of sizes. Visitors can get a good start on the day thanks to the clean, well-maintained bathrooms and the hot showers. Elk Creek Campground is near Flattops Wilderness Area, which makes it a great place to stay if you want to walk around and explore nature. There are also plenty of trails in the region to explore on your ATV, jeep, or mountain bike.
Elk Creek Campground is the place to go if you want a peaceful camping experience beyond the typical bare-bones sites prevalent in many areas in the camping business.
581 County Rd. 241 New Castle, Colorado 81647 | 970-984-2240 | elkcreekcamping.com
Monument RV Resort
In Fruita, the nearest full-service RV Park to Colorado National Monument is Monument RV Park, just across the street from James R. Robb State Park, which includes a swim beach, fishing lake, and access to the Colorado River. The establishment is open year-round and has tent sites, lovely cottages, and RV campsites.
The best features include free Internet access, the hot tub, the splash pad, the playground, and the fitness center. This campsite welcomes pets and provides a secure area for them to play. Laundry machines, showers, and a self-service RV wash make it simple to keep up with self-care while on the road.
There are miles of trails for hiking, ATVing, world-class mountain biking, beautiful driving, and rock climbing in the Monument and McInnis Canyons, only a mile from our park. The park is the starting point for a network of paved cycling paths that extends eastward along the Colorado River for 30 kilometers. The 27 holes of Adobe Creek National Golf Course are spread among three nine-hole courses.
607 CO-340, Fruita, CO 81521 | 970-858-4405 | monumentrvresort.com
Tiger Run Resort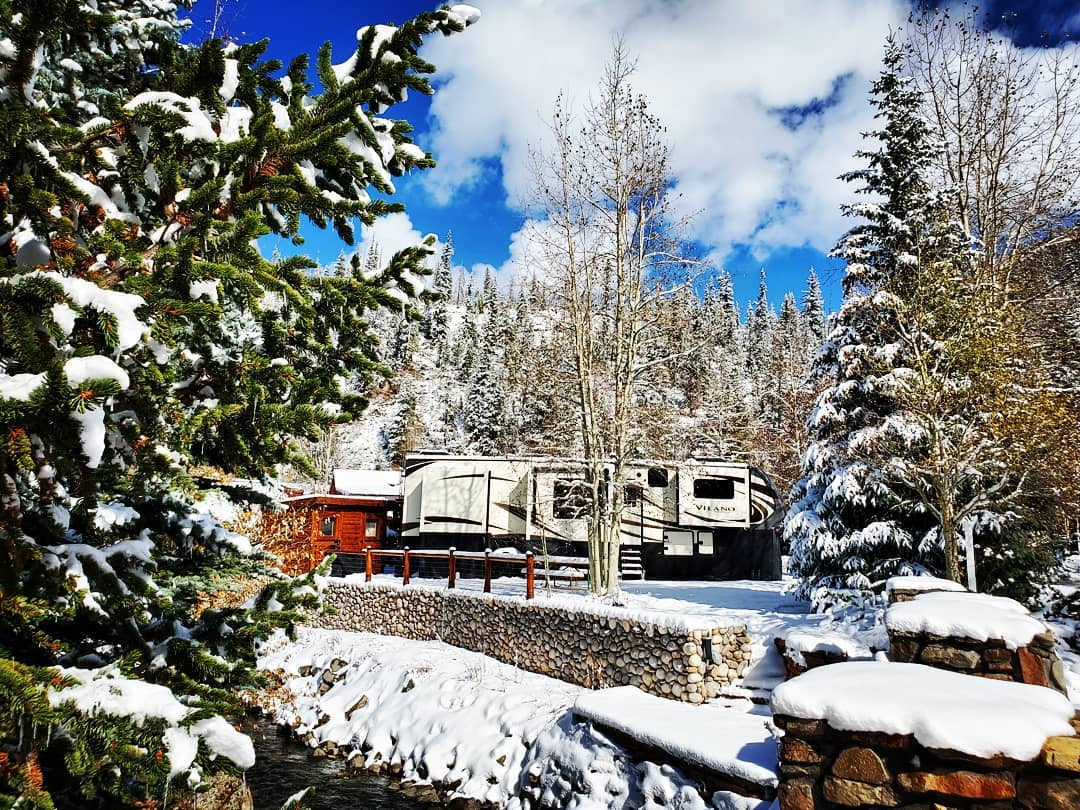 Tiger Run Resort is between Frisco and Breckenridge, making it easy to get to both towns and Interstate 70. This luxury RV resort is the ideal vacation base for those who wish to go jeeping and hike in the summer, foliage viewing and mountain biking in the autumn, skiing or snowshoeing in the winter, or fly-fishing in the spring.
RV spots and cabins of varying sizes are available here. Chalets provide a variety of home-like conveniences, while all RV sites include a flat pad, hookups, and a stunning view. There are seasonal and holiday-specific pricing adjustments for monthly reservations. The 12,000-square-foot clubhouse has a fitness center, tennis courts, a playground, a fire pit, and a pit for roasting marshmallows.
A short drive will take you to some of the best spots for skiing, snowboarding, snowshoeing, ice skating, cross-country, and more in the winter. In the summer, people go to the mountains for various reasons, including exercise and the chance to unwind in the fresh air.
85 Revette Dr, Breckenridge, CO 80424 | 970-453-9690 | tigerrunresort.com
Mountaindale Cabins & RV Resort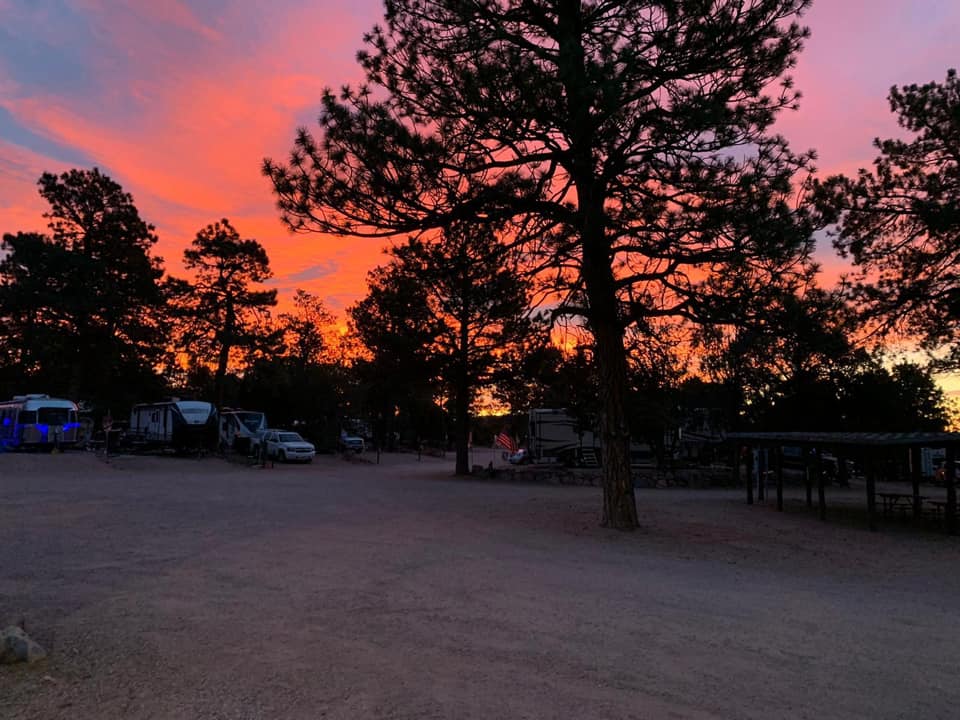 Mountaindale Cabin & RV Resort is a year-round destination for campers in Colorado Springs, whether they have a motorhome, pop-up trailer or are just searching for a cabin to rent. The park has a secluded atmosphere and spotty mobile phone reception, but it makes up for it with lightning-fast Wi-Fi and large campsites.
The property's 45 acres include a washroom, a bathhouse with all the essentials, a playground, a volleyball court, picnic shelters with barbecues, and an open space perfect for relaxing or playing sports. The recreation center is the place to go if you're looking for a place to play bingo or square dancing, as well as other games and activities.
Party halls are available for such occasions as wedding receptions, family reunions, and gatherings of various kinds.
Cabin and RV campsites are available nightly, weekly, and monthly. The cabins are fully equipped and are often booked up during busy times and holidays, so if you want to go to this resort, you should find out as soon as possible.
2000 Barrett Rd, Colorado Springs, CO 80926 | 719-576-0619 | mountaindalecampground.com
Palisade Basecamp RV Resort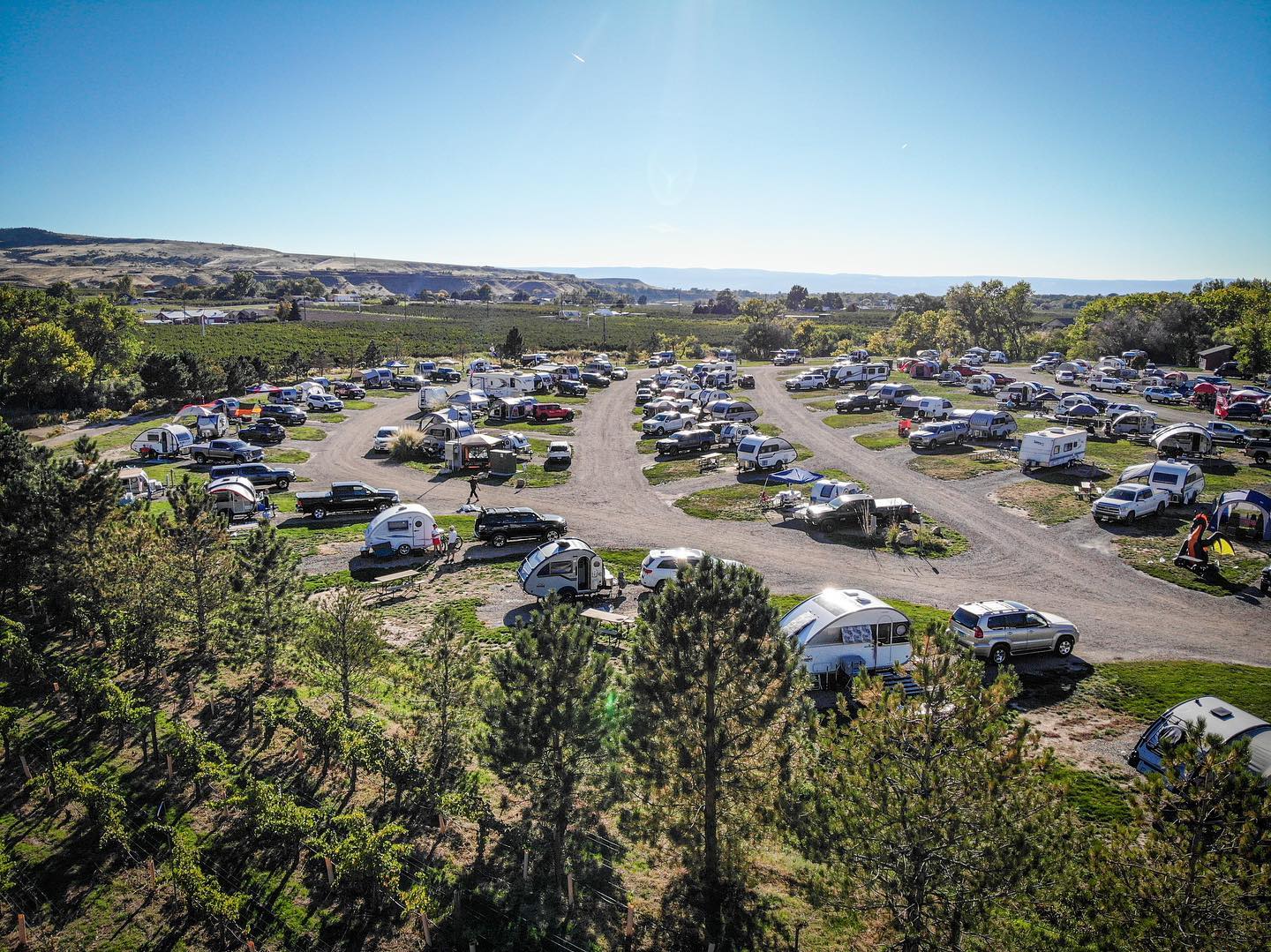 Palisade Basecamp RV Resort is a top camping resort in Palisade, featuring cottages, full hookup RV sites, and riverfront tent camping. The 14-acre RV park and campsite are about a mile from the heart of the city, off Interstate 70 and State Route 6.
The property has a seasonally heated pool, a renovated bathhouse, laundry facilities, a sewage dump, a propane station, and a community center, among other conveniences. Guests with pets are encouraged to bring them along, and there is even a dog park for their comfort.
Guests may walk to the Colorado River, the Riverfront Trail, and the Boulder Natural Playground from the resort. The orchards, wines, and many annual festivals of western Colorado are conveniently located near the resort.
The general shop has one of the most significant collections of Colorado-made beer, wine, gifts, camping essentials, snacks, Palisade-branded products, and more. You don't have to be a camp guest to shop there; their doors are always open to everyone in the area.
985 N River Rd, Palisade, CO 81526 | 970-462-9712 | palisadebasecamp.com
Alpen Rose RV Park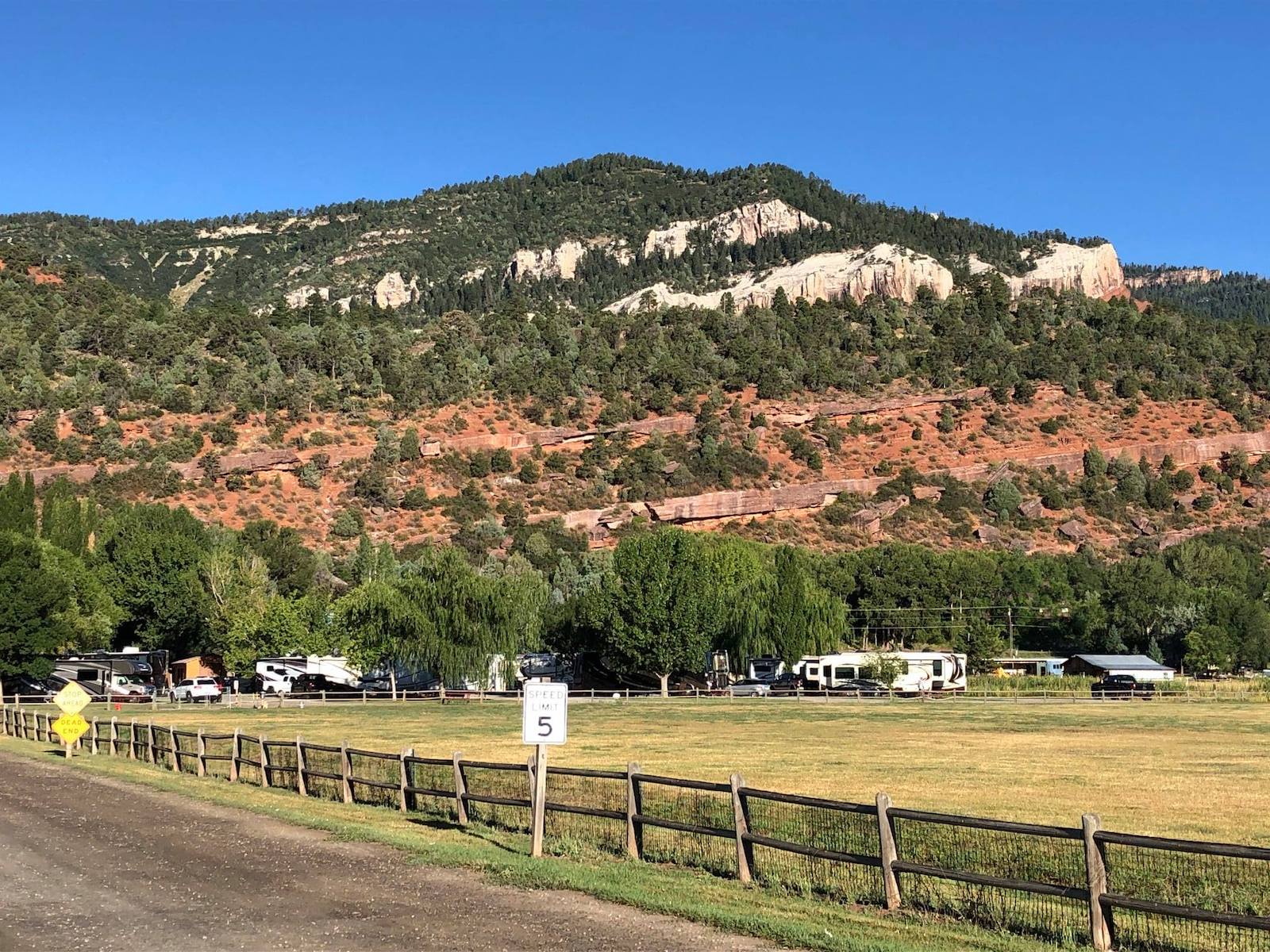 When staying at Alpen Rose RV Park in Durango, guests may take in the serenity of the Animas River Valley and breathtaking views of the surrounding mountains while yet being a short distance from the city's numerous points of interest. This campsite is open all year and is a great place to stay while exploring the beautiful Southwest Colorado landscape with its tall red rock cliffs.
The campsites are all on large grassy plots that allow visitors to unwind and reconnect with nature. On-site activities include horseshoes, outdoor games, a swimming pool (open seasonally), and places to have a picnic or read a book in the shade of a tree.
Laundry facilities, Wi-Fi, and a dumping station are some of the modern conveniences that afford guests more time to enjoy themselves while on the go. In the area, you can go hiking, biking, horseback riding, rafting, and golfing, and there are many places to shop and eat in Durango.
Just a short drive north of Alpen Rose RV Park, Trimble Hot Springs has two naturally heated mineral pools and river rafting in Dolores, which is also not far away. Golf, tennis, fishing, and other sports are all within easy driving distance.
27847 US-550, Durango, CO 81301 | 970-247-5540 | alpenroservpark.com
Camp Eddy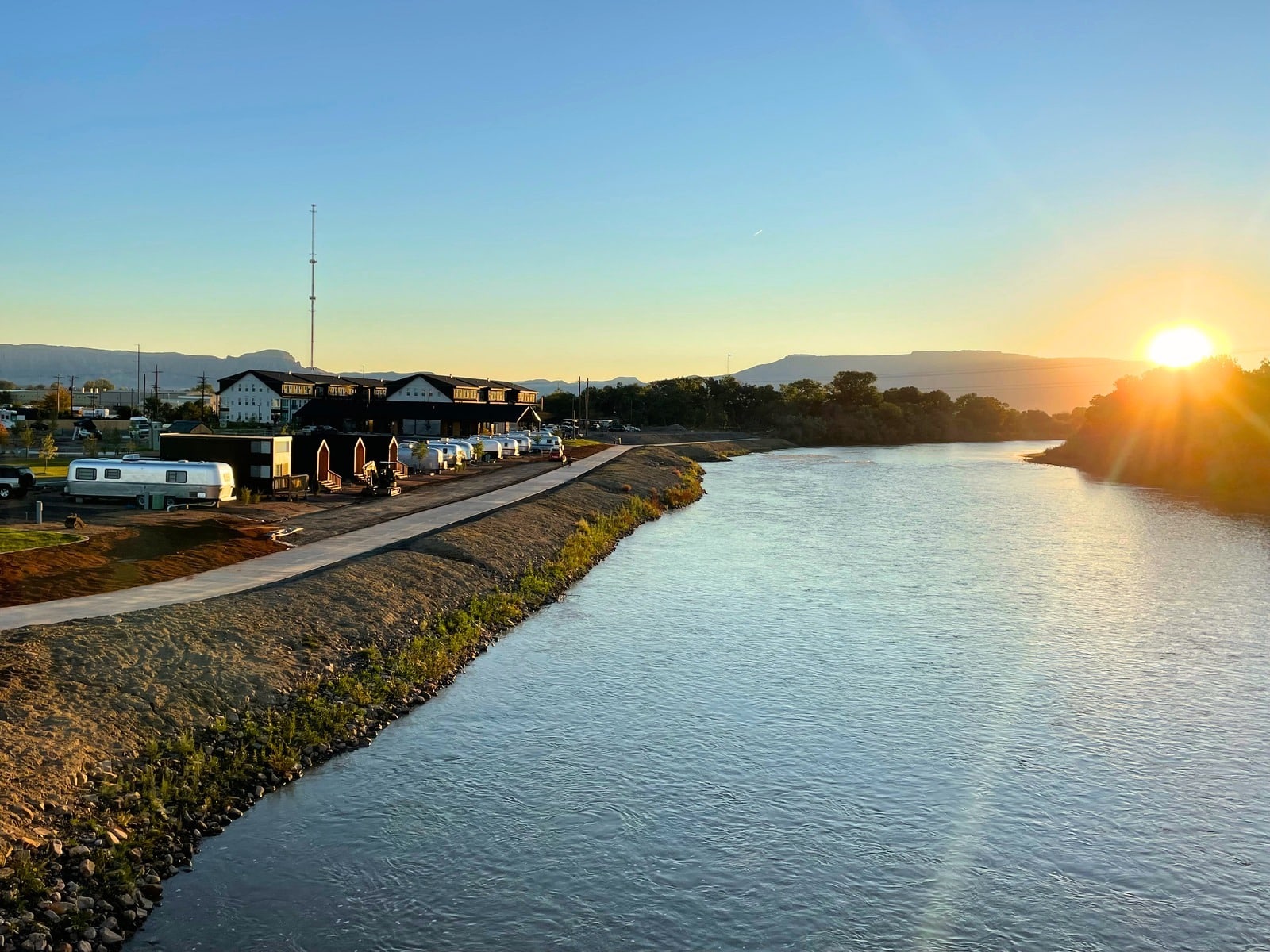 Camp Eddy in Grand Junction is in the beautiful Las Colonias Park. It has fantastic views of the desert mesa and is close to a wide range of fun outdoor activities.
Camp Eddy's riverside accommodations will surely be a highlight of any trip, whether you're in town to explore, unwind, or simply passing through. At this place, you can stay in furnished airstreams, tiny homes, or RV sites with full hookups all along the river.
Those staying at the resort can easily visit the Colorado National Monument, local wineries, go mountain biking, and do water sports on the river. These are all great ways to see more of the area.
One of the top features of the property is The Hub, a central riverside gathering spot available to all visitors staying in tiny homes, airstreams, and RV sites. Motivating decor, riverfront seating, games, a shower, a brand-new restroom, a laundry room, and more can all be found there.
Although pets are allowed in the RV park free of charge, a small fee will be assessed for those staying in tiny homes or Airstreams. They don't have monthly prices for RV sites or anything else, but if you stay for seven nights or more, you get 10% off the nightly charge.
347 27 1/2 Rd, Grand Junction, CO 81501 | 970-462-7153 | eddygj.com
Garden of the Gods RV Resort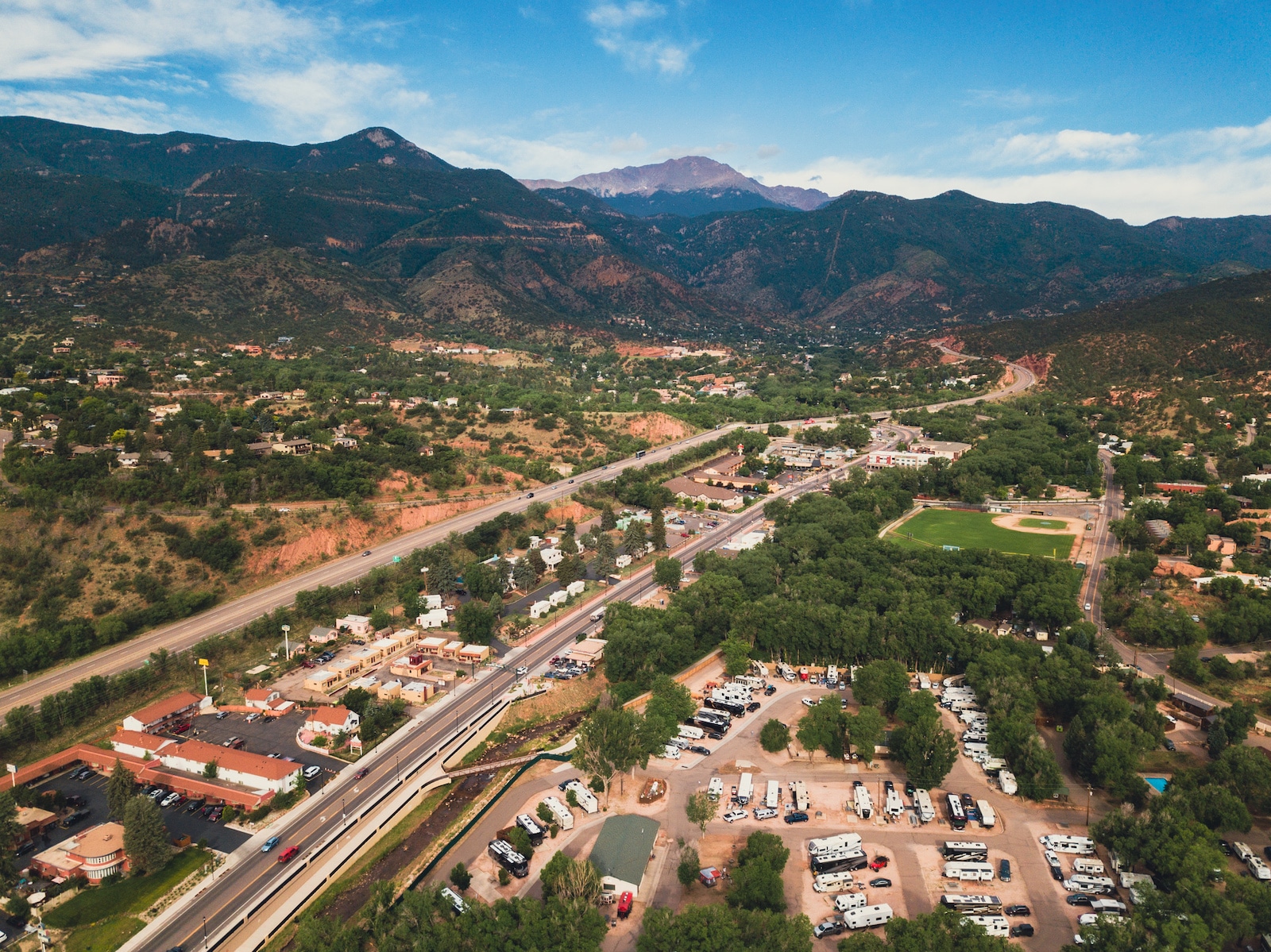 The Garden of the Gods RV Resort is a year-round destination for travelers seeking proximity to both the great outdoors and the city of Colorado Springs. The resort is located amid Colorado Springs's historic parts of town.
Five different types of RV sites are available at the resort, including regular, deluxe, premium, executive, and poolside back-ins. Travelers may set up camp in their own recreational vehicle (RV) or choose from various other sleeping arrangements, including tent sites, cabins, suites, and bunkhouses.
Campervans are available for rent on the site as well. This campsite is perfect for those who wish to "detach" from their daily lives while yet being close to the beautiful Garden of the Gods.
RV visitors have access to all of the resort's facilities and services, including the swimming pools, bathrooms, laundry facilities, TV lounge, arcade, and free Wi-Fi. There are many nearby places to do many activities, such as biking, hiking, rock climbing, and snow sports.
3704 W Colorado Ave, Colorado Springs, CO 80904 | 719-475-9450 | rvcoutdoors.com/garden-of-the-gods-rv-resort
Fort Collins / Lakeside KOA Holiday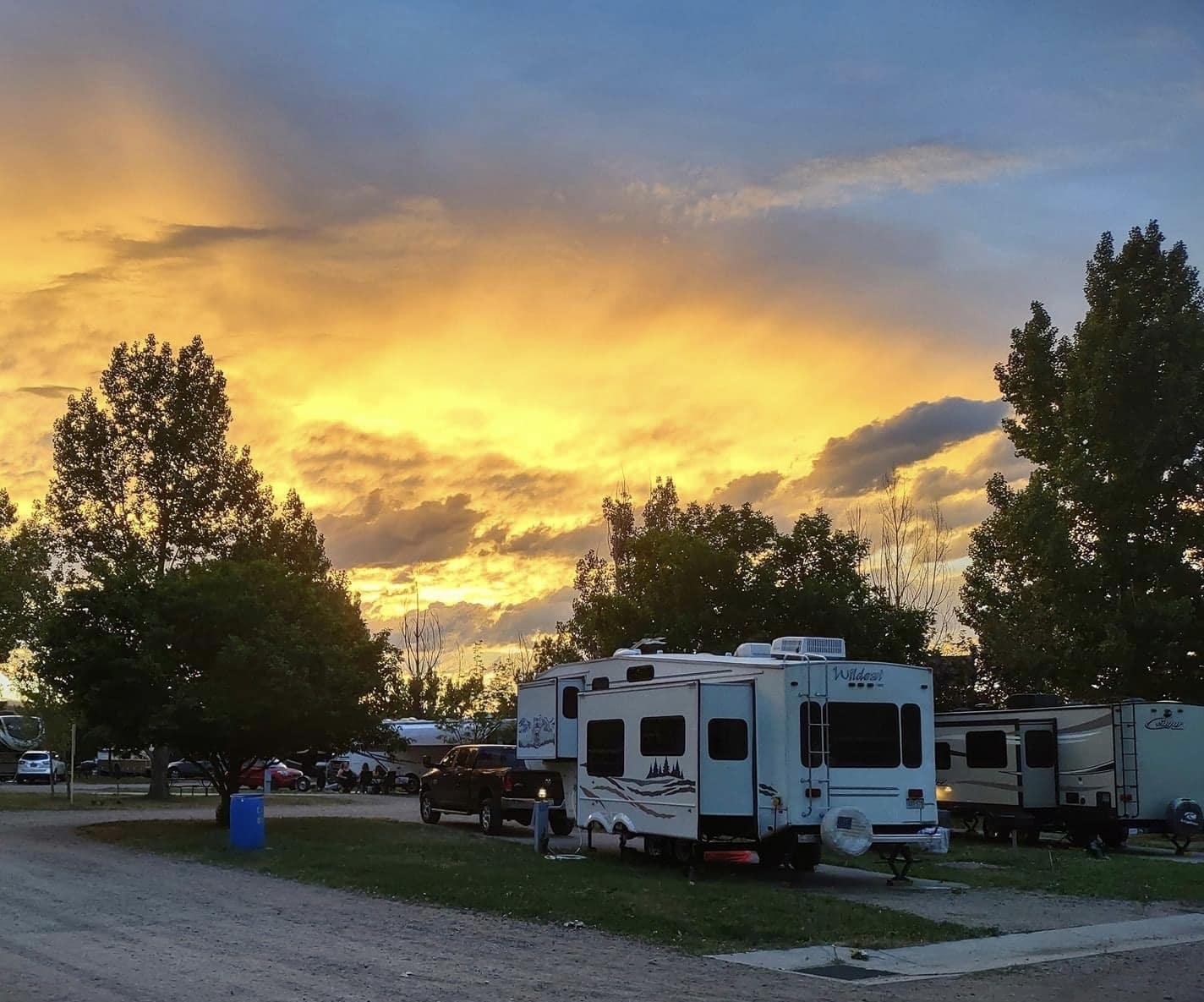 There is much to do at our Fort Collins / Lakeside KOA Holiday campsite all year long. Guests who want to stay the night can choose from tent sites, cabins, and luxury cabins, as well as full hookup RV sites that can fit vehicles up to 75 feet long and are compatible with big rigs.
Miniature golf, bumper boats, paddleboats, and a jumping pad are just some of the on-site activities. White water rafting and stargazing at the Stargazing Observatory ensure you won't be bored. Not only do they have a chuckwagon that serves breakfast and pizza, but they also have pickleball courts, basketball, and volleyball.
The park has a huge pavilion, a smaller gazebo, and two conference rooms for business or social gatherings.
The campsite in Fort Collins is convenient since it is just an hour from major towns, including Boulder, Denver, Cheyenne, and Laramie. Some of the best craft beer in Colorado can be found in Denver, which also has fantastic restaurants and bars.
1910 Lakeside Resort Ln, Fort Collins, CO 80524 | 800-562-9168 | koa.com/campgrounds/fort-collins-lakeside
In Colorado, you can take your RV just about anywhere and still find a fantastic site to park for the night (or many). Use this guide as a reference while you travel throughout the state in search of the best RV camping spots.