There's something special about riding a gondola up the ski slopes, especially in a place as pretty as Colorado. You're comfortably covered by walls with a bird's eye view of everything you pass and will maybe later ski.
Most ski resorts lack a gondola, instead opting for a high-speed chairlift to do the job, sometimes up to 8-across. In Colorado there are less than ten mountains (out of more than 30 ski areas) boasting a gondola, not to be confused with a cable car. There are no cable cars in Colorado, they are the gondola's much larger cousin.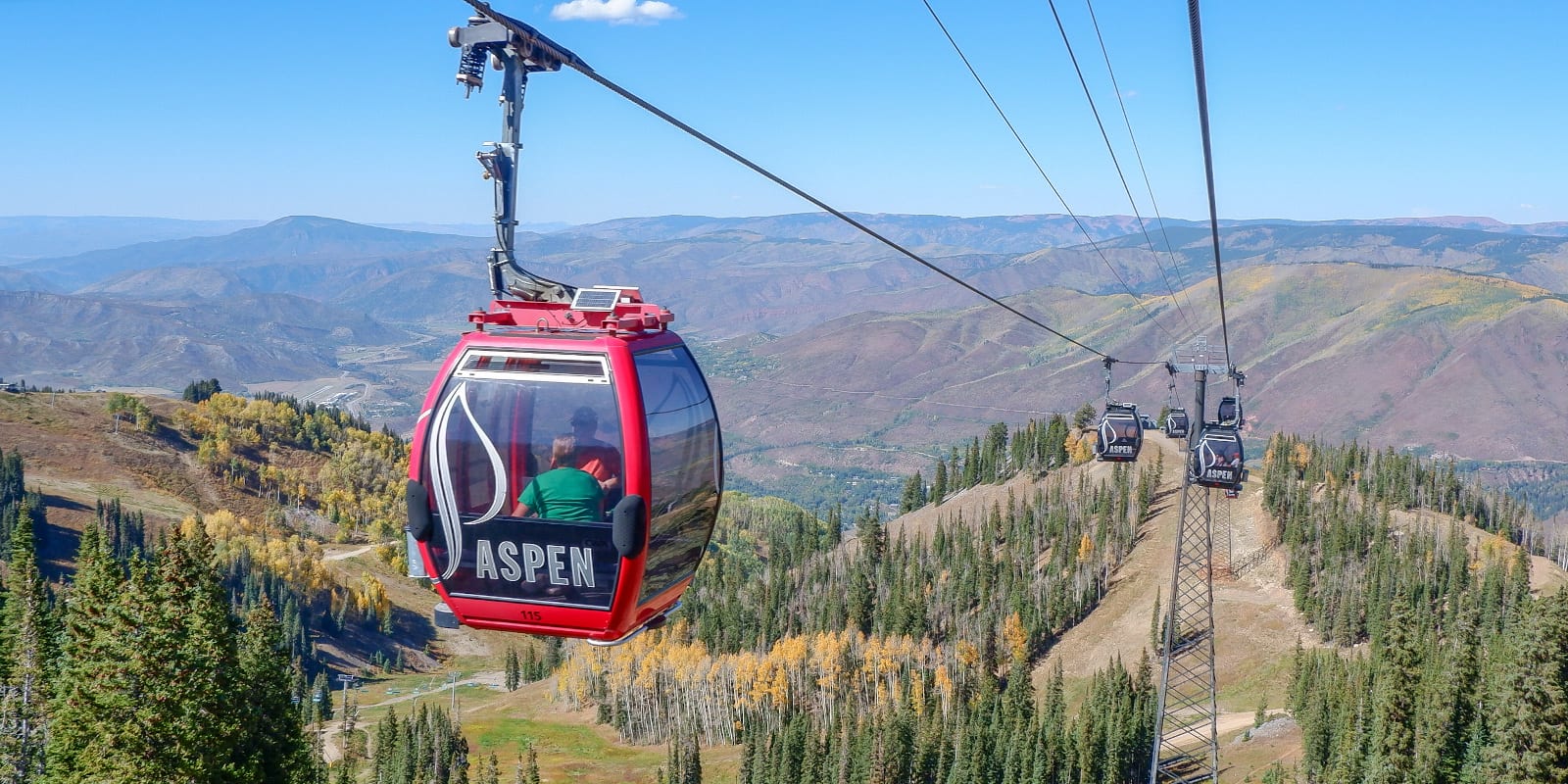 Keep in mind that these mountains have many false peaks when looking up from the base area. Once you reach the top of either of some gondolas you'll often need to hop onto another chairlift (or two) to reach a higher summit. Though some resorts have gondolas to the top, one-stop shops! Keystone and Aspen to name a couple.
Winter Note: If you don't plan on skiing when riding these gondolas, please inquire with the ski resort directly to see if they allow non-skiers access in the winter. Also, expect COVID-19 restrictions and limitations in place. Info below is subject to change.
Here are the Colorado ski areas with scenic gondolas, in no particular order:
Steamboat's Gondola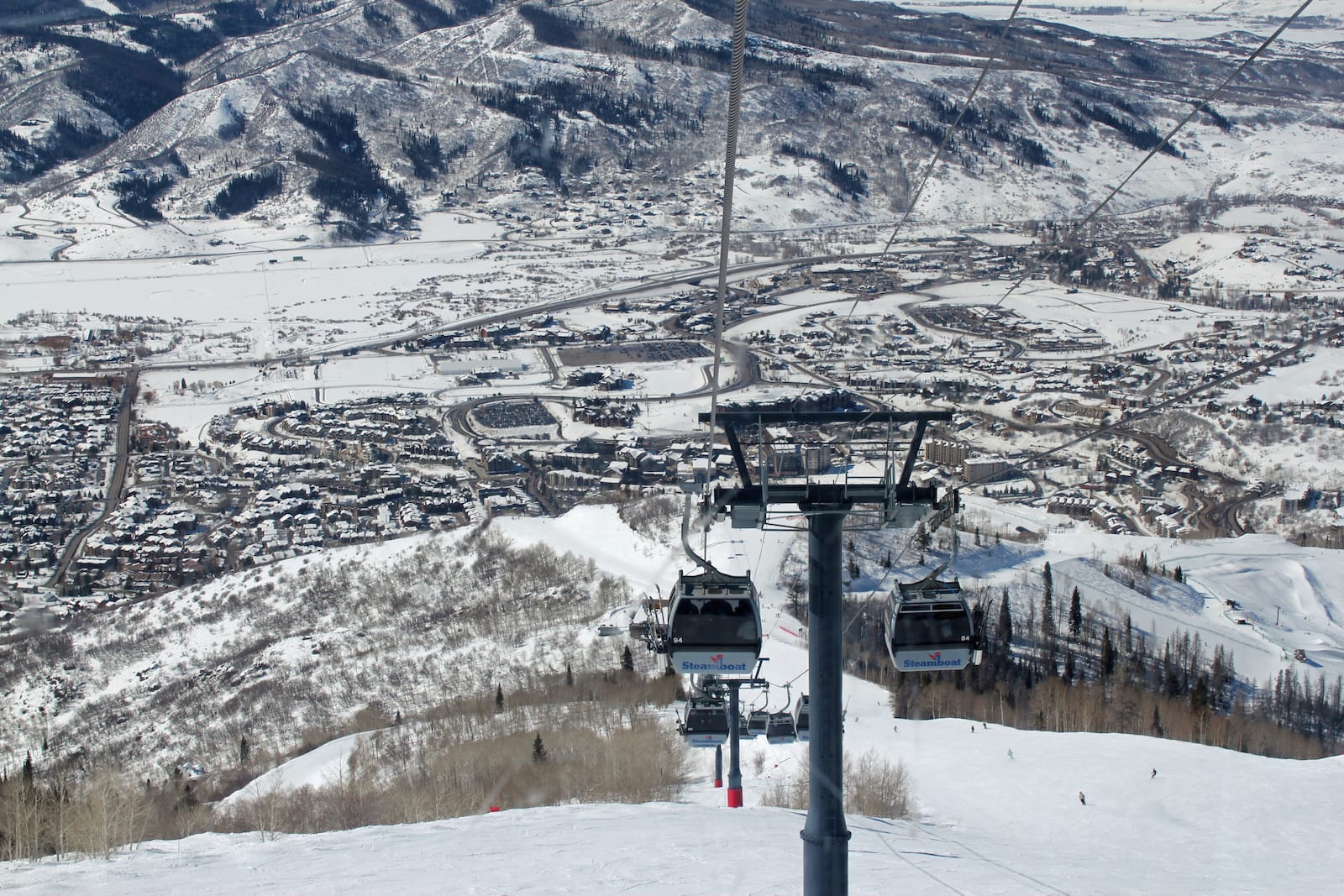 Located in the aptly named Gondola Square, Steamboat's gondola is the perfect way to start your day at The Boat. The other main option is the 6-person Christie Lift, but that only takes you halfway to mid-mountain. You read that right. So you'll need two chair lifts, Christie and Thunderhead, just to meet up with Gondola Station.
On the contrary to Steamboat's base chairlift, the gondola delivers you all the way up to Gondola Station, which is really just halfway up Steamboat's incredible terrain. This goes from 6,900 feet to 9,080 ft.
From here you have several options, ski down a little to a few more chairlifts and go higher, or all the way back down to the base. Inside are several restaurants, a gift shop, restrooms, and an all-important water fountain.'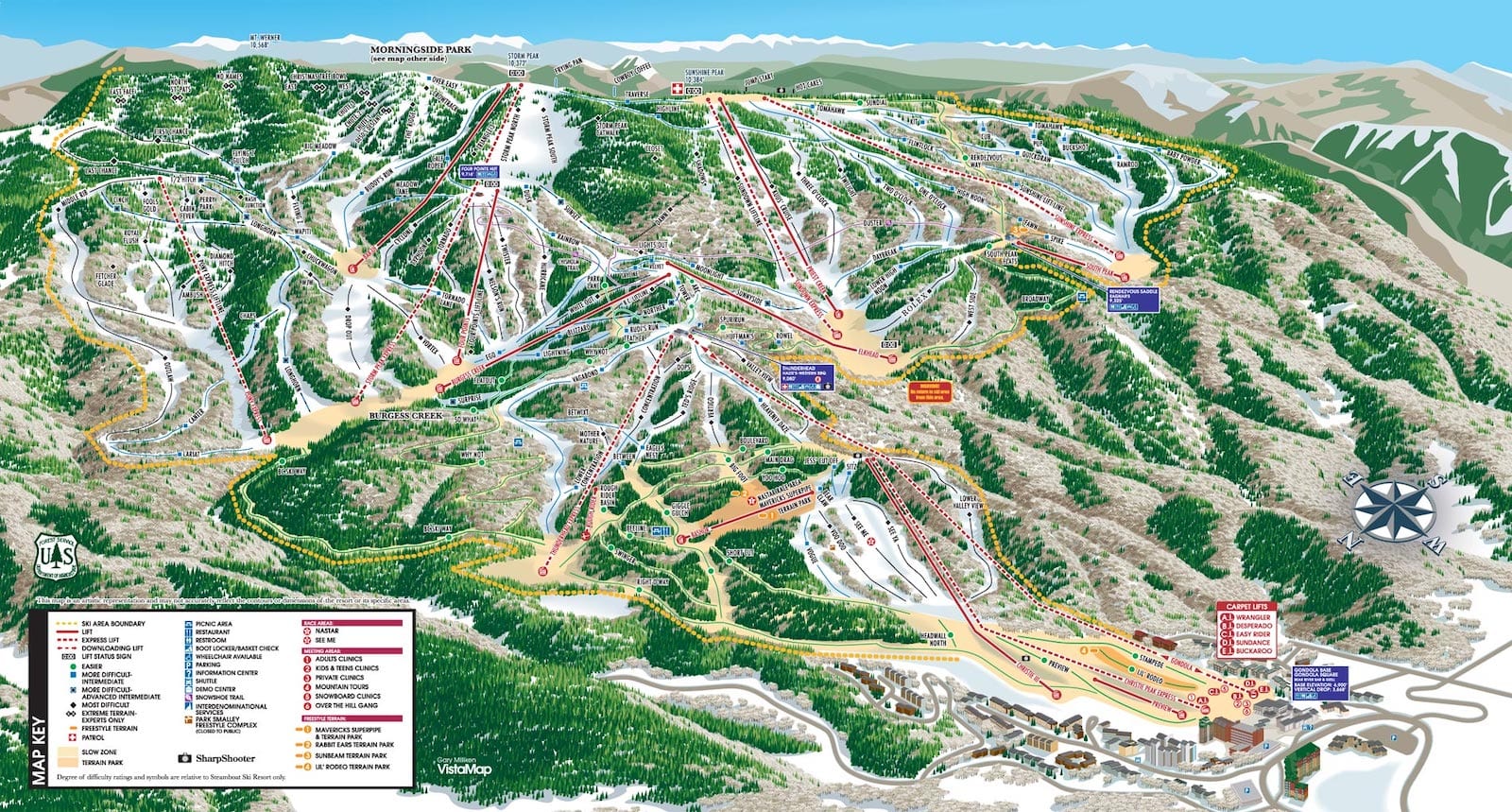 Non-Skiers – For sightseers, Steamboat's Scenic Gondola Rides are available all summer to hikers. While it's normally available in the winter too, it's NOT this year 2020/21 due to COVID-19. It's also not free to ride. However, you'll pay far less than a ski ticket, but it's still a significant charge.
Telluride Ski Resort's Gondola
Telluride's gondola is something extra special. That's because it connects the historic downtown Telluride at 8,750 feet with Mountain Village at 10,540 ft. It's one of the town's primary forms of public transportation. So people staying in Mountain Village can take it for free to downtown, or vice-versa.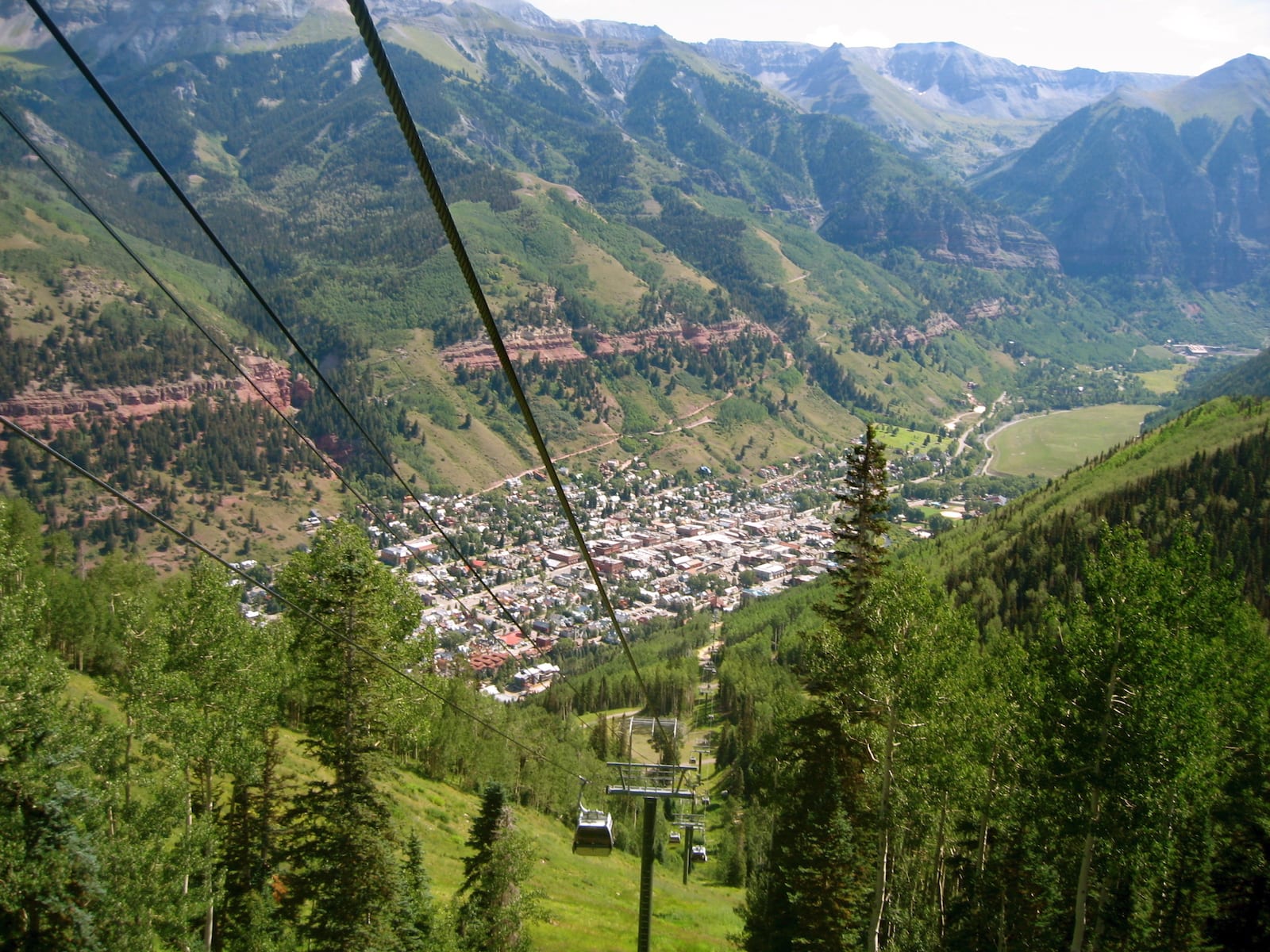 You'll still need a lift ticket though to ski, as it doesn't lead you to any skiable slopes, just chairlifts from the beautiful base of Mountain Village. It's easily one of the best free forms of transportation in the state.
They also have a slimmed down version of the gondola called the chondola, which fits 4 people. It delivers skiers from Mountain Village to the Meadows neighborhood during the ski season.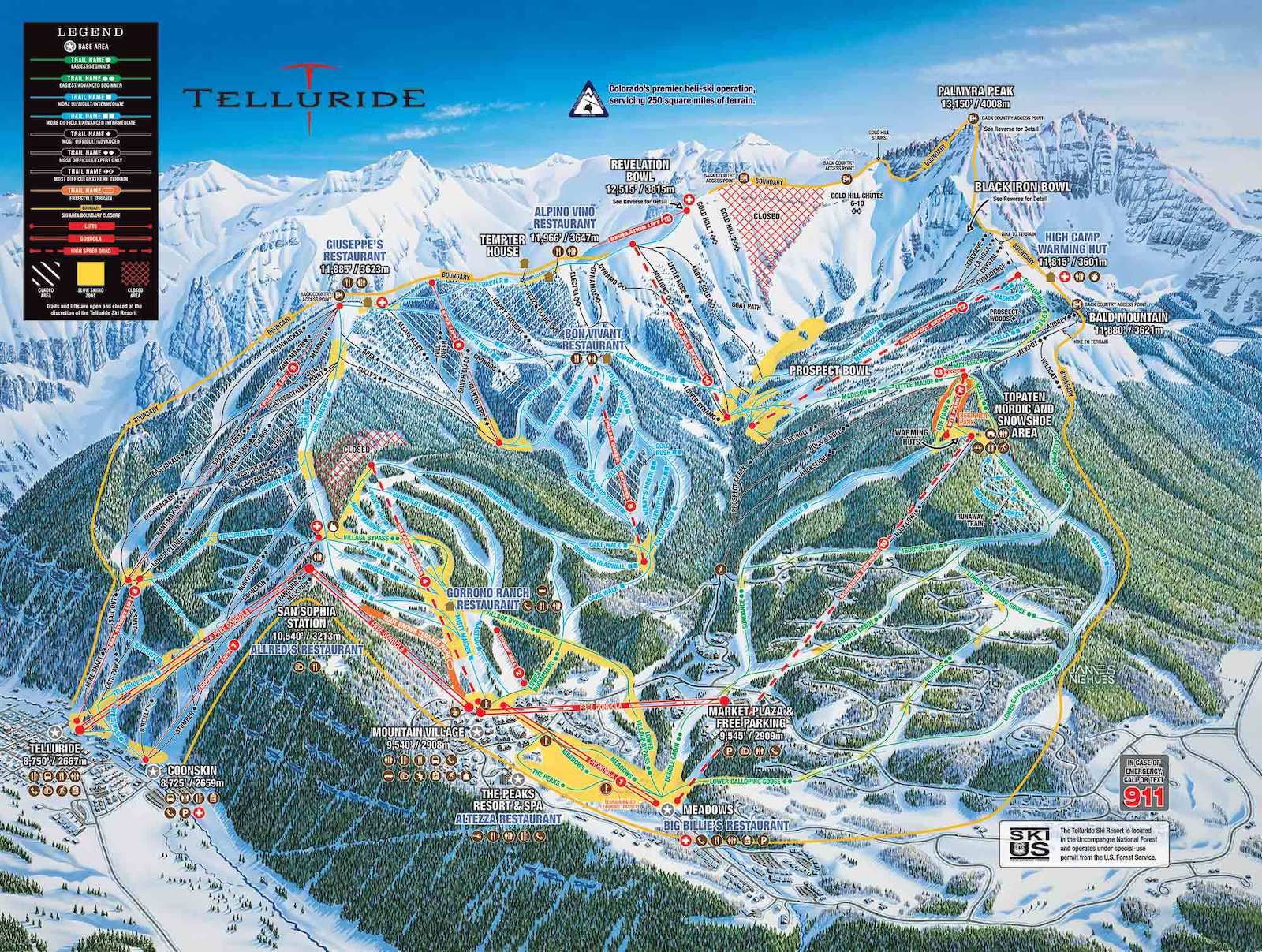 Non-Skiers – The gondola is complimentary to ride year round for commuters and sightseers. So it's perfect for a hiker or snowshoer. Telluride's gondola is really amazing for the 360 degree views too, of the San Juans no less.
Keystone's River Run Gondola
What's unique about Keystone's gondola is that it takes you all the way up to the summit of Dercum Mountain, from 9,280 to 11,640 ft. That's an impressive 3,087 feet of vertical you get to enjoy on every run. So if the weather's less than ideal, you can at least rest in the safety of the gondola, before your next run.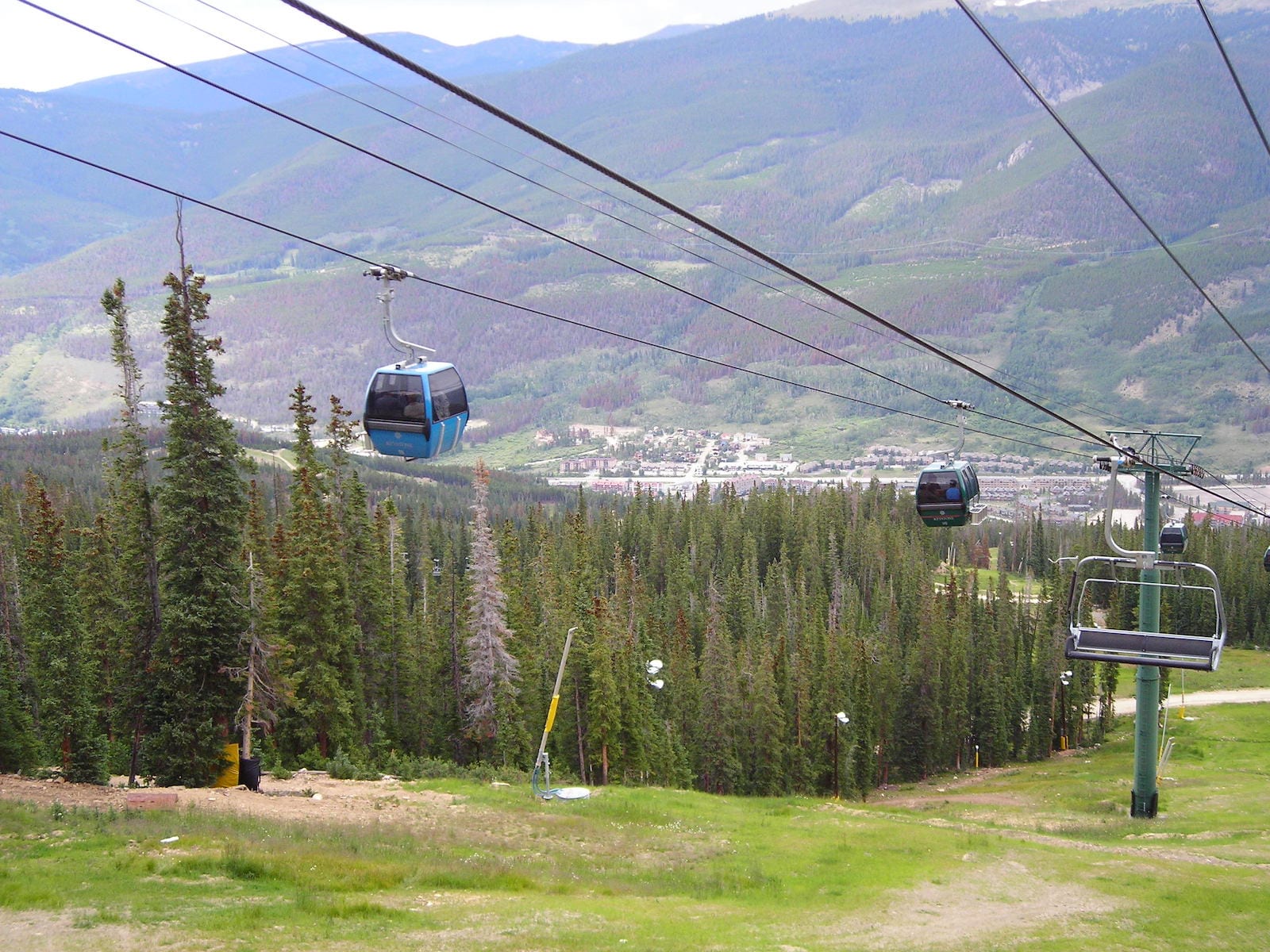 Another awesome thing about Keystone Ski Resort is that they have two transport options from River Run Village to the summit. In addition, to taking the River Run Gondola, you can board the 6-person Summit Express to reach the top. This breaks up the crowds a bit, allowing those skiing down to the base to the chairlift, instead of unstrapping and walking across the bridge.
From atop Dercum Mountain, there is another gondola, the Outpost Gondola, which leads you to the top of North Peak. It's perfect for skiers and non-skiers looking to indulge in delicious cuisine at The Outpost, or a frosty IPA, those maniacs.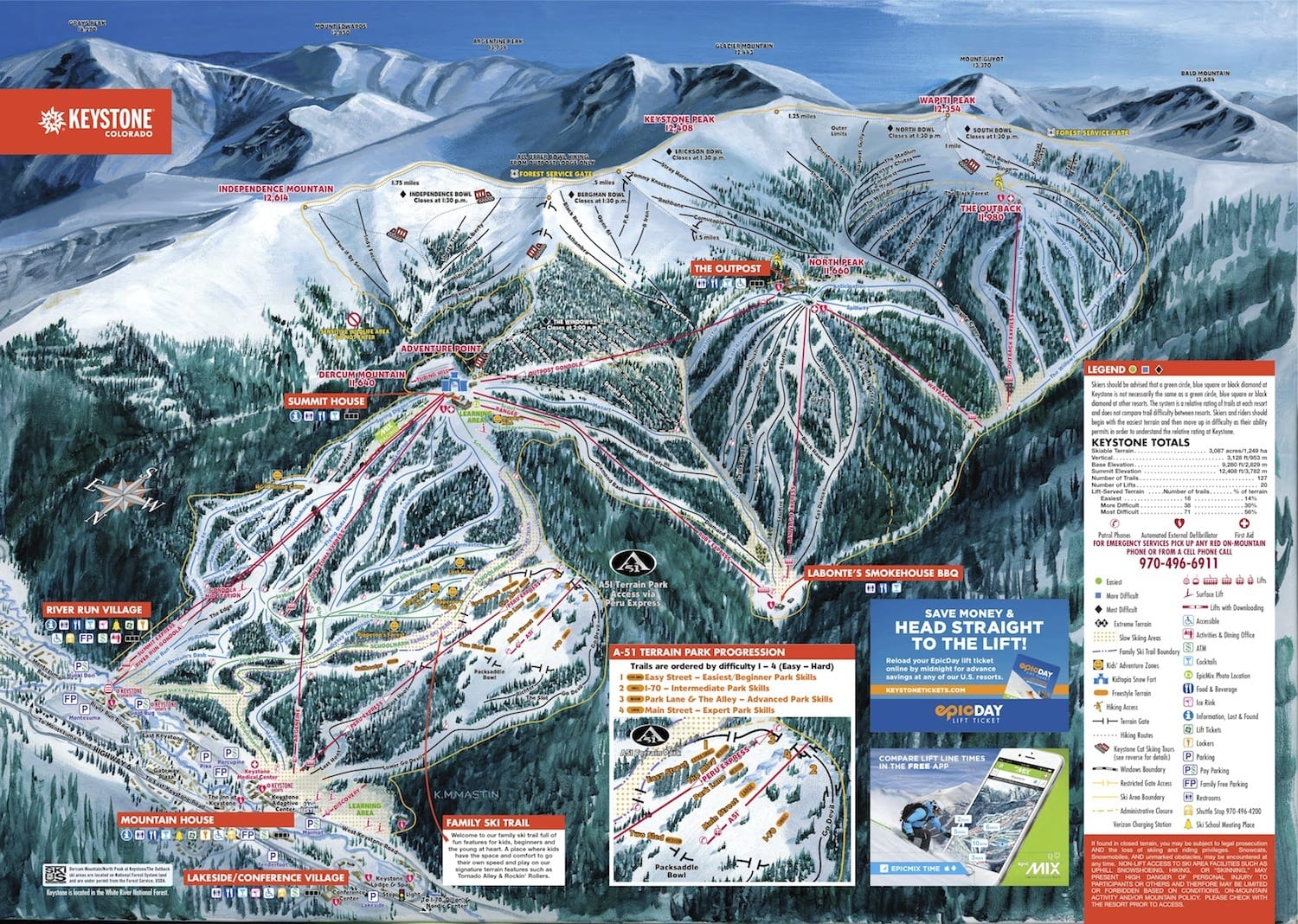 Non-Skiers – There are also Scenic Gondola Rides offered on the River Run Gondola. Winter or summer you can enjoy a ride. In the winter you can discover the Kidtopia Snow Fort, a huge castle play fort made of snow. In fact, it's the world's largest snow fort. There's also a Summit House restaurant at the top. So you can imbibe on a beer at nearly 12,000 feet, no small feat.
Vail's Gondola One & Eagle Banh Gondola
Of course, the largest ski resort in the state has a gondola ride. It goes without saying. And it also receives a mention of its 5,289 skiable acres, which includes legendary back bowls, the lost Blue Sky Basin, and other treasured gems found at Vail Ski Resort. The gondolas are your key to accessing it all!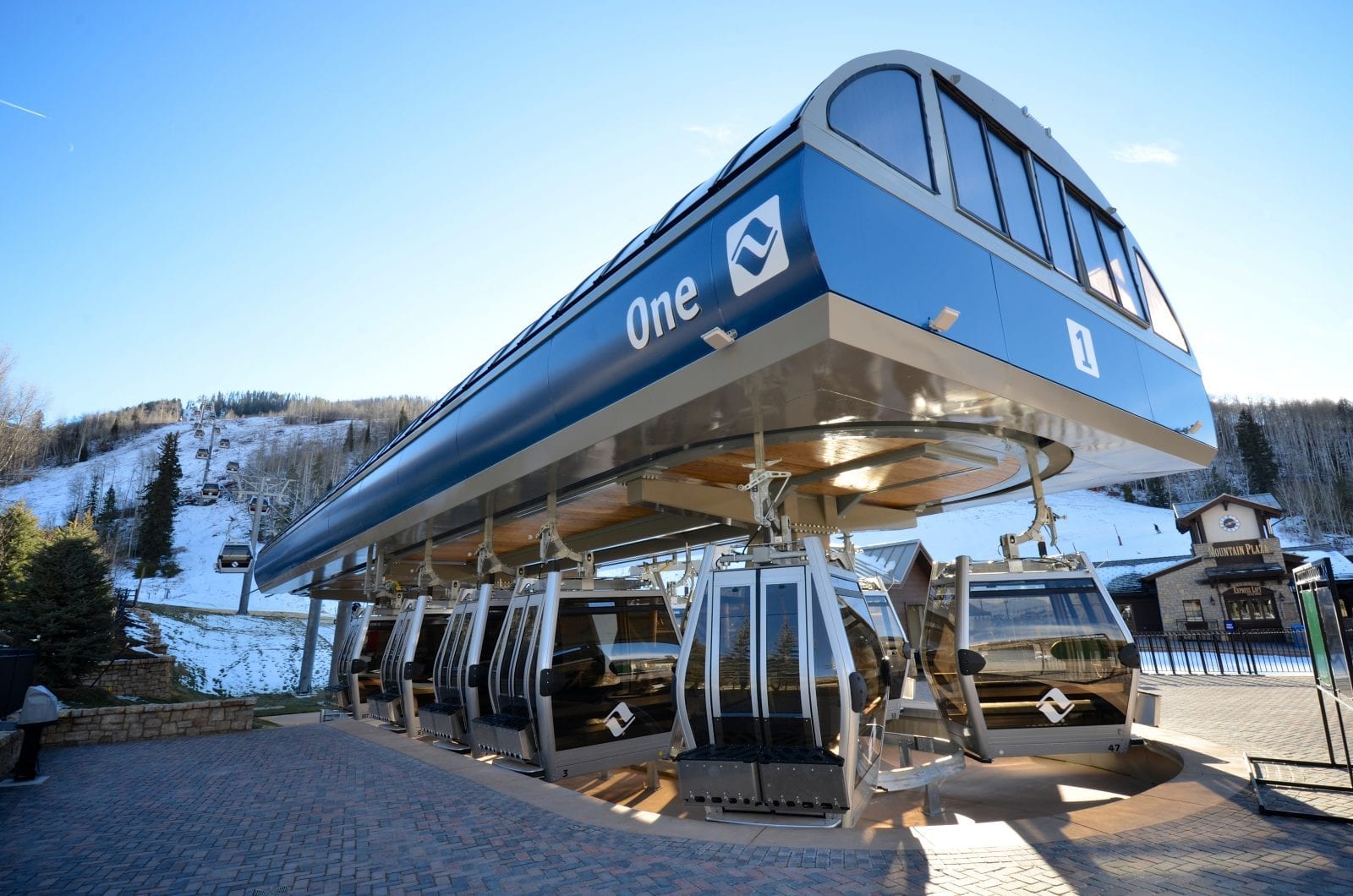 The Eagle Banh Gondola takes you up from the western side of the mountain out of Lionhead Village. It brings you up a little bit higher than its mirror chair lift, the Born Free Express Lift. Eagle Banh begins at 8,052 feet and rises over 2,000 feet of vertical.
You'll still need to hop on two other chairlifts to reach the top of Vail's western peak at 11,500+ ft.: Avanti Express Lift to Wildwood Express Lift.
Gondola One ascends out of and into Vail Village, the primary of the two's base villages. It delivers you right up the center of the mountain. It's preferred if you demand the fastest route to the top since you'll have but 1 chair lift to go. Pick either Wildwood Express or Mountaintop Express lift to access the western or eastern peaks, respectively.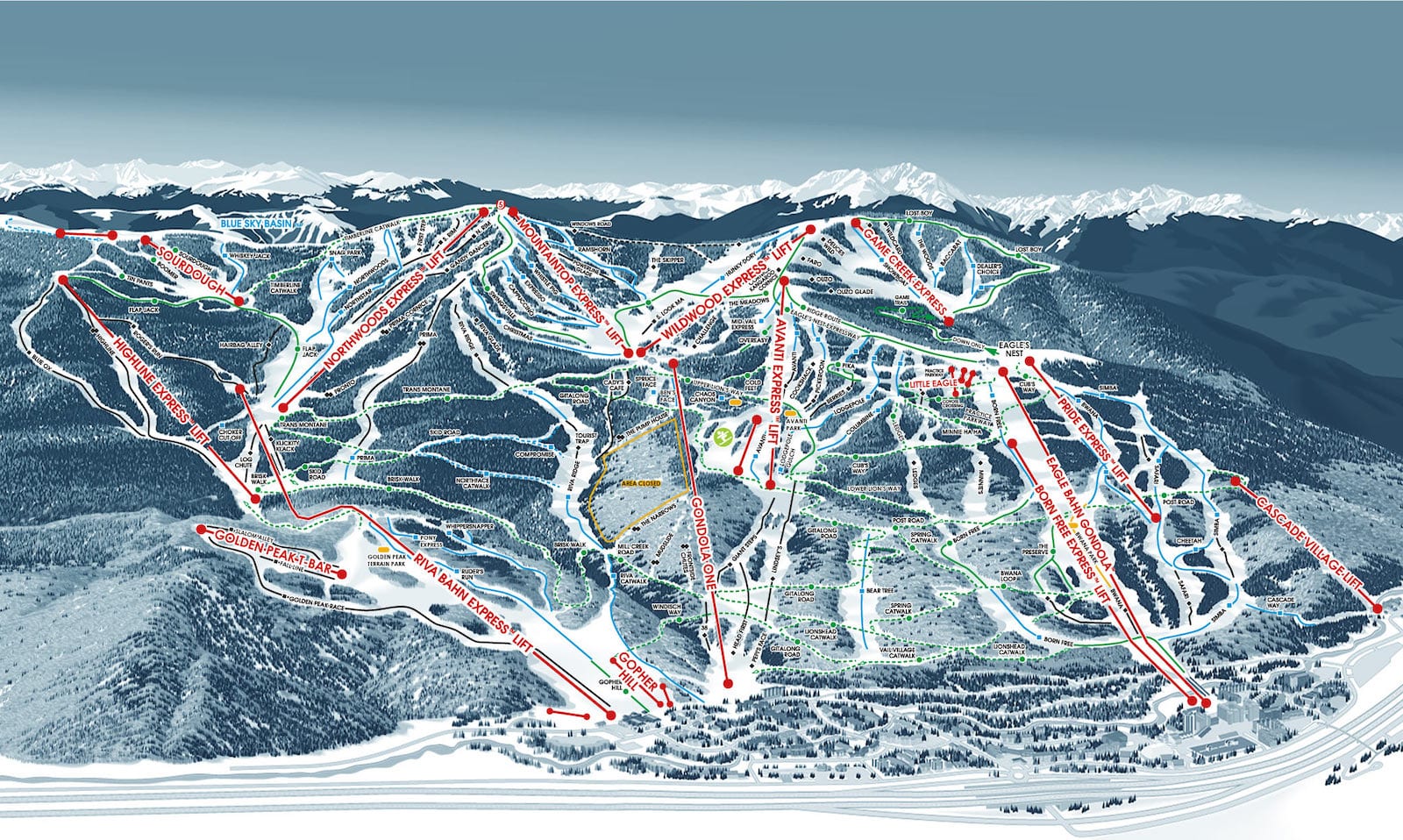 Non-skiers: Vail offers summer gondola rides on either of those two gondolas to get out and see the sights at 10,000+ feet. Kids 12 and under ride free. Gondolas operate daily during the season. Bike hauls are available too. It runs through mid-September and then just weekends through the month's end.
Aspen Mountain's Silver Queen Gondola
If you're skiing in Aspen, you probably expect a gondola to whisk you away. And Aspen Mountain delivers on that. You'll load up at 7,945 feet at the base of Aspen Mountain, and ride the Silver Queen Gondola to the top of the mountain at 11,212 ft. This mountain isn't for beginners though.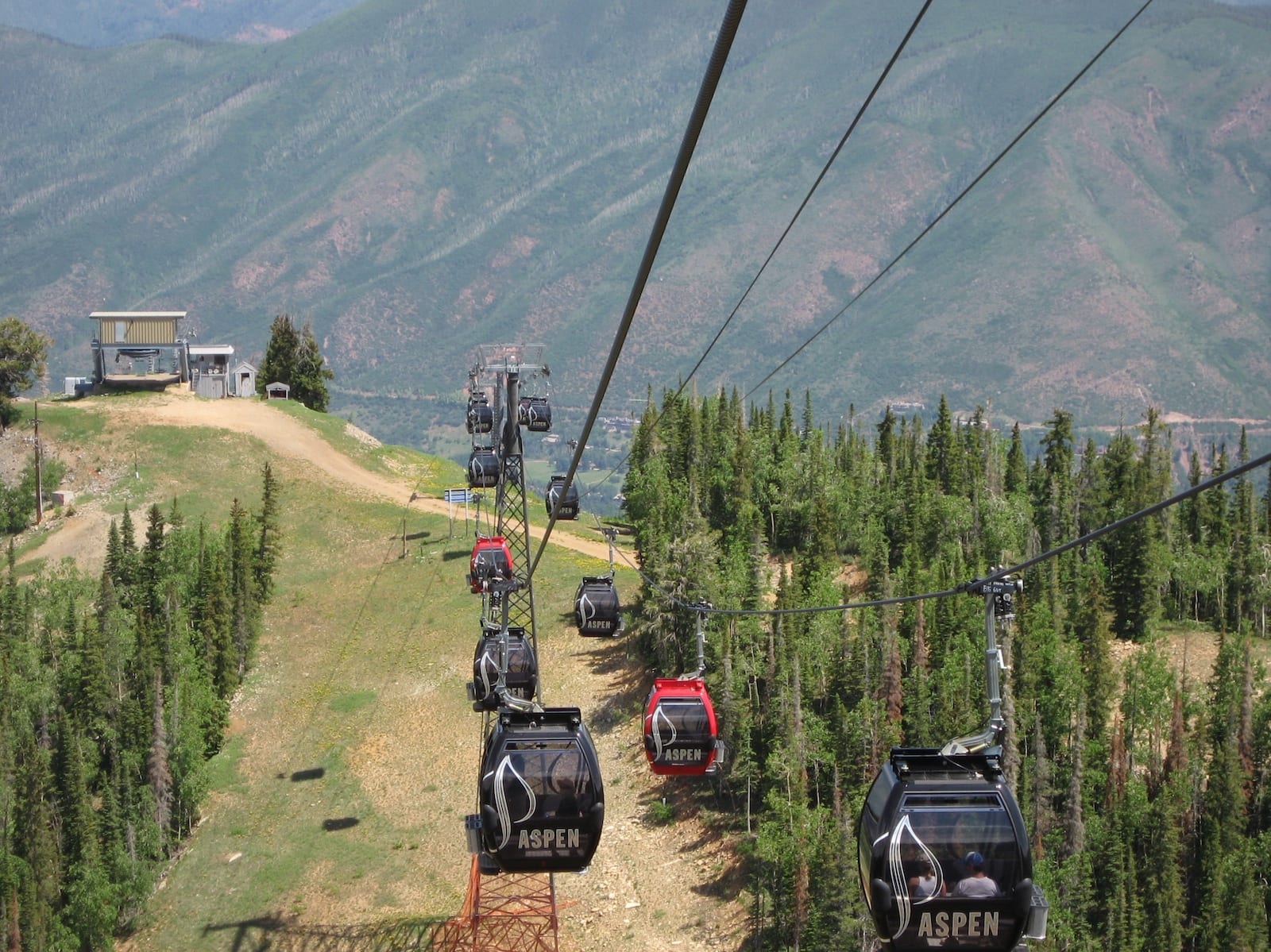 From the top, you'll have terrain choices ranging from intermediate blue squares to double black diamonds. Aspen Mountain caters to more advanced skiers.
Although newbies and non-skiers can still take advantage of riding the Silver Queen Gondola to check out the views. These include 14,267-foot Castle Peak and 13,561-foot Hayden Peak, towering above the Aspen Mountain summit.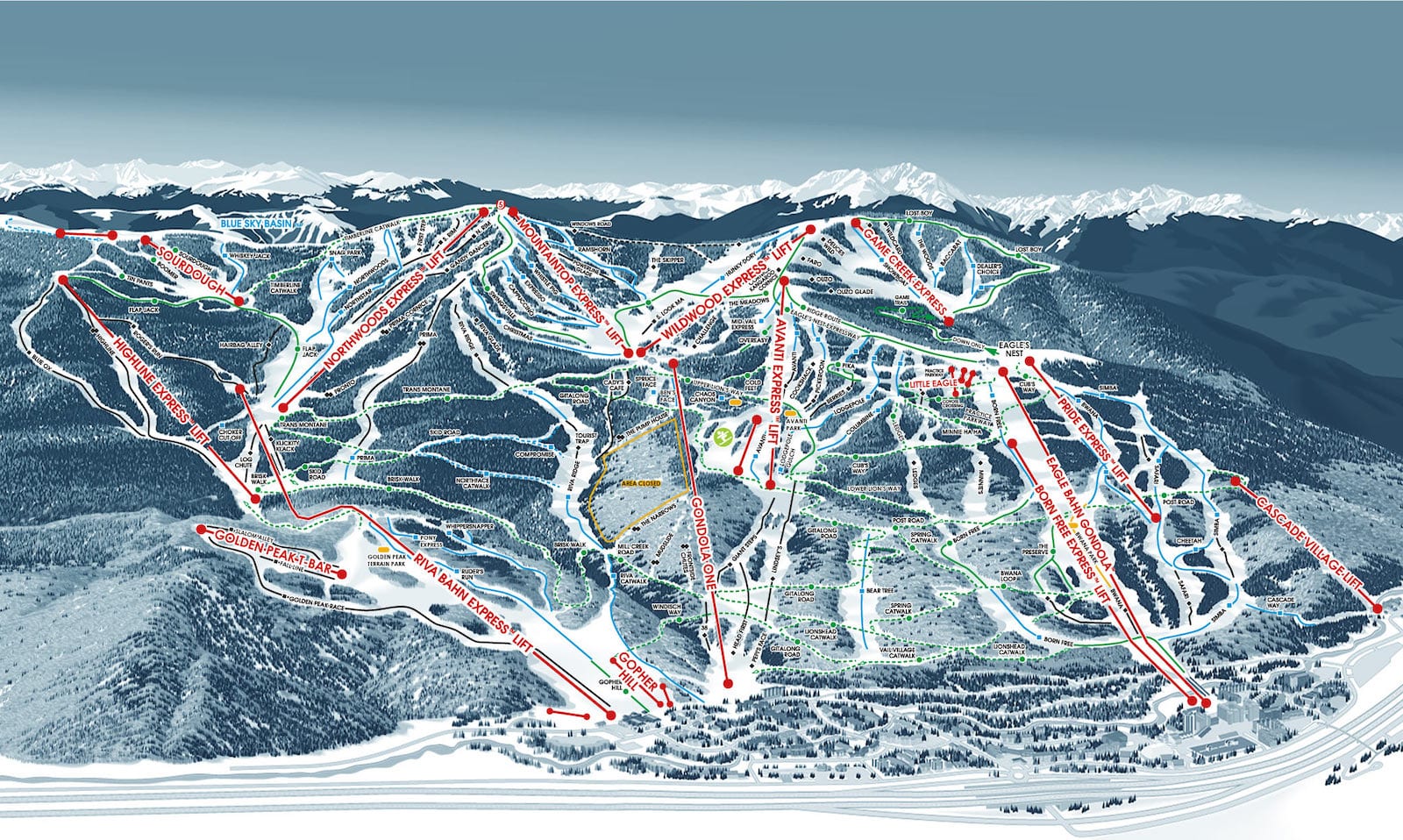 Non-Skiers – In summer and winter, non-skiers can still access the gondola via a reduced ticket called the Foot Pass. Recreation includes the highest elevated "official" disc golf course in the world, yoga classes, bluegrass concerts, biking, and hiking trails, plus activities for the kids. The Sundeck serves up lunch. The summer gondola rides are available at neighboring Snowmass as well.
Snowmass' Elk Camp Gondola
Snowmass is a big mountain with 3,132 skiable acres. There are two main routes of transportation from the base village, a gondola, and the Village Express Chairlift. The Elk Camp Gondola delivers you up to nearly 10,000 feet in elevation.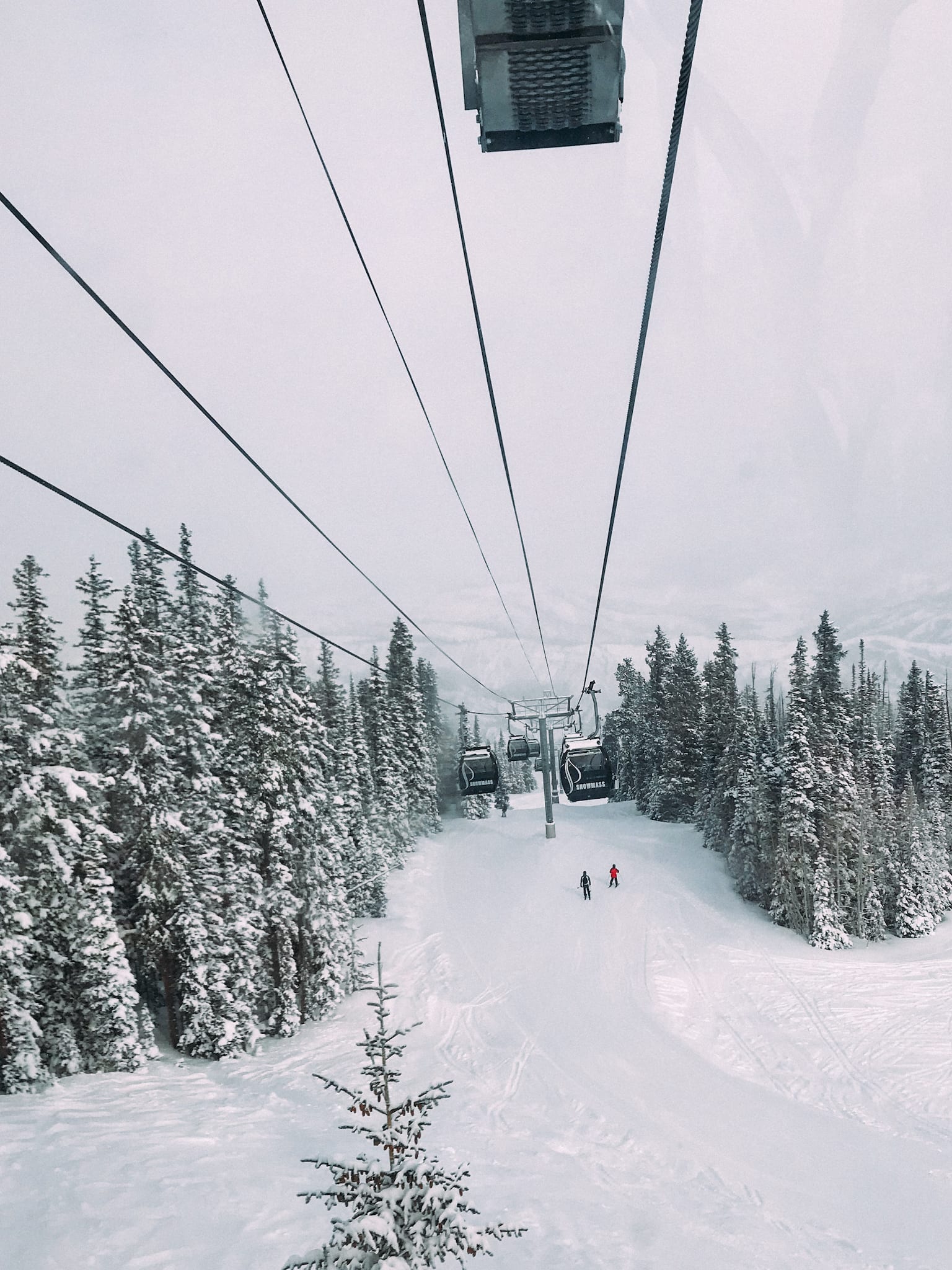 You'll board in Snowmass Base Village at 8,435 and ride 1,389 feet of vertical to 9,824 ft. From there you can hop aboard an Elk Camp chair and ride to the western peak summit at Elk Camp at 11,325 ft.
Snowmass Resort is one of Aspen's four resorts, so you'll have access to the aforementioned Aspen Mountain gondola on the same lift ticket. With all the gnar to shred you'll appreciate the temporary respite, the Elk Camp Gondola affords you.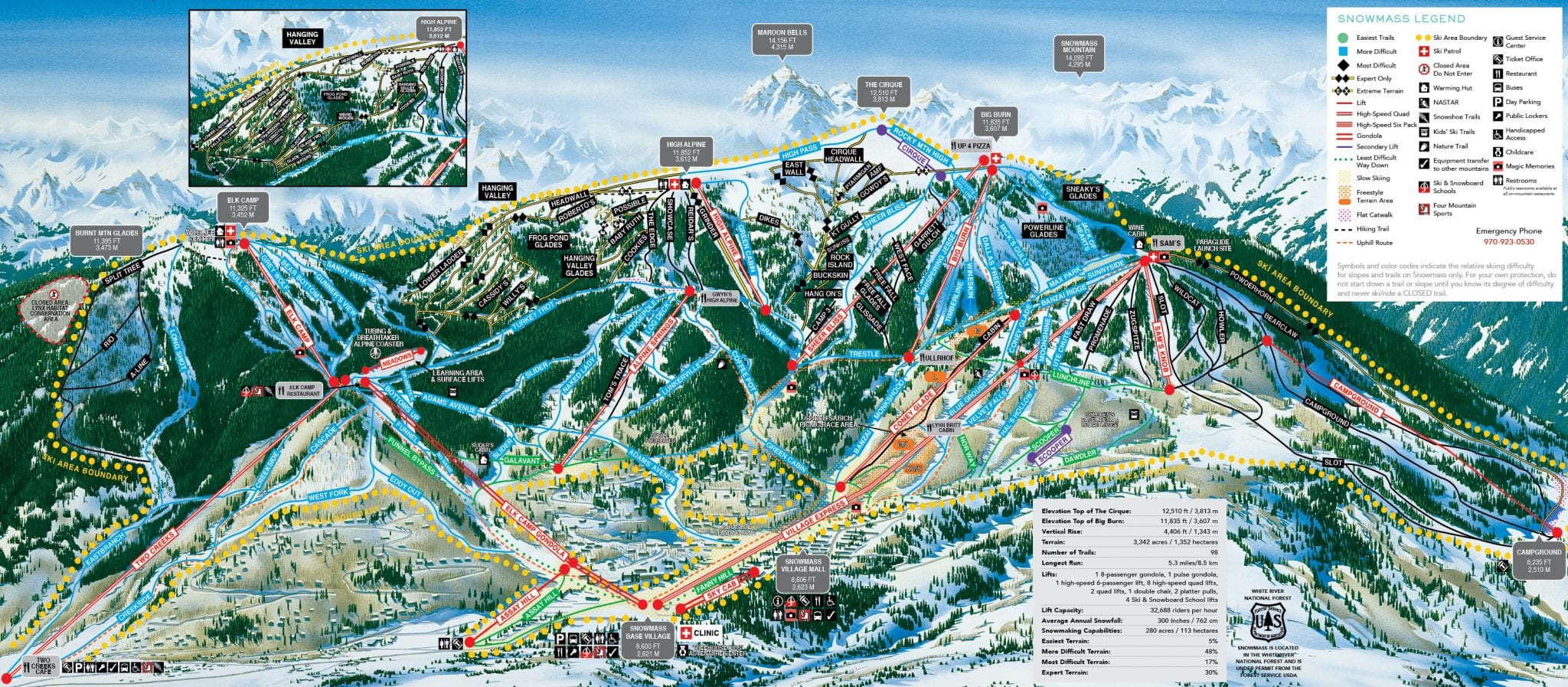 Non-Skiers – Board the Elk Camp Gondola in the summer (or winter) to reach the Lost Forest, an alpine adventure park. During either season you can ride the adrenaline-pumping Breathtaker Alpine Coaster. It runs every day from mid-June to early September. Access complimentary activities and trails, as well as on-mountain dining with expansive decks to soak in the Colorado sunshine.
Winter Park's The Gondola
Opened in 2018 to much anticipation, Winter Park's Gondola is a welcome addition to the resort. The 10-person capacity gondola replaced the Zephyr chairlift, which only carried 4 persons. It's increased uphill capacity and reduced wait times.
The Gondola takes you from the Winter Park Village base up to Sunspot Lodge at 10,700 ft. The gondolas are accessible by a range of skiers and feature a wide door and zero entry height. It's really nice way to warm up in between laps on the mountain. To access Mary Jane's summit, you'll need to take chairlifts.
Long before Winter Park got an official gondola they had a baby gondola they called the cabriolet. This little scenic ride leads from the resort parking area down to the charming base village. It's an open-air concept that's free for all and operated throughout the year.
View the winter-park-ski-resort-trail-map-winter (PDF)
Non-skiers – All day gondola access is available in the summer. They offer golf combo packages combined with putting course access. Ikon Pass holders get free access to ride the gondolas, otherwise, there is a charge.
Honorable Mentions
The following gondolas don't bring you to the top of any ski slopes. However, they might bring you awfully close to some. They are perfect for accessing A-to-B and getting you closer to exceptional hiking, skiing and sightseeing.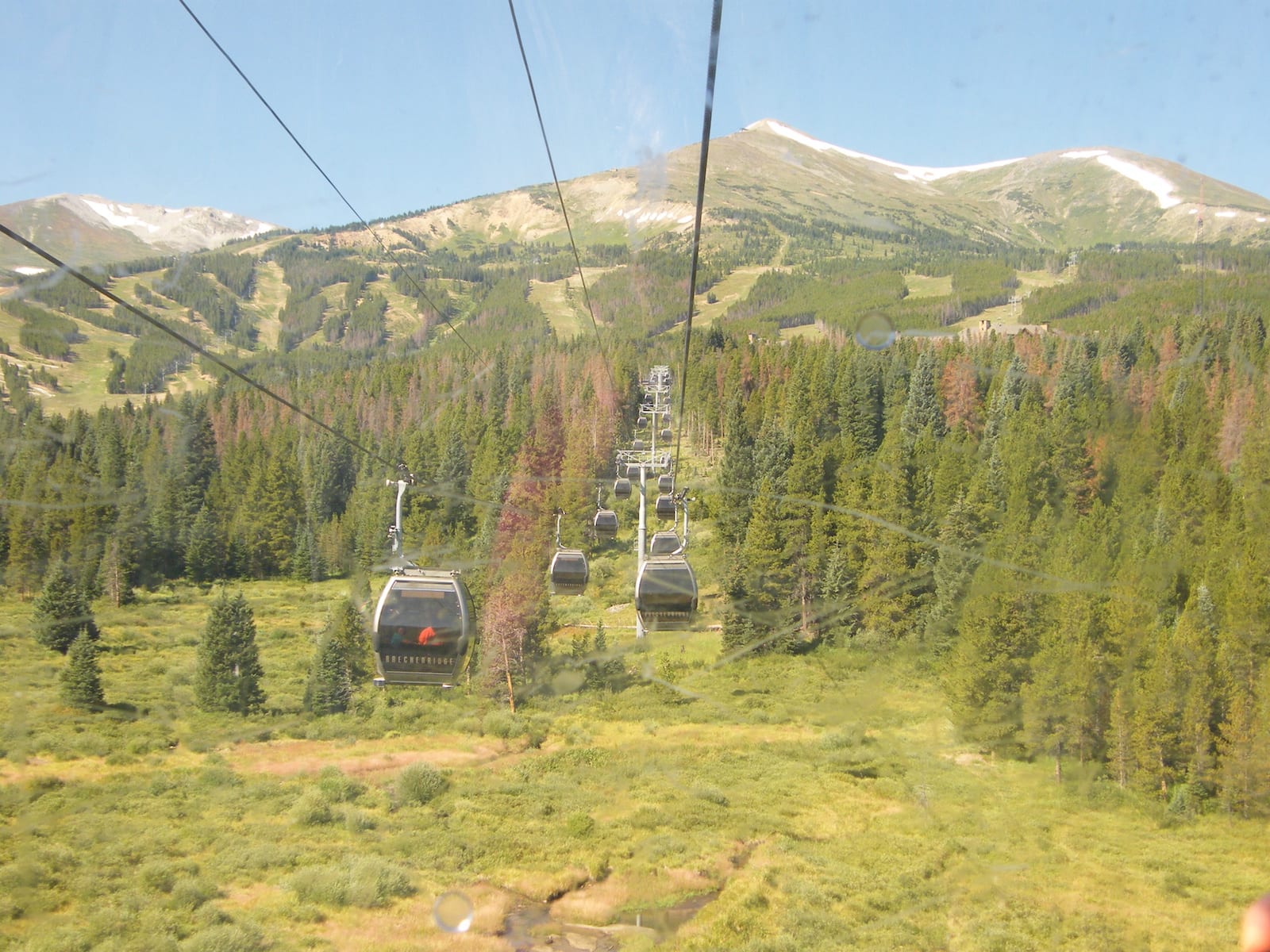 Breckenridge's BreckConnect Gondola – Although Breck's got a famous ski area owned by Vail Resorts and spanning 5 peaks, it lacks a gondola into the heart of the action. Instead, Breckenridge Ski Resort has the BreckConnnect Gondola, which connects the parking lot t0 one of its base areas. They do offer scenic gondola rides.
Beaver Creek's Riverfront Express Gondola – Beaver Creek Resort has a gondola that connects you from Avon to Beaver Creek Mountain. This zippy little ride takes only 3 minutes. It starts in Riverfront Village in Avon by the Westin Resort & Spa and takes you complimentary to the base of Beaver Creek.
Monarch Crest – Just south of Monarch Mountain on Monarch Pass sits Monarch Crest Scenic Tramway. Opened in 1966, the attraction operates from late May to fall. Ride this historic little gondola-type ride to the top of a gorgeous overlook. There's also a gift shop on site.
Whether you're on one of these gondolas for simple sightseeing or downhill skiing, enjoy your journey up (and down) these amazing Rocky Mountains! Additionally, if you like taking in a view and are looking for a fun summer or fall activity, consider taking one of these lifts for hikers and sightseers.