Known for fresh, flavorful fare, Colorado has its heaping share of famous restaurants to choose from. Western specialties like bison, elk and other native delicacies can be enjoyed at a number of iconic restaurants from Colorado's Front Range to its Western Slope.
We've rounded up ten restaurants that exhibit a Colorado spirit both in dining fare and ambiance.
Famous Restaurants with Authentic Fare and Flare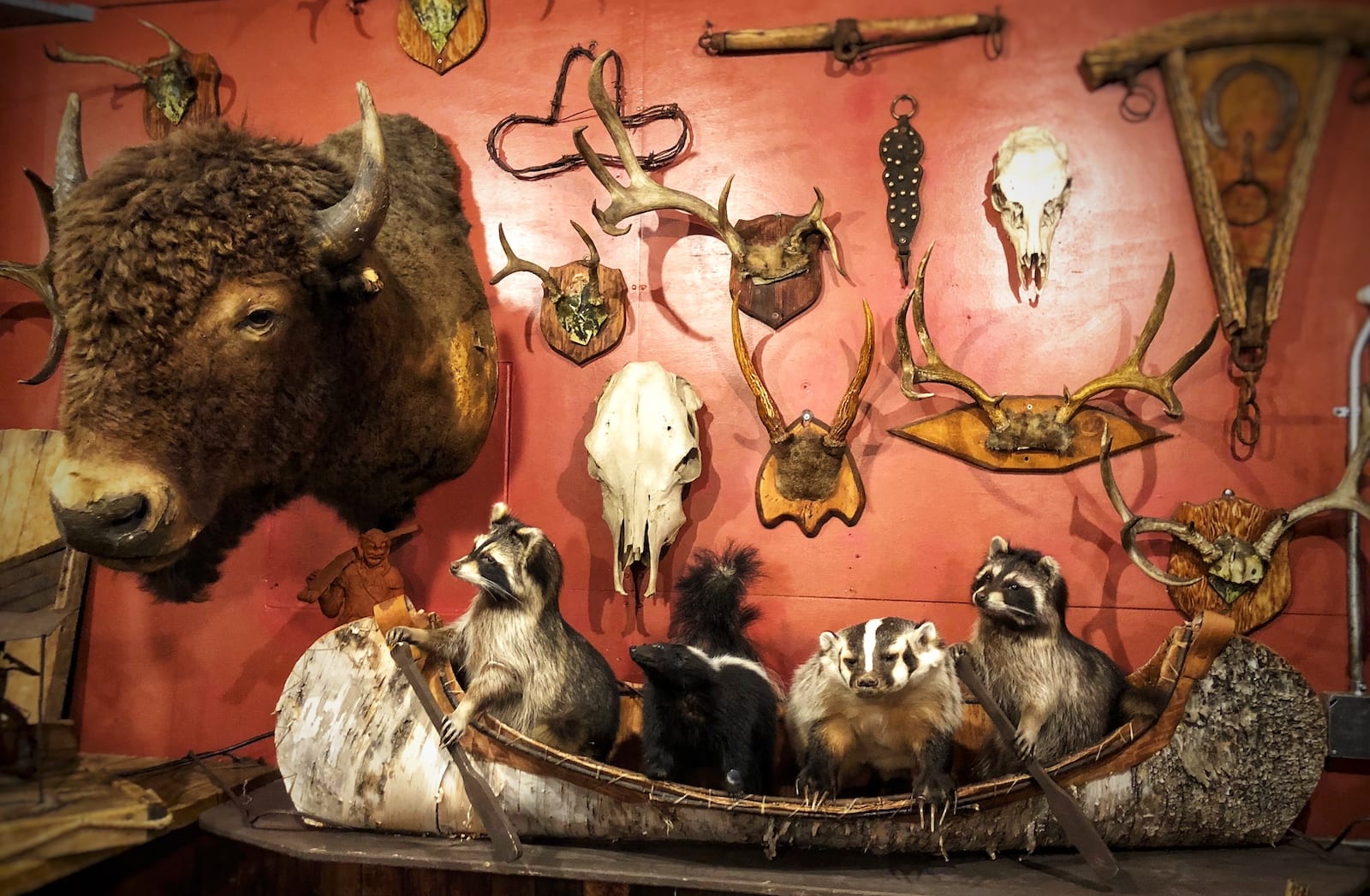 Like many other US states, Colorado has its fair share of bland chain restaurants, especially when it comes to the seemingly endless sprawling areas surrounding bigger cities like Denver, Colorado Springs, and Boulder. While some Colorado culinary gems have closed their doors in recent years (RIP, Le Central), others continue to power through the state's staggering growth and sweeping transformations to delight hungry patrons.
Today, we're shedding light on restaurants that scream Colorado, from rustic mountain pizzerias to fancy western-themed spots that serve up bull testicles on a plate (seriously). On that note, let's, uh, dig in, partner.
Here are some famous restaurants in Colorado, in no particular order:
1. Buckhorn Exchange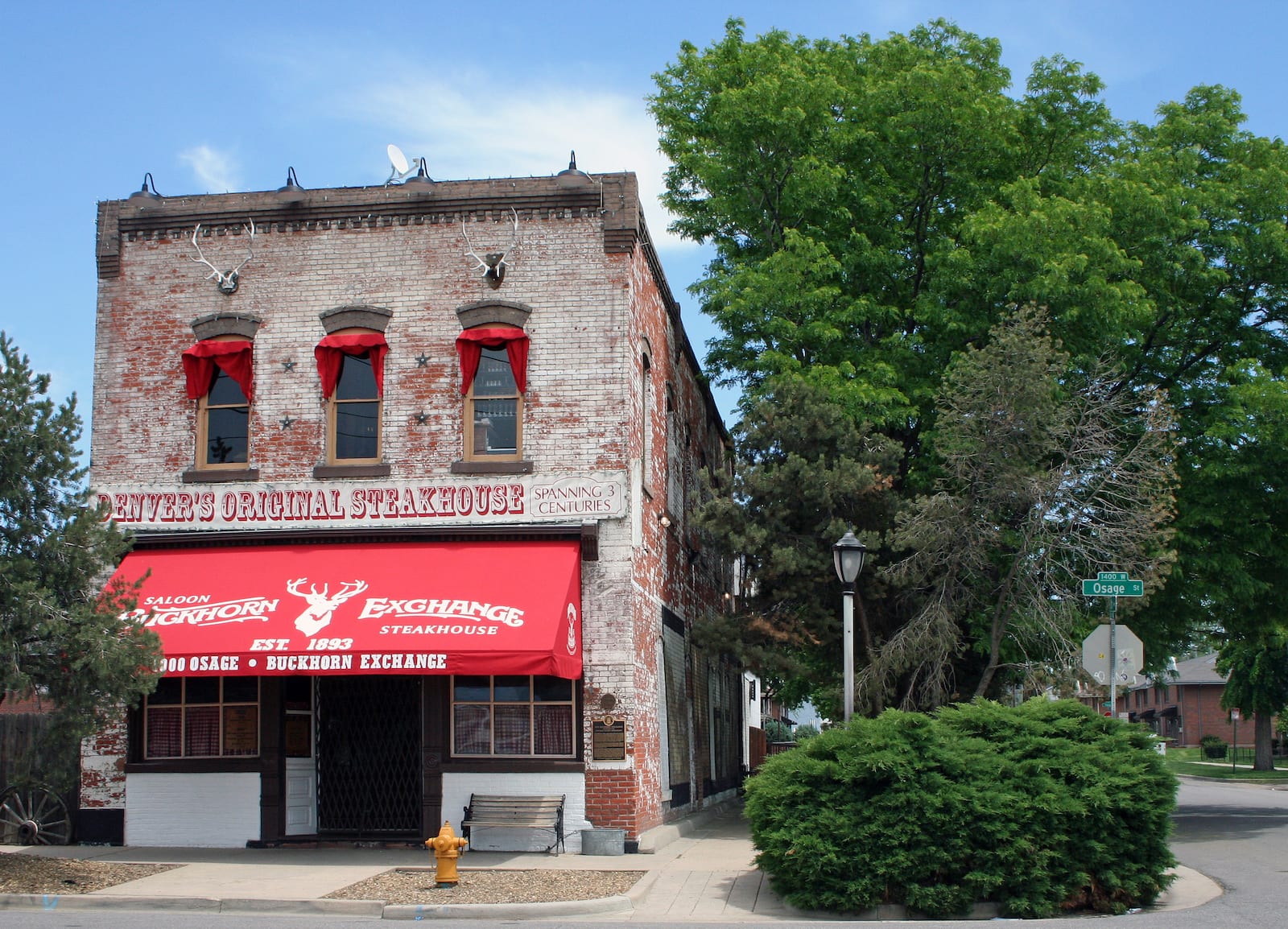 Located a stone's throw away from the 10th/Osage Lightrail Station, Buckhorn Exchange is an example of a bit of Denver history that's managed to remain intact despite more than a century's worth of changes happening around it. Hailed as "Denver's original steakhouse," Buckhorn Exchange opened in 1893 and holds the title for being the Mile High City's oldest restaurant.
According to Buckhorn's website, it also has the prestigious honor of holding liquor license "Number One" in the state of Colorado. A guy with the amazing name of Henry H. "Shorty Scout" Zietz founded the Rio Grande Exchange, which adopted the Buckhorn Exchange moniker down later.
Buckhorn Exchange embodies Colorado's gritty and fascinating history, as evidenced by the cattlemen, miners, railroad builders, silver barons, Native Americans, and old-timey businessmen that used to dine there. President Theodore Roosevelt visited in 1905, and purportedly asked Shorty Scout to hunt big game with hime after dinner. Presidents Franklin Roosevelt, Dwight Eisenhower, Jimmy Carter, and Ronald Reagan have also spent time at Buckhorn Exchange, in addition to a colorful cast of old Hollywood stars, astronauts, and even a British princess.
Today, Buckhorn Exchange is home to loads of historical artifacts and over 500 mounted animal heads. If you haven't already guessed, this place serves a whole lot of meat, from baby back ribs to buffalo steak to unconventional offerings like elk, Cornish game hen, and quail.
The restaurant is famous for an unimaginatively named offering called "The Big Steak," which serves a literal massive 4-pound steak for $220. The menu states this option is for five guests, but it leads one to wonder whether anyone has tried, and succeeded, eating the whole thing alone over the course of the Buckhorn's lengthy history.
Read about the best steakhouses in Denver.
2. Bingo Burger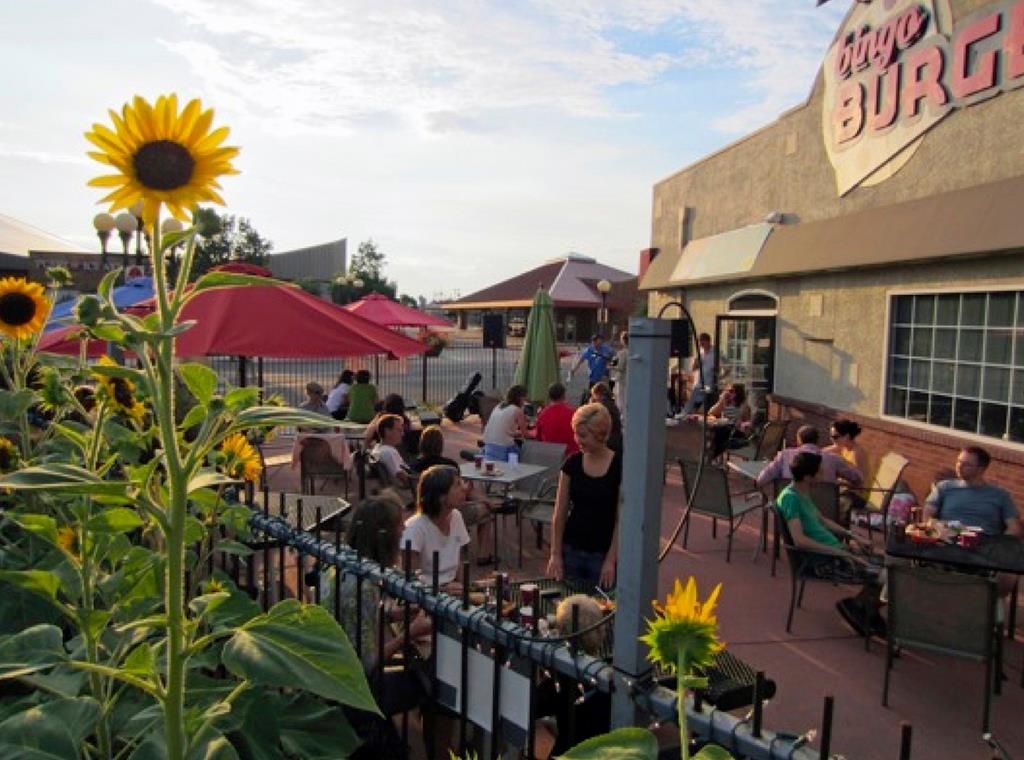 Coloradans are increasingly setting their sights on the southern half of the state, an area that, until recently, seems to have missed out on the rapid growth and international attention its northern counterpart currently benefits from.
Between a cost of living that's still somewhat affordable and a way of life that runs on a markedly less frantic pace than Denver or Boulder's, places like Pueblo boast a tenacity and unpretentious character that many feel are currently missing from other parts of the Centennial State.
Founded in 2007, Bingo Burger doesn't have much history to speak of, but its origin story and local legacy embodies the DIY, odds-defying nature of Colorado's origin. It all began when chef Richard Warner set up a grill outside of his wife's bakery during Pueblo's Annual Chile & Frijole Festival. Word spread around town about Warner's incredible burgers, and a brick and mortar store was opened three years later to meet growing local demand. A second location was later opened in Colorado Springs.
What makes the "Bingo Burger" unique is the masterful incorporation of the Pueblo chile, a quintessential Colorado ingredient that shouldn't be confused with New Mexico's Hatch chile. The sweet, pungent chiles are mixed with the beef and then grilled to perfection as opposed to other burgers that simply add chiles on after they've already been cooked.
The result is an addictively flavorful burger that stands out from the use of unique local ingredients. Warner began building his legacy with a grill and the humble desire to give people something unique and memorable. Today, he's redefining Colorado food and bringing new life to a part of the state that's needed it for a long time.
3. Biker Jim's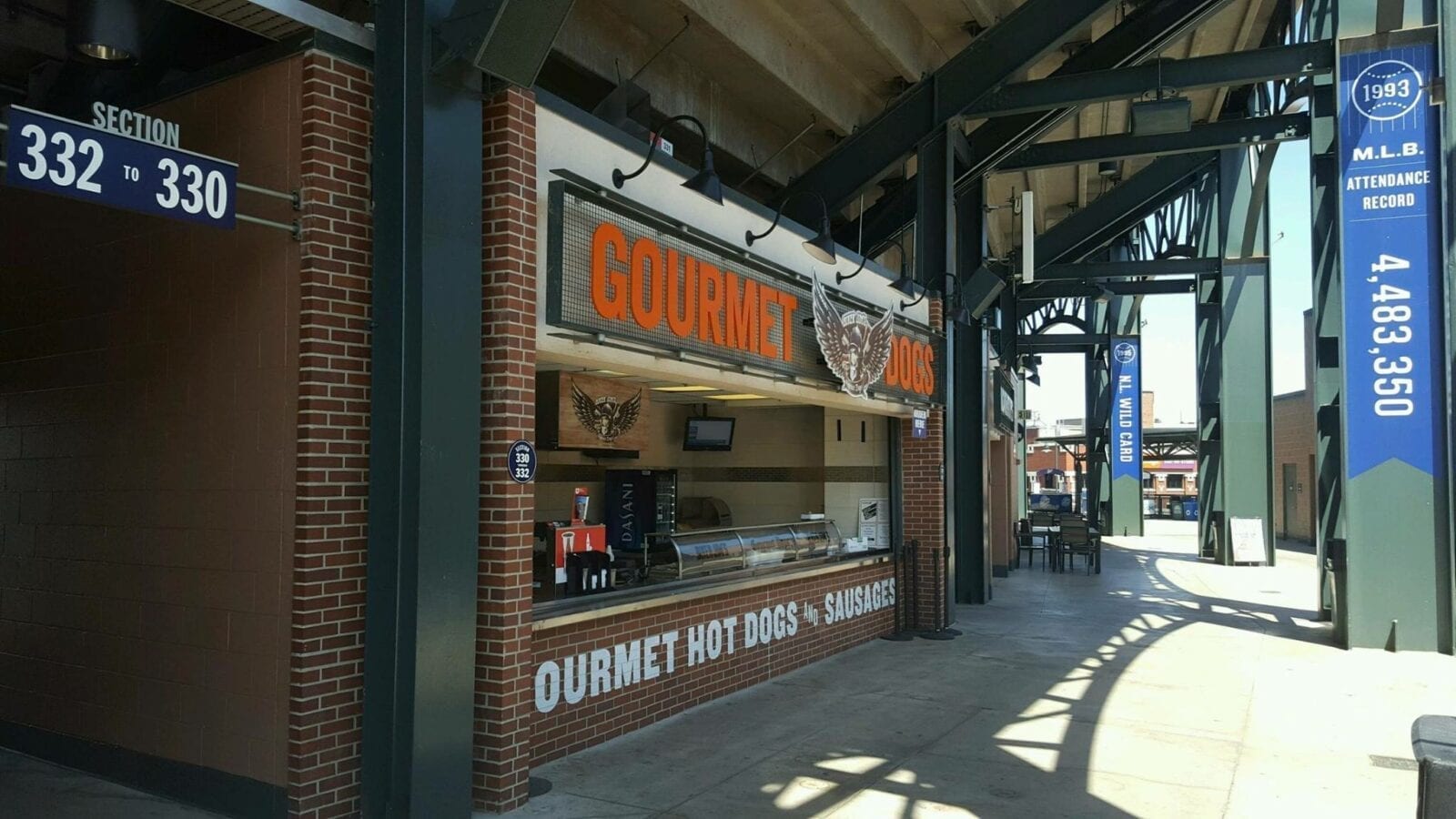 Biker Jim, the namesake of the acclaimed Denver hot dog restaurant, is a real person with an origin story you'd expect to see in something like a hip new Netflix comedy. Long before he set out to serve Denver residents amazing hot dogs, Jim Pittenger was a repo man who, by his own estimation, confiscated around 12,000 cars throughout the course of his career.
In 2005, Pittenger took a break from his day job and started selling hot dogs on a street corner in Denver. 700,000 dogs and 15 years later, Biker Jims is one of Colorado's biggest culinary success stories.
With one location in LoDo and another in Coors Field, the world first learned about Biker Jim's from the late Anthony Bourdain, who featured the Pittenger's unique spin on hot dogs on his show No Reservations in 2010. Massive interest in Biker Jims followed, with appearances in shows on The Travel Channel, Food Network, and the Cooking and Sundance channels. According to Biker Jim's website, Yelp called it the 12th best restaurant in the entire country.
What's so special about Biker Jim's? Pittenger's made-for-TV origin story is a big sell, but what really draws throngs of crowds and famous TV personalities are alike the rare meats the restaurant is somehow able to offer for a reasonable price. This isn't your grandpa's hot dog, unless your grandpa happens to be named Jim Pittenger.
Reindeer, wild boar, German veal, and even rattlesnake and pheasant are ground down into sausages, formed into hot dogs, and then served to patrons looking to try something they've most likely never experienced before. With no signs of slowing, Biker Jim's is looking to expand its hot dog carts and brick and mortar storefronts to new markets, so don't be surprised if you start seeing their trademark dogs in new Colorado cities and beyond.
4. Beau Jo's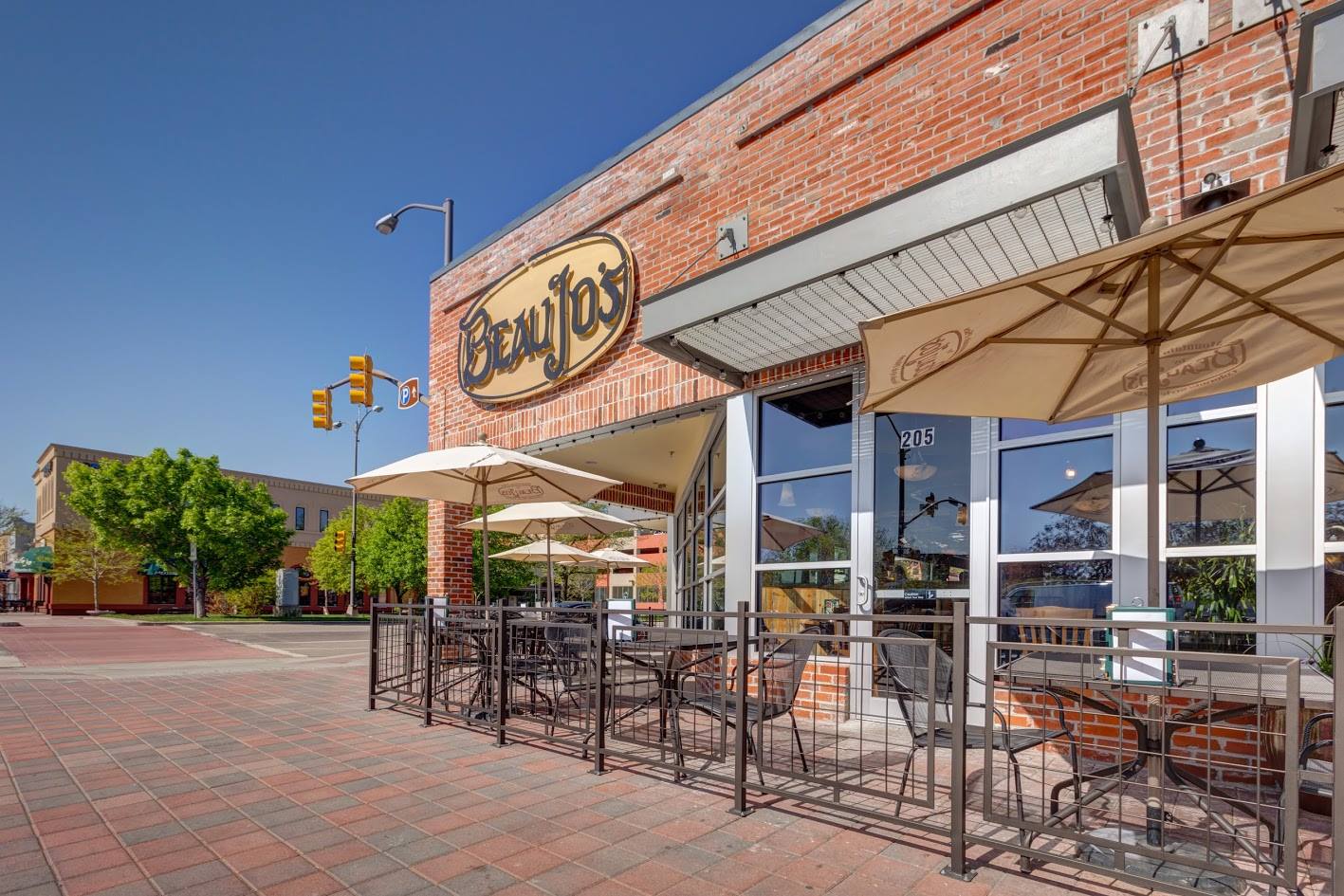 Beau Jo's tends to be a polarizing topic in Colorado, especially for residents who've recently located to the state. Are their "true mountain pies" delectable gifts sent from pizza heaven, or are they nothing more than heaps of bland dough served with basic pizza toppings?
It depends on who you ask, but what isn't up for debate is the fact that Beau Jo's is a Colorado institution. Colorado natives have been frequenting Beau Jo's locations for decades, and the pizza chain is credited for pioneering "Colorado-style pizza", which is made with braided dough and loads of toppings.
How is it different than Chicago's deep dish style? Chicago's pies are baked for around 40 minutes, while Colorado's are cooked at extremely hot temperatures for just ten minutes. Colorado style pizza is also made with local honey as opposed to sugar.
Beau Jo's sells its pizza by the pound, a business decision made by the restaurant chain because it applies toppings so generously. The Colorado pizza slingers have opened numerous locations around the state in recent years, with the first flagship store founded in Idaho Springs more than 40 years ago.
The restaurant has become famous for offering an absurd pizza challenge. At 14 pounds of crust, cheese, meats, and vegetables, Beau Jo's dares you and a friend to try to finish its ungodly pizza and will give it to you for free if you do. If you're normal human beings not capable of consuming anywhere near that amount of pizza, you'll be charged $79.99 and promptly shamed. Monsters who manage to finish the pizza win $100 cash, free t-shirts, and the enduring desire to never eat anything resembling pizza ever again.
5. The Historic Mint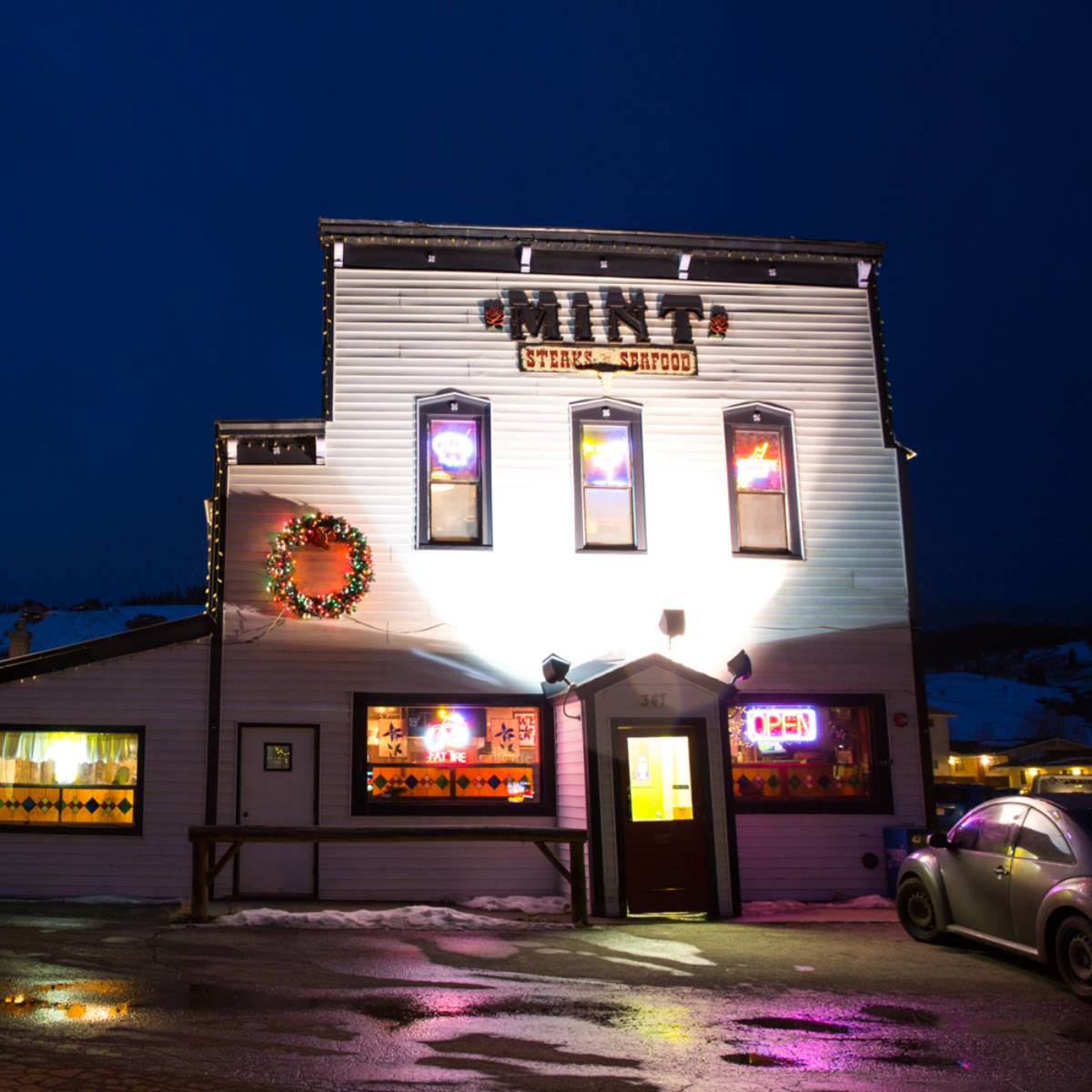 The Mint might not be as popular as some of the other Colorado restaurants mentioned here, but it's a bona fide historical treasure, and gives contemporary patrons a dining experience they won't forget. Move over, Mongolian barbecue restaurants, The Historic Mint lets you cook your own meat on a grill set in the center of the restaurant.
While this restaurant could easily coast by with its impressive historical legacy, it strives to offer patrons a rewarding, personable experience marked with choice meats and tasty cocktails for prices that are probably lower than what you'd expect.
According to the Mint's website, the bar section of its building has experienced more Summit County history than "any living person." The bar, which was originally a mountain saloon that served miners in a village called Kokomo, was dismantled and moved to the town of Frisco. Exactly how and why this happened isn't clear, but it was the first of many dramatic changes the establishment would undergo over the years. The saloon dropped its original name of Jack Ryan's Saloon and became The Mint after it was incorporated into the town of Dillon in 1882.
A favorite local hangout, The Mint was known for hard drinking, card games, and pool. It survived multiple fires and snow blockades on Dillon's main street until the Great Depression and a state decision to abandon the town to make way for Dillon Reservoir forced the establishment to move once again (they flooded the original Dillon townsite under the reservoir), this time to its current and hopefully final location of Silverthorne. The Mint has obviously been through quite a bit, but it's tough as nails, and will probably outlive us all.
6. The Fort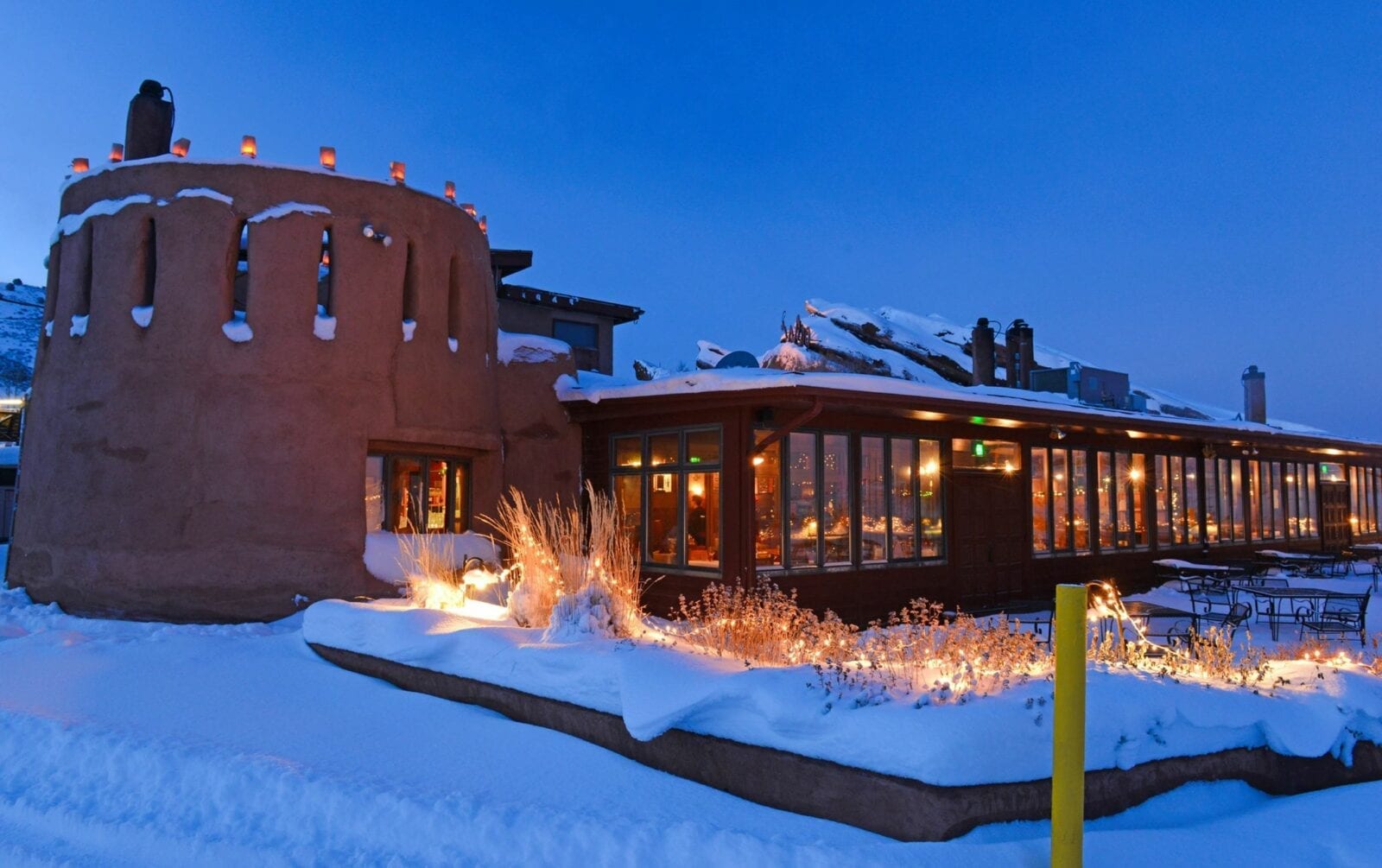 To some, The Fort is a hallowed culinary destination known for hosting U.S. presidents and delivering iconic western food. Others see it as hokey and a tad inhumane for its practice of serving Rocky Mountain Oysters, which, for the initiated, is a cheeky name for bull testicles.
Located in Morrison, construction of The Fort began in 1961, and its adobe structure was inspired by Bent's Old Fort, which was an adobe trading post built in 1833 in southeastern Colorado that still stands today. William Lumpkins, a famous architect from Santa Fe, was hired to build the structure, and all of the furniture was designed and hand-carved by artists from Taos in a classic style.
The Fort was originally intended to be a family home of the Arnolds family, but their bank suggested putting a business in the adobe structure when it became clear the project would far exceed its original budget. The Arnolds agreed, and The Fort officially opened its doors in 1963 as a restaurant, while the upstairs was designated for the family's living area.
A piece of Fort lore that seems fake but is very much real is the fact that the restaurant's current proprietor Holly Arnold Kinney adopted a bear cub when she was 9 years old and lived with it until it died 19 years later. She even wrote a children's book about it.
Western fare like bison, elk, and quail, have been staples at The Fort since it opened. And, like the building itself, its menu was originally inspired by the cultural fusion that occurred at Bent's Old Fort when traders came from modern day Mexico and brought their culinary traditions along with them. Today, The Fort serves over 80,000 buffalo entrees a year and is internationally famous for recreating a piece of Colorado history.
7. Restaurants inside the Brown Palace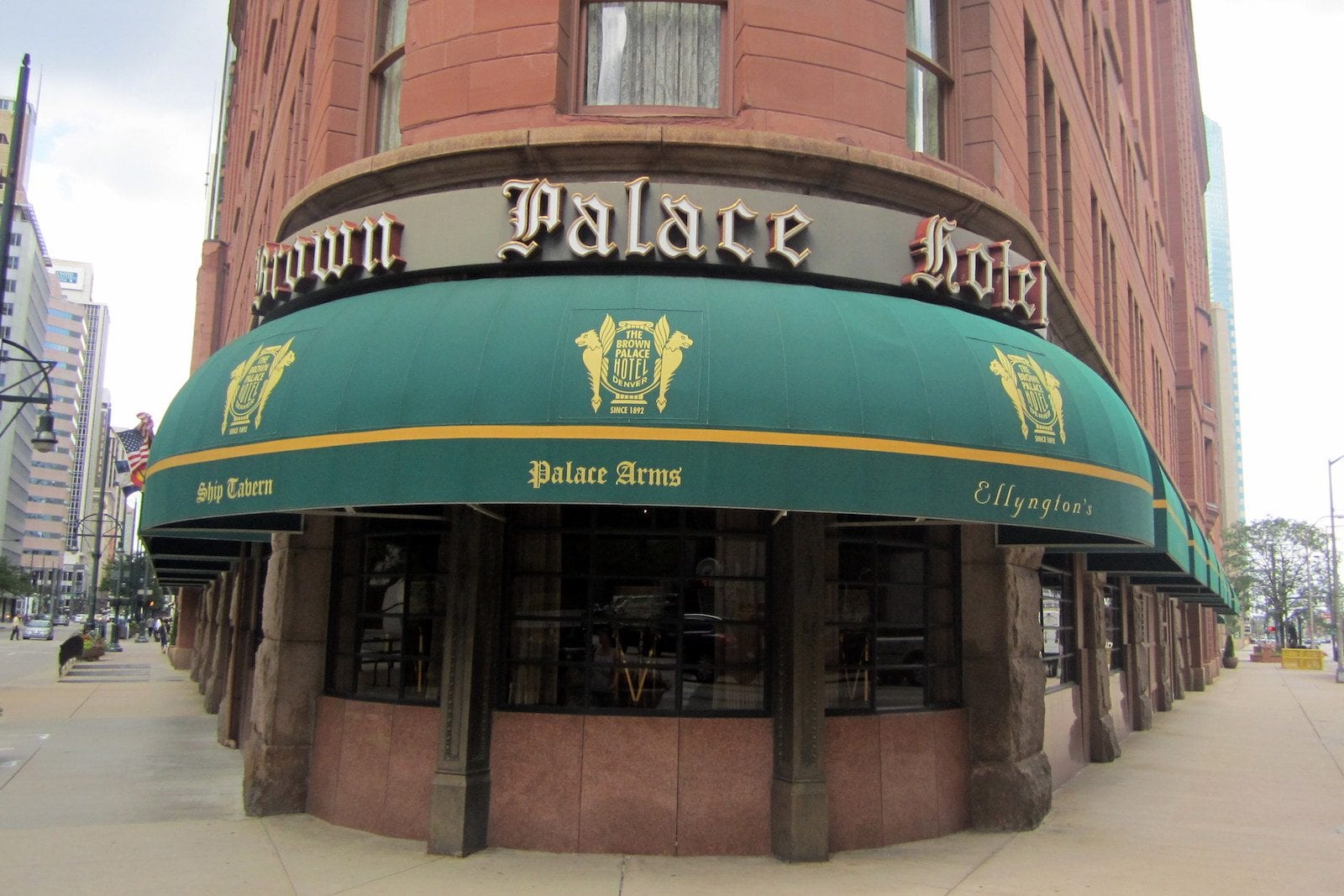 Eating at one of the Brown Palace's restaurants is a way to embrace Colorado's historical roots in a storied atmosphere you won't find anywhere else in the state. The Brown Palace opened its doors back in 1892 to accommodate the increasing number of travelers moving through the mountain west at the time.
The palatial hotel was established by a carpenter named Henry Cordes Brown, who originally purchased the unique triangle-shaped plot of land to graze his cow. Brown also purchased a plot of land in Denver's Capitol Hill neighborhood, which he later sold for a large sum of money. This gave him the funds he needed to construct an extravagant hotel, but sadly, he was forced to evict his cow from the plot of land.
Truth be told, the Brown Palace's exterior doesn't do its interior justice, and you'll see why when you step inside. A gorgeous atrium lobby sits below eight floors with cast iron railings and fairytale chandeliers. When you're at the Brown Palace, you can't help but feel like you're a small part of something that's remarkable and authentic in a state that's often criticized for trading in traditions and spaces of genuine character for vapid trends and easy profits.
Over the years, multiple restaurants have sprung up inside the Brown Palace, with some hallowed Denver dining traditions along with them. One such tradition is Afternoon Tea, which offers herbal teas, scones, and finger sandwiches accompanied by the sounds of a harpist or pianist playing nearby. The Brown Palace boasts three restaurants, each with its own character and purpose. Palace Arms sells itself as a fine dining culinary destination that embraces history, local ingredients, and dishes prepared with techniques that are found the world over.
For breakfast, brunch, and lunch fare, Ellyngtons treats guests to creative dishes, attentive service, and a Dom Perignon Champagne Brunch on Sundays. And for lunch, happy hour, and dinner, the Ship Tavern serves up premium steaks, burgers, and cocktails in a tavern that, you guessed it, resembles an old ship.
Believe it or not, Brown Palace's restaurants aren't as expensive as you'd expect, other than a menu item at the Palace Arms called "Hardy's Perfection" that will run you $900. Other than that, most basic meals at the Brown Palace are comparable to other restaurants in the Downtown Denver area.
8. Illegal Pete's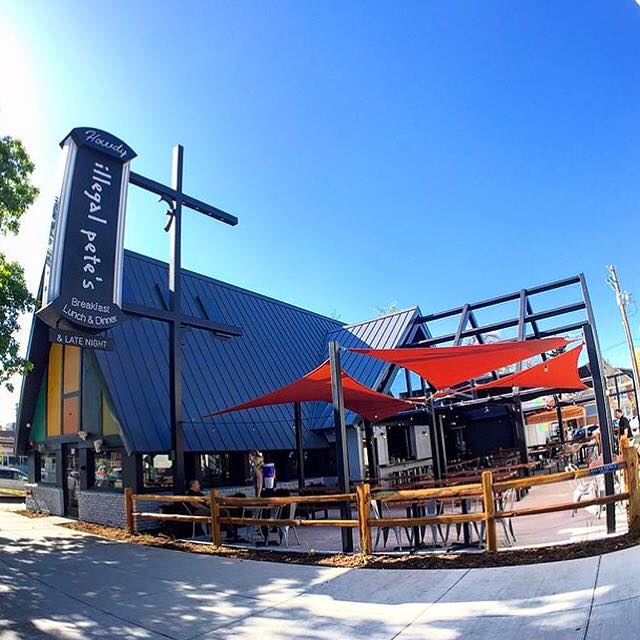 If you're up on your Colorado fast casual restaurant history, you already know that massively popular restaurants like Chipotle, Qdoba, Quiznos, Noodles and Company, Tokyo Joes, and Snooze all started in the Centennial State. A new and exciting addition to this list is Illegal Pete's, which has 11 locations in Colorado and Arizona with many more most likely on the way.
Like Chipotle and Qdoba, Pete's slings burritos and tacos, but what makes it a distinctly Coloradan restaurant is its irrepressible spirit of fun, generosity, and inclusion, and a commitment to supporting artists. Musicians touring through cities with Illegal Pete's locations can stop in and eat for free with the Starving Artists program.
Pete's even founded its own record label and released albums from Colorado musicians and comedians. The chain also makes an effort to donate time, money, and other resources to needs in the neighborhoods their stores are located in. Pete himself, yes, he's a real guy, showed up in person to help the community of Lyons, Colorado in 2013 after flooding devastated the area.
Despite controversies over the restaurant's name that crop up in the news from time to time, Pete's remains a beloved Colorado culinary staple, with restaurants everyone from punks to investment bankers like to eat, drink, and hang out in. Because Illegal Pete's has grown at a far slower pace than rivals like Qdoba and Chipotle, it can offer far better food for a comparable price price.
Aside from the simple awesomeness of mixing together your burrito's ingredients before roll-up (to ensure consistency in every bite…unlike Chiotole or Qdoba), another feature that makes it a favorite amongst hungry Coloradans is that it offers authentic green chile. Whether its chile is sourced from New Mexico or Pueblo, is unclear, however, leaving the restaurant at risk for becoming a victim of the devastating and totally not made up by a marketing company "chile war" and the subject of future controversies.
9. Restaurants at the Broadmoor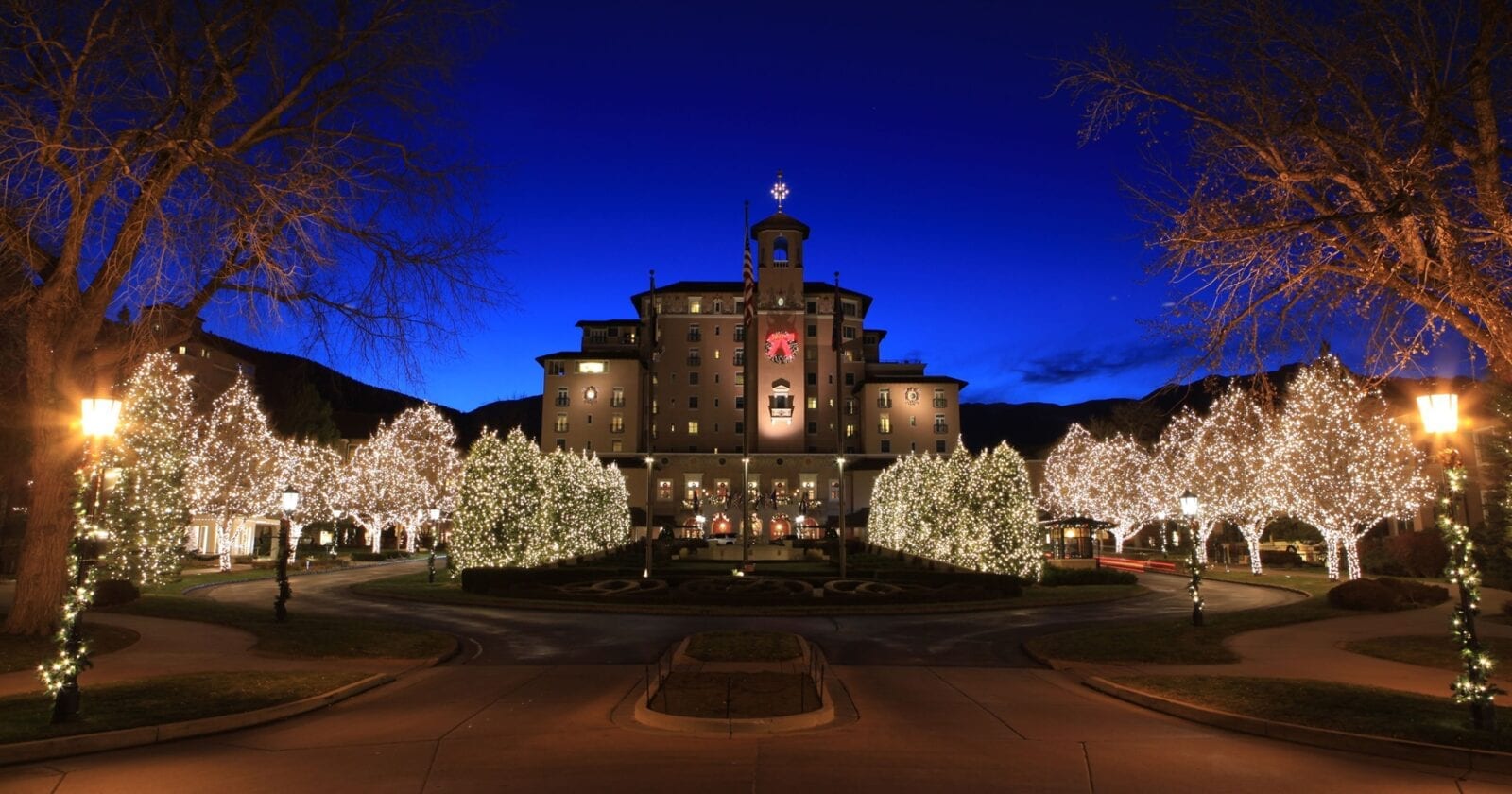 Alongside the Brown Palace, the Broadmoor Hotel embodies a unique, luxurious Colorado spirit. But unlike the Brown Palace, the Broadmoor's history dates all the way back to the Civil War, and boasts many more restaurants on the grounds of its sprawling resort––there are 11.
Located near the foothills west of Colorado Springs, the Broadmoor has been offering guests an authentic mountain resort experience since opening its doors back in 1865. Restaurants at the Broadmoor reflect an era of Colorado many residents aren't aware of today which embodies an ambitious, elegant, and adventurous spirit that was prevalent in the area shortly before it achieved statehood in 1876.
Guests are treated to activities like horseback riding and fly fishing and have access to some of the best spa amenities the mountain west has to offer. But when it comes to notable Broadmoor activities, fine dining tops the list. Broadmoor's premier restaurant,  Penrose Room, is the only Forbes Five-Star, AAA Five-Diamond restaurant in Colorado.
This seasonally inspired restaurant creates artful interpretations of classic European dishes and, like the rest of the Broadmoor, it enforces a strict dress code. Other Broadmoor restaurants include an acclaimed steak house, one that serves authentic Italian cuisine, and a whimsically themed breakfast and brunch dining room. Broadmoor isn't cheap, but it will probably deliver a dining experience you'll remember the rest of your life. Just remember to wear some nice clothes, pal.
10. Casa Bonita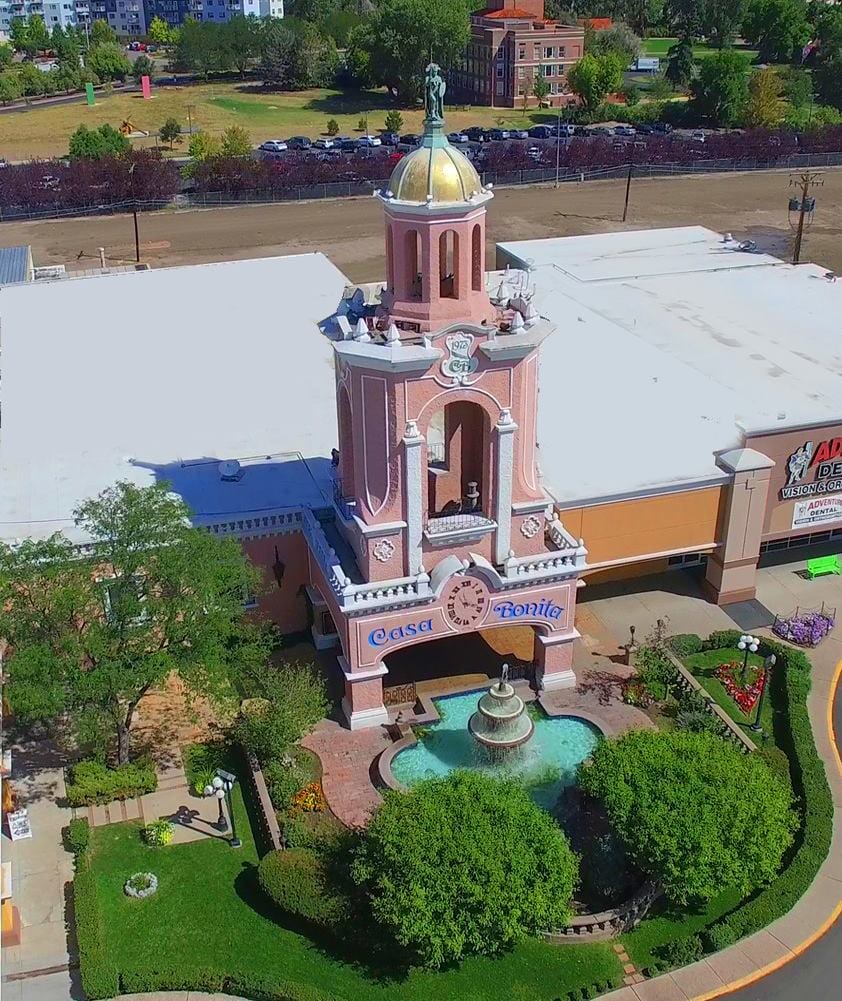 Casa Bonita's food is not good. I'm not breaking any ground with this statement, but what's remarkable about this famous Colorado restaurant is that it continues to be successful despite its unfortunate and widespread reputation for serving up off putting food. Peruse Casa Bonita's Yelp reviews, and you'll read through a torrent of complaints themed around terrible food being sold for an exorbitant price.
But here's the thing: I and many other Colorado natives would be devastated if Casa Bonita went under. It's literally the same exact place it is today as it was 30 years ago when my parents took me there to celebrate my 5th birthday.
The terrible skits put on by earnest teenaged actors, the guy in the cheap gorilla suit running around and wreaking havoc, the cliff divers gracefully plunging off a 30-foot manmade waterfall into a turquoise pool at the center of the restaurant. Food has always taken a backseat to the real reason patrons continue to flock to Casa Bonita after more than 40 years: Pure, unapologetic spectacle.
Located in Lakewood, Colorado, a giant pink tower looming above an unassuming strip mall marks the spot where Casa Bonita has resided since 1974. Many Coloradans view the restaurant is something unique to their state, but founder Bill Waugh opened the first Casa Bonita restaurant in Oklahoma City, Oklahoma of all places. Waugh pioneered the "all you can eat" beef and chicken dishes at the first Casa Bonita that have disappointed countless customers over the years at the Lakewood location.
Other iterations of the restaurant came and went over the decades, but the Lakewood location has survived and thrived, and it was even named an official historical landmark by the Lakewood Historical Society in 2015. The show South Park made the restaurant internationally famous after it was featured in one of its episodes in 2003. But Casa Bonita shrugged off the attention and continued doing what it's done for decades––delighting, frustrating, and bewildering guests.