The little rural town of Mack resides at an elevation of 4,521 feet near the Colorado/Utah border. It's an unincorporated community located 10 miles east of the border.
It's part of the Grand Junction Metropolitan Statistical Area in Mesa County. There has been a Mack Post Office since 1904 with a zip code of 81525. The town was named for a prominent man in the asphalt business named John W. Mack.
Main Attractions
Country Jam Ranch – Situated near town, it's a big permanent musical festival destination. Country Jam is the most well known event held at the ranch since 1992. It brings thousands of people to this otherwise, sleepy western Colorado community.
Recreation
Camping: Read about the camping near Mack, Fruita and Grand Junction.
Special Events
Jun – Country Jam – The Grand Junction area has hosted Country Jam more more than 25 years. It's one of the country's biggest country music festivals, held over four days in mid June.
Activities near Mack
Federeal Lands:
Landmarks:
State Parks:
Towns:
Latest in Mack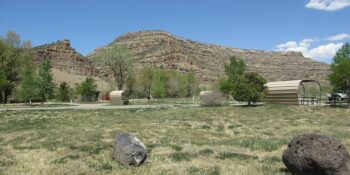 Located on Colorado's far western slope, Mesa County is home to the largest city west of…