Because of Colorado's Wild West past and multiple mining rushes, the Southern Rocky Mountains are filled with historic towns. Some went belly-up and turned to ghost towns, while others burnt to the ground. Luckily, many of them were well-preserved and welcome visitors today looking to experience the Old West on their vacations.
In the 1800s, Colorado quickly became the hub of activity after gold was discovered. Those looking to make it rich quickly came to Colorado seeking their fortune, which brought in a slew of hard-working, rowdy, and unruly men.
These new residents helped build some of the state's current towns and brought with them stories of the Wild West. Tales about mining for gold and silver, rowdy saloons, and gun-slinging showdowns.
When the mines started to close and the value of silver declined, these old mining towns went belly up, and to save them they turned to tourism to help stay afloat. Plus, with historical preservation efforts, these Old West towns of Colorado still stand today as a representation of what life once was and offer a peek into the past for modern-day travelers.
Here are some of the best Old West towns in Colorado, in no particular order:
1. Central City
Located just 35 miles west of Denver, Central City has been luring in locals and travelers alike for years, all for the chance to strike it rich. Back in its earliest beginnings, Central City made its fortune as one of the first important gold discoveries in Colorado. In the early 1870s, Central City saw its peak, coining the name, "The Richest Square Mile on Earth."
Then the fire of 1874 destroyed most of the town, and soon several years later, Leadville was to take the spot as the leader of gold mining. Thankfully htough, Central City rebuilt its downtown in nearly all brick buildings, which lasted longer than the wooden buildings that stood before.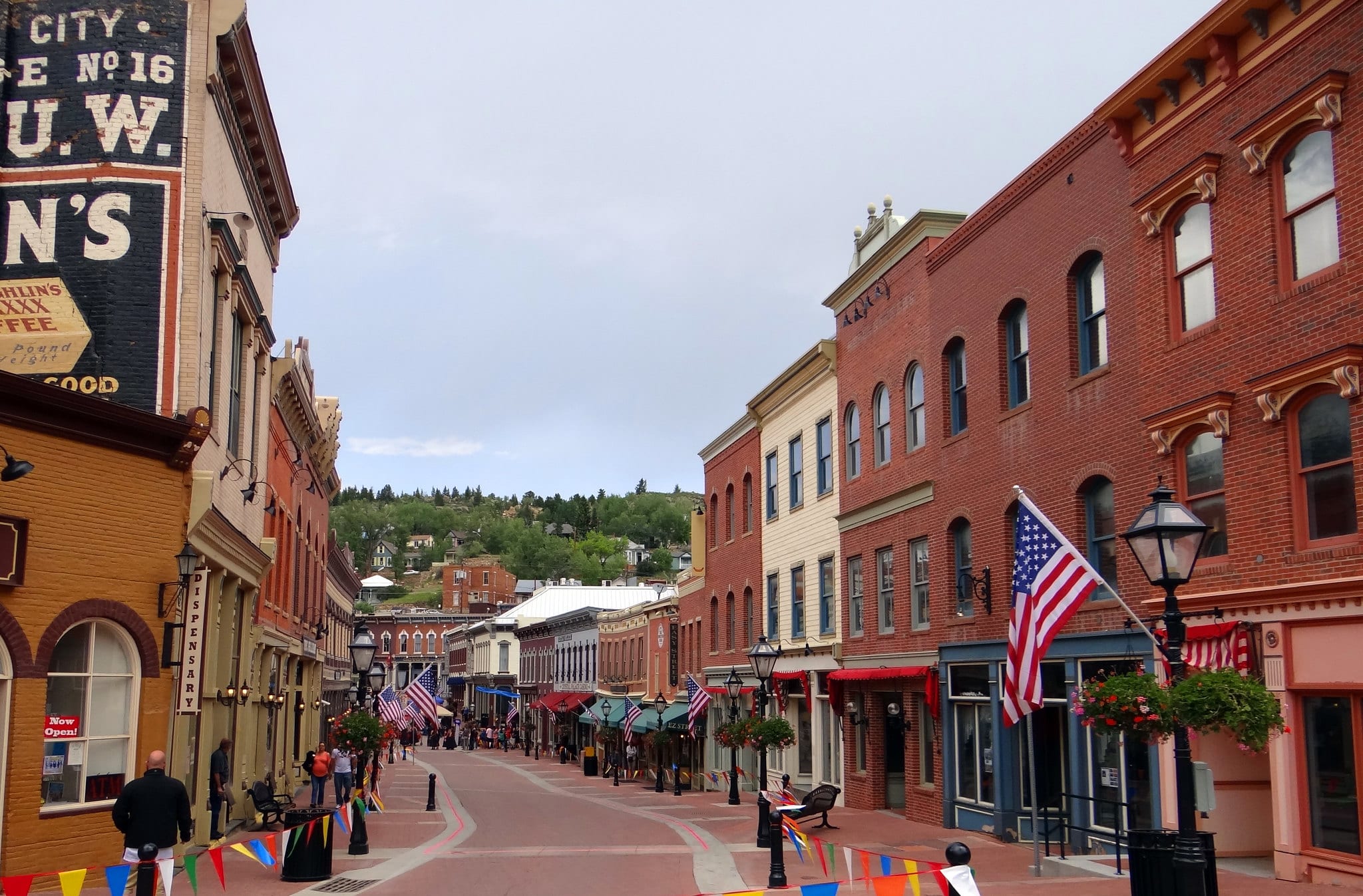 It's believed by experts that there are over 17,000 mining claims near Central City. A popular attraction in Gilpin County is to take one of the several mining tours in Central City, plus nearby Idaho Springs and Nevadaville.
Today Central City remains a vibrant town in Colorado with its many casinos, historic buildings, including the Central City Opera House, and their well-preserved historic downtown.
2. Victor
Part of the Cripple Creek Mining District, Victor lies on the southwest side of Pikes Peak and is an important part of Colorado's gold country. The gold brought in rowdy men from the mining industry, creating a town full of brothels and saloons.
Designated as a National Historic District and an intricate stop along the Gold Belt National Scenic Byway, Victor played and continues to play an important role in Colorado tourism.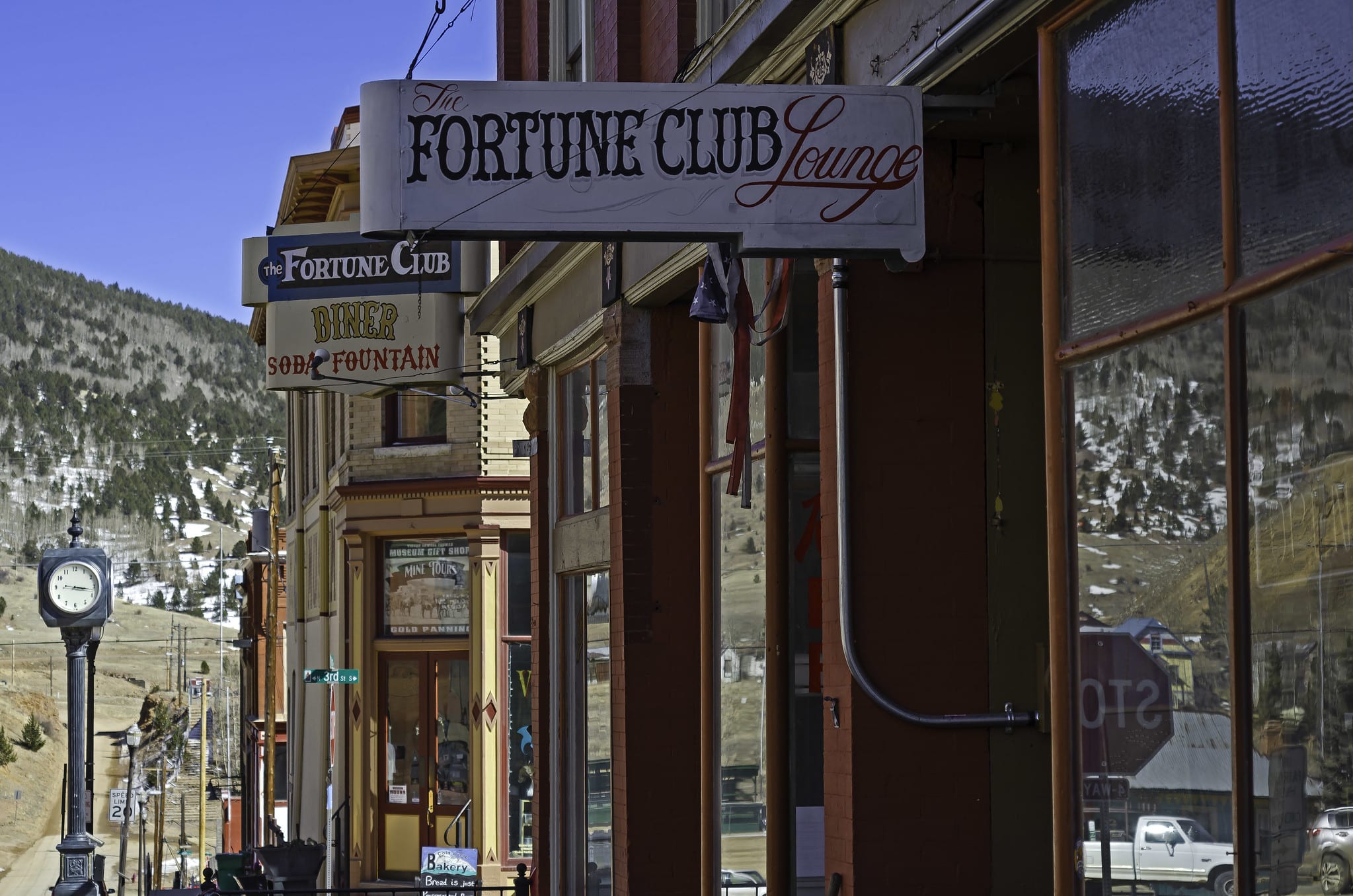 Today visitors can walk the historic streets of downtown of this iconic mining town with its unique late 1800s mine structures, Victorian-era homes, and historic turn-of-the-century buildings. Together, they make Victor one of the best remaining Old West towns of Colorado. Plus, discover the mining relics that are scattered around the outskirts of the town's central district.
3. Cripple Creek
Similar to its neighbor Victor, Cripple Creek got its start as a bustling mining town, drawing in thousands of gold enthusiasts in search of their fast fortune. As Colorado's last and biggest mining boom, The Gold Rush is an important part of Cripple Creek's history.
By 1894, Cripple Creek was the economic capital of the Cripple Creek Mining District, which had 150 active mines, making millions that year. Within that same year, they moved its notorious brothels from Bennett Avenue to Myers Avenue, creating a new red-light district with over 300 prostitutes.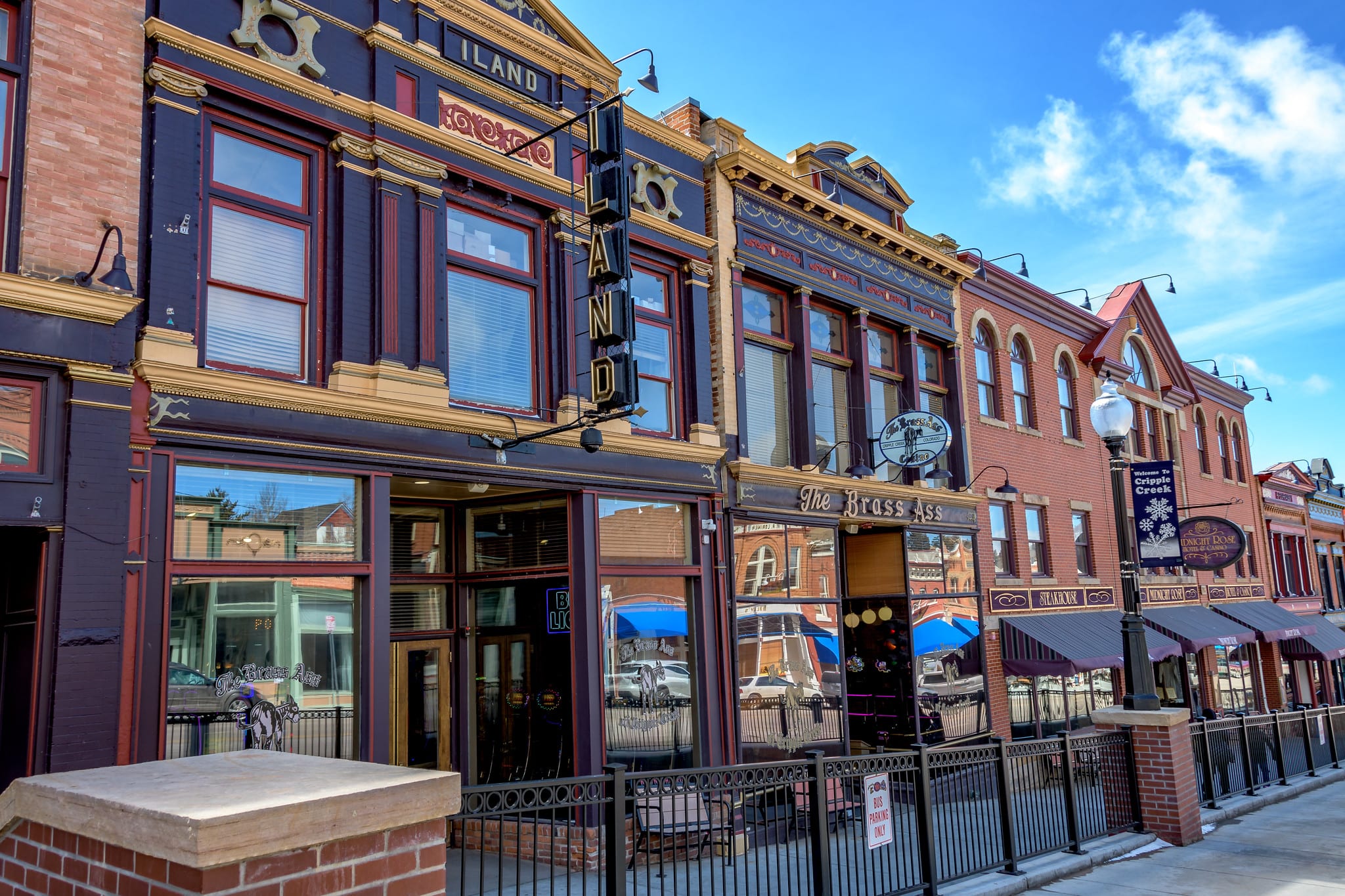 Cripple Creek still stands today as a casino hot spot in Colorado, which is now the town's most important source of income. Explore Cripple Creek's rich heritage with a visit to historic sites including the Butte Theater, Cripple Creek Jail Museum, and the Victor Hotel Thomas Museum, plus be sure to see the operating Cripple Creek & Victor Gold Mine that still produces gold to this day.
4. Silverton
Prospectors in search of gold and silver found exactly that along the Animas River in the heart of the San Juan Mountains. As a result, roughly ten years later, the town of Silverton was laid out and became the central cog within the richest silver-mining regions in the state.
By the early 1880s, Silverton had reached several thousand people and consisted of 400 buildings, where the saloons outnumbered the other businesses by 3:1. Beyond the rowdy bar scene, Silverton was also home to the infamous Blair Street, the town's red-light district filled with prostitutes and the less-law abiding citizens.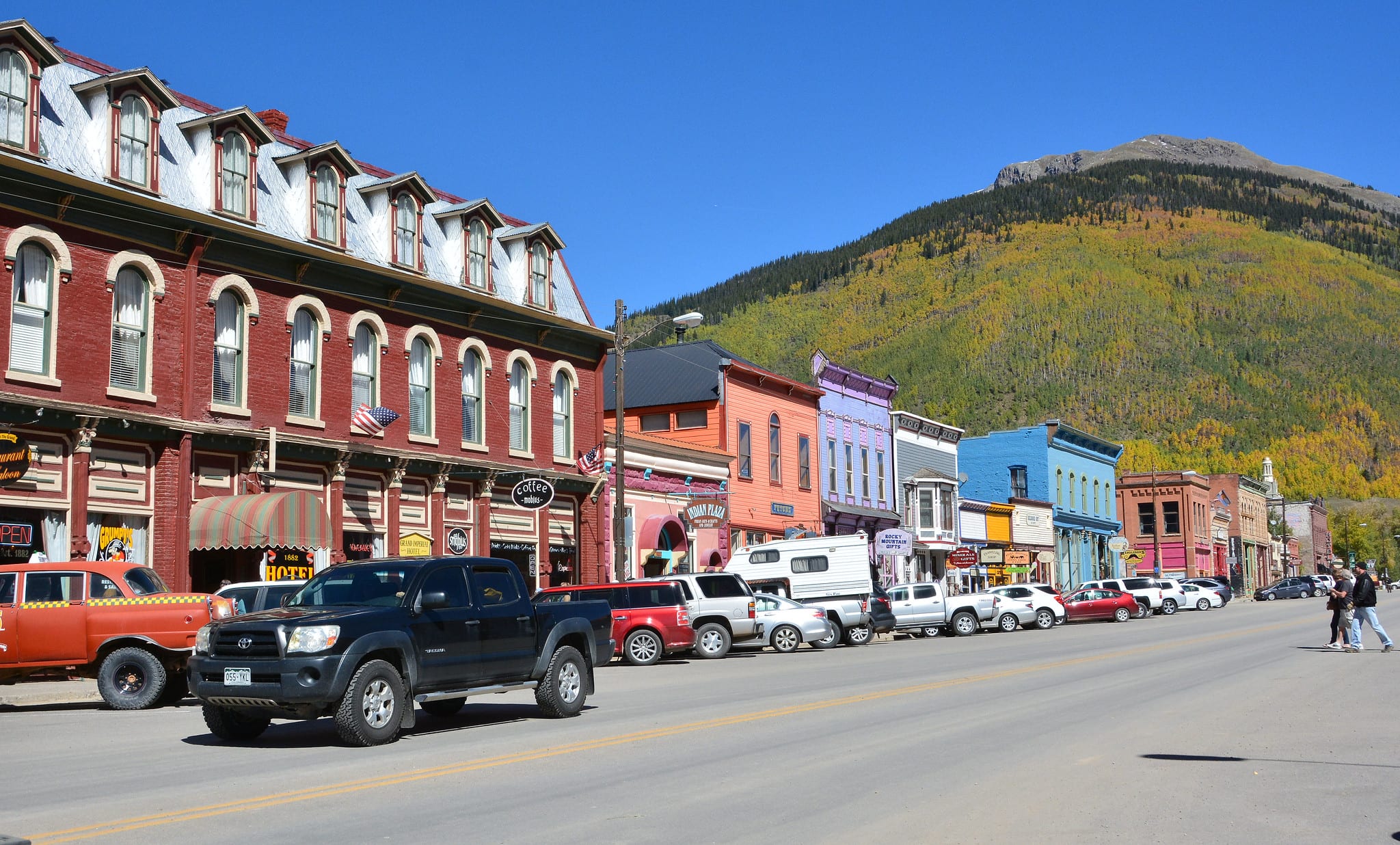 Today, Silverton still stands as a favorite year-round destination for travelers looking to get a taste of mountain life. Within the town, visitors will enjoy the historic downtown district filled with shops, restaurants, and historic landmarks. Be sure to brush up on your history at the Heritage Museum, which takes a look at Silverton's mining past.
5. Creede
Located in the Rio Grande National Forest in Southwest Colorado, Creede started with humble beginnings as a tourist destination and ranching community. But with the silver boom in the Upper Rio Grande Valley in the late 1800s, a surge of thousands made their way to the area. And mining camps seemed to pop up overnight with camps including Telluride, Silverton, and Ouray.
Of course, along with the influx of prospectors came the gamblers, bandits, and ladies of the night.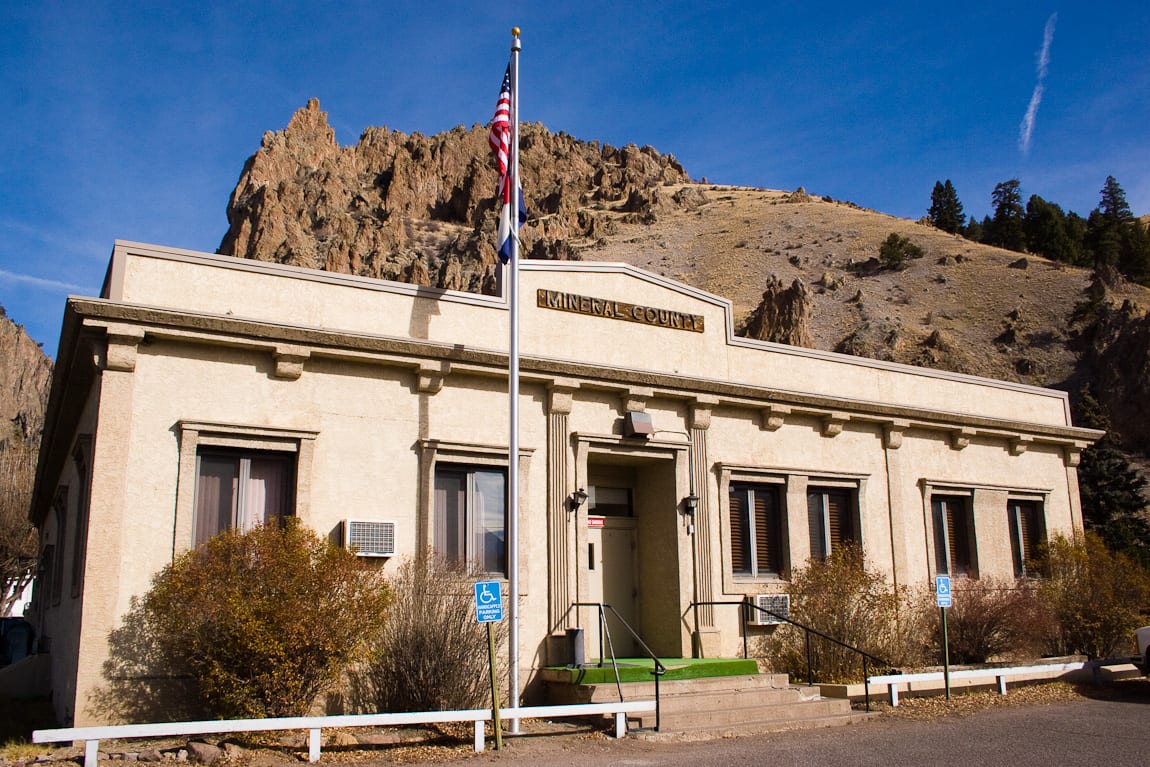 Encounter some of Creede's historic past by taking the Bachelor Historic Loop Tour. The tour takes visitors past 17 different mine structures and shafts that remain as part of the Creede Mining District. And for more about Creede's mining history visit the Creede Underground Mining Museum and the Last Chance Mine.
6. Ouray
Along with the silver boom in Creede, so came the boom of Ouray. Nestled in the San Juan Mountains, this picturesque mountain town, now known as the "Switzerland of America," was once a rowdy wild west town where silver prospectors came for fast fortunes.
For its law-abiding citizens, Ouray provided restaurants, churches, clothing stores, and a school, while the other side of town hosted numerous saloons and brothels.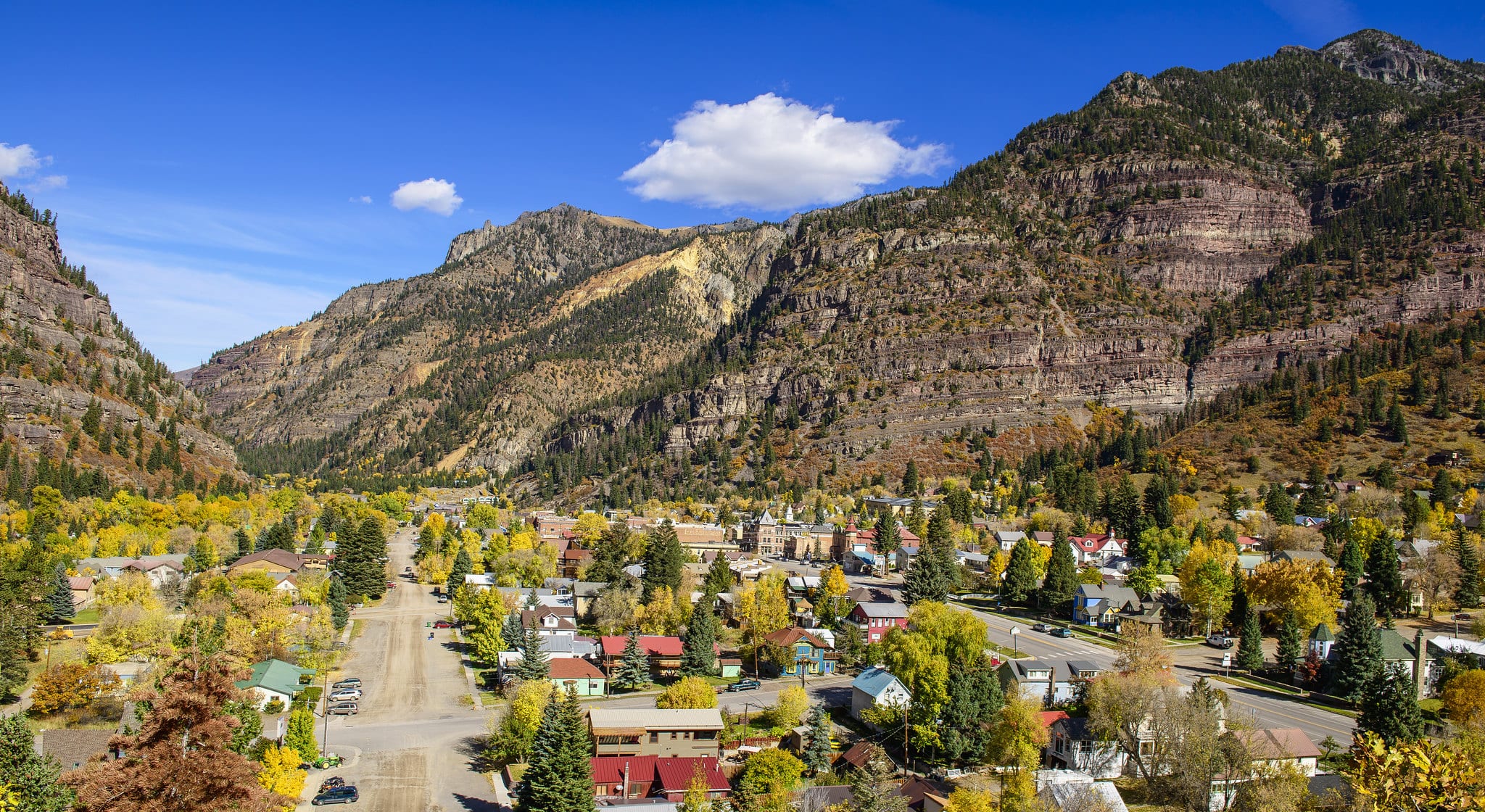 While mining continued to play an important role in the town's economy until the 1980s, today Ouray relies heavily on tourism for its economic gain. Soak up a bit of Ouray's history at the Ouray County Historical Museum or take a stroll through the historic downtown or soak in one of the area's several natural hot springs that make a visit to Ouray a true treat.
7. Durango
Unlike most other Old West towns of Colorado, Durango got its start in 1880 with the Denver & Rio Grande Railroad. With its expansion to Silverton, the railroad brought about both freight and traveling passengers to town, which added to its growth.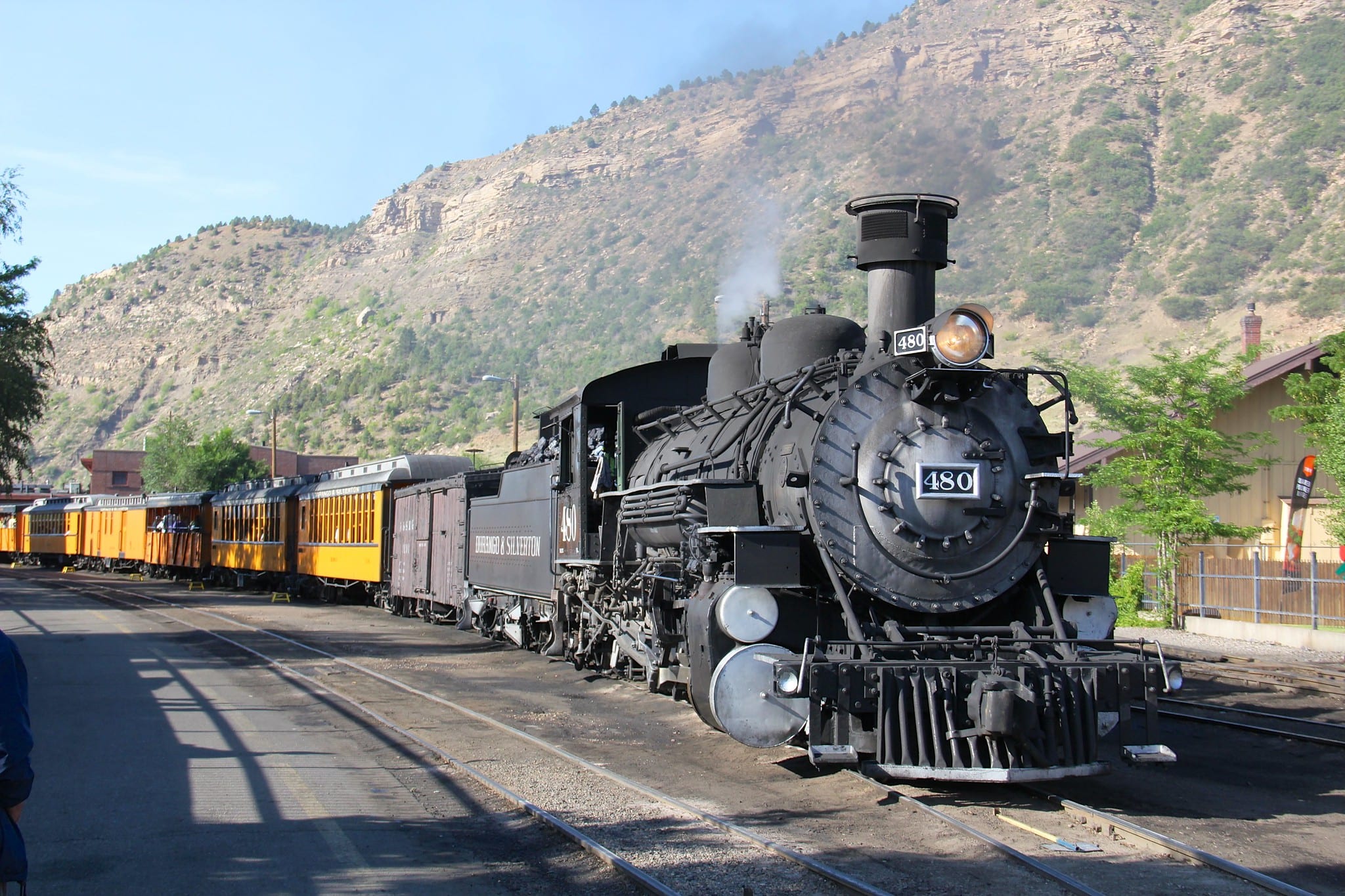 Listed as a National Registered Historic District, the downtown today offers multiple restaurants, prominent hotels, shops, museums, and art galleries. Most of which are housed in the town's original historic buildings. One of the town's biggest historic attractions is the Durango & Silverton Narrow Gauge Railroad, which retraces the original route from Durango to Silverton.
Be sure to add other notable historic sites to your visit, including the Strater Hotel and theater and the Railroad Museum.
8. Pitkin
Less than 10 miles northeast of Gunnison lies the tiny town of Pitkin. Originally named Quartzville, Pitkin was first established as a small camp mining town due to its many productive mines in the area. In 1880 it reached its peak of 1,000 residents and several hundred structures, all of which included businesses, restaurants, and of course several saloons.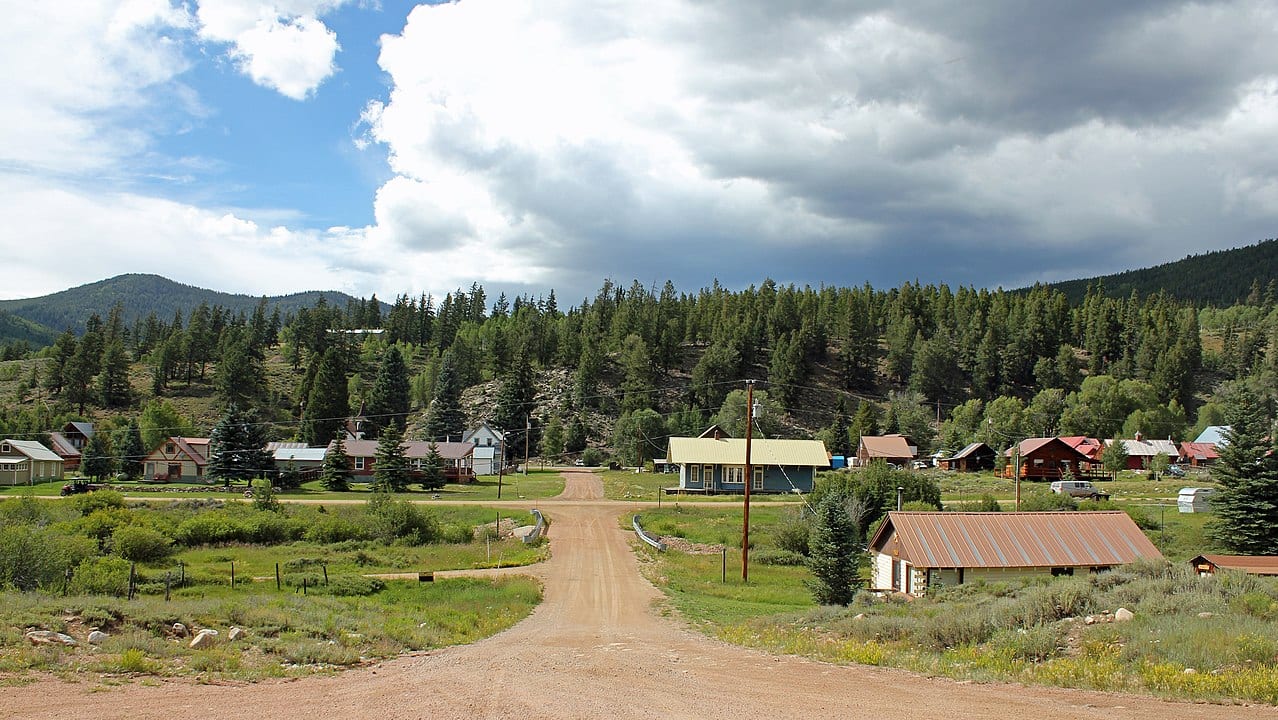 Today, Pitkin is home to less than 100 residents and offers one of the best mining camp ruins in the state. Other attractions include its historic church, which only operates in the summer and the historic Alpine Tunnel that runs through the Continental Divide.
9. Leadville
The mining district of Leadville was once the richest in the country. After its first discovery of gold in 1860, this gun-slinging town saw two major mining booms, which brought thousands of residents, businesses, saloons, brothels, and more riches they knew what to do with.
Heavily invested in profitable gold and silver mines, Leadville was a bustling town with lots of money to spend on saloons, dance halls, beautiful Victorian mansions, and the construction of the Tabor Opera House.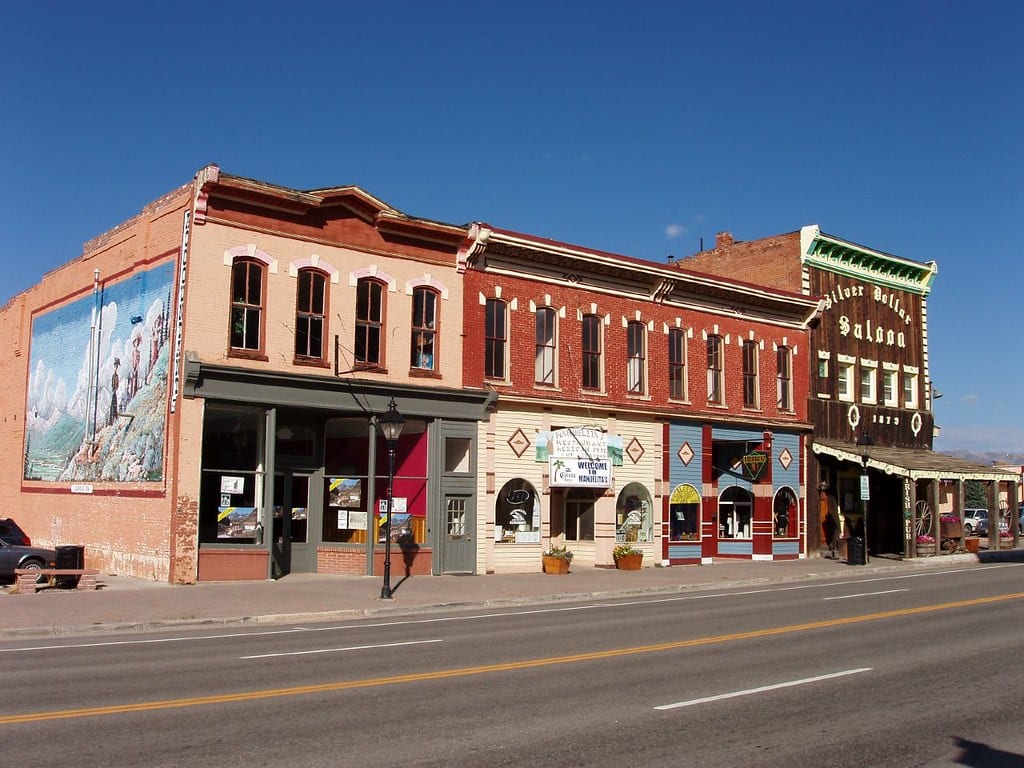 Today the Victorian-era town of Leadville is designated as a National Historic District and still stands today as a beautiful reminder of the past and a tribute to what mountain-town living in Colorado used to be like. Must-see historical sites to see include the Tabor Opera House, Heritage Museum, and the Leadville Mining Museum.
10. Georgetown
First settled in 1859 with the discovery of gold, Georgetown would later become one of Colorado's most important silver mining towns of the 1870s. The Georgetown-Silver Plume mining district was centered in Georgetown, where the money was invested, evident by the abundance of Victorian-era homes that line the streets downtown.
Soon a local newspaper developed, the Barton House opened and banks thrived. Plus saloons and pool halls to entertain the miners were abundant.
It's part of the Georgetown-Silver Plume National Historic District, which includes Silver Plume, Georgetown, and the Georgetown Loop Historic Mining & Railroad Park. The town still stands for its rich mining heritage with the Hamill House Museum, the Alpine Hose Firehouse, and the scenic Georgetown Loop Railroad, built in 1884 and still serving passengers today.
Those are among our favorite Old West towns anywhere. Have a wonderful time experiencing Colorado's colorful past and present.