Wintertime in Colorado is one of the best times to play outside. With snow-covered peaks and valleys, the Centennial State becomes a never-ending playground for snow-and-ice sports, such as cross-country skiing. Luckily, if you're residing around the capital city, your favorite Nordic pastime is close by.
From Nordic centers to open trails, discover below the best cross country skiing near Denver and jumpstart your winter fun!
Cross Country (XC) Ski Types, Season, Rentals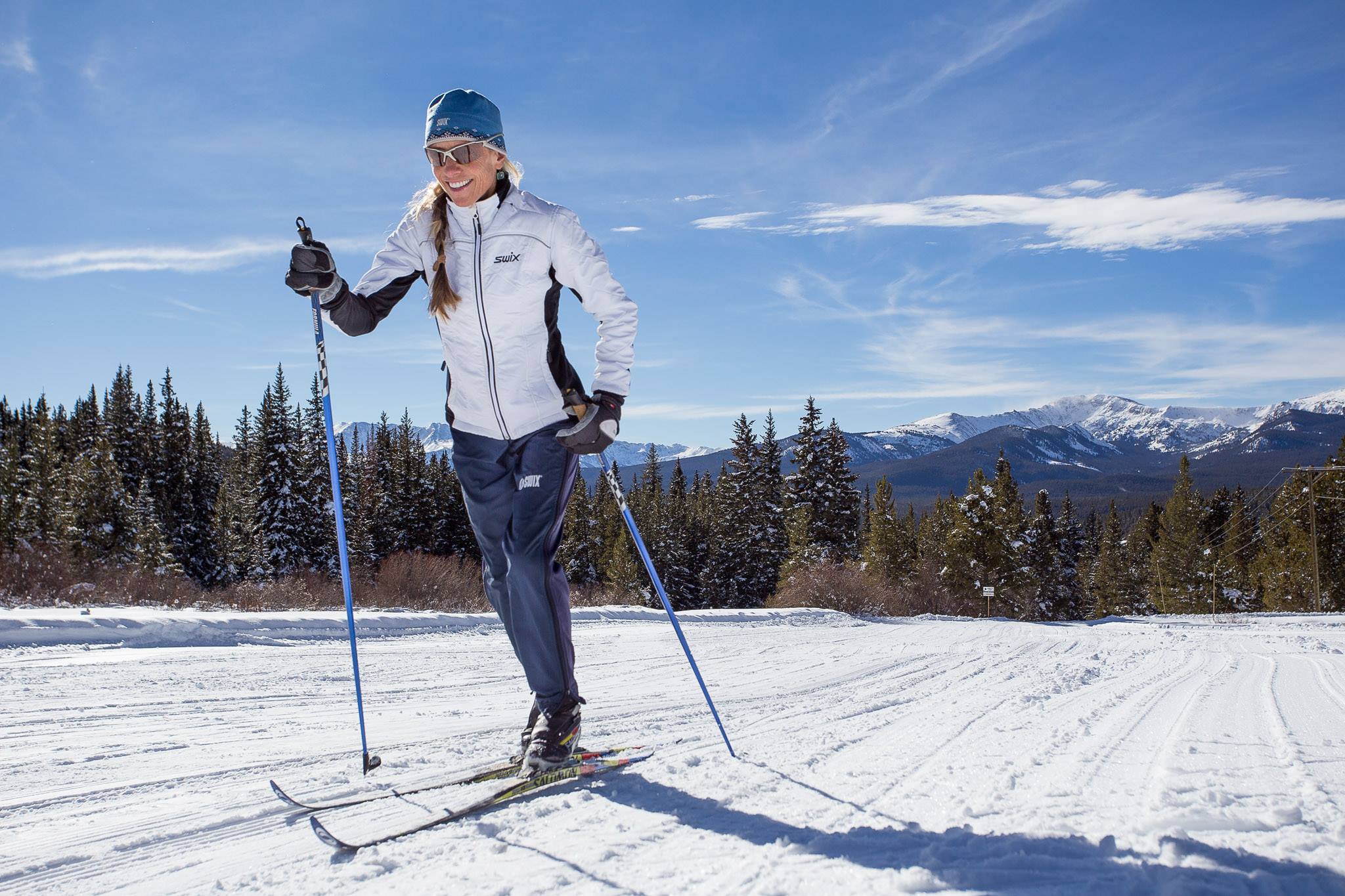 Also called nordic skiing, cross-country skiing is a winter sport that can be enjoyed on a variety of terrain and is ideal for both beginner and advanced skiers. It doesn't require mountains, only gentle rolling landscapes, and serves as a nice alternative to alpine, or rather downhill skiing, that offers a different experience on the mountain and one that saves your knees!
XC ski types: Classic vs Skate
There are two styles of cross-country skiing, classic and skate. Classic is for those who want to spend time on the groomed trails and tracks. The technique is similar to walking with skis side by side. This is the most popular style of cross-country skiing.
The other style is skate skiing. For those looking to gain a little speed, this is the style for you. A bit freer in its technique, skate ski gains speed by pressing the edge of your ski into the snow, making a skate-like movement through the snow. This style is more technical but also a lot of fun!
Knowing the style of skiing you will be doing will determine the gear you need and rental options available to you at the below nordic centers near Denver.
XC ski season
The typical XC ski season is underway by late November in most of the Rockies and a little bit later (pending snowfall) on the lower-elevation front range trails. It begins to end in March and may go a month or two later, depending on location and weather.
XC ski rentals
Not all of the places listed have cross country ski rentals available. While a state park or random nature trail won't, most Nordic centers will, so you can always call ahead and make sure they have what you want. Otherwise, some of the same downhill ski and snowboard rental stores you find around the metropolitan area and Rockies may carry XC rentals for you.
Typical rentals include:
Everything else you'd bring with you, from winter gloves, jacket and pants to the ever-important snow goggles or sun glasses. Unlike downhill skiing, helmets aren't worn, so bring along your favorite warm winter hat.
Cross Country Ski Trails in Denver
Of course, some of the best Nordic skiing trails to the area are right here in the city.
Ruby Hill Park
One of the best places in Denver to start is at Ruby Hill Park. When there is enough snow, the park's gently rolling hills and relatively flat terrain make for a great place to cross-country ski and even sled.
Plus, the park recently added a free Ruby Hill Rail Yard. for skiers and snowboarders. So, if you don't feel like fighting the traffic out west, stay in town and enjoy classic Colorado winter activities.
Highline Canal Trail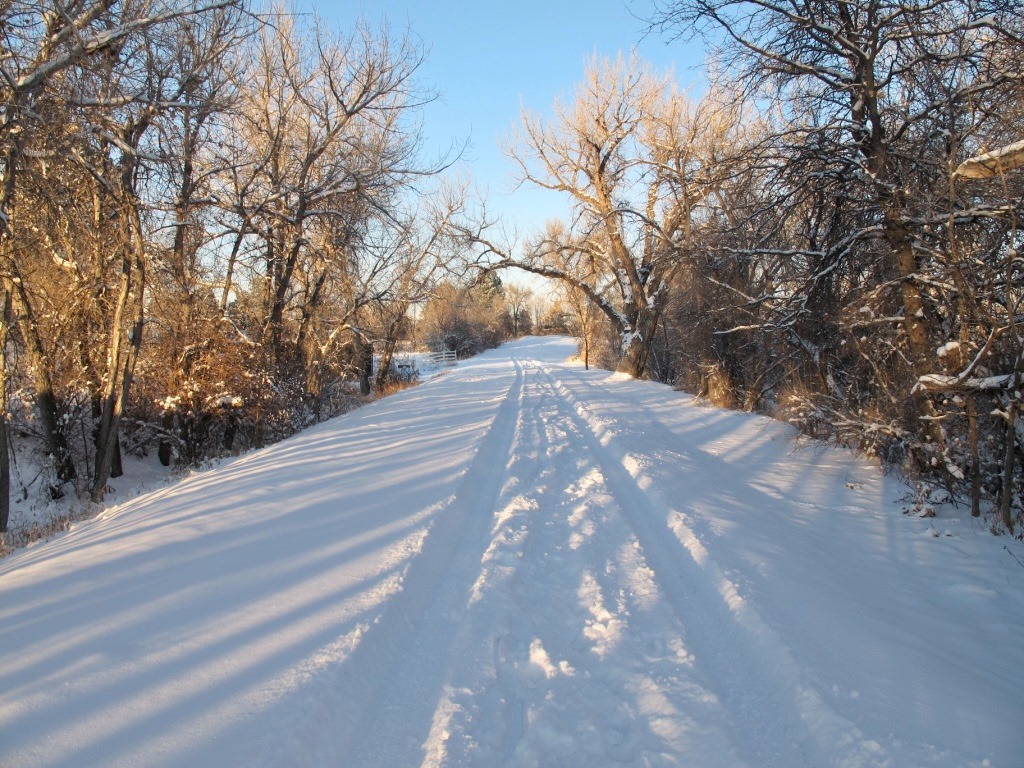 The Highline Canal Trail spans 71 miles through Denver's urban landscape and is one of the longest continuous urban trails in the country. When conditions are right, cross-country skiers will enjoy a snow-packed trail with mostly flat terrain.
Wait a bit later in the day and most likely someone will have broken the trail for you! There are many entry points along the trail so you can make your trek as long or as short as you want.
Roxborough State Park
24 miles from Denver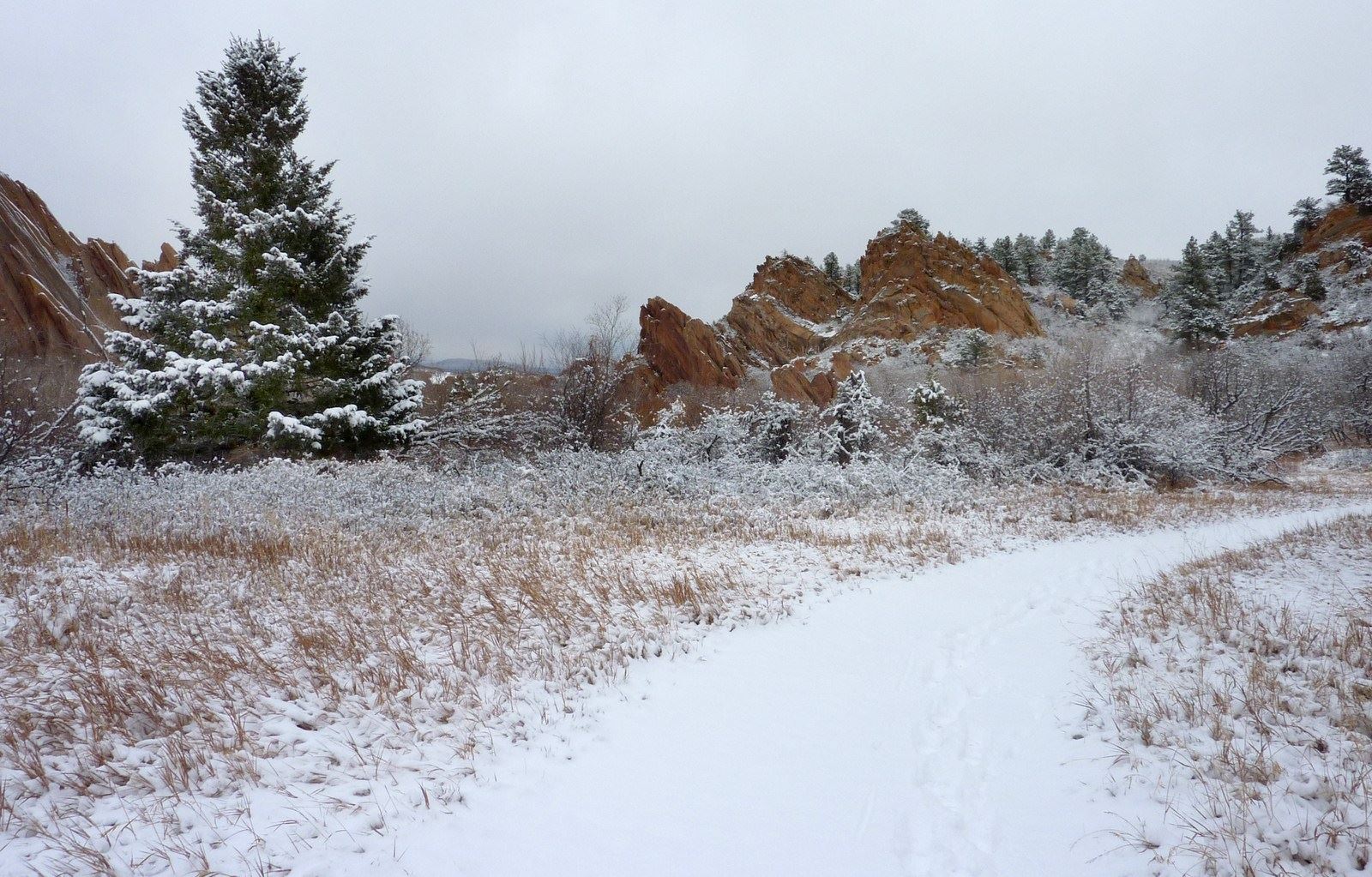 Located just outside of Denver, along the Front Range, Roxborough State Park is known for its jagged red rocks that shoot out of the ground. When snow conditions are right, Nordic skiers can hit the trails and explore the snow-capped red rocks for a unique winter experience.
Skiing is allowed on designated trails only. There is a fee to enter the park.
Eldora Mountain Nordic Center
49 miles from Denver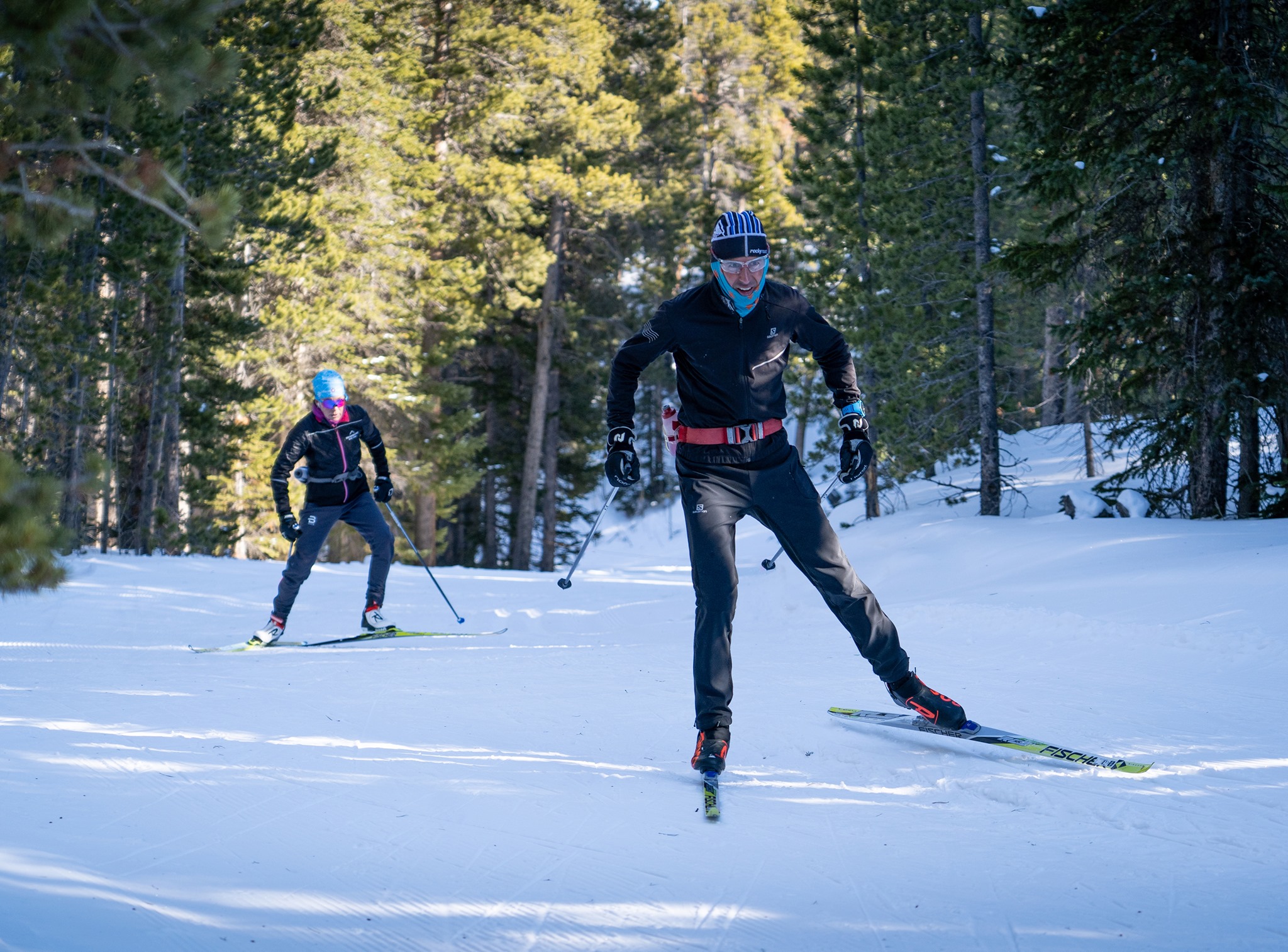 Located near the small town of Nederland, the Eldora Mountain Nordic Center features 34 miles of trails and nearly 25 miles of groomed trails. Find yourself winding through pine forests and gliding through expansive alpine meadows – all with a beautiful mountain backdrop. Skiers at Eldora Nordic Center also have access to National Forest lands via the Jenny Creek Trail.
For those just starting out, they offer private and group lessons. Try it out with their day pass or commit for the year with their season pass. Plus, as the closest Nordic ski center from Denver at just 49 miles away, a trip to Eldora makes for the perfect day trip from the city.
Mount Evans road
60 miles from Denver
Experience Nordic skiing at higher elevations along Mount Evans road. Located in the Pike National Forest, Mount Evans is easily accessed in the summer with its paved road to the top. But in winter, cross-country skiers enjoy the pristine snow-packed road for a real workout.
For beginners, start with a half-mile trek around Echo Lake and for the more advanced, challenge yourself on the eight-mile trail to Chicago Lakes. Or just cruise along the road for as far as your lungs will take you.
Keystone Resort Nordic Center
72 miles from Denver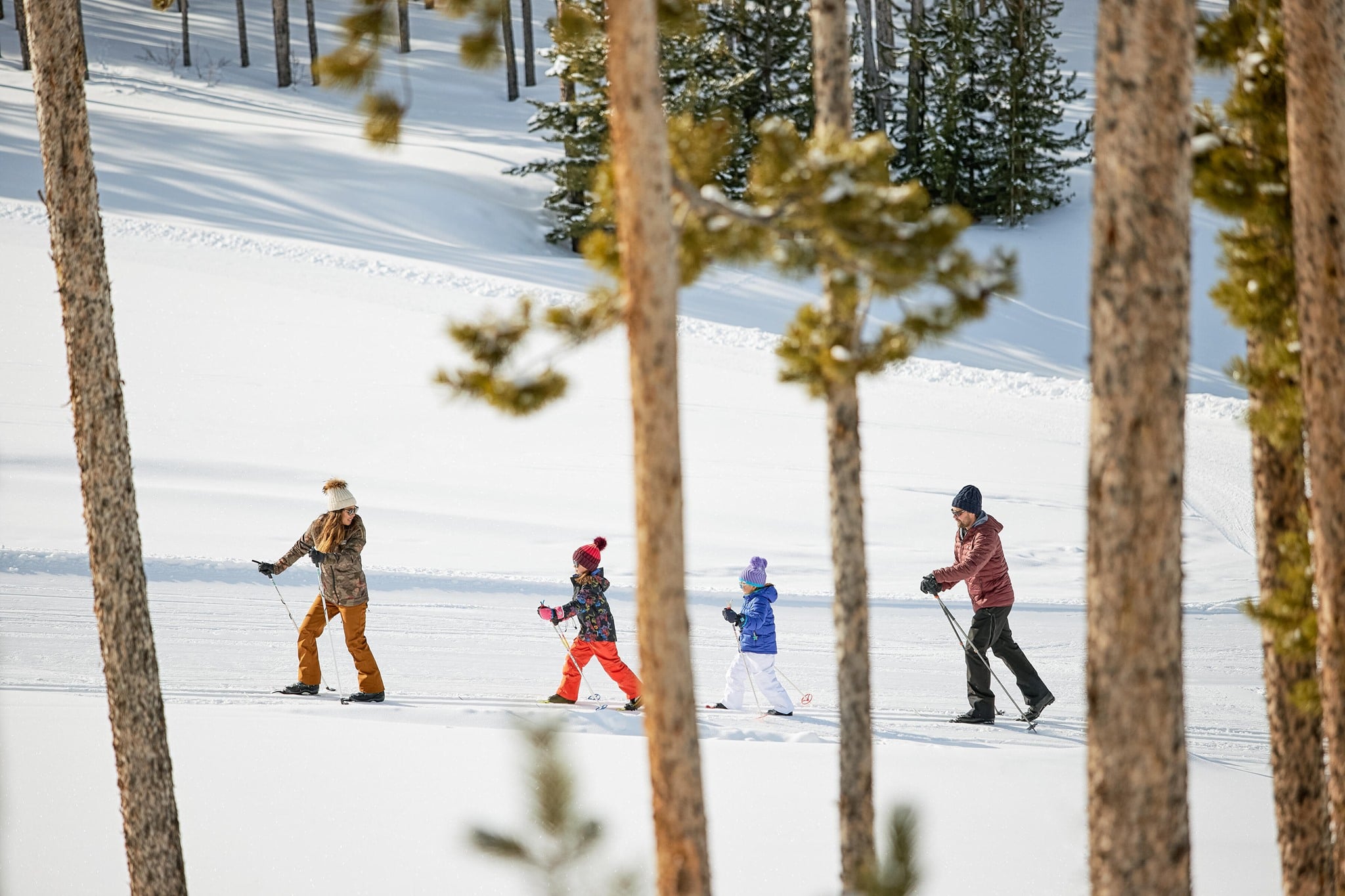 Most think of alpine skiing when at Keystone Ski Resort, but the resort also features a nordic center for those who want to attack the mountain differently. Offering more than nine miles of groomed trails and access to more than 35 miles of nearby trails throughout the White River National Forest, visitors have access to a variety of terrain at the Keystone Resort Nordic Center.
And just like its downhill slopes, the cross-country trails range from never done this before to experts of the mountain. Choose from classic or skate skis, or snowshoes for a new winter adventure at Keystone. If you are new to Nordic skiing, the center offers lessons and guided tours to help get you started.
Frisco Nordic Center
73 miles from Denver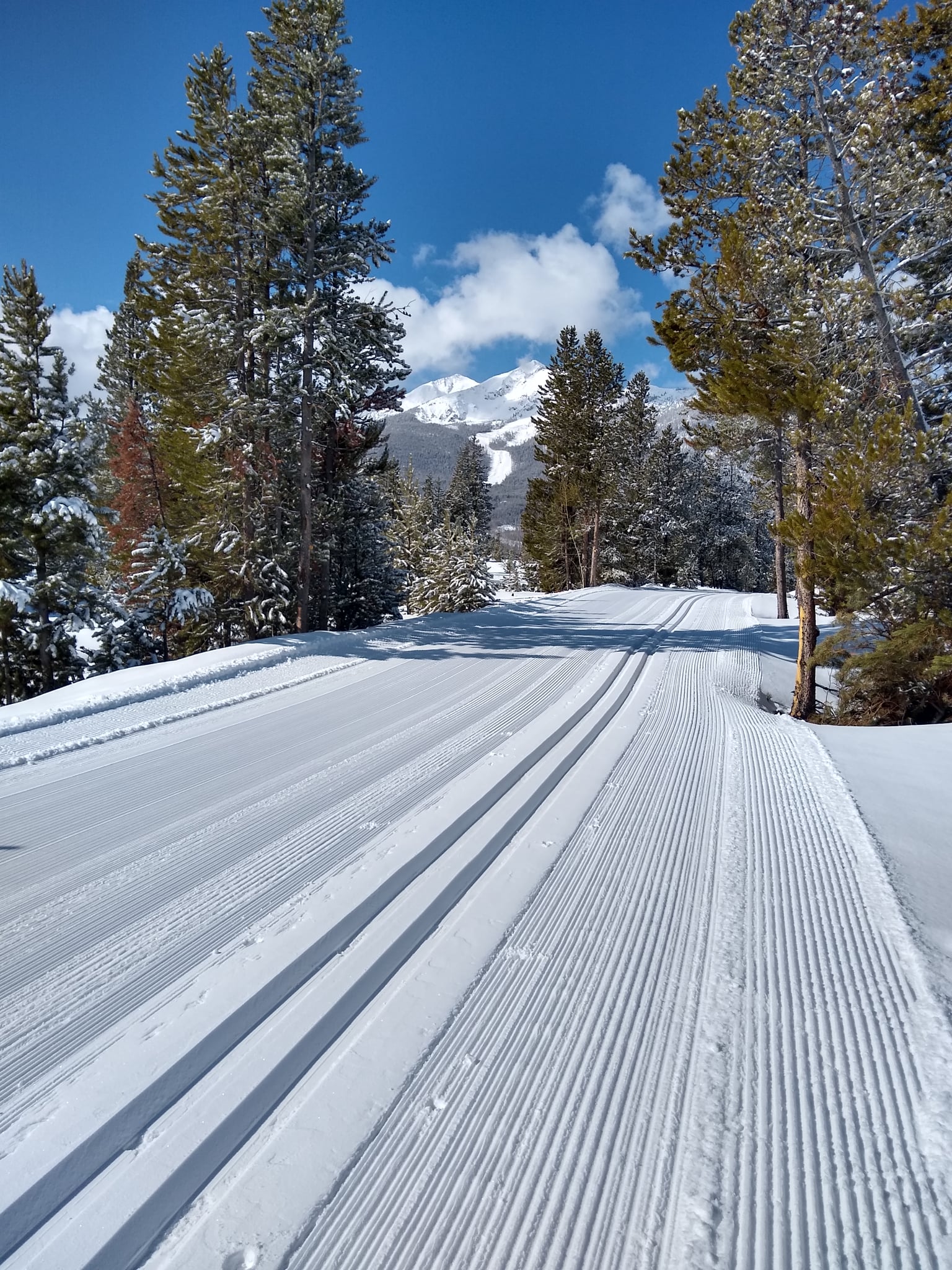 Avoid the crowds at Breckenridge Ski Resort with a visit to Frisco's Nordic Center. Visitors enjoy nearly 17 miles of ski trails for skate-skiing and classic cross-country skiing. Plus, five miles of snowshoe trails. Rest and relax inside the cozy lodge surrounded by stunning snow-capped mountain peaks and a pristine alpine setting.
For the beginner, they feature ski lessons and clinics and for the experienced, they offer a Master Ski clinic as well. And for those who ski with their dog(s), they also teach skijoring classes to experienced skiers.
The center offers day passes, punch card passes and season passes. Plus, fun for the entire family, the Nordic center is located across the street from the Frisco Adventure Park where kids (and adults) will enjoy the tubing hill and the beginner ski/ride hill.
Devil's Thumb Ranch
78 miles from Denver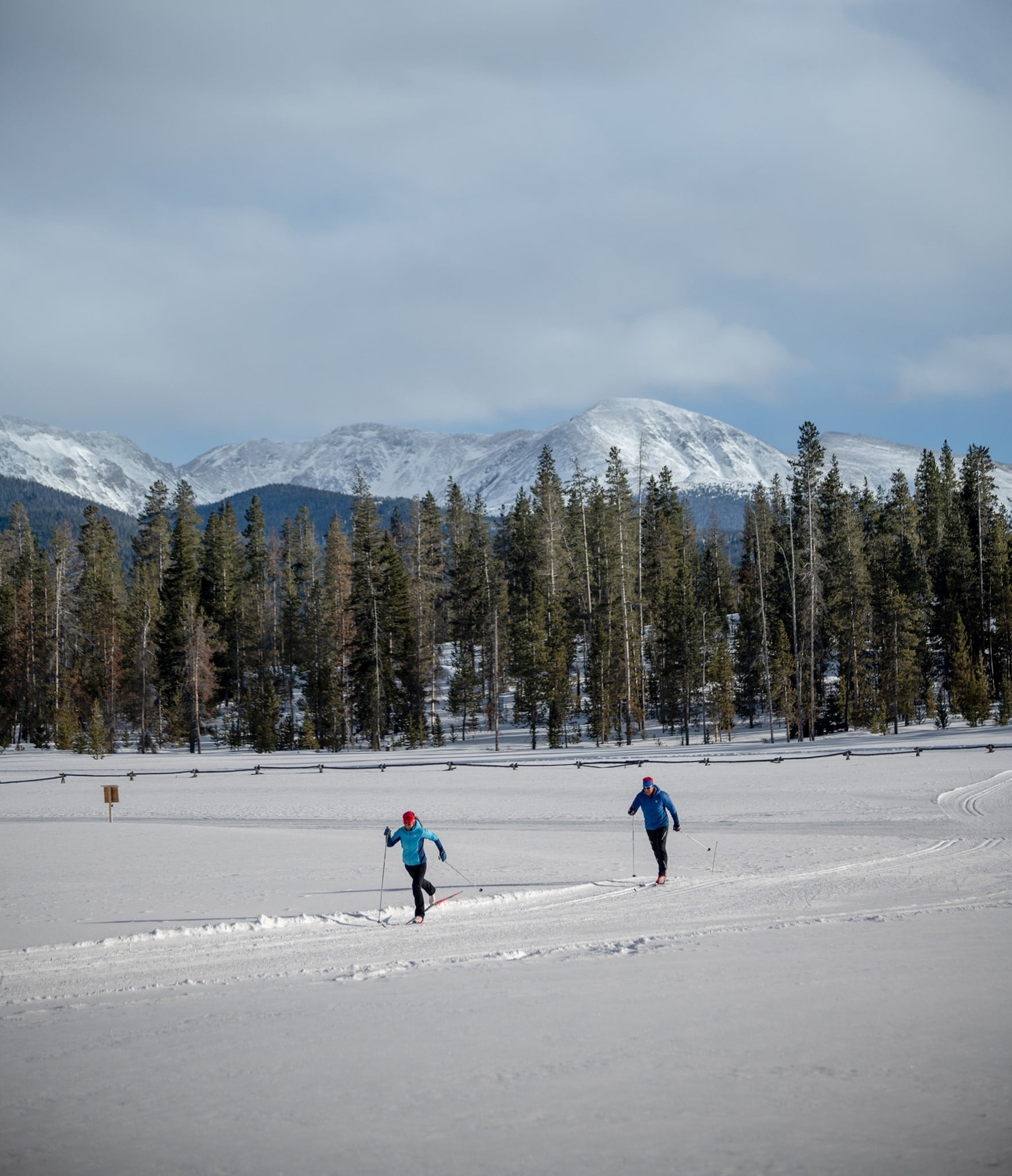 Arguably one of the best places to cross-country ski in Colorado and was recently named the #1 Cross-Country Ski Resort in North America by USA Today readers, Devil's Thumb Ranch is a resort and spa that features many activities such as Nordic skiing.
The Nordic center is equipped with 75 miles of trails within the pristine and private Ranch Creek Valley. With an array of trails, visitors can choose from easy to moderate or difficult. There is truly something for everyone. Lessons and rentals are available as well.
Snow Mountain Ranch Nordic Center
80 miles from Denver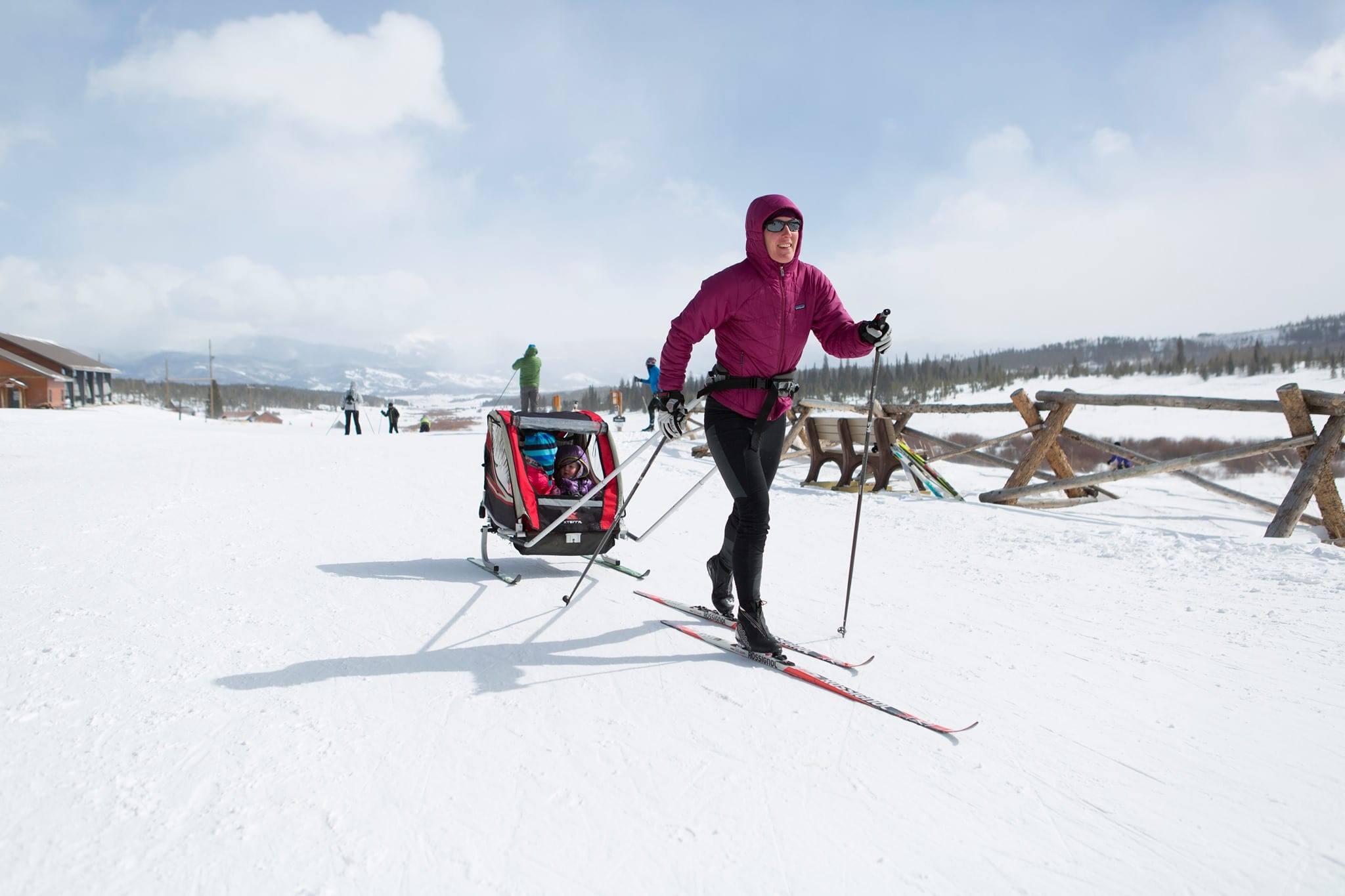 Located in Granby near Winter Park and Rocky Mountain National Park, the Snow Mountain Ranch Nordic Center is part of the YMCA of the Rockies. They feature 75 miles of trails and world-class terrain. Glide through pine forests and wide-open meadows along Pole Creek for an unforgettable experience.
Visitors will enjoy both classic and skate skiing, plus snowshoeing and fat biking options as well. A variety of terrain also provides trails for all skill levels. Become a YMCA member and take advantage of free access and ski lessons, plus room specials for a fun weekend getaway with the family.
Breckenridge Nordic Center
81 miles from Denver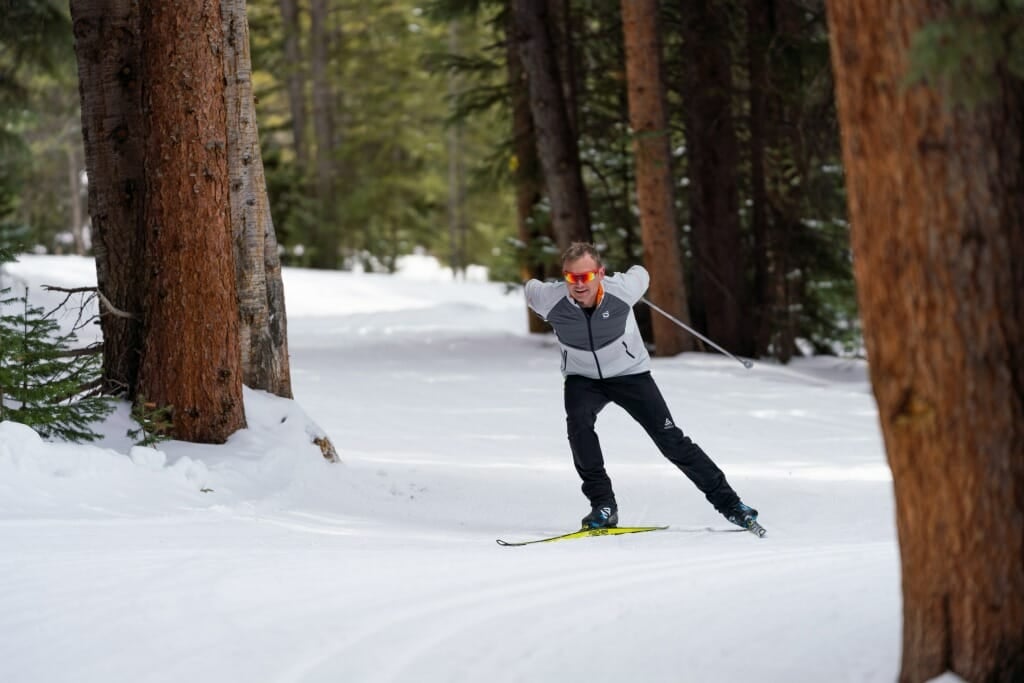 Avoid the crowds and explore Breckenridge's backwoods with the groomed trails at the Breckenridge Nordic Center. They boast 18 miles of trails amongst 2,000 acres of enchanting forests and never-ending mountain views. Classic and skate ski through some of Colorado's most beautiful terrain or strap on snowshoes if that is more your speed.
After a day's adventure out on the trails, take time to unwind in their beautiful lodge. Refuel with delicious food and drink specials while you relax next to the large stone fireplace in the large family-style lounge. ­­
Plus, due to its location, the Breckenridge Nordic Center receives ample snow, making it one of the longest-running cross-country ski seasons in Colorado. They also feature lessons and rentals to help get your adventure started.
Another option in Breckenridge is the Gold Run Nordic Center, featuring 18 miles of groomed classic and skate ski trails. They also offer dog-friendly trails and nearly 10 miles of snowshoe trails. Enjoy a variety of terrain, plus lessons and rentals for beginners.
Vail Nordic Center
96 miles from Denver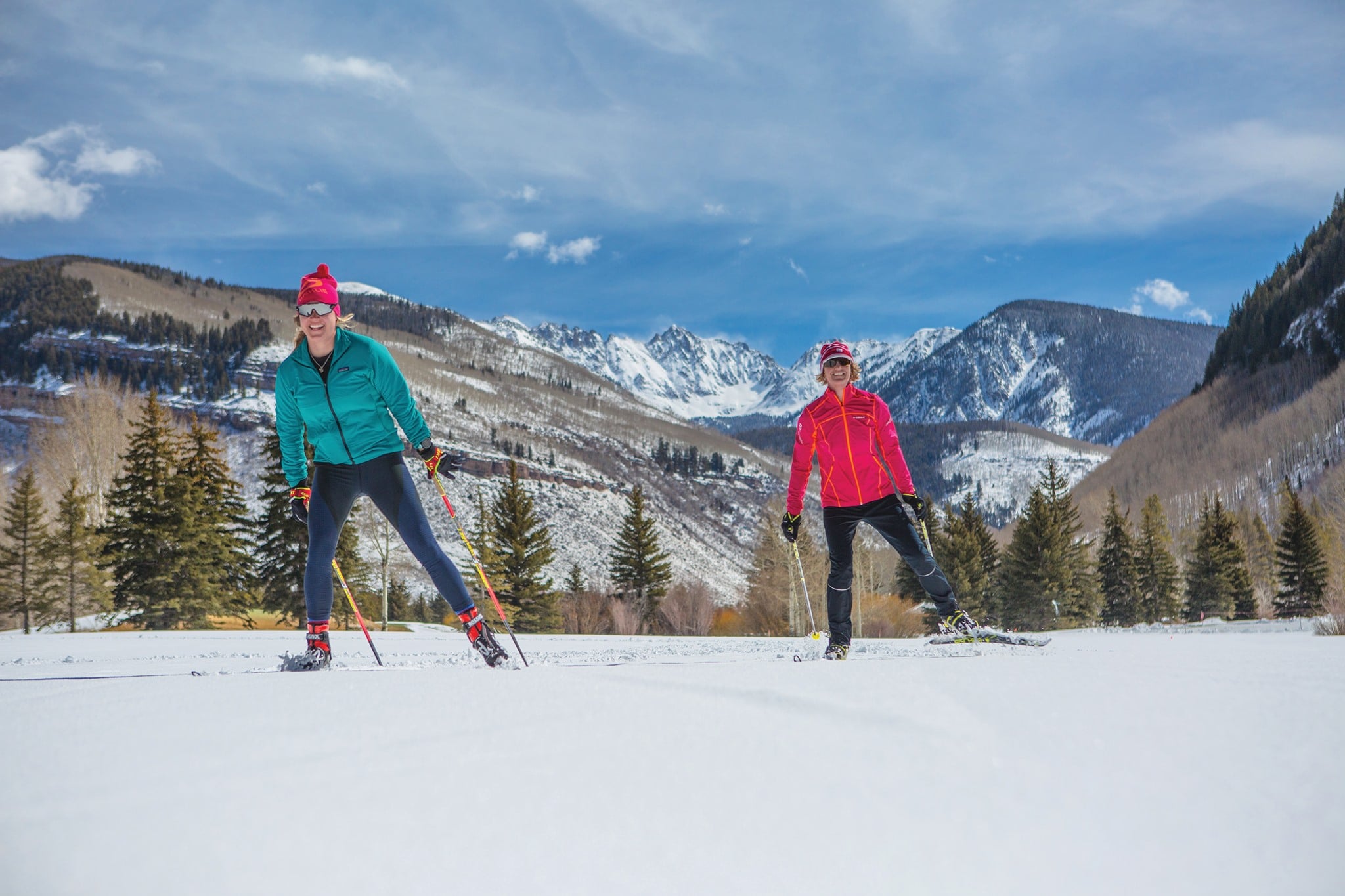 Summer golf course turns winter Nordic center at the Vail Nordic Center. Drift along 11 miles of daily-groomed skate and classic tracks. Or snowshoe along six miles of trails amongst Vail's scenic surroundings.
Stock up on goods for adventure at the pros shop where you can rent or purchase your gear. The knowledgeable staff offers daily lessons and specialty clinics about technique and tuning for both adults and children.
Tennessee Pass Nordic Center
109 miles from Denver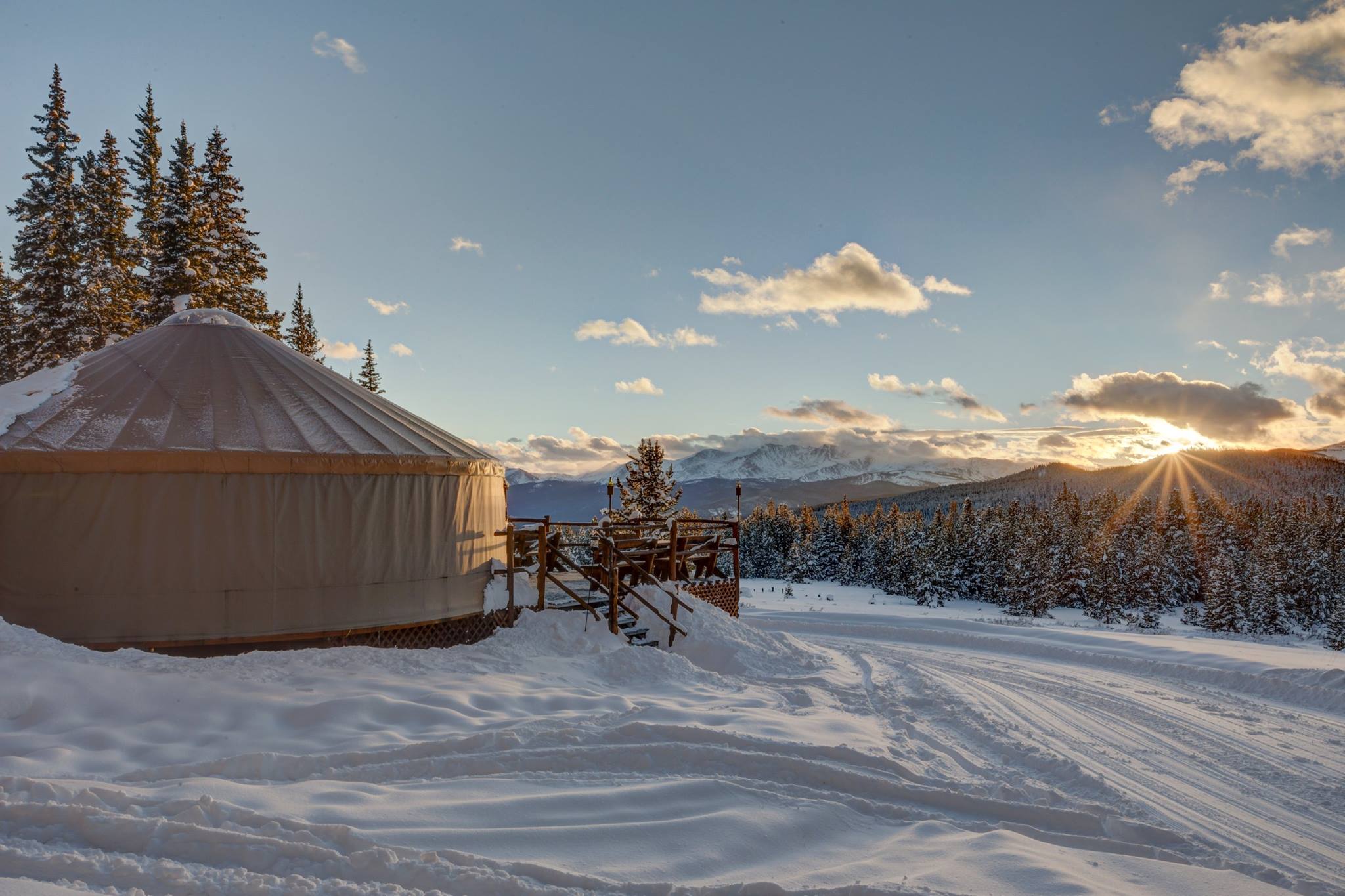 At the longest distance from Denver, the Tennessee Pass Nordic Center is a great option for a winter weekend getaway with a stay in one of their sleep yurts. Plan an entire weekend of nordic skiing and rest up with a night in a cozy yurt near Leadville.
Looking for lunch or dinner options? Ski out to the cookhouse for a four-course dinner or afternoon lunch where you can enjoy beer & wine, soups and sandwiches, and more all on a large sunny deck or inside by the fire. Reservations only.
Skiers will enjoy over 17 miles of groomed trails and wide skate lanes offering ample terrain for every style and ability level. Lessons and rentals are available along with a friendly staff to help find your way.
Discover your next winter adventure off the slopes with these top Nordic skiing areas near Denver.