The Rocky Mountains are a world-renowned destination for all types of tourists and adventurers looking to experience the great outdoors. Whether it's going to be your first time of fiftieth visiting Colorado, be sure to save time for a short day hike or two.
Trekking through nature is one of the best ways to soak in the state's natural beauty. As you find yourself wondering which adventures to include in your Colorado itinerary, listed below are some of the best shorter hiking trails under 5 miles. Even the most inexperienced hiker could easily accomplish and enjoy these.
What essentials should you bring while hiking?
Before you embark upon your desired day adventure, you should consider bringing these essentials with you.
Hiking shoes
Map
Compass
Extra bottled drinking water
Extra food
Waterproof poncho in case of rain
Extra clothes
Match or lighter
Whistle
Flashlight or headlamp
First aid kit
Multi-purpose tool
Sunglasses
Sunscreen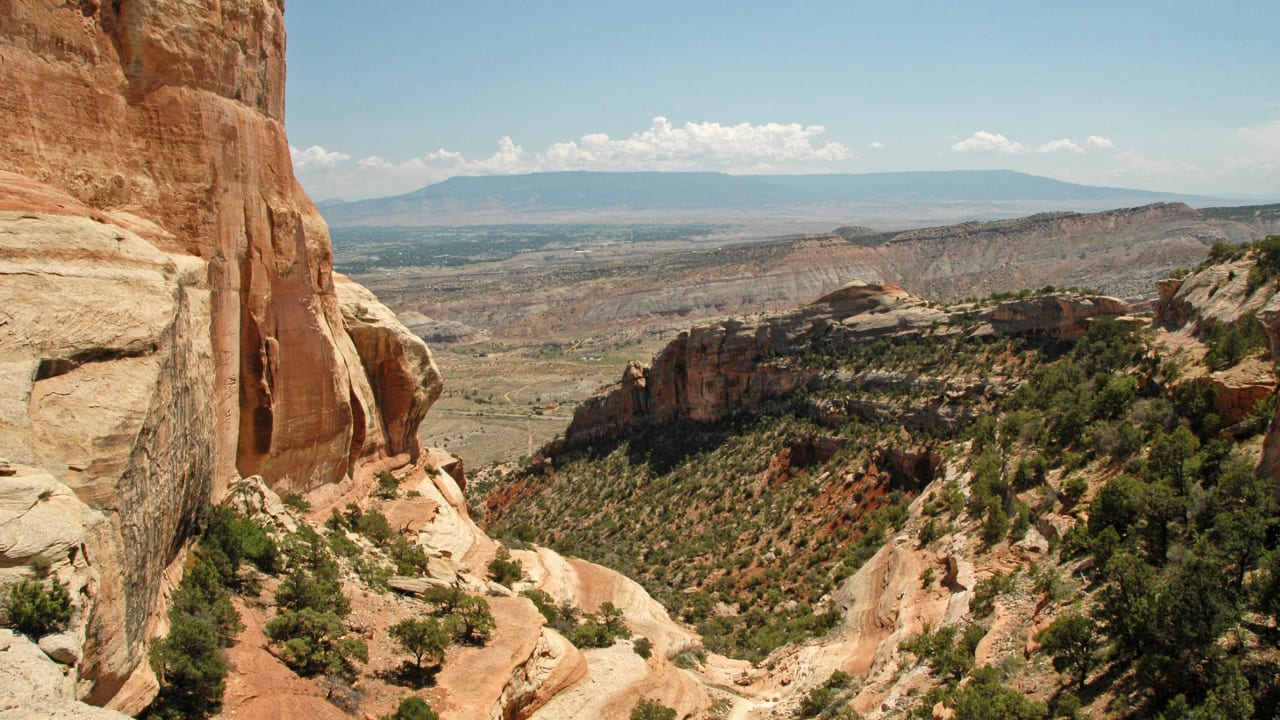 What are some of the best hiking trails under 5 miles?
While hiking may not be a one size fits all type of activity, it can be agreed that anyone who's a complete beginner or mainly doing it as a leisure activity can cover less than 5 miles of terrain⎯which should be more than enough of an achievement in itself.
So, without further ado, here are some of the best short hiking trails that you should explore while visiting the state of Colorado.
1. Gem Lake Trail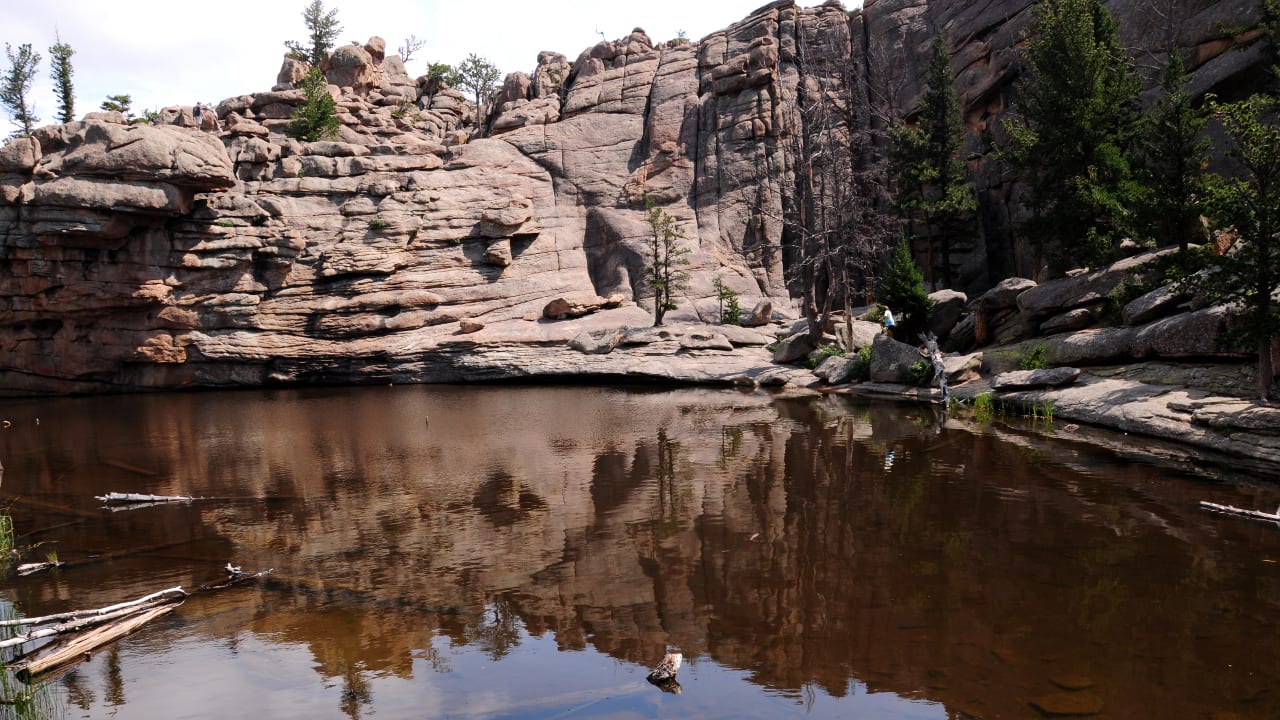 Located on the northeastern side of the Rocky Mountain National Park, this first trail is a roundtrip that covers 3.5 miles. The Gem Lake Trail ascends along a massive granite rock complex known as Lumpy Ridge.
This trail is great for the warmer months, and bursts with color in autumn. The first half-mile contains groves of aspens whose leaves turn a stunning gold as the weather cools. You'll be able to see nearby Estes Park and surrounding mountains as you make your way to the turnaround point, where Gem Lake itself awaits you.
While most of the lake is a basin where the surrounding rock collects trapped rainwater and melted snow, a portion of it has some sand that can make for a beach getaway⎯even despite Colorado not being a tropical place at all!
2. Garden of the Gods Loop Trail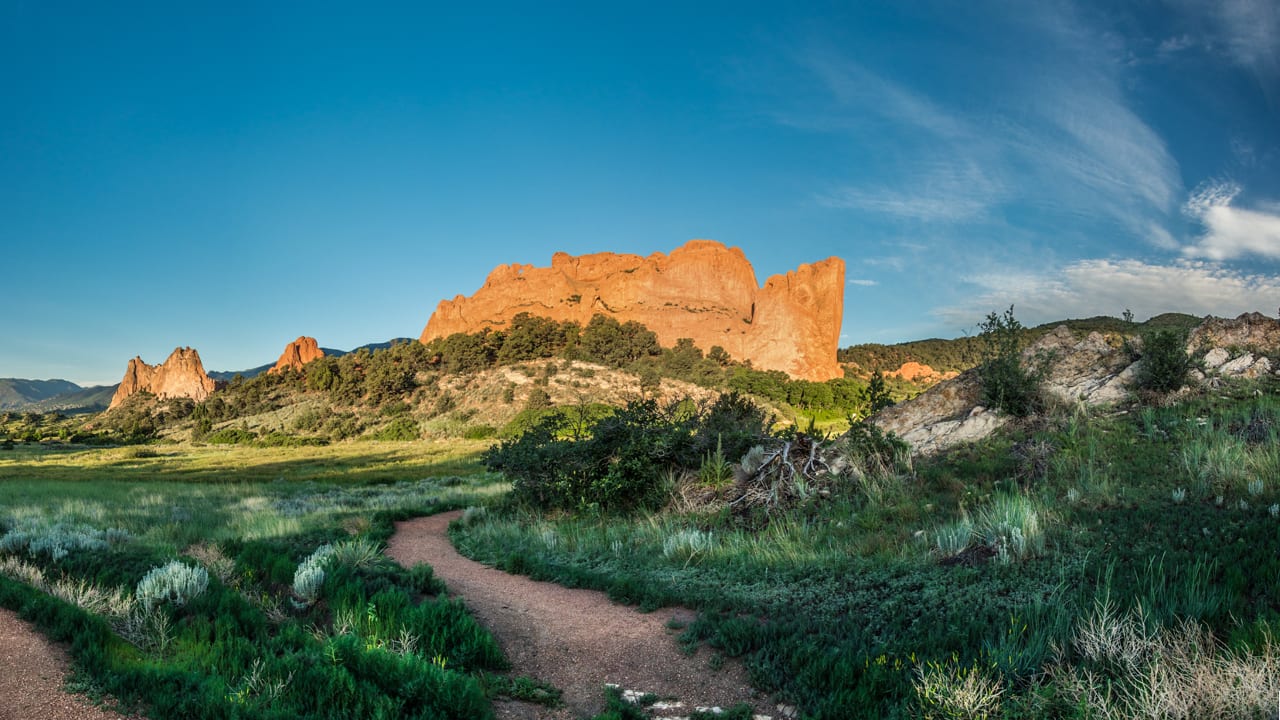 Situated near Colorado Springs and totaling approximately 4 miles, the Garden of the Gods Loop Trail circles through most of its namesake park. It is composed of four smaller paths (Palmer, Buckskin-Charley, Niobrara, and Bretag) that form a relatively flat loop, making for a pretty leisurely day hike.
The chances of you being lost in the Garden of the Gods are minimal at best, as the massive rock formations are consistently visible to get your bearings. There will always be a nearby route to take you back to where you started. Drop by the Visitor's Center before you start to pick up a free comprehensive map of the park's trail system.
3. Adams Falls Trail
The shortest hiking trail on this list with a roundtrip length of only 0.9 miles, Adams Falls is an extremely popular route located on the western side of Rocky Mountain National Park. It leads hikers to an above-ground view of a 55-foot cascade.
If you have children in your group, you can introduce them to hiking by taking them on this very manageable out-and-back. Watch your footing though, some sections have slick rocks that are easy to slip on if they're wet.
Be sure to start your hike in the morning while the trail isn't too crowded. Starting early in the day is generally good advice for any outdoor adventure you choose to tackle. It ensures you have enough daylight to safely return and usually makes parking easier.
4. Serpents Trail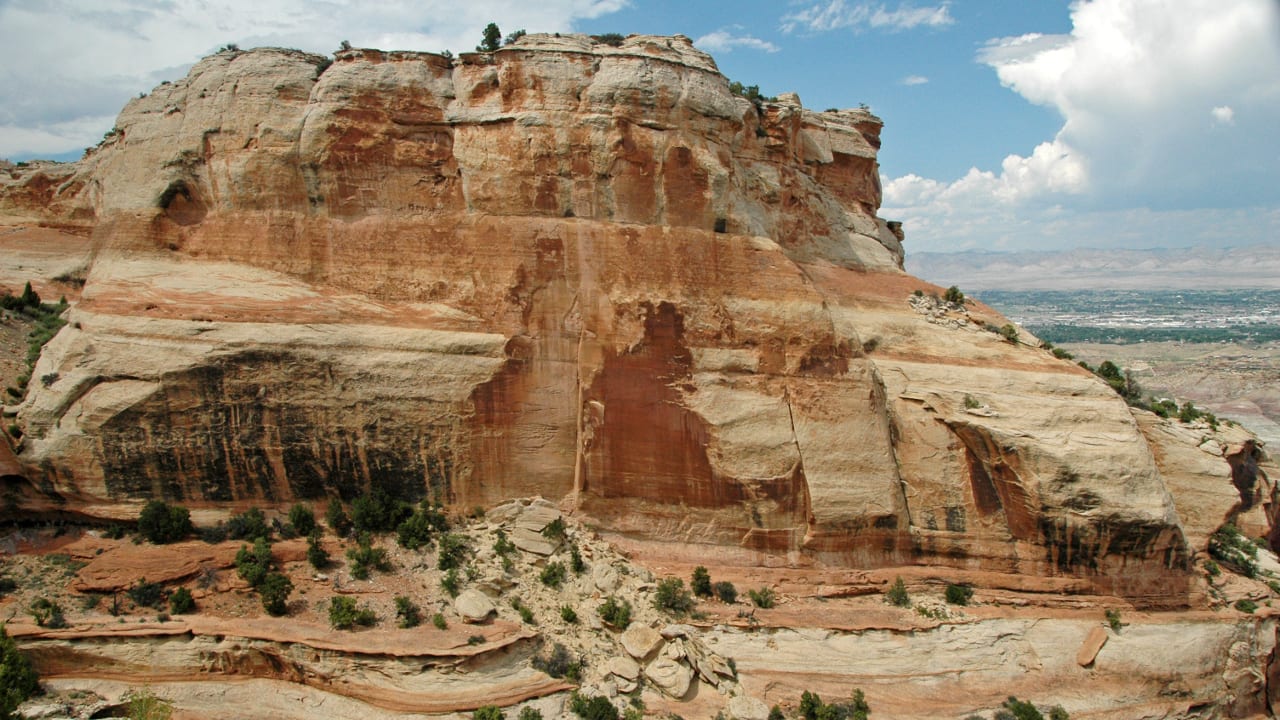 Located near the eastern entrance of the Colorado National Monument, the Serpents Trail is situated on a steep incline and has a roundtrip length of around 3.5 miles. This makes for a slightly challenging adventure, but then again, what would hiking be without a little challenge?
Interestingly, the Serpents Trail was initially constructed as a road for tourists to drive on into the monument. However, a flatter road was built that allowed for a safer drive since Serpents has such a steep incline. This effectively closed it to vehicular traffic and made it into the footpath that it is today.
You wouldn't want to bring your dog or mountain bike (or a dog riding on top of a mountain bike) with you while hiking here, as they're strictly prohibited.
5. Mount Herman Trailhead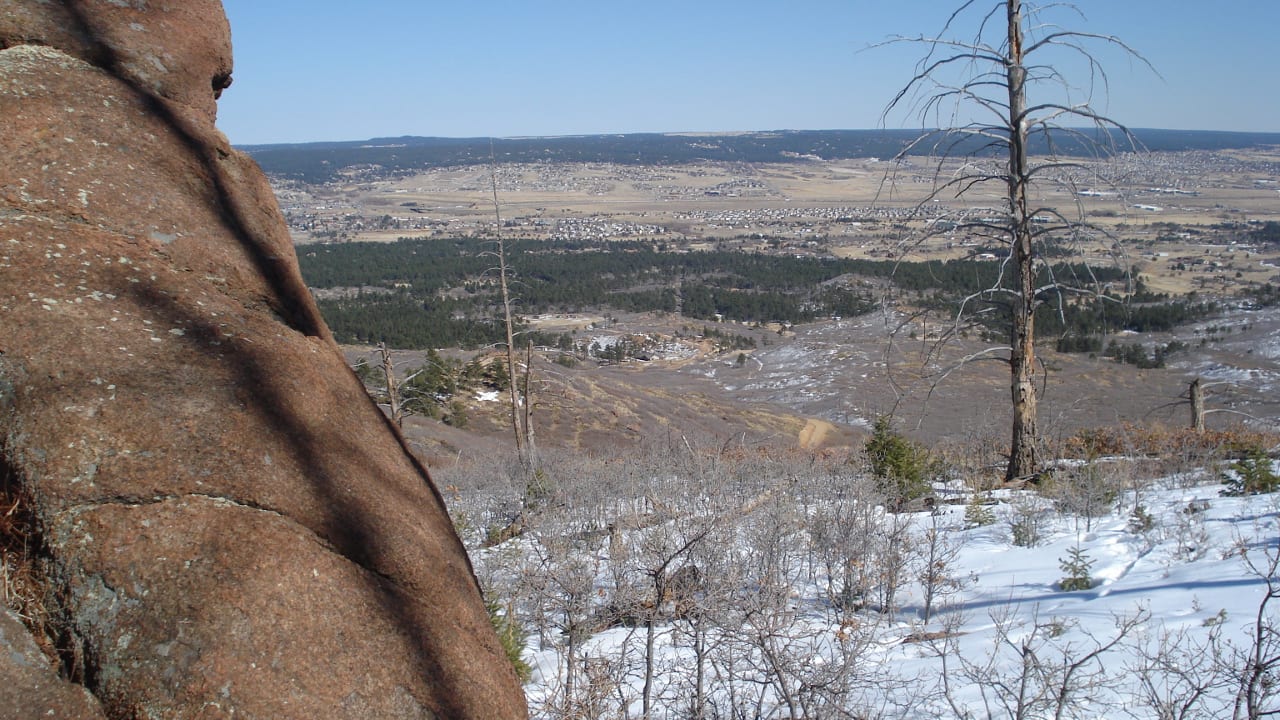 Hikers who've traversed the Mount Herman Trailhead may agree there's a particular sort of pleasantness on the 2.2-mile journey. It is fairly flat and can be traversed using a forestry service road, with numerous flora and fauna along the way.
This trail can be found near Monument, by traveling west of 2nd Street and then south on Mitchell Avenue. You then turn right after about 3/4 miles to proceed to Mt. Herman Rd. At the end of the path is a geologic remnant called Monument Rock, which is where the town got its name.
If you're not in the mood to hike, you can actually peruse the path via horse riding. Nearby trails require a 1,000-foot climb, so this is a perfect option if you aren't looking for anything too strenuous. There is still a bit of an incline, but the peaceful views make the effort worth it.
6. St. Mary's Glacier
Totaling just 2.4 miles roundtrip, this hike takes you to a glacier and its gorgeous runoff pond in Arapaho National Forest. This short trek has a section up a gravel hill, but the rest of the hike isn't too strenuous at all. Definitely doable for families and inexperienced hikers, and the payoff is great.
There is a small lot at the trailhead that is privately owned, so make sure you bring cash for the parking fee. It's about .75 miles to the lake itself, with plenty of room to find a good rock and enjoy a snack. The best times to visit are April-October, and the earlier in the season you visit, the more snow you'll find still covering the glacier.
7. Silver Dollar Lake and Murray Trail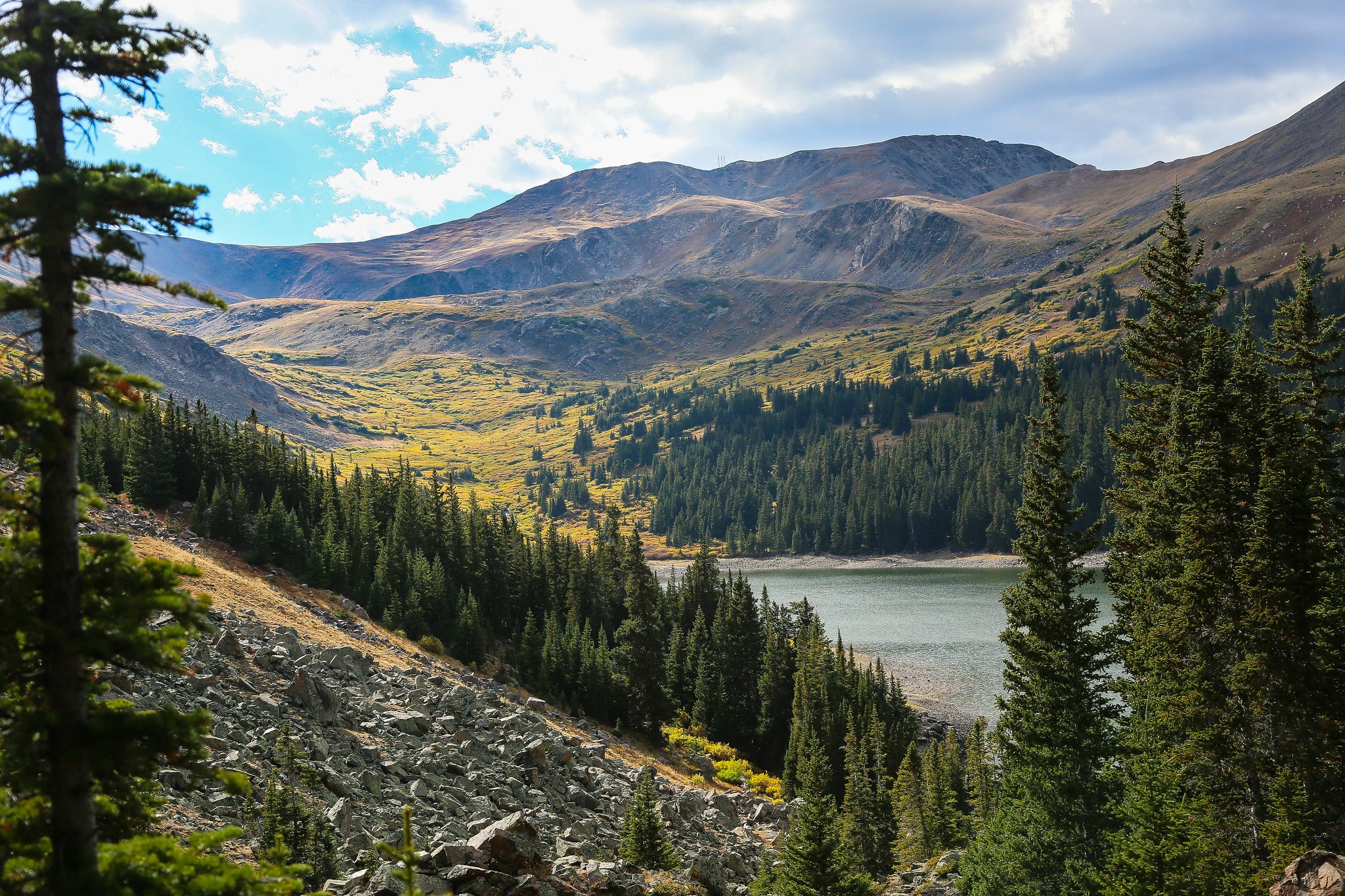 This trail near Silver Plume is popular for good reason: two alpine lakes and views throughout the whole 4.1 mile hike are hard to beat. There are some steep sections, but for the most part, the trail is rolling and smooth. It's the perfect way to get a taste of the breathtaking Colorado landscape without committing to a whole day of hiking.
There is something for every season at this trail. Go for a swim in the summer, peep wildflowers in the spring, and snowshoe in the snowy months! Visitors note that the road to the trailhead is difficult to navigate without a high-clearance vehicle, but there is an additional small parking lot at the base of the dirt road right past Guanella Pass Campground.
8. Lake Isabelle – Jean Lung Loop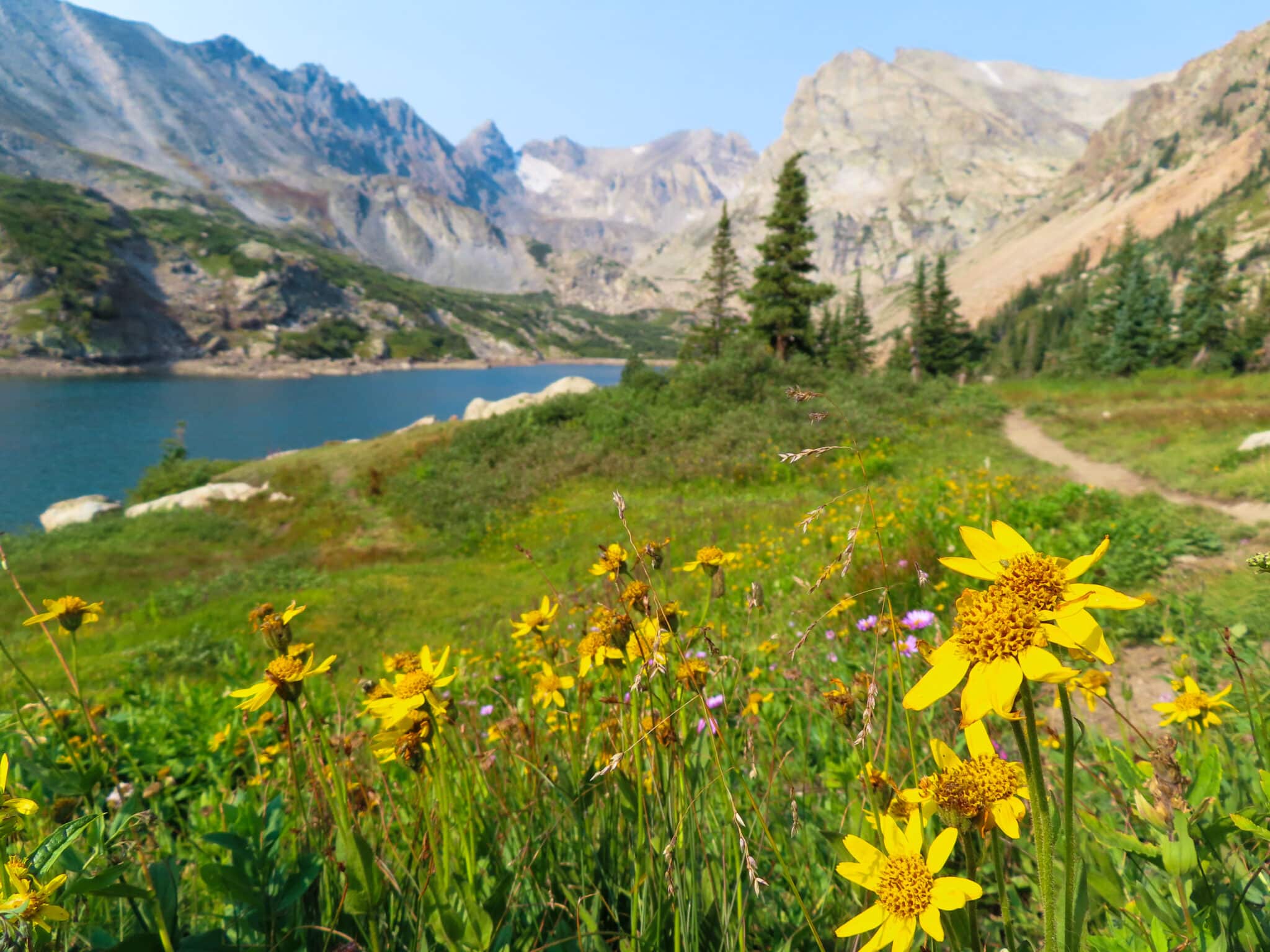 Totaling 4.9 miles roundtrip, this one just makes it under 5 miles. Located in Brainard Lake Recreation Area, it's a short drive from Boulder up a winding mountain road. The hike takes you through a gorgeous forest and along a small stream until it opens up into a large meadow.
This is a great place to spot wildflowers in the spring and moose frequent the area year-round. Be sure to keep your eye out for the waterfall on your right as you approach. Once at the lake, you'll have beautiful views of the untouched, crystal-clear waters.
Brainard Rec Area requires a reservation to enter the park during busy seasons, so be sure to check if you need one before heading out. The closest parking to the trailhead is the Long Lake lot.
9. Seven Bridges Trail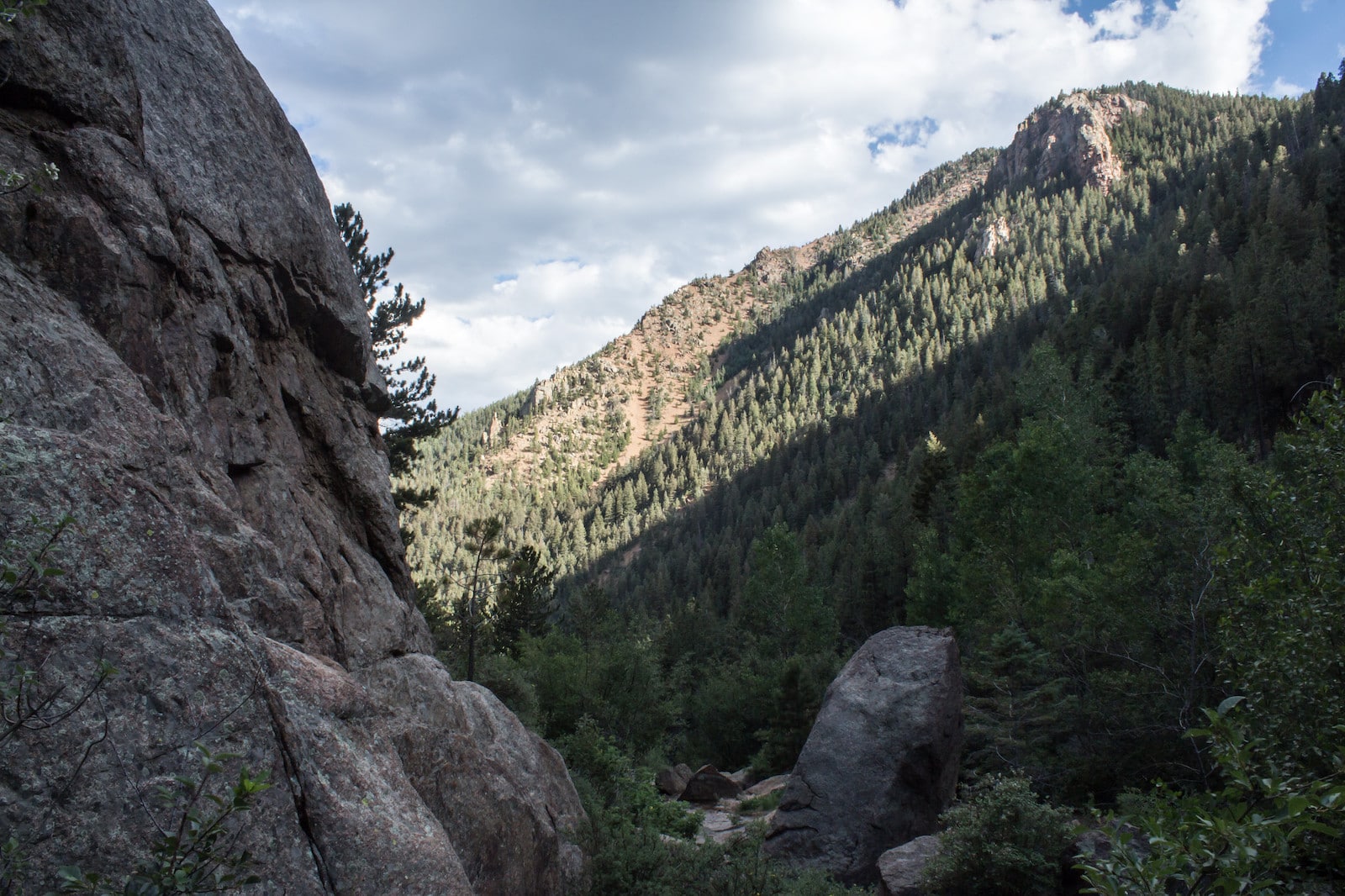 A short drive from Colorado Springs and Manitou, wander along the babbling North Cheyenne Creek as you make your way over, you guessed it, seven bridges. After parking in the lot on Gold Camp Road, look for the marker for Trail 622 to begin the adventure. If you traverse all 7 bridges and turn back, your hike will come out to around 3.5 miles.
The path itself is well-worn due to its proximity to town and popular woodland views. It is mostly flat alternating with sections of stairs, but nothing too taxing for beginners.
10. Chief Mountain Trail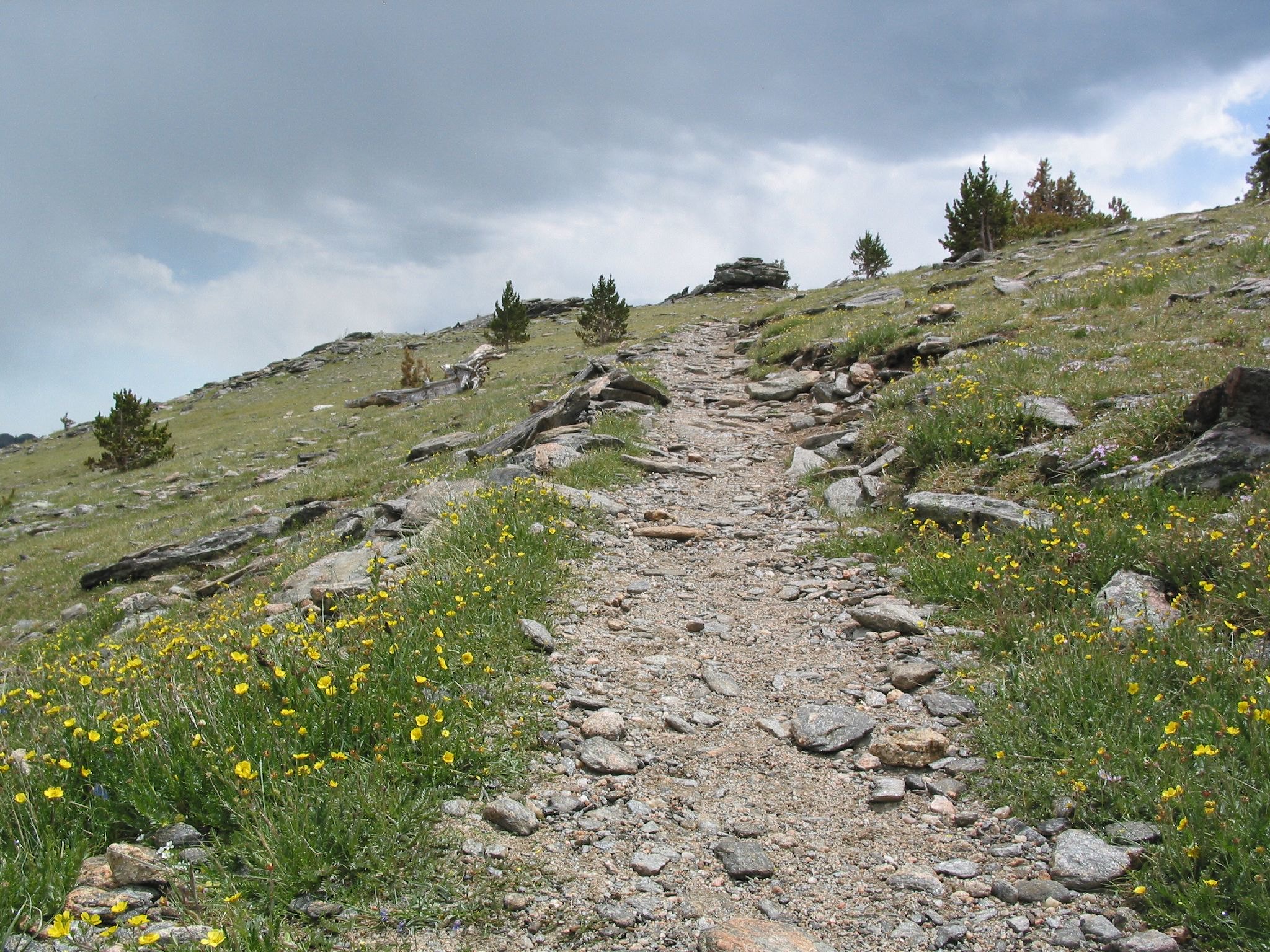 Wander along a mountain ridge high above the Arapaho National Forest on this 2.7 mile roundtrip hike. With minimal effort, you'll be rewarded with sweeping views of the surrounding Rocky Mountains.
The trail can be pretty windy because of its minimal cover and high elevation, so be sure to bring layers and a windbreaker if possible. It is recommended to use the trail from May through September to avoid snow or icy cold temps. Leashed dogs are allowed, so this is a great spot for an afternoon walk with your furry friend.
Quick Reminder: Safety First
Whether you're a veteran or a first-time hiker, it's always important to consider safety before, during, and after the trip. Beyond gathering all the materials and equipment, it's recommended you take a quick evaluation of everything there is to know before undertaking a hike. Here are some quick reminders: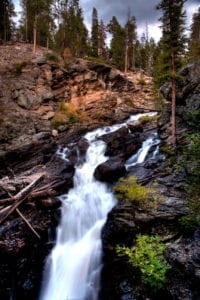 –> Always share your plan. It doesn't matter if you go alone or with a group, but make sure someone else knows the full extent of your journey. This is extremely important for your safety, especially if the area has limited reception.
–> Stay in constant communication with a friend. This can be the aforementioned person or someone else who's familiar with your hiking trip. If you have to take a cab or a bus, take note of the route and the plates if necessary. Always send them a message once you're at the trailhead, during the hike, and when you're on your way home.
–> Be aware of yourself, your belongings, and the environment. Try your best to study the trail or better yet, download it so it's accessible offline. Be prepared for any sudden storms or weather that might arrive, and know what to do and where to go in any situation to ensure your safety.
–> Study up on the rules and regulations of the area. Many popular trails require reservations now, a quick Google search will let you know if you need one. Write down any emergency numbers for the park rangers. The more you know about how you should act during the hike, the more enjoyable the experience will be.
While there are so many things to do during your visit to Colorado, one that should be on the top of your bucket list is to go hiking. After all, it's typically free and the only thing you need is your stamina and determination.
So, grab your best compass and your friends and family and hit the trail! Hiking can become a new favorite activity, especially after a short trek on these beautiful hiking trails in Colorado.