While Palisade and the beautiful Western Slope are often wine lovers' go-to destinations in Colorado, there are plenty of talented winemakers all over the state. Many award-winning wineries exist right in and near Boulder, plus some cideries and even a meadery as well.
Each winery in Boulder offers something different. Some produce wines with 100% Colorado-grown grapes while others source their grapes from notable vineyards around the country. Wineries may offer tours, tastings, wine clubs, a food menu, and live entertainment. Many times a winery requires a reservation to visit the tasting room.
Wineries can change operating hours and the wine list regularly, so be sure to visit their website and confirm before visiting.
BookCliff Vineyards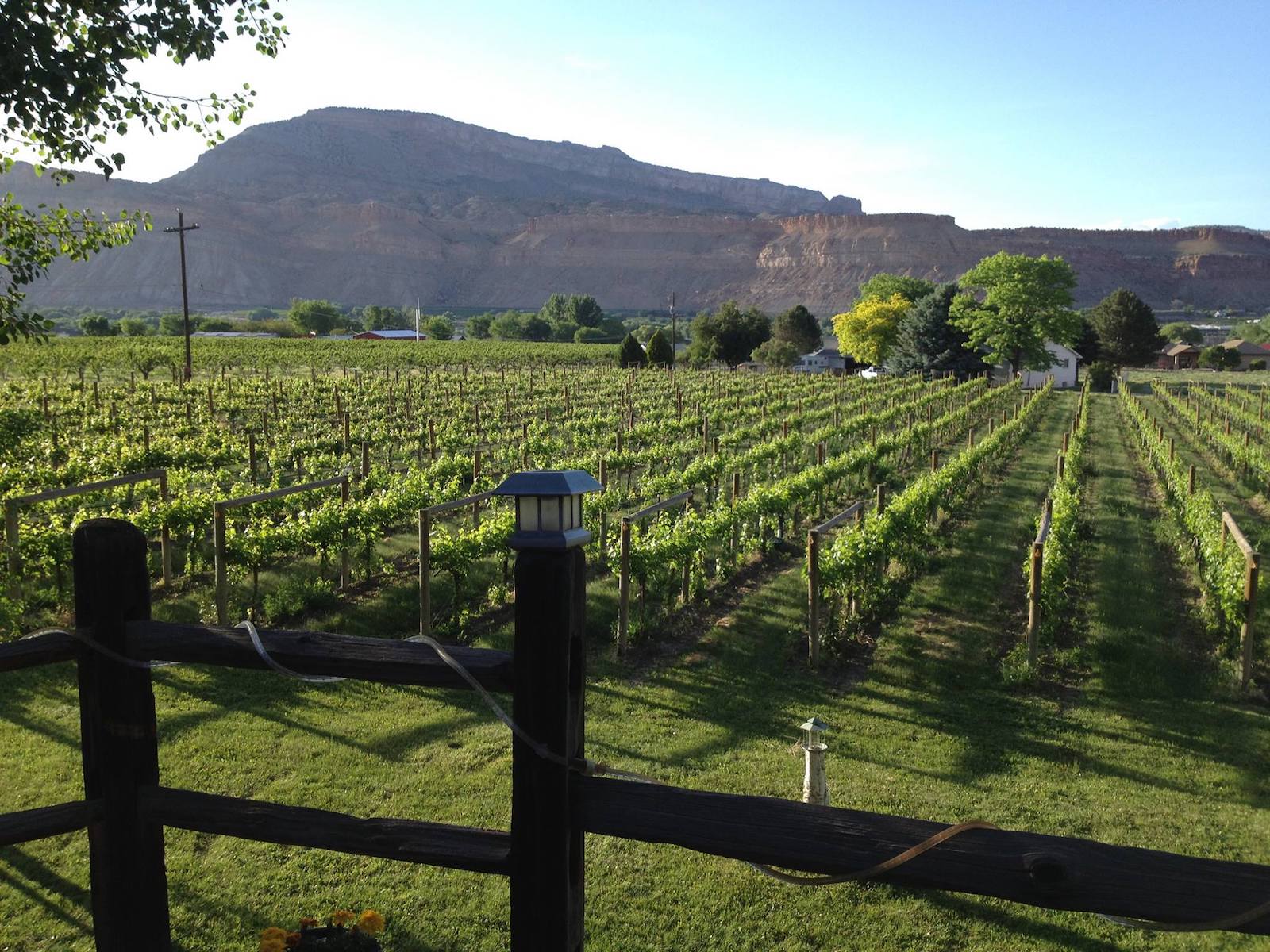 Engineers turned winemakers Ulla Merz and John Garlich opened BookCliff Vineyards in the 90s. There are tasting rooms located in both Boulder and Palisade. Bookcliff's wines have earned a long list of notable awards, including at the Colorado Governor's Cup Wine Competition, the San Francisco International Wine Competition, and the Colorado Mountain Wine Fest.
Red wines include a Cabernet Franc, Cabernet Sauvignon, Cadenza, Ensemble, and Petit Verdot. Whites feature a lightly oaked Chardonnay, a semi-sweet Riesling, Moscato, and Muscat Blanc. Grapes are mostly from their own Palisade vineyard and if not, another place in Colorado. The Boulder winery and tasting room also offer a behind-the-scenes winery tour, food pairings, and live music.
Augustina's Winery
Owner and winemaker Gussie Walter started Augustina's Winery in Boulder County in 1997. All of the wines are made from Colorado-grown grapes, including grapes from Western slope vineyards, Eastern Plains of Colorado, and even local growers in Boulder. The winery moved from its original location in North Boulder to Nederland. The wines are designed to go with
"backpacking adventures, raucous poker parties, family BBQs, good mystery novels, and gingersnaps".
White wines include a dry Sauvignon Blanc, a slightly sweet Riesling and Gewurztraminer blend, a slightly sweet white blend, and a semi-sweet rose. Red wines showcase a Pinot Noir, a dry Cabernet Franc, a Shiraz, a red blend, and light and spicy red that also works as a base for mulled wine. Customers can taste five wines for an affordable price.
Vinnie Fera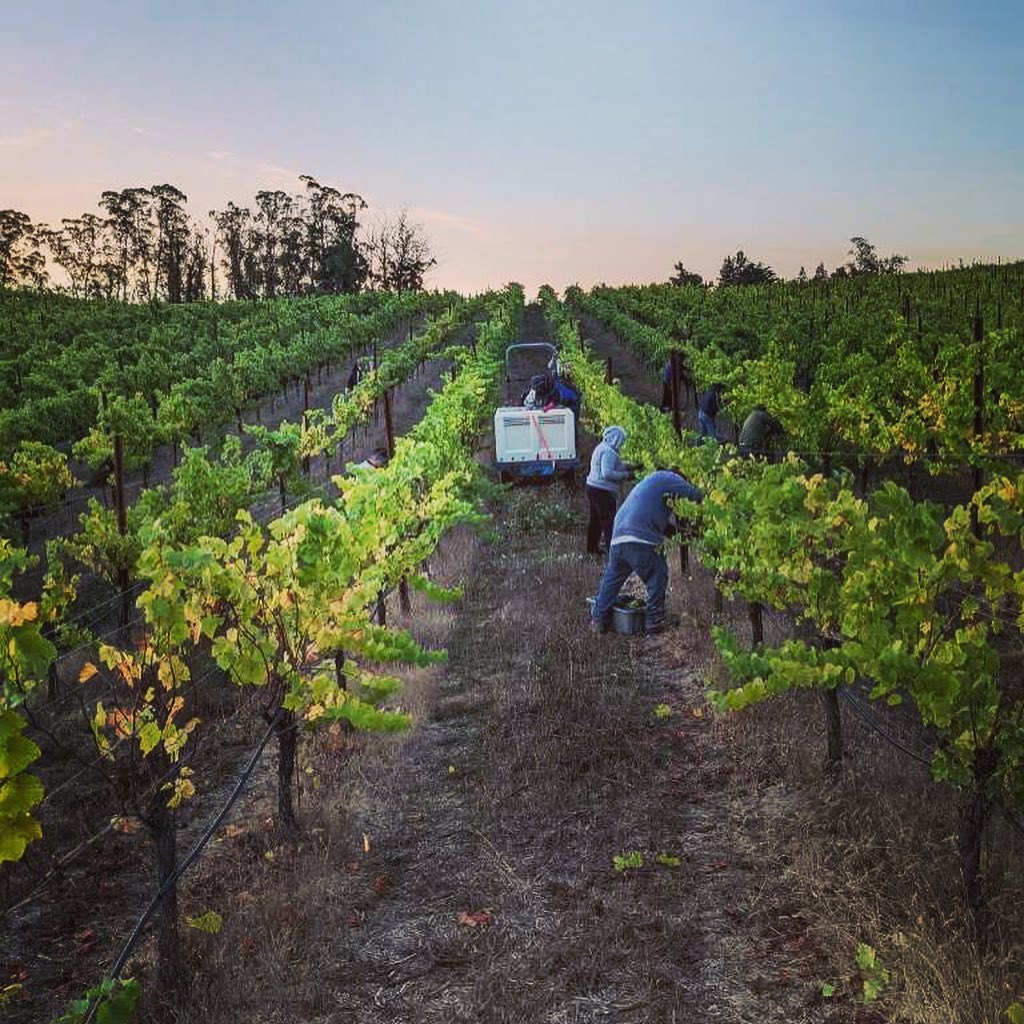 Founded in 2016 in Boulder, Vinnie Fera sources premium quality grapes from vineyards in California, Oregon, and Colorado's Western Slope. The approach to winemaking is creating wines with natural balance and structure that are best enjoyed with food.
The focus is specifically on Pinot Noirs and Chardonnays at this Boulder winery. The Vinnie Fera Pinot Noir is old-world inspired by flavors of tart red berries, savory herbs, and exotic spices. Hogback Chardonnay is barrel-aged with rich, creamy notes, while the Vinnie Fera Chardonnay is fermented and aged in stainless steel. Wine tastings are available per adult.
Settembre Cellars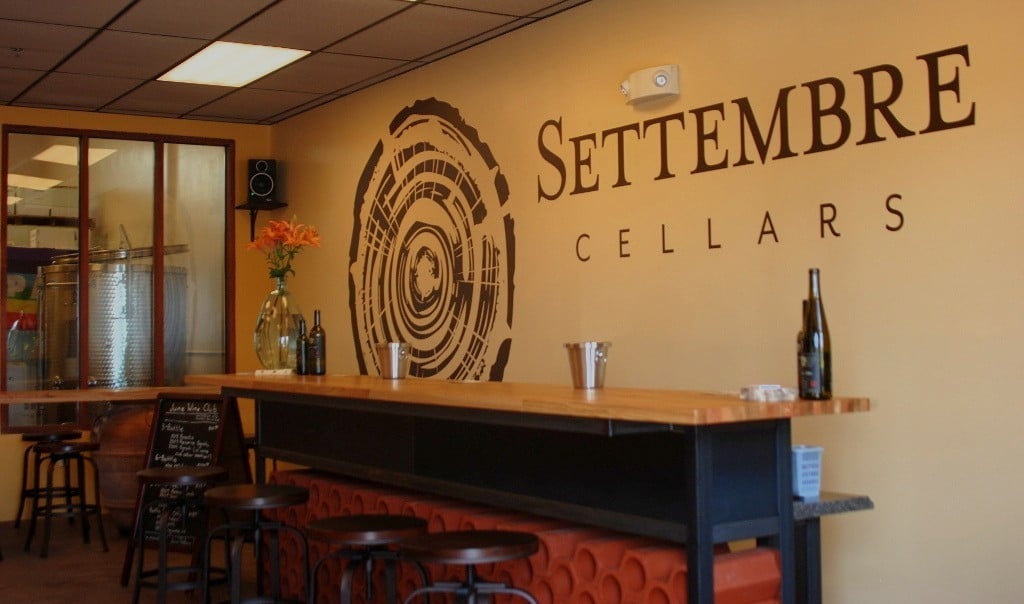 Blake and Tracy Eliasson craft their wines influenced by winemaking techniques in France and Italy but with 100% Colorado-grown grapes. Settembre is Italian for September – the month that Blake and Tracy married and honeymooned in Italy. The tasting room is open Friday through Sunday, and reservations are recommended. Tasting flights and wine by the glass are available as well as bottles.
Red wines include Syrah (which pairs well with spicy red sauces or dishes with Aleppo Pepper), Sangiovese aged in French Oak, Cabernet Sauvignon, and Cabernet Franc. For white wines, there is a Dry Riesling (pairing well with ginger and black truffle) and a crisp Chardonnay with a rich mouthfeel.
Silver Vines Winery
Opened in 2011, Silver Vines Winery has a location in Boulder as well as Olde Town Arvada. Wines have won international wine awards, including, Finger Lakes Wine Competition, Riverside International Wine Competition, and Florida State International Wine Competition.
White and pink wines include the sweet Rocky White, a food-friendly Chardonnay that pairs well with light pasta, a bright Sauvignon Blanc, a pink Rose aged in French oak barrels, a Pinot Grigio, and a Riesling that pairs well with spicy food or a light salad.
Red wines showcase a Merlot that pairs well with red sauce pasta, a Cabernet Franc with flavors of plum and vanilla, a Cabernet Sauvignon with a long-lasting vanilla finish, a Grandview Reserve, and a Syrah with notes of dark cherry. There is even a chocolate and red wine combination for a dessert wine.
Turquoise Mesa Winery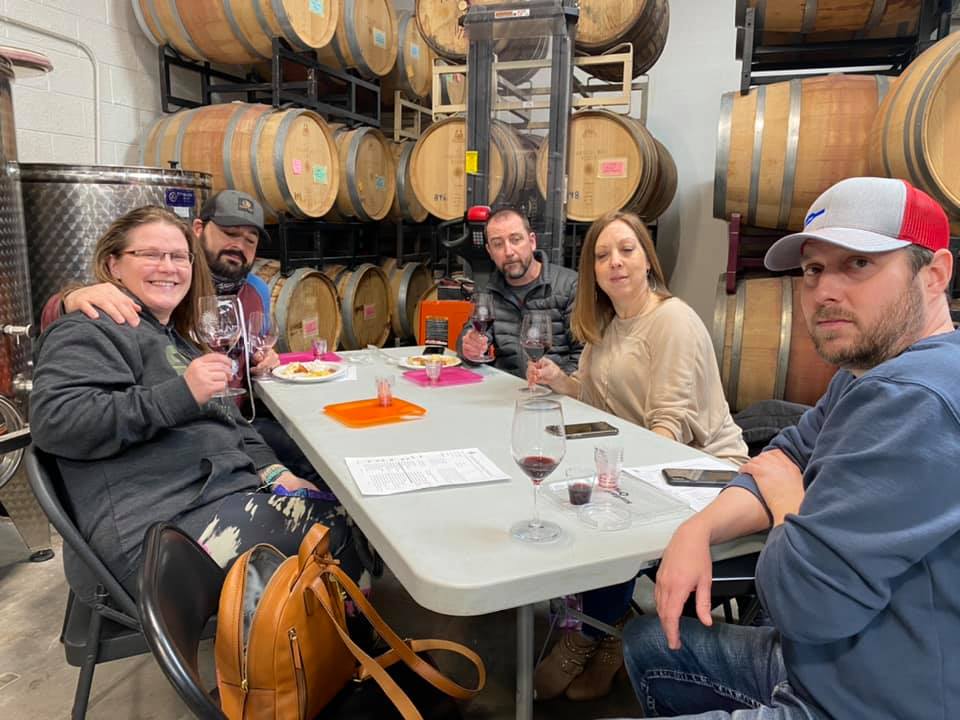 Turquoise Mesa Winery is located just a short drive from Boulder in nearby Broomfield. The winery produces a wide variety of styles with its award-winning wines. It's open for tastings or wine by the glass from Friday through Sunday. There is also an artist nook inside, highlighting local artists with designs available for purchase.
White wines include Riesling, Chardonnay, Sauvignon Blanc, and Muscat Blanc. For red wines try their Cabernet Sauvignon, Cabernet Franc Reserve, Merlot, Malbec, Syrah, Petite Sirah, and Petite Verdot.
Blue Mountain Vineyards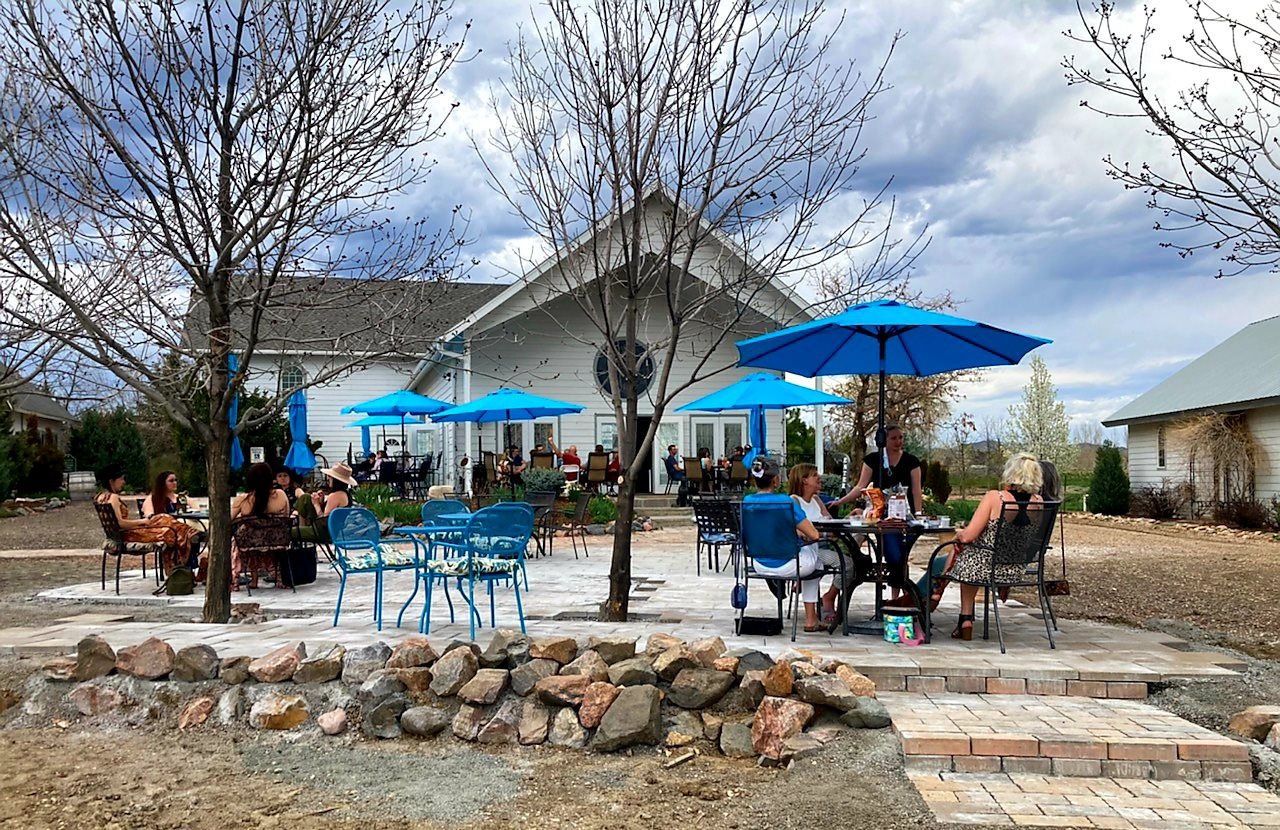 North of Boulder in Berthoud is Blue Mountain Vineyards. In addition to the winery and picturesque vineyards, there is also a garden featuring more than 55 species of trees, 50 species of shrubs, and countless annuals and perennials. Guests are encouraged to walk through the garden when they visit the winery.
Tasting room hours are Friday through Sunday in two-hour increments. Red wines feature Cabernet Sauvignon, Christie's Blend (a port-style dessert wine), Malbec, Merlot, Pinot Noir, Sangiovese, Syrah, and Zinfandel. White wines include Chardonnay, Gewurztraminer, a seasonal white blend, Pinot Grigio, and Riesling.
Sweetheart Winery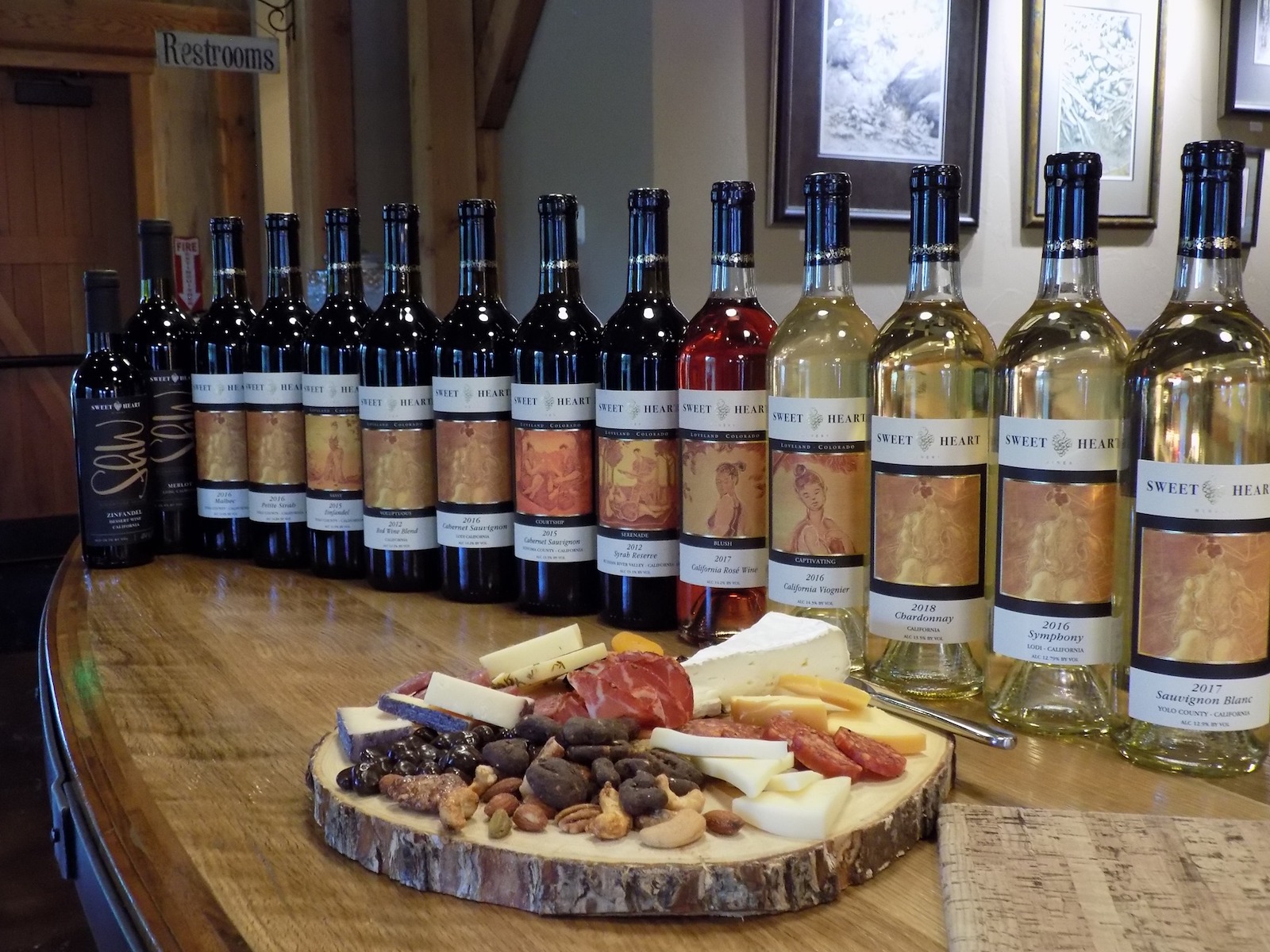 Sweetheart Winery is north of Boulder in nearby Loveland. The winery offers various flights, wine by the glass, and snacks to accompany the wine. Various events, including wine and chocolate pairings, are often held in the winery.
There are a large variety of wines available, including Petite Syrah, various Cabernet Sauvignons (bourbon barrel aged, port-style), Tempranillo, Chardonnay, Pinot Noir, and Viognier. Wines can be enjoyed inside the tasting room or in the large outdoor dog-friendly area. There is also a private event space for weddings and special celebrations.
Redstone Meadery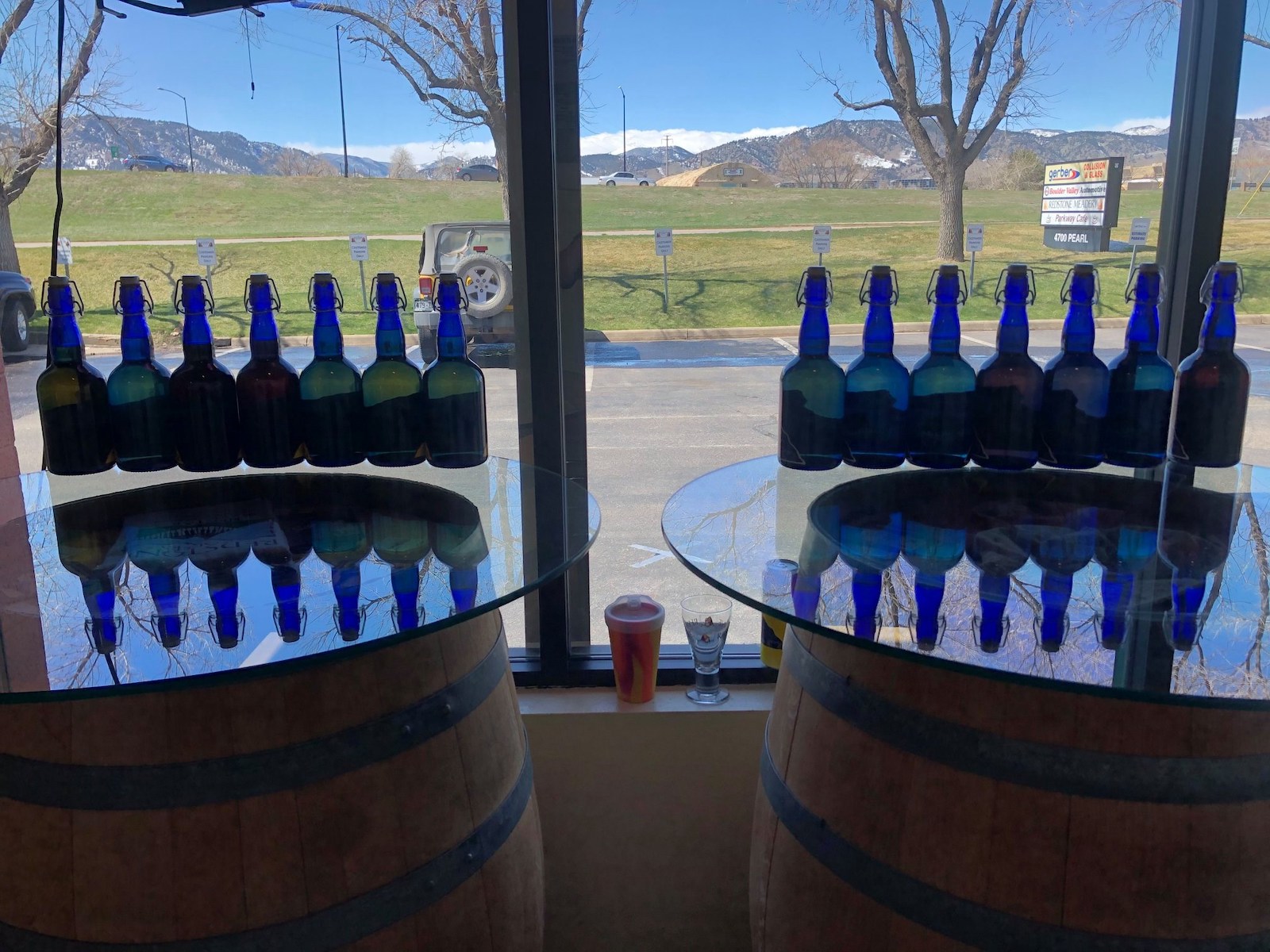 Redstone Meadery produces all-natural mead or honey wine in Boulder. The tasting room is open for tastings and mead by the glass. There are three varieties of mead produced here – Mountain Honey Wines, Nectars, and Reserves.
The Mountain Honey Wines are 12 percent ABV, non-carbonated, and full-bodied. The Nectars are 8 percent ABV and carbonated. Reserves are aged at least five years, are 13 to 14 percent ABV, and are not carbonated.
For the Mountain Honey Wines, the body is similar to red and white wines. Different types of honey are used in various meads. Varieties include Vanilla Beans and Cinnamon Sticks, Plum, Tart Cherry, Red Raspberry, Blueberry, and Juniper Berry. The tasting room is open Thursday through Sunday.
BOCO Cider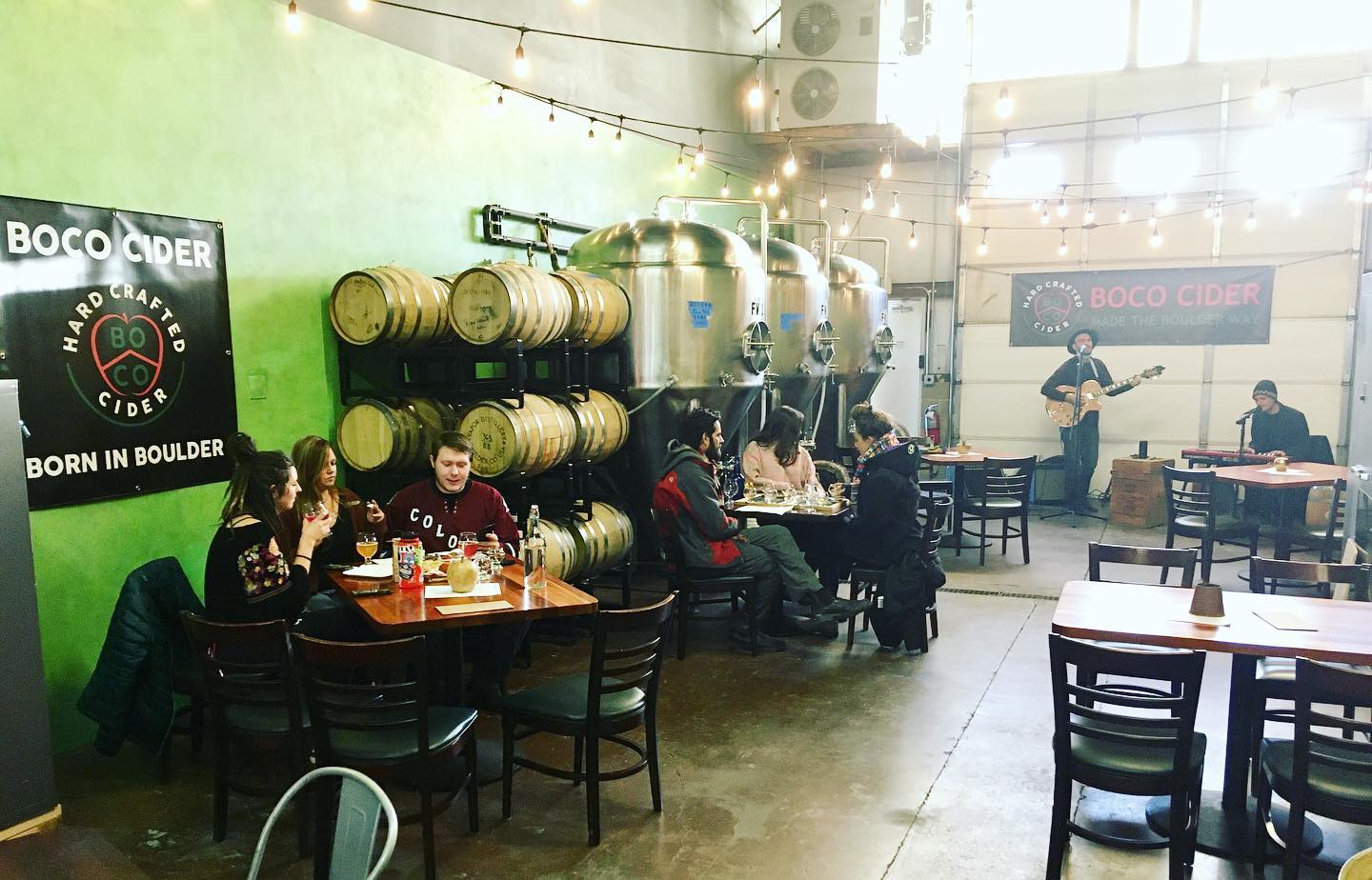 BOCO Ciders are unfiltered, naturally carbonated, and free of added sulfites. The taproom is open Thursday through Sunday and regularly has live music. The ciders on tap are rotating and include Mango Tango (infused with shishito, poblano, Anaheim, bell, and jalapeno pepper) and Ginger, made with more than a half pound of ginger in every gallon of cider.
St. Vrain Cidery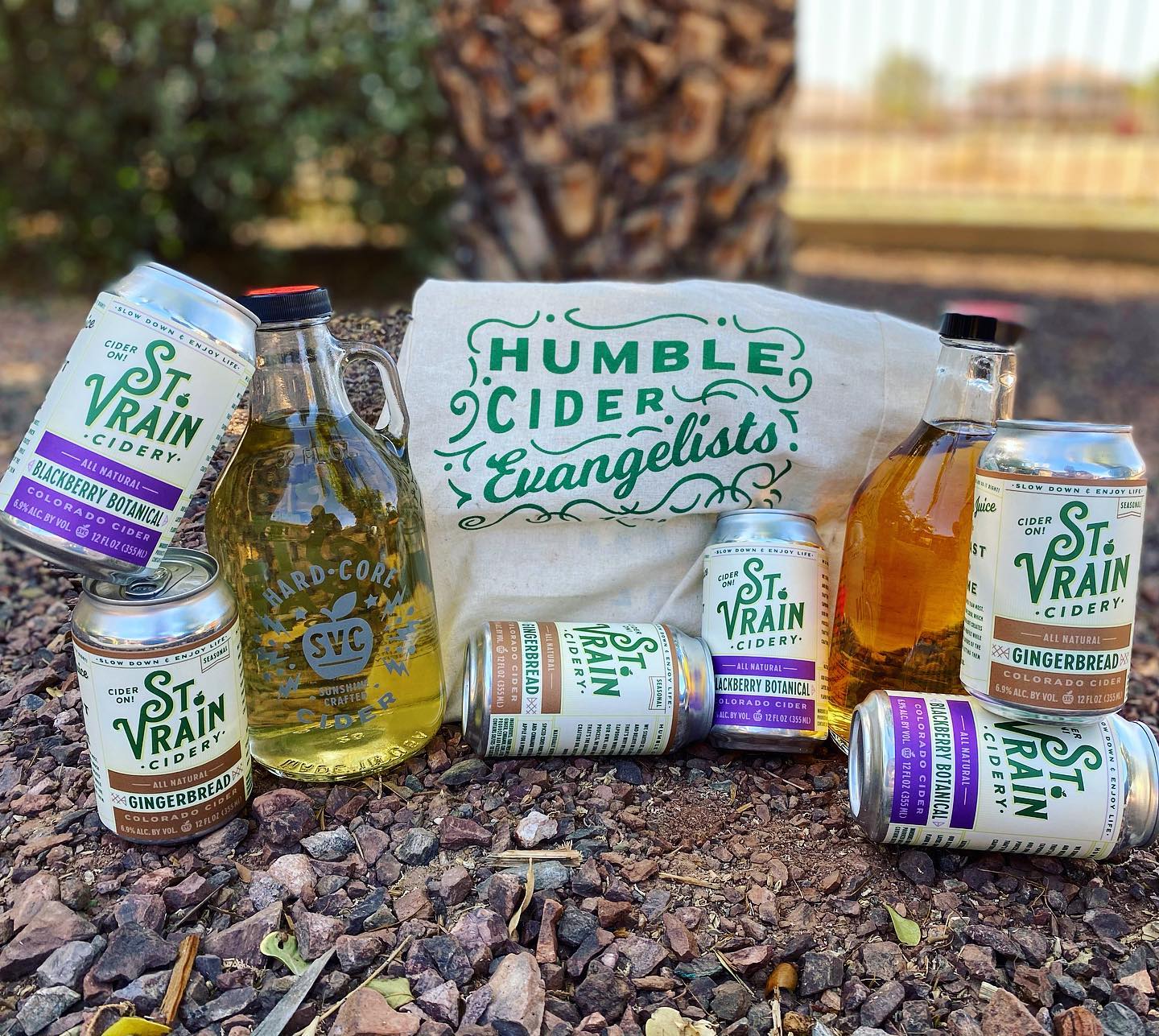 St. Vrain Cidery is located on Main Street in nearby downtown Longmont. It is the largest cider taproom in Colorado with 36 taps of cider, including its own along with other local cideries throughout the state. The dry American-style ciders include dry ginger, dry chokeberry, Balaton cherry, and blackberry botanical, as well as seasonal ciders, such as gingerbread and key lime.
Acreage Ciderhouse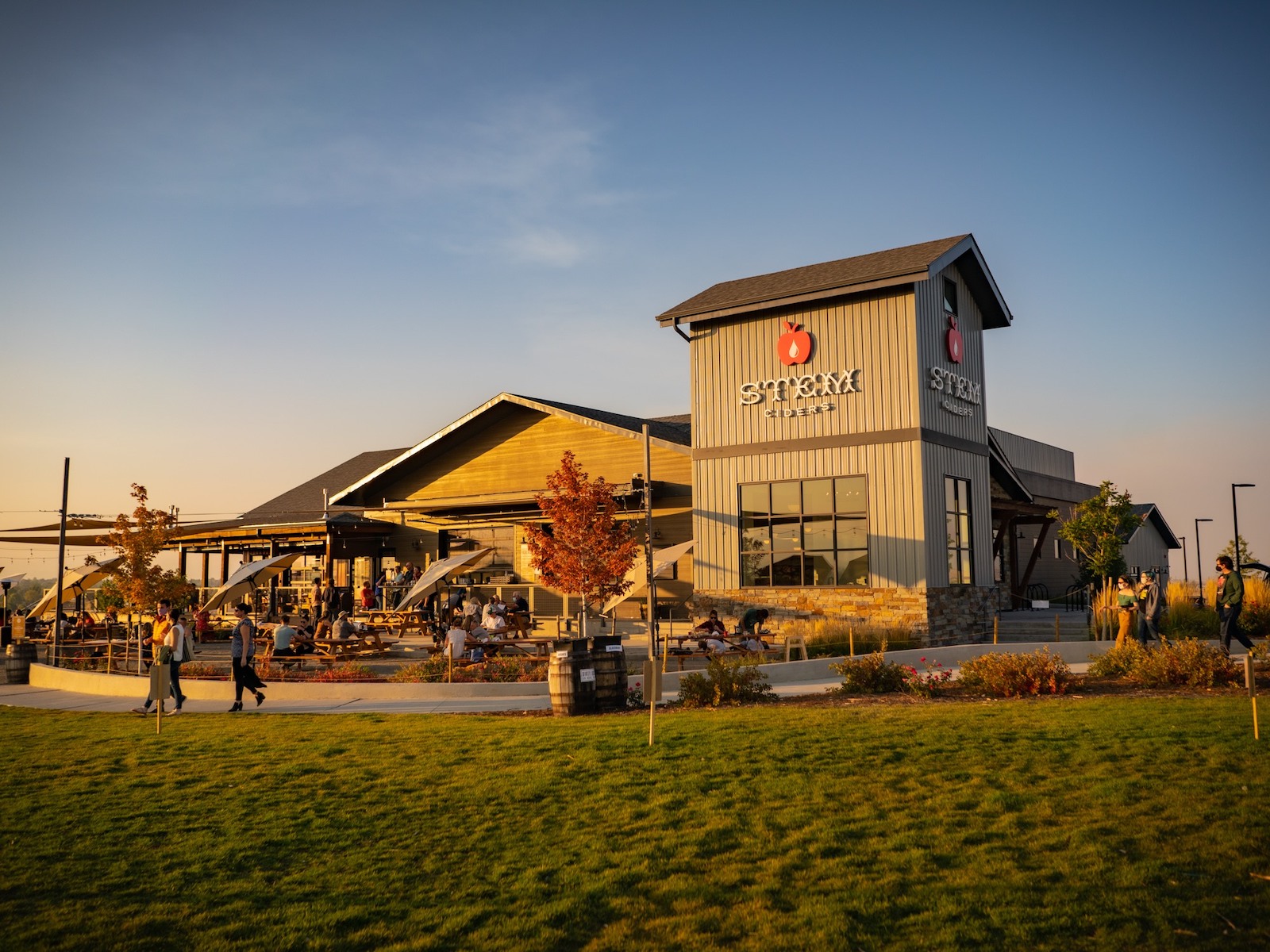 Acreage Ciderhouse is part of the Denver-based Stem Ciders, but this location is in Boulder County in Lafayette. There is a wide variety of core ciders as well as special releases, such as the Old Fashioned-inspired cider, bourbon barrel aged with warm spices, housemade bitters, and fresh orange zest.
There is also a food menu with snacks, salads, small plates, and large plates. A handful of desserts are available, including cider donuts served with blackberry jam.
The Old Mine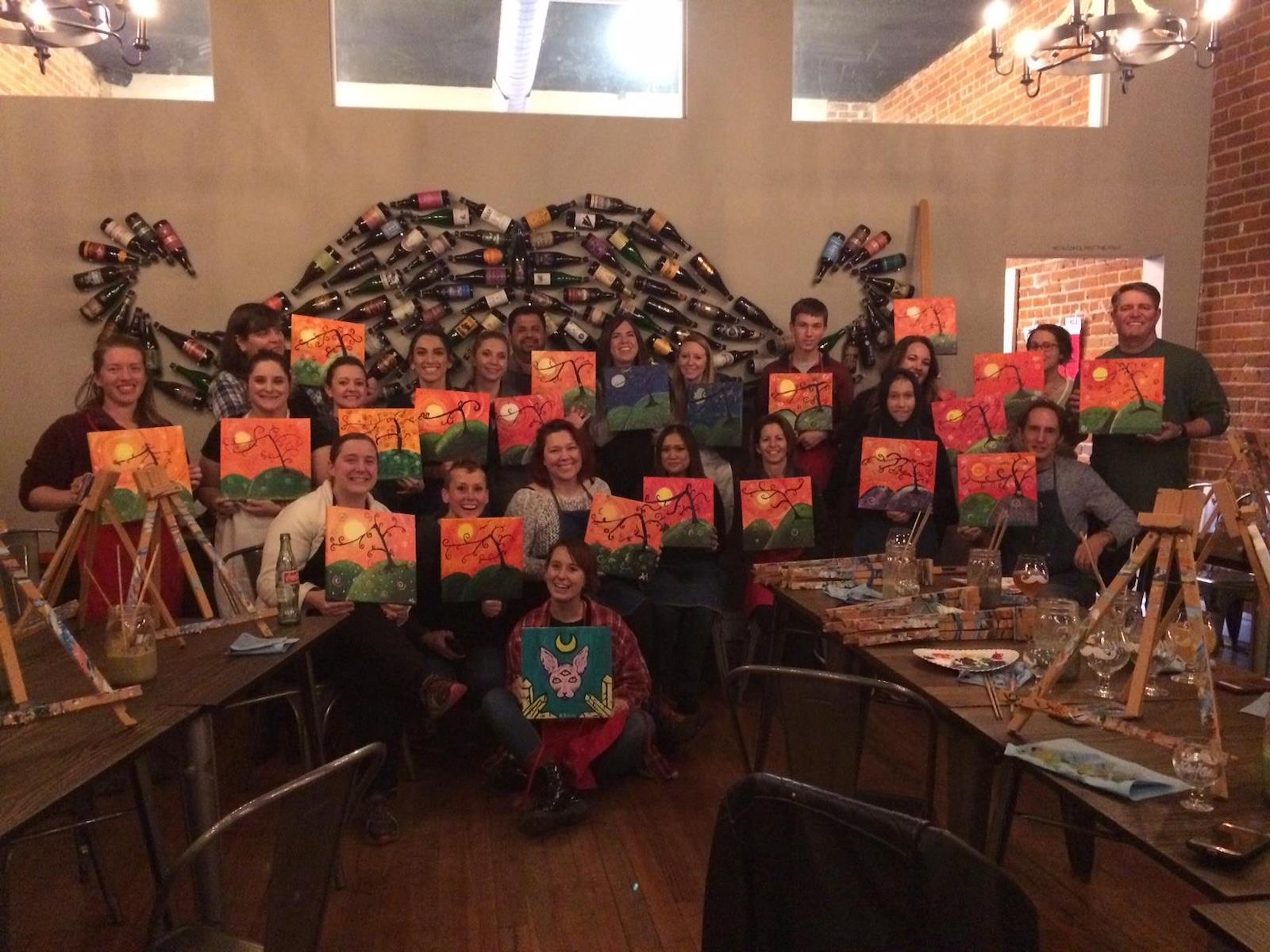 The Old Mine is located in Erie, about 15 miles away from Boulder. Flagship ciders include hard apple cider, hard pear cider, and apple cider made with Citra hops. They also serve seasonal and small-batch ciders, cider-based cocktails, and cider and beer fusions. Cider flights are available to sample with five 5-ounce pours. The cider also serves pizzas and sandwiches.
Boulder is home to more than just an abundance of breweries and top bars. There are many great wine destinations to explore in and around this flatiron city.