Sunset over the Rockies and an Erie wheat field. Photo: CL.Baker
Situated close to Denver and Boulder, Erie is a plains town that values its nature. it offers magnificent scenery from its hills, forests and trails.
The town is comforting, providing a sense of community and closeness. Erie values the conservation of the town's natural environment, and open spaces.
Recreation
Parks such as The Erie Community Park, Coal Creek Park and the Reliance Park are considered lands of significant value. These parks are preserved, restored or enhanced in their natural state.
Popular Erie posts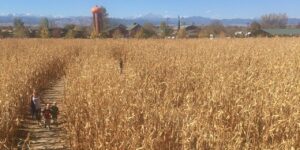 Lost in the Corn at Anderson Farms – Fall at Anderson Farms means pumpkins, corn mazes, Halloween freights and lots of family adventure. Situated in Erie, the farm is about a forty-five minute drive from Denver. Autumn festivities run from…
Read all our posts tagged Erie.