A myriad of epic weekend road trips are available to take in Colorado, easily accessible from the major cities of Denver and Colorado Springs.  But with so many options, it can be tricky knowing which road trip is best to take next.
If this is the boat you currently find yourself in, consider one of these recommendations. Whether you're traveling with young kids in tow or are an outdoor lover dying to get away from the crowds, we've got weekend trip ideas here that will pique your interest.
There are a great number of weekend trips to take.
Romantic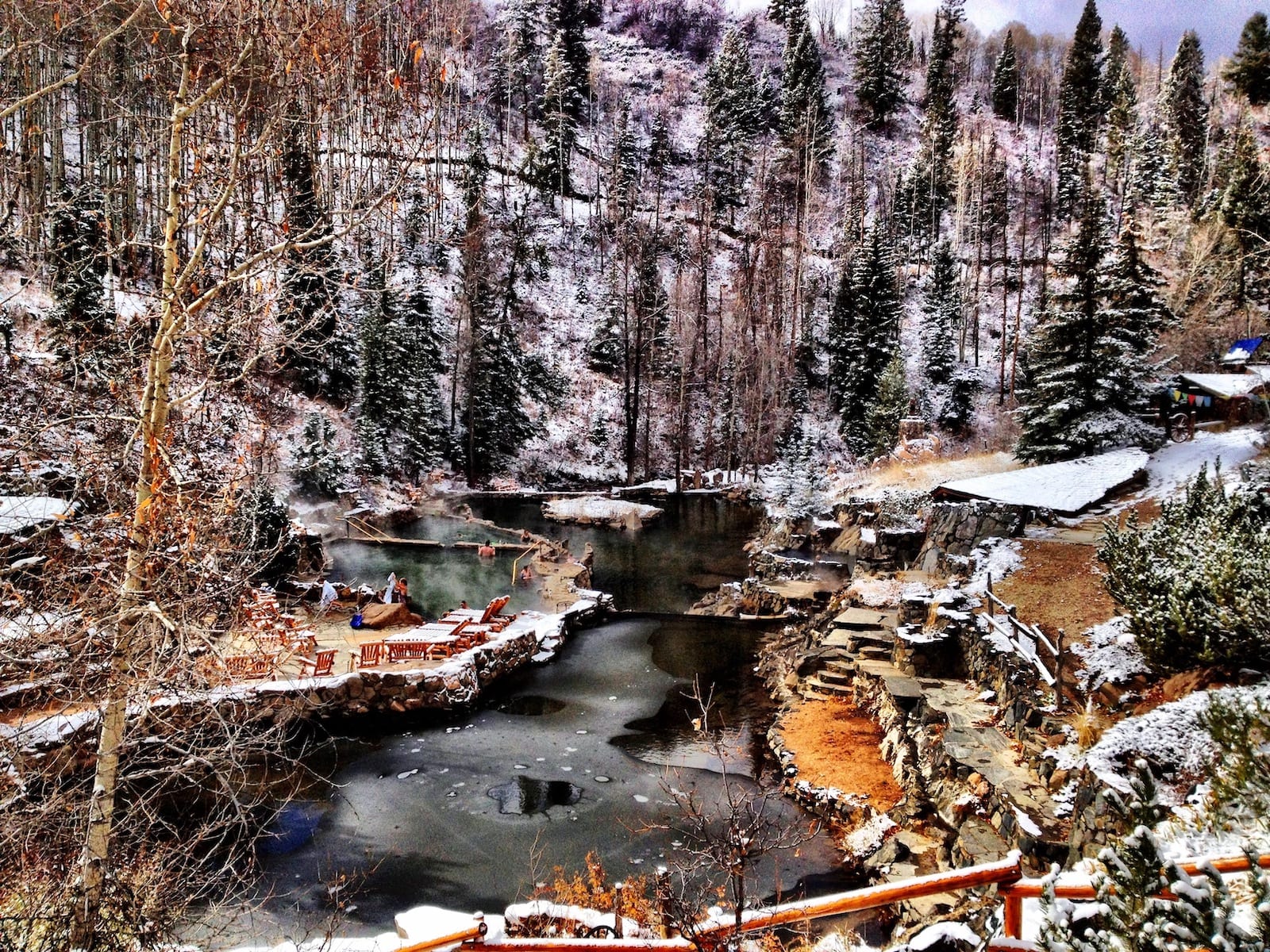 Aspen
If a team of rom-com writers and scientists were paid to dream up the perfect mountain town for love, they'd almost certainly come up with something like Aspen. Immersed in one of the most iconic mountain settings in North America, everything about this place oozes rugged opulence and romance.
Experience the world-famous Maroon Bells peaks and the town's revered restaurants. Aspen is a place for pulling out the stops in all pursuits of romantic love, whether you're long into a relationship or beginning one.
Strawberry Park Hot Springs

Colorado is blessed with many natural hot springs destinations, and some are famous for features like the world's largest pool and the deepest springs. However, none in the state is as visually stunning as Strawberry Park. Its hot springs pools are tucked beneath a pristine mountain canyon replete with evergreen trees, majestic rock formations, and immense peaks towering in the distance.
Strawberry Park Hot Springs is one of the most reliably romantic weekend destinations in Colorado any time of the year you visit. But for those staying overnight on-site in one of their unique lodgings, it's almost always booked, so make sure to plan your trip in advance.
Crested Butte
If you're traveling from Denver or somewhere else along the Front Range, a drive to Crested Butte is likely to take you four hours or more, but it'll be worth it if you're looking for a quick but hugely memorable romantic mountain trip.
Whether you're hiking through vibrant fields of wildflowers in the summer or soaking in a hot tub with a glass of champagne in hand after a long day of winter skiing, Crested Butte is sure to deliver all the lovey-dovey your relationship can handle.
For Families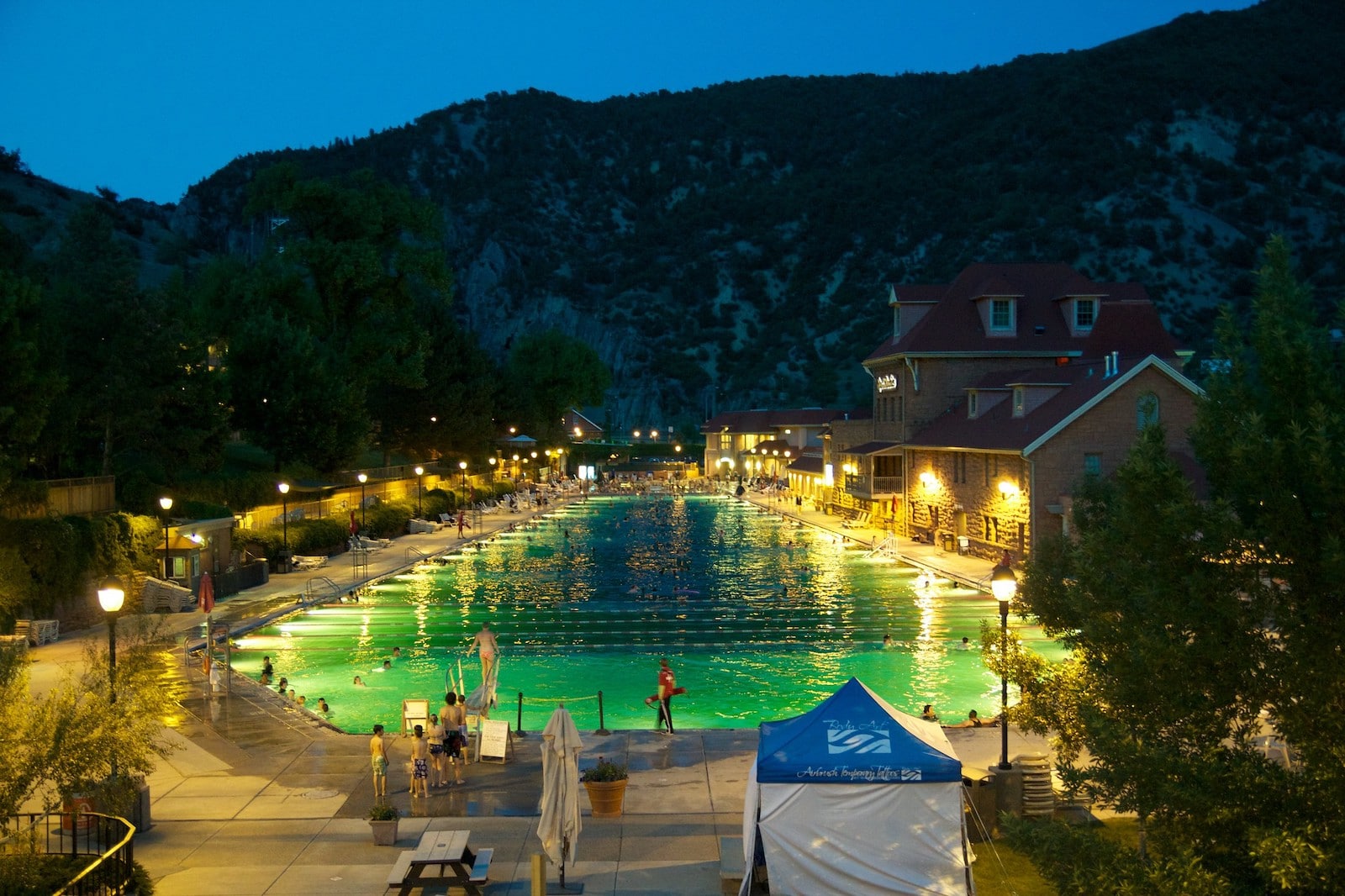 Glenwood Springs
Glenwood Springs is locally known for being one of the best family destinations in Colorado. The Glenwood Hot Springs Pool, which holds the title of the world's largest hot springs pool, is the main attraction in town. However, there are a lot of other fun things to do here from checking out the rides at the Glenwood Adventure Park to enjoying dinner and a variety show at the Glenwood Vaudeville Revue.
Lake Dillon and surrounding areas
Surrounded by the mountain towns of Frisco, Breckenridge, Silverthorne, and Keystone, Lake Dillon is a gorgeous mountain destination that families will love. The lake itself offers a plethora of outdoor recreational activities like fishing, camping, and boating, but the Summit County communities each have enough entertaining stuff to check out that they'd each deserve their own weekend trip.
Lucky for you, everything here is just a short drive away whether you're camping at the lake or staying in a nearby hotel. Kids will love the Frisco Adventure Park, which features disk golf and mountain biking in the summer and tubing and skiing in the winter.
Rocky Mountain National Park
If you want to give your family an experience they'll never forget, take them to Rocky Mountain National Park (RMNP). This park contains some of the most beautiful and ecologically important mountain lands in not just all of the US, but the planet.
A trip here holds the promise of camping under the stars and hiking beneath some of the most majestic peaks in North America. Observe wildlife such as moose and big horn sheep in their natural habitat. For families living along the Front Range who are accustomed to the constant noise and busyness that comes with living in a city like Denver, having Rocky Mountain National Park so close to home is a huge gift.
Affordable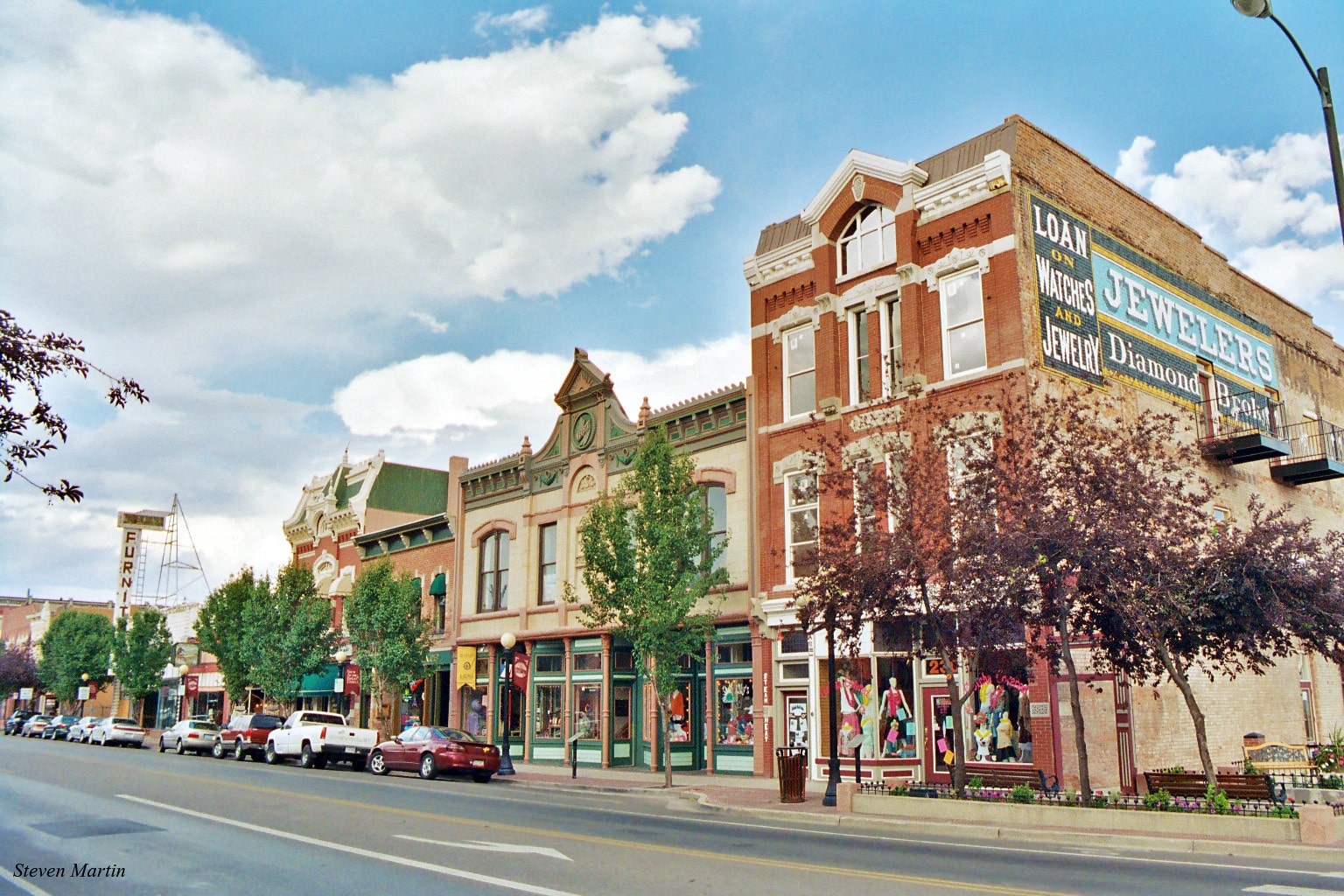 Grand Lake
Grand Lake holds all the charm and rugged beauty of Colorado's most popular resort towns but with far less pretension and expense. You won't find fancy restaurants or world-renowned art galleries here, but you'll be treated to an authentic mountain town experience immersed in one of the most beautiful and engaging alpine settings in the state.
Plus, there's an incredible amount to see and do here, from boating on the lake to mountain biking to ice fishing. The town is the western gateway to the aforementioned RMNP.
Pueblo
Pueblo is one of the last bastions of urban authenticity along the Front Range. Whether you're exploring one of the town's art galleries or holed up in of its dive bars, you can expect experiences here that are unique, unrushed, and memorable and cost far less than they would in Denver or Boulder.
This historical Colorado city is worth a visit all on its own or as a stop if you're traveling through for a fishing trip along the famed Arkansas River.
Grand Junction
Depending on where you live in the state, the town of Grand Junction will probably be a long drive. But if you're looking for an affordable weekend getaway and have an affinity for fresh produce, this is a can't-miss destination.
World-famous Palisade peaches are grown nearby alongside apricots, apples, tomatoes, and cherries. Local farm stands offer the chance to procure what just might be the best tasting fruits and vegetables you've ever tasted for far less than what you'd pay at conventional stores.
The area also hosts scenic wineries that offer tours and tastings, and just south of Grand Junction you'll find far more opportunities to hike through vast desert canyons than you'll have time to explore over a weekend.
Close to Denver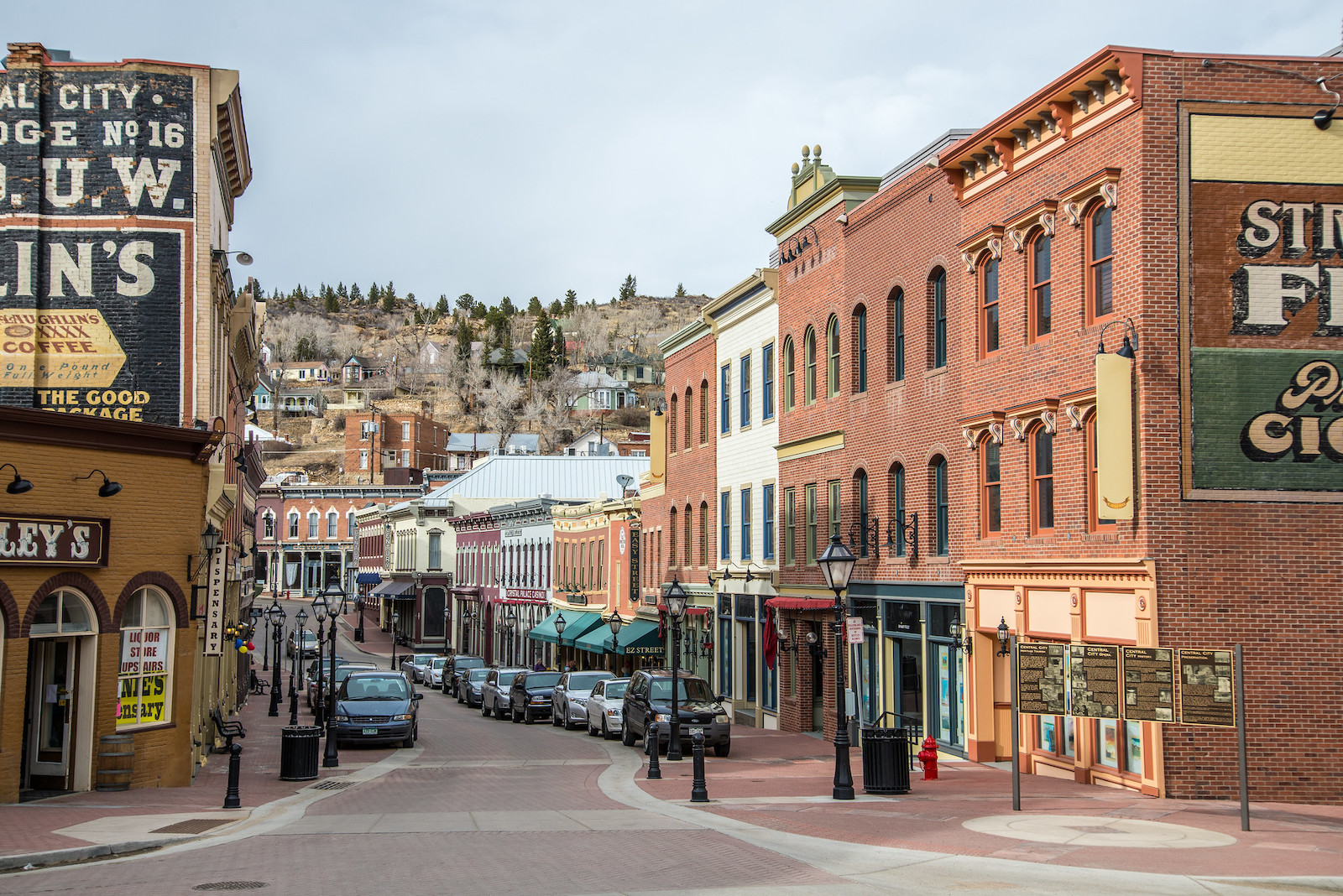 Idaho Springs
A drive to Idaho Springs from Denver is an easy 45 minutes along I-70 and offers the chance to soak in natural hot springs, scale the majestic Mt Evans, and enjoy a nice stroll along the quaint mountain town's main street. Idaho Springs isn't the biggest or chicest mountain town, but it has lots to see and do, including white water rafting and a gold mining museum.
Central City and Black Hawk
You don't have to be into gambling to enjoy a weekend trip up to Central City and/or Black Hawk, both of which are close to each other and under an hour's drive from Denver. This is an area of Colorado that holds a fascinating historical legacy––Central City was once known as the "Richest Square Mile on Earth" during the Pikes Peak Gold Rush.
It's also a visually beautiful place that features all the outdoor activities of a rugged, mountainous area. Whether you're playing slots with some friends or panning for gold, this is a solid destination for weekend trips close to Denver.
Evergreen
Without traffic, the alpine town of Evergreen is just 40 minutes away from Denver, but it might as well exist in a different universe. Tucked under lush evergreen trees and stately peaks, Evergreen would be a solid mountain weekend getaway even if it wasn't so close to the capital city.
With an inviting main street filled with boutique shops and restaurants, multiple breweries, and a large, pristine mountain lake, this town is well-versed in the arts of helping stressed-out city dwellers relax for a while. If you visit in the winter months, ice skating on Evergreen Lake is an unforgettable experience.
For lovers of history and science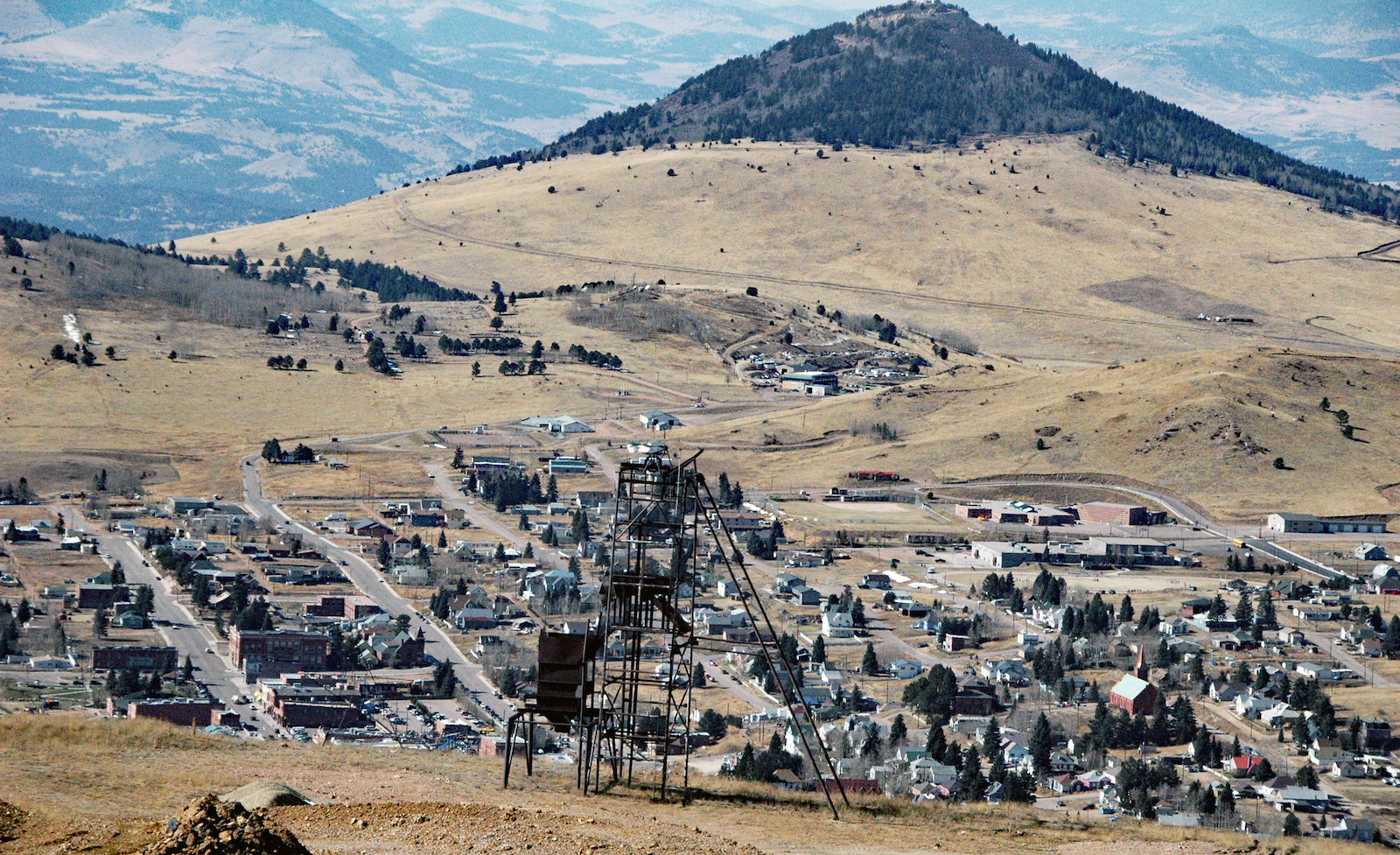 Mesa Verde National Park

People travel the world over the see Mesa Verde's ancient cliff dwellings, but if you're in Colorado, you're not far from this wondrous National Park. Ancestral Puebloan people are said to have constructed these structures over a 700-year period from 550 to 1300 CE, and the park contains over 5,000 archeological sites.
In addition to the stunning history to observe here, there's also bird watching, hiking, snowshoeing, and stargazing. Even if ancient history isn't your thing, you'll still be fascinated by what you see and learn at Mesa Verde National Park.
Cripple Creek and Victor

Alongside Central City and Black Hawk, this part of Colorado is packed with more local history than you can possibly absorb in a weekend trip. Whether you're touring abandoned gold mines, exploring the Outlaws and Law Mens Jail Museum, or trying your luck at one of the historically preserved local casinos, you're bound to walk away from a trip here with a new appreciation of Colorado's past.
Cripple Creek is where the casinos reside, while the smaller, quainter Victor is a place to further getaway. You can ride a short narrow gauge railroad between the neighbors while touring this part of Teller County.
Dinosaur National Monument
The 1,500 dinosaur fossils on display here are Dinosaur Monument's obvious headlining attraction, but there's plenty more here to explore over a weekend trip. Located in the immensely desolate northwestern section of Colorado, this national monument spans an incomprehensibly vast swath of land––over 210,000 acres––, and is rare for the fact that it lets people explore the area on and off the established trails. If you're looking for a remote nature experience to immerse yourself in, this is it.
Away from the crowds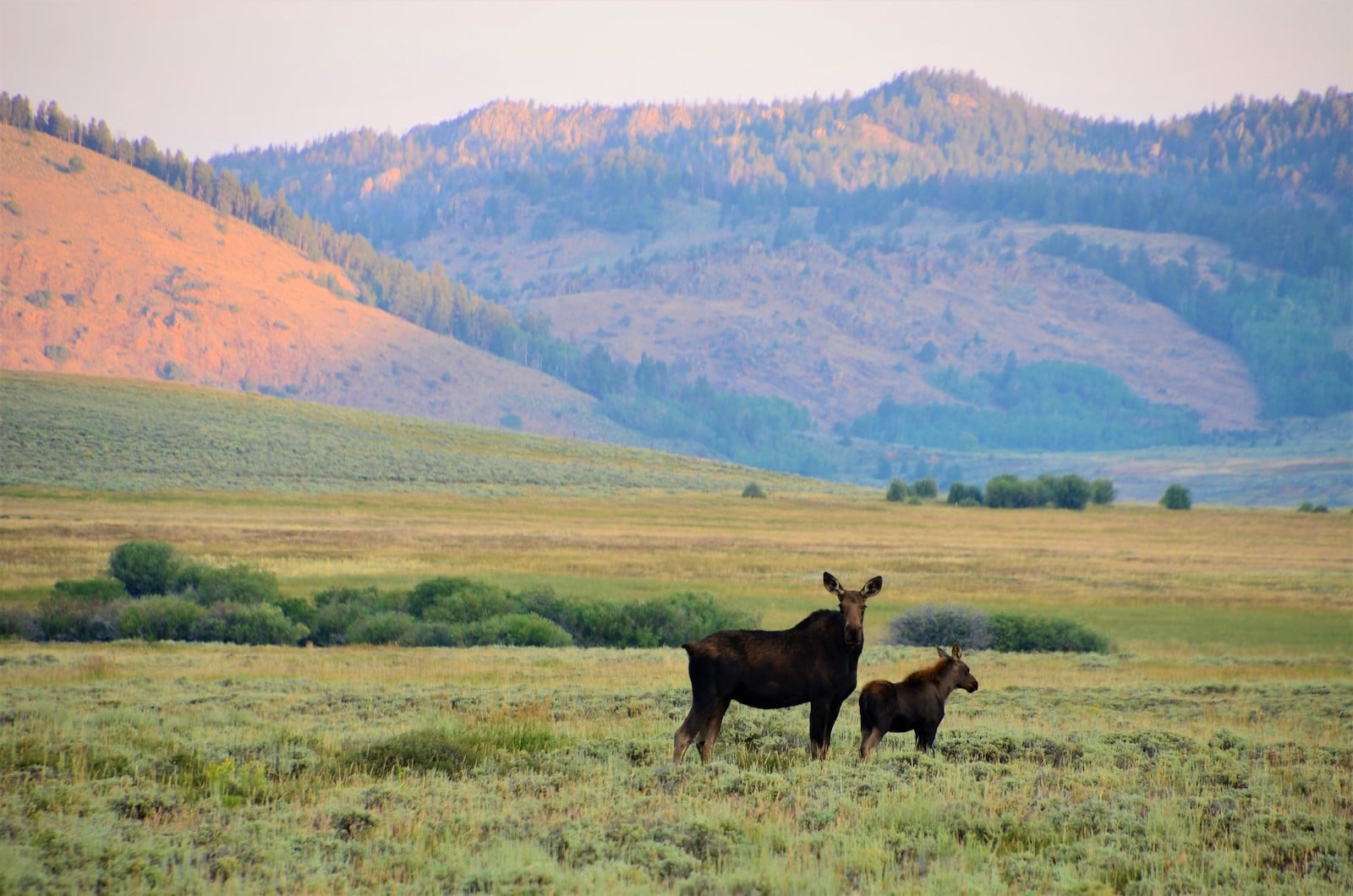 Pawnee National Grassland
Colorado's eastern plains region doesn't often get included in lists like this for obvious reasons (the Rocky Mountains are hard to compete with), but the Pawnee National Grassland absolutely deserves a mention here. This is a place that delivers an immense amount of quaint scenic beauty and solitude with a fraction of the crowds you'll contend with in the mountains. If you want a relaxing camping trip without straying far from the Front Range, this is a solid option to consider.
Crestone
Crestone is one of the state's most important spiritual destinations, and it boasts all the trappings of an exciting and rugged mountain town with far less people. If you're traveling from the Front Range, you'll probably have further to drive than if you visited somewhere like Lake Dillon, but the couple extra hours will be well worth it.
Crestone itself is an excellent little mountain town, but the neighboring Sangre de Cristo Wilderness contains a vast beauty that you'll barely be able to uncover in just a weekend. If you love hiking, wildlife, rock climbing, fishing, or anything else having to do with the outdoors, you will absolutely love this place.
North Park
Located northwest of Rocky Mountain National Park, North Park is one of the most remote and unspoiled natural regions in the state. Look elsewhere if you're after a weekend trip filled with fine dining, boutique hotels, and the comforts of home.
North Park is a paradise for enthusiasts of the natural world or anyone in search of an escape from life in the city. In North Park, you'll find excellent fishing, the sprawling Arapaho National Wildlife Refuge, and lots and lots of moose.
These are just some of Colorado's weekend trip destinations that are relatively easy to access from Denver and Colorado Springs. There are loads and loads of other great spots that didn't quite make this list, like Winter Park and the Grand Mesa.
If you have a few extra days, definitely head to the southwest, and explore gems like Pagosa Springs, Durango, Ouray, Silverton, Telluride, and Cortez. This is a part of the country that has no shortage of incredible things to see, eat, do, and learn.