Regardless of where you are in the Centennial State, there are plenty of kid-friendly things to do in Colorado. Families can find a great activity, whether it's cold and snowy or hot and sunny.
For starters, there are dozens of towns across the state that have an attractive downtown, where you will likely find family-friendly restaurants, public art, shops, and even breweries that welcome kids. Breckenridge, Silverton, Ouray, and Telluride are just a few examples of terrific Old West towns to explore.
There are 42 state parks stretching from the Eastern Plains to beyond the Rocky Mountains. Regardless of what outdoor adventure a family is looking for, there is bound to be a park worth visiting. The Colorado Parks & Wildlife website allows you to browse by location or activity, including picnicking, photography, camping, educational programs, birding, sledding, ice skating, and other things to do.
Whether summer or winter, there are endless kid-friendly outdoor activities, too. Check out your destination's visitor bureau for suggestions on family-friendly hiking or biking trails and places to camp.
Here are some options for kid-friendly activities in Colorado based on where you're headed:
Denver & Nearby
Elitch Gardens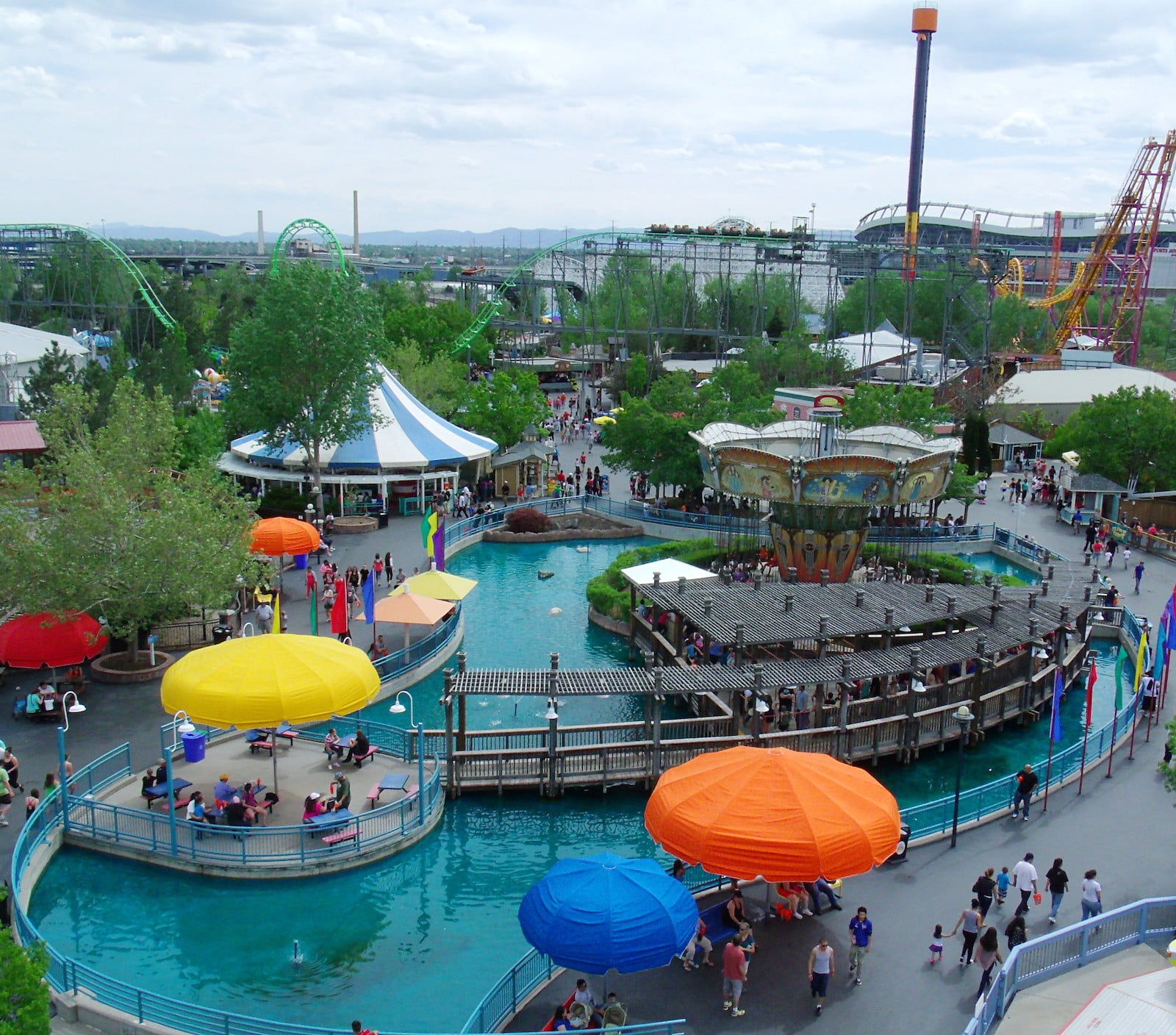 Elitch Gardens is both an action-packed theme park and a water park. This amusement park has a mix of thrill rides and rides appropriate for families and kids, while the water section has numerous slides and other water-based activities. Visitors will also enjoy carnival-like games, concerts, and movie showings.
2000 Elitch Circle, Denver | 303-595-4386 | elitchgardens.com
Children's Museum of Denver at Marsico Campus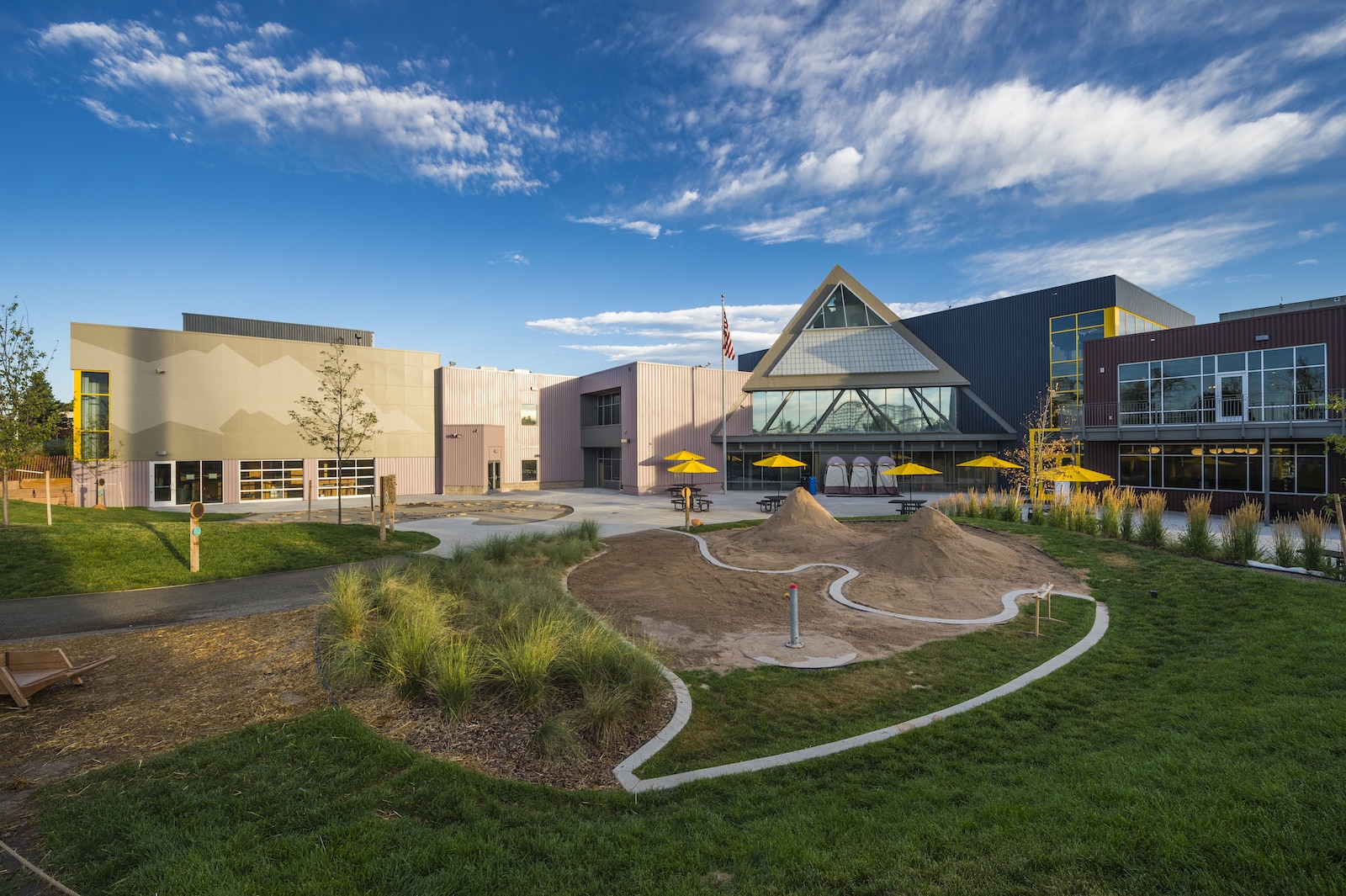 The Children's Museum of Denver is a 9-acre campus that provides a hands-on experience targeting children aged 0 to 8-years-old. There are four exhibit themes: Investigate, Imagine, Explore and Create. Children can visit the fire station, explore in the joy park and adventure forest, and be inspired to create their own artwork.
2121 Children's Museum Drive, Denver | 303-433-7444 | mychildsmuseum.org
Denver Botanic Gardens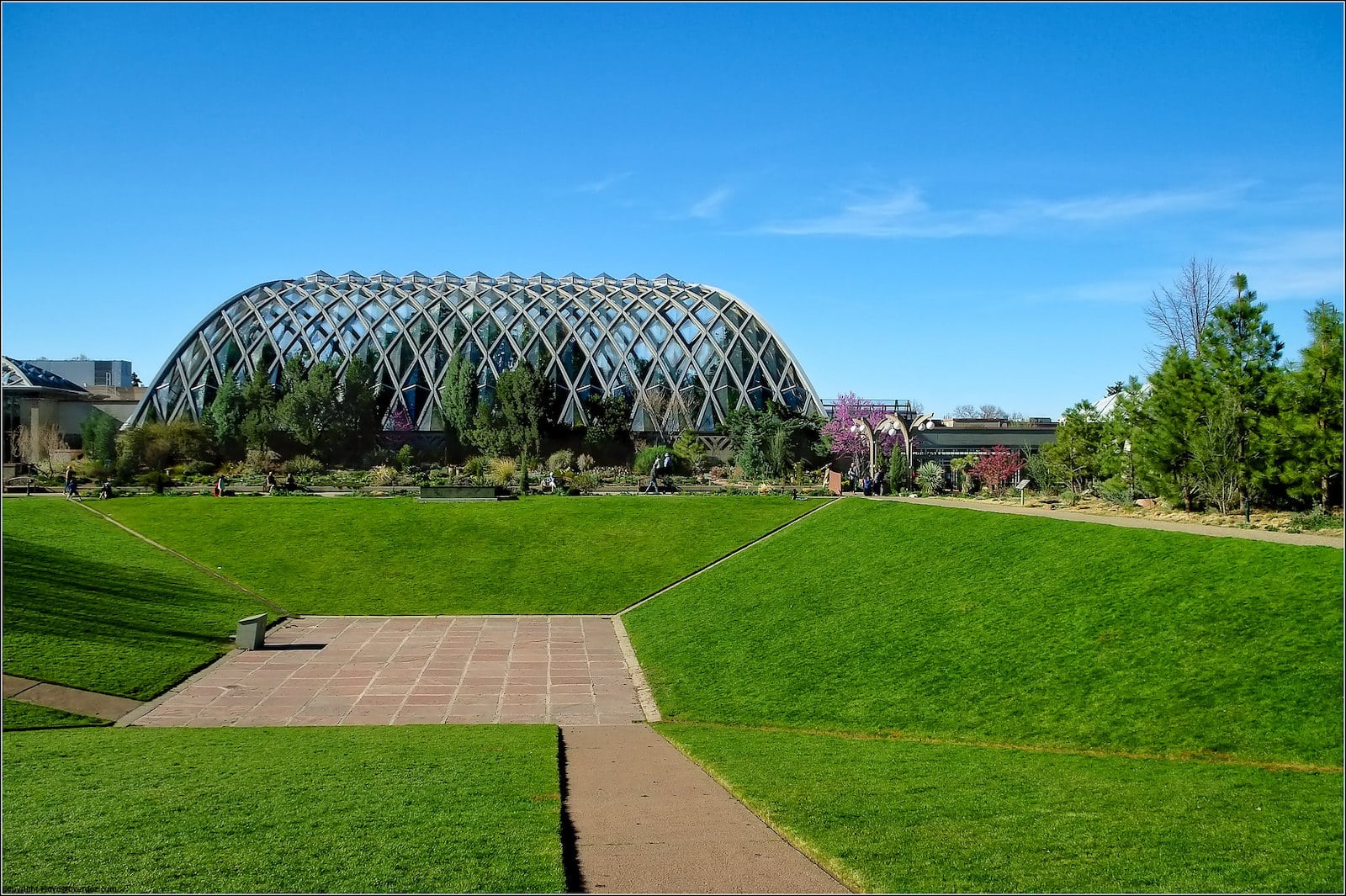 Denver Botanic Gardens consists of beautiful gardens and collections spanning 24 acres. Guests can schedule a tour of the scenic grounds, enjoy bird watching and access the Helen Fowler Library and art galleries. The Mordecai Children's Garden is a 3-acre area where kids can explore nature and plant life through hands-on experiences. There is also a Chatfield Farms location in nearby Littleton.
1007 York Street, Denver | 720-865-3500 | botanicgardens.org
Denver Art Museum
The Denver Art Museum has a Free for Kids program, which allows visitors ages 18-years-old and under to visit the museum for free. The museum features more than 70,000 works of art in 12 collections. The museum's Family Guide offers suggestions of activities to do with kids while at the museums and specific exhibitions to visit, such as an area of the museum showcasing art by young people.
100 14th Avenue Parkway, Denver | 720-865-5000 | denverartmuseum.com
Hammond's Candy Factory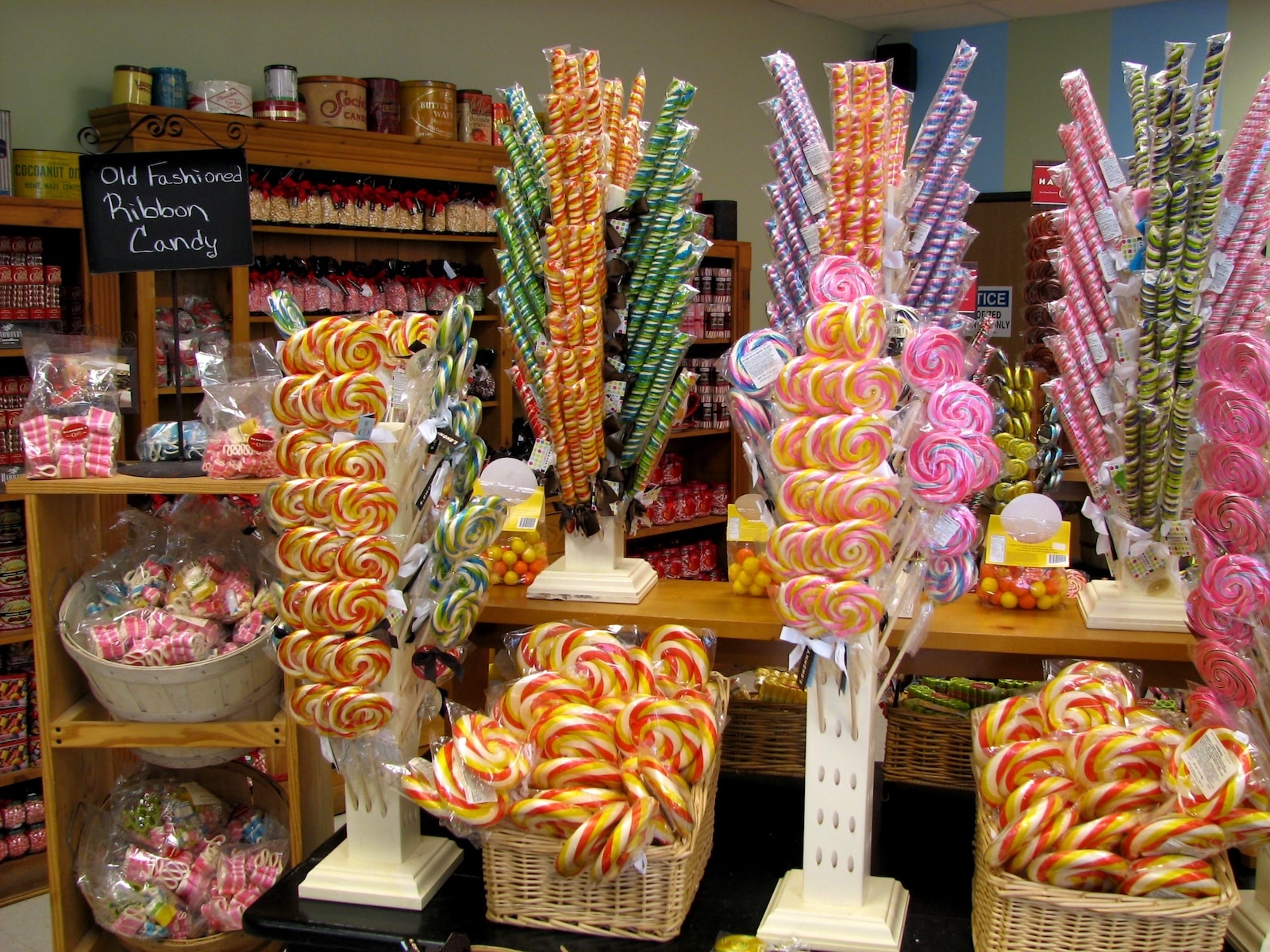 There is a free tour offered at Hammond's Candy Factory providing an inside look at how candy is made and the factory's history in Denver. Tours are about 30 minutes long and occur every half hour during business hours.  Walk-ins are based on availability, and online reservations need to be made at least 24 hours in advance.
5735 Washington Street, Denver | 303-333-5588 | hammondscandies.com
Water World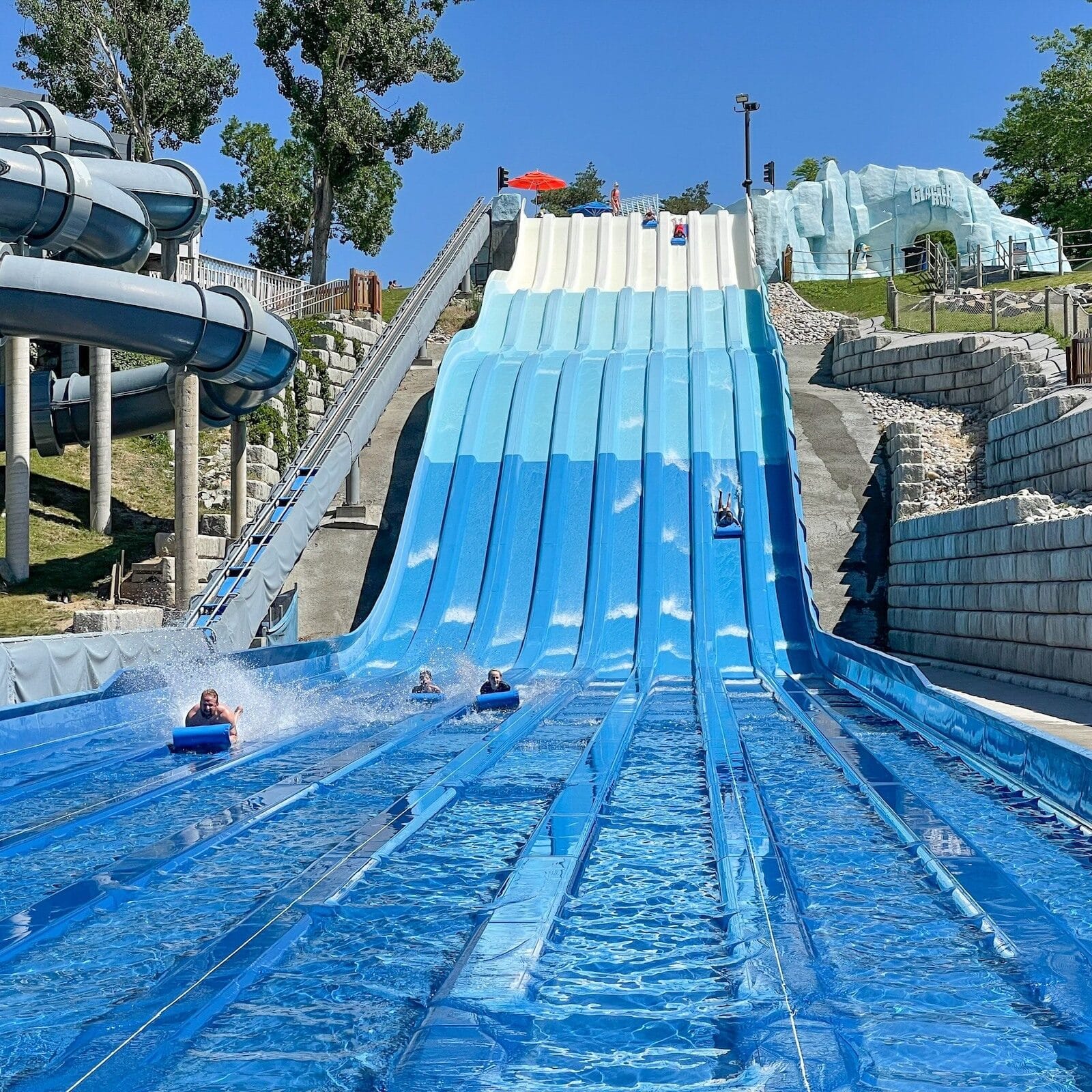 Water World is located 15 minutes north of Denver in Federal Heights. There are a variety of water slides and attractions for the whole family. Guests can find dining choices throughout the park once they work up an appetite, including options for burgers, pizza, ice cream, funnel cakes, smoothies, nachos, and hot dogs.
8801 North Pecos Street, Federal Heights | 303-427-7873 | waterworldcolorado.com
Butterfly Pavilion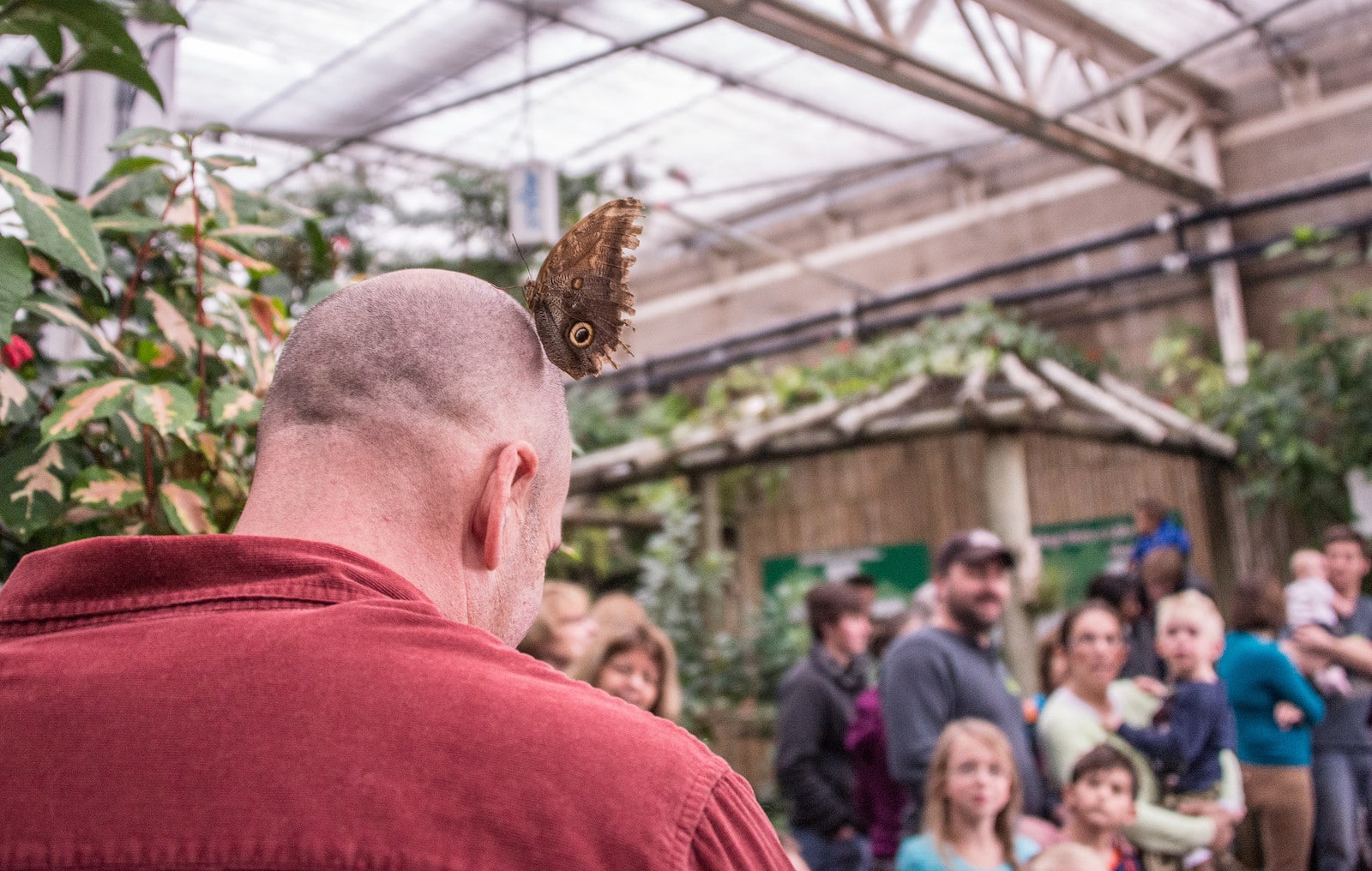 The Butterfly Pavilion is a non-profit focusing on invertebrate education and conservation located 15 minutes from downtown Denver. In the Wings of the Tropics exhibit, visitors can walk amongst free-flying butterflies and check out more than 200 plant species in the 7,200-square-foot tropical rainforest. There are also daily programs and shows and other exhibits.
6252 West 104th Avenue, Westminster | 303-469-5441 | butterflies.org
Check out some other activities with kids near Denver.
Boulder
Gateway Park Fun Center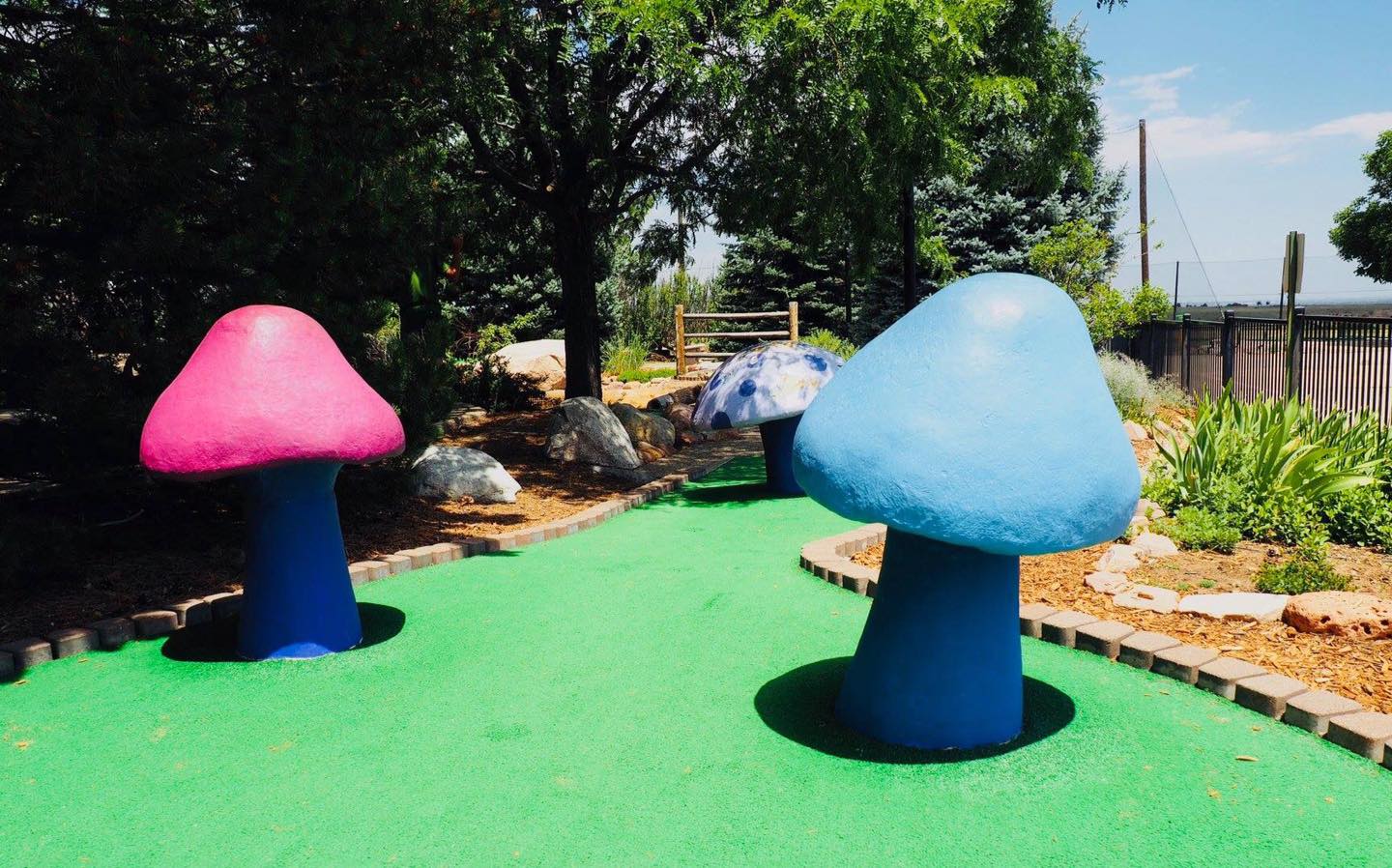 Located in North Boulder, Gateway Park Fun Center has plenty to do for all ages. There is a driving range, batting cages, two 18-hole miniature golf courses, Go Kats with 2,100 feet of roadway, and a separate area for Kiddie Karts. Inside, there is an arcade where kids can win tickets and redeem them for various prizes.
4800 North 28th Street, Boulder | 303-442-4386 | gatewayfunpark.com
Chautauqua Park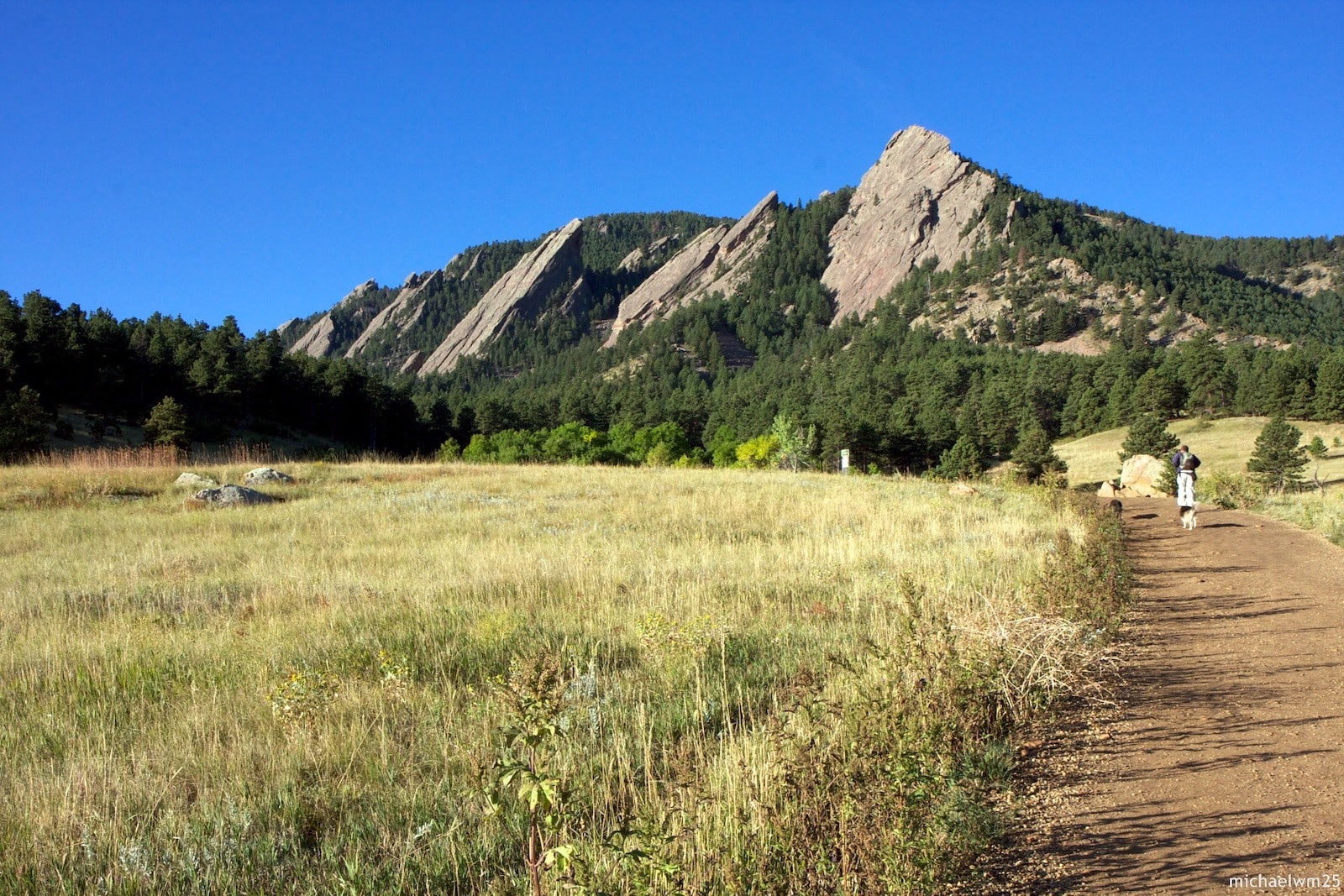 Chautauqua Park is one of the most visited locations in Boulder, known for its picturesque views and several trails. Children can play in the gardens and the playground with climbing structures. There are also some family-friendly trails as well as a general store selling ice cream and toys.
900 Baseline Road, Boulder | 303-413-7200 | bouldercolorado.gov/locations/Chautauqua-park
Boulder Creek Path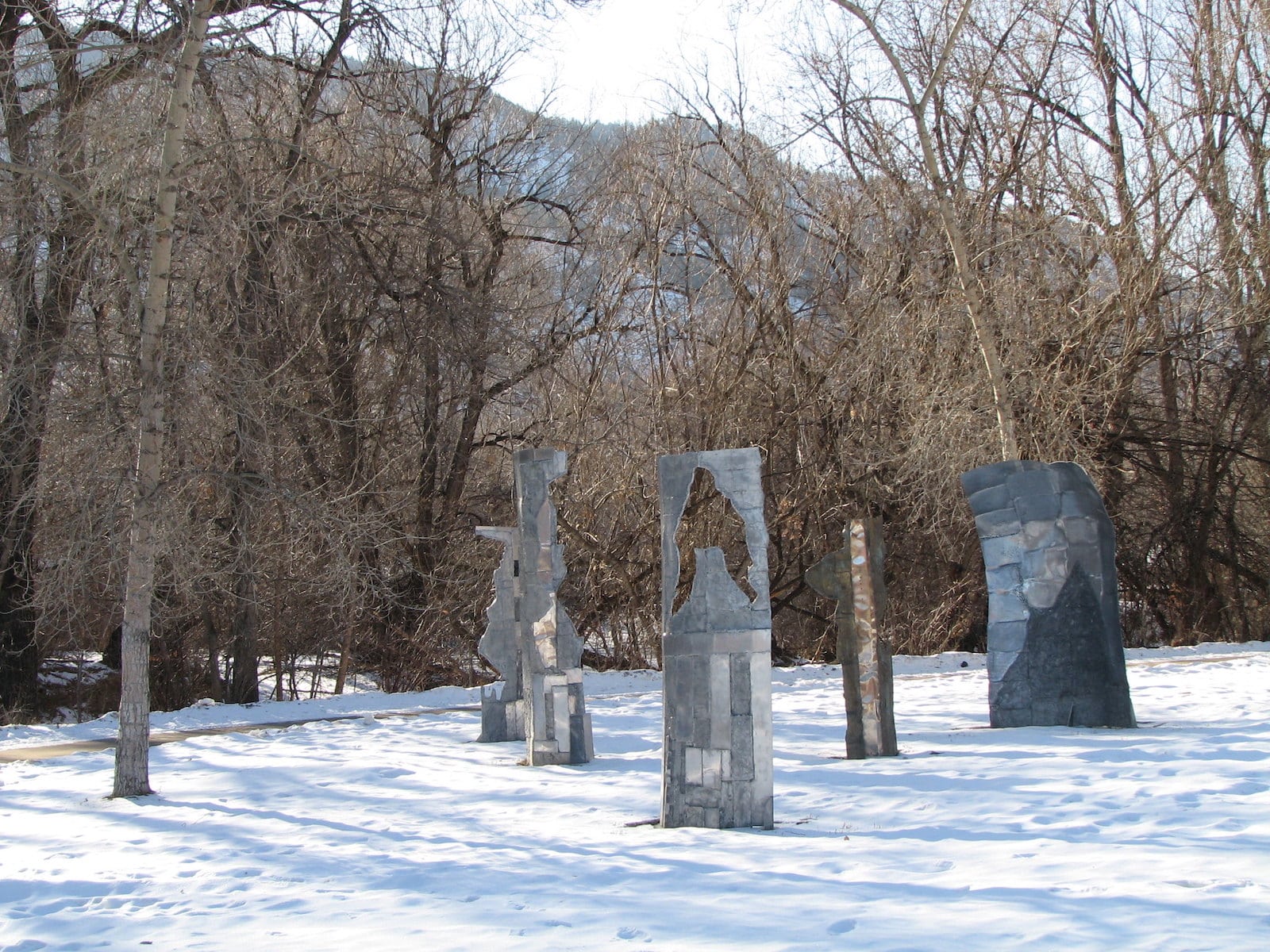 Boulder Creek Path is a 5.5-mile multi-use path where you can walk or bike with the family or pack a picnic. There are many things to explore along the path which runs through downtown Boulder, including Scott Carpenter Park, Central Park, and Eben G. Fine Park. The path also passes by the Main Library, Boulder Dushanbe Teahouse, and when occurring, the Boulder Farmer's Market.
Stazio Ballfields on the east end and Boulder Canyon on the west end | 303-413-7200 | bouldercolorado.gov/locations/boulder-creek-path
Colorado Springs & Nearby
Garden of the Gods Visitor & Nature Center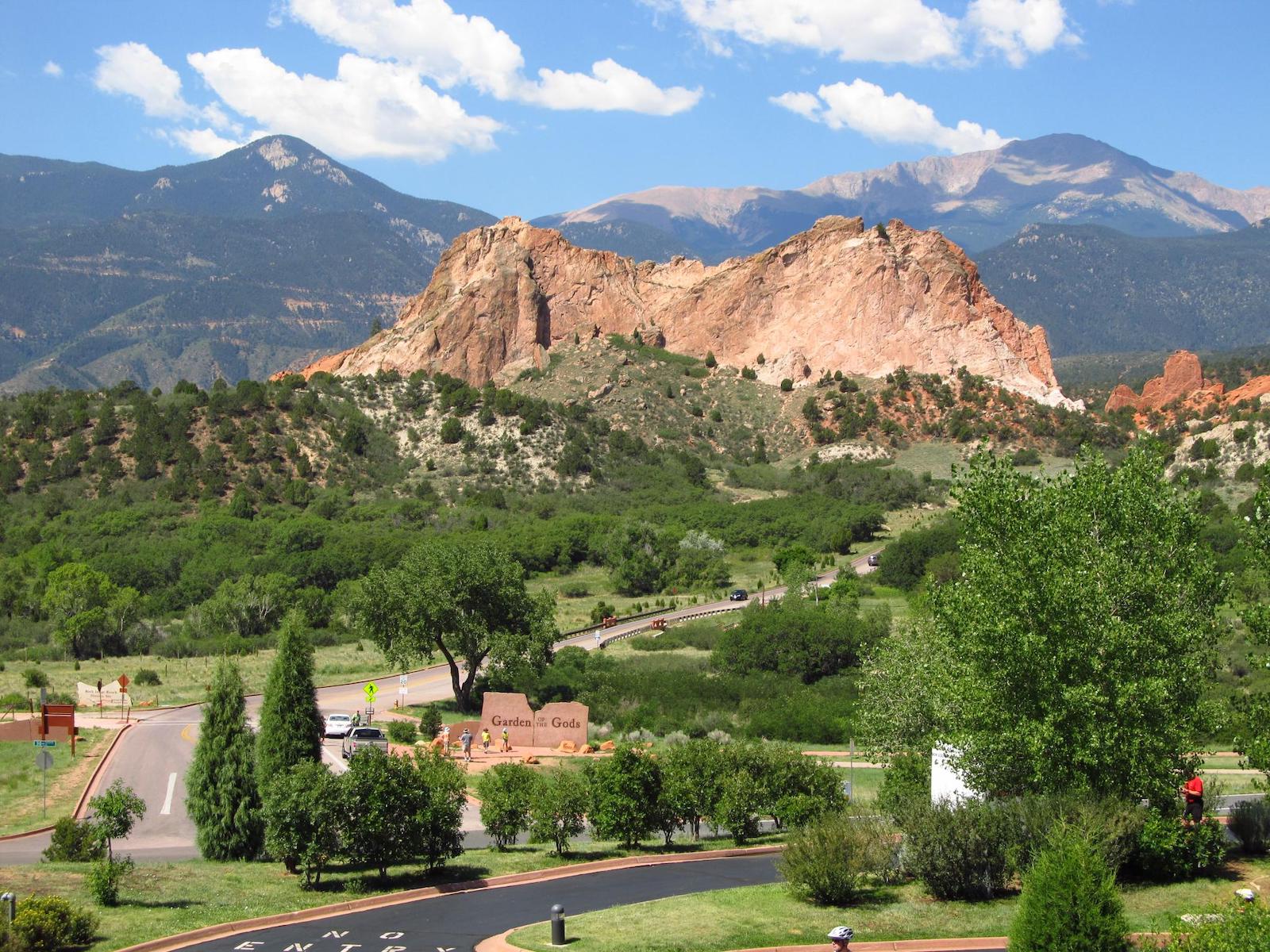 Garden of the Gods is an incredibly scenic national natural Landmark where families can walk, rent a bike or take in the views. There are daily guided nature walks, a self-guided audio tour, and a Junior Ranger program that allows guests to purchase an activity book. After completing the activities, which take about 1 to 2 hours, participants will receive a sticker, certificate and their name announced over the PA system.
1805 North 30th Street, Colorado Springs | 719-634-6666 | gardenofgods.com
Royal Gorge Dinosaur Experience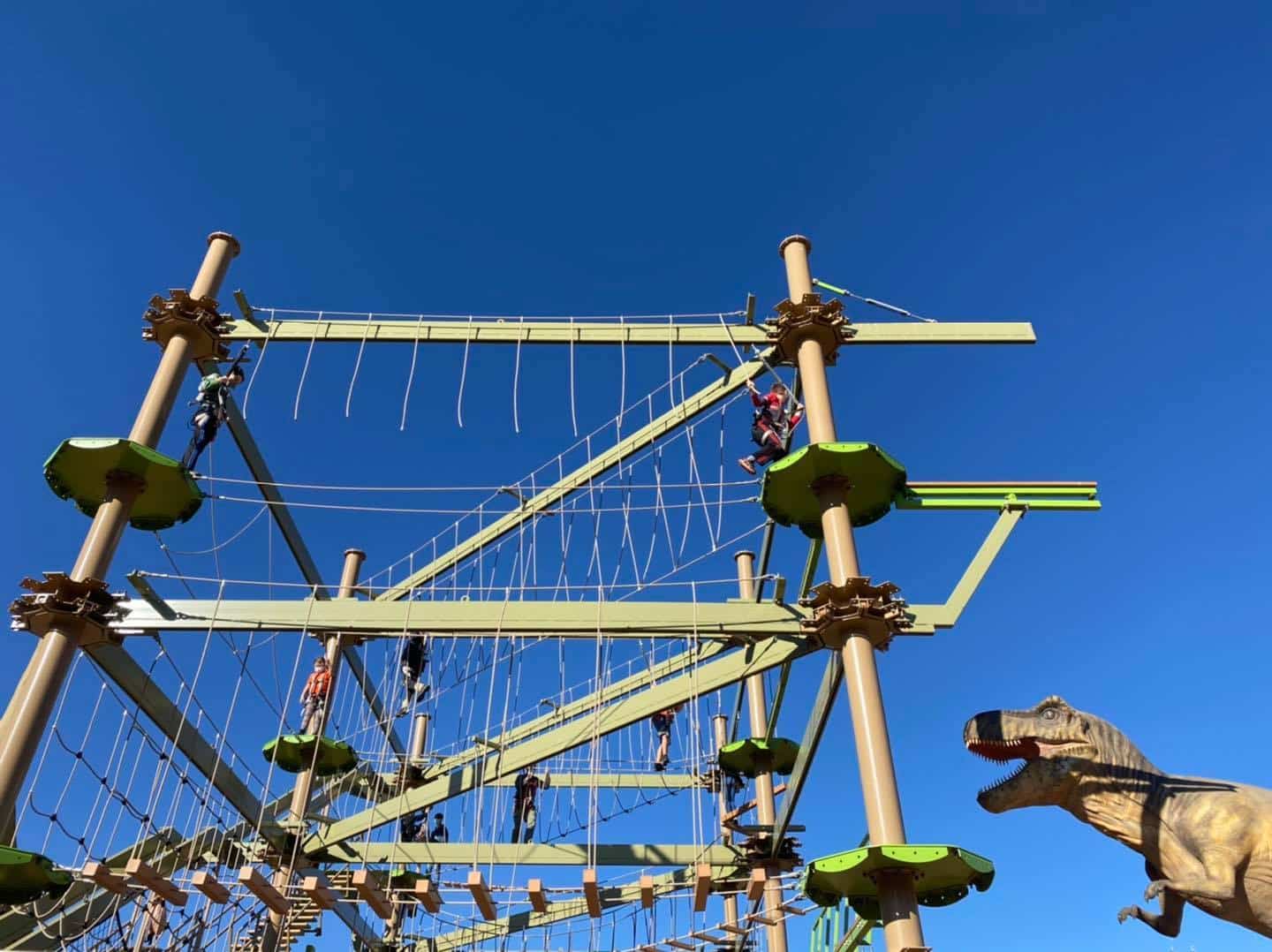 The Royal Gorge Dinosaur Experience is a 16,200-square-foot facility featuring real dinosaur fossils and a 775-square-foot paleontological laboratory run by the Garden Park Paleontological Society. There is an exhibit space exploring dinosaurs and ancient marine creatures, which you can check out on your own or via guided tour.
There are also rope courses and an indoor interactive kid's exhibit for ages three years old to 12-years-old with games and educational opportunities.
44895 West U.S. 50, Cañon City | 719-275-2756 | dinoxp.com
Pueblo Riverwalk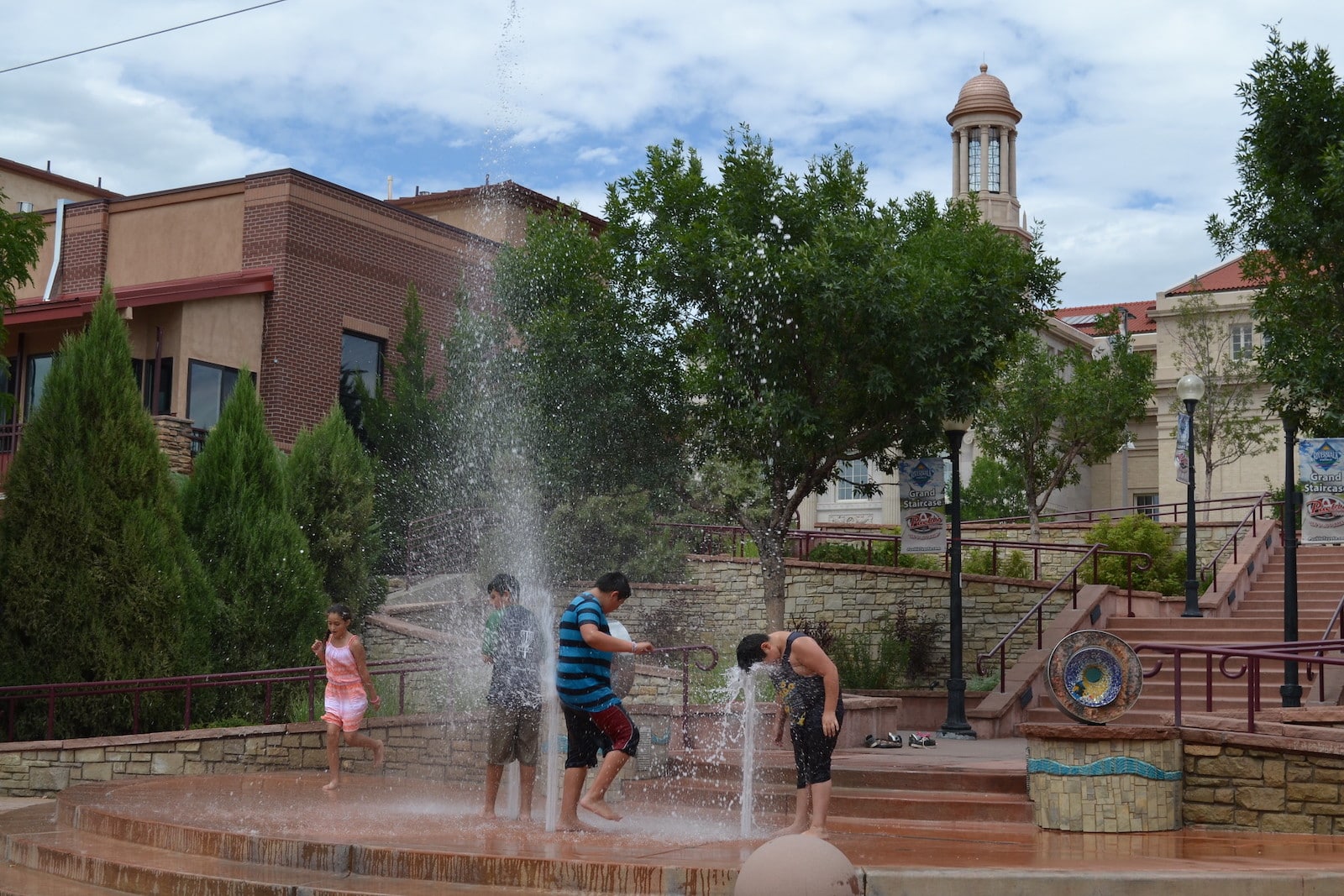 The Pueblo Riverwalk is a historic 32-acre waterfront along the Arkansas River through downtown Pueblo. Visitors can take an excursion boat ride, a gondola ride, or rent pedal boats or kayaks. There are 60 pieces of art along the riverwalk, as well as restaurants and shops.
101 South Union Avenue, Pueblo | 719-595-0242 | puebloriverwalk.org
Buell Children's Museum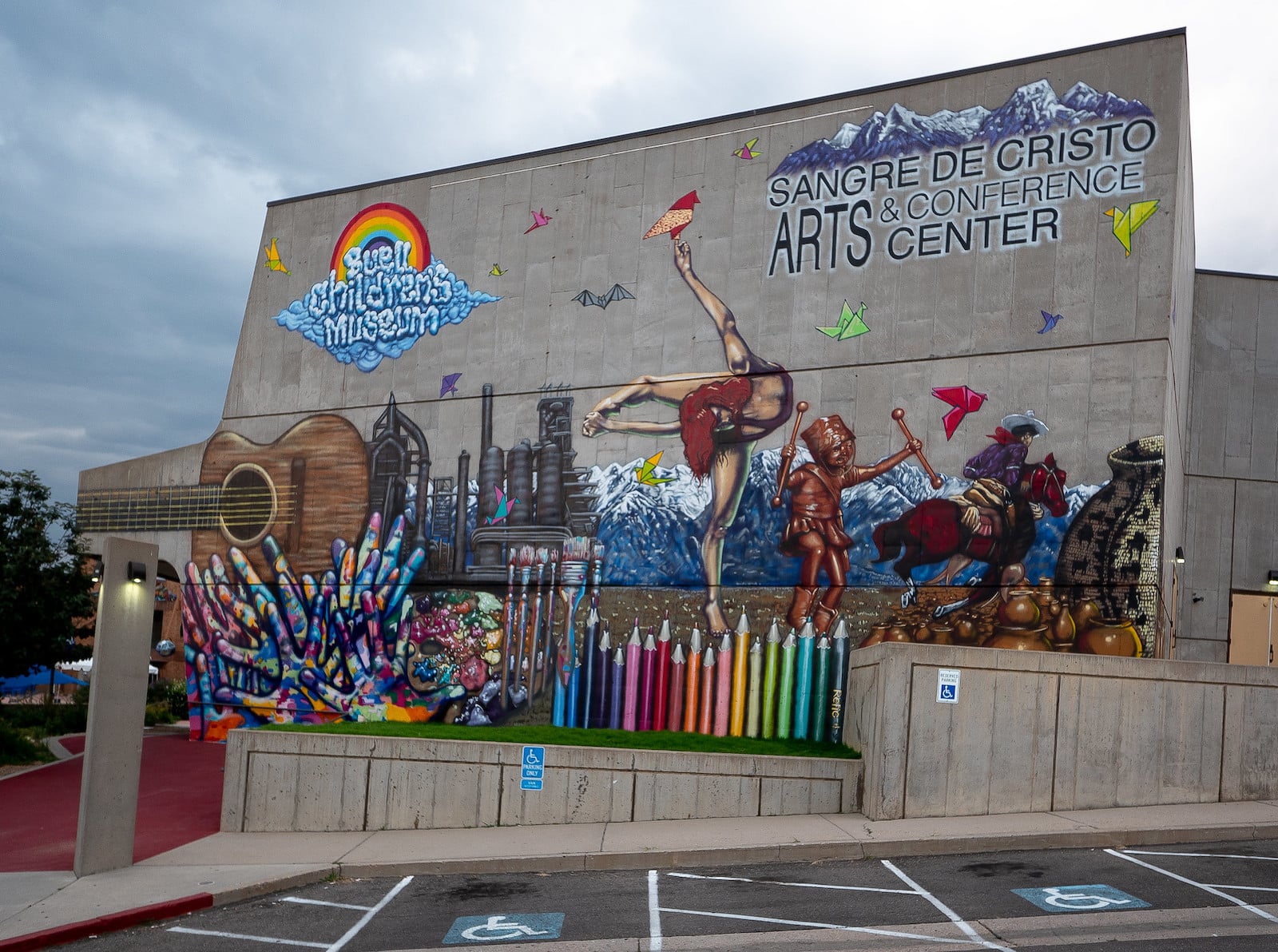 Buell Children's Museum is part of Sangre de Cristo Arts and Conference Center. The museum has interactive exhibits exploring science, technology, engineering, the arts, and math. The 12,000-square-foot facility is located in downtown Pueblo, within walking distance from the Historic Riverwalk.
210 North Santa Fe Avenue, Pueblo | 719-295-7200 | sdc-arts.org/buell-childrens-museum
Find some other activities with kids near Colorado Springs.
Rocky Mountain Region
Ride-A-Kart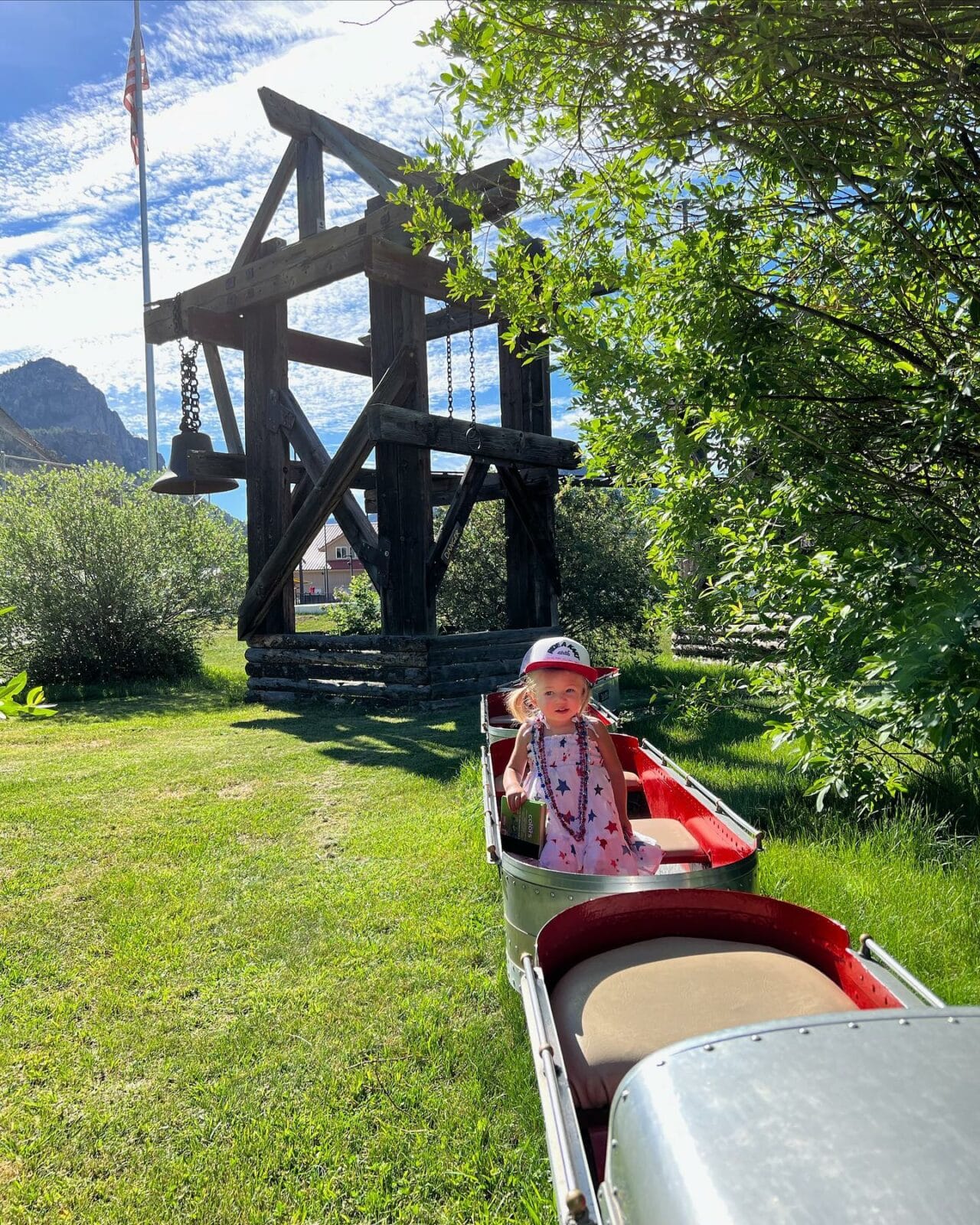 Ride-A-Kart is a family-owned entertainment center in Estes Park for more than 60 years. You'll find Grand Prix go-karts, bumper boats, a miniature railroad, an arcade, bumper "kars", batting cages, and the Xtreme bungee trampoline. An 18-hole miniature golf course features interactive waterfall holes, a cave, and ponds.
2250 Big Thompson Avenue, Estes Park | 970-586-6495 | rideakart.com
Epic Discovery at Adventure Ridge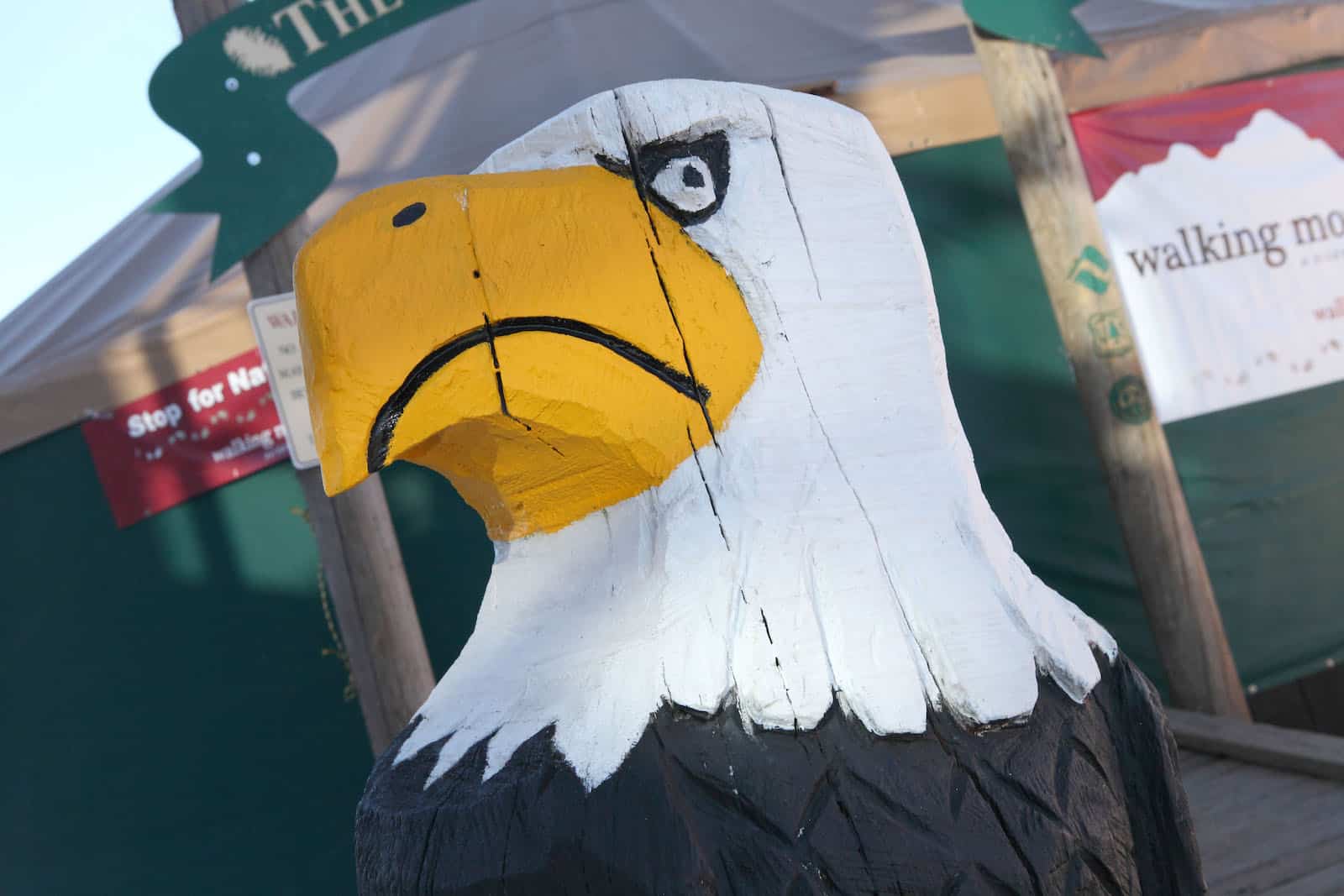 Epic Discovery is located in Vail at the top of Eagle Bahn Gondola from June through October. Activities include a 35-foot climbing wall, a 550-foot-long tubing hill, a 3,400-foot flying mountain coaster, a bungee trampoline, and a nine-hole miniature golf course. There is also a Nature Discover Center that explores local wildlife and offers nature hikes and snowshoe tours.
Lionshead Ticket Office, Vail | 970-754-0005 | vail.com
Glenwood Caverns Adventure Park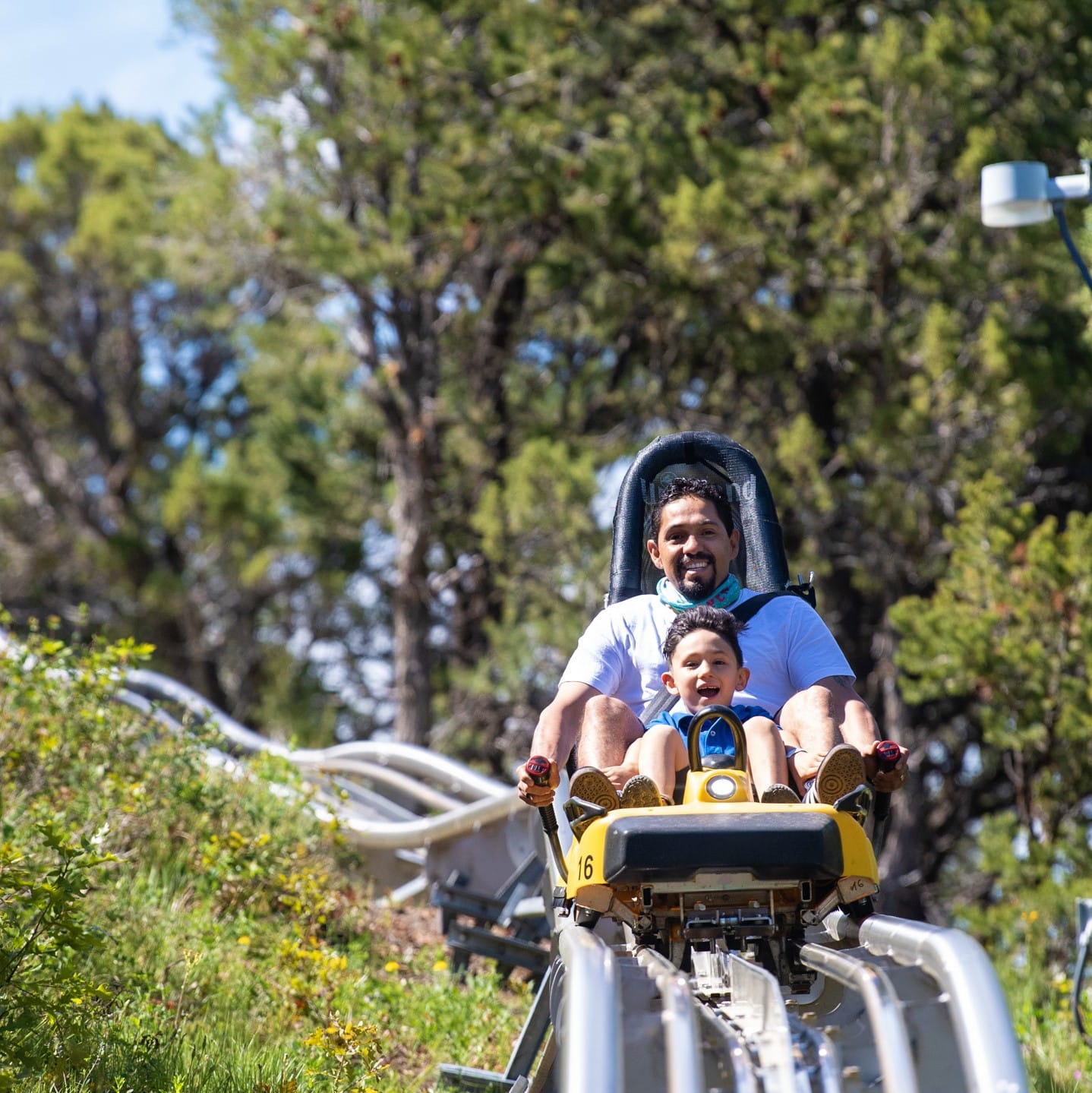 Glenwood Caverns Adventure Park is a mountain-top theme park located 7,100 feet above sea level. You'll find thrill rides, including various roller coasters and a giant canyon swing. There are also family-friendly rides, such as a ferris-wheel style ride and a mini roller coaster, as well as a 4D Theater and laser tag arena.
5100 Two Rivers Plaza Road, Glenwood Springs | 970-945-4228 | glenwoodcaverns.com
Great Sand Dunes National Park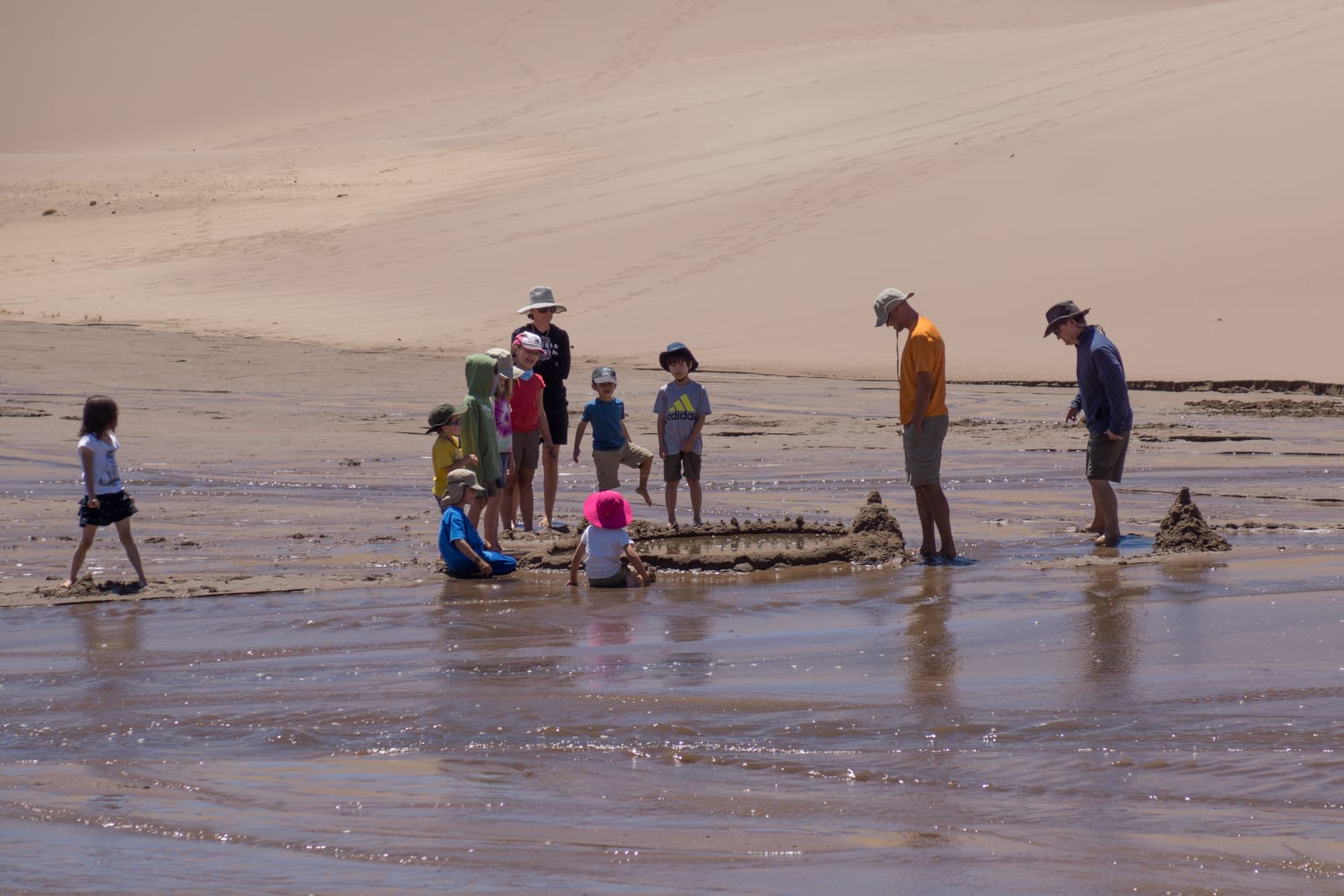 Colorado is also home to four national parks – Mesa Verde, Great Sand Dunes, Black Canyon of the Gunnison, and Rocky Mountain National Park. Each of these parks offers a unique experience, where you can take a scenic drive, find a family-friendly hike or walk, have a picnic, or view wildlife.
The Great Sand Dunes National Park has some special things to do for both children and adults. The park features some of the tallest dunes in North America, with five of them standing over 700+ feet tall. At the dunes try surfing down the dunes or skim boarding on the seasonal Medano Creek.
This is the perfect place to take your kids on a hike and snap a family photo at one of the many scenic points. If you want to make your trip something to remember you can visit the park at night to see the sky filled with endless amounts of stars. This is the perfect place for adventure-seeking families with children over the age of 3.
Fort Collins
Fort Collins Museum of Discovery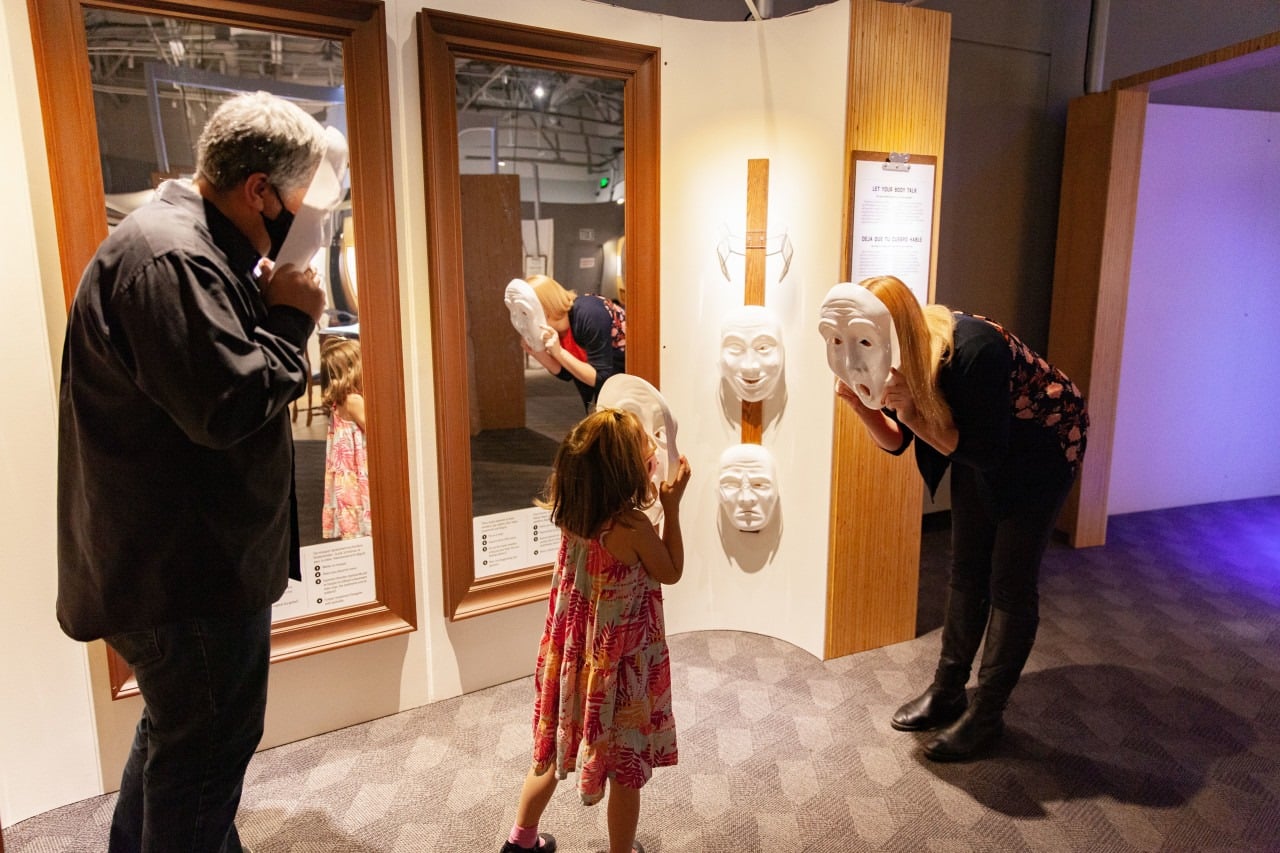 The Fort Collins Museum of Discovery, often shortened to FCMoD, is an interactive, hands-on museum exploring various aspects of culture and science. Exhibits highlight agriculture, astronomy, first peoples, and music. There is also a 39-foot diameter, 360-degree dome theater for viewing shows, lectures, live music events, and performances.
408 Mason Court, Fort Collins | 970-221-6738 | fcmod.org
Horsetooth Reservoir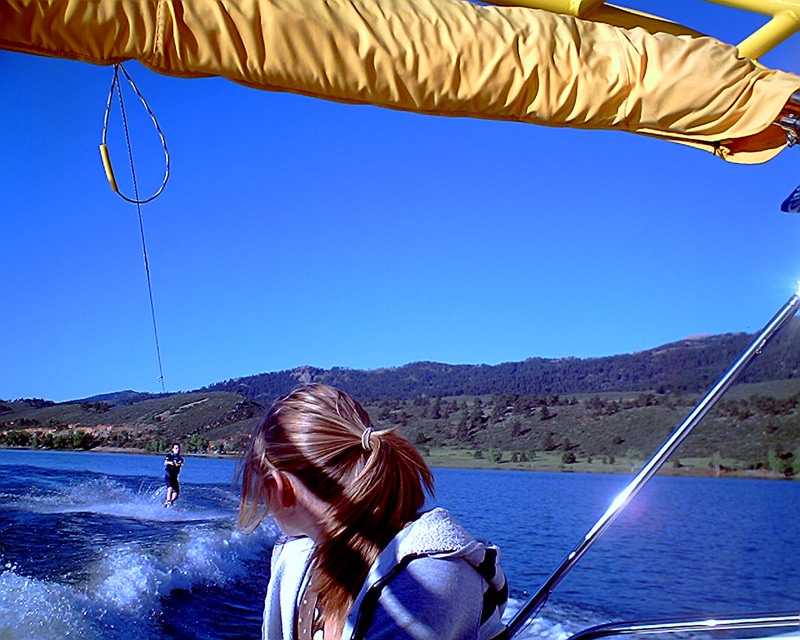 Horsetooth Reservoir is a 6.5-mile-long reservoir located in Northern Colorado. There are plenty of outdoor activities for the whole family, including boating. There are areas to bike, hike, horseback ride, and picnic. You'll find more than 150 campsites, including tent, RV, and even boat-in sites.
4200 West County Road 38 East, Fort Collins | 970-498-5610 | larimer.gov/naturalresources/parks/horsetooth-reservoir
Southwest Colorado
Durango and Silverton Narrow Gauge Railroad & Museum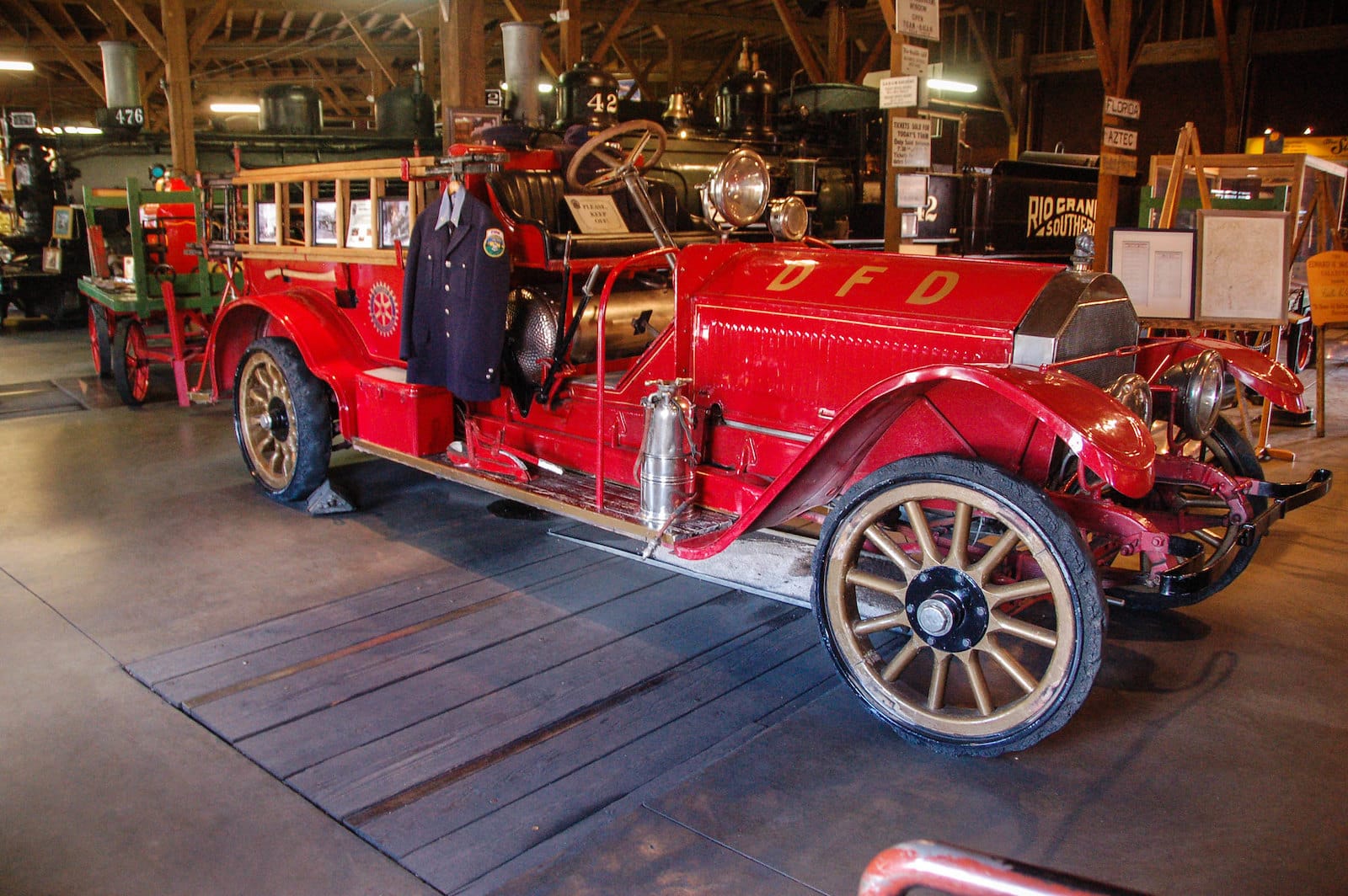 The Durango & Silverton Narrow Gauge route was voted the number one train by USA Today and received a 5-star award for best attractions by the National Association of Travel Journalists. The journey winds through the San Juan National Forest for either a 9.25-hour roundtrip journey or a 5.25-hour express ride. There is a concession stand with snacks and drinks available. Prior to or after, be sure to visit the local train museum in Durango.
479 Main Avenue, Durango | 970-247-2733 | durangotrain.com
Durango Botanic Gardens
In addition to all the plant life, you'll find art throughout the Durango Botanic Gardens, including a botanically-themed mural and decorative art panels. Guests can explore the various gardens on their own or take a tour on Saturday mornings. There is no admission charge to visit the gardens. This is located to the north and east of the Durango Public Library.
1900 East 3rd Avenue | 970-880-4841 | durangobotanicgardens.org
Home to some of the world's most beautiful sights, Colorado features many exciting destinations that the whole family can enjoy. This list is just a small fraction of the memorable and entertaining kid-friendly things to do. Wherever you plan on visiting in the state, chances are there is something fun for the entire family to enjoy.