Nestled in the rugged San Juan mountains, Durango, Colorado is an outdoor lover's paradise.  Although there isn't too much hot spring activity in La Plata County, with just one resort in town, nearby Pagosa Springs and Ouray are local hotspots for soaking.
Thanks to world-class access to hiking, climbing, mountain biking, and nearly every other outdoor activity, Durango attracts visitors from all over. What follows is our list of the best hot springs near the town, listed in proximity to Durango. Most of the spots are hot spring resorts, but true hermits will be happy to hear that one primitive site made the list as well.
Durango Hot Springs Resort & Spa (9 miles)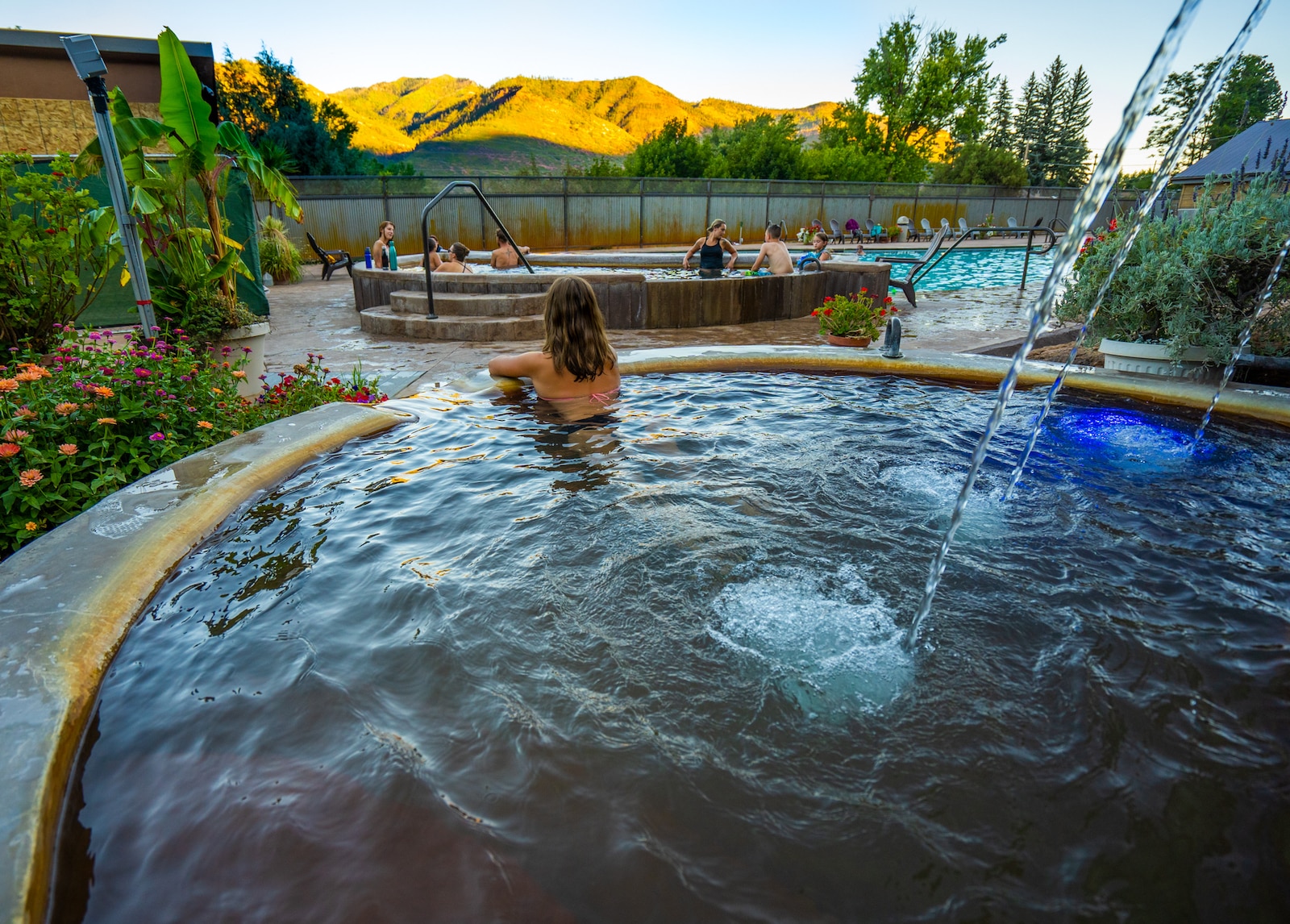 Situated on ten acres just 9 miles from downtown Durango, the Durango Hot Springs Resort & Spa offers is home to an impressive 22 mineral water pools. Temperatures in the pools range from 101° to 110° F, so it's easy to find the right temperature for the perfect soak.
To provide a calm, relaxing environment, most of the hot spring pools are for adults only. However, children are allowed in three of the soaking pools, and children are also permitted in the 25-meter saltwater swimming pool.
In addition to the hot spring facilities, the resort also has a full-service spa that offers massages, wraps, and much more. Accommodation options are limited on-site, but plenty of hotels and bed-and-breakfasts are available downtown.
Piedra River Hot Springs (45 miles)
A relaxing, primitive hot spring that's adjacent to the picturesque Piedra River, Piedra River Hot Springs is the ideal spot for those looking for a remote place to soak. The riverside site, which is accessible with a 1.5-mile hike, features a few different pools located along the river, all of which are primitive and built out of river stones.
Temperatures in the pools hover around 100° F, but this can be affected by the river's changing water levels.
The pools are accessible from USFS Road 622. The road to the trailhead is unpaved, but 4×4 is not required if the road is dry. Due to the access road being closed from November through April, Piedra River Hot Springs isn't accessible during winter.
Once the snow melts, the springs are reachable, but high water levels due to snow runoff make the pools cooler until approximately July. From late summer to fall, expect the pools to be relatively busy, so arrive early for the best chance at a solitary soak.
No facilities are available at the trailhead or at the hot springs, and there is little to no cell service in the area. For navigation, consider downloading or printing maps ahead of time. As always, try to leave primitive sites better than you found them.
Nathan's Hippy Dip Hot Spring (59 miles)
Free and open to the public, Nathan's Hippy Dip hot Springs is a primitive, riverside pool located on the banks of the San Juan River in Pagosa Springs. Unlike most primitive hot springs, Hippy Dip can be found right next to the road, so no hike is required for access. Additionally, free parking can be found nearby.
Built out of river stones, the pool is primitive but functional, and it is filled with 105° F mineral water runoff from a nearby hot spring resort. Due to the flow of the river, the pool can change shape and temperature, and it may not be available when the water level is high.
Since Nathan's Hippy Dip Hot Spring is free and close to town, it's often popular, so arrive early and avoid visiting on the weekend for the best chance at a solitary soak. Dogs are permitted at the pool, and clothing is required.
The Springs Resort (60 miles)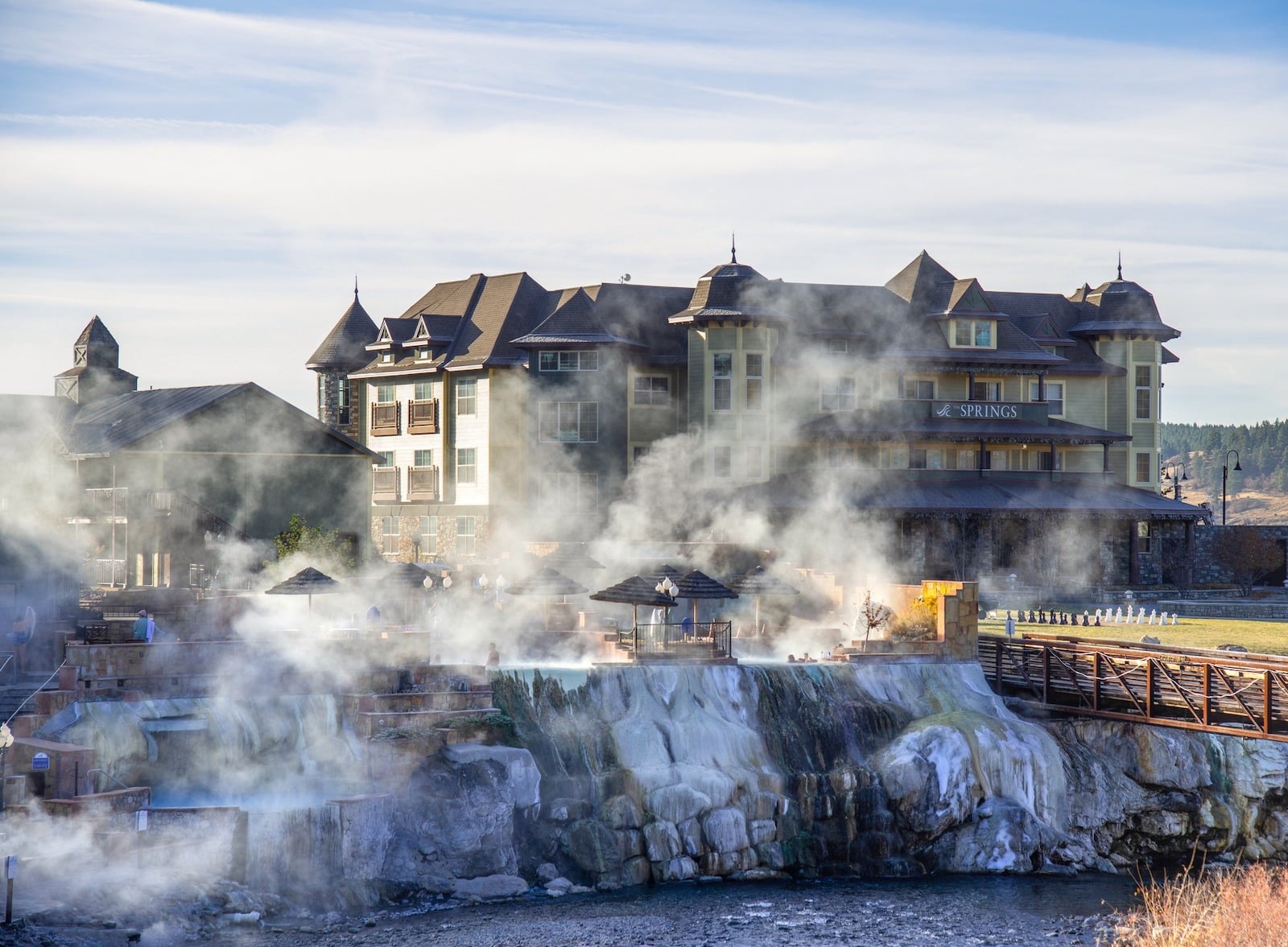 Located in Pagosa Springs, which is about 60 miles from downtown Durango, The Springs Resort is another fantastic option in Southwest Colorado. As expected, the highlight of the resort is the hot spring pools, and visitors can choose from 25 different mineral-fed pools ranging in temperatures from 45° to 114° F.
Most of these mineral-rich pools are open to all ages, but there are a few adults-only soaking areas for those looking for a quieter experience. The resort's facilities also include locker rooms with showers and bathrooms, and, a full-service spa on-site has massages, facials, and a variety of relaxing body treatments. There are yoga and additional wellness classes.
After a full day of soaking, be sure to try out one of the resort's restaurants. For casual eats, stop by the Barefoot Grill for live music and good food, or go to the Phoenix Bar & Great Room Lounge for specialty cocktails, beers, and wine.
For accommodations, Choose from three different classes of rooms (affiliate link): Classic Rooms, Deluxe Rooms, and Luxury Suites. In total, 79 rooms are available on-site, all of which include 24-hour access to the hot spring pools.
Healing Water Resort & Spa (60 miles)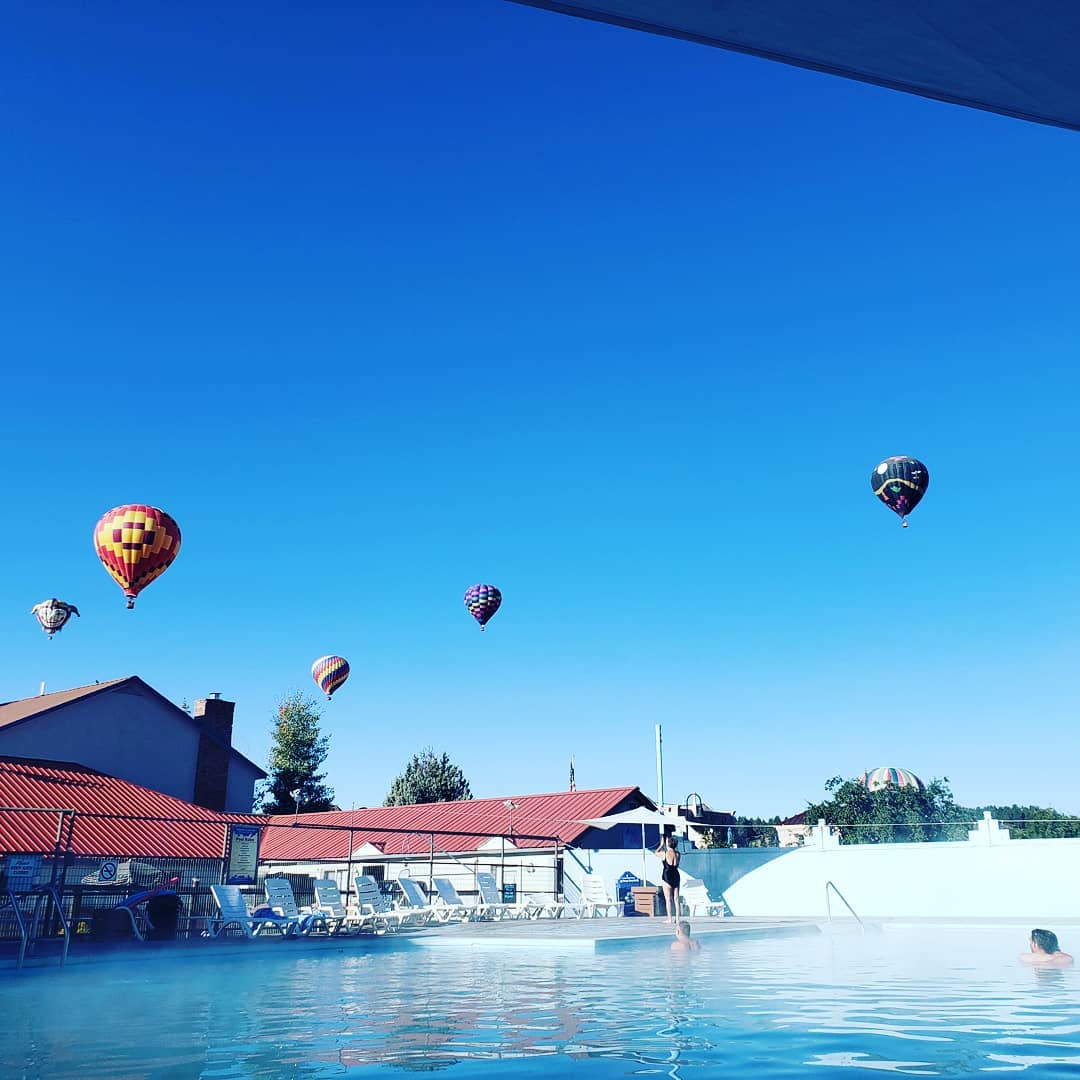 Also in Pagosa Springs, Healing Water Resort & Spa is a budget-friendly resort with mineral-water pools, a spa, and decent lodging. Outside, visitors can choose from a large swimming pool and a hot tub, while indoors the pools are split between men's and women's hot baths. Soakers of all ages are permitted, but those under 16 must be accompanied by an adult.
The on-site spa has a variety of massage therapies to choose from, including Swedish, deep tissue, and acupressure. Additionally, specialty packages like prenatal massages, couples massages, and hot stone therapy are also available.
For those hoping to stay the night at Healing Water, a variety of accommodations (affiliate link) that can sleep 1-6 people are available. Larger parties should book the Bunk House Suite, which has two bedrooms, a living room, and a full kitchen, while parties of one or two can get by with a Queen Room or a King Suite. For more privacy and more space, consider booking a secluded cabin.
Overlook Hot Springs Spa (60 miles)
A favorite for locals and tourists alike, Overlook Hot Springs gets its name from its picturesque rooftop pools. On the main floor, visitors can find a few indoor pools to choose from. The pools' temperatures vary, so it's easy to find one that's perfect for extended soaking. Also, locker rooms and a small concession stand can be found on the main floor.
Upstairs, head out to the deck for the primary draw of Overlook Hot Springs. Visitors can soak in a number of mineral water pools overlooking the San Juan River and the town of Pagosa Springs. For a more private experience, consider renting the facility's private tub room.
A relaxing and affordable place to soak, Overlook Hot Springs generally has some of the best rates in Pagosa Springs. Also, alcohol is permitted, and a variety of massages are available at the on-site spa.
Box Canyon Lodge & Hot Springs (70 miles)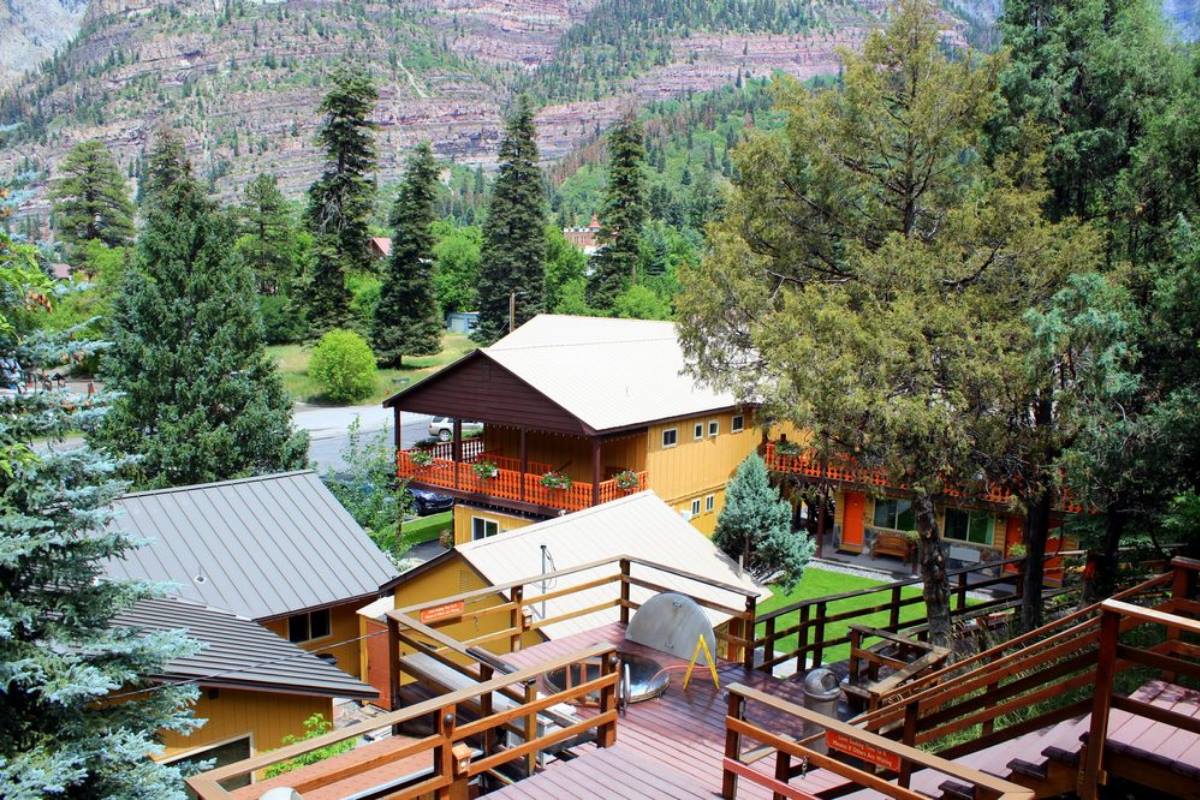 Moving away from Pagosa Springs, the next few hot springs are located in Ouray, a small town approximately 70 miles north of Durango. For a more intimate, mountainside hot springs experience, consider booking a stay at Box Canyon Lodge & Hot Springs.
Unlike most other resorts, Box Canyon's hot spring pools are available only to overnight guests. There are seven pools filled with mineral-rich water, and the pool's temperatures sit between 103° and 108° F. Thanks to a flow-through system, water is constantly being replaced in the pools, so no chemicals are required.
Box Canyon Lodge is home to a few different lodging options (affiliate link). Standard rooms are the most common, but suites, honeymoon suites, and even apartment-style accommodations are available. All of the rooms have bathrooms, and upstairs rooms even have balconies.
Twin Peaks Lodge & Hot Springs (70 miles)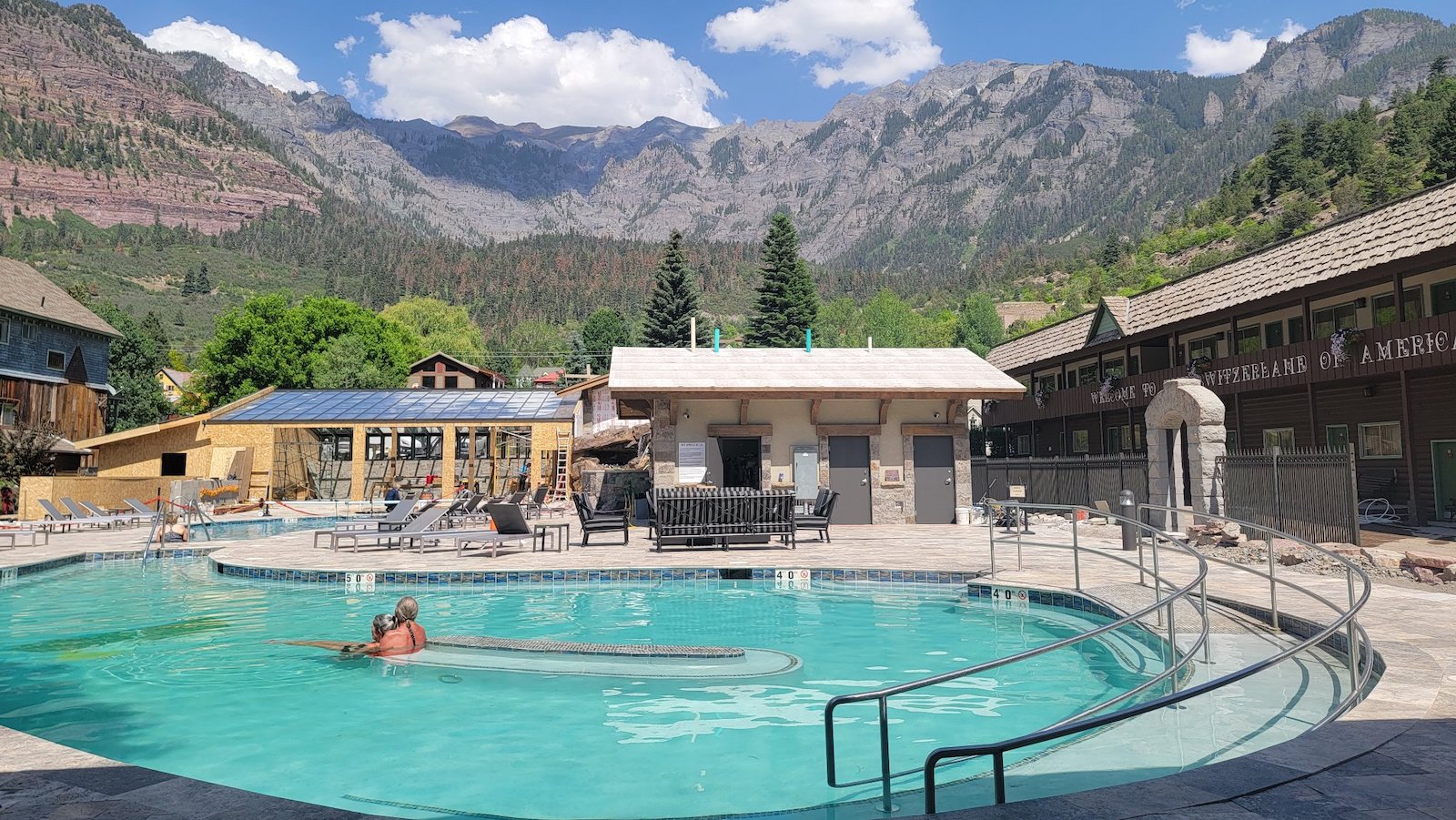 Also in Ouray, Twin Peaks Lodge & Hot Springs is a smaller resort with three relaxing hot spring pools. Open for overnight guests as well as those with day passes, Twin Peaks Lodge's outdoor area features a large heated swimming pool and a smaller soaking tub. Inside, visitors can take advantage of an adults-only soaking area.
In addition to the pools, massages, manicures, pedicures, and much more are available at the on-site spa. Known as Sage Spa, visitors can book massages with hot stones, special sessions for couples, and even specialty facials.
Accommodations at Twin Peaks Lodge include six different room types (affiliate link). There is an on-site gym, and complimentary breakfast is available for all overnight guests.
Wiesbaden Hot Springs Spa & Lodgings (70 miles)
Another option in Ouray, Wiesbaden Hot Springs Spa & Lodgings offers a number of different mineral pools, a full-service spa, and attractive accommodations. The resort is home to a total of 6 pools across three areas, all of which hover between 102° and 108° F.
The Vapor Cave is the first of these areas, and it includes the resort's hottest pool at 108° F as well as a much cooler stream. Outside, take in the views at the Outdoor Pool. Finally, visit the private Lorelei section for a secluded soaking experience. After soaking, treat yourself to Swedish, sport, or couples massages at the spa, or try out a luxurious body scrub or foot treatment.
A wide variety of accommodations are available, and some rooms are pet-friendly. Larger groups should consider getting a cottage or a three-bedroom house, while smaller groups can save money by staying in a typical room. Regardless, all guests have unlimited access to the Vapor Cave and the Outdoor Pool.
Ouray Hot Springs Pool (71 miles)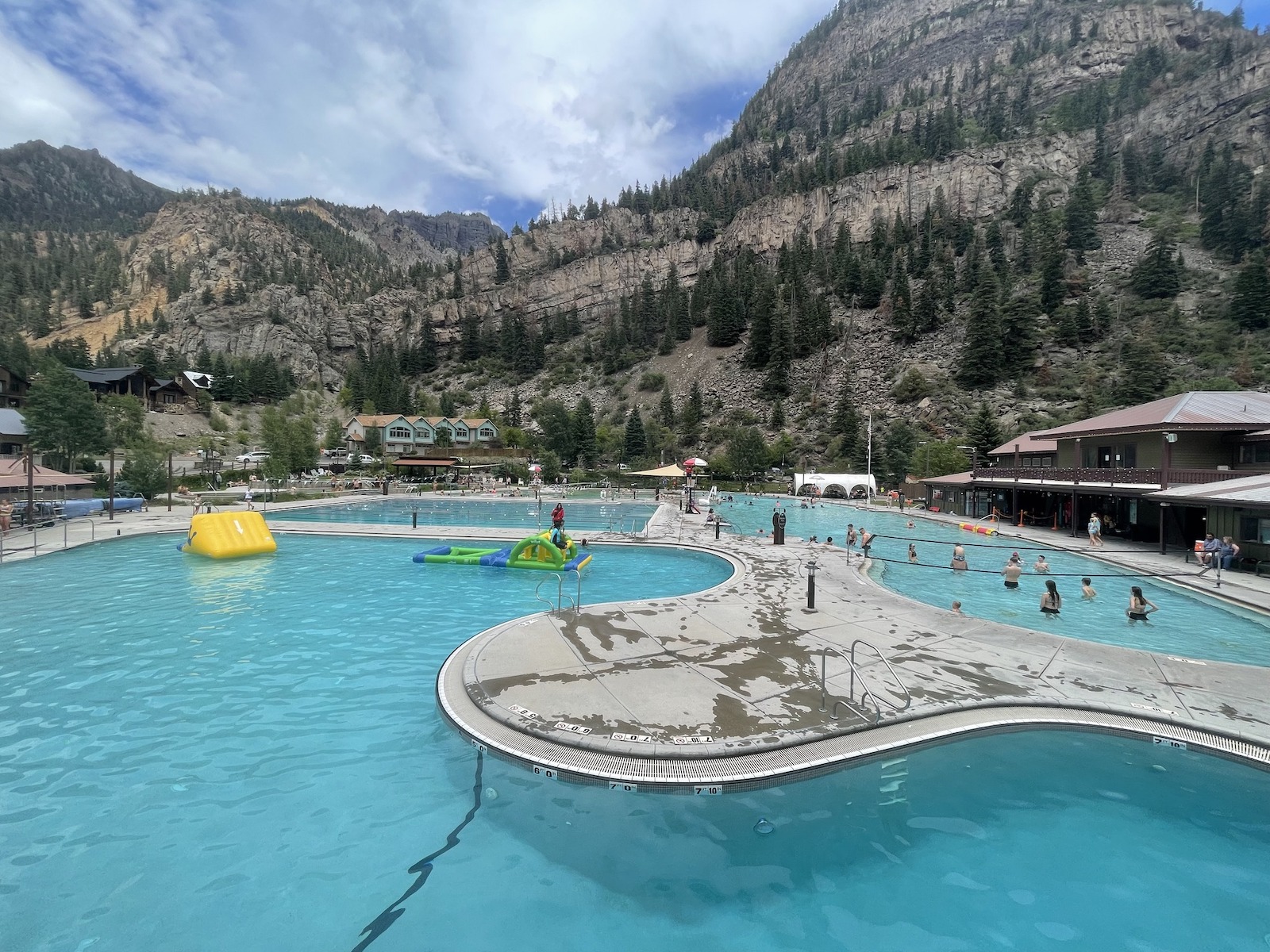 Owned and operated by the town of Ouray, the Ouray Hot Springs Pool is one of the prime attractions in the town. A large and family-friendly facility, the complex is dominated by a large hot spring pool that sits at a temperature around 96 – 106° F. Despite there being only one pool, it is divided into sections, so visitors can relax, swim laps, or try out the water slide without disturbing others.
Inside the facility's main building, guests can find locker rooms with showers as well as a 1,800-foot gym featuring modern equipment. Also, the Ouray Hot Springs Pool has a spa that offers massages.
Back outside, be sure to stop by the recreation area, which includes a running track, picnic area, softball diamond, and a playground. This is a popular destination, so avoid visiting on weekends and holidays for the best chance of missing the crowds.
Rainbow Hot Springs (78 miles)
Back in the Pagosa Springs area, Rainbow Hot Springs is a primitive hot spring that can be found at the end of a 4.5-mile one-way hike. Located along the bank of the San Juan River, Rainbow Hot Springs features two primitive pools built using river rocks.
Of the two pools, the lower pool is larger and cooler, and it can fit around 8 people comfortably. Temperatures in this pool hover around 95° F. The upper pool is much smaller and warmer. It can fit about three people, and the temperature sits right around 105° F.
To get to Rainbow Hot Springs, park at the West Fork trailhead. The route gains approximately 1,000 feet of elevation gain across its 4.5 miles, so this is a fairly difficult hike. The pools are free to access and well-known, so expect crowds. Also, keep in mind that the site is clothing-optional. As always, be sure to follow Leave No Trace principles at the pools and on the trail.
Orvis Hot Springs (79 miles)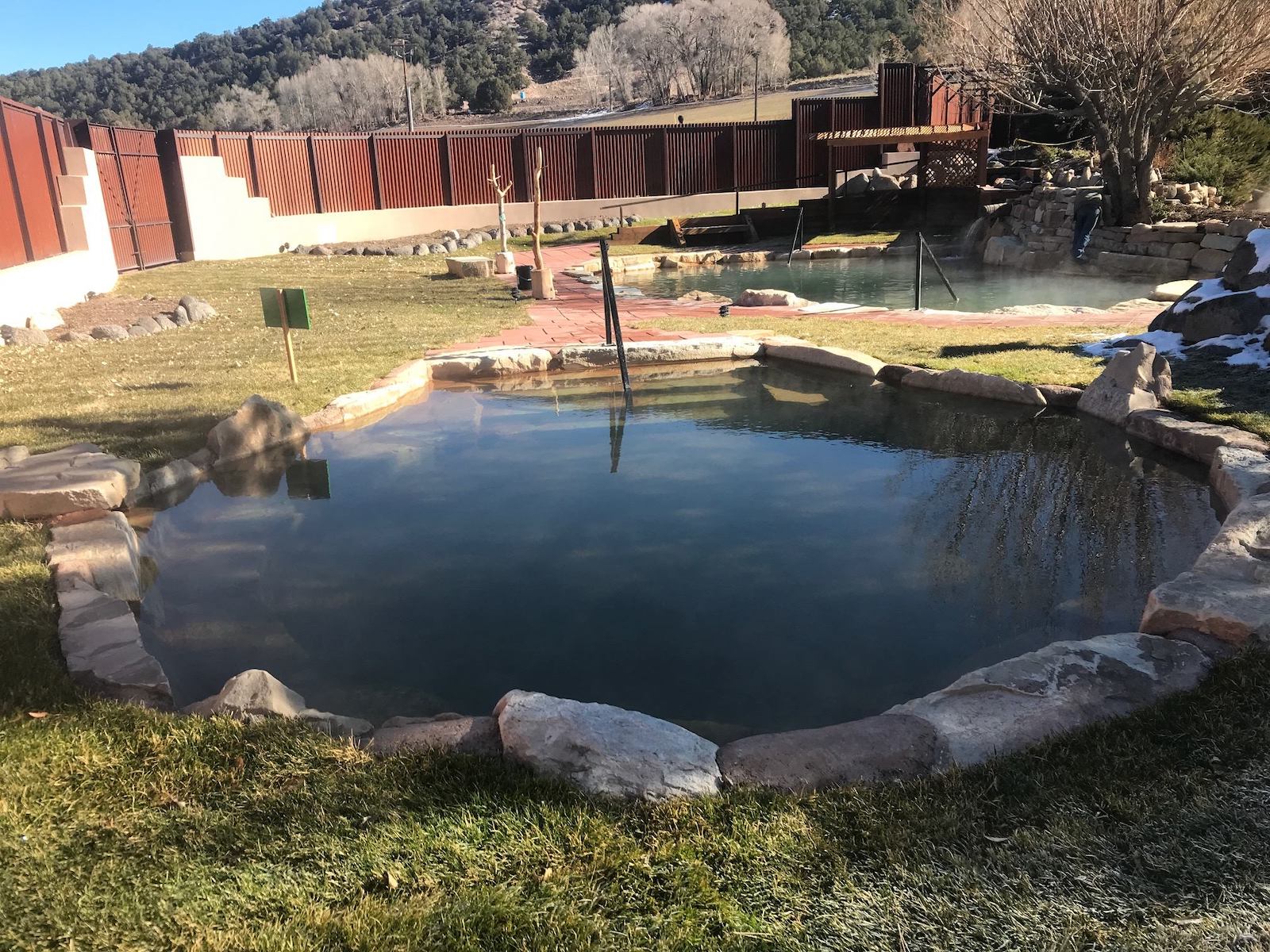 Find multiple hot springs pools, as well as year-round camping and lodging, at Orvis Hot Springs, located less than ten miles north of Ouray in Ridgway. This is a clothing-optional hot spring resort.
The highlight of Orvis is the outdoor pools, all of which offer impressive views of the nearby mountains. Temperatures in the outdoor pools range from 103° F all the way up to a scalding 114° F in "The Lobster Pot," so it's easy to find a temperature to suit everyone.
Inside, try out the sizeable indoor pool, which hovers around 101° F, or arrive early for a chance to soak in the resort's two first-come, first-served private tubs. After soaking, book a massage in one of the on-site yurts.
Campers will be happy to hear that Orvis offers tent platforms as well as RV and car camping spots. For those hoping to sleep indoors, the resort also has six bedrooms available for rent, and there's even a community kitchen available to guests. All overnight guests get 24-hour access to the hot springs.
Dunton Hot Springs (81 miles)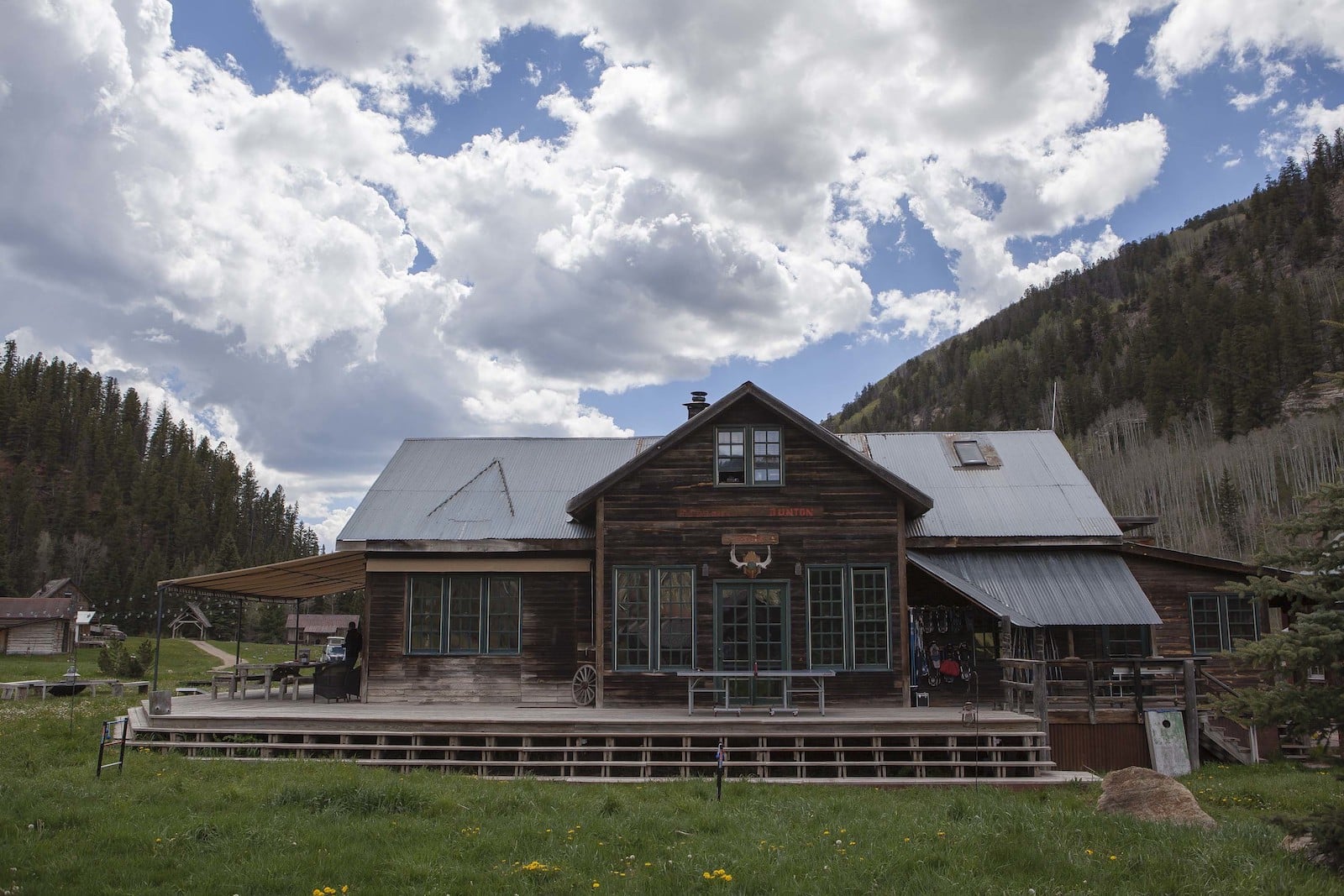 An all-inclusive resort set in a restored ghost town, Dunton Hot Springs is a truly unique hot spring experience. The pools range in temperature from 85 to 106° F, and they are located outdoors in man-made pools, primitive pools, and even in a restored 19th-century bathhouse. Additionally, some private pools are available for guests staying at the Well House and Dunton Store cabins.
Besides soaking, highlights of the resort are horseback riding, fly fishing, biking, rafting, and even archeological day trips to the desert. In the winter, guests can try out snowshoeing, skiing, and much more. Dunton Hot Springs is also a full spa with 75-minute massage sessions as well as 60-minute meditation and yoga sessions.
For lodging, choose from a variety of beautifully restored cabins (affiliate link), some of which include private mineral water tubs.
These have been the best hot spring resorts and primitive hot springs in the Durango, Colorado area. Have a great visit to the beautiful San Juans!