Blessed with a large mass of the Rocky Mountains, Colorado is home to some of the most scenic landscape views in the world. It offers such a myriad of beautiful places to discover and four seasons to pick from.
If you were to survey the country to find the most beautiful state in the US, we are confident that Colorado would always be one of the most frequently mentioned answers. For example, Colorado was voted the state "with the most beautiful scenery" in a 2013 poll of 1,545 participants.
Here in the Rocky Mountain State, we are lucky enough to have four national parks, dozens of scenic towns, and an infinite amount of breathtaking terrain and unforgettable vistas. Plus, Colorado is the eighth largest state in the country and hosts a wide variety of natural beauty between 3,317' and 14,440' in elevation, so it can be difficult to know where to start exploring.
Although true beauty is always in the eye of the beholder and our state has a ton of it to behold, we've assembled this collection of a dozen beautiful places to visit in Colorado.
Maroon Bells (White River NF – near Aspen)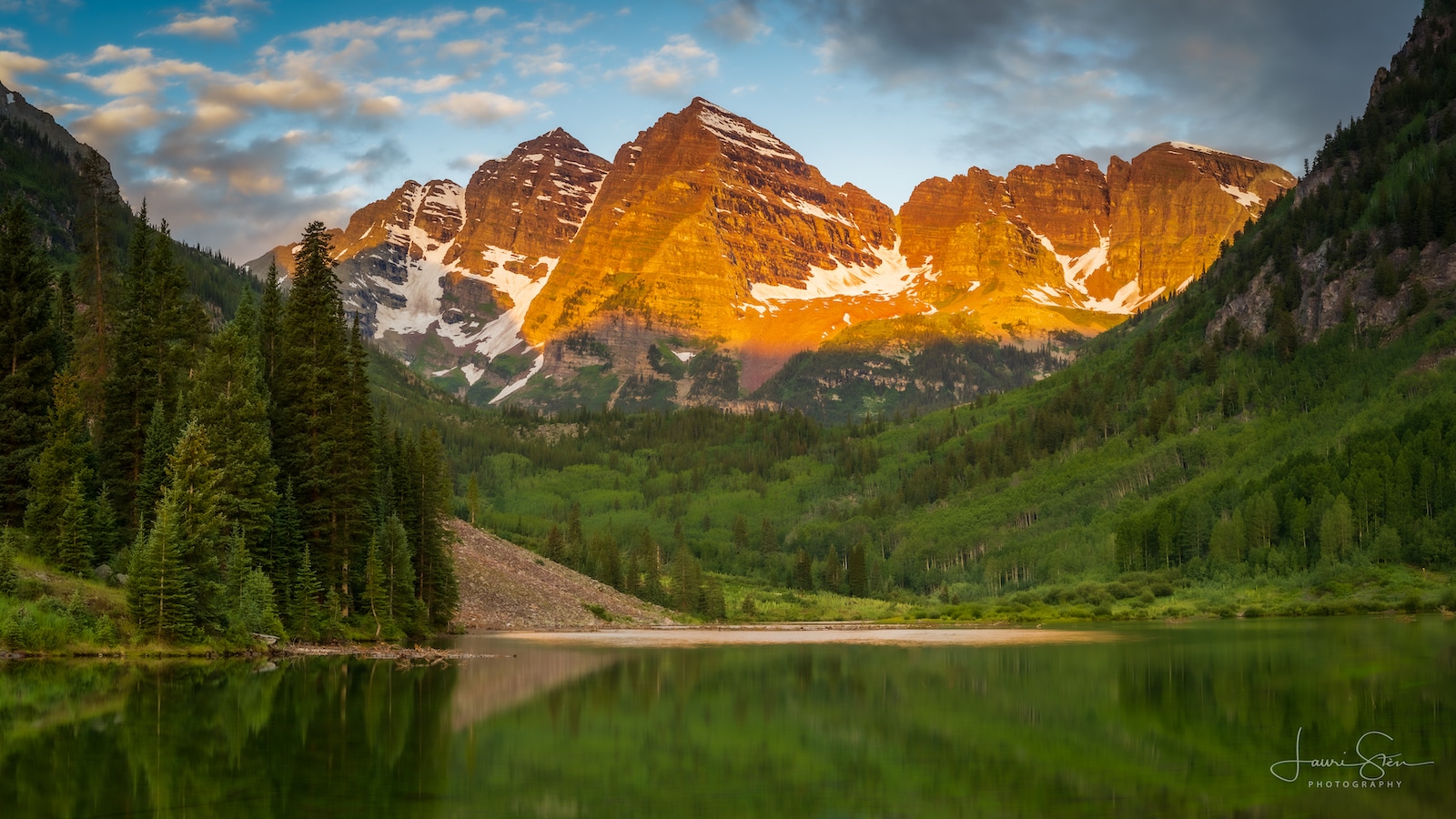 To kick things off, we'd like to mention the Maroon Bells, one of the most photographed and iconic destinations in Colorado. Located in the White River National Forest outside of Aspen, the Maroon Bells are a set of towering mountains nestled between rolling hills, adjacent peaks, and clear alpine waters.
To visit Maroon Bells, reservations may be required for parking in the lot adjacent to Maroon Lake, the scenic area's access point. During peak tourism seasons, most visitors reserve a shuttle from town. More information on Maroon Bells' transportation and reservations can be found on aspenchamber.org.
If you'd like to extend your visit overnight, the Maroon Bells Scenic Area is a great access point for backcountry camping in the Maroon Bells-Snowmass Wilderness and the extending White River National Forest. Close to Maroon Lake, the Forest Service also maintains the East Maroon Portal Site and several other picnic areas and campgrounds along Maroon Creek Rd.
Royal Gorge (Arkansas River – near Cañon City)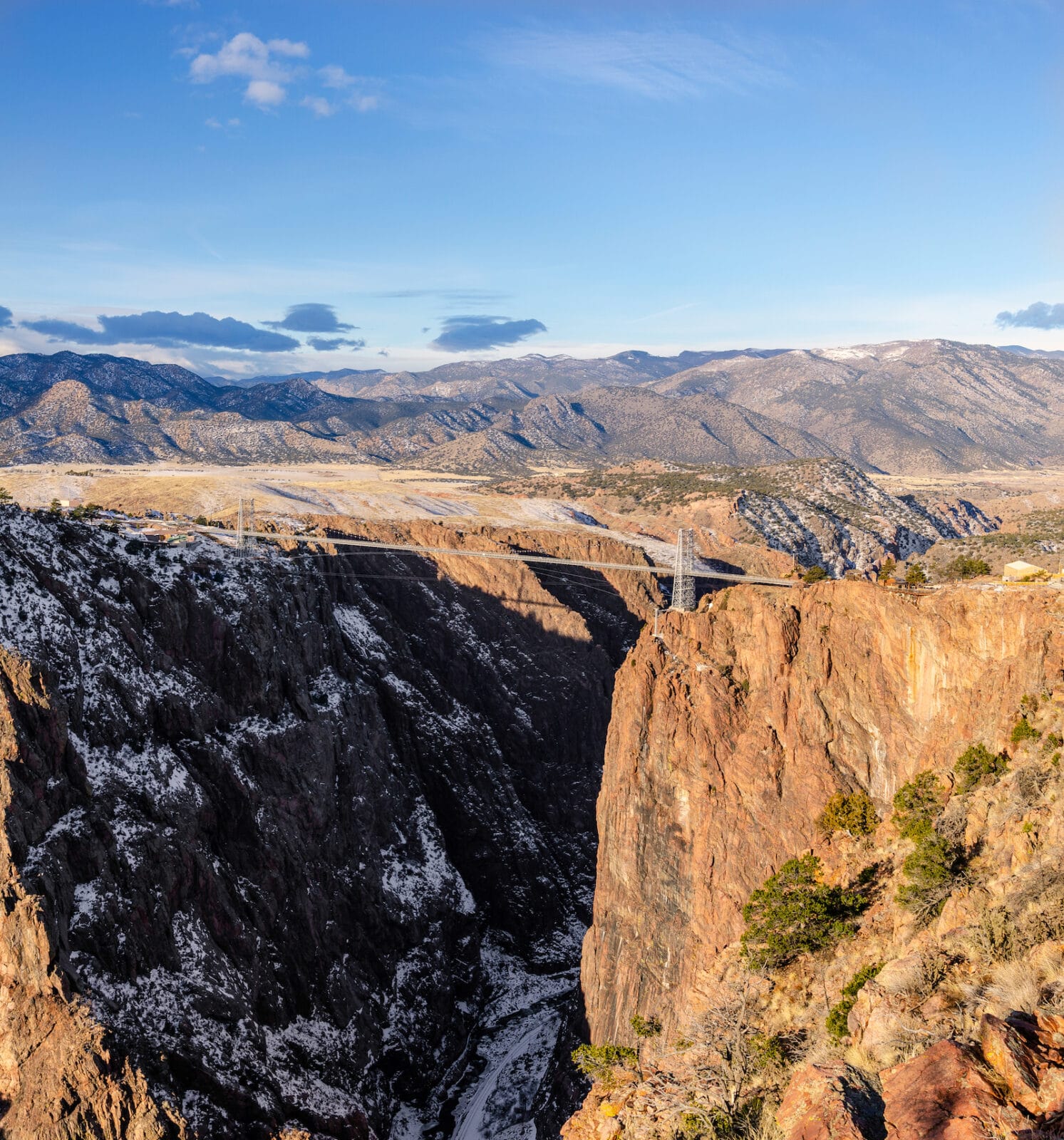 Although it is tough to call this 1,200-foot hole in the ground a "hidden gem," Royal Gorge is one of the most beautiful places in Colorado that may not be on the radar for many first-time visitors. Carved by the Arkansas River in modern-day Fremont County, Royal Gorge is an incredible sight to see located roughly an hour from both Pueblo and Colorado Springs.
Interested tourists are welcome to visit the Royal Gorge Park and Bridge, which is advertised as open 365 days a year. An entry fee is required to walk across the 1,260-foot long suspension bridge situated over 1,000 feet above the canyon's base. Visitors are also welcome to enjoy food and drink, several rides (including a zip line across the canyon), and other activities with additional purchases.
If you're afraid of heights or simply want an unbelievable experience from a different perspective, it is also possible to see the beauty of Royal Gorge via railroad. The Royal Gorge Route Railroad follows the Arkansas River at the base of the towering canyon walls with meals and open-air cars on board.
Black Canyon of the Gunnison (near Montrose)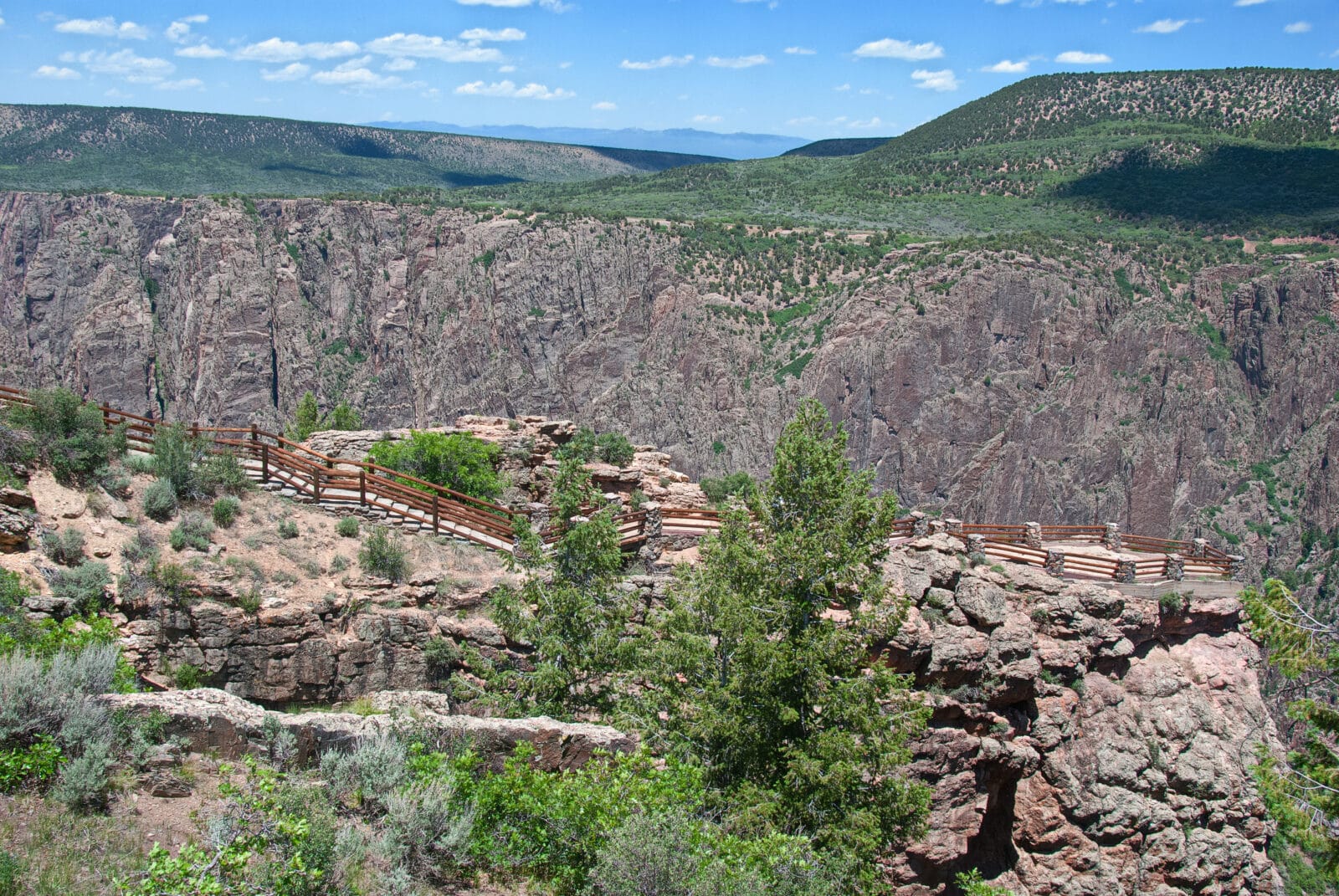 While we're on the subject of deep river valleys, let us travel about 175 miles directly west to the Black Canyon of the Gunnison in Montrose County, western Colorado. Nearly doubling the vertical of the Royal Gorge, the Black Canyon of the Gunnison is made of towering dark rock walls as high as 2,250 feet above the rushing waters below.
In fact, the Painted Wall in the Black Canyon of the Gunnison is Colorado's largest cliff and the 3rd highest in the contiguous United States. After decades as a National Monument, Black Canyon National Park was officially designated in 1999. The area includes ample opportunity for outdoor activities such as rock climbing, hiking, mountain biking, and kayaking in a generally uncrowded area.
Despite being one of the least visited National Parks in the Country, Black Canyon of the Gunnison offers endless serene beauty with tons of interesting geological and anthropological history. Learn more about the area in our 10 Surprising Facts About Black Canyon of the Gunnison National Park.
Great Sand Dunes (Crestone – Alamosa)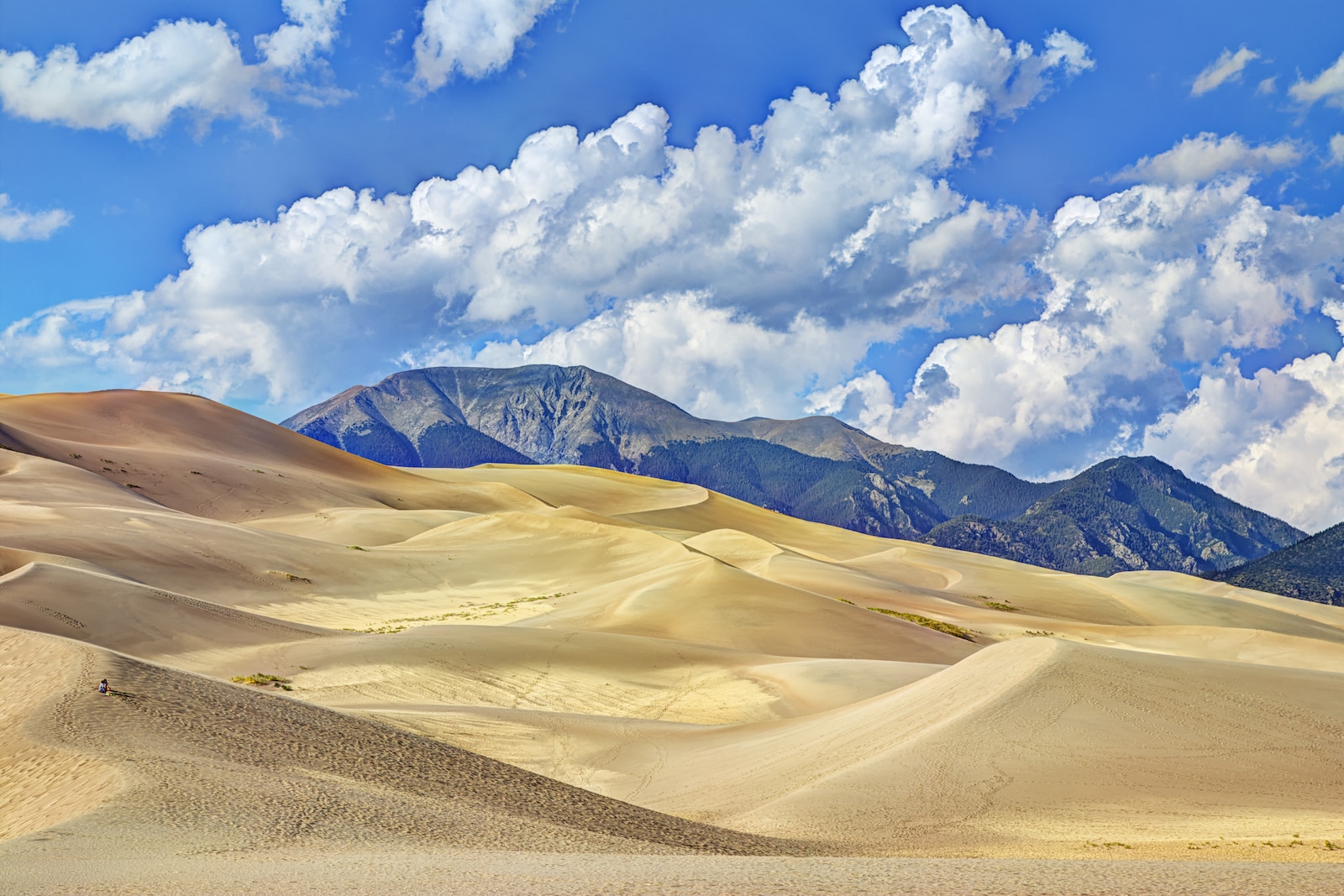 Headed back east, Great Sand Dunes National Park is one of the most unexpectedly beautiful places in Colorado. Tucked into the Sangre de Cristo Range, the Grand Sand Dunes are the tallest dunes on the continent, with heights up to 755 feet sitting below a scenic mountain backdrop.
As a certified International Dark Sky Park, the Great Sand Dunes (or simply, the Dunes) are a scenic spot, day or night. Plus, the unique ecosystem lends itself to opportunities for interesting wildlife viewing experiences.
After being designated as Great Sand Dunes National Monument in 1932, the area officially earned status as Great Sand Dunes National park in 2004. A fee is required to enter the park, which has opportunities for camping, hiking, sand-boarding, and floating in a seasonal river at the base of the dunes.
Trail Ridge Road (RMNP – Estes Park to Grand Lake)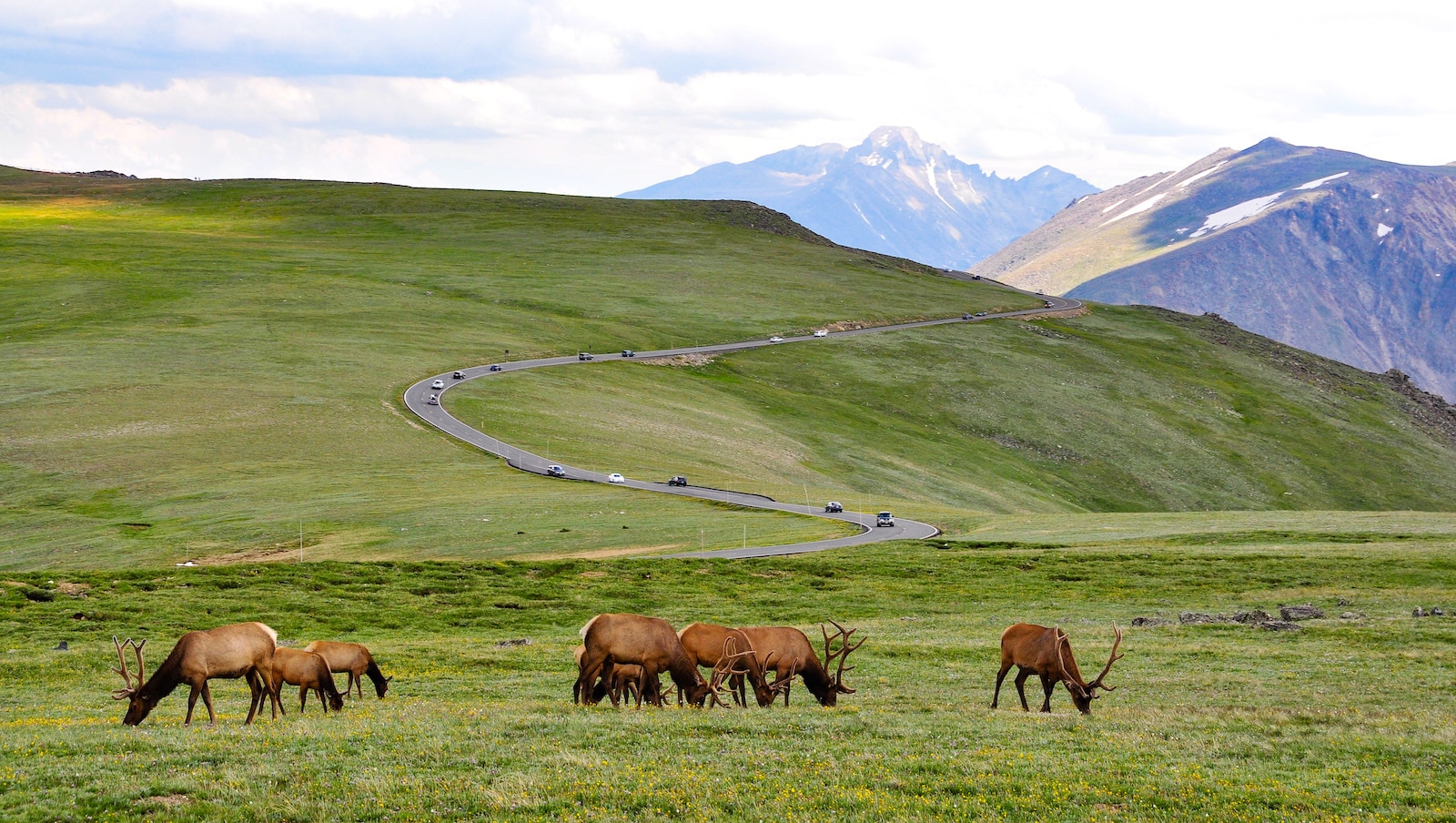 Of course, we cannot talk about national parks in Colorado without suggesting Rocky Mountain National Park, which covers over 400 square miles of scenic alpine terrain. Most notably, Trail Ridge Road is one of the most beautiful drives in Colorado, spanning 48 miles through the park between the towns of Estes Park and Grand Lake.
As the highest elevation continuous paved road in the country, the journey along Trail Ridge Rd features panoramic views of the Great Continental Divide. Taking into consideration the ample opportunities to see native wildlife and wildflowers, Trail Ridge Road is one of the best ways to explore all of Colorado's natural mountain beauty.
To visit Rocky Mountain National Park, a fee or park pass is required and reservations may also be necessary. Vehicle access along Trail Ridge Road is generally only available from late May through October of each year.
Hanging Lake (Garfield Co. near Glenwood Springs)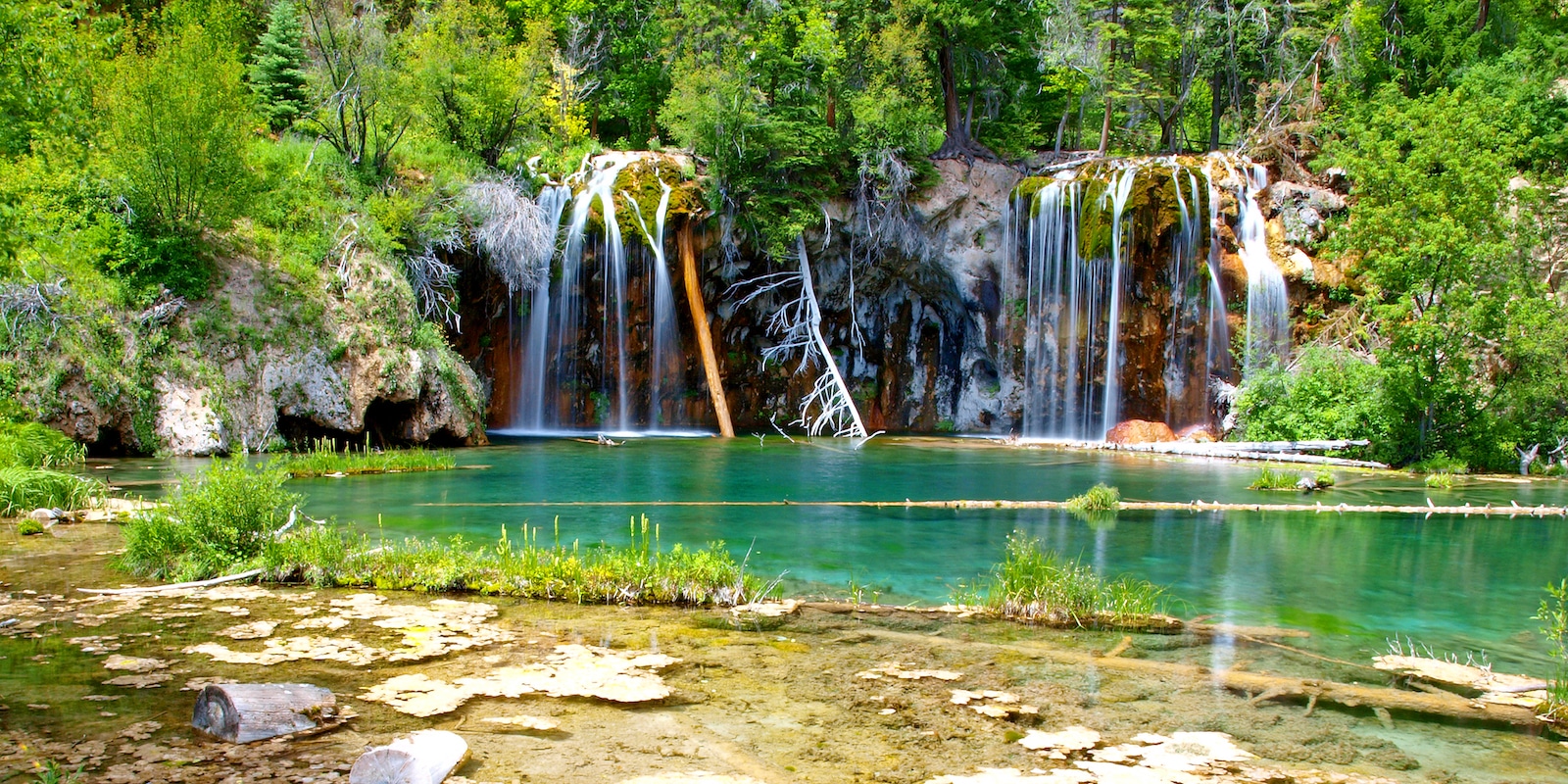 Alongside Maroon Lake and Bear Lake (in Rocky Mountain National Park), Hanging Lake near Glenwood Springs is one of Colorado's most photographed bodies of water. Located at the end of a steep 1.2-mile trail, Hanging Lake is well worth the trip, featuring multiple waterfalls feeding into the picturesque turquoise-blue water.
Of course, Hanging Lake is just one of many beautiful places in Colorado High Country's I-70 corridor. For hiking, skiing, or additional sightseeing, there are tons of opportunities for scenic outdoor recreation in the cities and resorts throughout the neighboring Eagle and Summit Counties.
Main Street in Telluride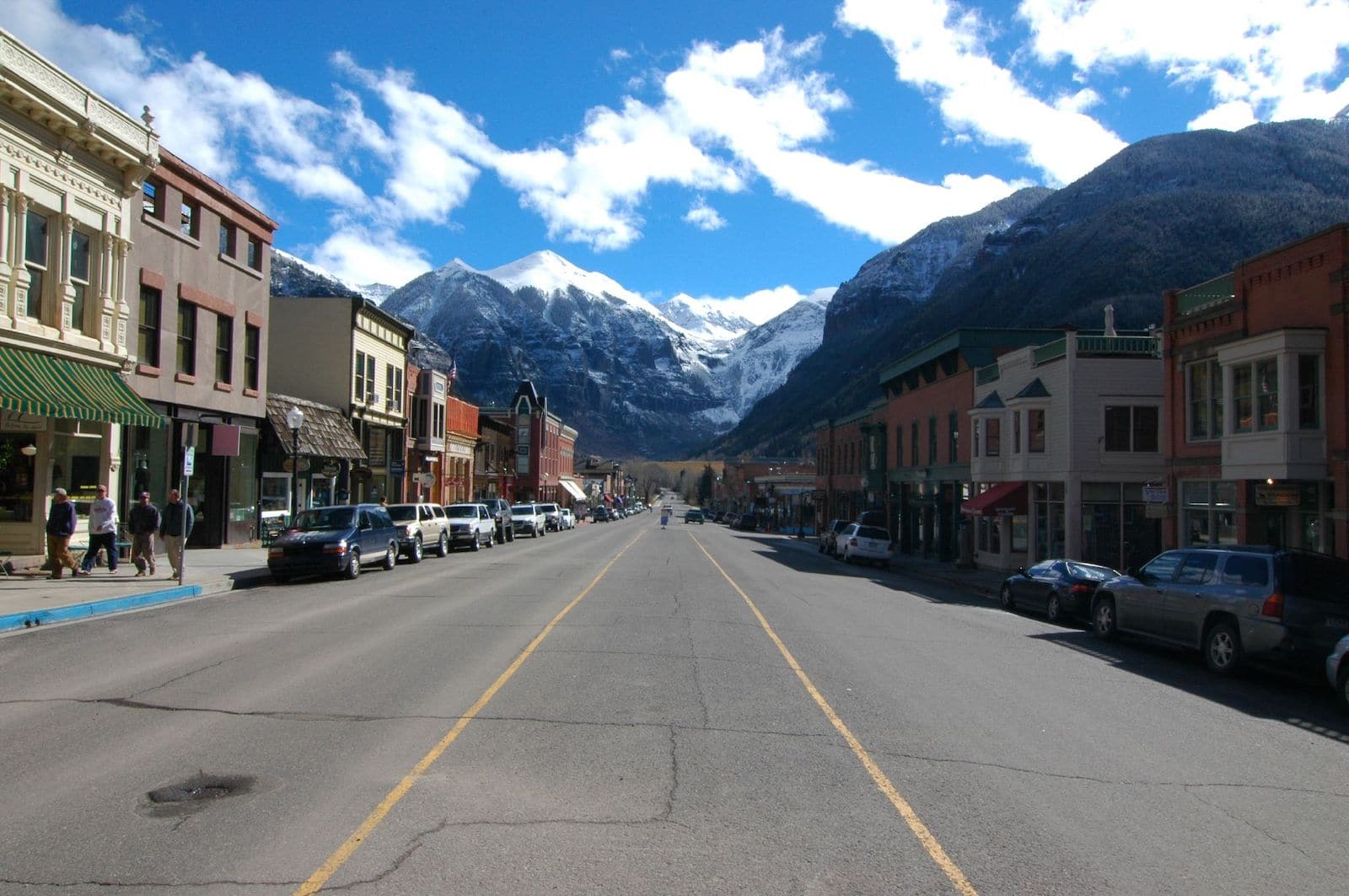 Hidden inside of a box canyon in southwest Colorado, Telluride is one of the most beautiful places both in the state and the entire country. In the small city's downtown area, Main Street offers unforgettable charm and accommodations surrounded by breathtaking mountain views.
Whether you are in town for one of Telluride's many famous festivals or simply want to ski a few runs, there is simply no avoiding the beauty found on Main Street with stops for coffee, meals, movies, or more. Want to get here quickly? Thankfully, Telluride is home to the highest elevation airport in the country for commercial flights.
Although Telluride is arguably the most beautiful, there are plenty of other mountain towns in Colorado that are in the running for the most scenic Main Street. Around the Centennial State, visitors are also guaranteed picturesque downtown experiences in places like Breckenridge, Nederland, Creede, Silverton, Ouray, Salida, Manitou Springs, and more.
Mile High City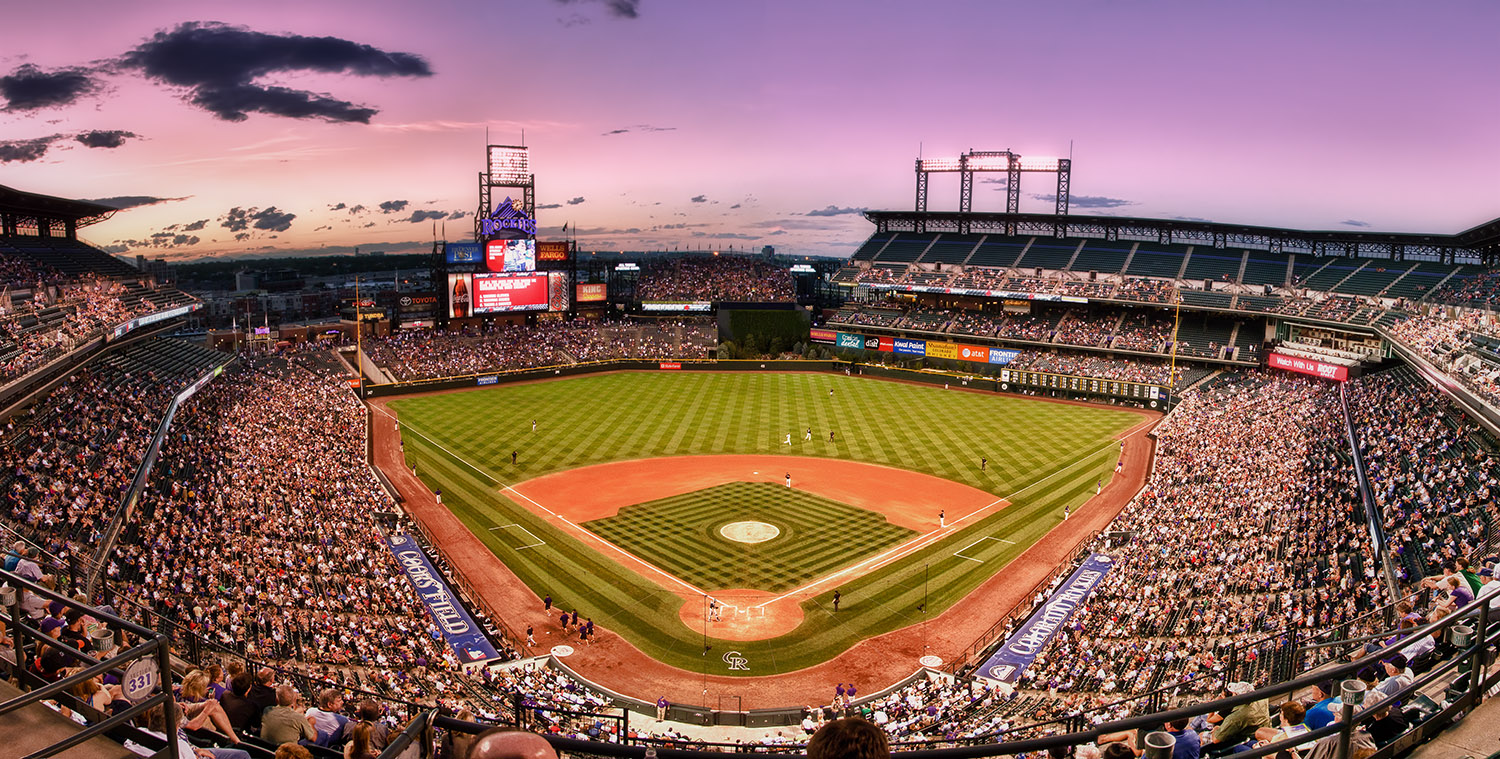 As the capital and the most populous city in Colorado, Denver is inescapably a part of most Centennial State visits. Whether you are flying in and out of Denver International Airport or have just completed a long journey across the western mountains or eastern plains, Denver is a hub for both transportation and beautiful urban spaces.
If you're looking for the most beautiful places in Denver, we suggest starting with a street art tour of the River North Arts District (also known as RiNo). Heading downtown, you'll have opportunities to explore Denver Central Market, Coors Field, Larimer Square, and other popular destinations. While everyone loves a good view of the mountains, Denver is home to plenty of rooftop patios, parks, and other locations to watch the sunset behind the Rockies.
If you prefer shopping to hiking, look no further than Denver's Historic 16th Street Mall for a sprawling passenger street filled with stores and restaurants. There is a free shuttle for 16th Street Mall visitors which provides close walking access to the Colorado State Capitol and Denver's Union Station, two of the city's most interesting architectural sites.
Pikes Peak (near Colorado Springs – Manitou Springs)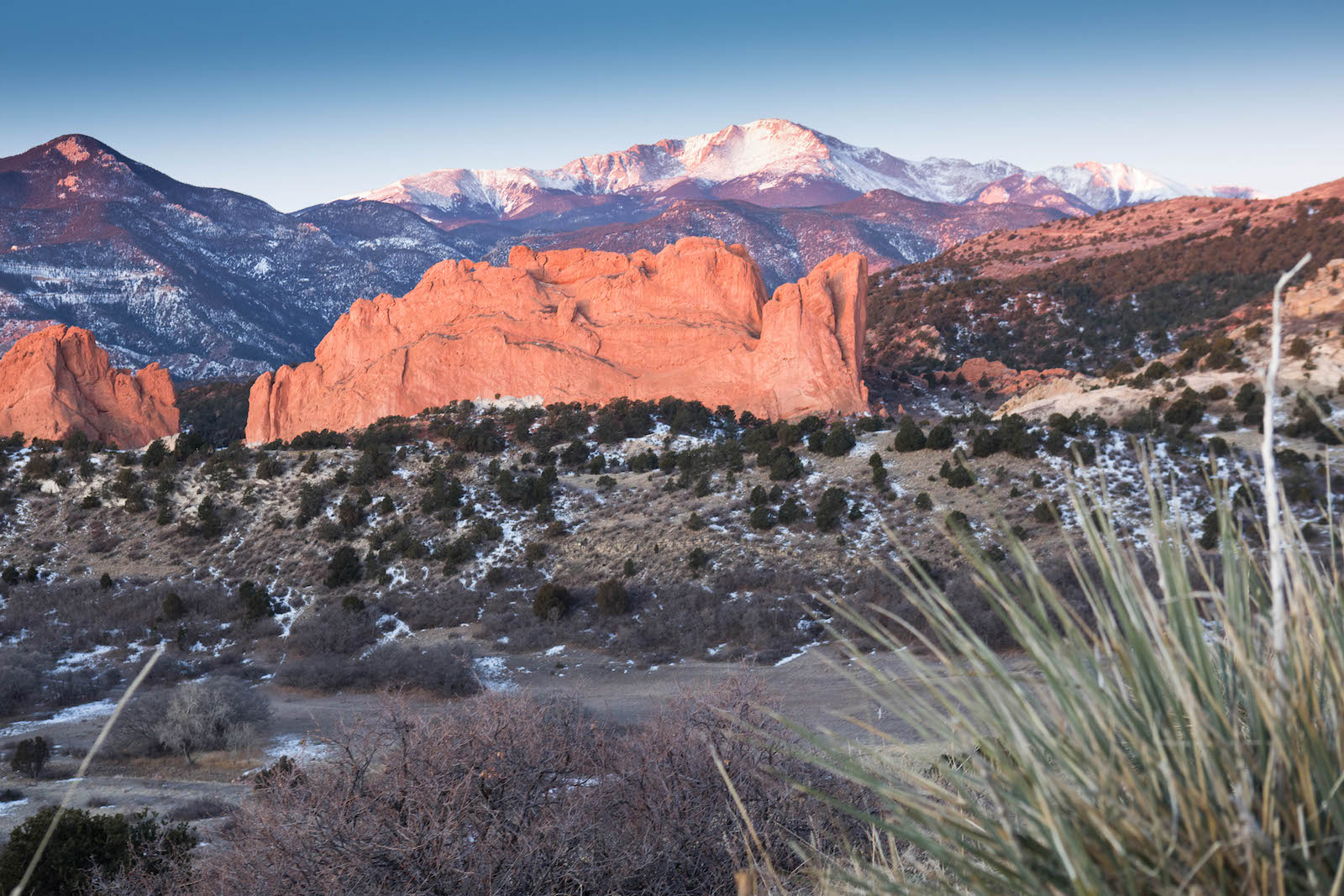 Visible from nearly the entire Front Range, Pikes Peak is one of the most beautiful mountains to visit or admire from a distance in Colorado. With passenger vehicle access all the way up the 14,115′ mountain, visitors can carefully make their way to the top for panoramic views of the Rocky Mountains and eastern plains.
At the top of Pikes Peak, the views can be celebrated with food, beverages, or an item from the gift shop. Vehicles are typically permitted to ascend Pike's Peak all year round, with limited access to the top of the mountain during winter months.
A fee is required to visit Pikes Peak and group or seasonal passes may be available. If time permits before or after your visit, be sure to take a scenic stroll around the red rock fins within the Garden of the Gods or the Red Rock Canyon Open Space.
The San Juan Mountains (Southwest CO)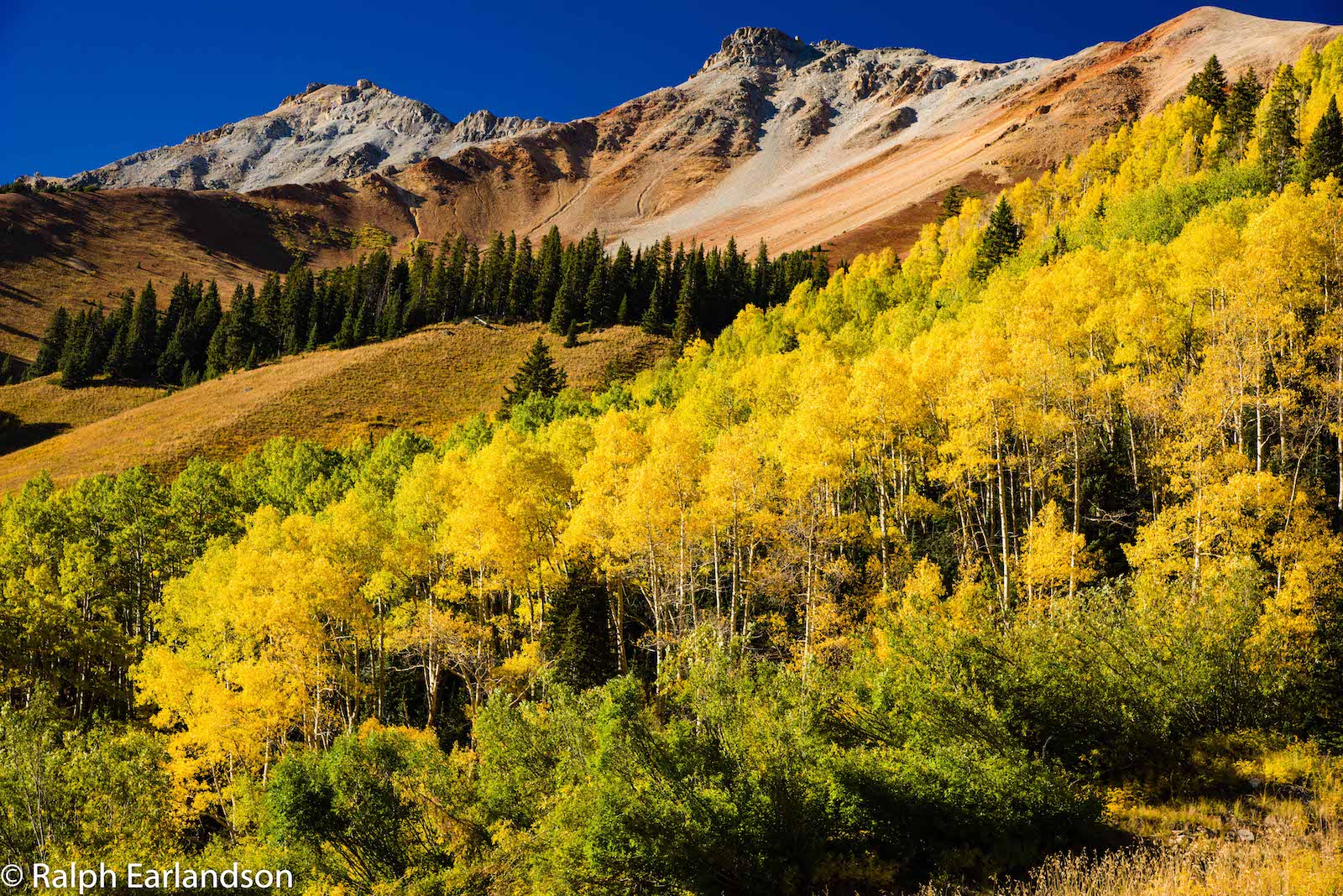 Although there are many beautiful mountain ranges across Colorado, the San Juans are arguably the most scenic. The San Juan Mountains tower above southwest Colorado with year-round access to breathtaking views often nicknamed the "American Alps."
While we have already mentioned a stop in Telluride, the San Juans are filled with historic Colorado mining and railroad towns like Silverton, Ouray, Durango, Creede, and Lake City. For an unforgettable road trip experience, many people cite the area's Million Dollar Highway as one of the most scenic drives in the state, traveling over several high-elevation mountain passes.
Paint Mines Interpretive Park (northeast of COS)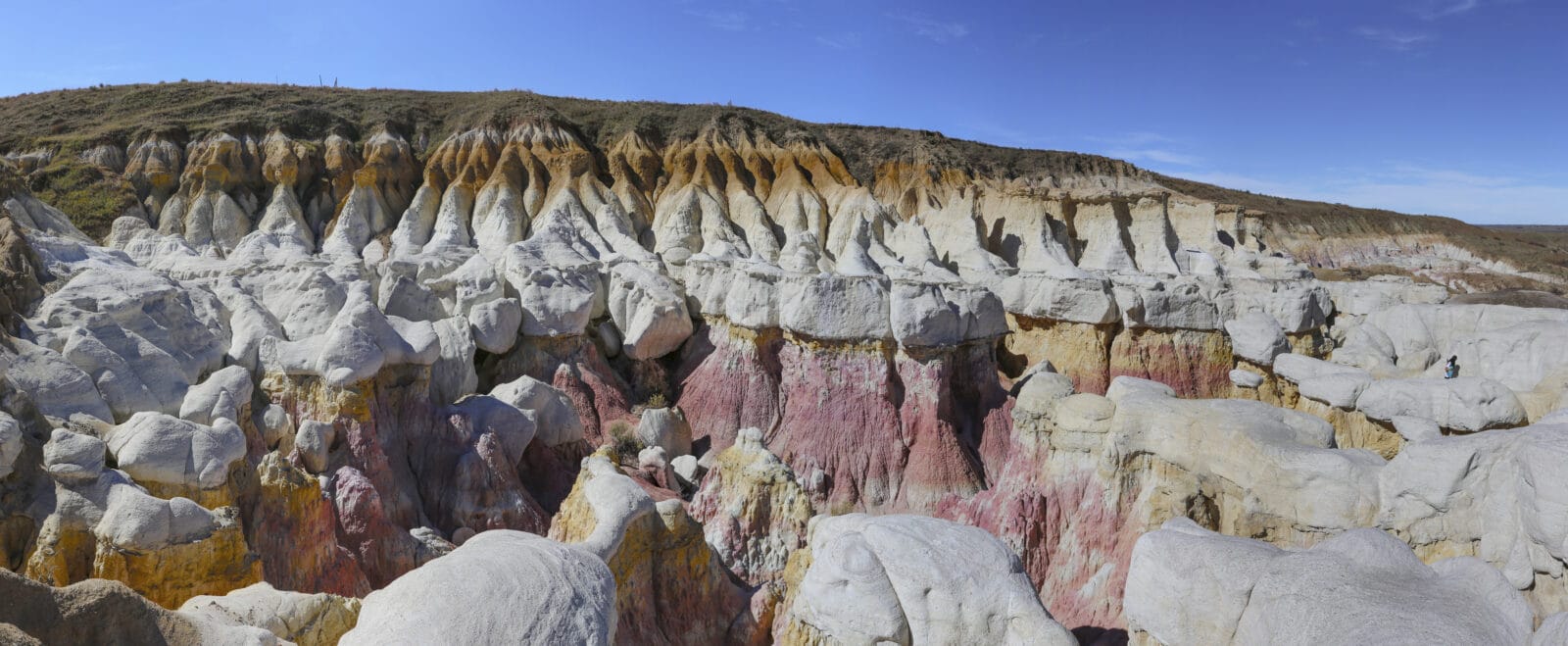 For our penultimate scenic spot, we'd like to suggest the Paint Mines Interpretive Park as quite possibly the most beautiful place in Colorado east of Denver. Located outside of Calhan, Colorado, the Paint Mines Interpretive Park is reached approximately 45 minutes from Colorado Springs via US Highway 24 East.
The "Paint Mines" derive their name from the colorful variety of interesting rock formations found in the area's unique combination of badlands, prairie, and wetlands ecosystems. Around the designated archeological district, visitors can wander between many unique bands of colorful earth featuring bright hues like yellow, red, white, orange, and purple.
As a truly unique landscape, Paint Mines visitors are typically left feeling as if they have stepped foot on another planet or even inside of a Dr. Seuss book. With easy access from Front Range cities, the Paint Mines Interpretive Park is a beautiful place for truly unique photoshoots.
Red Rocks Amphitheater (Morrison)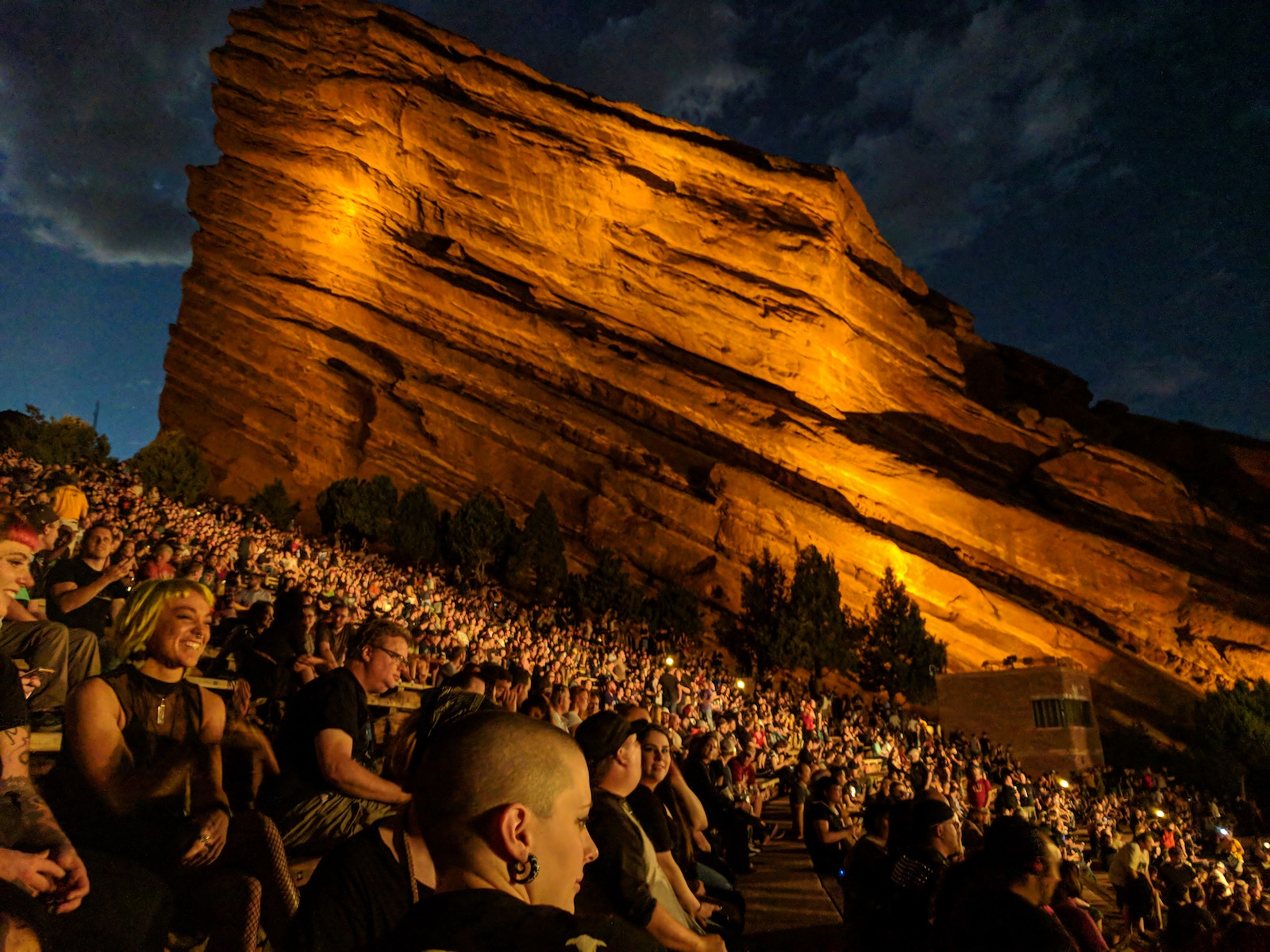 How about some live music to wrap up our tour of Colorado's most scenic destinations? Although there are many great places for simultaneous entertainment and scenery, such as the Dillon Amphitheater or The Mishawaka, Colorado's quintessential concert venue is without a doubt the Red Rocks Amphitheater.
For those who have not had the pleasure, Red Rocks Amphitheater is an open-air live event venue that is built into the foothills of Morrison, Colorado. Just west of Denver, the Amphitheater boasts one-of-a-kind acoustics in between two large red sandstone walls known as the "Ship Rock" and "Creation Rock."
As the band plays below, concert-goers have plenty of room to dance in the large east-facing seating area which offers sweeping views of Denver and beyond. During the day, the venue typically remains open for visitors to see the amphitheater, museum, and surrounding hiking trails.
Those are just a dozen of Colorado's prettiest places. There are countless others to explore and uncover.