With an endless amount of activities and destinations throughout the state, sometimes planning a road trip can be a bit overwhelming. In addition to the natural landmarks in Colorado, ranging from rushing waterfalls and rivers to deep gorges and canyons, there are plenty of quirky and iconic roadside attractions to keep the drive memorable.
Once you've set your sights on one of the major cities, mountain towns, or natural areas, it doesn't take very long to remember that you can't go wrong exploring anywhere. As any good road tripper knows: "the journey is the destination," and it can be surprising how many hidden gems abound. Next time you're ticking things off your Colorado bucket list, here are thirteen interesting stops that truly embody the joy of a roadside attraction.
Tiny Town Railroad – Morrison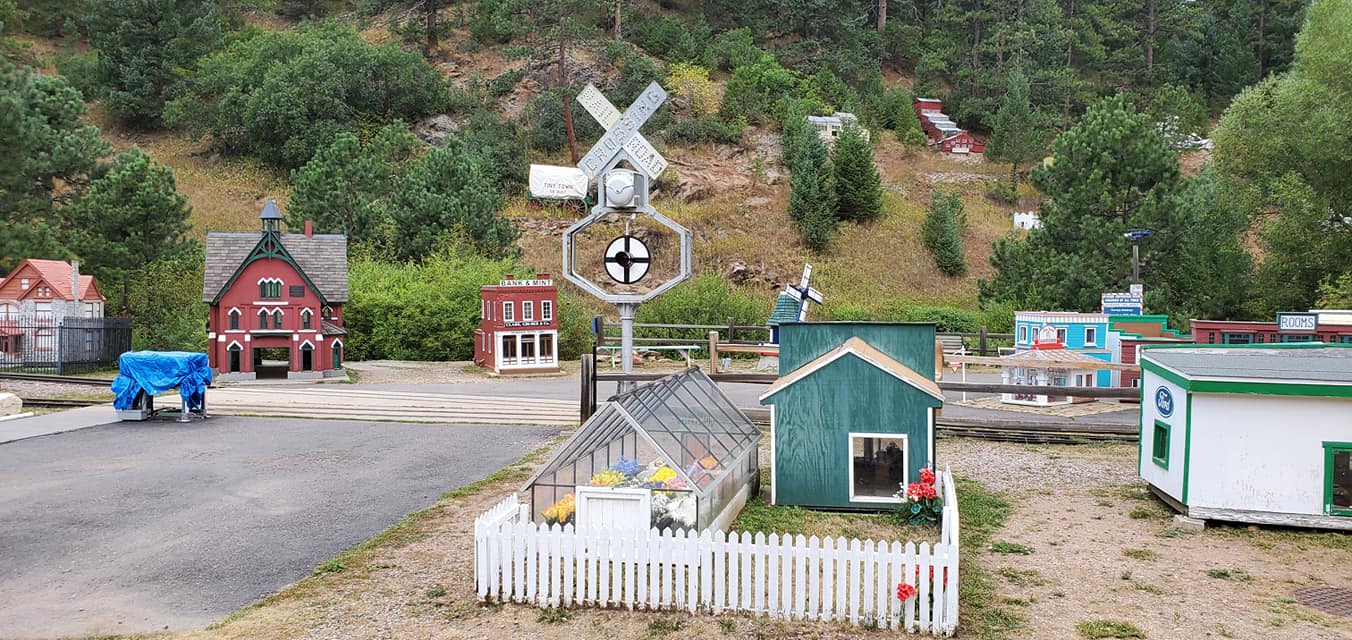 About a half-hour from Denver outside of Morrison, Colorado, Tiny Town and Railroad is one of Colorado's quirkiest attractions that will delight visitors of all ages. Although no one actually lives there, as the name implies, Tiny Town is a real "tiny" town that is made up of over 100 buildings built at a ⅙ scale.
Located just off of Highway 285, Tiny Town is a "tiny" detour for anyone heading between Denver, Beuna Vista, and southwestern Colorado. Originally open to the public as "Turnerville" since 1920, Tiny Town has been delighting visitors for over a century.
While tourists can drive by and see the miniature village all year long, Tiny Town welcomes visitors into their park from Memorial Day to Labor Day each year for a small admission fee. Inside, visitors will have access to picnic tables, train rides, and a gift shop to fully enjoy their experience.
Coney Island Boardwalk – Bailey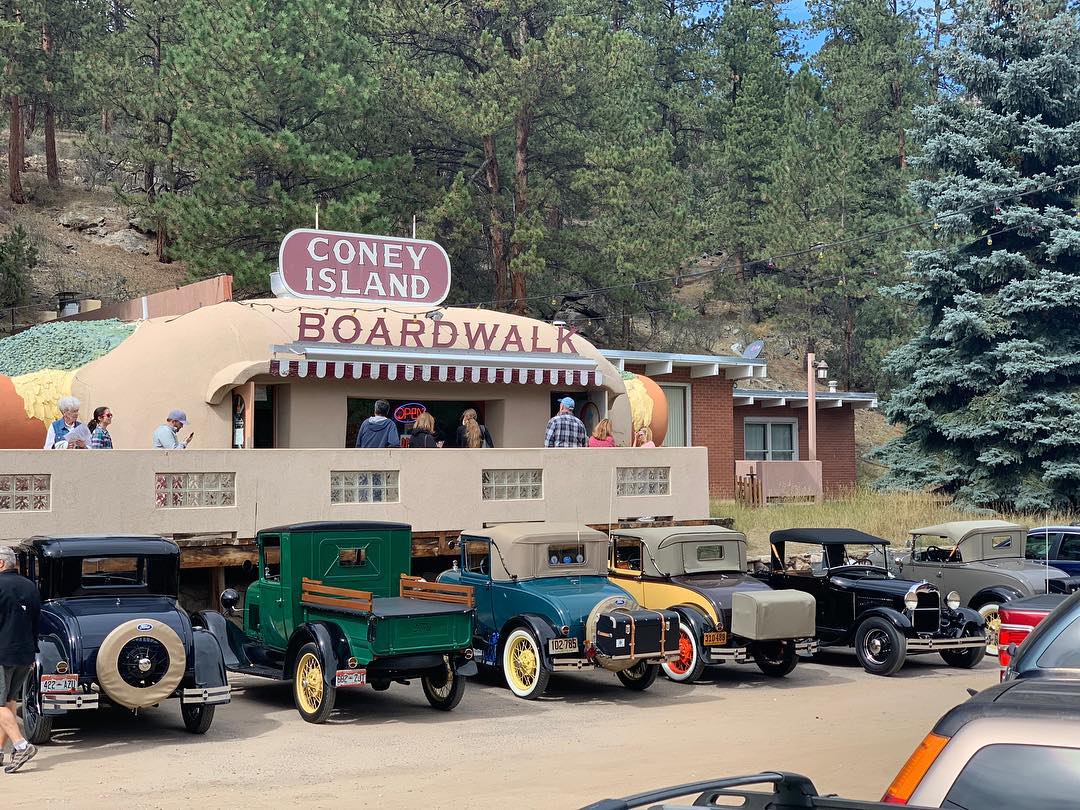 Continuing south on Highway 285, hungry tourists can stop for a bite to eat at Colorado's best example of roadside architecture: the Coney Island Boardwalk. Named after New York's famous beach and boardwalk, Bailey's Coney Island is a full-service restaurant located inside a charming, hot-dog-shaped building.
Originally opened in 1966 on West Colfax Ave in Denver, the Coney Island Boardwalk has slowly made its way west with 2 decades in Aspen Park, Colorado before moving to Bailey in 2006. The restaurant has gone through multiple renovations and is typically open every day in the summer and on weekends throughout the fall.
The Largest Fork in the United States – Creede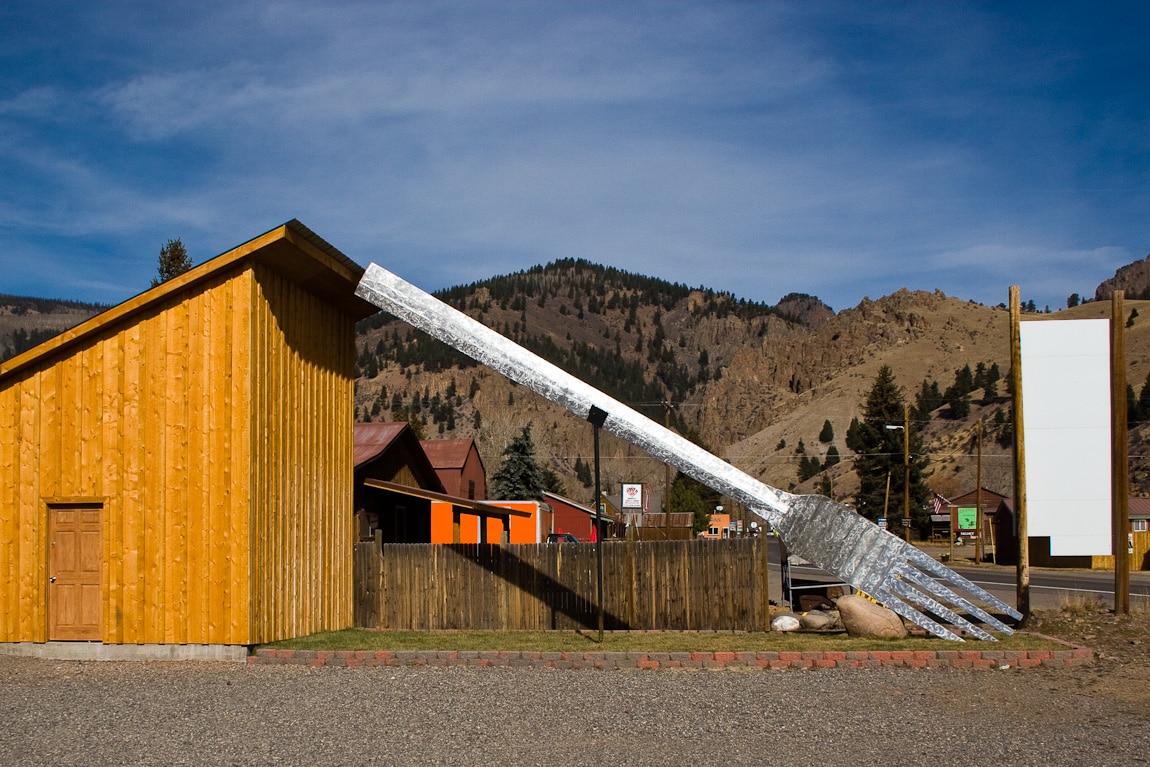 Although it would make a bit more sense if it were located 20 miles away in South Fork, the world's largest fork can be found in Creede. No, we're not talking about a fork in a river or a fork in a road, we're talking about a giant, 600-pound aluminum eating utensil propped onto the side of a bar and grill.
Legend has it that the fork was once an art installation created by Chev and Ted Yund, and was gifted to the restaurant owner on her birthday. The 40-foot-long fork was built specifically to be larger than a different giant fork in Springfield, MO, and is easy to spot while heading north into town on La Garita St.
Herkimer, the World's Largest Beetle – Colorado Springs
While we're on the subject of "the world's largest," it is critical to mention Herkimer, the world's largest beetle located near Colorado Springs. Heading south out of town on CO-115, motorists can visit Herkimer at the intersection with Rock Creek Canyon Rd, in Rock Creek Park.
As a somewhat scary, oversized recreation of a West Indian Hercules Beetle, Herkimer is the unofficial mascot for the May Natural History Museum just up the road. Incredibly, the beetle even survived a road trip of its own, when it was transported to Florida and back shortly after being created in the 1950s.
Mike the Headless Chicken Statue – Fruita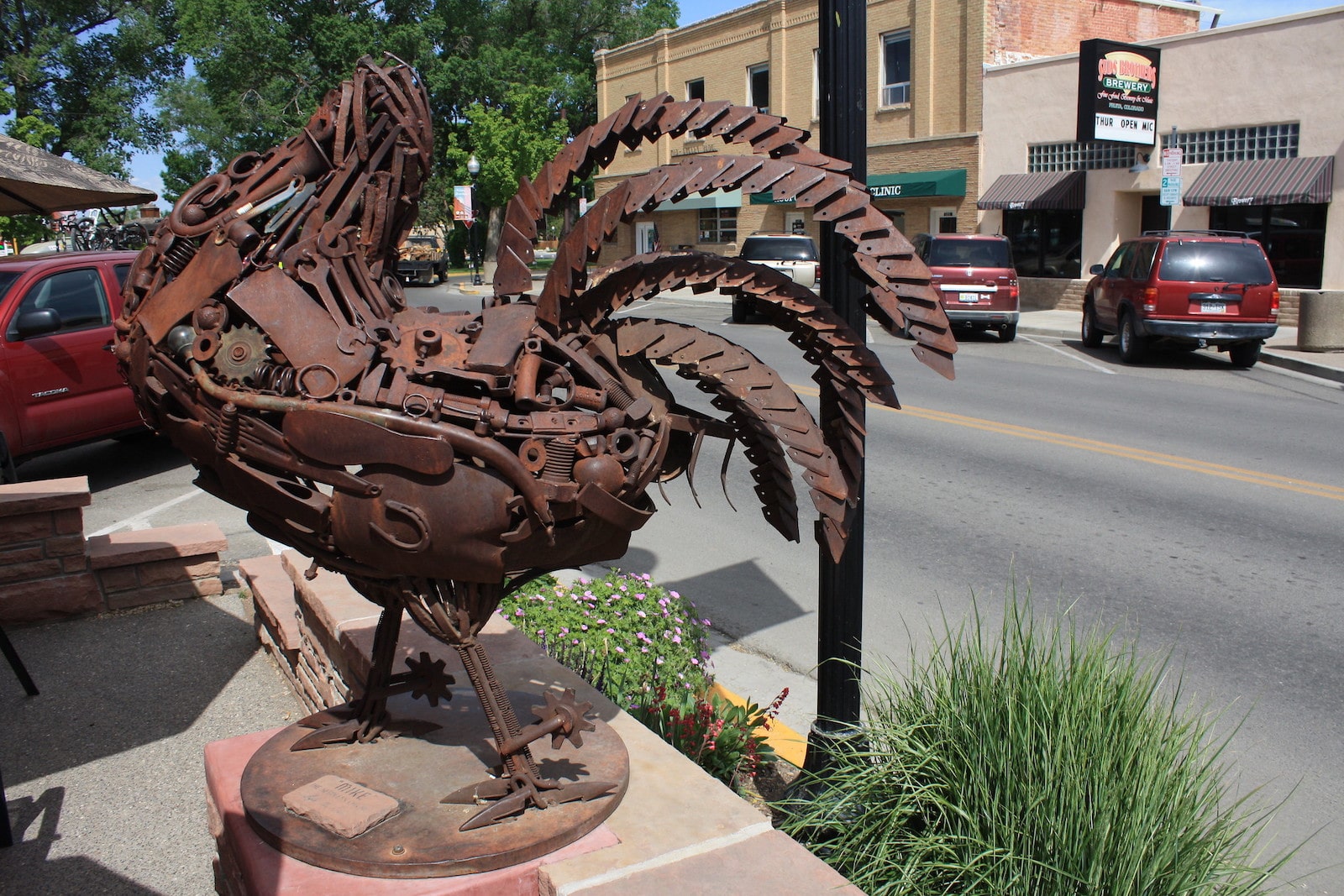 Staying on theme with tributes to the animal kingdom, "Mike the Headless Chicken " is a statue like no other in Fruita. Located near Circle Park, which has a few great statues of its own (like Grrreta, the green dinosaur), this 5-foot tall, metal headless chicken statue pays homage to the town's national celebrity.
For those unfamiliar, Mike was a Wyandotte rooster who lived a full 18 months after his head had been chopped off by a farmer in Fruita. After a feature in Life magazine, "Miracle Mike" enjoyed a national tour and is now the namesake for the town's "Mike the Headless Chicken Festival".
Teller County Dinosaur Statues – Cripple Creek
If folk art dinosaurs are your thing, then head on down to Cripple Creek for a surprising display of prehistoric fun. Located on private land along Colorado Highway 67 between Divide and Cripple Creek, passers-by can see roughly a dozen fiberglass statues including dinosaurs, characters from The Flintstones, and even a friendly-looking bigfoot.
Another location in town for Dinosaur sculptures is the Cripple Creek Heritage Center. It showcases the history of the Teller County region, from dinosaurs to gold mines.
Swetsville Zoo – Fort Collins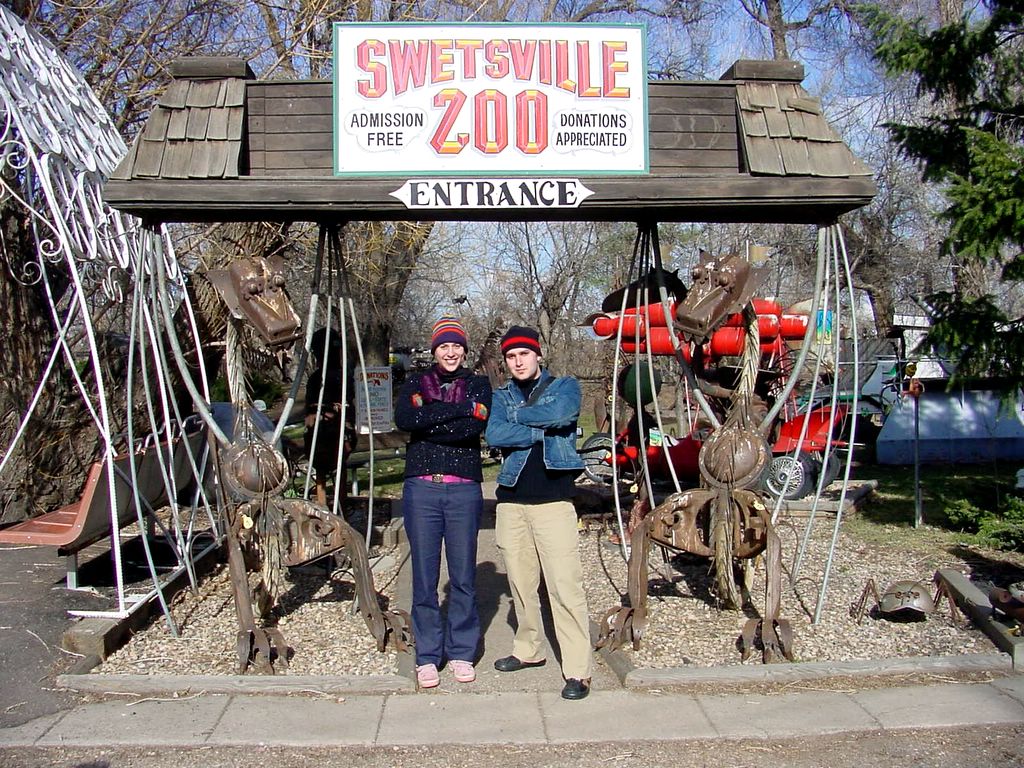 For a fully immersive, folk-art experience, there is no place better in Colorado than the Swetsville Zoo in Fort Collins. Featuring whimsical animal sculptures made of scraps, car parts, and farm machinery, the Swetsville "Zoo" is more of an art exhibit than an actual zoo with over 170 pieces spread out over several acres adjacent to the Cache De Poudre River.
Creator Bill Swets has lived on the property since 1985, and the park is now open to the public during daylight hours all year round. It is donation-based and free to visit, simply follow the signs and enjoy the fun!
Lee Maxwell Washing Machine Museum – Eaton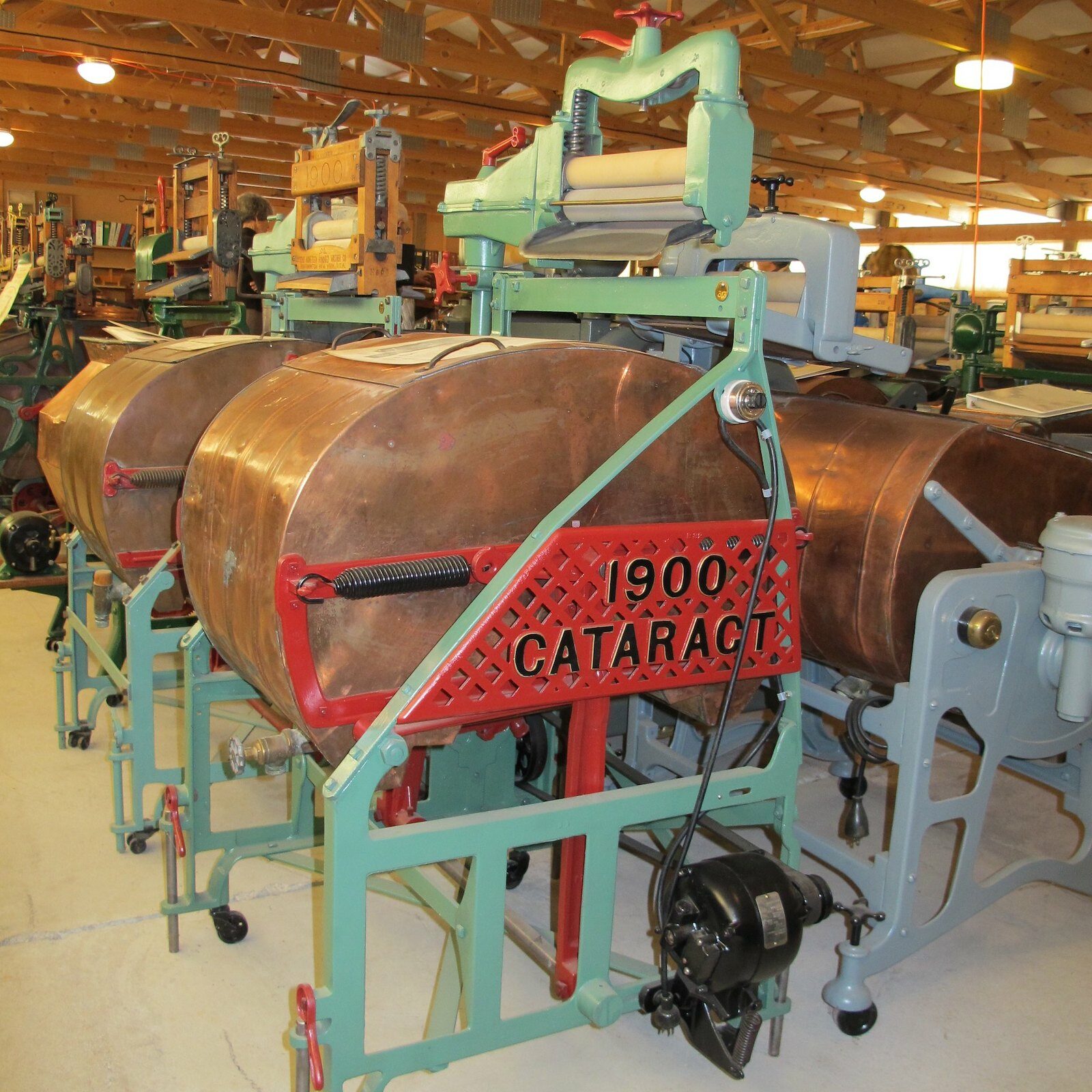 Not far from Fort Collins and Greeley, the Lee Maxwell Washing Machine Museum is one of Colorado's least-known attractions and is well worth the detour. For a unique, hands-on history experience like no other, you'll be surprised as to how much you may enjoy this laundry equipment hall of fame.
By far, the Lee Maxell Washing Machine Museum is the most exclusive roadside attraction on this list, and truly more of a destination itself. Paid visits include a guided tour with Lee, where visitors will see and learn about the thousands of artifacts that have earned the museum the Guinness World Record for most antique washing machines.
Art Cartopia – Trinidad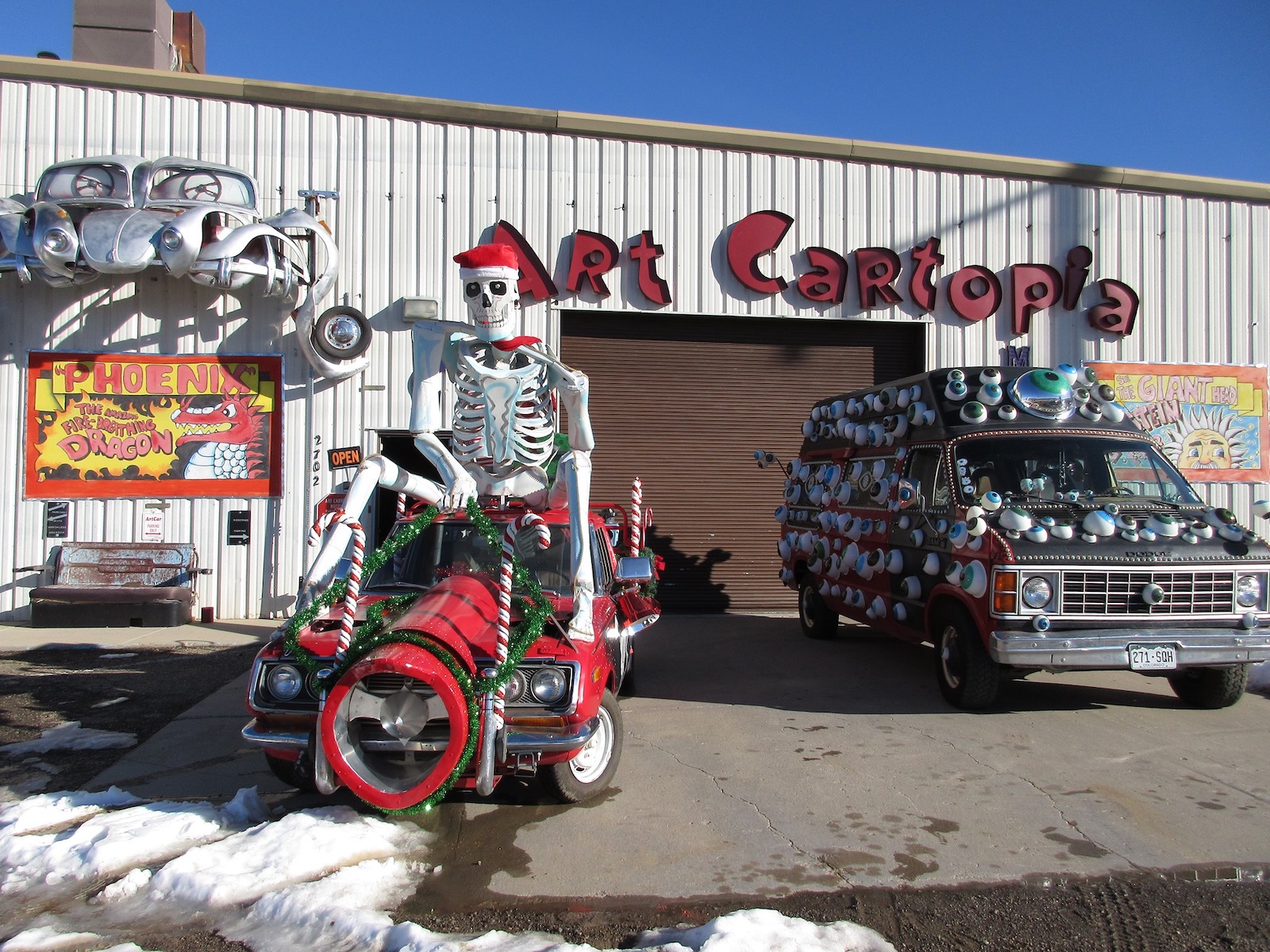 For a totally different kind of museum on the other end of the state, the Art Cartopia Museum in Trinidad, is a free, one-of-a-kind vehicle display. It showcases over 25 automobiles that have been transformed into functional works of art. While the town of Trinidad has been hosting an art car parade and festival for over two decades, the museum is new, officially opening its doors to the public in the fall of 2018.
Colorado Gators – Mosca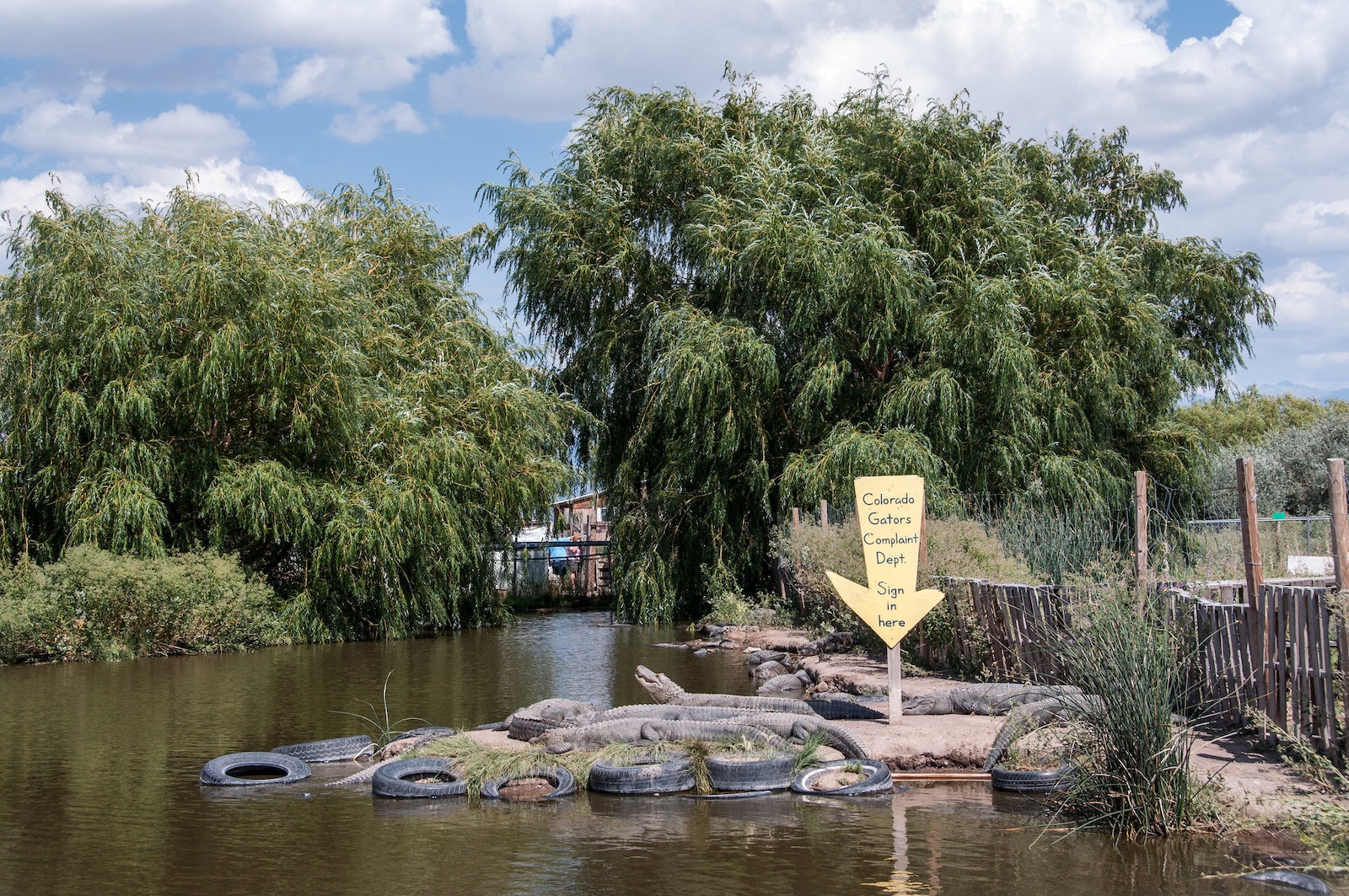 When driving through the San Luis Valley in southern Colorado, most people aren't expecting to see a live alligator, but the Colorado Gators Reptile Park has been making this happen since 1990. As a full-size zoo and rescue, Colorado Gators allows the public to see many types of alligators, as well as pythons, tortoises, iguanas, and other animals that call the geothermal waters home.
Although many of the roadside attractions on this list won't cost you a penny, Colorado Gators in Mosca is well worth the entry price as the world's only high-elevation alligator farm. Plus your money will go to a good cause, as it is one of the few rescues of its kind in the Southwest.
UFO Watchtower – Center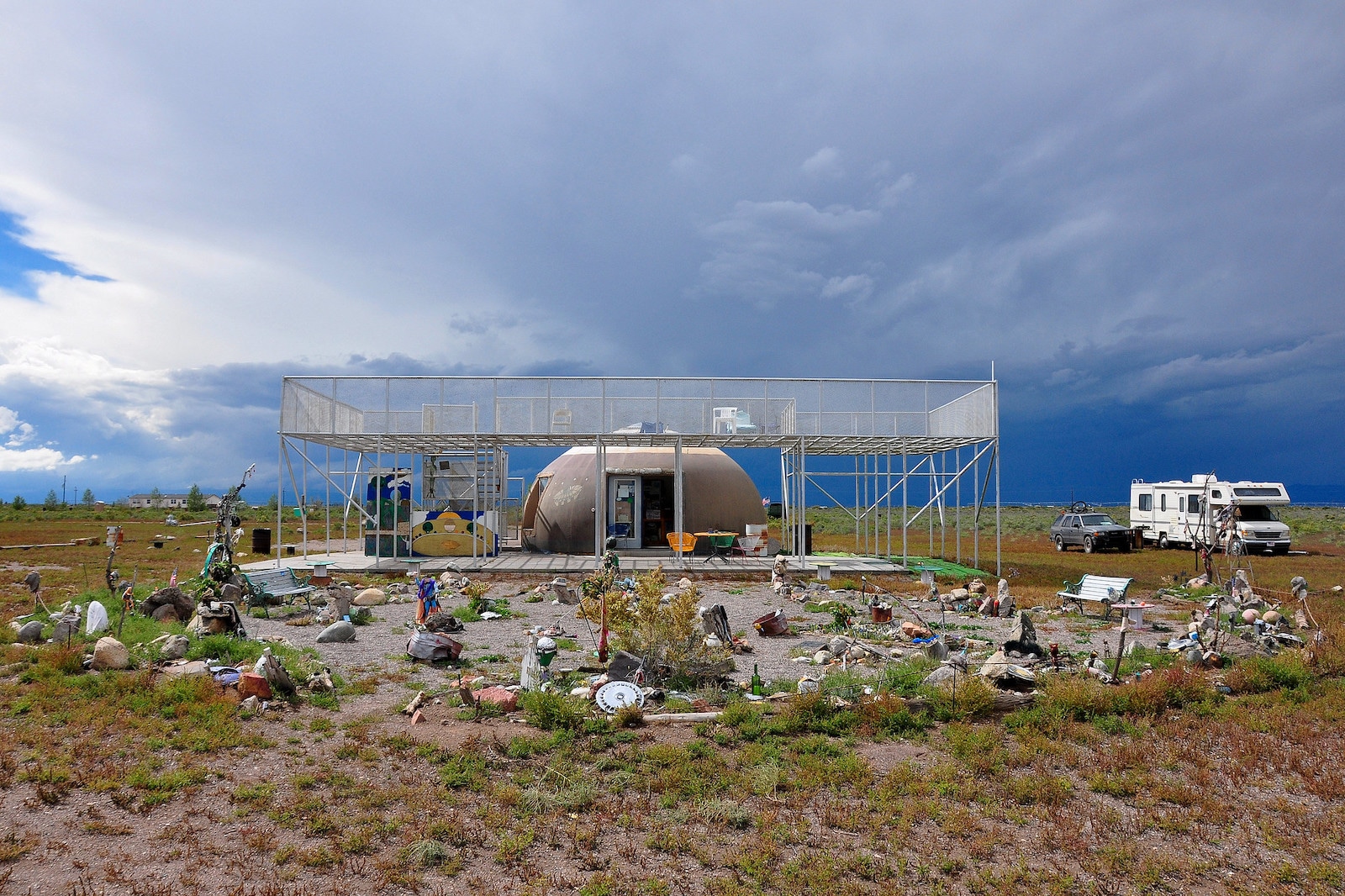 Just north of Mosca near the town of Hooper, travelers will find an out-of-this-world experience at the UFO Watchtower. Since 2000, the UFO Watchtower has stood above Saguache County to help the public observe the notorious paranormal activity of the San Luis Valley.
If possible, we recommended staying overnight at the UFO Watchtower for your best chances to spot a sign of life in the night sky, as camping is allowed on the property. Aside from just the tower, there is also a sculpture garden where visitors are encouraged to leave something behind to "get their energy near" multiple "vortexes to parallel universes" onsite.
Bishop Castle – Rye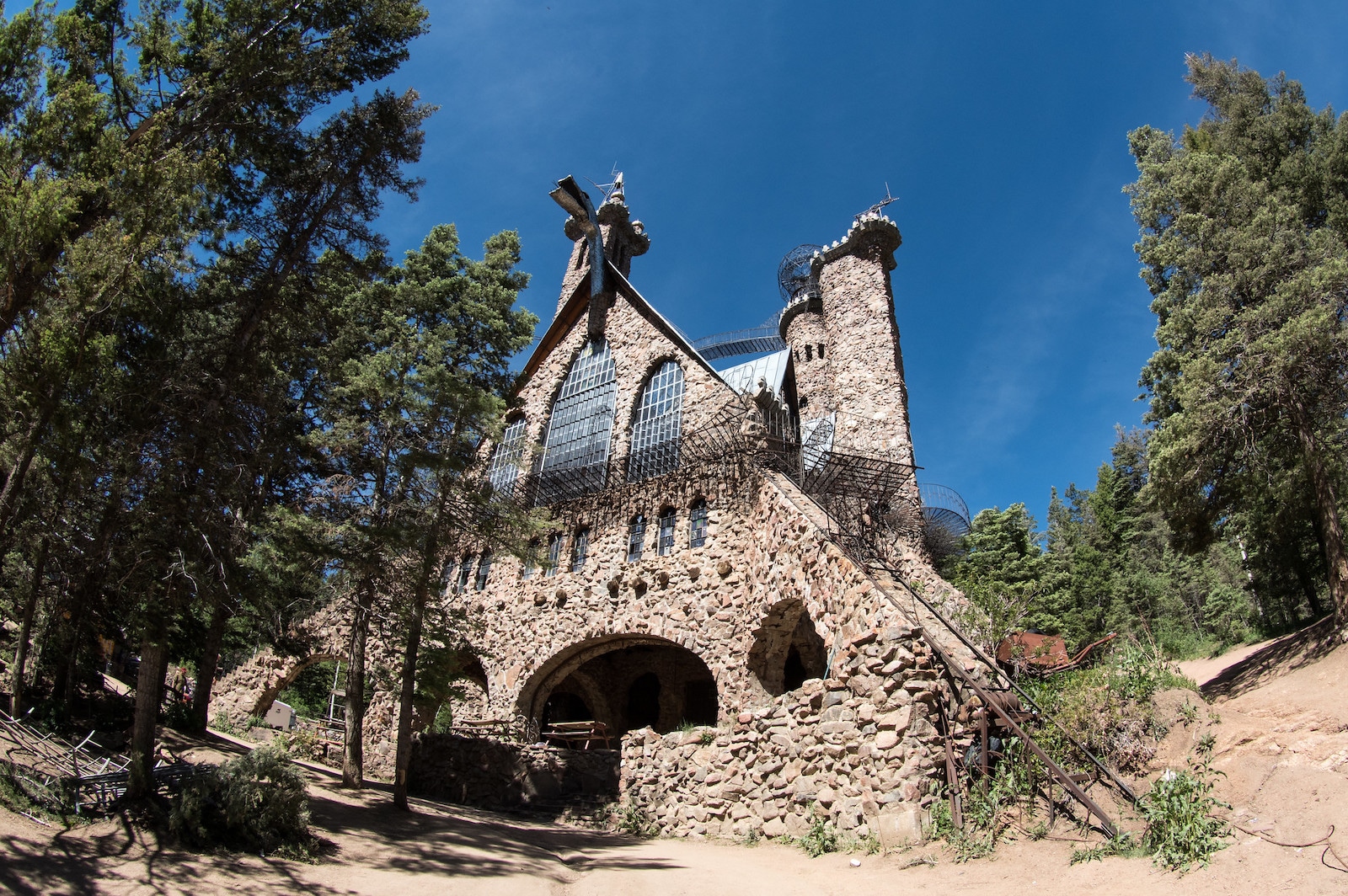 South of Cañon City and Pueblo, Bishop Castle is an impressive fortress of stone and iron, which took nearly 60 years to build. What started as one man's desire to construct a modest cabin, creator Jim Bishop continued to build his castle until it became the impressive medieval structure that it is today.
Complete with a ballroom, three stories, bridges, towers, and a fire-breathing dragon, Bishop Castle is a truly unique landmark. It's surrounded by the beautiful San Isabel National Forest. The castle is free to visit and open to the public year-round.
Seven Keys Lodge – Estes Park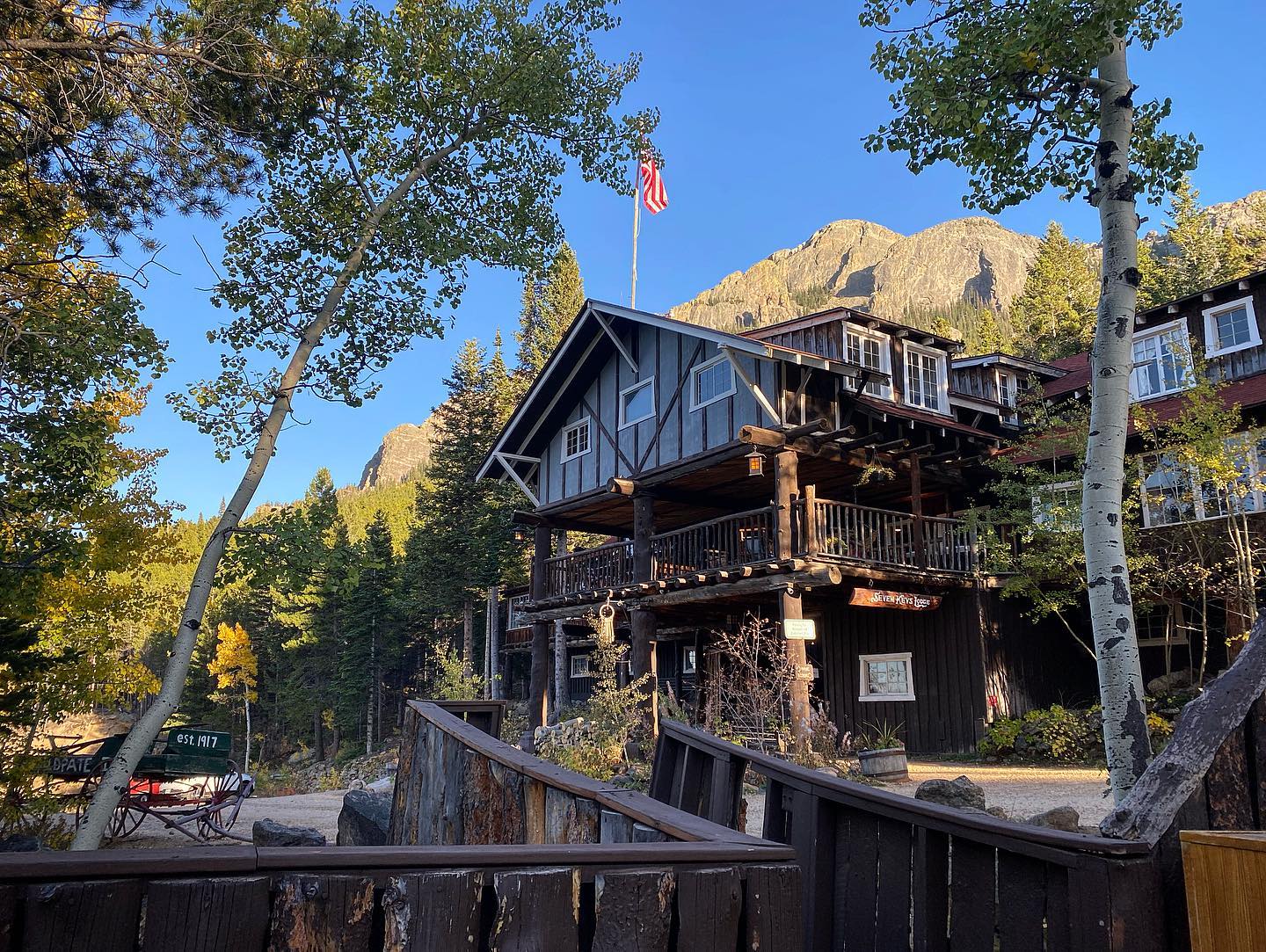 Finally, celebrate your next road trip at the Seven Keys Lodge in Estes Park. Formerly known as the Baldpate Inn, the Seven Keys Lodge actually has a lot more than 7 keys, as the century-old hotel gained notoriety by housing over 30,000 keys hanging on the walls and ceiling.
To see the keys, guests can choose to sit down for a drink or even spend the night in the small bed and breakfast. Famous items in the collection include keys to the White House bathroom, Frankenstein's Castle, and Westminster Abbey.
With more roadside attractions out there waiting to be discovered, we hope that this article has helped inspire a stop or two on your next adventure. Before you hit the road, feel free to brush up on our Colorado road trip tips to make sure everything will go as smoothly as possible. Safe travels!