[Platteville Town Hall. Photo:
Jeffrey Beall
] Founded in 1871, Platteville is a small plains town located south of Greeley. In 2010 it boasted a population of 2,485 residents.
The town is located in Weld County at an elevation of 4,813 feet. It was incorporated in January 1887. Platteville drew its name from the Platte River, which flowed by town.
Accommodations
Things To Do near Platteville, CO
Towns:
Visit the town's official website.
Popular Posts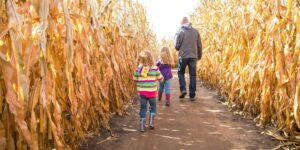 8 Captivating Corn Mazes Around Denver – Pumpkin patches, haunted houses, and corn mazes, oh my! It's that time of year again. Neighborhood streets are lined with the latest ghoulish decorations and families and friends flock to nearby farms and gardens to pick…