[Hudson Town Hall. Photo:
Jeffrey Beall
] Hudson is a rural plains towns located northwest of Brighton on Interstate 76. It actually sits at a crossroads of I-76, CO Highway 52 and Weld County Road 49. It's located at an even 5,000 feet with a population of 2,356 in 2010.
Hudson is located in southeast Weld County on Colorado's Northern Front Range, between the high plains to the east and Rockies to the west. It was named for the town company, Hudson City Land and Improvement Co. This home rule municipality was incorporated in April 1914.
Accommodations
Things To Do near Hudson, CO
Towns:
Visit the town's official website.
Popular Posts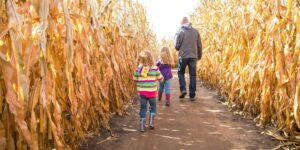 8 Captivating Corn Mazes Around Denver – Pumpkin patches, haunted houses, and corn mazes, oh my! It's that time of year again. Neighborhood streets are lined with the latest ghoulish decorations and families and friends flock to nearby farms and gardens to pick…