Photo: Jeffrey Beall
Situated 40 miles northwest of Denver, Keenesburg is a rural, plains town in Weld County. In 2010 the population was 1127.
The town was named for Les Keene, a settler of the area.
Things to do in Keenseburg
Keenesburg is rural plains Colorado, so recreation is quieter. It's most known for its large animal sanctuary, which rescues big game from all over the world.
Main Attractions
Wild Animal Sanctuary – 720 acre refuge for hundreds of lions, tigers, bears, wolves and large carnivores. An 1.5 mile elevated walkway overlooks the animals.
Featured Keenesburg articles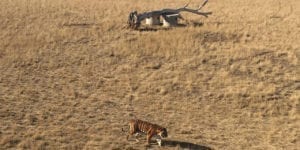 Big Cats at the Wild Animal Sanctuary – Tucked away in the plains northeast of Denver, The Wild Animal Sanctuary is a refuge for big animals. The 720 sanctuary features hundreds of lions, tigers, bears, wolves and other large carnivores rescued from around the world…