Colorado may be high on the list of craft beer destinations, but it's a great place for wine lovers, too. There are dozens of unique wine festivals in Colorado throughout the year.
The Centennial State is home to more than 150 licensed wineries and an abundance of wine bars, shops, and award-winning restaurants known for their outstanding wine program. Additionally, you'll find plenty of festivals that are diverse in location, spanning from Denver and Boulder to Colorado Springs, and throughout many mountain towns, including Vail, Aspen, Breckenridge, and Telluride.
Each celebration offers something different for everyone – from different types of music and live entertainment to a larger focus on food and pairings. Some only feature wines produced by local wineries while others include sips from all over the world.
Keep in mind that dates and locations for wine festivals can change. Check the event's website regularly to stay up-to-date on any changes or cancellations. If a specific date isn't listed, the event organizers may not have released the exact date and location yet.
February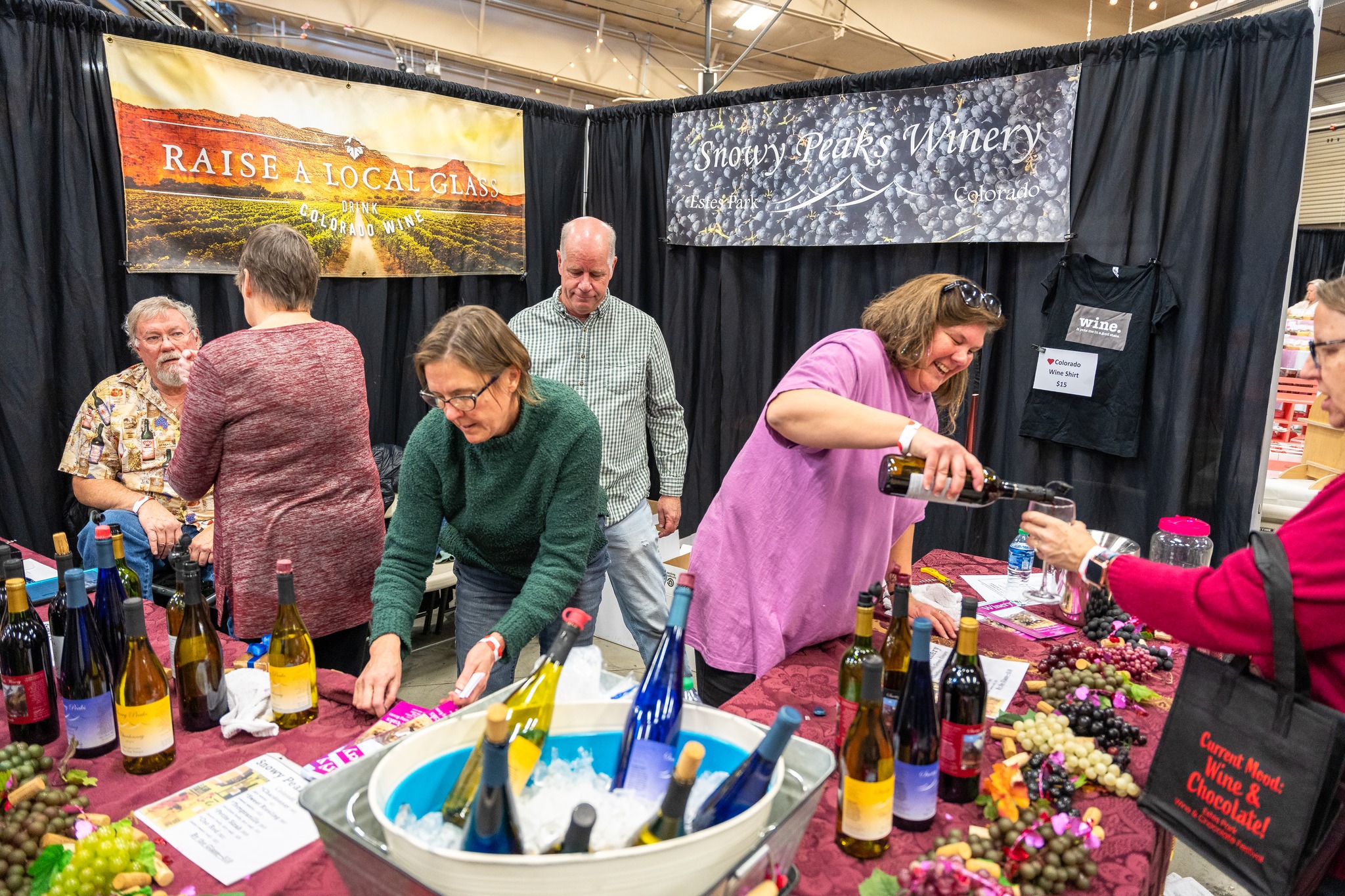 Estes Park Wine & Chocolate Festival
This festival celebrates the dynamic duo of wine and chocolate in Estes Park. There are about 20 different wineries, with a few meaderies, pouring samples of their drinks into a unique souvenir glass for each ticket holder. Chocolate vendors are in the mix as well, passing out samples of their well-made chocolate to accompany the wines. After indulging, check out the arts and crafts vendors and live music.
March
Wine Festival of Colorado Springs
The Wine Festival of Colorado Springs is the longest-running festival in Southern Colorado, first held in 1992. Past years have included featured wineries and guests from various locations – Southern France, New Zealand, Portugal, and Italy. There have also been interactive elements, such as wine and food pairings, seminars, and of course, tastings.
April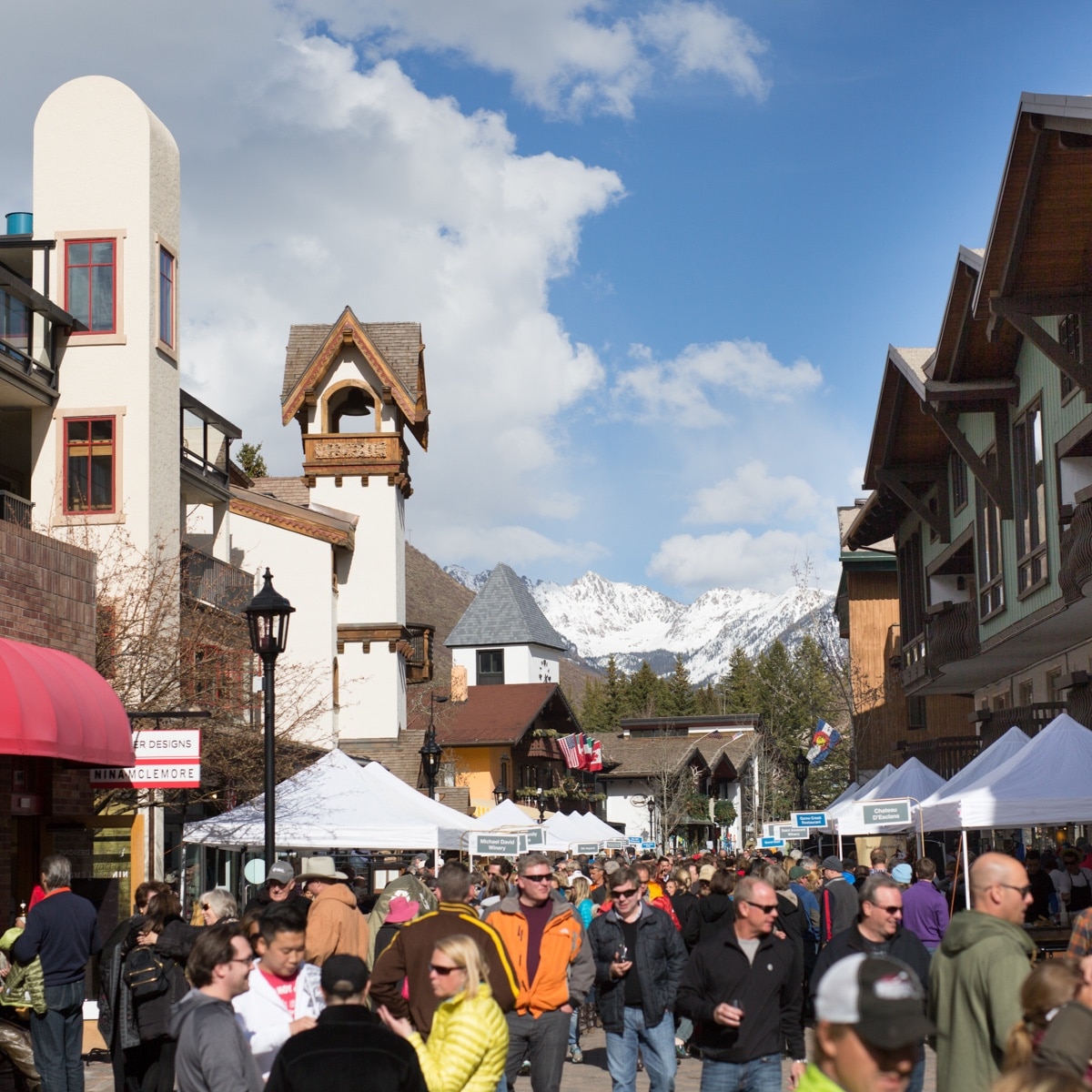 Taste of Vail
The Taste of Vail wine festival is a premier event for wine enthusiasts, attracting over 5,000 attendees yearly. With more than 200 wineries represented, guests have the opportunity to sample a wide range of vintages from around the world. From grand tastings to intimate wine seminars, the festival offers a unique opportunity to learn about and savor some exceptional sips.
May
Chalk Lines and Vines
The Chalk Lines and Vines festival is a distinctive event that merges live chalk art with wine. This outdoor occasion showcases various artists crafting murals in real-time, as attendees taste wines from over 10 Colorado wineries. Along with the regional wines, there are also food trucks and live music.
June
Manitou Springs Colorado Wine Festival
You'll only find wines made in Colorado at the Manitou Springs Colorado Wine Festival, held at Memorial Park in Manitou Springs. In addition to wine, patrons can also sample local Colorado-made meads and glogg. Previous wineries in attendance include Cottonwood Cellars, Mountain View Winery, and Talon Wines.
Aspen Food & Wine Classic
Travel Channel named the Aspen Food & Wine Classic one of the best food and wine festivals in the U.S. This three-day event features cooking demonstrations, wine tastings, and discussions led by wine experts and industry professionals.
Telluride Wine Festival
The Telluride Wine Festival has been happening for more than 40 years. This multi-day gathering features a wide variety of wineries along with local restaurants serving food samples to go along with wine and educational seminars. The mission of the festival is to help the local economy and donate a portion of its proceeds to support the area's food-producing community.
July
Castle Rock WineFest
Castle Rock WineFest has been presented by the Castle Rock Chamber of Commerce since 2004. The outdoor fest offers unlimited tastings from more than 20 Colorado wineries, serving more than 180 varieties of wine. You'll also find live music, food trucks, and artisan vendors.
Keystone Wine & Jazz Festival
This Keystone festival celebrates a great duo – wine and jazz music. There are hundreds of varieties of wine to sample as well as local food vendors creating small bites to accompany the sips. Local Colorado jazz musicians perform throughout the festival as well.
Crested Butte Wine + Food Festival
Crested Butte Wine + Food Festival is a several-day event, featuring multiple wine tastings, seminars for those both new to wine and connoisseurs led by experts, and multi-course dinners with thoughtful pairings. This annual festival is a fundraiser for the Crested Butte Center for the Arts.
August
Winter Park Uncorked
Winter Park Uncorked has previously featured an eclectic variety of wineries from all over the world, including Bennett Valley Cellars, DAOU Family Estates, and Piatelli Vineyards. The fest has also held a cork-off where contestants compete to see whose cork travels the farthest, earning a prize of champagne.
Estes Park Wine Festival
This year will be the 8th annual Estes Park Wine Festival taking place in downtown Estes Park. The two-day event includes unlimited tastings, along with live music and food and retail vendors. VIP tickets include entry to a VIP tent, a wine bar, and catered food.
Front Range Wine Festival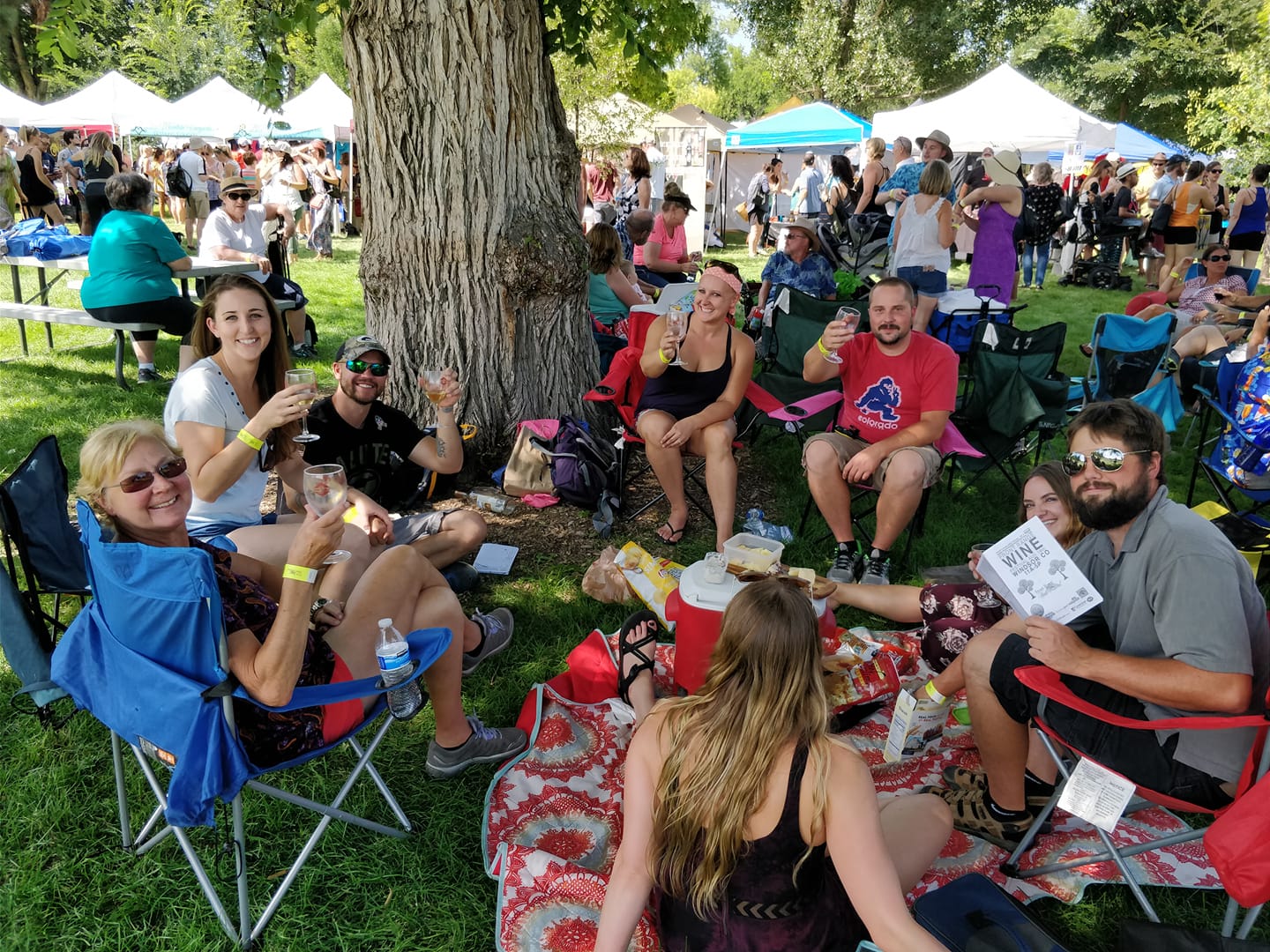 The Front Range Wine Festival is set to celebrate its 11th anniversary this year. This event features exclusively Colorado-made wine – 300 varieties from over 35 local wineries. Past participating Colorado wineries have included Water to Wine, Sweetheart Winery, and Spero Winery.
Breckenridge Wine Classic
The Breckenridge Wine Classic hosts a wide variety of activities for wine enthusiasts. Events change yearly but have included dinner pairings, hikes with winemakers followed by a freshly prepared lunch, outdoor tastings, and educational seminars about choosing the best glass.
September
Snowmass Wine Festival
The Snowmass Wine Festival is a two-day event with wine tastings, food, and live entertainment taking place in Snowmass Village. Previous festivals gave opportunities to meet and learn from winemakers, a DJ during the grand tasting event, and a silent auction raising money for various not-for-profits.
Colorado Mountain Winefest
This will be the 32nd year for the Colorado Mountain Winefest, which is the largest fundraiser for the Colorado Association for Viticulture & Enology. In addition to tastings, Colorado chefs lead wine-related food demos, such as food and drink pairings and DIY charcuterie boards. Additional educational seminars have included wines made by women winemakers and celebrating the history of Colorado vino.
Tour de Vineyards
Tour de Vineyards combines two favorites in Palisade – biking and wine. Before the Colorado Mountain Winefest begins, participants can bike through the town's sprawling vineyards. Riders choose between a 23-mile route following Palisade Fruit & Wine Byway or a 58-mile route that adds on a loop over the Reeder Mesa. Both options end with a nice meal before you head off to the winefest.
Lake City Uncorked Wine & Music Festival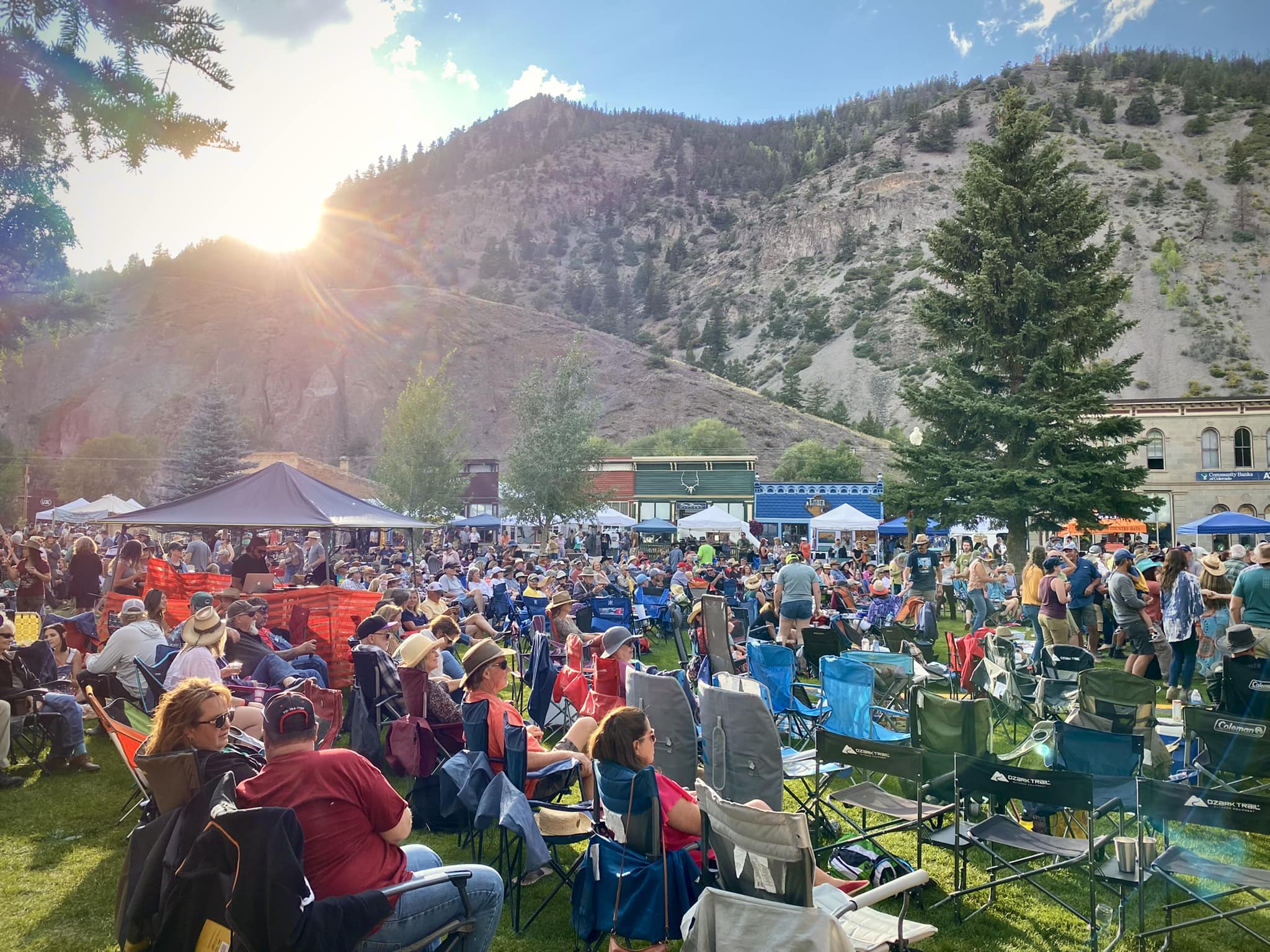 Lake City Uncorked Wine & Music Festival is held the third weekend of every September and features musical acts, wines for sampling, and beer from San Luis Brewing. This festival is hosted by Lake City DIRT, an organization dedicated to historic preservation and economic revitalization – all proceeds benefit the town. Each year, there is a new custom wine glass available for purchase.
Steamboat Food & Wine Festival
The Steamboat Food and Wine Festival is a multi-day wine extravaganza. There are several tastings, including sessions that highlight a specific region, such as wines of Tuscany. The fest offers a lot to learn with food pairings, seminars, and interactive workshops taught by industry experts. Esteemed chefs create wine-focused dishes and food pairings.
Boulder Valley Wine Festival
Tickets to the Boulder Valley Wine Festival include a commemorative glass, wine tote, and unlimited tastings. Colorado wineries previously in attendance include Avanti Winery, Bad Bitch Cellars, and Maison La Belle Vie Winery. Cider has also been available from Wild Cider, St. Vrain Cidery, and Climb Hard Cider.
Wine Festival at Island Lake
Located in Northern Colorado at the NOCO Islands, there are more than 200 wines served from over 15 Colorado wineries, and wine is available for purchase. Other entertainment includes live music, food, and retail events. The VIP Island features a catered food and wine bar.
November
Boulder Burgundy Wine Festival
This weekend-long festival highlights the wines of Burgundy through a variety of events – dinners, lunches, educational seminars, and a grand tasting, serving more than 200 wines. Special guests in previous years have included Sommeliers, esteemed wine journalists, and top Burgundy producers. Everything is thoughtfully organized by Boulder Wine Merchant, run by a Master Sommelier.
The festival is a not-for-profit, raising money for various local causes in its 12-year history, including Sophie's Neighborhood and There with Care, as well as the Somm Foundation, which helps provide opportunities for aspiring wine professionals.
Estes Park Holiday Wine Festival
The Estes Park Holiday Wine Festival is not only a chance to taste wines but also to shop retail and craft vendors for holiday gifts. This festive event has more than a dozen Colorado wineries with more than 100 varieties available for unlimited sampling.
Colorado Uncorked
Colorado Uncorked is the public tasting of The Governor's Cup Collection and the only opportunity to try all of the collection at the same time. The locally made wines are paired with small bites created by Colorado chefs.
As you can tell, the wine flows year-round in Colorado. Keep this ever-expanding list of the best wine fests handy and add a few events to your calendar.