If you're looking for the most snow in Colorado, you'll have to head uphill. Tucked into some of the high-elevation areas throughout the state, Colorado's Rocky Mountain ski resorts and communities receive some of the highest annual snowfall rates both locally and nationally.
Once the temperatures drop below freezing, snow can come at any time of the year. However, as long as you dress appropriately (in layers) and have tires with a lot of tread (opt for snow tires if you can), and take it slowly, you'll be fine.
What ski resorts in Colorado get the most snow?
With many different destinations recording hundreds of inches of snow year after year, there are plenty of powdery ski areas to choose from. Each offers a variety of stunning slopes and resort amenities.
Using data from ZRankings, a website dedicated to analyzing the best ski resorts in North America, let's take a look at the local ski areas that receive the most snowfall on average, each year.
1. Wolf Creek Ski Area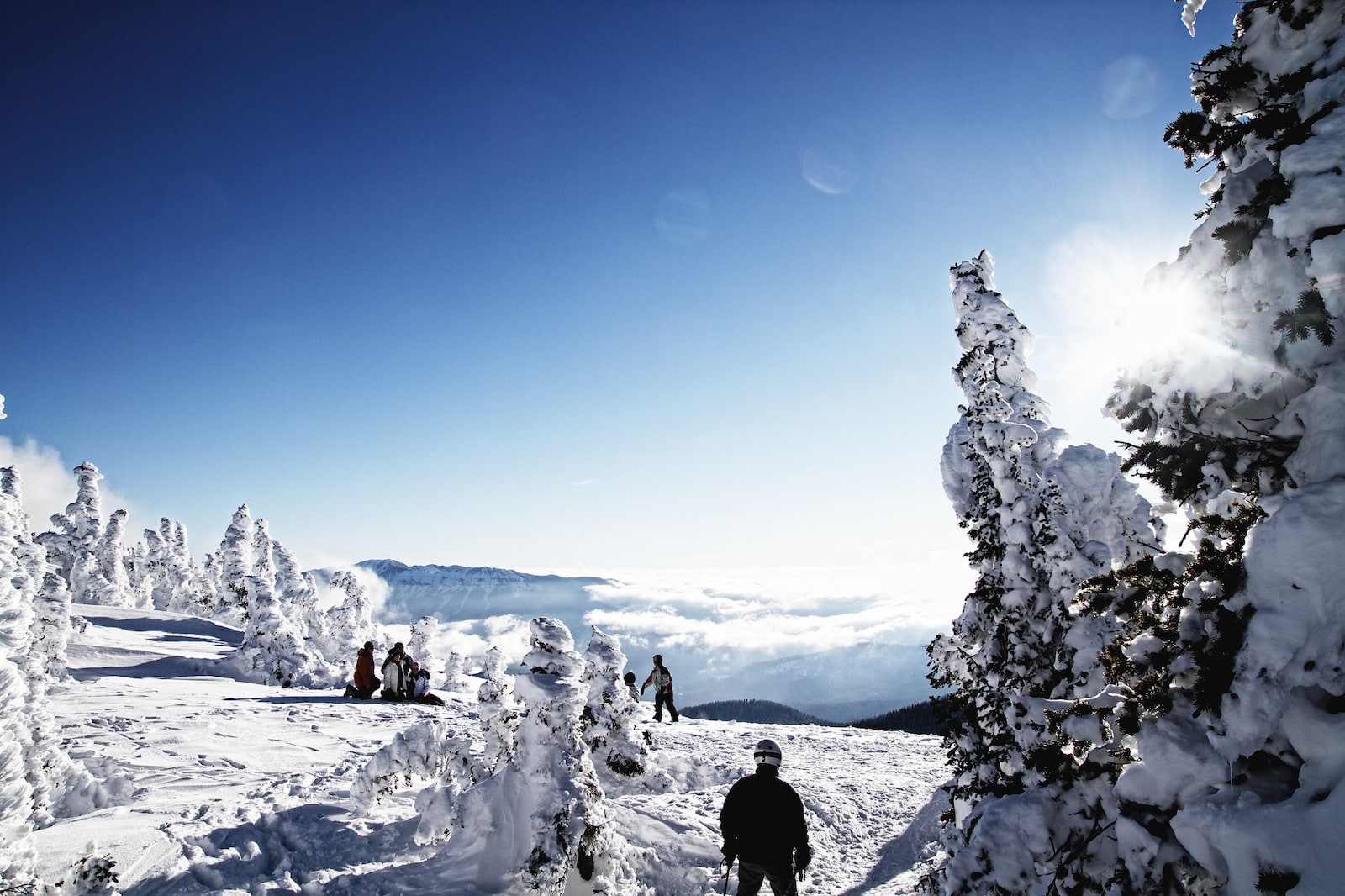 Boasting short lift lines and more powder days per season than most people can handle, the Wolf Creek Ski Area north of Pagosa Springs has the highest annual snowfall rates of any local resort destination. With plenty of lift-assisted and backcountry terrain areas open to skiers and snowboarders, there are lots of ways that visitors can enjoy the 387" of average annual snowfall.
Located near Wolf Creek Pass at a base elevation of 10,300 feet, some estimate that the Wolf Creek Ski Area actually receives over 400" of snow each year. With a chance of snow for up to 10 months out of the year, this winter playground was even able to famously record 550" of snow during the 2018-2019 season, granting it its motto of "the most snow in Colorado."
2. Steamboat Ski Resort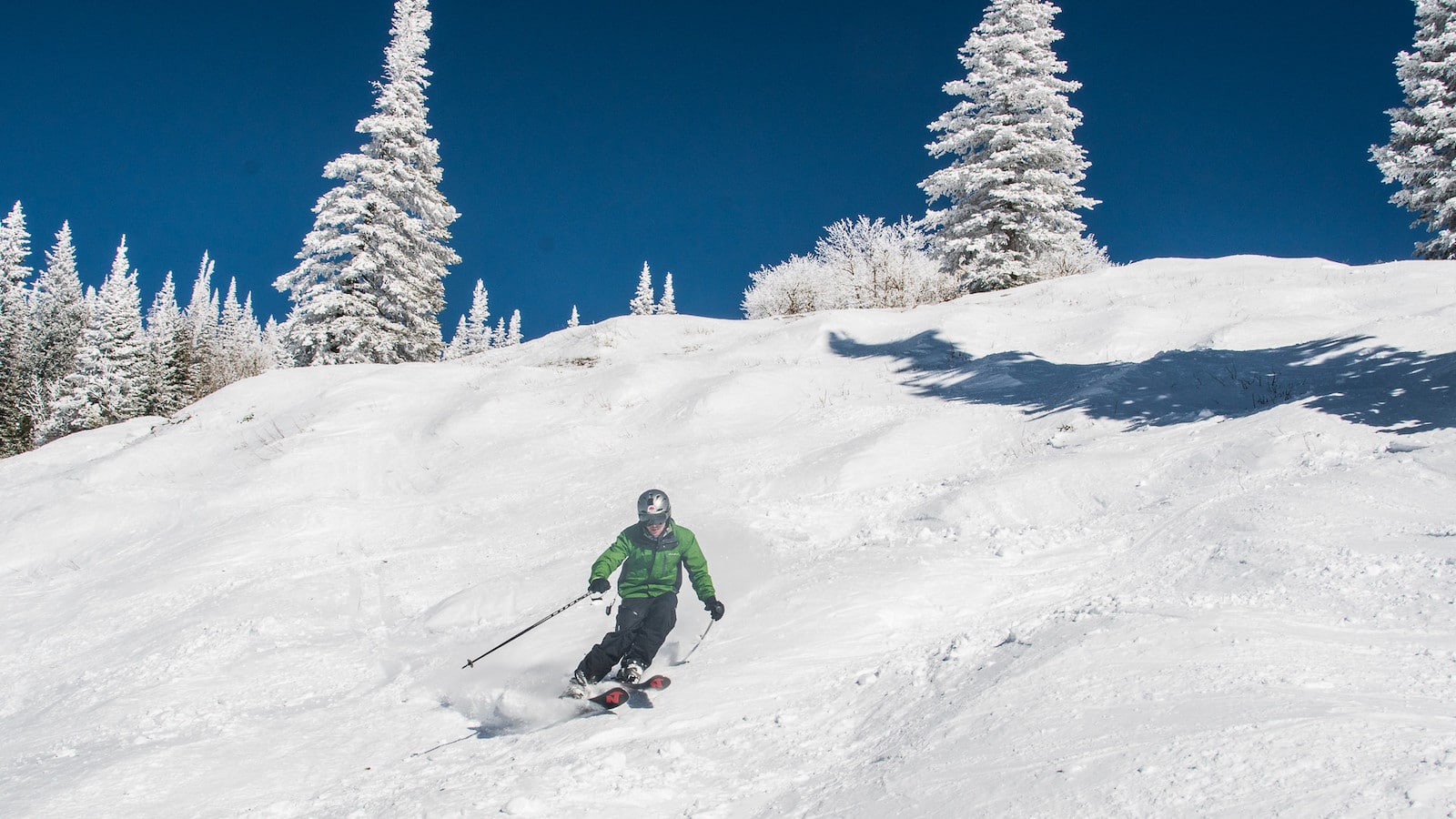 In a close second place, Steamboat Ski Resort in northwest Colorado receives a true average annual snowfall of about 368". Despite its status as one of the lowest ski areas in the state (with a base elevation of 6,900 feet above sea level), Steamboat's warmer temperatures do not prevent the resort's runs from compiling its famous "Champaign Powder."
Another bonus to this epic resort is its tree runs. They host probably the best tree-skiing in the state (hands down), which holds powder stashes for days after a storm (if you know where to look).
3. Vail Ski Resort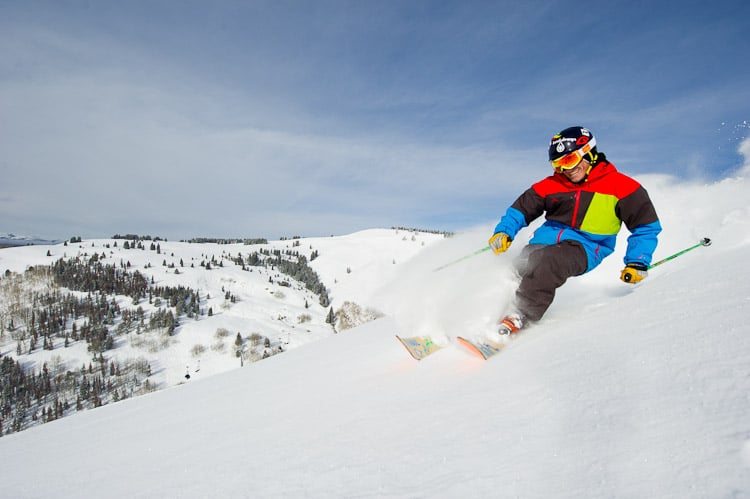 Vail Ski Resort has rightfully earned its recognition as one of the quintessential winter sports destinations in the world, thanks to its 354" annual snowfall and massive acreage. Stretched across 5,317 acres of skiable terrain, it's not only the largest ski resort in the state but also consistently ranks as one of the most visited ski areas in the country.
If you can catch Vail on a powder day, head immediately to its incredible back bowls. There is nothing else like it in the state.
4. Winter Park Ski Resort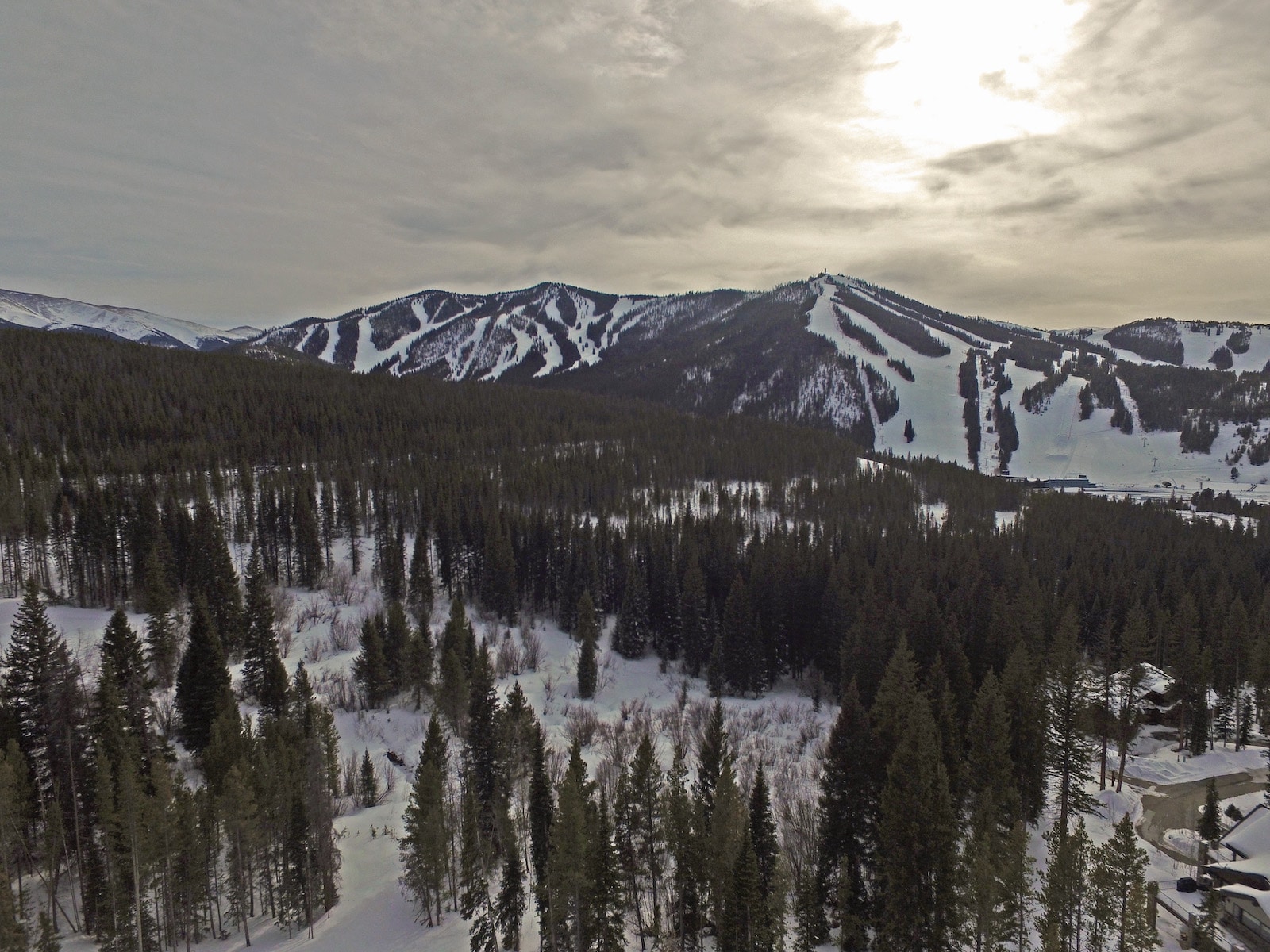 Located in Grand County, Winter Park Ski Resort is one of Colorado's best places for powder sports, with reasonable prices, a short commute from Denver, and an average of 347" of annual snow. With a base elevation of 9,000′ and lifts that bring guests all the way to 12,060′ above sea level, this ski resort is full of great downhill terrain for beginners and advanced riders alike.
Mary Jane Mountain (part of the resort) has some pretty solid tree skiing for those looking for fresh lines long after the snow has fallen. It also boasts Parsenn Bowl and some fun hike-to terrain.
5. Loveland Ski Area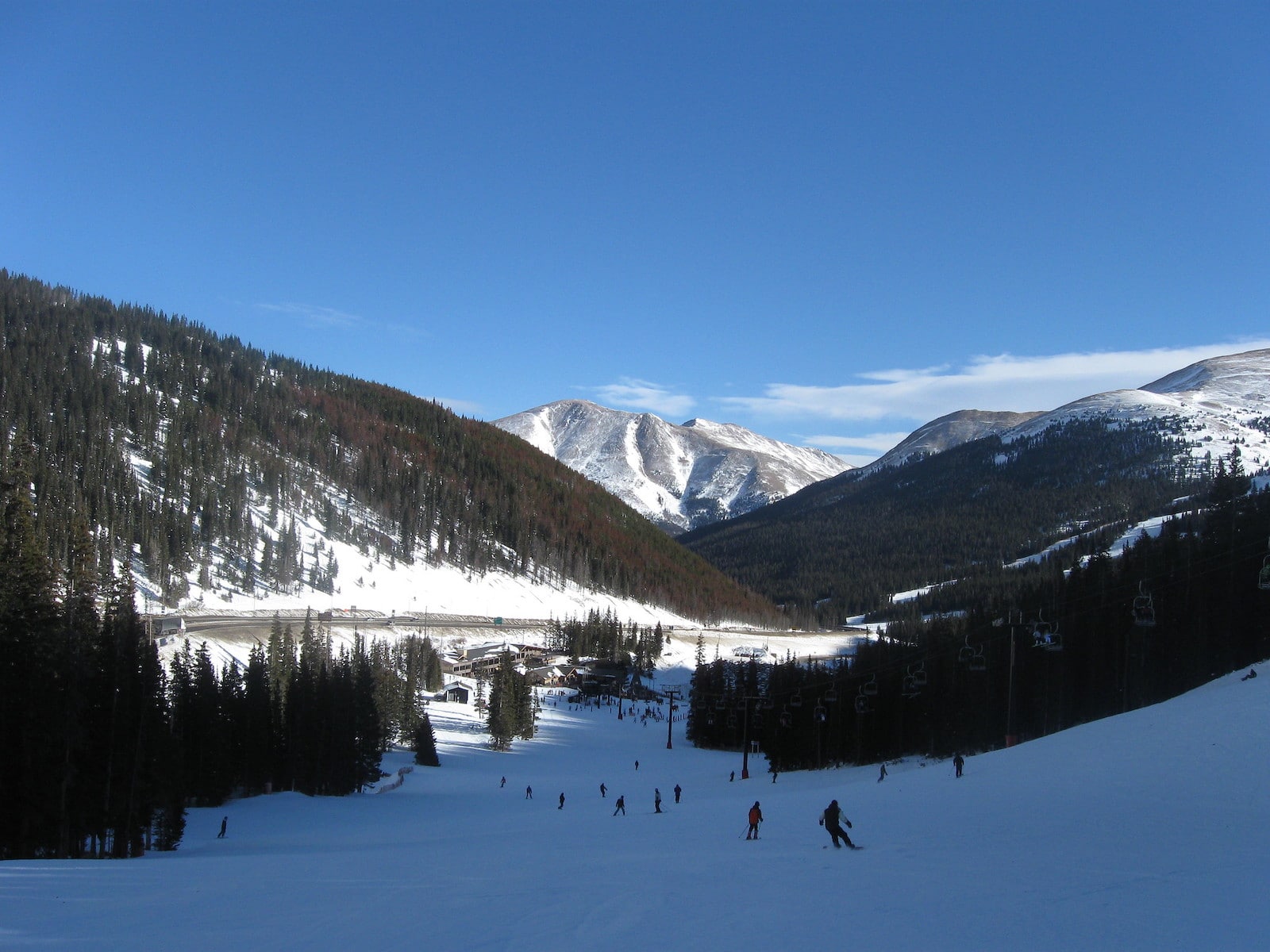 Along the Great Continental Divide and above the Eisenhower-Johnson Memorial Tunnel, Loveland Ski Area is a locals' favorite place for straightforward outdoor fun. While it lacks some of the convenient accommodations and services that surround typical larger ski resorts, its convenient proximity to Denver and 344" of snow each year make it a reliable place for powder hounds.
You may not know driving by, but Loveland spans both sides of Interstate 70. Head to the north side to escape the crowds and you can head back through a tunnel under the highway.
6. Beaver Creek Resort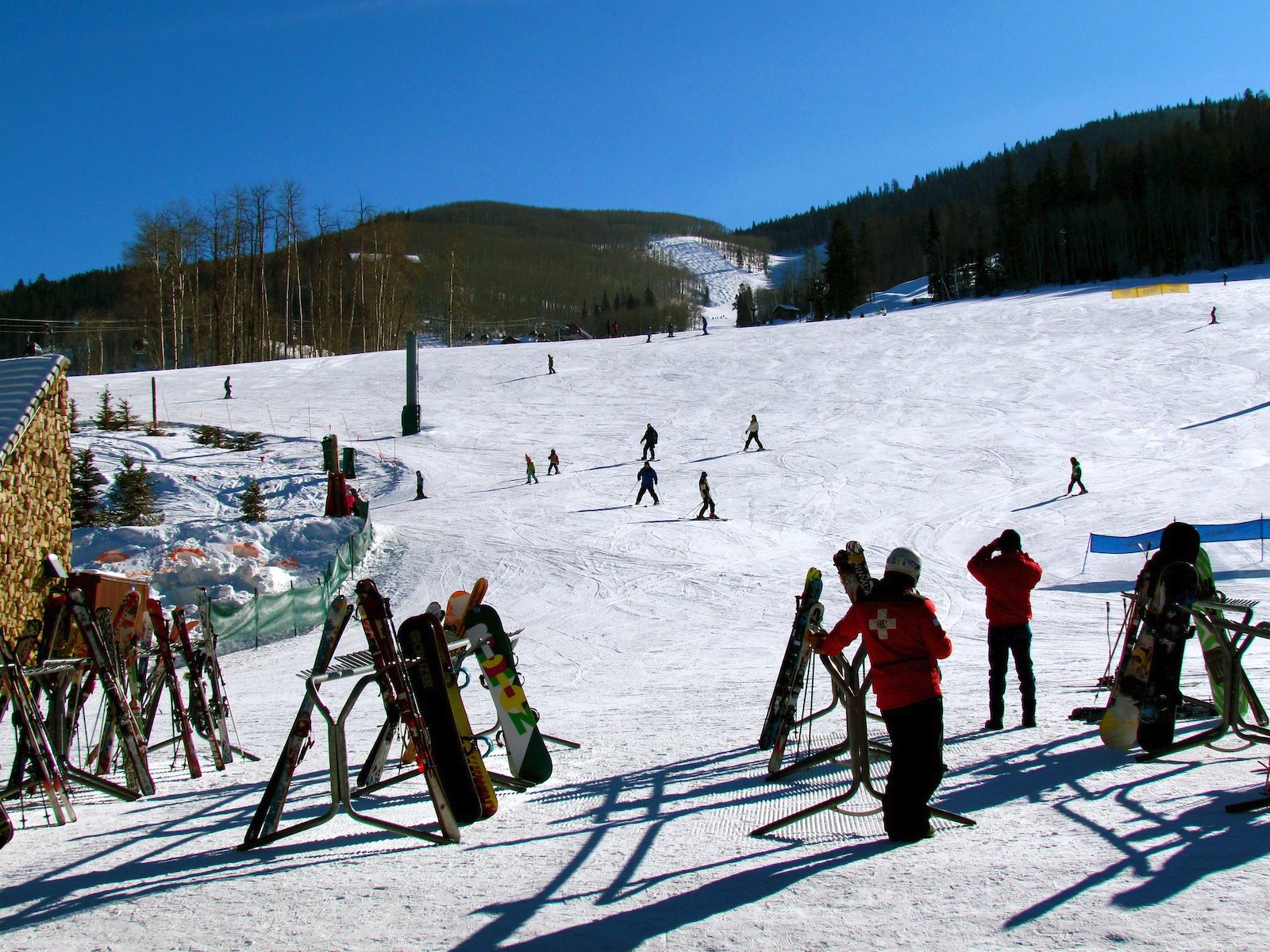 Through the tunnel and over Vail Pass, Beaver Creek Resort is another cool location for outdoor winter sports within the Interstate-70 corridor. Sitting above the town of Avon, this ski area receives approximately 325" of snowfall every year, making it one of the state's top places to combine a powder day on the mountain with luxury resort services.
For those up for a challenge, test your mite on Birds of Prey. It's Beaver Creek's World Cup downhill course, open to riders and skiers alike. Expect a steep and fast run, so pray (pun) for fresh lines to slow your speed.
7. Arapahoe Basin Ski Area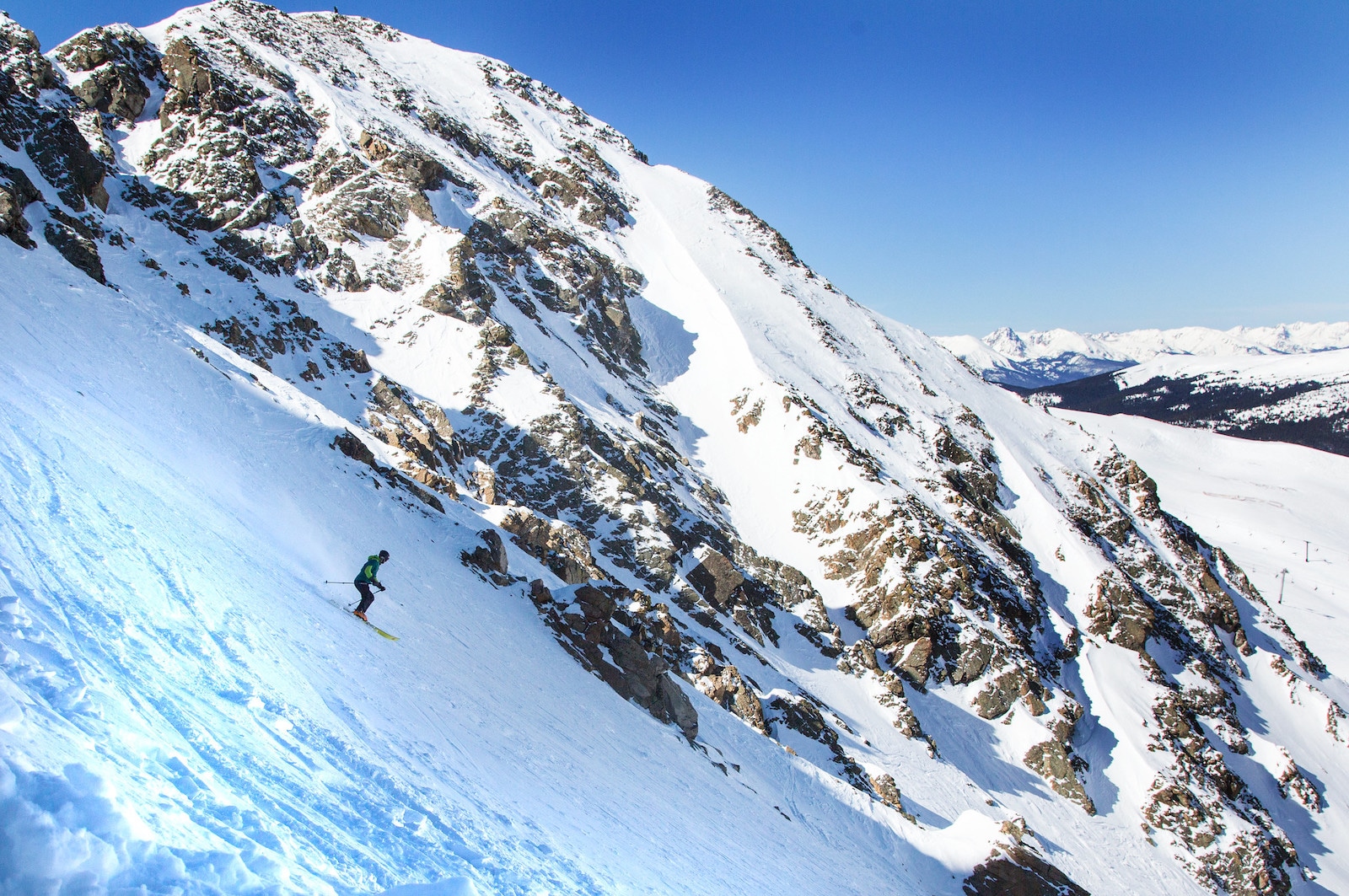 Residing across the Divide from Loveland Ski Area, Arapahoe Basin (also known as "A-Basin") receives an average of 314" of snow each year. Very popular amongst locals well into the spring, A-Basin's 12,472' summit and north-facing exposure help keep the area's snowpack intact. It has the state's best skiing and snowboarding conditions through April and May.
Pack your BBQ supplies and plan to tailgate at "The Beach". This is A Basin's parking lot that keeps the party going throughout the ski day. BYOB of course (at The Beach), but there's a 6th Alley Bar too around the corner.
8. Snowmass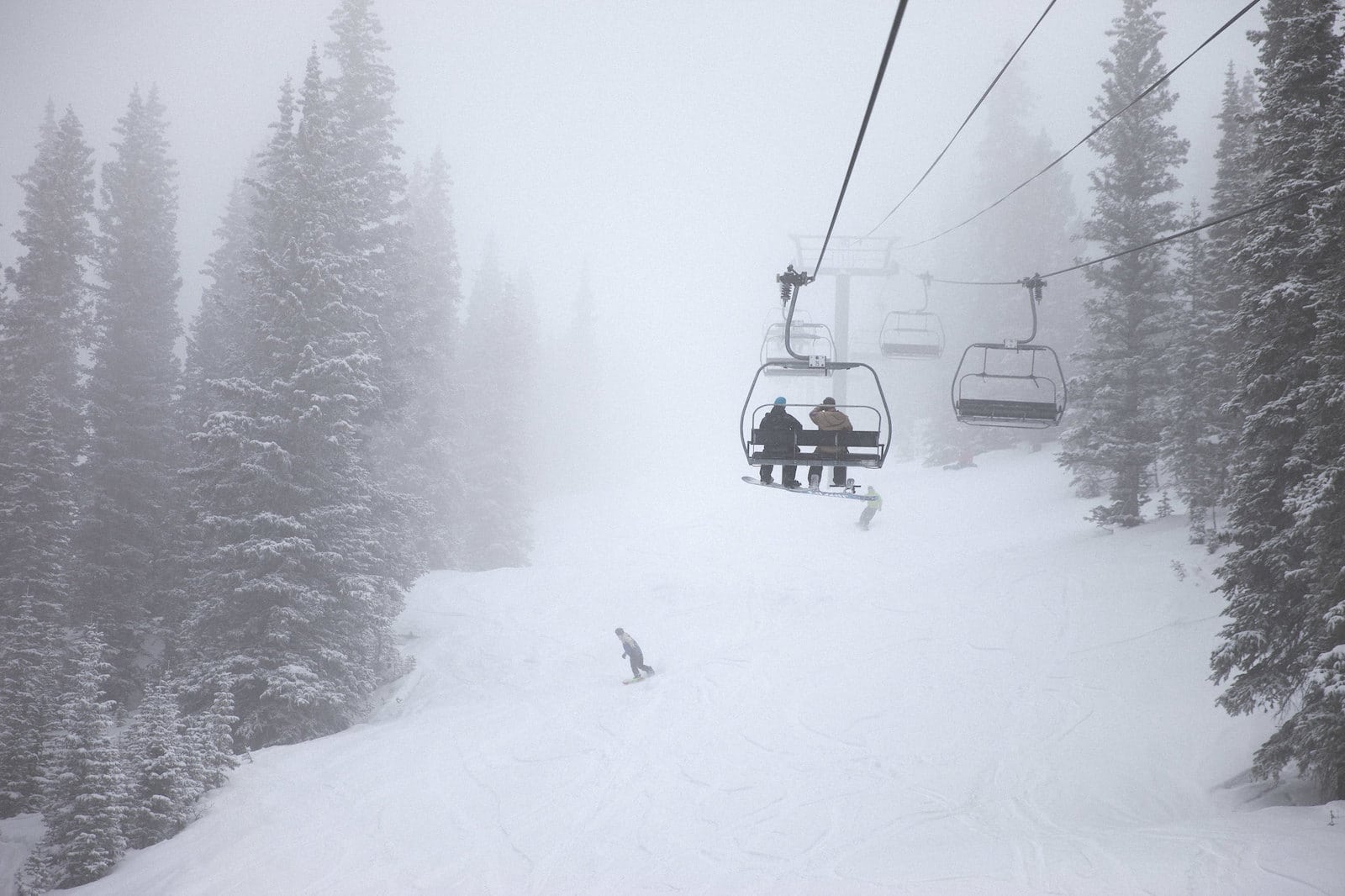 One of Aspen's four resorts, Snowmass is among the state's largest, with 3,342 acres of terrain fit for families and professionals alike. Accumulating an average of 295" of snowfall each year, the rolling hills and towering peaks of Snowmass make it a prime place for powder days and après-ski activities.
There's really no going wrong anywhere on this big winter playground, so ditch the trail map and have at it. Your lift tickets here are good at the three other Aspen ski resorts: Aspen Mountain, Aspen Highlands, and Buttermilk. Plus, Snowmass boasts the most ski-in/ski-out hotel accommodations in the state.
9. Monarch Mountain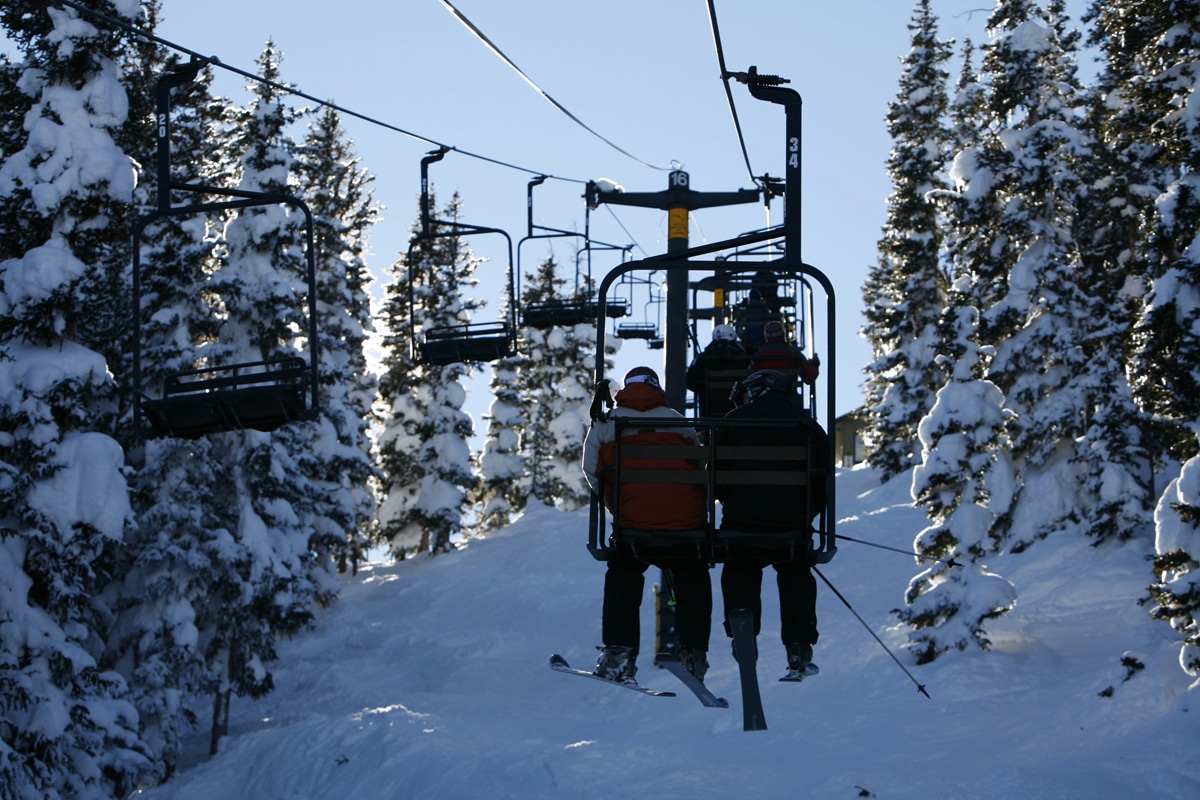 Located west of Salida near the summit of Monarch Pass, Monarch Mountain is a fun, independent ski area that receives 284" of annual snowfall. Operating on San Isabel National Forest land, the 800 acres of skiable terrain surrounding Monarch's high elevation base area (10,790') make it a terrific, small destination for an affordable world-class experience.
Perks at Monarch include uncrowded slopes and cheaper lift tickets. If you go here on a weekday during a blizzard, you'll have as many fresh lines as you can handle. There's also some hike-to terrain that keeps the thrill going a little longer.
10. Breckenridge Ski Resort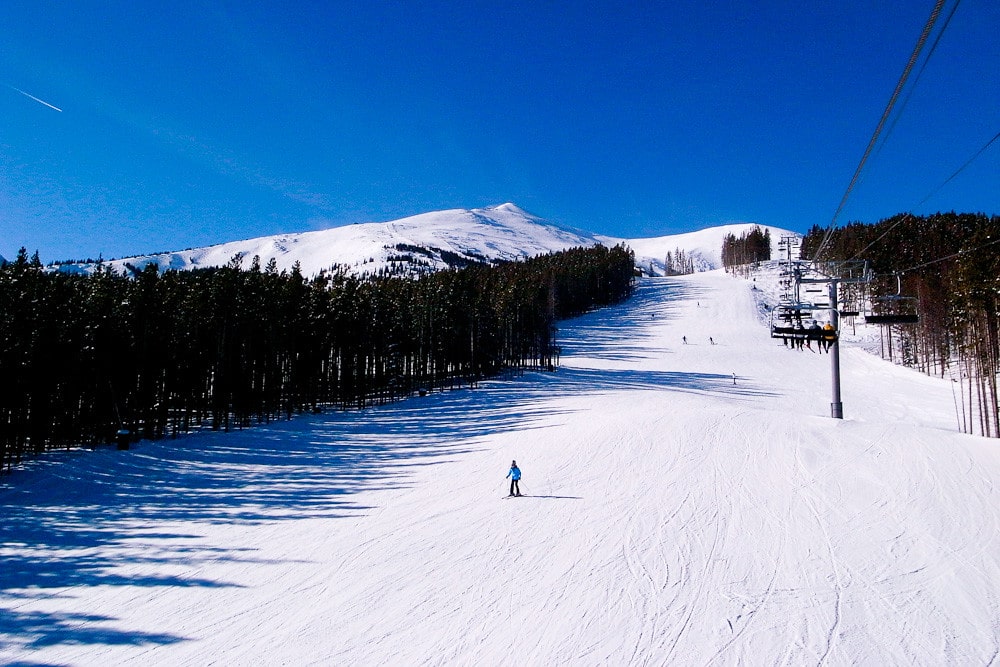 Finally, Breckenridge Ski Resort is Colorado's second most visited ski area after Vail and ranks tenth in the state for the highest annual snowfall. With an average of 282" of snow each season, visitors can shred pow all the way into town by taking one of the resort's many winding runs down from nearly 13,000 feet in elevation.
The 5 peaks, 187 trails, and 2,908 skiable acres are required to escape its crowds. Though you're assured a cool time at a resort that claims the highest lift-served terrain in the Centennial State.
What cities in Colorado get the most snow?
All of Colorado's snowiest towns are located up in the Rocky Mountains, way above the bustling cities of the front range urban corridor. Colorado's ski resorts are able to record some of the highest average snowfall rates within the state. Plus, they boast gondolas and ski lifts to bring skiers and snowboarders to the tops of the Rocky Mountains to access these winter wonderlands.
Heading downhill to the areas that support a living community, it shouldn't come as a surprise that a handful of Colorado's mountain towns consistently rank as the snowiest places in the state year after year.
Using annual averages based on weather data collected from 1991 to 2020, here's a look at some of the snowiest towns in Colorado. Keep in mind that these rankings fluctuate each and every year, so just take the list as entertainment and not fact. We do our best to research and fact-check but the internet is a wild place :))
1. Crested Butte, CO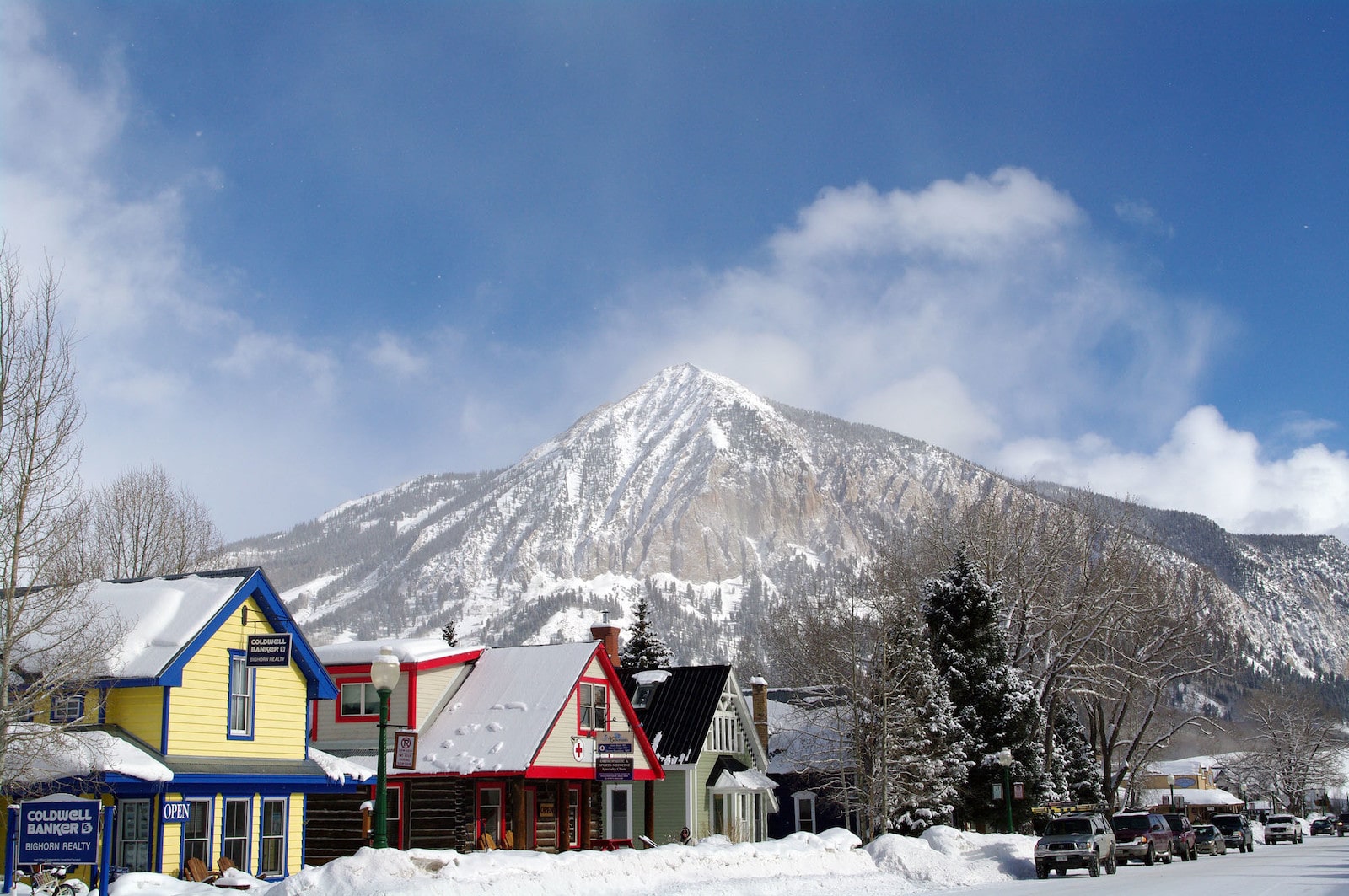 While the Crested Butte Mountain Resort just escaped our top ten list with 253" of annual snowfall, the town itself ranks as the snowiest place in Colorado with 216.6" of snow each year. With an average of about 69 snow days annually, Crested Butte's location at 8,909 feet above sea level makes it a thrilling destination to enjoy both downhill and Nordic skiing. It's considered "Colorado's last great ski town."
2. Vail, CO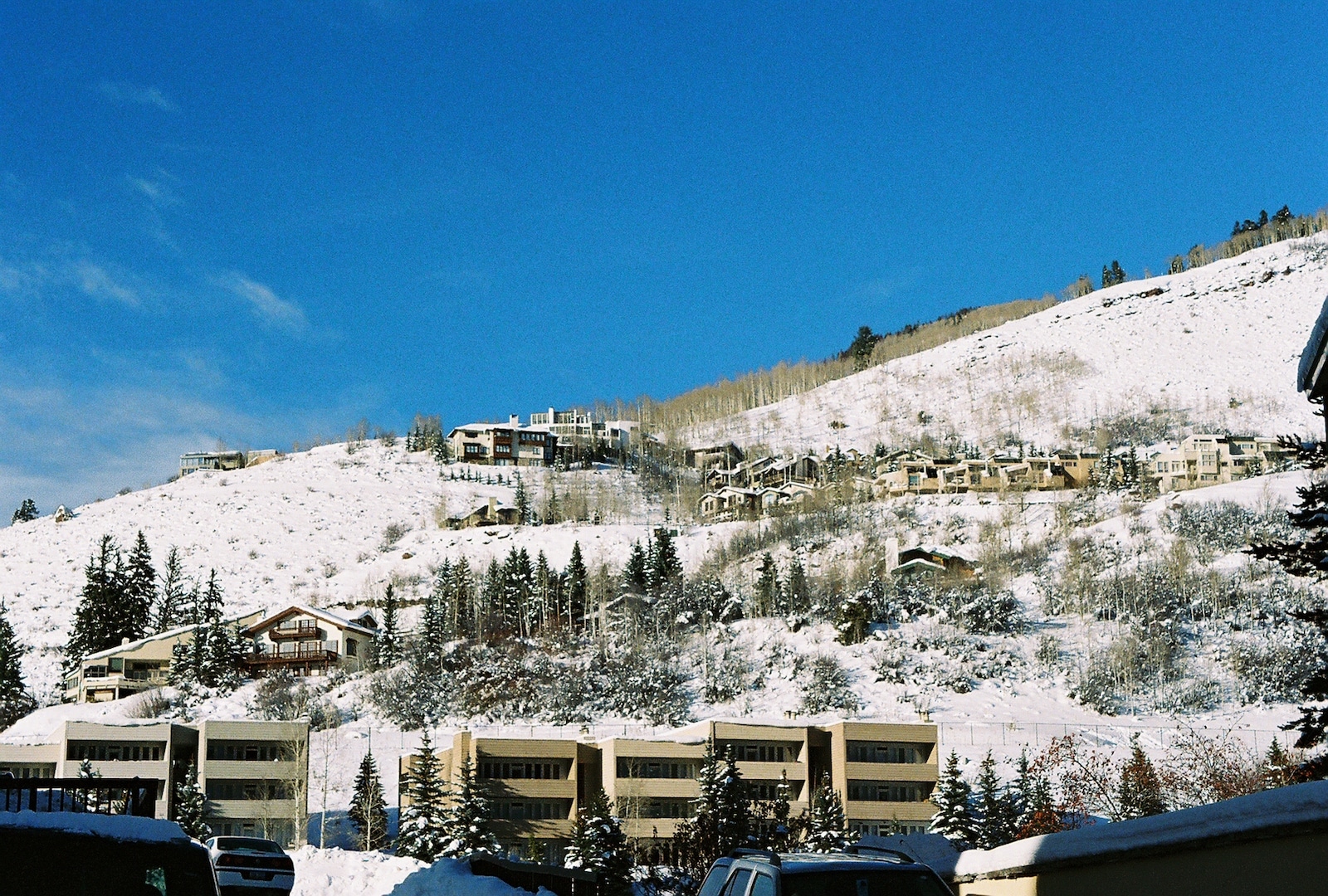 Resting at 8,150 feet in elevation below its world-famous skiing terrain, the town of Vail receives an average snowfall of 189.2" each year. And if downhill skiing or snowboarding isn't your thing, that's okay. From snowmobiling and cross country skiing to tubing and ice skating in town, there are plenty of ways to enjoy a snow day in the Vail Valley.
3. Breckenridge, CO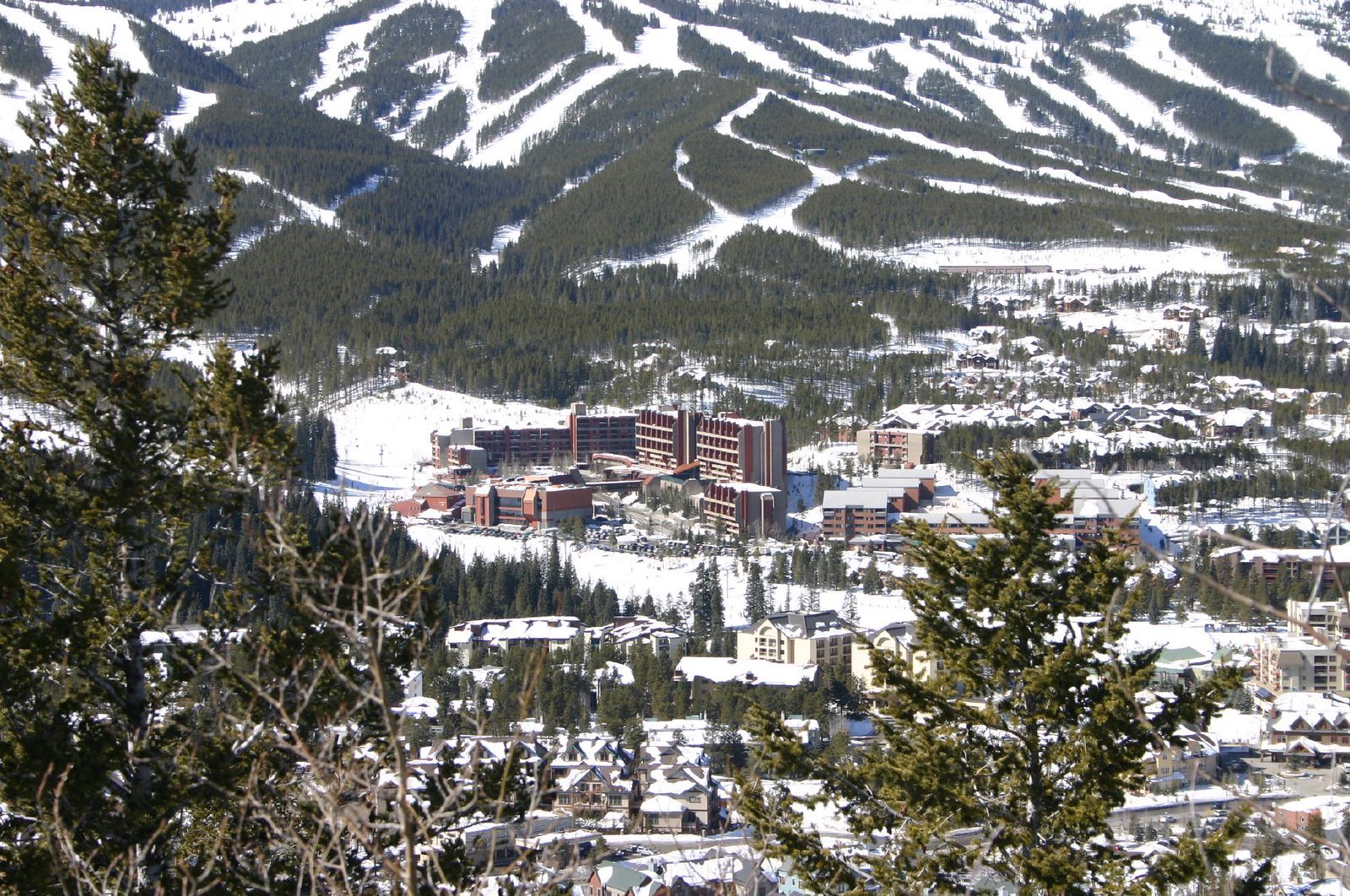 With about 80 snow days per year, the town of Breckenridge ranks third in the state for annual snowfall with an accumulation of approximately 184.6" on average. Notoriously referred to as one of the best mountain towns in America, lucky visitors may be able to enjoy a bit of the white stuff anytime from October through May. Resting high at 9,600′ of elevation, the nickname some locals call it, "Breckenfridge".
4. Steamboat Springs, CO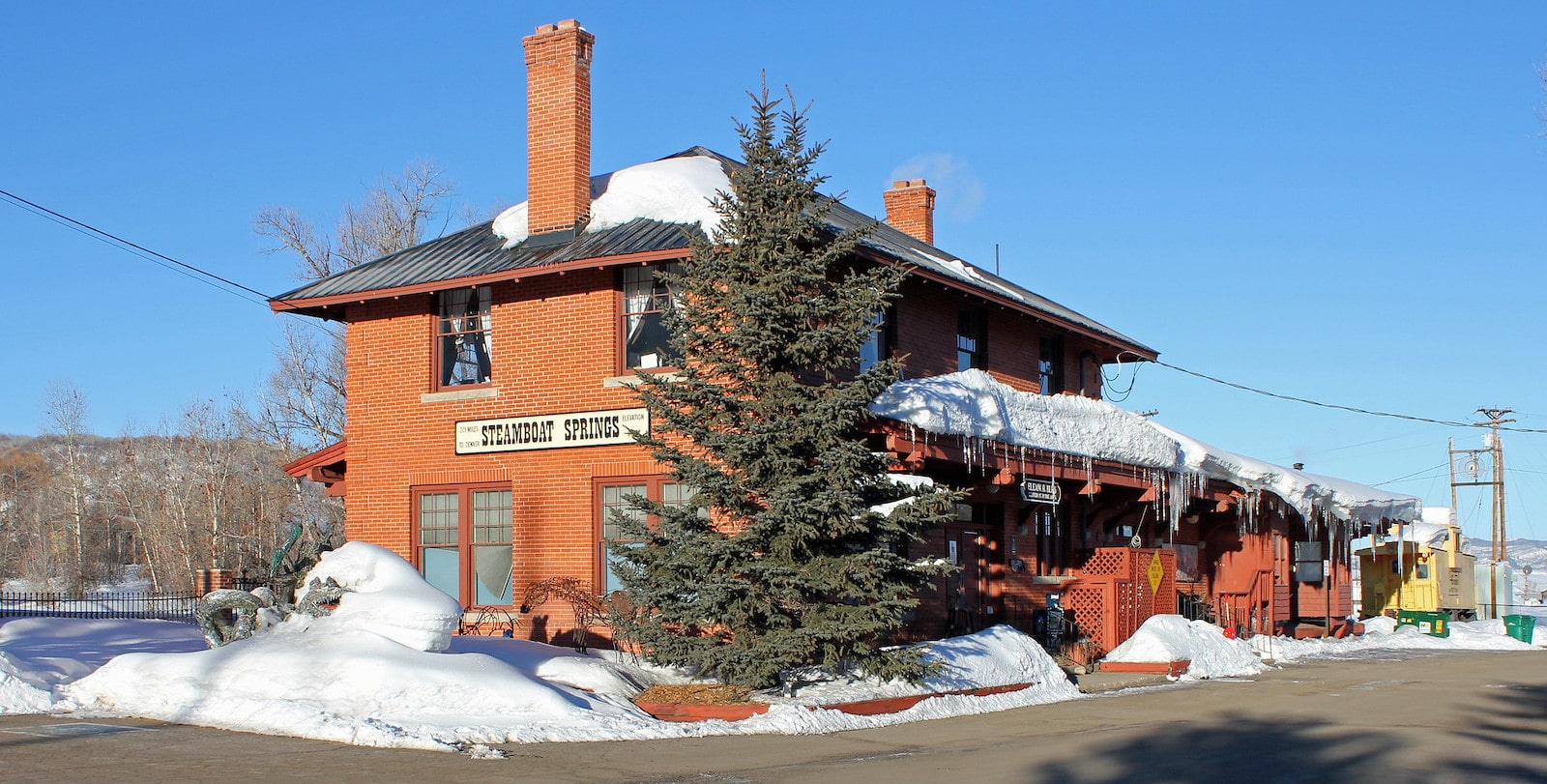 Hosting the second snowiest ski resort in Colorado, Steamboat Springs ranks as the fourth snowiest town in the state, with an average annual snowfall of 184.5". Recording significant powder from October to April, "Ski Town USA" averages over 70 snow days every year. Located about 3 hours from Denver, out-of-staters and locals alike should (and do) put "the Boat" on their itinerary.
5. Silverton, CO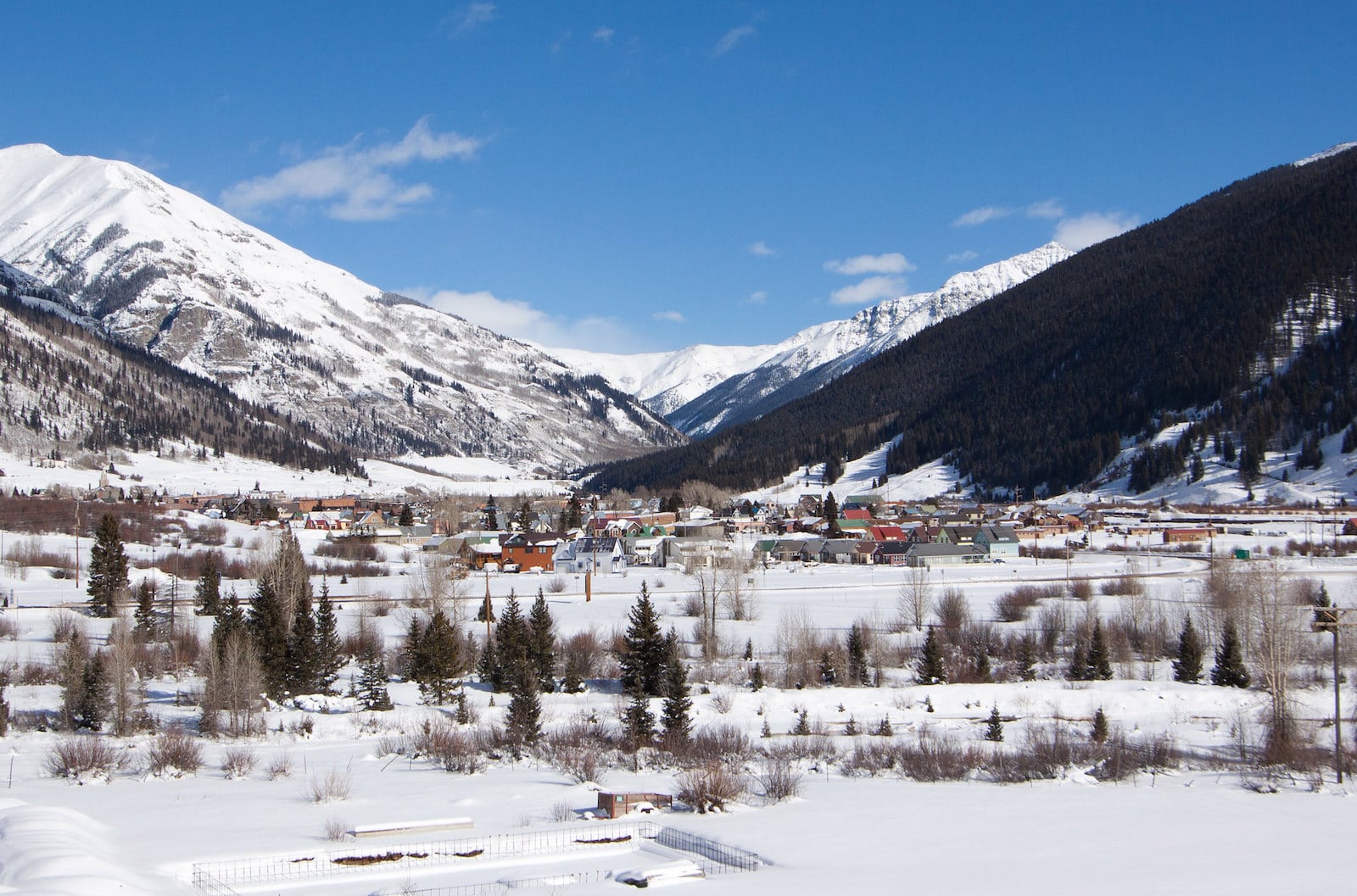 As the only incorporated community in San Juan County, the remote town of Silverton receives a mean annual snowfall of approximately 172.6". And although the nearby Silverton Mountain has recorded seasons with over 400" of snow, there are rumors that these numbers may be embellished. With that said, Silverton is one of the few towns where heli-skiing is on the menu, plus there are other seasonal activities nearby in the San Juan Mountains.
6. Aspen, CO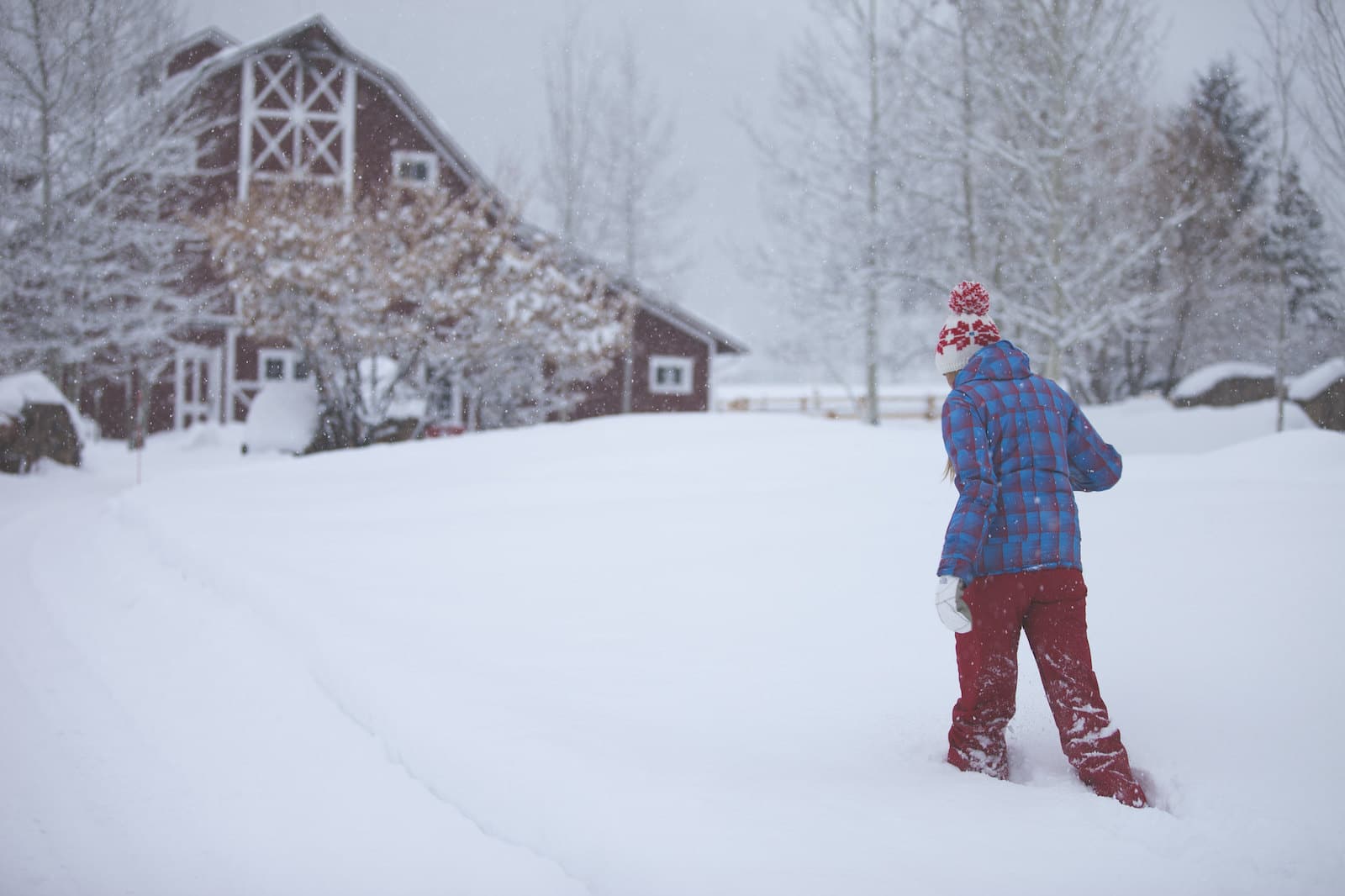 Recording an average of about 170" of snow each year, the city of Aspen ranks sixth in terms of annual snowfall. As a cultural hub with a myriad of things to do in and around town, a winter visit to this picturesque Pitkin County Seat can only be made better with a fresh blanket of snow. Pack your wallet though, this is one of our state's fanciest gems.
7. Frisco, Silverthorne, & Dillon, CO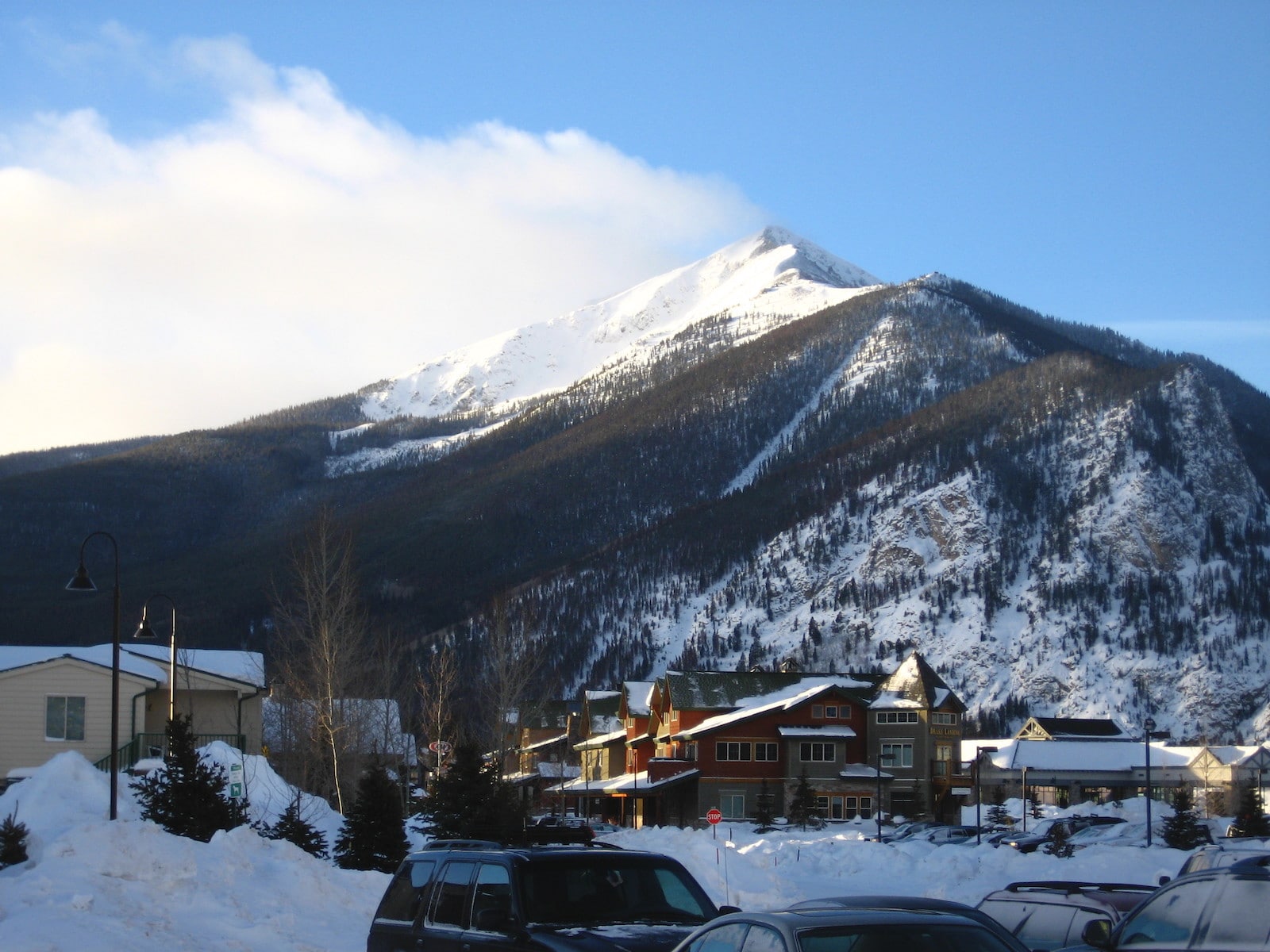 Circling the Dillon Reservoir in Summit County, the towns of Frisco, Silverthorne, and Dillon receive an average of about 159.2" of snowfall every year. In close proximity to Breck, Copper Mountain, and a handful of other ski areas, this set of three mountain communities is one of the most common places to visit or live in Colorado's high country.
8. Leadville, CO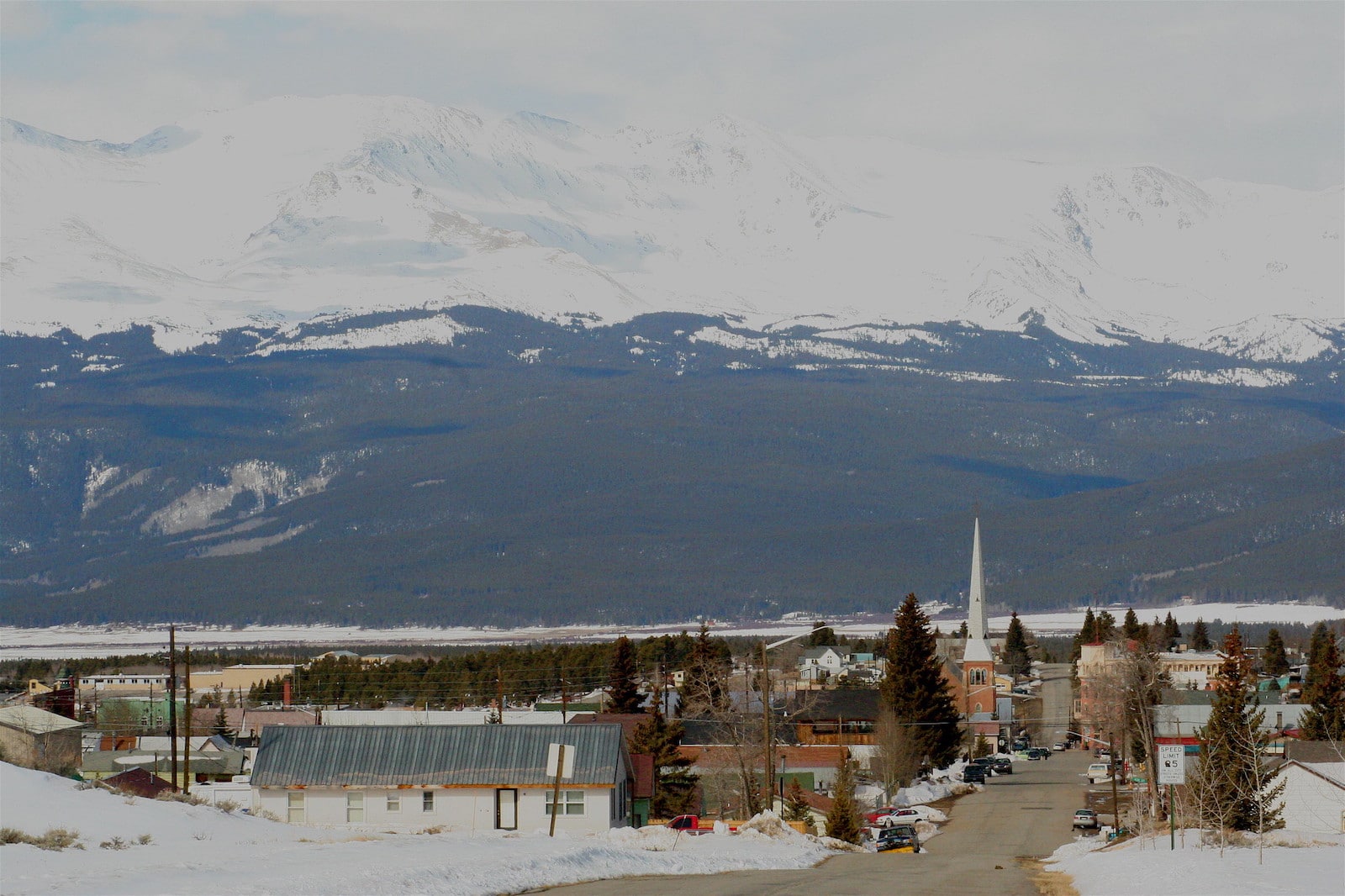 Leadville accumulates an average of 156.7" of snowfall each year as the "highest incorporated city in America" at 10,200 feet in elevation. And while Ski Cooper is an awesome and affordable spot for downhill runs nearby, Leadville is also one of the few places in America to enjoy skijoring. Every winter, visitors can watch horses pull competing participants through the snowy downtown streets as a part of the annual Ski Joring and Crystal Carnival Weekend.
9. Telluride, CO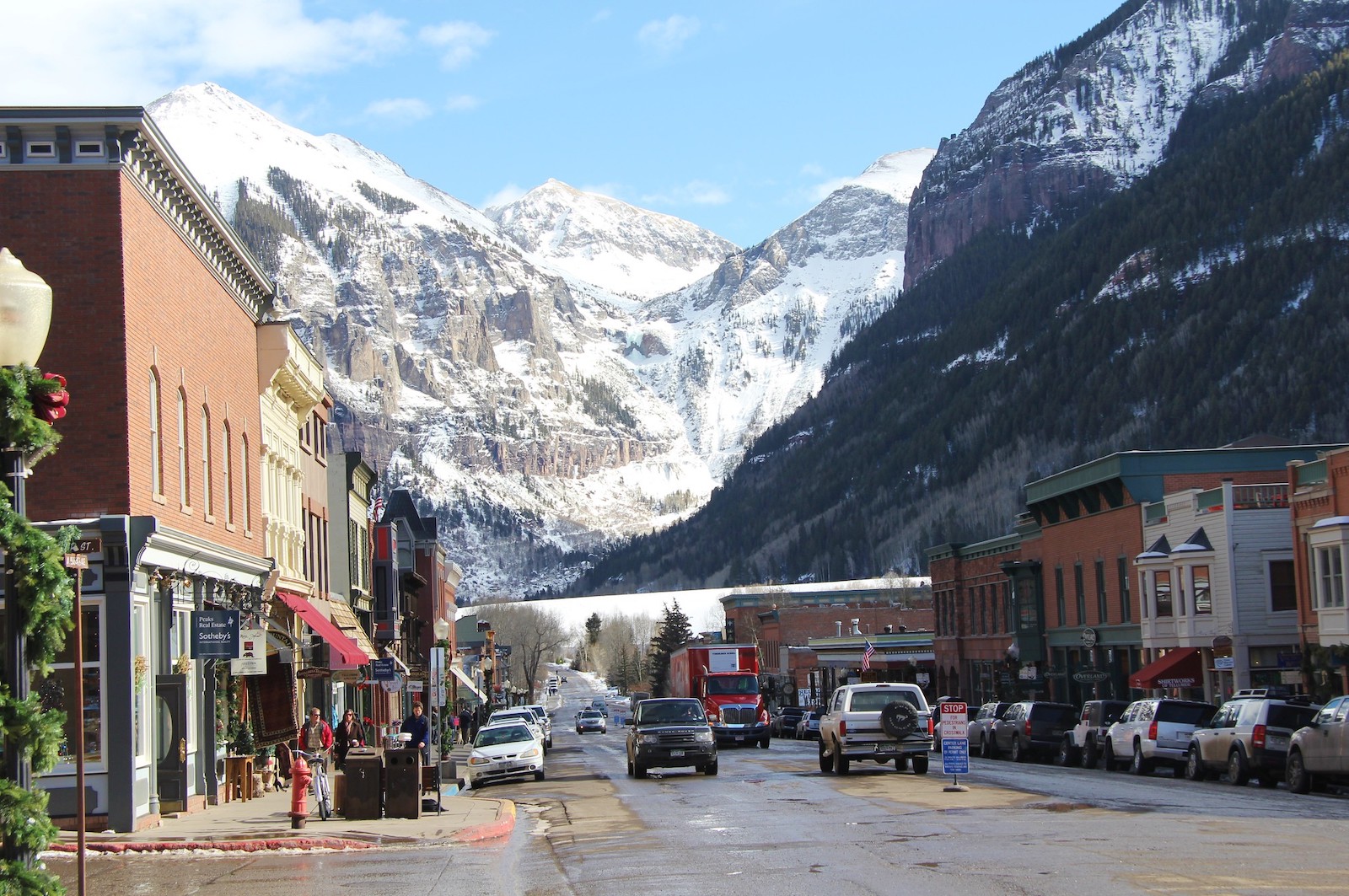 While we've explored many picturesque mountain towns, there are very few places in the world that can compare to the epic box canyon that surrounds Telluride. With the Telluride Ski resort's 276" of annual snowfall making it one of the most sought-after destinations in the state, the town of Telluride receives approximately 130" of snowfall each year. Mountain Village is an extension of the town, and a town of its own located a free gondola ride away from downtown.
10. Ouray, CO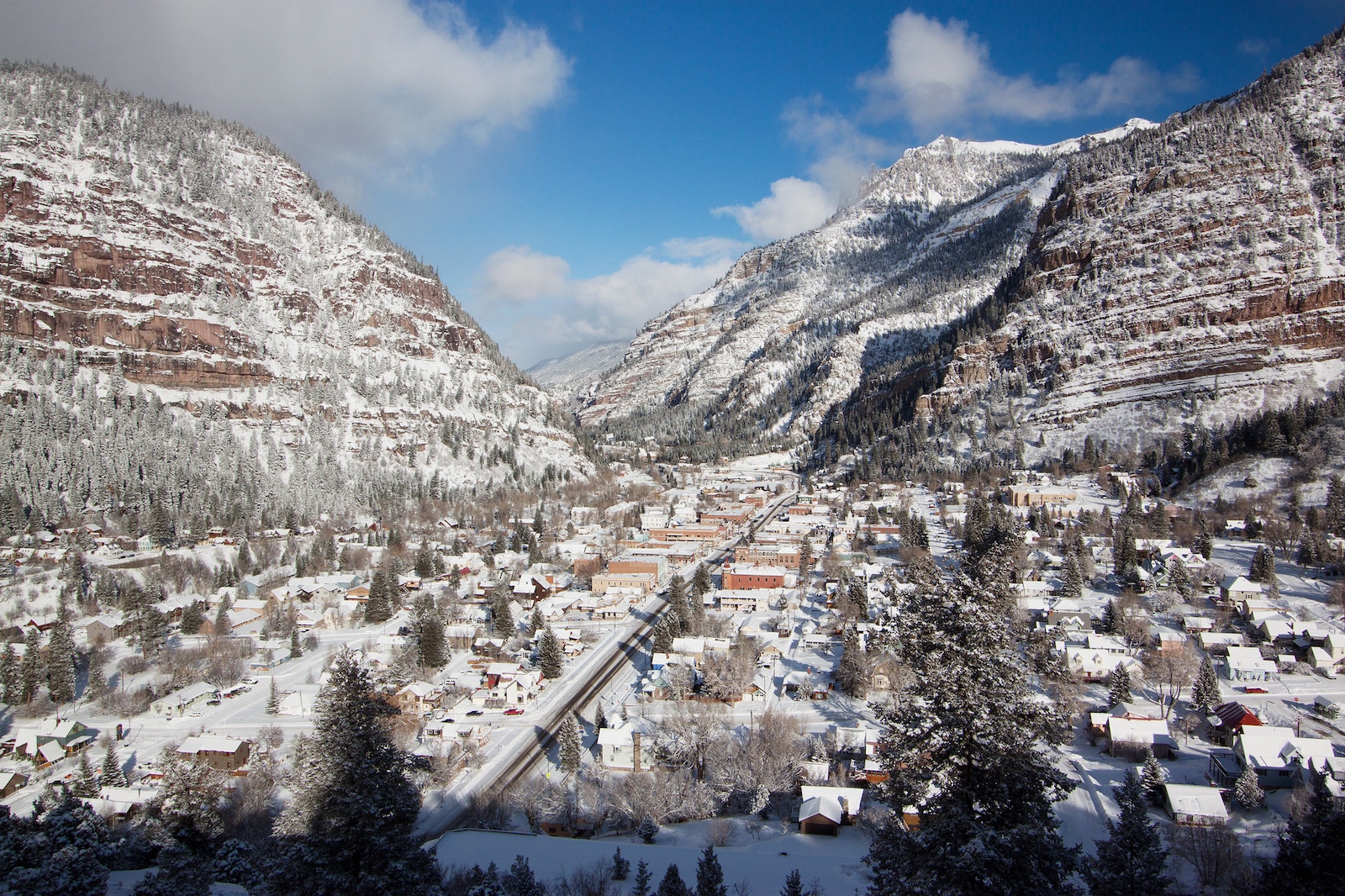 Finally, heading over Imogene Pass into Ouray County, the county seat receives an average of 126.4" of snow each year. And while it has grown to be a world-class destination for ice climbing, those visiting in the winter can also enjoy the outdoor snowfall from the comfort of Ouray's year-round hot springs. It's known as the "Switzerland of America" if that's any indication of the surrounding scenery and fluffy white stuff that falls.
Chasing the Powder
In closing, the Rocky Mountains are full of snowy destinations that make Colorado one of the most popular states in the country to visit each winter. From ski resorts to mountain towns, snow in Colorado can accumulate anytime from October to May, transforming any location into a winter wonderland.
No matter where you're planning to go, winter travelers should always be prepared for snowy conditions. Before journeying to any destination this winter, motorists are advised to check local road and weather updates to ensure that their vehicles are suited for safe travel. Try cotrip.org for the latest travel cams and road conditions, along with these winter driving tips.