[Basic tent site at Cheyenne Mountain State Park.] With all of the major tourist attractions around Colorado Springs, it's probably wise spending a night or two near town to see it all. While there are dozens of awesome accommodations to choose from, it's the season to camp, so why not pitch a tent or drive your RV into one of these top campgrounds around the Colorado Springs area.
These parks are suitable for a range of campers and amenities. Both tents and RVs will find campsites to accommodate. RVs will have a larger choice of campgrounds closer to the city of Colorado Springs. While tent campers will have best of luck heading west into the Rockies where there is more nature. All the campgrounds listed are within an hour drive of COS. This allows for you to get the best of both worlds. Wake up in the Rockies and spend you day exploring the world renowned city of Colorado Springs.
Top Campgrounds near Colorado Springs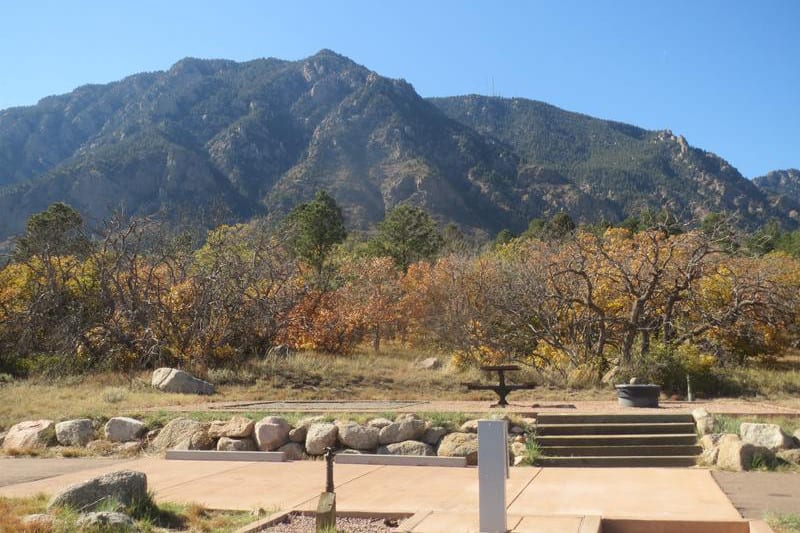 With 14,115′ Pikes Peak towering behind town, you can instantly tell that Colorado Springs is chock full of amazing landmarks. Luckily there are ample campgrounds to make your overnight stay affordable and unforgettable. Depending on where you'll be camping, you may need to provide your own sun cover in the form of a canopy tent. Chances are high on the front range that tree and shade coverage is tough to come by. Choose a campsite well west of the city into the wooded Rockies if you want a forest experience.
Dogs are welcome on-leash at all the listed campsites. All of them require a fee. They are listed in distance from Colorado Springs, with the closest one first. Only ones that permitted both tents and RVs were selected. There are some RV parks close to the city at the bottom more suitable for RVs and travel trailers than tents.
Plan ahead in The Springs! Here are our choices for the best tent and RV camping near Colorado Springs, in order of proximity:
Cheyenne Mountain State Park – Tents + RVs | 7 miles
Located only 7 miles south of downtown Colorado Springs, the 1680 acre Cheyenne Mountain State Park offers you the best camping closest to town. There 51 full hook-up sites suitable for a range of travel trailers and RVs, and 10 basic tent sites. The latter are beautiful walk-in sites complete with tent pad, picnic table and fire ring. All 4 campgrounds have lovely view of Cheyenne Mountain and the front range.
Because it's only a 10 minute drive from the hustle and bustle you'll want to reserve your campsite early. All campsites at this state park are available by reservation only. There is no 3-day reservation window for this park. You can book your spot by calling 1-800-244-5613 or 24/7 at cpwshop.com​.
Campers have access to 21 trails within the park's foot hills wilderness, spanning more than 27 miles. This is the perfect Colorado Springs tent and RV camping for those who love camping but crave for the amenities of city life. The campgrounds are open year round, with coin operated showers, laundry and activity room open seasonally. Kids can play at the fenced playground area. In 2019 it cost $28 for a tent site and $41, on top of the $8/$80 daily/annual state park pass.
10 JL Ranch Heights Rd, Colorado Springs, CO 80926 | 719-576-2016
Golden Eagle Campground – Tents + RVs | 10 miles
Boasting more than half the acreage of the above state park, the family-run Golden Eagle Campground features 900 acres of front range wilderness. The May Family has operated the Colorado Springs campground for decades since 1961. This one's located only a few miles south of Cheyenne Mountain State Park off Highway 115, so it's also close to the city with great views. You can reach downtown in 10 miles or a leisurely 20 minute drive.
Campers have access to over 12 miles of hiking trails, fishing lakes, mountain vistas and beautiful wildlife. There are options for tent camping, electric + water, plus full hook-ups at varying rates.
Worth noting is the check-in time between 2pm and 7pm. They do not accept late arrivals, so plan ahead. Check out is noon. You can reserve in advance, 2019 rates were $45 for electric + water (20-30 amp), $50 full hookup (30-50 amp), $65 full hookup deluxe (50 amp and more space). Long term discounts are provided for month long stays.
710 Rock Creek Canyon Rd #200, Colorado Springs, CO 80926 | 719-576-0450
LoneDuck Campground – Tents + RVs | 12 miles
This destination features terrific family camping at the base of Pike's Peak. From the LoneDuck Campground it's less than 20 minutes to downtown, so the location in Cascade on Highway 24 is central to everything. Families love the hospitality at 7,600 feet at the "the Duck"!
Whether you're tenting or fifth wheeling, there is room for you at LoneDuck. 2019 rates are tent sites for $38, RV sites $46 electric + water and $48 for full hook-up. They even have cozy cabins for a little more. They do charge $3 per pet and each additional person over two. Holiday requires two night. There is no discount for week or month long stays.
The higher price tag comes with free heated pool access, wifi, game room, stocked fishing pond, playground, basketball court, laundry, five dollar pancake breakfast, 24 hour modern restrooms and showers, indoor common area and convenience store.
8855 US-24, Cascade, CO 80809 | 719-684-9907
Mueller State Park – Tents + RVs | 30 miles
Tucked outside of Colorado Springs at just under 45 minutes is this gem of a state park. Mueller provides access to a vast wilderness, more than 5,000 acres of aspens, pine, fir, spruce and mountain meadows. The Continental Divide lies visible to the west. It's a beautiful park to camp and explore!
Light dining and shopping are located 4 miles north in Divide on Highway 24 In addition to fast access to Highway 24, Mueller is only 14 miles north of Cripple Creek's crazy 24/7 casinos and world class mining attractions. You can go 1,000 feet deep at the Mollie Kathleen Gold Mine, take the train to neighbor Victor and hike its Vindicator Valley Trail. Then put $50 down double zero and flop the nuts at the Midnight Rose Poker Room.
The camping offers is the most diverse yet on our list with 134 total campsites. 99 of them are electric, most with tent pads, 22 basic walk-in sites for tents, 1 group RV camping loop and 2 equestrian campsites. All sites have a picnic table and fire ring. Open during the peak mid May to mid October season, the Camper Services Building has coin-operated showers and laundry, as well as modern restrooms. Although welcome in the campgrounds, pets are prohibited on trails and in the backcountry.
21045 CO-67, Divide, CO 80814 | 719-687-2366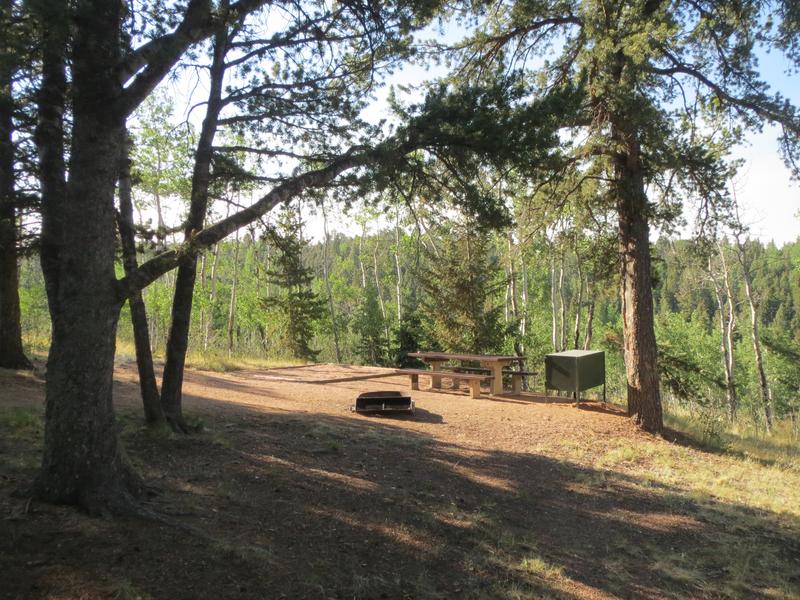 Pike National Forest – Tents + RVs | 25+ miles
Pike National Forest is just west of Colorado Springs. One of the best areas to camp is north of Woodland Park on Highway 67. Keep driving and you'll read the the hidden fly fishing community of Deckers, less than an hour's drive northwest of The Springs. Being in the heart of the Pike National Forest, you'll find campground suitable for both RVs and tents north and south of Deckers. There's even some free primitive camping if you know where to look. Know how to find free camping in Colorado by using maps of federal land and certain forest roads to locate free dispersed campsites.
In addition to fishing, hiking, biking, off roading and even river tubing is found nearby in the summer. Another nice advantage of this region is its almost equal proximity to Denver and Highway 285 to the north. From Colorado Springs take Highway 24 to Woodland Park and take a right onto Highway 67. The USFS Pike N.F. Campgrounds will start appearing on your way to Deckers and beyond. Colorado Campground is among the first you reach at 25 miles.
Highway 67, Woodland Park to Deckers, CO | 719-553-1400
M Lazy C Guest Ranch – Tents + RVs | 44 miles
For less city slicker and more authentic Colorado, consider staying an hour west of town in Lake George. The Park County location puts you around some of the best fishing and natural landmarks. The M Lazy C Guest Ranch provides year round access to RV sites, primitive campsites, rustic cabins and horseback riding. There is no nightly minimum, so you're welcome to stay for a day or a week.
Hosted by the Heck family, guests review loving the welcoming western vibe of the ranch. RV sites have choice of water + electric of full hookups with sewer. Campsites have horse pens behind the lot. Two of them are covered. Campers have plenty of space and share access to the bathhouse with showers. There is complimentary wifi, playground and general store.
801 Co Rd 453, Lake George, CO 80827 | 719-748-3398
Eleven Mile State Park – Tents + RVs | 49 miles
Named for its lengthy Eleven Mile Reservoir, this state park provides world class fishing. It's located in sleepy Lake George of Park County, so it's just over an hour to reach. If you're looking for boating then camp here. You can rent a canoe, kayak, 20′ pontoon or 16′ Lund aluminum V-hull. Spinney Mountain Reservoir, another state park, is next door offering additional fishing but no camping. The Dream Stream, a section of the South Platte River, is found close to.
Eleven Mile State Park has a whopping 335 campsites. All are dotted around the lake in 9 campgrounds. You can find basic and walk in tent sites, as well as electric and lakeside camping. There are 52 sites with 30 amp electric. Try to score a site with some tree shade in Rocky Ridge Campground C or E loops.
Or you can try the Backcountry Campground open to adventurous tent campers! These 25 secluded sites are tucked away on a wooded peninsula. You can pack or boat in your supplies to these lakeside sites. Make use of the park's nearly 5 miles of multi-use hiking and biking trails. Because of the great lake there are a myriad migratory birds to watch and waterfowl hunting each fall.
4229 Co Rd 92, Lake George, CO 80827 | 719-748-3401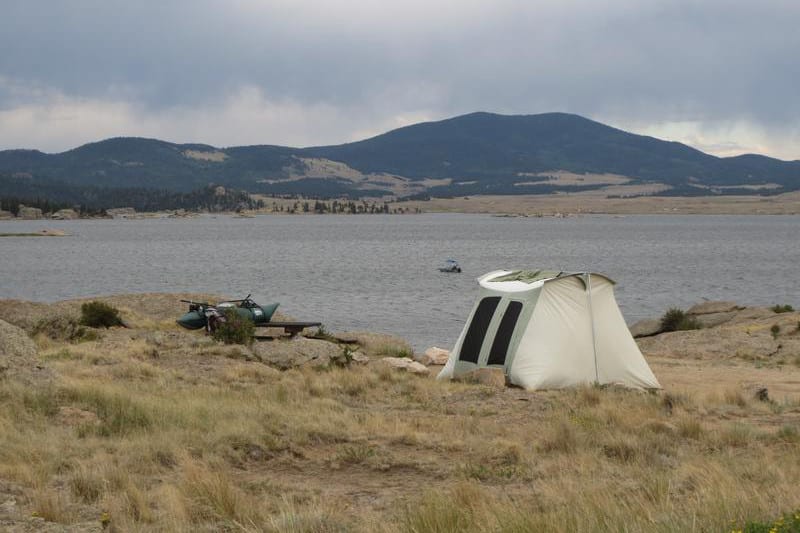 RV Parks near Colorado Springs
Here are two RV parks located directly in the city of Colorado Springs and one next door in Manitou Springs. These aren't the most nature-esque, however, if city convenience trumps wilderness surrounding, then give these RV campgrounds a try. Most are only suitable for RVs and travel trailers.
Goldfield RV Park – Tents + RVs | 3 miles
Goldfield RV Park provides budget camping in the middle of Colorado Springs. If you have a tent and can't get a spot at Mueller and really want to be in the city of Colorado Springs this is a good choice. It's basically a big gravel parking lot with a load of tight RV spots and a few tent sites. Rates are reasonable at $25 for tents, $32 through $43 for a range of trailer accommodating sites. It sees a lot of business and the friendly staff does their best to keep things clean.
411 S 26th St, Colorado Springs, CO 80904 | 888-471-0495
Garden of the Gods RV Resort – Tents + RVs | 4 miles
With two heated swimming pools, clean showers and laundry facilities, and quick access to attractions, families enjoy their stay at this RV park. The Garden of the Gods RV Resort has year round accommodations for RVs and tents, as well as cottages, suites and bunkhouse rentals. There are 19 tent sites and even more RV sites with 30/50 amp and water. All sites have picnic table and complimentary wifi. Plus the whole resort has exceptional views of Pikes Peak and is dotted with gorgeous trees.
3704 W Colorado Ave, Colorado Springs, CO 80904 | 719-475-9450
Pikes Peak RV Park – RVs only | 5 miles
As far as RV parks go this one is a treat. It's nestled in the center of Manitou Springs on Fountain Creek, only a ten minute walk to the plethora of eclectic shops in downtown. Pikes Peak RV Park offers both 30 and 50 amp electric hookups with nightly and weekly rates available in the summer. Monthly discounts are offered in the fall through spring. Campers can use restrooms, showers and laundry on-site. Tall trees and wildlife provide a alpine ambiance, as does the quick access to the Pikes Peak Byway.
2506, 320 Manitou Ave, Manitou Springs, CO 80829 | 719-685-9459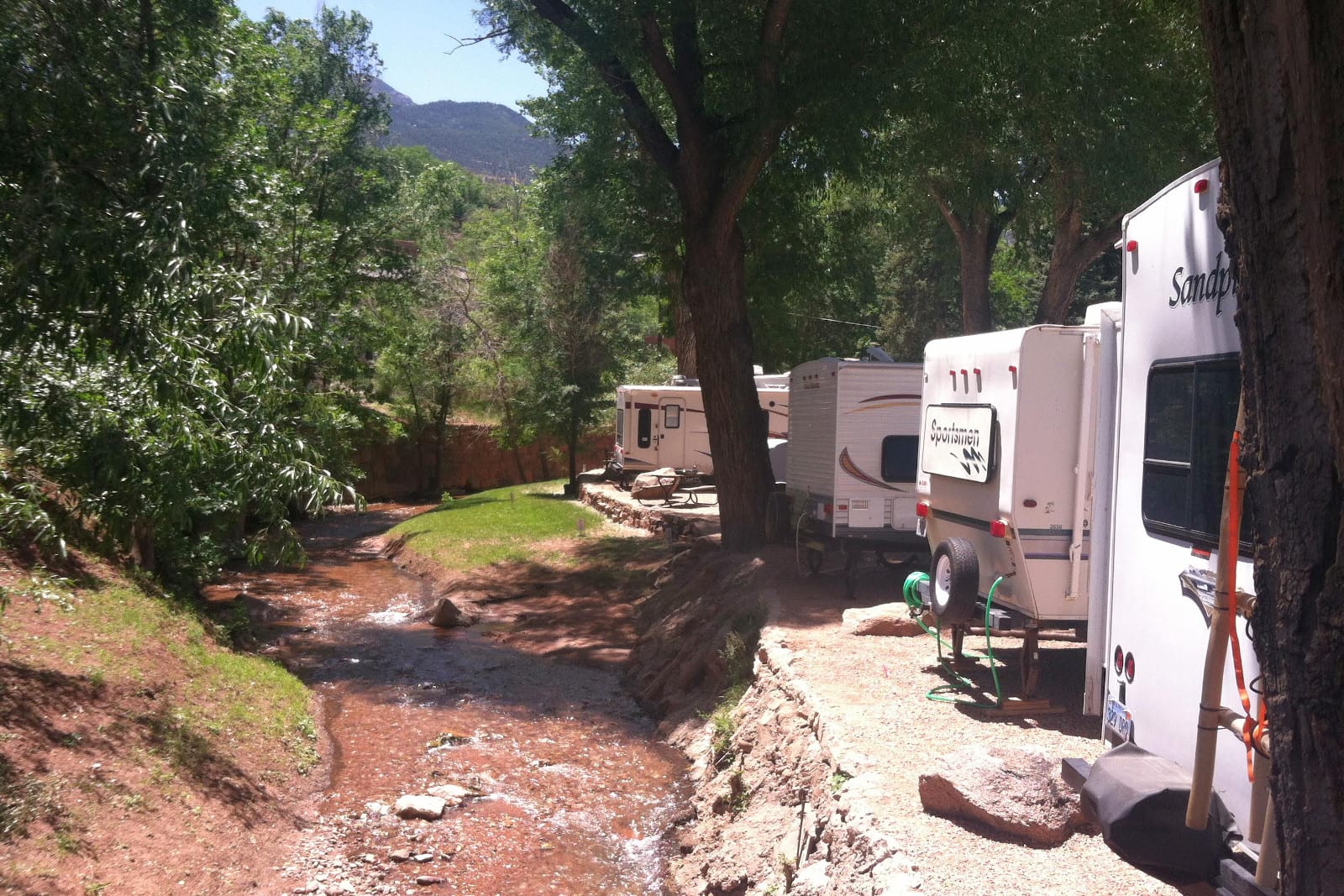 Thanks for checking out the top tent campgrounds and RV parks around Colorado Springs. I'm sure there are a few campground gems left off this list, probably for best. Happy camping near Olympic City USA!