Avalanche Ranch is a quiet hot springs resort, tucked away in the Crystal River Valley, just south of Carbondale. They feature three mineral pools and a variety of rustic homes.
Day use is limited to two daily windows, every day except Wednesday. Visitors can use the springs between 9pm and 1pm or 1pm and 5pm. Reservations are required.
Overnight guests may use the pools 24 hours a day, except on Wednesdays between 9am and 5pm, when the pools are cleaned. There are a number of cabin rentals available, at the Ranch, and 4 miles south in Redstone.
We featured Avalanche Ranch Cabins in our article on day and night-use hot springs.
Details
Address: 12863 Colorado 133, Redstone
Phone:970-963-2846
Season: Year Round
Type: Public day-use and overnight resort
Clothing: Required
Website: avalancheranch.com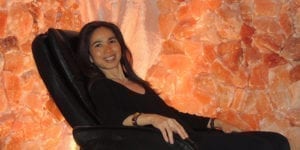 Breath clearly at a Denver Salt Cave (affiliate) - 46-47% off $19 ($35 value) for one 50-minute salt cave session , $56 ($105) for three 50-minute salt cave sessions at 5 Star Salt Caves in Denver. Europeans have long held that breathing in salt has therapeutic...