Wiesbaden is truly a place to escape to in a region surrounded by charming mountain retreats. Lodging includes six suites, an apartment, and three cozy homes.
There are a total of six, untreated and non-recirculated mineral water-fed pools. A vapor cave is also hidden underneath the lodge, which includes a seventh shallow pond.
We featured Weisbaden Hot Springs in our article on day and night-use hot springs.
Ouray is a town rich in hot springs, so if you can't stay here, try one of these three out: Ouray Swimming Pool, Box Canyon or Twin Peaks Lodge.
Details
Address: 625 5th St, Ouray
Phone: 970-325-4347
Season: Year round
Type: Day-use and overnight resort
Website: wiesbadenhotsprings.com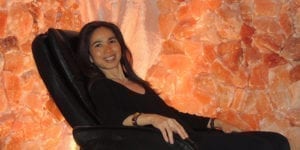 Breath clearly at a Denver Salt Cave (affiliate) - 46-47% off $19 ($35 value) for one 50-minute salt cave session , $56 ($105) for three 50-minute salt cave sessions at 5 Star Salt Caves in Denver. Europeans have long held that breathing in salt has therapeutic...