From Garden of the Gods to the Broadmoor Hotel, Colorado Springs is jam-packed with things to do and see. Summer, spring, winter, and fall each bring unique activities and experiences.
The Olympic City, dubbed so because of the Olympic Training Center in town, is full of attractions for every kind of visitor. Colorado Springs is easy to reach on I-25 south of Denver in generally less than an hour and a half, traffic pending. It should be about an hour at its peak quickness.
While the downtown area of Colorado Springs doesn't have the grand skyscrapers that Denver's skyline does, it's walkable, historic, and contains plenty of art. The population is working its way to near 500,000 people, so this is a fairly large city.
Year-round
Any time of year is perfect for these explorations. Remember to pack a jacket, as the weather can change quickly in The Springs.
The Broadmoor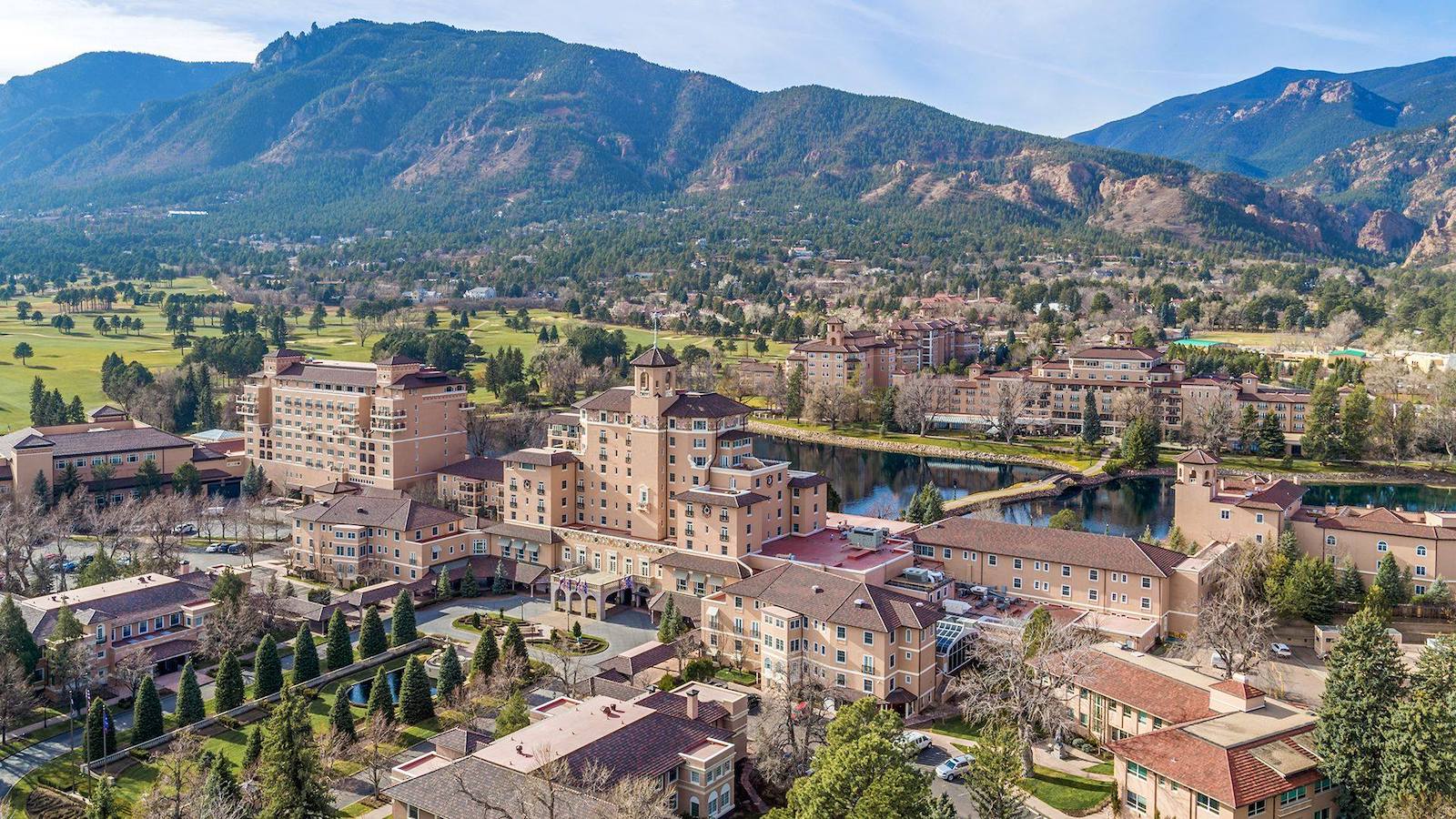 Operating for over one hundred years, The Broadmoor Destination Resort is one of the premier hotels in and around Colorado Springs. Featuring beautiful grounds, top-tier dining, and luxurious accommodations, this is a bucket list hotel that can elevate any trip to Colorado to the next level.
The resort offers a number of room options including typical hotel rooms, large suites, a number of more private cottages, and even full-sized brownstones with residential kitchens and living areas.
While a stay at the Broadmoor (affiliate link) should definitely be considered, visiting for the day is also a great option. The grounds of the resort include pools, tennis courts, a world-class spa, and even two of the best golf courses in the world, so visitors of all kind can find a way to spend the day.
For dinner, the options range from hand-cut steaks at La Taverne to fish and chips at the Golden Bee. Keep in mind that reservations for lunch and dinner are recommended, and they can be reserved up to three months in advance.
Garden of the Gods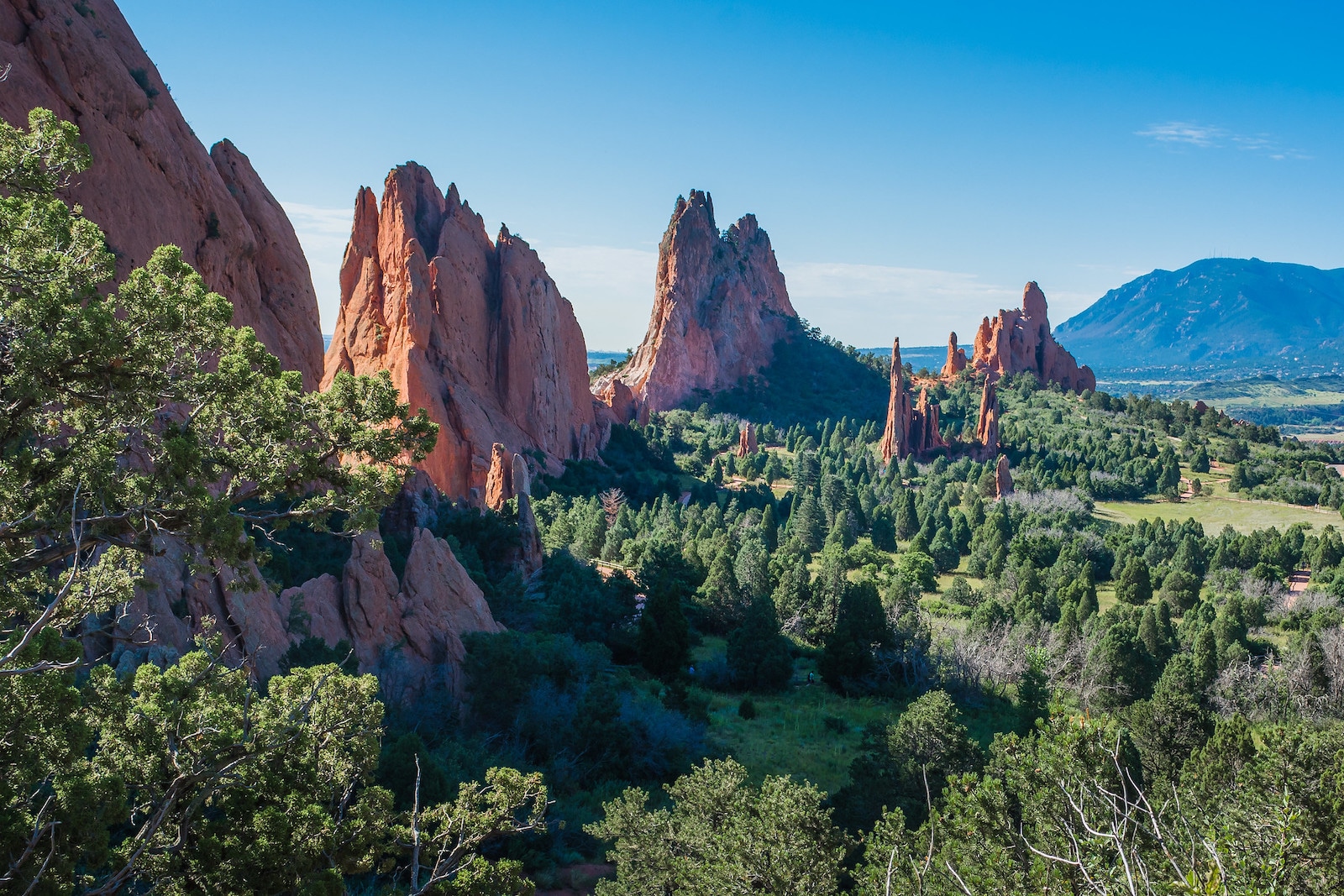 Free to the public and open year-round, Garden of the Gods is a beautiful park featuring mesmerizing red rocks that tower over the surrounding landscape. Situated just outside the city, this is an easy park to access, so it should be on every visitor's list.
The park has fifteen miles of trails scattered throughout, and hiking is one of the best ways to see the highlights. Maps detailing the best routes are available at the visitor's center.
Biking is another popular way to explore Garden of the Gods. There are bike lanes throughout the park, and bikes are permitted on a few of the hiking trails. For those traveling without their bikes, rentals are available on-site.
Another way to see the stunning red rocks of the park is by Jeep tour. The park offers two options: a shorter, ninety minute ride and a longer, two-hour off-road tour. Garden of the Gods is also a great place to rock climb, but be sure to fill out a climber's registration before climbing.
Museums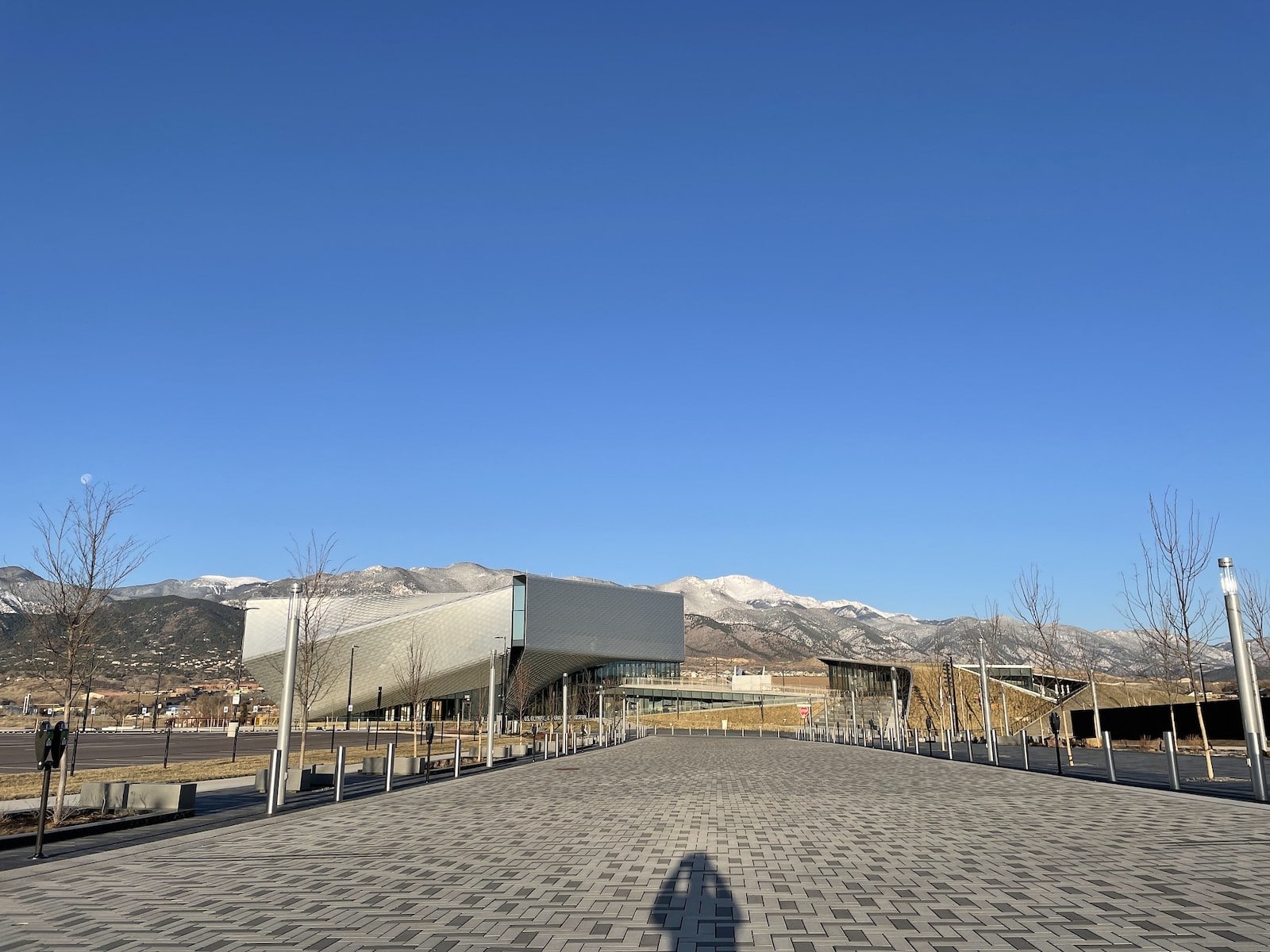 Colorado Springs is surrounded by a number of diverse and varied museums that are all well worth a visit. One of the newest is the U.S. Olympic & Paralympic Museum. At over 60,000 square feet, this large and modern museum is dedicated to showing off the nation's top athletes at the olympic and paralympic level.
Or, for those more interested in rodeo than the Olympics, look toward the Pro Rodeo Hall of Fame and Museum, a museum displaying the importance of rodeo in American history and culture.
History buffs should visit the Western Museum of Mining and Industry, a museum sat on a twenty-seven acre campus that includes authentic mining equipment, historic buildings, and gold-panning stations. The Pioneers Museum is another great option. Located in the former El Paso County courthouse, this museum preserves the area's rich pioneer history that dates back centuries.
Finally, the Penrose Heritage Museum is another option in the city. This museum features the collection of philanthropists Spencer and Julie Penrose, and it includes thirty carriages and fifteen race cars.
Pikes Peak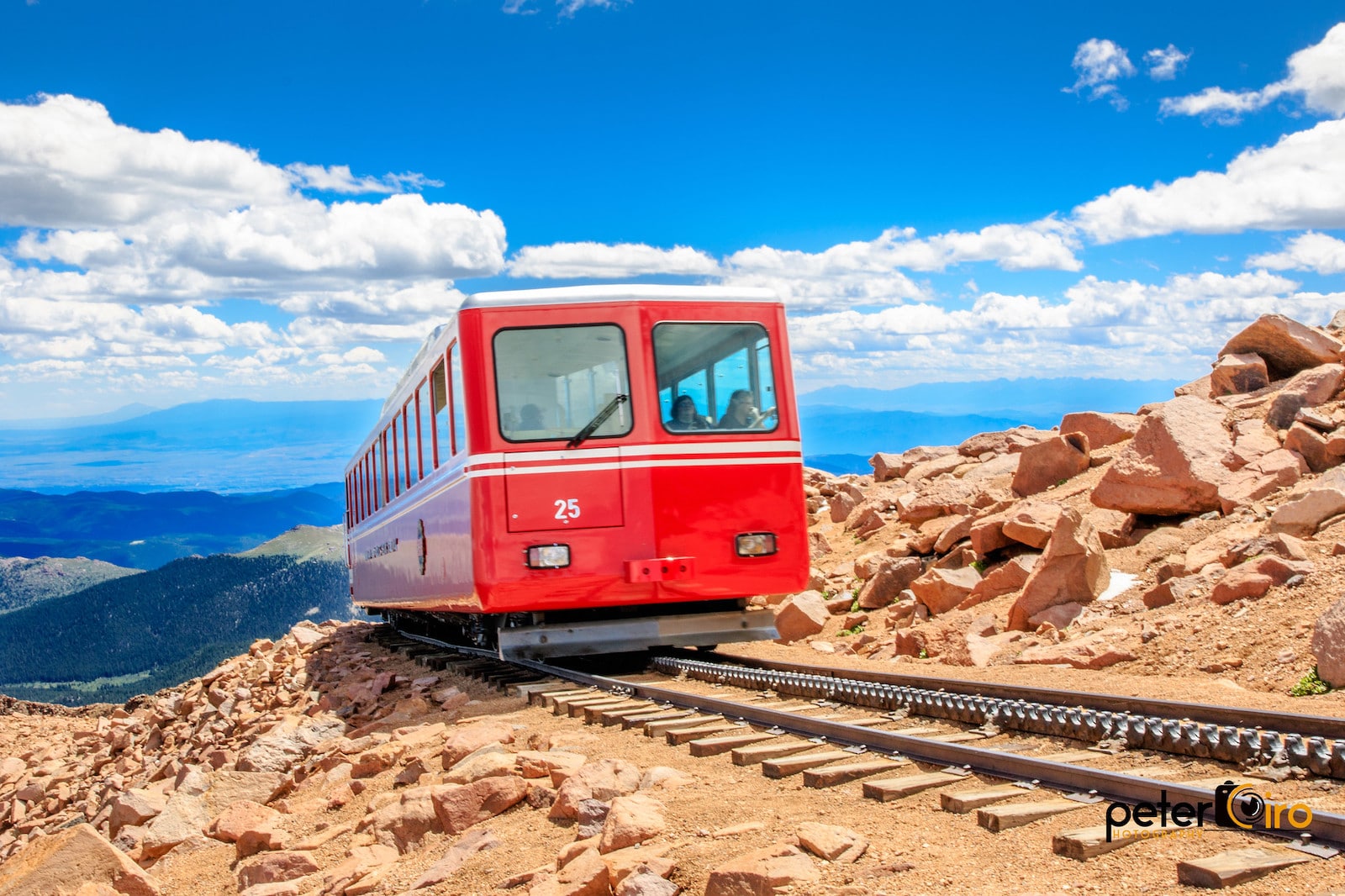 Visible from almost anywhere in town or the surrounding area, Pikes Peak is one of the most popular destinations for those visiting the area. There are a number of ways to reach the summit of the mountain at 14,115 feet, among which is the Pikes Peak Cog Railway.
The train leaves from Manitou Springs, and the entire trip takes three and a half hours. Operating since the nineteenth century, this is one of the most memorable ways to make it to the summit, but visitors should get tickets in advance.
The most popular method to reach the summit is by car on the Pikes Peak Highway, a nineteen-mile road that gains around seven thousand feet of elevation. Experienced hikers should consider hiking to the summit, but keep in mind that the route is over thirteen miles long one-way.
At the summit, be sure to stop at the Pikes Peak Summit Complex, a new facility featuring a place to buy snacks, fill up water, use the restroom, and hang out before starting the descent back down the mountain.
Old Colorado City and Manitou Springs
There are over one hundred unique businesses in Old Colorado City, so there's no shortage of items and windows to peruse. Visitors should be sure to stop by a local art gallery, shop at one of the many boutique clothing stores, and eat at any number of the delicious local restaurants.
A popular way to see all that it has to offer is by taking the walking tour. Available on both the Apple App Store and the Google Play Store, the Old Colorado City Walking Tour app guides visitors through the history of Colorado Spring's historic district while pointing out some of the area's highlights. For those with only a few hours to spend in town, this is a great way to see as much as possible.
Manitou Springs, located a few miles west of town on US-Highway 24, is a quaint, walkable town with a downtown district that is perfect for exploring. Visitors can check out gift shops, the ever-popular Manitou Springs Penny Arcade, and a number of local restaurants, cafes, and bars while strolling down Manitou Avenue.
Colorado Springs Fine Arts Center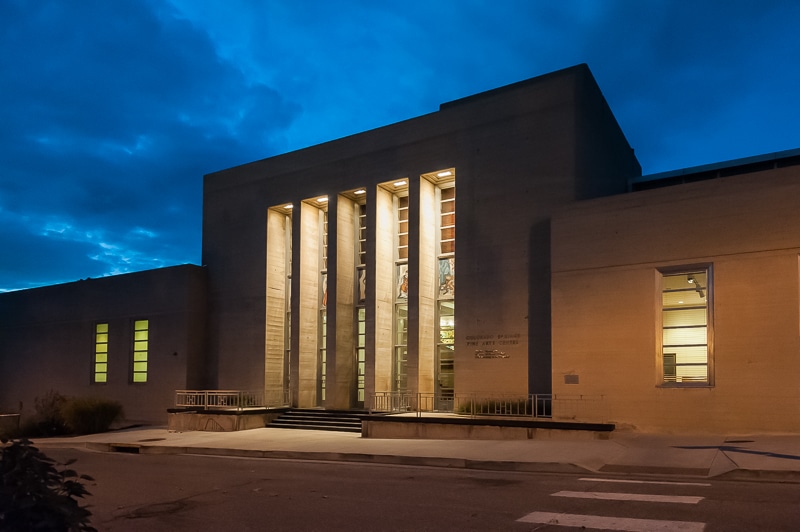 The Colorado Springs Fine Arts Center is a cultural center offering theatre, art exhibits, and art classes to the public. Part of Colorado College, this center is a great asset to the community, and art lovers should consider stopping by for a stroll through the galleries or for a show at the theatre. The art museum features a permanent collection composed of modern American art as well as a rotation of great exhibits.
Glen Eyrie Castle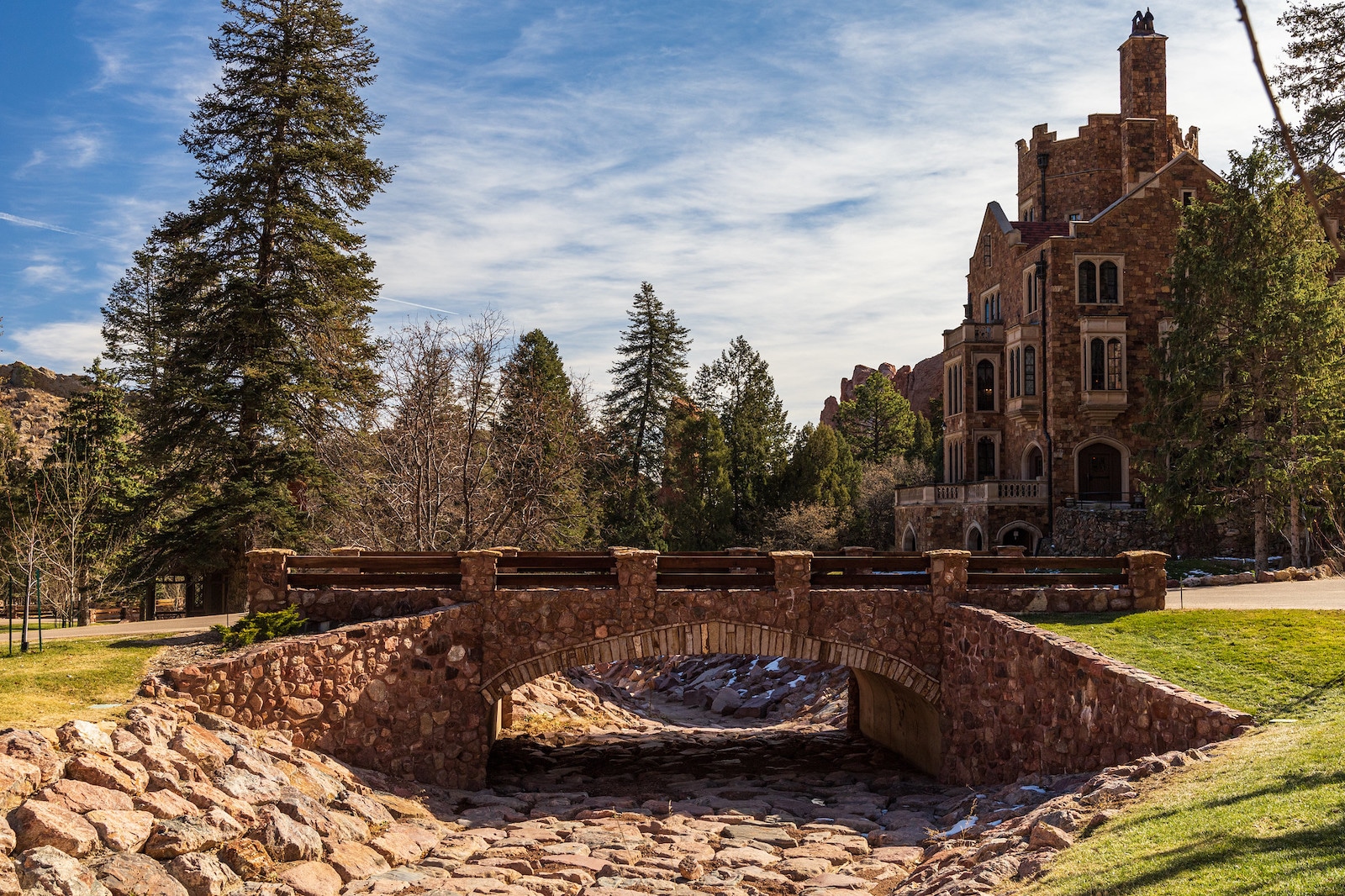 Like the Broadmoor, Glen Eyrie Castle is a beautiful hotel that is a worthy stop for day-trippers and overnight travelers alike. Situated in a beautiful castle built in 1871 by General William Jackson Palmer, the founder of Colorado Springs, this small but luxurious hotel offers unique, historical rooms (affiliate link), fantastic views, and a great bookstore and gift shop.
All visitors to Glen Eyrie should be sure to take a tour of the property. Tours are offered every day of the week, and reservations can be made online or over the phone. Each tour lasts approximately ninety minutes and includes a short video along with a guided walk of the Carriage House and Glen Eyrie Castle.
Visitors to the area during summer should consider booking a reservation at the castle's Summer Tea, a unique tea time featuring handmade treats and delicious tea which is served Wednesday through Sunday during the warmer months of the year.
Cheyenne Mountain Zoo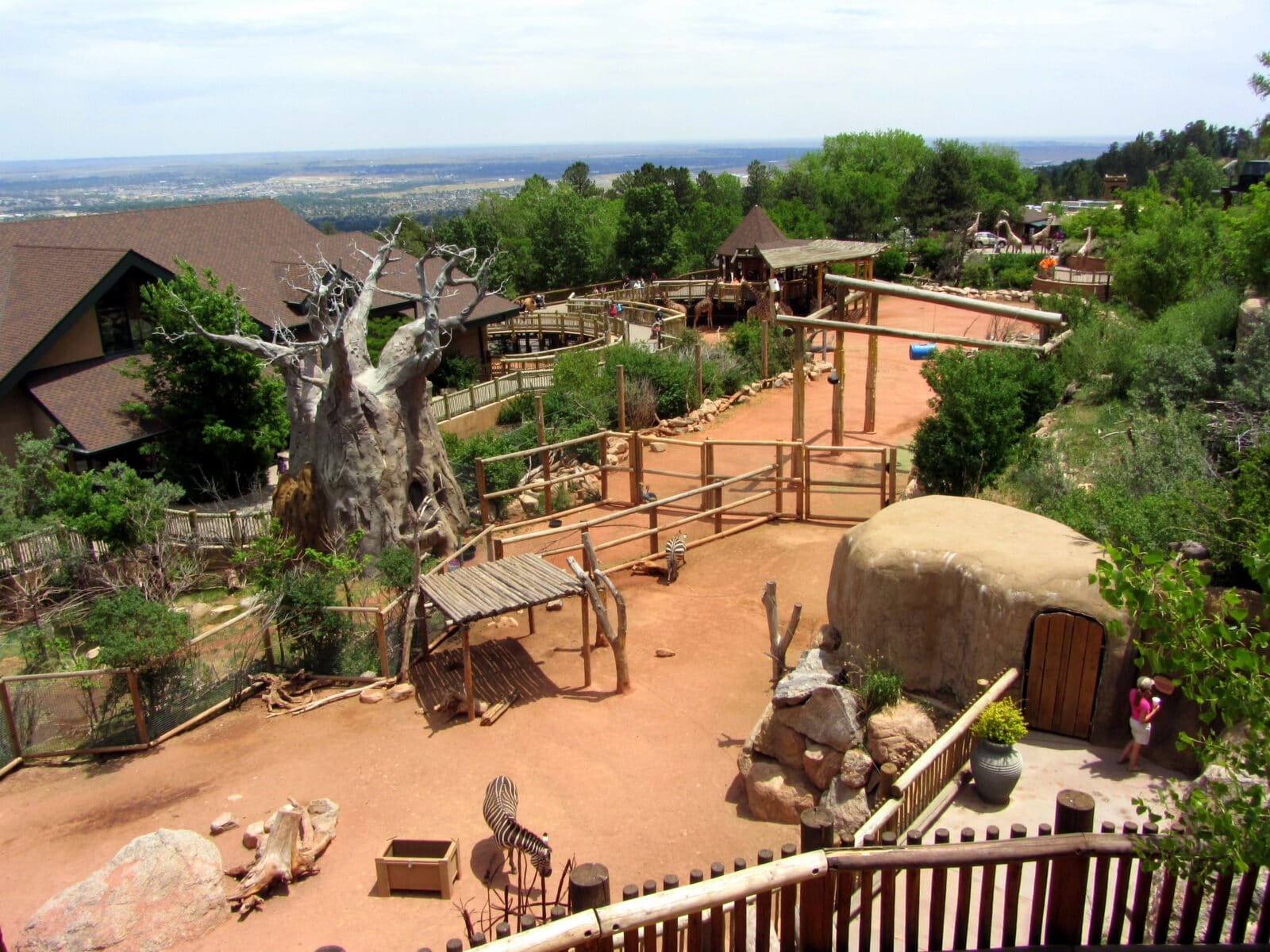 Consistently ranked one of the top zoos in the country, Cheyenne Mountain Zoo is one of the best ways for animal lovers to spend a day near Colorado Springs. With countless exhibits featuring a large number of animals including hippos, elephants, tigers, and so much more, this zoo prides itself on offering a large number of interactive shows and experiences that bring its guests closer to the animals.
Visitors have the chance to feed giraffes, budgies, chickens, rhinos, and elephants, or they can hang out with goats and learn how to care for animals at the Hands-on at The Loft experience.
Keep in mind that advance tickets are required to access the zoo. Tickets can be purchased online at the Cheyenne Mountain Zoo website. Besides the animals, visitors should consider taking a spin on the Mountaineer Sky Ride, a chair-lift that carries visitors above the zoo with great views of the surrounding area. There are also a number of restaurants as well as a gift shop on the property.
Cheyenne Mountain State Park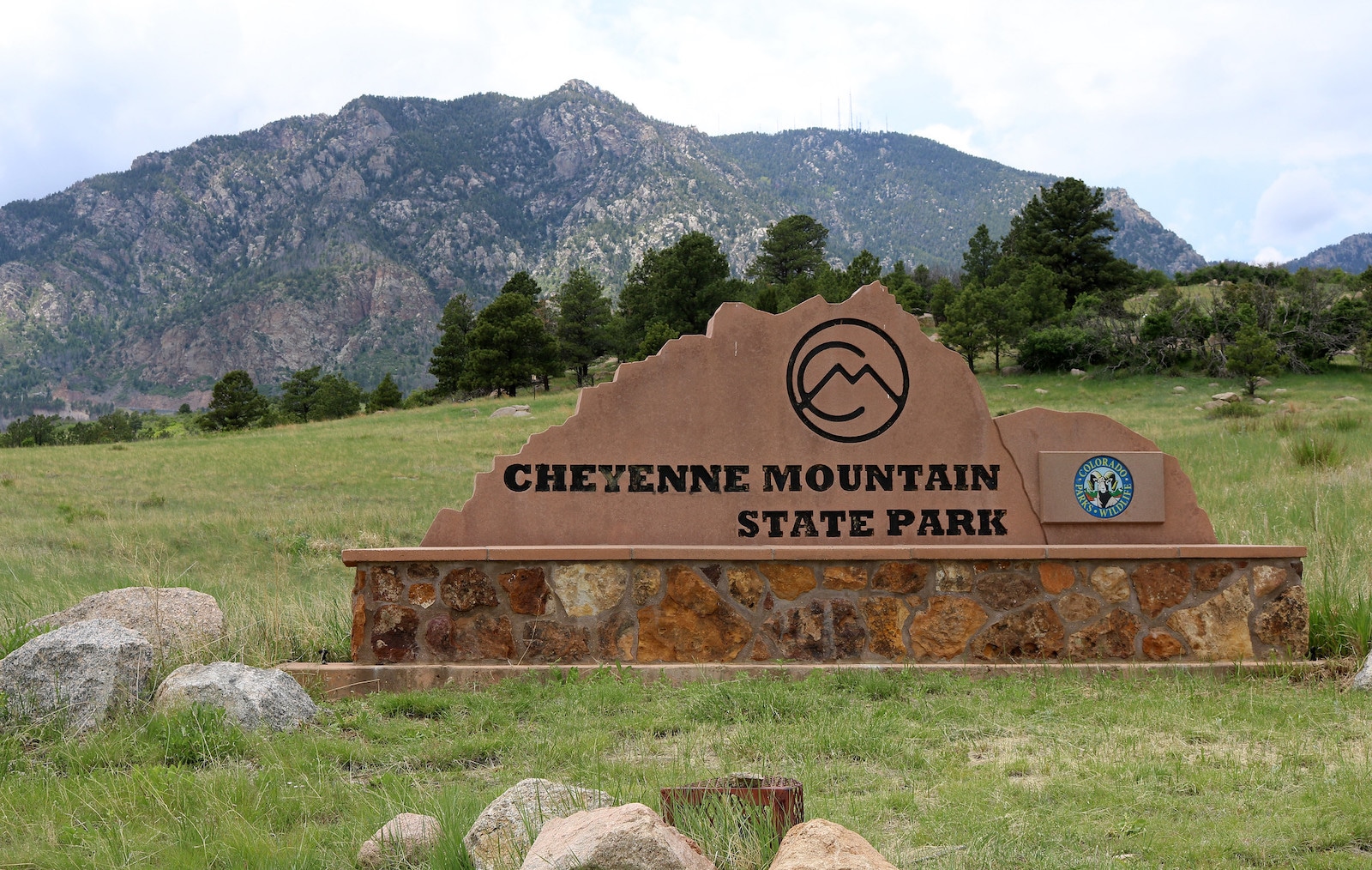 Located south of Colorado Springs off Colorado Highway 115 is Cheyenne Mountain State Park, a beautiful and diverse park that is well worth a gander. One of the perks of the park is a public archery range featuring targets ranging from ten to eighty yards in distance. Although the range charges no additional fees, all vehicles must have a park pass for parking in the lot.
Hiking is one of the most popular activities at the park, and the park's twenty-seven miles of trails makes finding an appropriate hike easy. Visitors should keep in mind that some trails are also open to bikes and horses.
There is also a sixty-one site campground that is open year-round and located only ten minutes from downtown. Most sites have full hookups, but some are open only to tents. Camping at a Colorado State Park requires a reservation, so book one online ahead of a visit.
Hiking
Visitors need not travel far to find fantastic hiking near Colorado Springs. One of the best examples for a hike near the city is the Manitou Incline, a famous hike that gains two thousand feet of elevation in less than a mile. More of an extended set of stairs than a hike, this adventure is a test of mettle that is sure to humble even the most athletic hikers.
For less intense options, look towards a hike at Garden of the Gods like the Siamese Twins Trail, a one mile loop with only 150 feet of elevation gain.
For another fantastic feat, consider attempting a summit of Pikes Peak via the Barr Trail. This trail is thirteen miles in length one-way, and it gains over seven thousand feet of elevation, so only seasoned hikers should attempt it.
Easier hikes with rewarding views can be found at Palmer Lake, and the Seven Bridges trail is another popular walk near the city that winds and crosses a beautiful mountain stream seven times.
Biking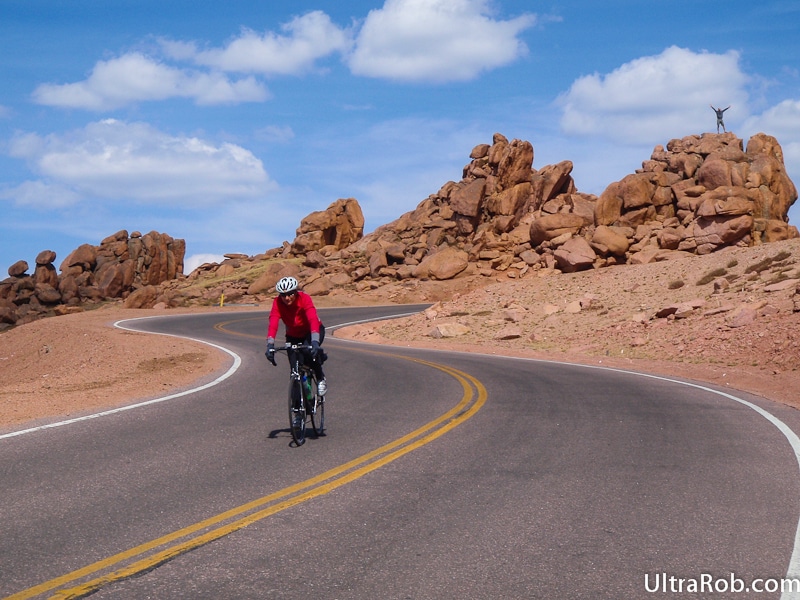 Just like hiking, world-class biking is never far away during a visit. As mentioned above, Cheyenne Mountain State Park has a number of multi-use trails that are perfect for mountain biking.
Other options include biking around Palmer Lake, biking fourteen miles around the Rampart Reservoir Trail, or, for those looking for an intense and memorable ride, a bike ride up or down the Pikes Peak Highway. Visitors hoping to bike the mountain should keep in mind that this is an intense ride that gains nearly five thousand feet of elevation across twelve and a half miles.
Public Parks
There are a number of fantastic parks within Colorado Springs, so visitors need not travel far from the city to feel connected with nature. Austin Bluffs Open Space is a great example. Made up of almost six hundred acres, this park is filled with beautiful rock formations that can be reached by a number of trails varying in length and difficulty.
Pulpit Rock Park, located right beside Austin Bluffs, is also worth a visit. Famous for a large rock hilltop that can be seen from I-25 when passing through town, this is a great park with challenging trails including one that leads right to the top of Pulpit Rock.
Ute Valley Park is another good choice. It features great views of the surrounding area, and there are plenty of hiking and mountain biking options spread throughout the park's trail system.
Finally, for a more traditional city green space, look towards Palmer Park. Featuring baseball fields, a playground, a soccer field, and over twenty-five miles of trails, this is one of the best parks for families. It features a large number of amenities and facilities.
Summer
What better time to enjoy Colorado's abundance of sunshine and scenery than summer, with its long magical days and beautiful foliage. The Springs is a lot closer to nature than its northern neighbor Denver, so getting out on the trail is easy pretty anywhere you're at.
Pikes Peak International Raceway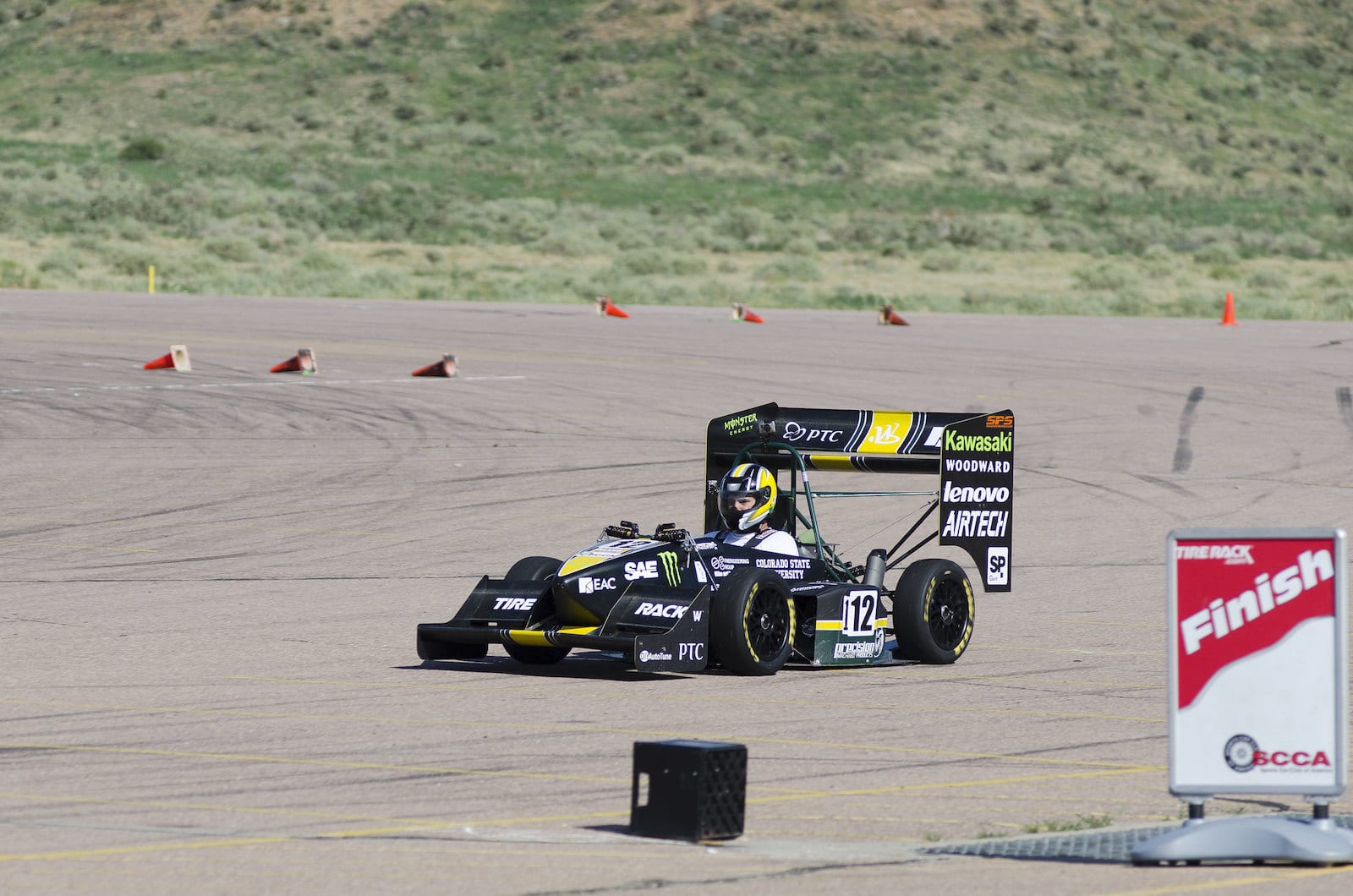 Located just outside of the city limits in nearby Fountain, Colorado, Pikes Peak International Raceway is a large facility consisting of four racetracks, a variety of classrooms and conference rooms, and a large banquet hall. Hosting a variety of events throughout the year as well as open track time, PPIR is a great destination for car enthusiasts and those interested in the racetrack.
For those without racing experience, PPIR offers driving camps like the Track Attack Driver Camp. A one-day event, this class consists of classroom sessions as well as three timed laps of the course. At the end of the day, each student does a timed run with an instructor to practice what they've learned.
Overall, whether visiting as a driver or a fan, the PPIR is a fun addition to any Colorado Springs itinerary.
Seven Falls, Helen Hunt Falls, Rainbow Falls
Colorado is covered in beautiful waterfalls, and the area near downtown is in close proximity to three of the best. One of the most popular options is Seven Falls. Located less than a mile from the Broadmoor, Seven Falls is a series of seven waterfalls that span almost two hundred feet high. To reach the overlook, visitors must climb up 224 steps, but the views from the top are definitely worth it.
Helen Hunt Falls is another great option that's close by. Although it may be less awe-inspiring than Seven Falls, it's a terrific waterfall that's thirty-five feet high, and the walk to see it is only a tenth of a mile. For a final option, look towards Rainbow Falls in Manitou Springs, a local gem that is hidden beneath a bridge.
Winter
Wintertime is a special time in El Paso County. The county seat is lit up in lights and dazzling events throughout the season. Go ice skating in downtown or venture out to greet Santa Clause at this workshop along the start of Pikes Peak.
Acacia Park Ice Rink
Located in Acacia Park, which is the city's oldest park, this outdoor ice rink is one of the best places to be on a Colorado winter day. Generally open from November through January of each year, the ice rink is a popular activity, so book tickets ahead online. Visitors without skates will be happy to hear that the admission fee includes free skate rentals.
North Pole Santa's Workshop – Cascade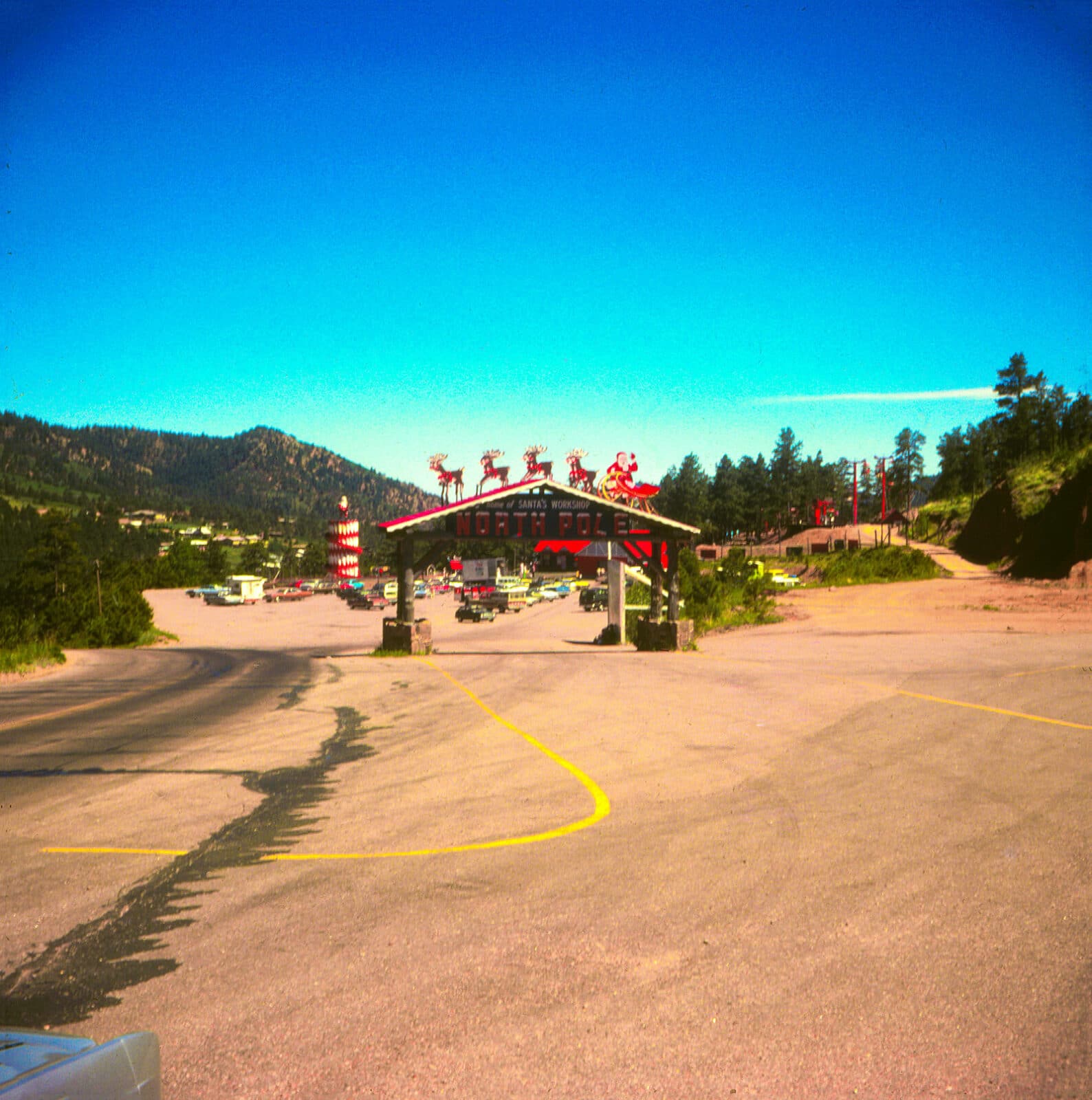 An entire theme park dedicated to Christmas, North Pole Santa's Workshop is an inspiring park full of fun rides and fantastic views of the Pikes Peak region. With two dozen to choose from, visitors of all tastes and ages can easily find one. The park has classic carnival rides like the Tilt-A-Whirl and the Mini Himalaya as well as Christmas-themed rides like the Candy Cane Coaster and the Peppermint Slide.
After enjoying a number of rides, be sure to stop by for a visit and picture with Santa. Santa's helpers take pictures which are available to purchase after each visit. Another popular spot at the park is the Carousel Cafe, a restaurant serving food like chicken nuggets, corn dogs, and more. The park is open year-round, but it's much more crowded during the winter months.
These are just some of the fun things to do on a trip to Colorado Springs. Enjoy your visit to The Olympic City!