Colorado's one of the most epic destinations for vacationers year round. In Spring, summer, fall, and winter you'll find memorable stuff to do in all corners of the state. So, where are the best places to go?
Naturally, where you visit will depend upon what you want to do and the time of year visiting. You likely won't be camping in November. Or skiing in July. However, there are many things you can do year round. If you just want the biggest attractions, consider these six popular places to visit.
We'll look at visiting Colorado during each season with a primary focus on summer or winter. Below, we'll dive into specific regions better for various itineraries. Let's go over a bunch of Colorado destinations and what makes each unique – starting with a couple of maps to learn the lay of the land.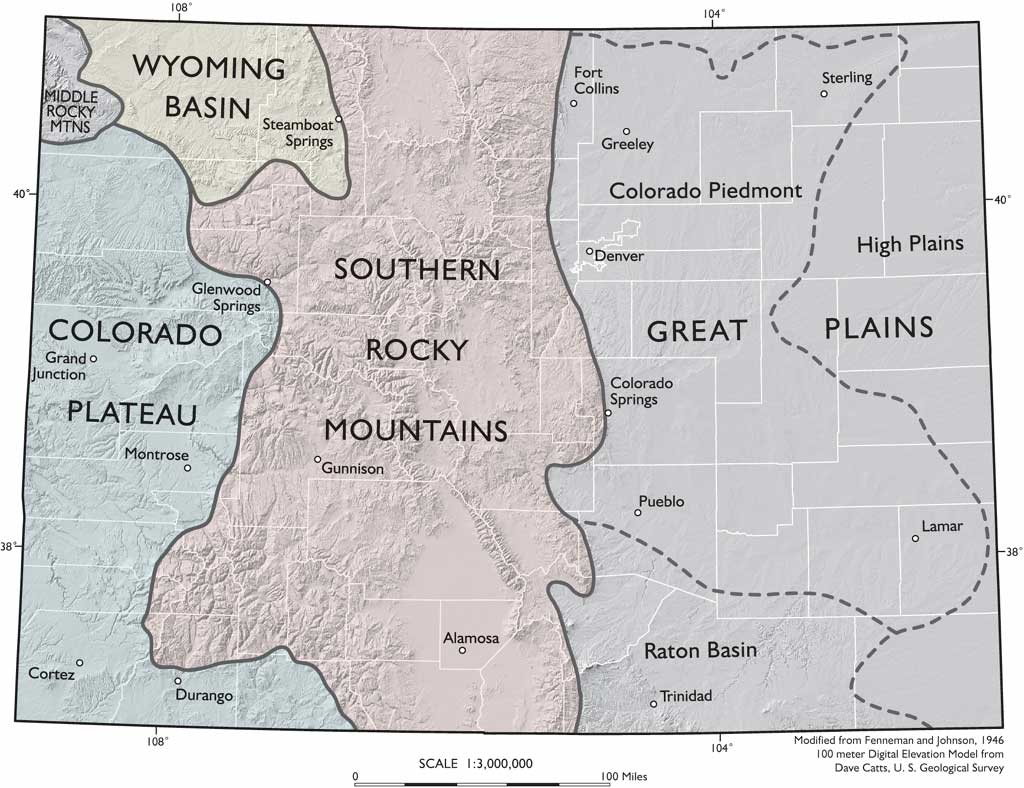 In 2018 the Colorado Tourism Office and Colorado Tourism Board rebranded the state's regions into more alluring and descriptive names. These are Colorado's 8 tourism regions: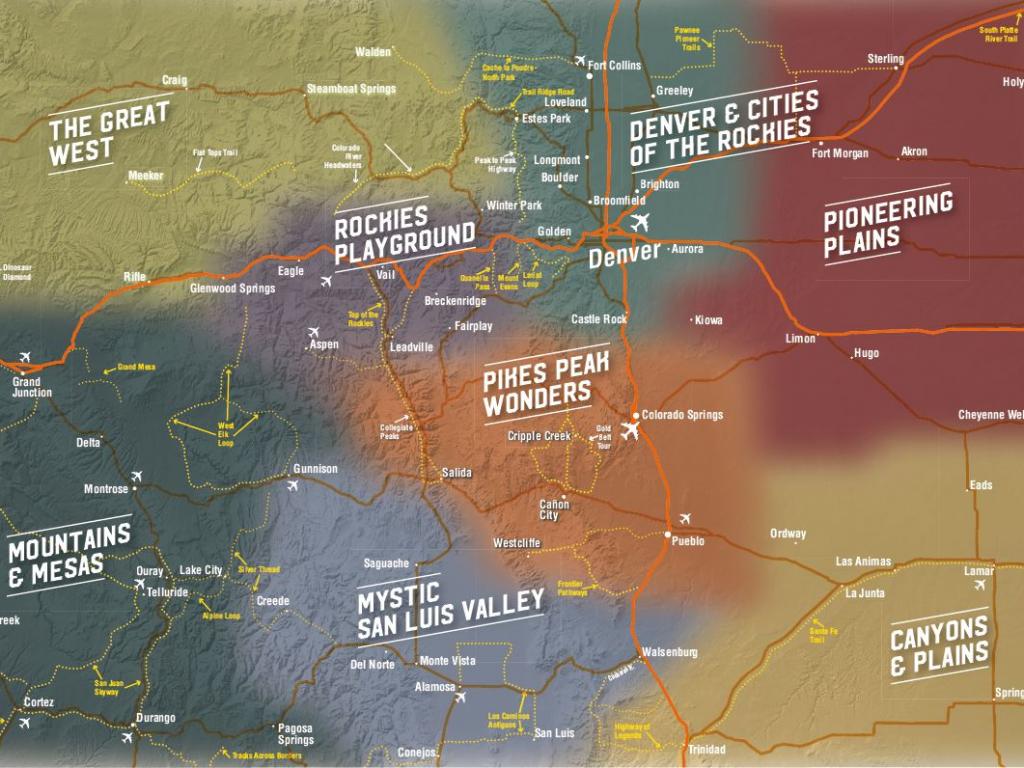 Here are among our favorite destinations in Colorado, separated by our own regions: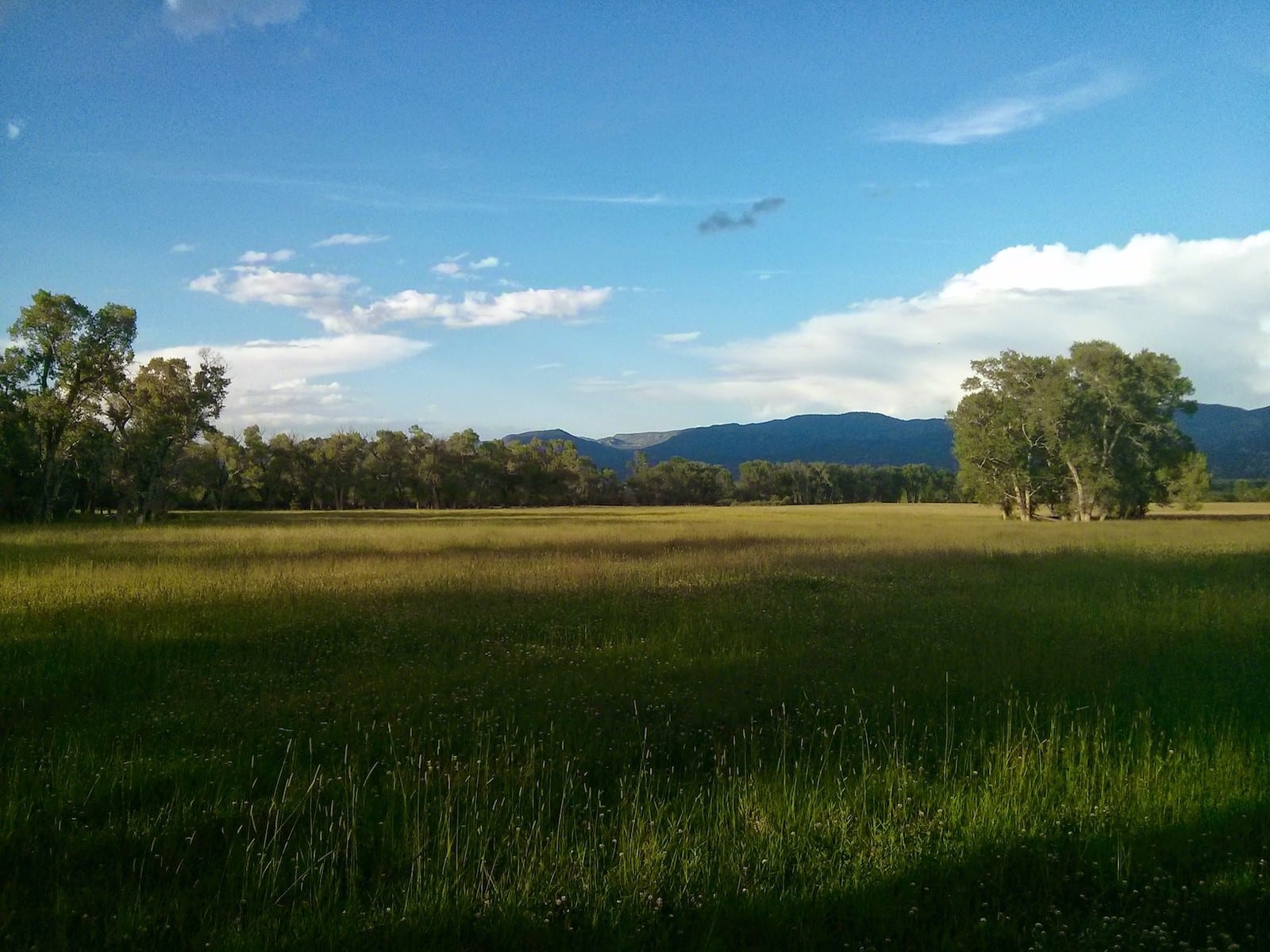 i. Eastern Plains
Probably Colorado's most overlooked and least visited region is its eastern plains. Covering a good third of the state, there's a lot of landscape to cover here; though it's all mostly flat, rolling prairies full of farmland, agriculture, and tiny rural towns. It gets quite hot and windy in the summer, so camping is far from ideal. It has some lovely sights perfect for day tripping from your base or a romantic night or two on the Great Plains.
The region boasts two national grasslands, which preserve the old landscape of the plains. Most of what you'll see outside these areas are farms. In addition to these federal lands, there are a few state parks spread throughout the eastern plains. All provide modern campgrounds, hiking and biking trails, fishing, and boating. There's a daily vehicle fee to access the parks.
There are a few notable towns too, with historic downtowns, western charm, and no pretentiousness in sight. Most of what you'll pass through are tiny rural communities. Even the busiest of plains towns seldom receive the number of visitors as other parts of Colorado and are welcoming to those who make the journey.
Northeast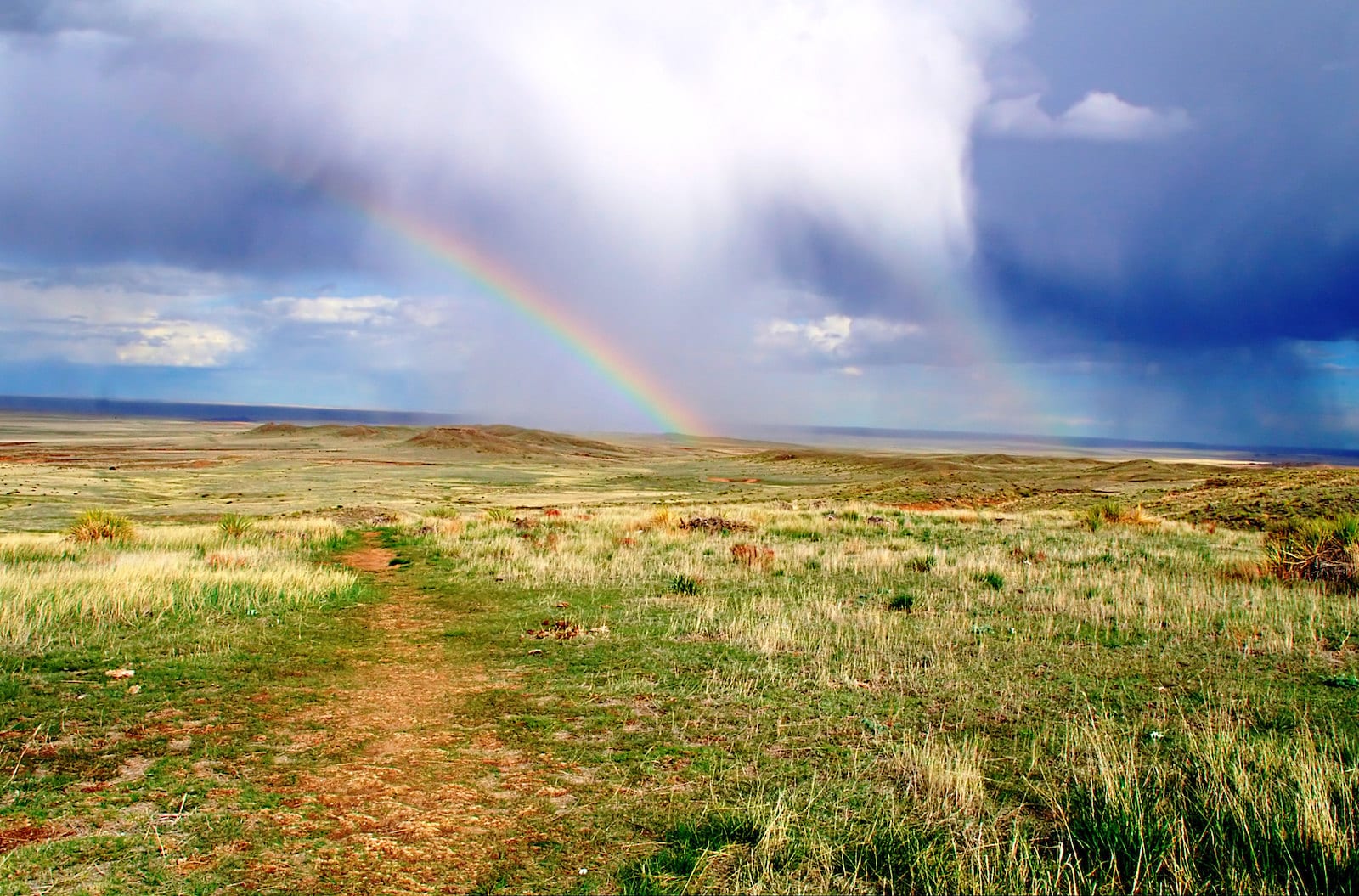 Pawnee National Grassland is located in the northeast not far east of Greeley and Fort Collins. Take an auto tour through the area with a stop and short hike out to the Pawnee Buttes, probably the most famous sight in the grassland. For state parks the northeast has Jackson Lake and North Sterling, both centered around big reservoirs.
Bigger towns in the eastern plains include Fort Morgan and Sterling in the north, as well as Limon and Burlington in the center.
Southeast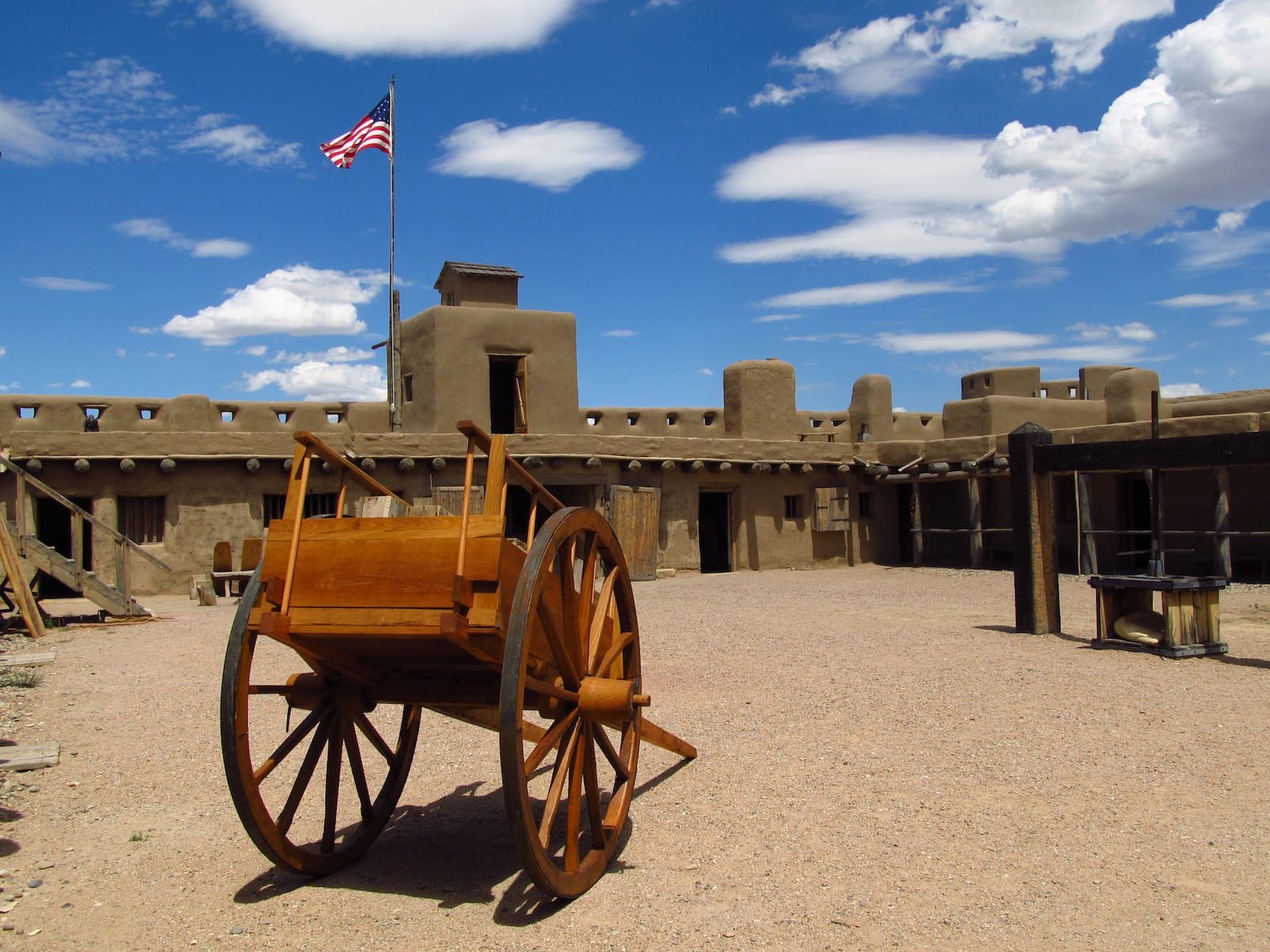 If based in the southern front range by Colorado Springs, opt for the Comanche National Grassland near La Junta. It boasts similar terrain and surrounding attractions like Bent's Old Fort. For outdoor recreation, the southeast has John Martin Reservoir, a lovely year-round state park.
La Junta and Lamar are some of the bigger destinations in the south. Close to La Junta, pick up a Rocky Ford cantaloupe when in season at Rocky Ford. It's one of the famous foods from Colorado.
ii. Front Range Urban Corridor and South
The front range is considered the mountains east of the continental divide and the most populated area of Colorado, containing the foothills/plains region just east of these mountains. This region is known as the Front Range Urban Corridor and contains around 70% of Colorado's population, from the border of Wyoming by Cheyenne, south to Pueblo.
Further south from Pueblo, the front range stops, and the Sangre de Cristo Mountain range begins. It passes Walsenburg and Trinidad. The water here still flows east. It's better to consider the western slope and eastern slope for the halves of the Rockies. Let's look at the hot spots for setting up basecamp.
Fort Collins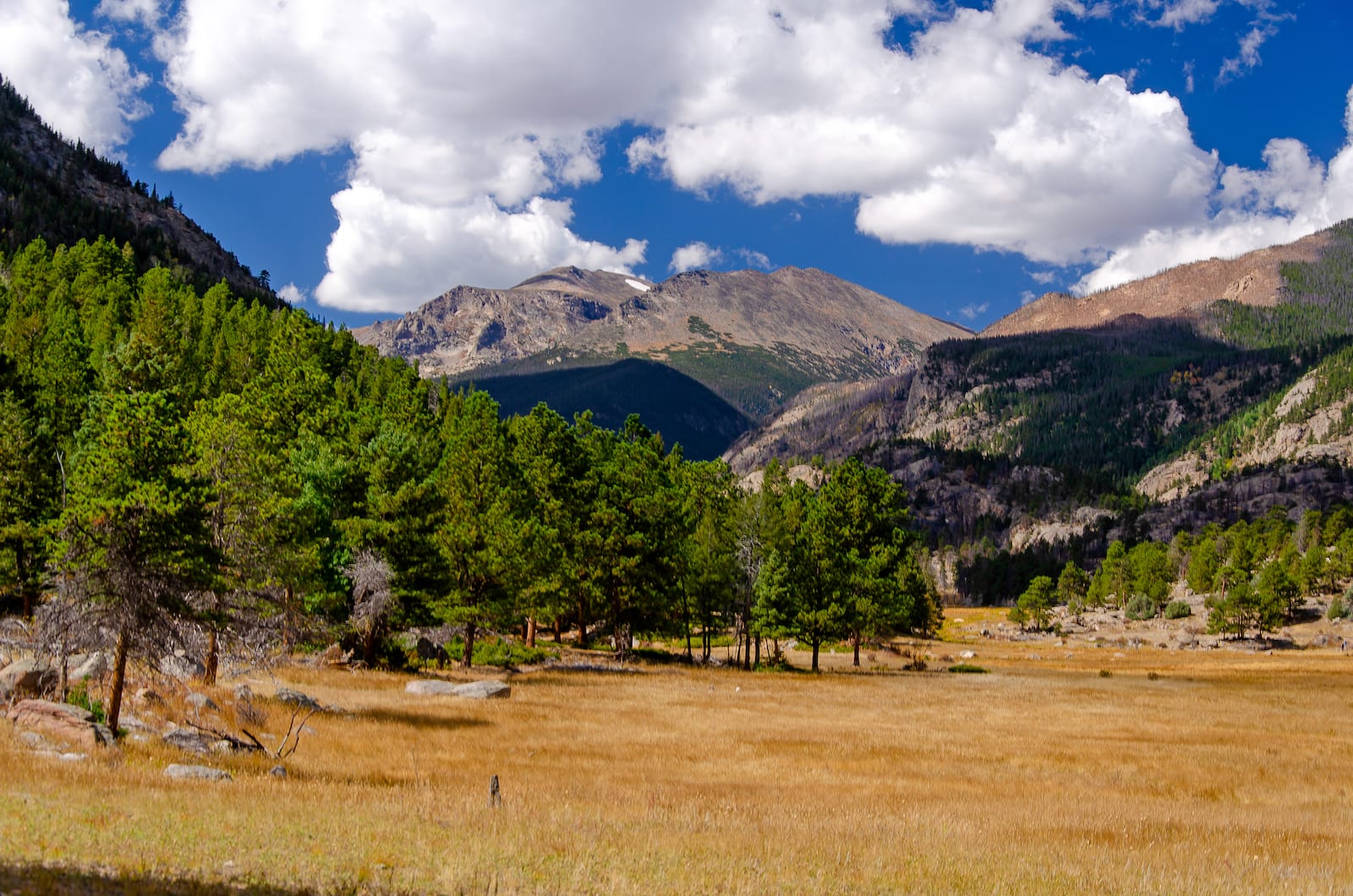 Consistently ranked as one of Colorado's top cities for economic growth, tech, livability, retirement, beauty, etc., Fort Collins is a prime base for a northern Colorado vacation. Its 2017 population was 165,080, making it the 4th largest city in the state. Colorado State University calls it home, but it's a lot more than just a college town.
Old Town Fort Collins is the historic downtown area, lined with cool shops, restaurants, and businesses. It's only about an hour north of Denver on I-25, allowing you to enjoy all the sights in between. Plus Rocky Mountain National Park (RMNP) is only an hour to the southwest. The northeastern plains are an easy day trip. Cheyenne, Wyoming is 45 minutes to the north on I-25.
Denver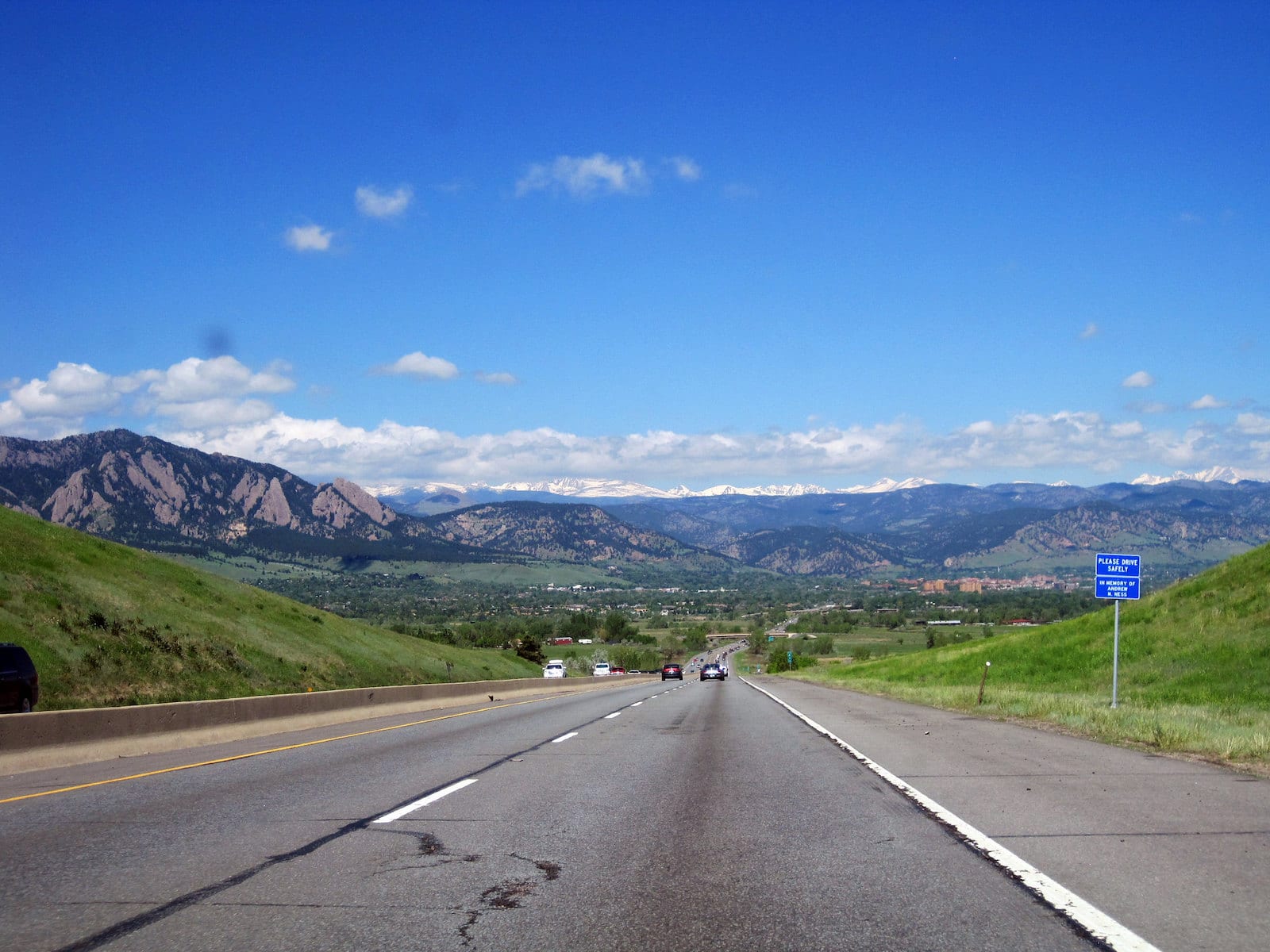 Colorado's capital city is home to an estimated 716,000+ residents in 2020. The metropolitan area is more than 3 million. If you want to experience the state's rapidly growing urbanization, the Mile High City's metro area is the place. Really any of Denver and its suburbs make a fantastic vacation home, including the flatirons city of Boulder, only 30 minutes to the northwest.
There are far too many attractions to go over, and any time of year will suffice to visit here. You can easily reach the mountain destinations for a quick day trip, including more than a handful of ski resorts less than 1.5 hours away (though you'll have to contend with highway traffic on I-70, so better to base in a ski town than Denver). If you want to be in the mountains and still have Denver close, consider Evergreen and Idaho Springs.
Colorado Springs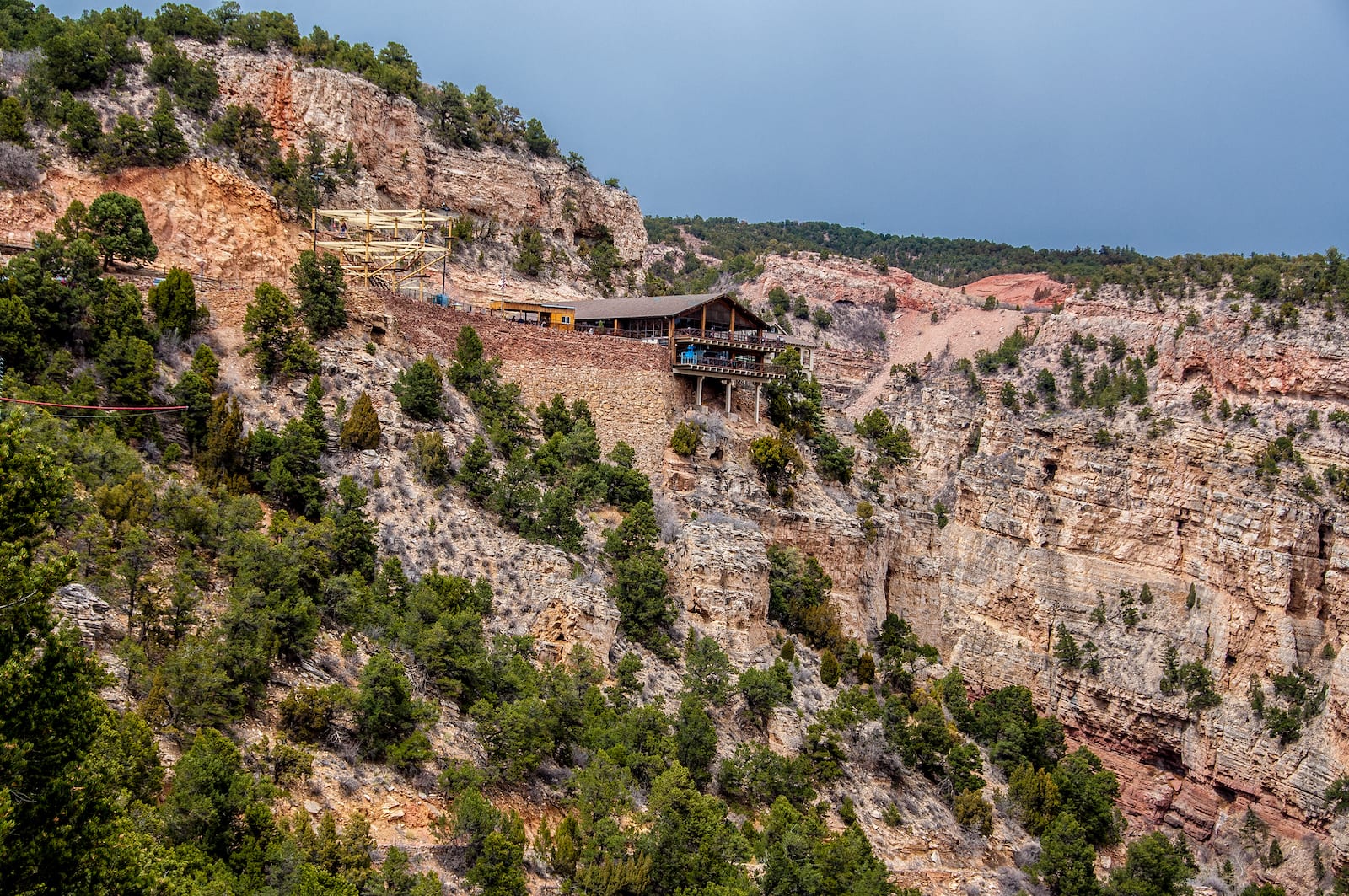 Any season is wonderful in the state's second largest city. While it doesn't make a fantastic base for day tripping to ski areas, you can do just about everything else here within a scenic drive. Known as Olympic City, Colorado Springs (COS) is a touch closer to nature than its 'rival' to the north, Denver. It's also higher at 6,035 feet of elevation.
It's just one major tourist attraction after the next too. If you're a bucket list kind-of-a-person or want a jam-packed itinerary, rain or shine, do come to The Springs. If you want to be in the mountains but still have Colorado Springs close, stay in Woodland Park and visit its mini garden of the gods (located a few miles from a town north toward Deckers). While in COS visit:
Pueblo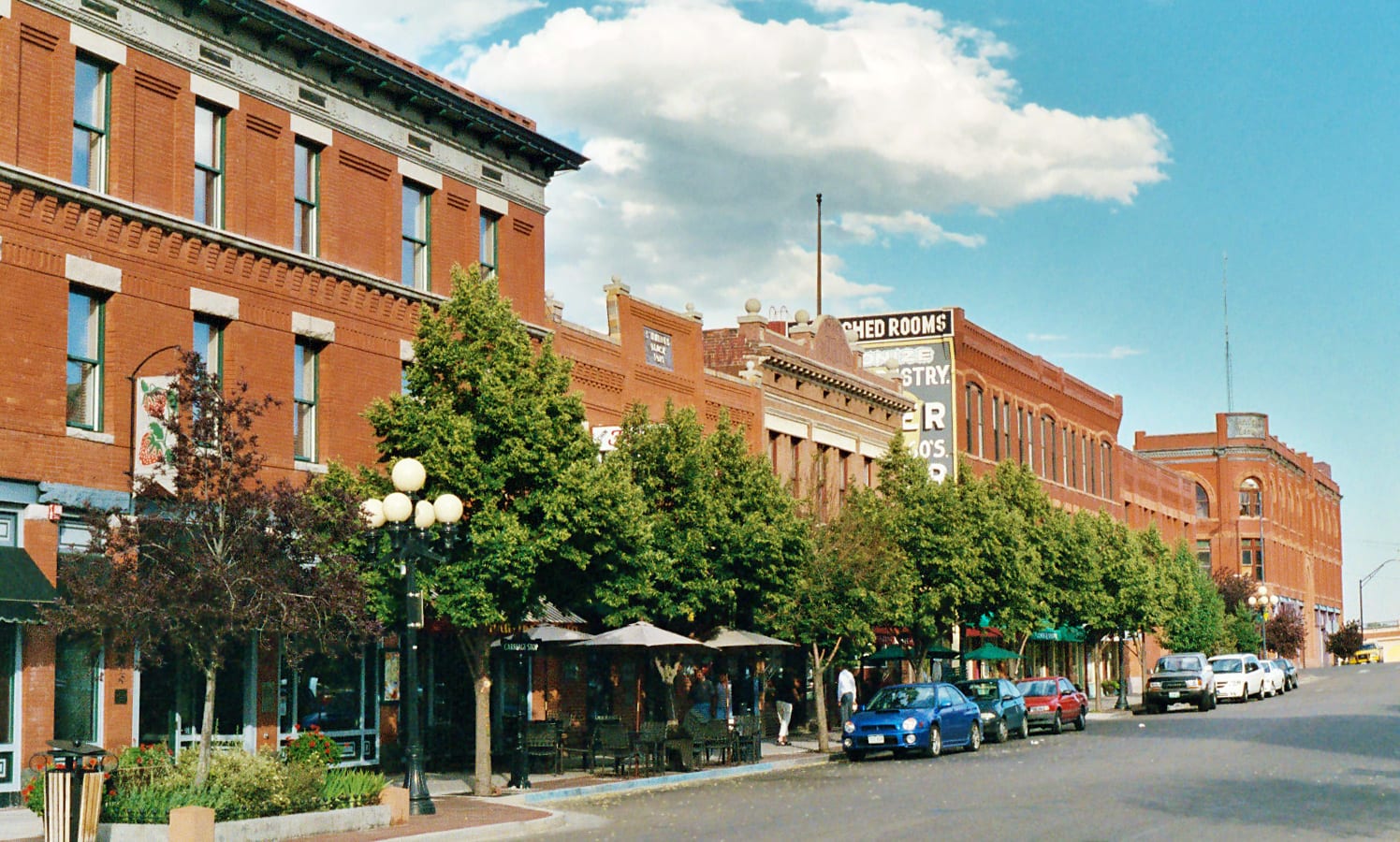 With an estimated 2019 population of roughly 102,500+, Pueblo ranks just inside the top ten largest cities. Because of its history, it was/is known as "Steel City." While it's known as one of Colorado's prettiest cities, it does have its charm. The downtown showcases a lot of old buildings, with enough modern dining and shopping to keep you entertained. Stroll the Pueblo Riverwalk, one of the most vibrant places in the city on the banks of the Arkansas River.
Part of Pueblo's allure is its proximity to the southern front range. The whitewater town of Cañon City is only 40 minutes west, and the famous Royal Gorge Bridge is only 20 minutes west of that. You can also find recreation closer to town at Lake Pueblo, a state park with camping and water sports.
Trinidad – Raton Pass/Sangre de Cristo Mountain Range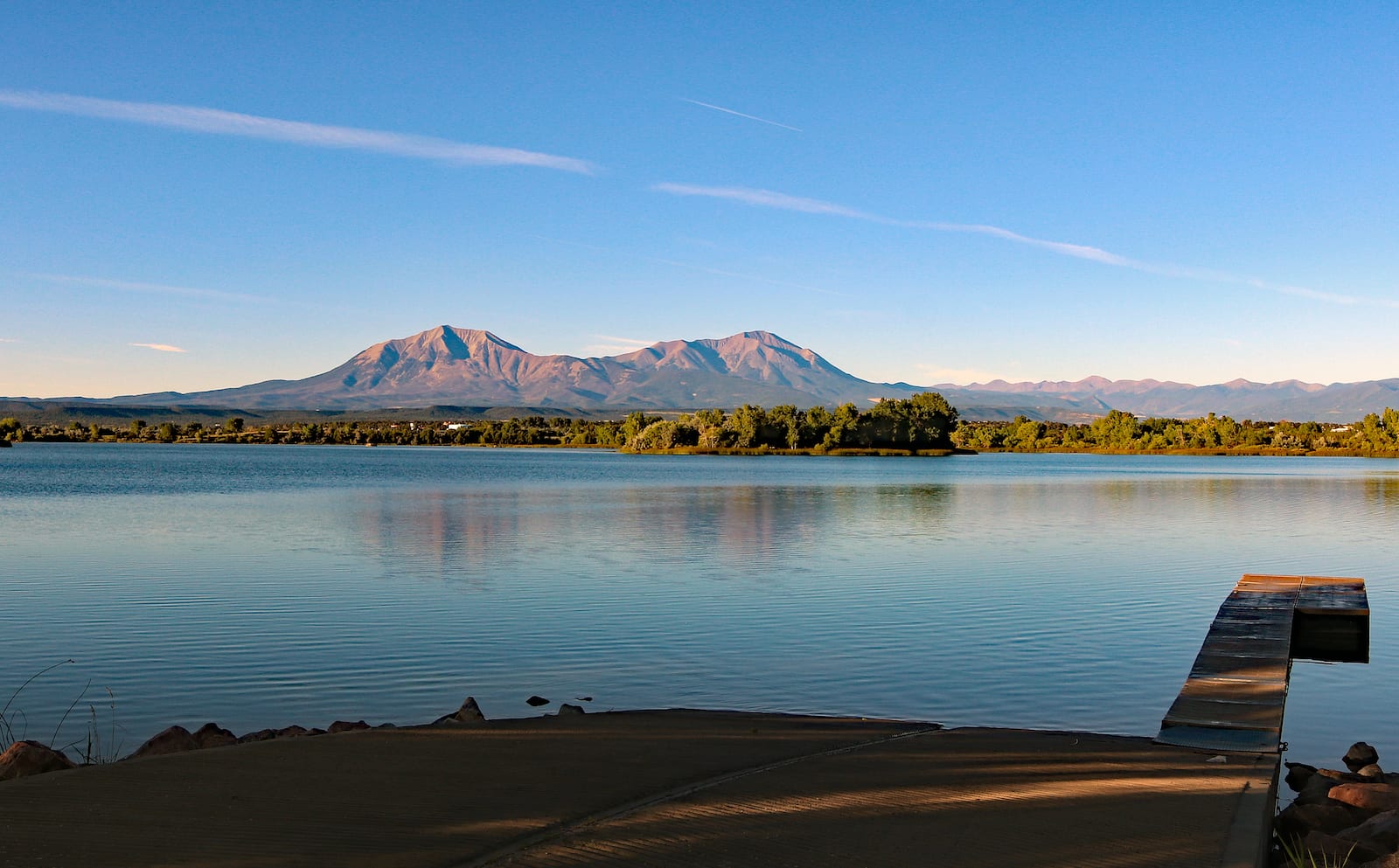 If you want to get off the beaten path, head down to Trinidad right by the New Mexico border. From the right vantage point, say driving past town on Interstate 25, it's one of the most stunning towns in the state. It's full of history and friendly locals.
Combine a quaint overnight stay in Trinidad with a trip on the Highway of Legends, a national scenic byway that connects with Walsenburg to the north. It takes you up over 11,248-foot Cordova Pass, just south of the former ski town of Cuchara. You'll be feeling the Rocky Mountains the whole drive. For additional outdoor recreation visit Trinidad Lake, a year-round state park.
Or while on the byway, stop by Lathrop State Park in Walsenburg.
iii. Front Range Mountains
The continental divide runs north-south through the state and not in a straight line.  It divides the front range and western slope. The front range mountains start west of the plains and hold some of the easiest to access alpine destinations in the state.
Estes Park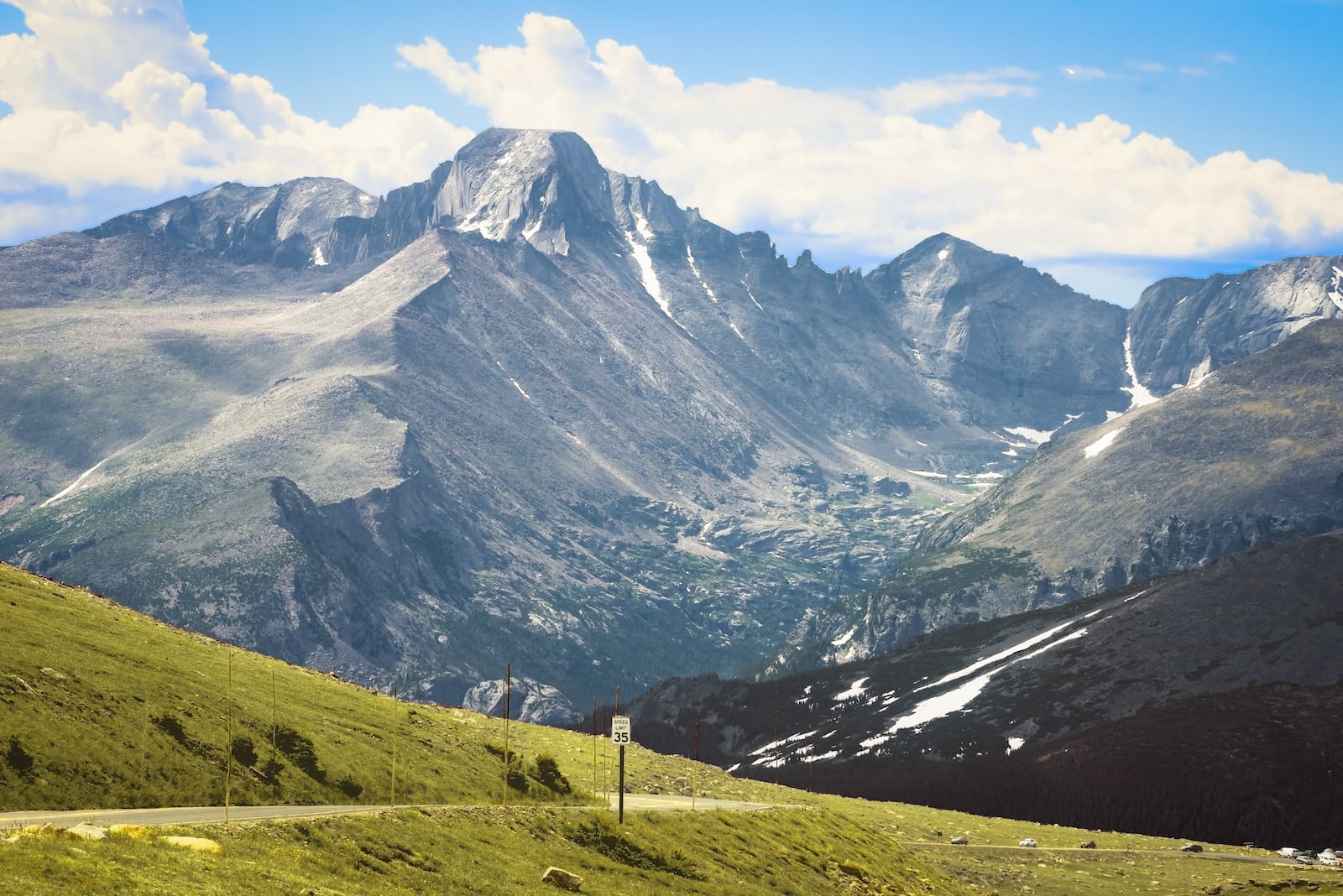 If you're looking for a bustling mountain experience close to Denver in northern Colorado, consider Estes Park. It's home to RMNP, the most visited national park in the state. Spring, summer, and fall bring crowds, winter brings quiet. You can take a summer day trip over the continental divide on Trail Ridge Road, a national scenic byway. It connects with charming Grand Lake, mentioned below.
The town of Estes Park is picturesque with a large historic district full of shops, restaurants, and places to stay. It's less than 2 hours from Downtown Denver and only 45 minutes to the west of Loveland, Colo. Take the Peak to Peak Byway 1.5 hours south to funky town of Nederland and onto the gambling mecca of Black Hawk.
South Park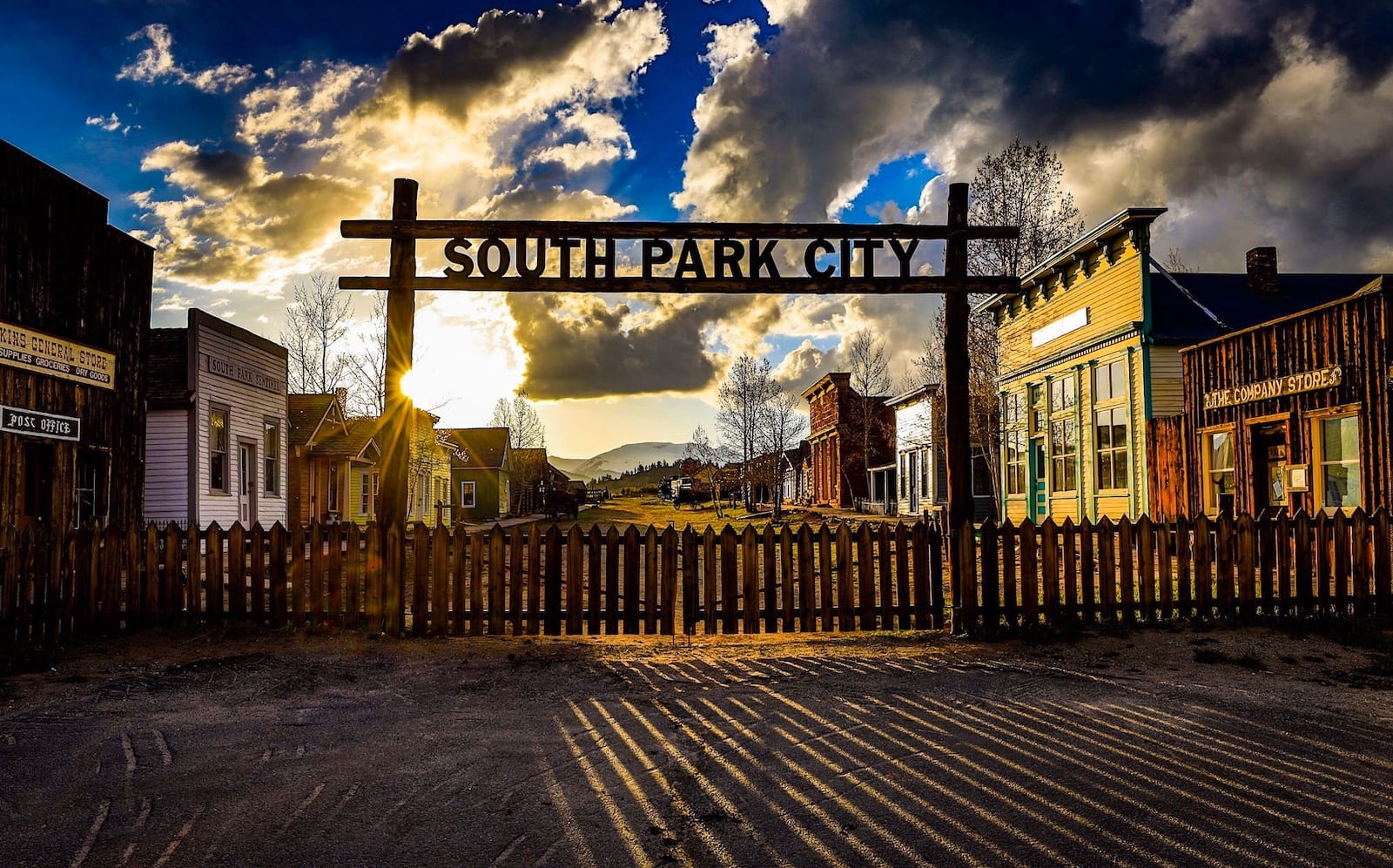 The giant valley of South Park, Colorado is one of the more overlooked, close regions to Denver. It's rustic, real, and quiet here, with a few marvelous gems hidden in its hills. It's 1.5 hours to the largest town and county seat of Fairplay, with a population of 750+ in 2020. It's not much like the TV show, aside from the weirdness and small-town vibes. It's also not nearly as big as depicted but does showcase a restored late 1800s mining town. The South Park City Museum is an indoor/outdoor, cool old ghost town open for visits from mid-May to mid-October.
You can easily head north over Hoosier Pass to Breckenridge in roughly 30 minutes from Fairplay. The highest town in Colorado, with the highest marijuana dispensary in the country, 10,500′ Alma, is on the way. If you're much into random tidbits, 20 minutes south of Fairplay is the "Heart of Colorado," the tiny town of Hartsel. It lies at the state's geographic center, close to world-class fishing in the South Platte River and Eleven Mile and Spinney Mountain reservoirs.
Chaffee County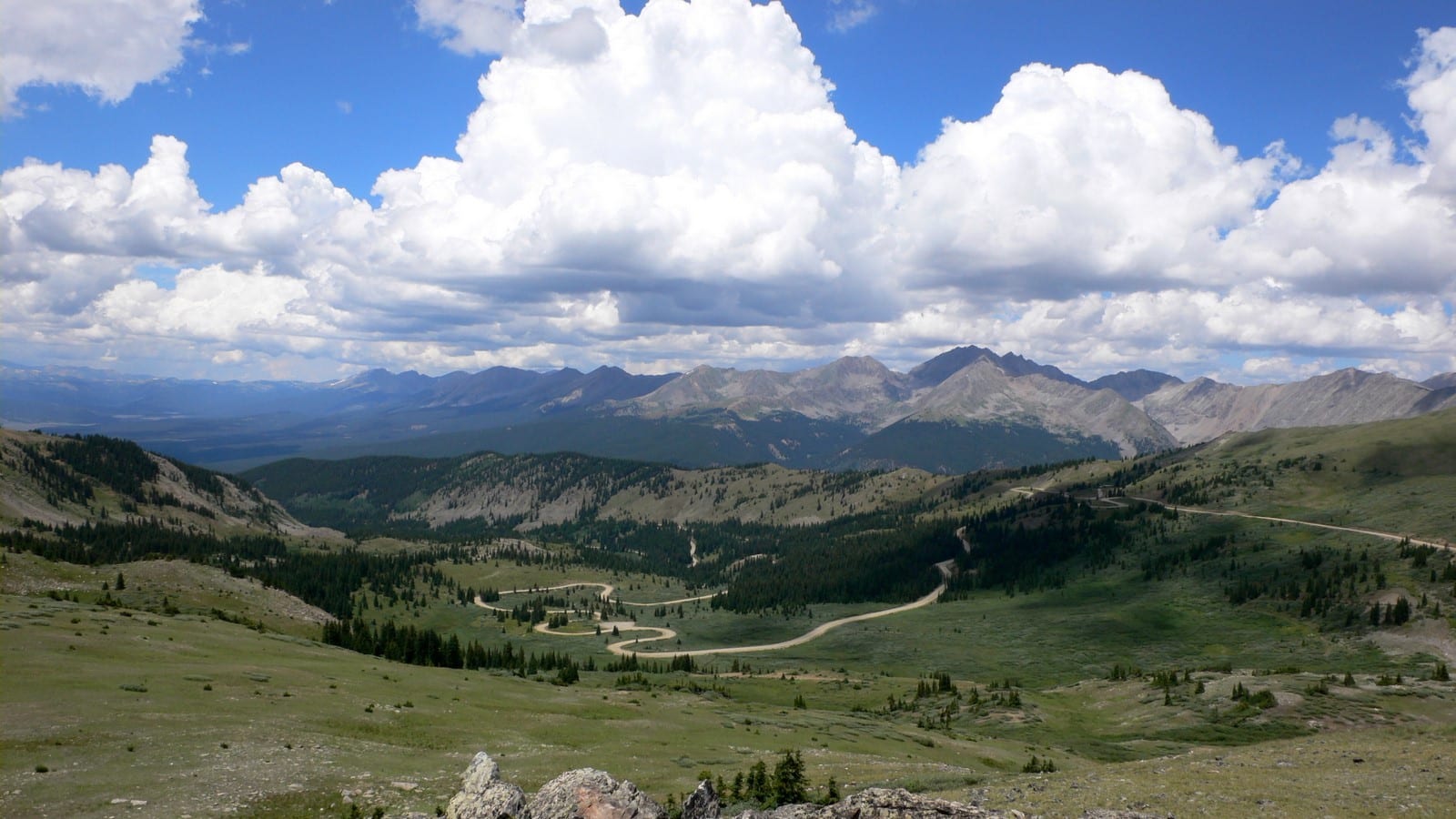 Year round is a relaxing time to visit Chaffee County, home to the Arkansas Riverside towns of Buena Vista (BV) and Salida. Like the rest of the Rockies, late spring through early fall bring you the most flexibility, as all the alpine backroads should be open, such as Cottonwood Pass, which leads over to Almont and Crested Butte. It has both paid campgrounds and dispersed camping not far outside of downtown BV.
At the start of it lies Cottonwood Hot Springs, a locals' favorite and part of the reason why this county is a desired destination in the winter. The tourist's favorite is the much larger resort of Mount Princeton Hot Springs, just south of town in Nathrop's Chalk Creek Canyon.
BV is less than 2.5 hours southwest of Denver on Hwy 285, and an extra 30 minutes south to Salida, which has one of the state's largest historic districts. Plus it's easy to traverse the paved Poncha Pass year round to reach the San Luis Valley with all its treasures and hot springs.
San Luis Valley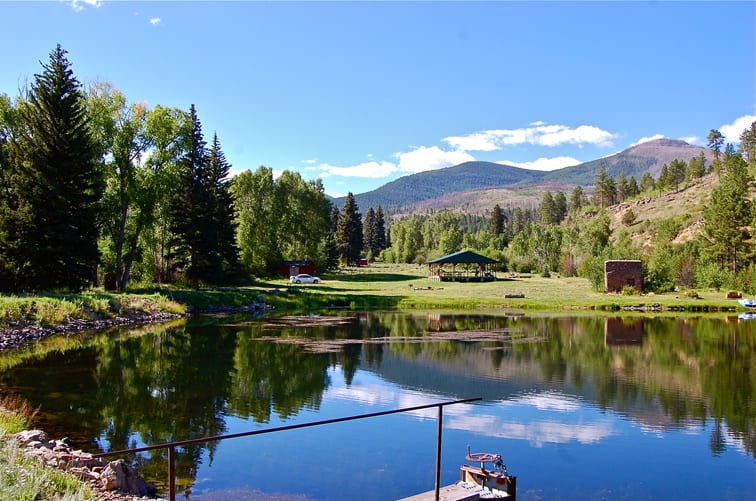 As the largest town in the San Luis Valley (SLV) at around 10,000 people, Alamosa makes the most appropriate basecamp for most. It has all the amenities you should need, including a commercial airport. Plus a range of dining, shopping and lodging options to keep things interesting.
It provides efficient access to both the southern and northern valley, which btw is a huge high desert plain surrounded by very large mountains. The SLV is 3-4 hours southwest of Denver depending on where you go.
Antonito is 30 minutes south of Alamosa, by the New Mexican line. It has a scenic railroad and the oldest church in Colorado. For nature, peace, and off-the-beaten-path allure, stay in or visit Crestone. If winter skiing, stay in South Fork and shred Wolf Creek. The Sangre de Cristos to the east provides one of the most outstanding views in the state. Outdoor recreation abounds in it, and in front of numerous attractions like Zapata Falls and the can't-miss Great Sand Dunes.
To the west lies the continental divide over Wolf Creek Pass. The top hot spring choices are Joyful Journey and Valley View. Both have lodging and camping onsite. Bottom line, the SLV is one of the weirdest, most unique, and most stunning places in all of Colorado.
iv. Western Slope Mountains
Running at a bit of a diagonal in places, the Western Slope is fairly quick to access from across the Front Range Urban Corridor. In a basic rule of sense, the further west you get from Denver and Colorado Springs the less of the masses you will see. The sweet spot is about 2.5+ hours, this puts you away from a comfortable day trip range for most.
Summit County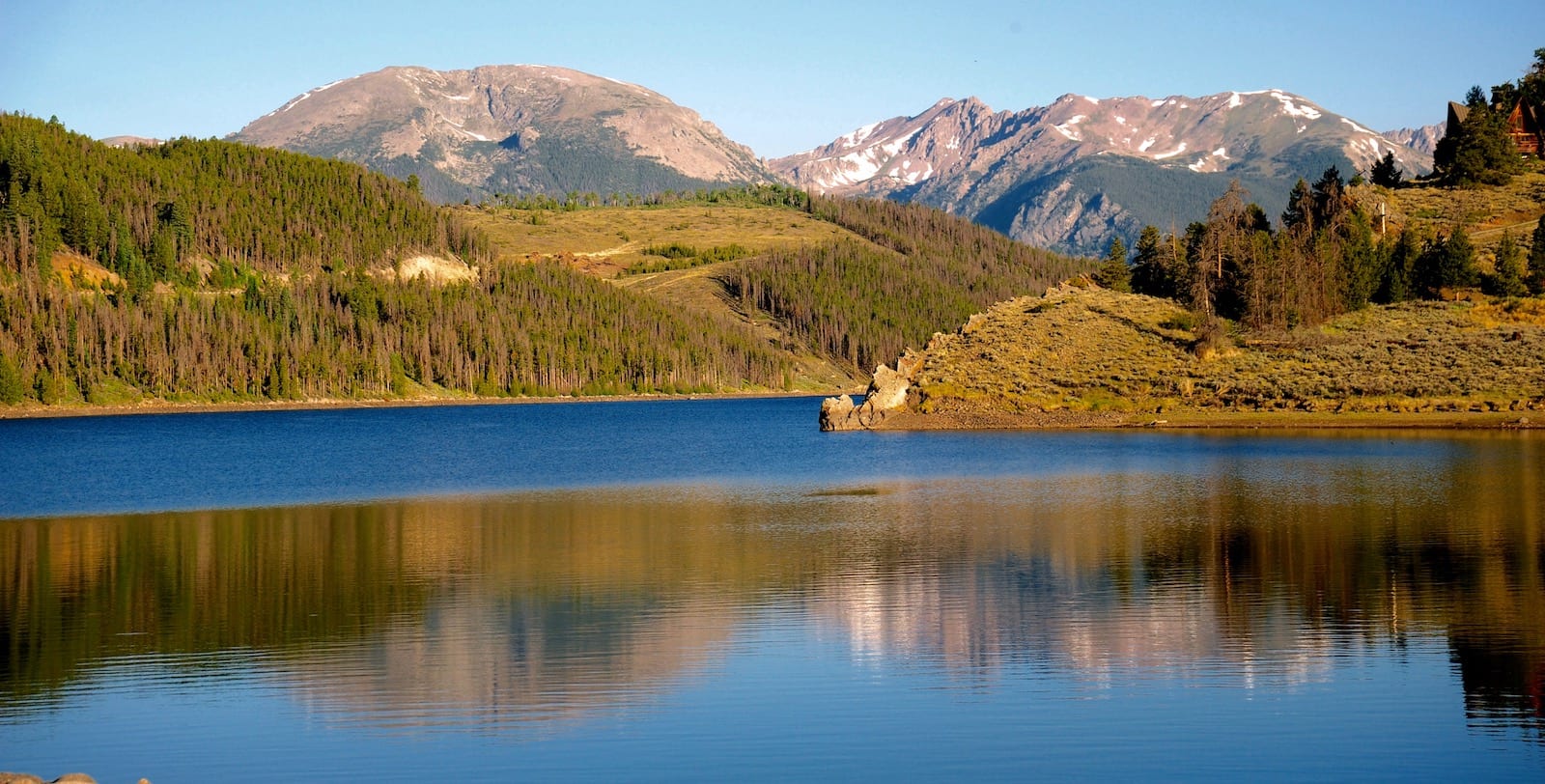 The most popular mountain county and one of the closest to Denver Metro is Summit County. At less than 1.5 hours to reach the majority of the county, it may be surprising that it's technically on the Western Slope. You'll know you pass over (or through) the continental divide when you enter Eisenhower Tunnel via I-70, or over it with a scenic, slight detour switchbacking Loveland Pass on US-6.
People go because of excellent outdoor recreation and convenient urban amenities clashing within a fast day trip of Denver. In summer enjoy the blue waters of Lake Dillon. In the winter, you'll find epic snowmobiling, snowshoeing, snow tubing, ice skating, cross country, and downhill skiing. In fact, there are 4 world-class ski resorts within 30 minutes or less of each other. The notable towns in Summit include:
Grand County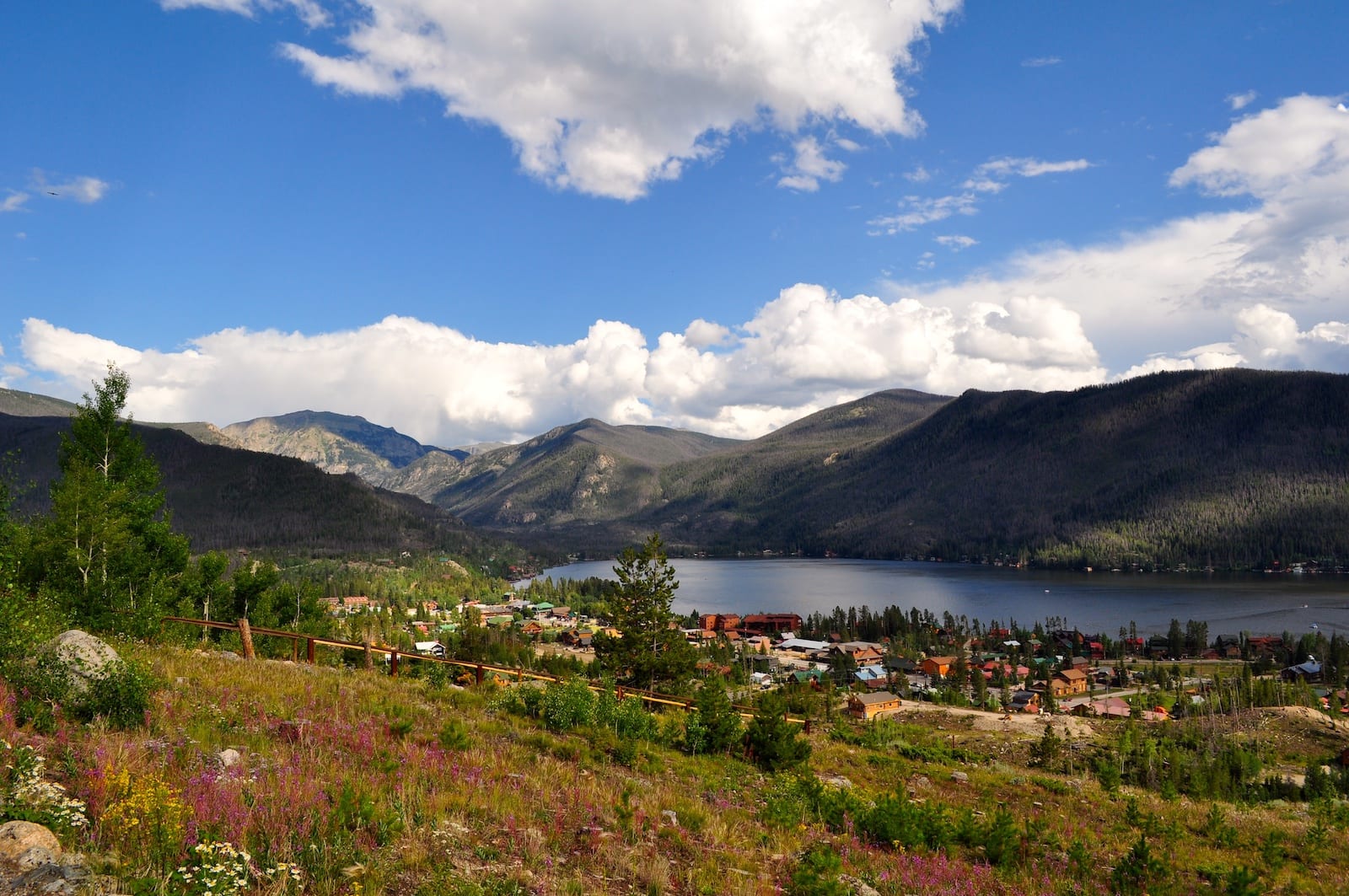 The most direct route from Denver to this county is west on I-70, briefly Highway 40, and slowly up over Berthoud Pass. This drops you into its most well-known town, Winter Park (WP) – home to a big, gnarly, and family-friendly ski resort by the same name. At an hour and a half from Denver, WP makes a quick, affordable, and fun vacation destination in both summer and winter.
Driving 30 minutes north on Highway 40 will put you in Granby, home to another ski area, though noticeably smaller. In the summer there are ample forests to play in, with hiking, biking, camping, off-roading, and fishing commonplace. The quiet county seat of Hot Sulphur Springs is known for its bubbling waters at Hot Sulphur Springs Resort.
Another Grand County gem is Grand Lake, located at the western entrance to RMNP. Walk its rustic boardwalk and sightsee its multiple lakes between town and Granby.
Steamboat Springs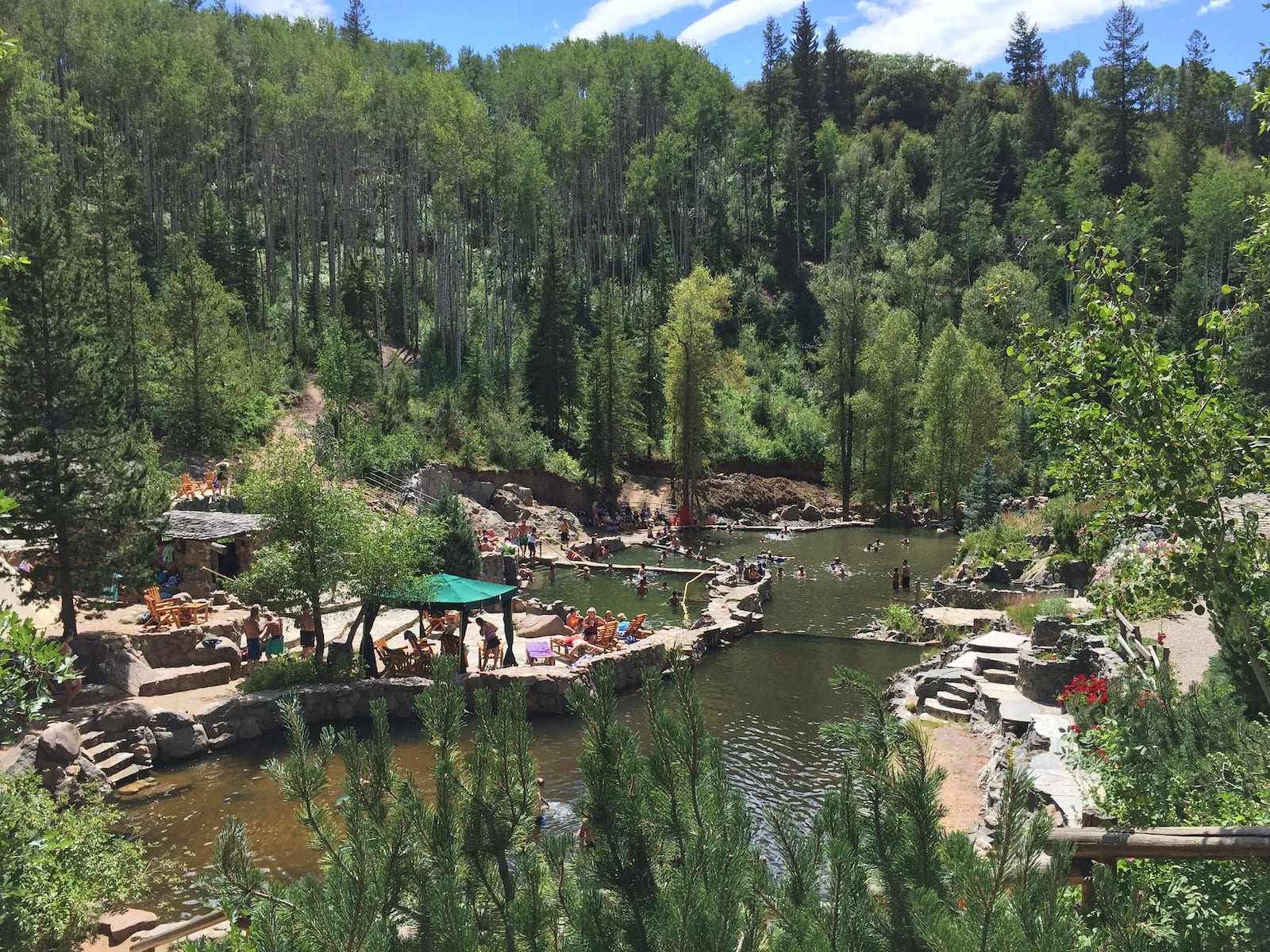 This charming hot springs and ski town is one of the favorites in the state. It lies about 3 hours northwest of Denver, making it ideal for both short and longer trips, but not for hoards of Denver day trippers. Steamboat Springs is an ample-sized community of around 13,200 residents.  You can fly directly into Yampa Valley Airport from Denver daily and other U.S. locations, with added nonstop flights in the winter.
In addition to its namesake ski resort, you'll have snow tubing, ice skating, ice fishing, snowshoeing, and endless outdoor recreation at your fingertips in the Routt National Forest. The resort's Outlaw Mountain Coaster is open both summer and winter. For mental and physical recuperation take a dip at Strawberry Park or Old Town hot springs.
Eagle County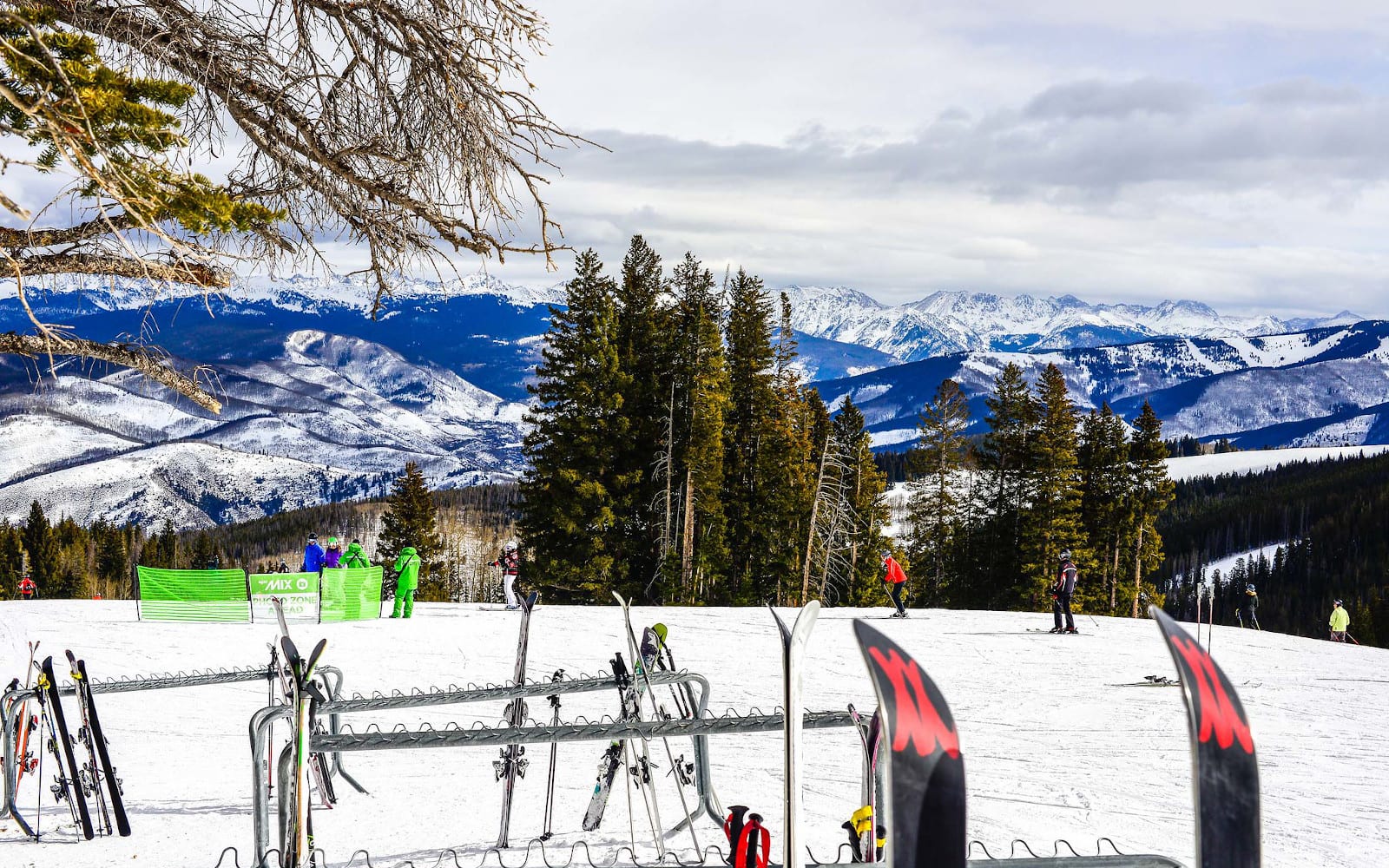 While it lacks the county name recognition of Summit, Eagle features two of Colorado's best ski resorts, Vail and Beaver Creek. Plus it's only a tad further from Denver, at 2-2.5 hours. Home to a 5200+ acre winter playground, Vail is one of the state's most iconic towns. The villages of Vail are modeled after Austria ones. Picturesque as a Disney resort, it's a world-class experience that attracts an international audience.
Another ritzy resort village is Beaver Creek, nestled atop the town of Avon. You can ski its varied terrain, perhaps challenging yourself on the World Cup downhill run, Birds of Prey. Summer brings the usual suspects of outdoor recreation. If you're looking to enjoy the perks of Vail and Beaver Creek, but same some cash, stay in Eagle to the west. In the summer, consider basing at a cabin, yurt, or campsite at the hidden Sylvan Lake.
Roaring Fork Valley
Home to several resort towns, the Roaring Fork Valley is well worth the 3 to 4-hour drive from Denver. At the northern start is Glenwood Springs, home to several nearby hot springs, including the largest hot springs swimming pool in the country. On the opposite end is notorious Aspen. Combined with a neighbor, Snowmass Village, the area has four ski resorts, all on the same lift ticket.
In between, there are a few smaller gems, with the next biggest place to kick it is Carbondale. In the valley the fly fishing is top notch, the skiing is tip top, and the scenery is among the top. You'll enjoy your time here.
Gunnison County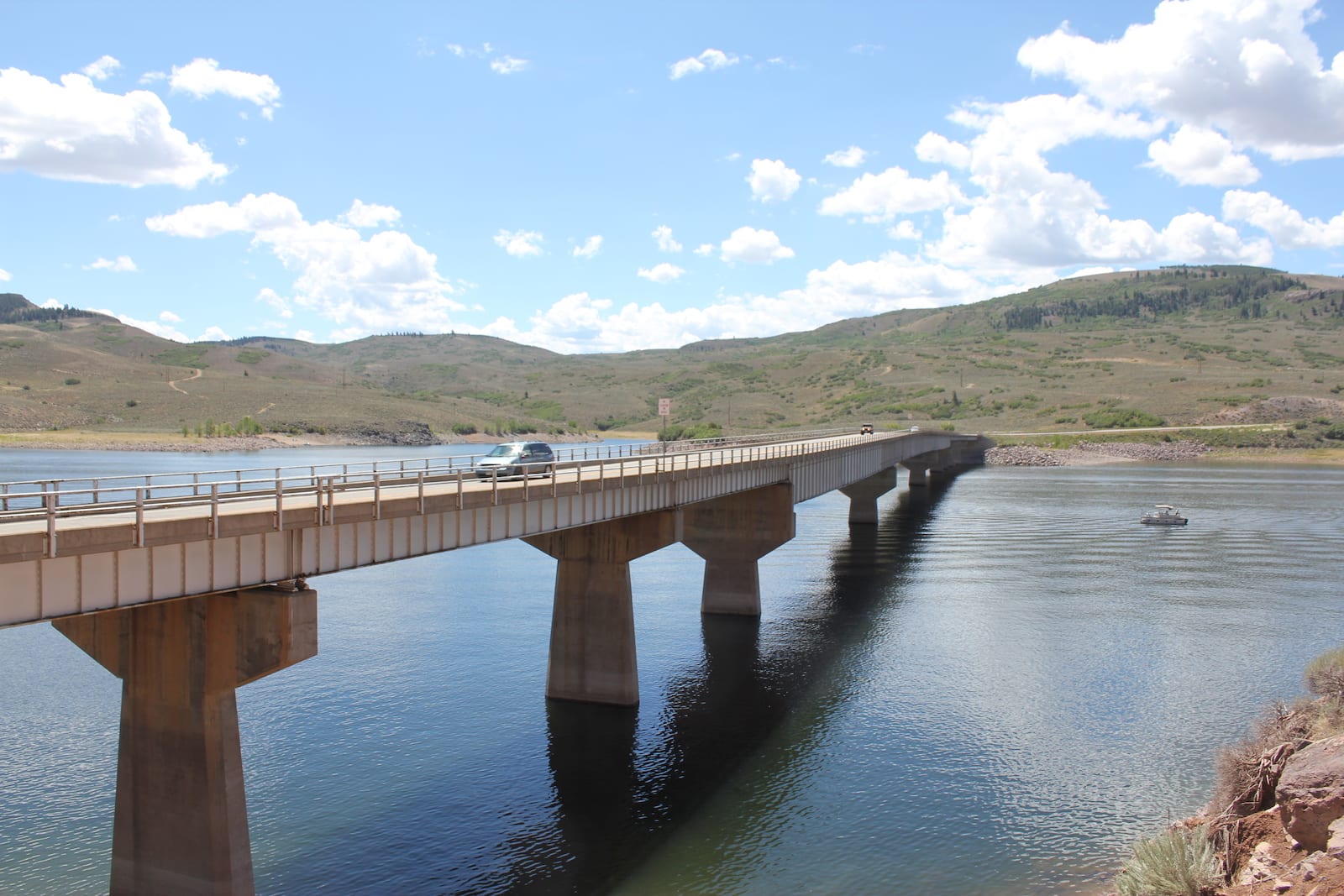 You can simply fly in to the county's airport or enjoy the relatively easy, and stunning 4-5 hour drive southwest of Denver. You'll hit the old frontier town of Gunnison first. It's a bit rougher around the edges than its ski town neighbor, Crested Butte (CB), 30 minutes to the north.
Gunny, as it's known locally, makes for a wonderful summer base for exploring the Blue Mesa Reservoir. It's roughly 23 miles long and provides exceptional boating, fishing, and camping opportunities. Or get further off the highway at Taylor Park Reservoir.
CB is the "wildflower capital of Colorado" and a wonderful place to be in the summer. It's full of outstanding biking and hiking trails., and a resort town that's not as quiet as commercialized (in a good way). Though with Vail buying the ski resort recently, anything can happen. The ski slopes of CB provide nearly 1,600 acres to play on each winter.
Paonia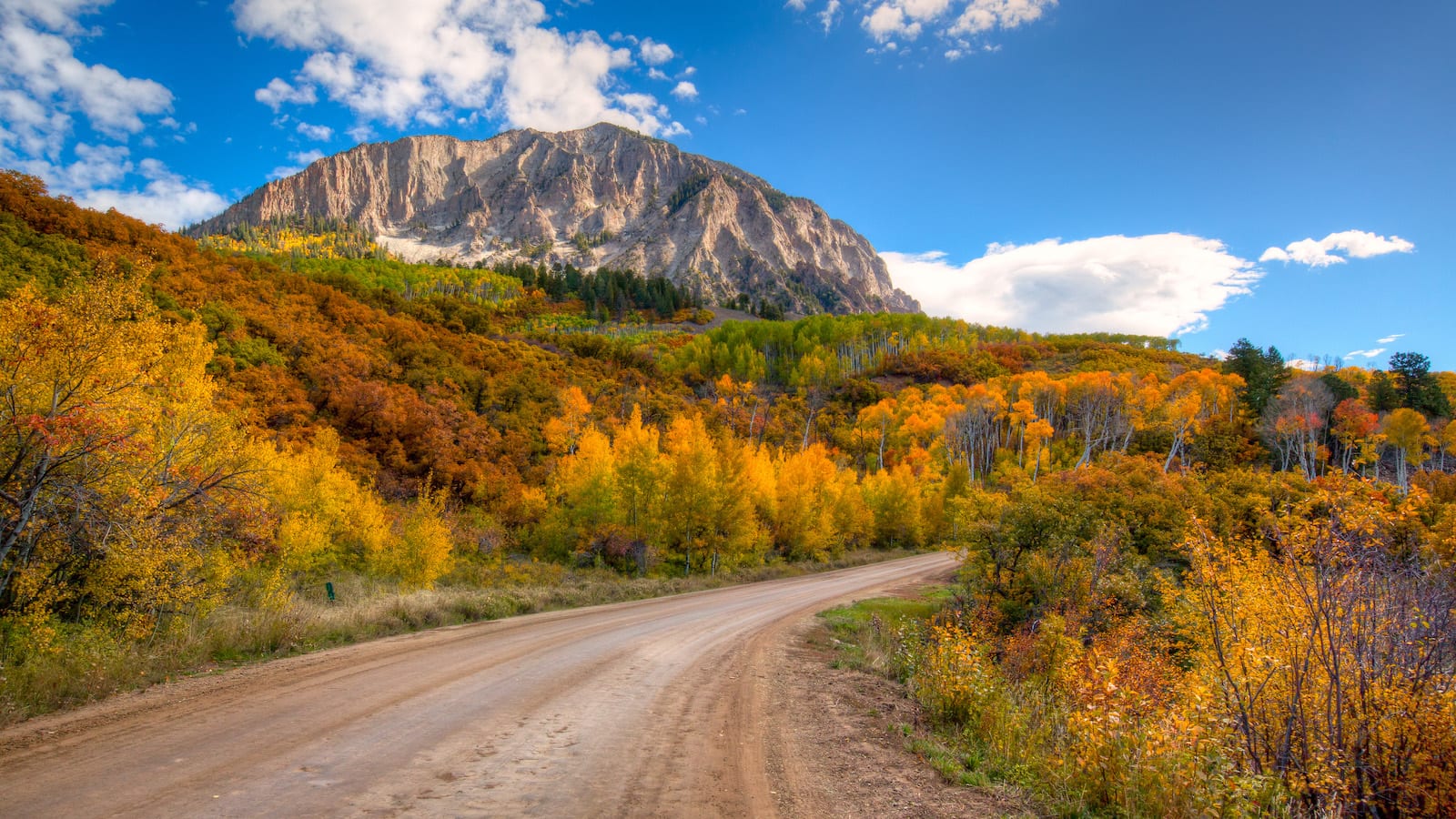 Part of the West Elks AVA, a superb wine-producing region, Paonia is home to several top wineries. The town features year-round beauty in the North Fork River Valley, though it's most special in summer when all its vineyards and wineries are open. It has a nice historic downtown full of quaint businesses. Nestled close to a plethora of nature, hiking and camping are exceptional here.
You can take the seasonal Kebler Pass 30 miles over to Crested Butte, a mouth-dropping drive during autumn.
Visit nearby Hotchkiss or Crawford for additional commercial needs. The Grand Mesa National Forest is close, as is access to the flat topped mountain. You can opt to stay in Cedaredge 30 miles west if you want to be at the base of the Grand Mesa. You'll have fast access to the top of the mountain and all the recreation within.
Silver Thread Byway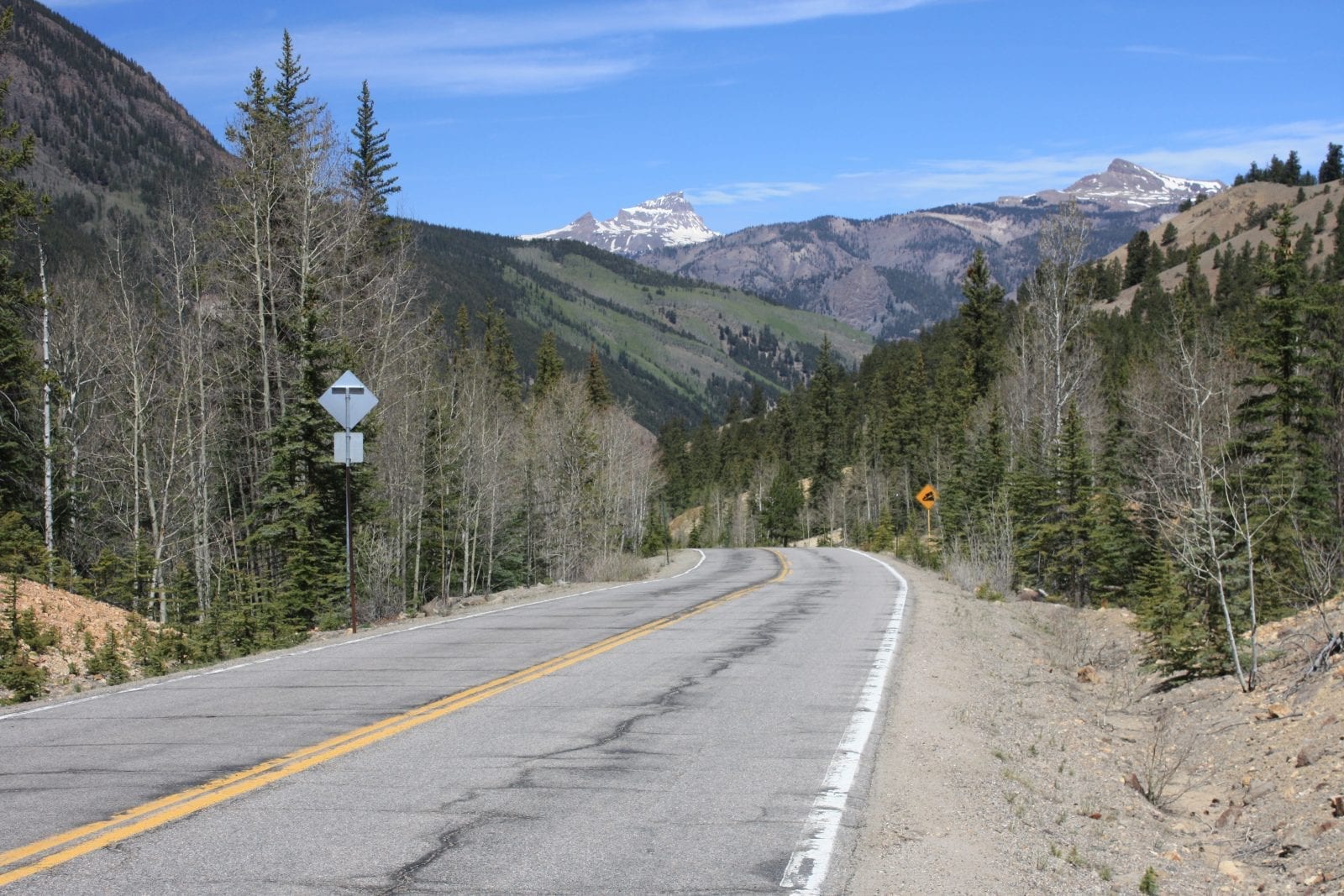 The Silver Thread Byway, Highway 149, is home to a couple of the coolest secluded towns in Colorado. The first you'll reach at 4.5 hours from Denver, an hour south of Gunnison, is Lake City. It connects with the southwest gems of Ouray and Silverton via the 4×4 Alpine Loop, another national scenic byway.
It's a drive you should certainly take if able and you can rent a Jeep in town just for the occasion. Lake City is surrounded by the great outdoors, and therefore its hills are crawling with ATV and snowmobile trails.
The only other real town on the byway is Creede, one hour south of Lake City. You could also start in Creede via South Fork and Highway 160. Creede has among the best mining ruins in the state, with both museums and an auto tour to experience it. In the summer spend an evening at the Creede Repertory Theatre, letting out your cultural side in the Rockies.
v. Western Slope Plateau
The far western slope resides in the physiographic province of the Colorado Plateau (shown on the map at the top). Most of the time when people are referring to the western slope, they are referring to Grand Junction and the towns south on Highway 550. This region is still mountainous but lacks the tallest peaks found in the Southern Rocky Mountains physiographic province.
Dinosaur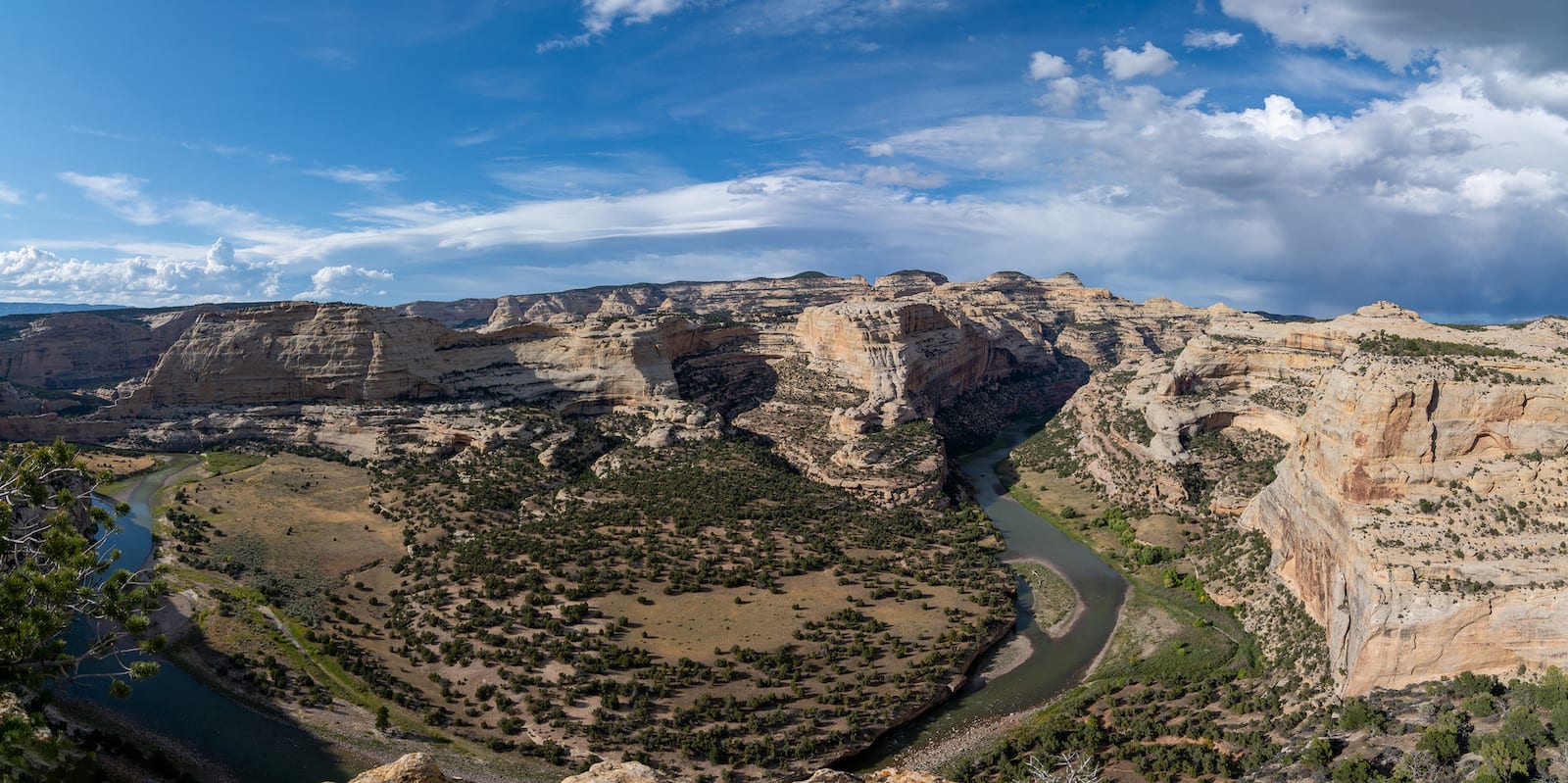 Near Colorado's northwest corner, on the border with Utah, Dinosaur is a tiny, tiny town. It's named after and home to the eastern side of Dinosaur National Monument, which stretches west into Vernal, Utah. While Vernal makes the best basecamp for exploring the monument, we're a Colorado travel guide, so go to utah.com for that.
In addition to great hiking, biking, camping, and auto tours, the Dinosaur National Monument is a Dark Sky Community, perfect for evening stargazing.
Twenty minutes southeast of Dinosaur, Rangely is the better of two local towns for a basecamp. This rugged, western community in Colorado's oil country, has more resources and amenities suitable for a family vacation. Though either way, you are really getting away from the crowds by visiting Northwest Colorado.
Consider stopping by Juniper Hot Springs in Lay, CO, on the drive in or out from the front range. It's an hour east of Dinosaur.
Rifle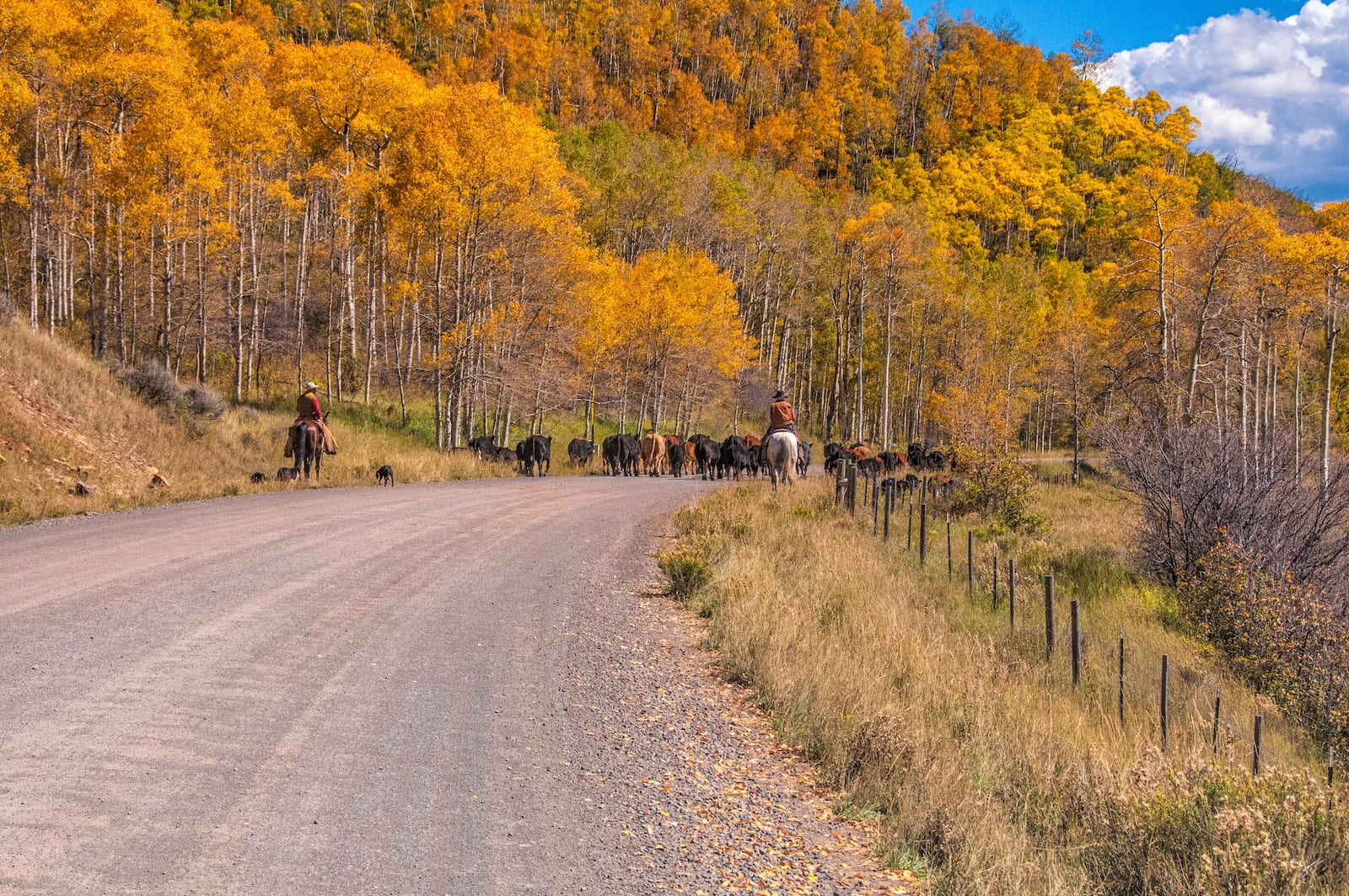 Thirty minutes west of Glenwood Springs and also part of Garfield County, Rifle is an outdoorsman town. Boating, hunting, fishing, hiking, and camping, are all prime here. Three state parks reside in Rifle, all with different features, from boating and fishing, to cave exploration, waterfalls, and turquoise waters. Visit them all: Rifle Gap, Rifle Falls and Harvey Gap.
It's got a small but noticeable downtown area, as well as most of the common chains, like fast food and Walmart.
Forty-five minutes north of town is Meeker. While this secluded mountain town may seem sleepy, it marks the western start of the Flat Tops Trail. It's a 2WD national scenic byway best suited for summer. It connects with Yampa on the other side, just south of Steamboat Springs. Fishing, hiking, and camping are found the whole way.
Mesa County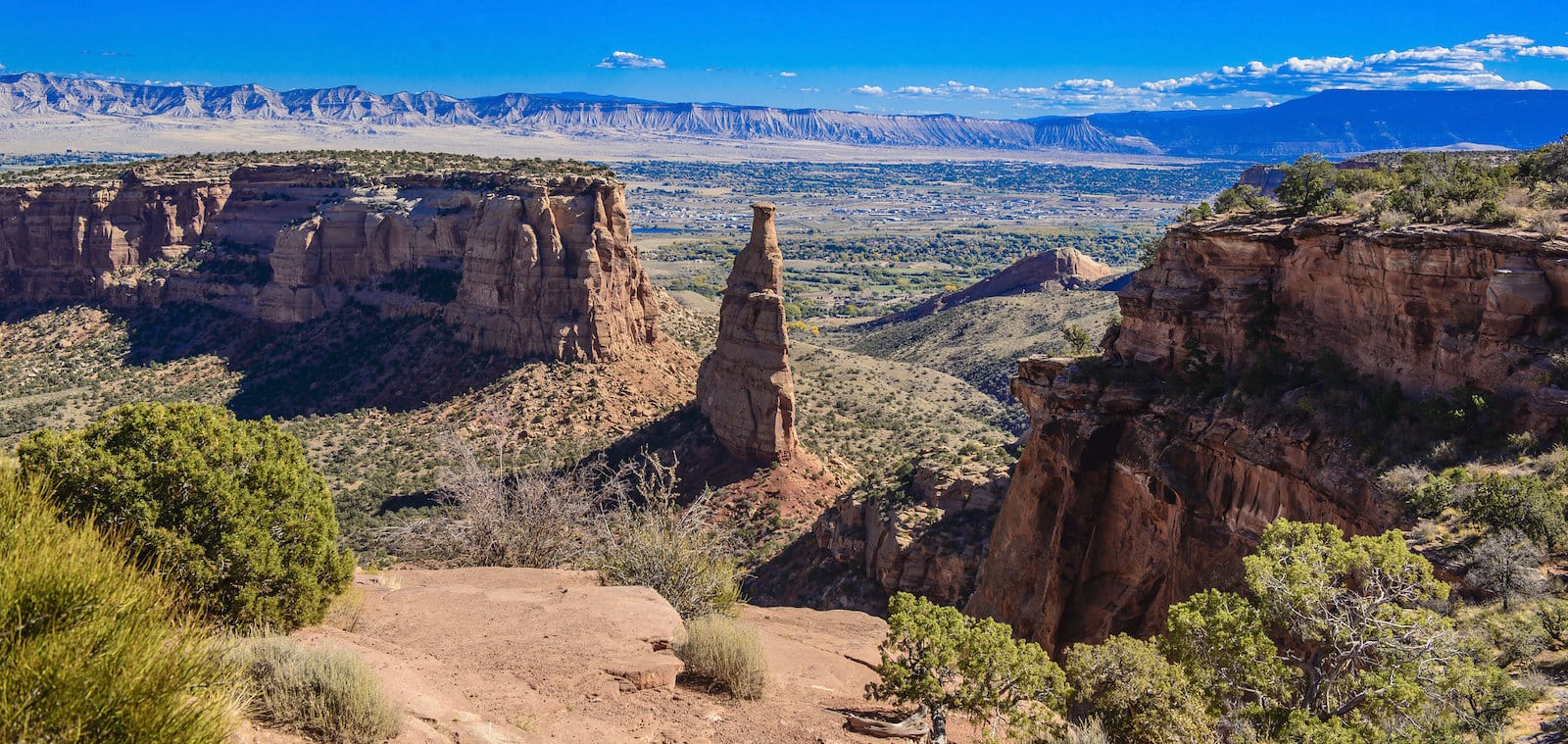 On a good day, you can be in the Western Slope's largest mountain town of 63,000+, Grand Junction (GJ), in four hours from Denver aboard I-70 the whole route. If you're into dirt and mountain biking, this area is loaded with trails all of the sort. It has a big downtown area, which enjoys views of Colorado National Monument.
This unbelievable natural landmark connects GJ's western neighbor, Fruita, via a scenic year-round drive.
GJ's eastern neighbor, and perhaps suburb, is Palisade. You may have heard of this town for its delectable peaches or wine vineyards. Together with GJ they reside in the Grand Valley AVA, one of Colorado's two designated American Viticultural Areas. As the county name implies, this part of the state is noted for its mesas. The king of which is Grand Mesa.
You can start driving on the Grand Mesa Byway in 30 minutes from town. You can journey the 63-mile scenic highway year round. In the winter be on the slopes of Powderhorn Mountain Resort in less than 45 minutes from Grand Junction.
Black Canyon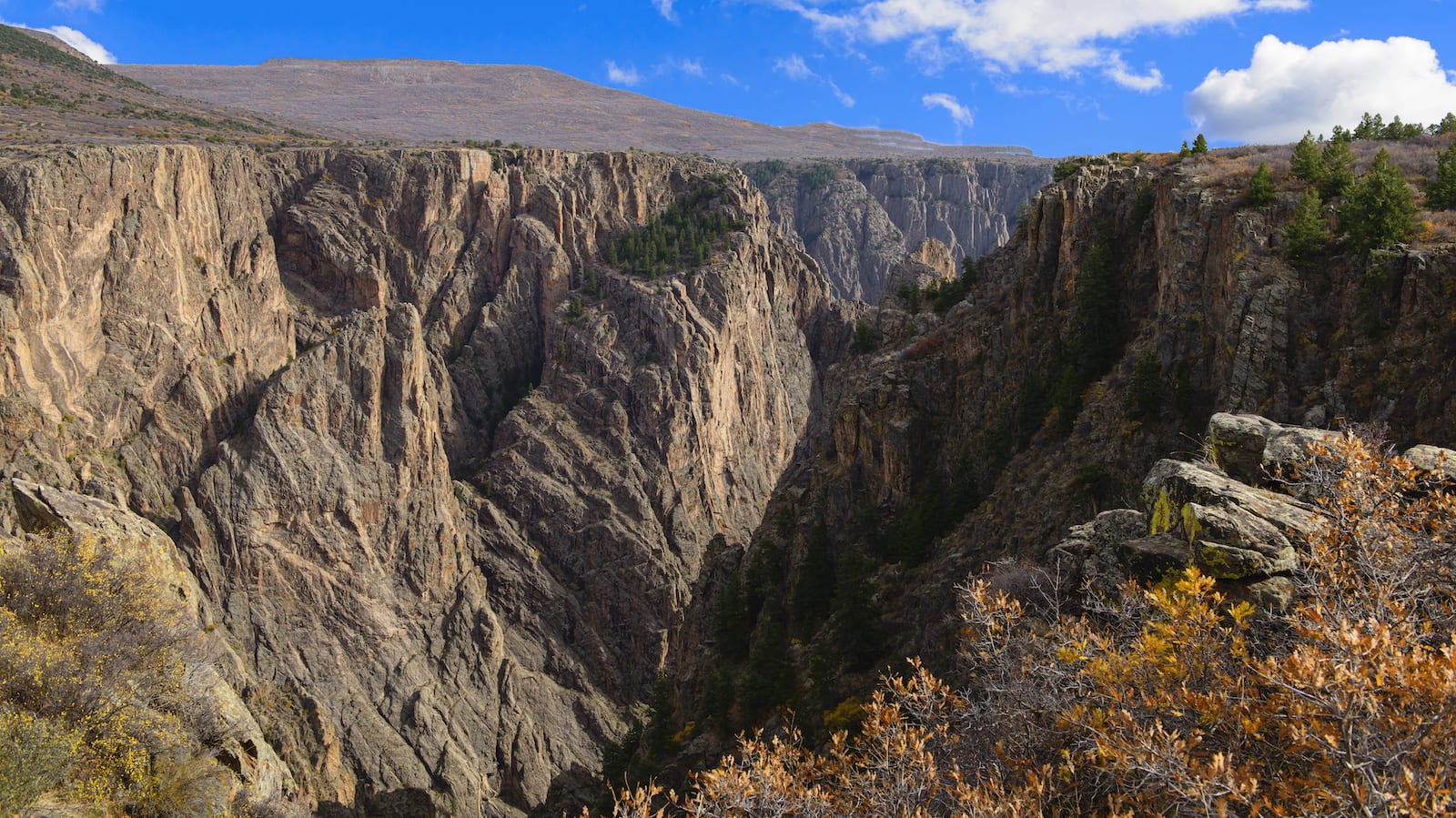 Heading south of GJ on Highway 550 you'll first come to Delta. It has a laid-back personality, with a large historic downtown. It makes a good base for exploring the north rim of the Black Canyon of the Gunnison, 40 miles east. You'll enjoy remarkable sunsets from town. You could also base very close to it Crawford, mentioned above under Paonia.
Nearly 30 minutes south of Delta on Highway 550 is Montrose. If you're looking to discover the most popular side of Black Canyon, the south rim, base here. Like Delta, life here moves a bit slower, which should be a good thing for most. There are numerous restaurants, shops, and hotels between the two towns.
Another 30 minutes south on Highway 550 lies Ridgway. This smaller community features stunning views of the start of the San Juan Mountains, along with a big state park by the same name. It also has a clothing-optional hot spring called Orvis and is only 45 minutes to the slopes in Telluride.
vi. Southwestern Slope
Southwest Colorado is well known for its stunning landmarks, both natural and manmade. The San Juan Mountains are some of the state's steepest, giving one town here a Swiss nickname. It also showcases some of the best archeology in the country, in the form of Ancient Puebloan villages.
There are Native American reservations in the southwest, which house two Native casinos. Although a far drive from Denver, at 5-7 hours depending on destination and season, it's worth the trip.
Pagosa Springs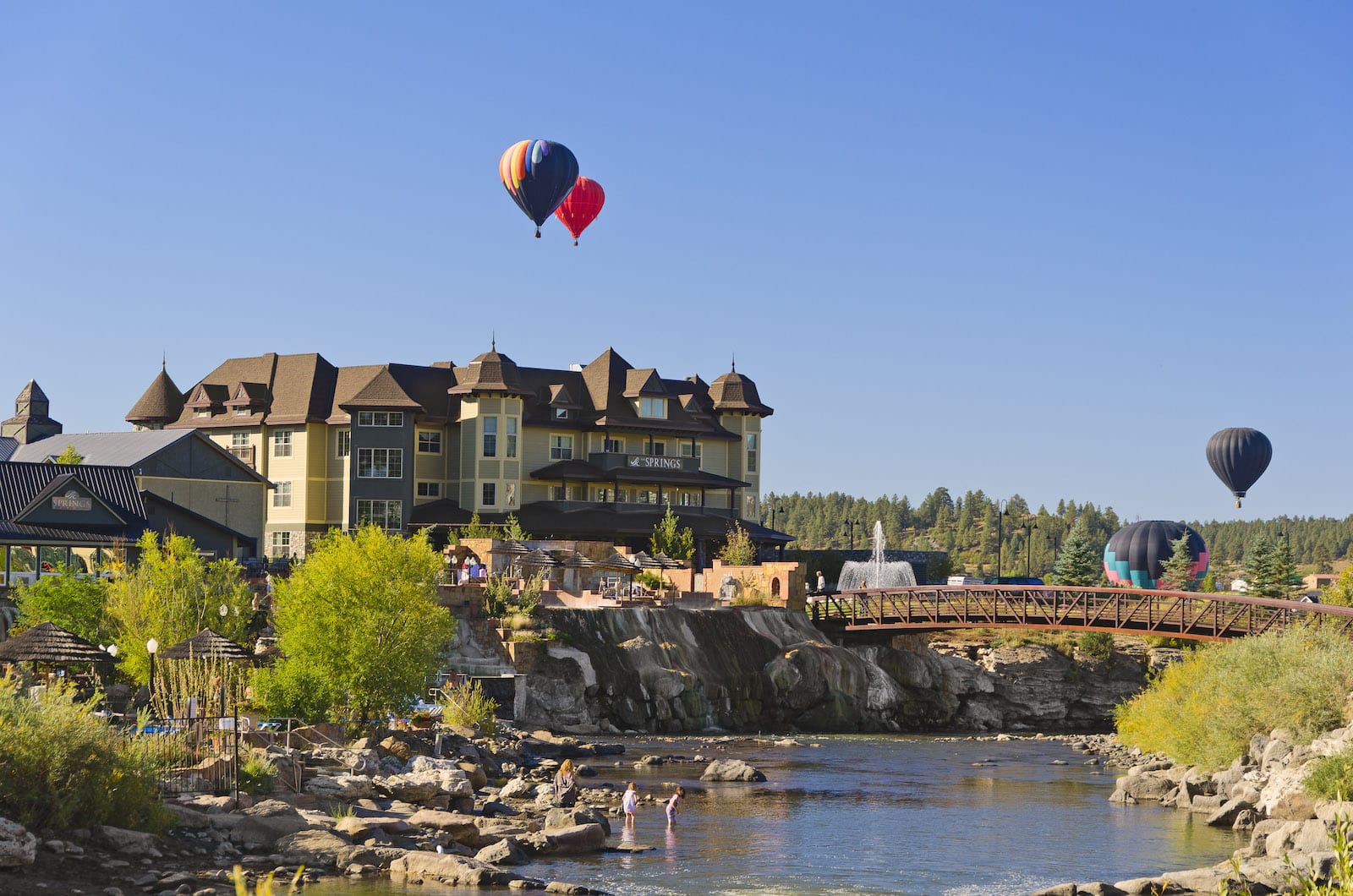 Thanks to the deepest hot springs in the world, Pagosa Springs makes a fine vacation spot year round. The most developed and premiere hot spring in town is The Springs Resort. It features over 20 pools and an onsite, upscale hotel. Another more affordable hotel/hot springs option, but less scenic, is the Healing Waters Resort.
It has fewer pools for soaking but can get the job done, especially with an onsite spa. Lastly, with no onsite accommodations, is the locals' favorite, Overlook Hot Springs. Its rooftop pool has great views of the San Juan River throughout town.
Pagosa Springs is a tad secluded, as it's an hour west to Durango and an hour east to South Fork. However, like Steamboat Springs, it has everything for an adrenaline-filled itinerary. Go snowboarding at Wolf Creek Ski Area, about 30 minutes east of town. There's dog sledding in town via San Juan Sled Dogs.
In summer hike, camp, and fish at William Creek Reservoir tucked away in the woods under an hour north of town.
Durango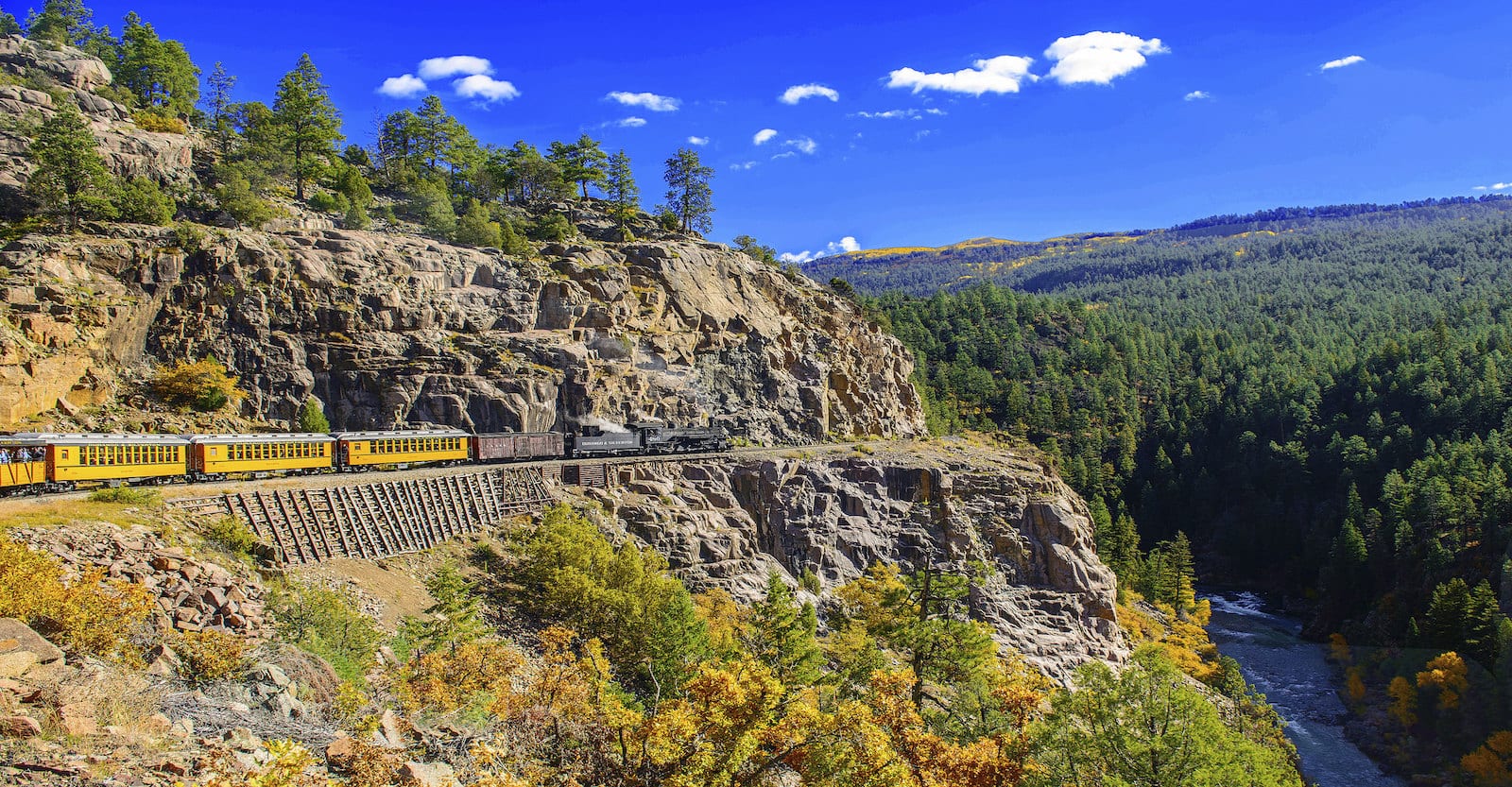 Probably the largest mountain town and a hub for the southwest, Durango is an Old West gem. It recorded nearly 20,000 residents in 2020. Thanks to its famous narrow gauge railroad it attracts travelers from all over the globe. This train ride goes roundtrip up to Silverton and back.
The downtown historic district is spectacular, lined with fun shops, restaurants, and hotels. Nature is close by, so great hiking and biking are everywhere.
In the winter save money and keep the thrills high at Purgatory Mountain. Their rolling ski slopes are terrific for all ages and levels. Absolute newbies can get started for low costs at Chapman Hill, a mini municipally-run ski area. Both beginners and experts will find affordable terrain at Ski Hesperus, home to the biggest night skiing in the Southwest.
There's also a thermal springs spa in town, the Durango Hot Springs Resort. Recharge your muscles and mind during your La Plata County vacation.
Cortez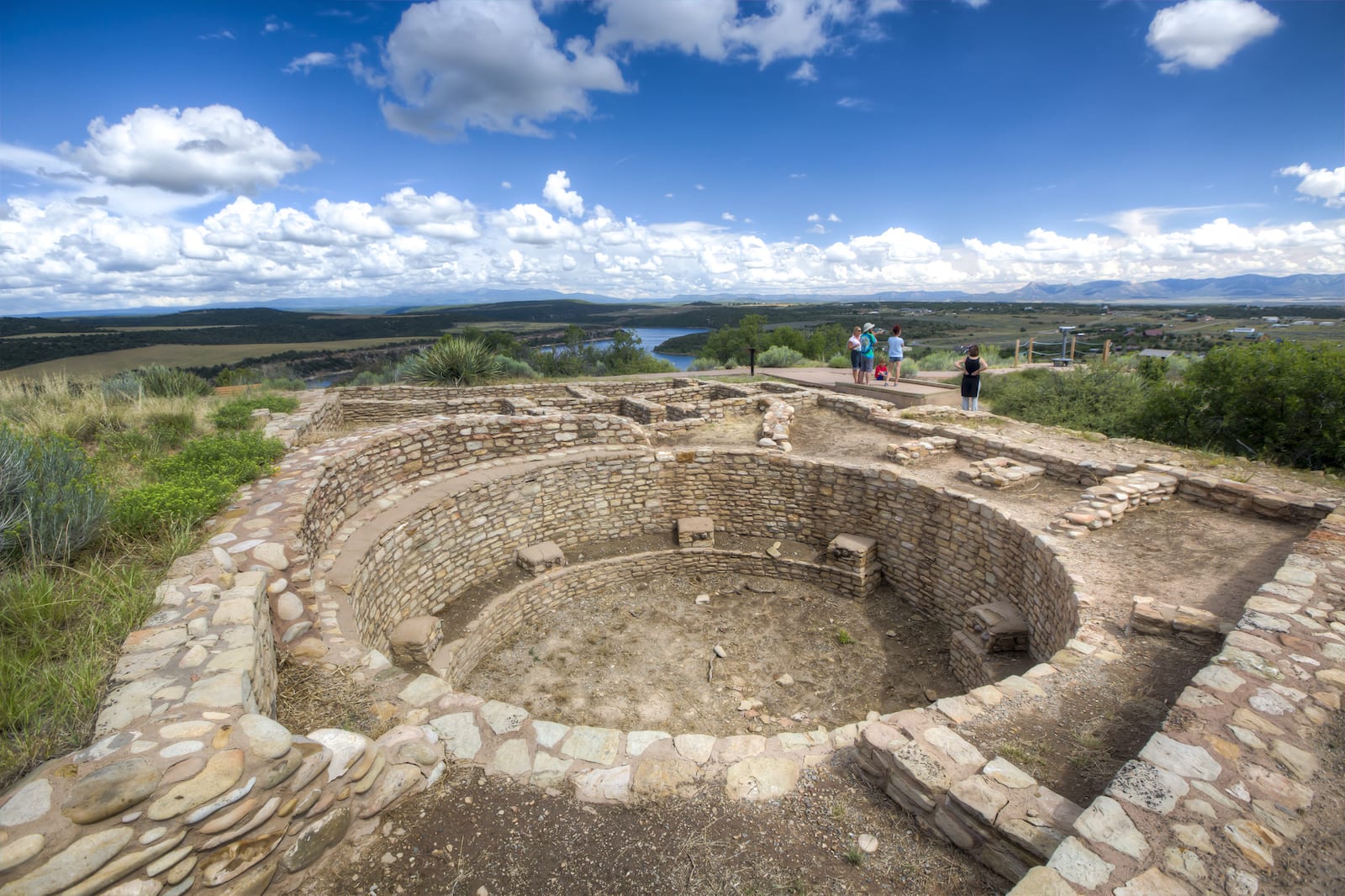 The most southwestern city of note in Colorado is Cortez, a population of about 8,700. From here it's less than 45 minutes southwest to the Four Corners Monument, where you be in four states at once. At this to your bucket list and then cross it off. There you can shop for reasonably priced arts and crafts made by the local Natives.
Cortez has a decently sized downtown area, with enough of what you need for a vacation. Though it's not as bustling as Durango, an hour east. For a charming small town consider Dolores, only 15 minutes northeast. It's a touch closer to nature making it all the more scenic. Both towns provide fast access to the area's archeological sites.
Those without pets in tow, visit the famed Mesa Verde. Dogs are not permitted on most of the trails here. On the flip side, two nearby national monuments, Canyons of the Ancients and Hovenweep, both permit dogs on trails and showcase amazing cliff dwellings and Anasazi ruins.
Telluride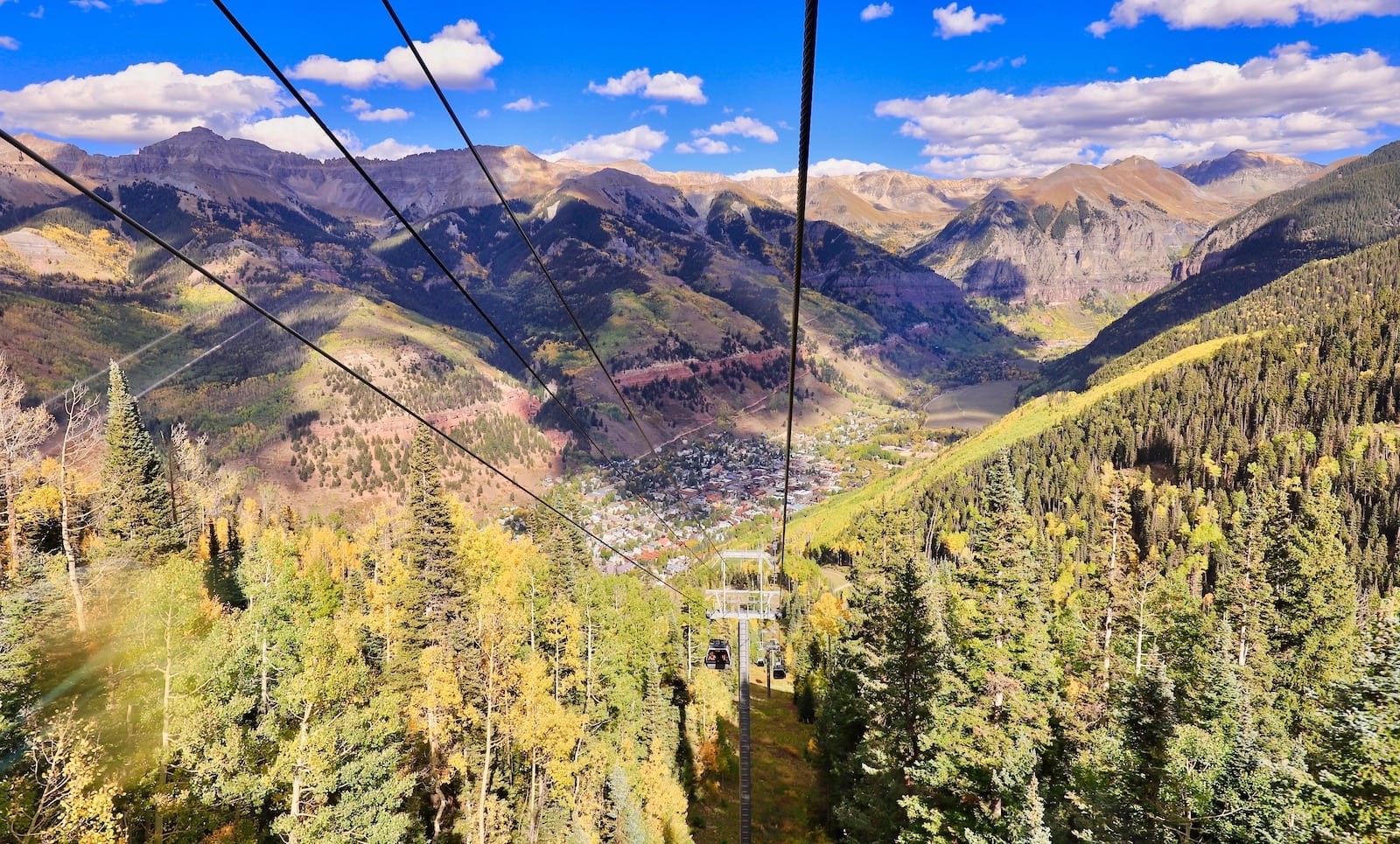 Tucked away in a beautiful box canyon, Telluride is a year-round gem. Nature is so close in all directions, it's easy to see why so many love it here. The downtown area is lined with colorful businesses, plus there's another resort town called Mountain Village. A free daily gondola ride connects the two towns, though most consider them one entity.
The in-town Telluride Ski Resort is a winter (and summer) playground. In the winter, the ski slopes are among the best in Colorado. In the summer, the resort features a lift-served bike park. Add that to the myriad of hiking trails, some of which view wonderful waterfalls, like Bear Creek, Bridal Veil, Cornet Creek, and Mystic Falls, and you will love it here too.
On top of all that, Telluride is the unofficial festival capital, with nearly something special always going on.
Million Dollar Highway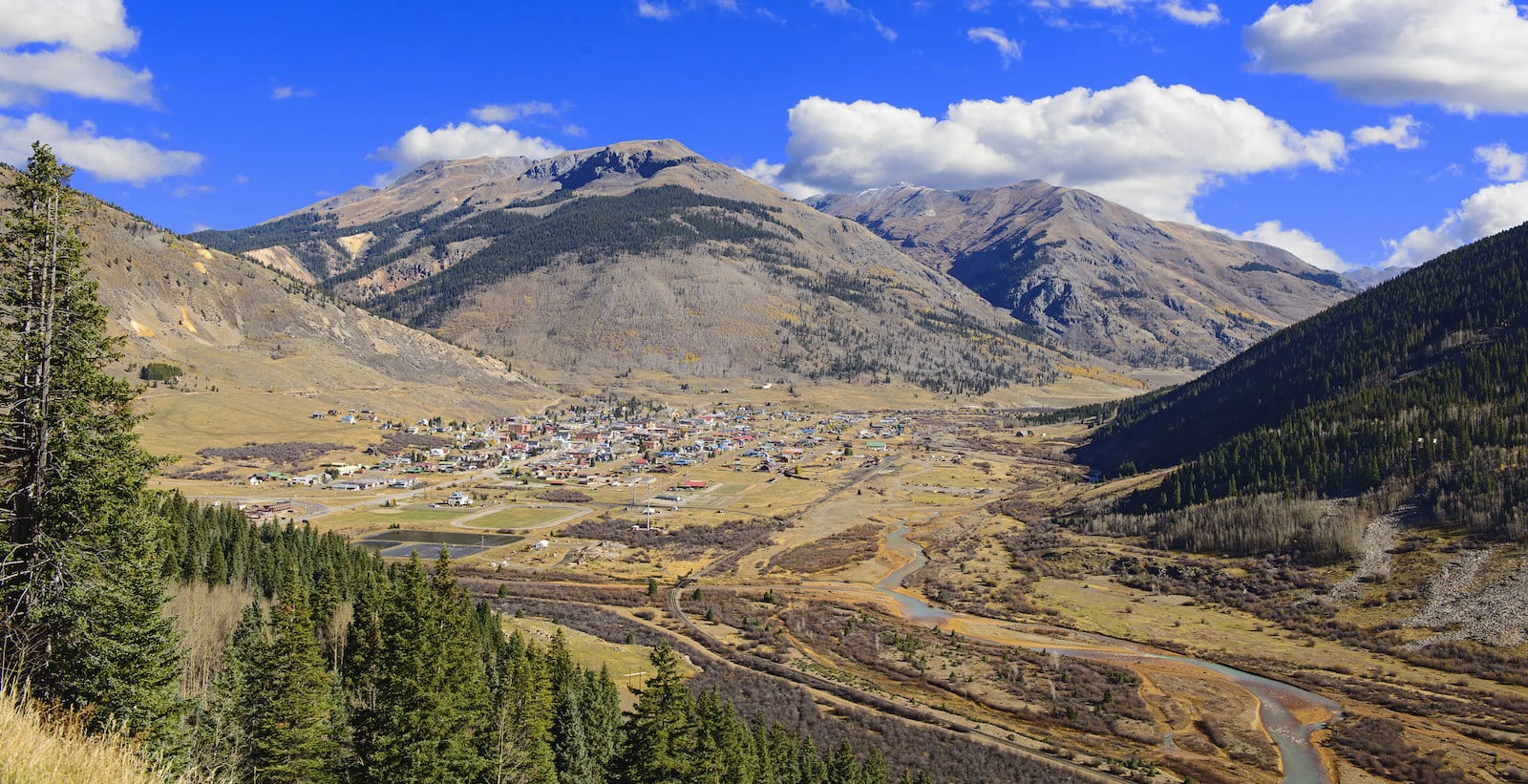 Last on our list, and certainly not list, is the rich-sounding Million Dollar Highway. This magnificent stretch of Highway 550 connects two mountain towns. It's part of the overall San Juan Skyway, which loops Durango, Cortez, Telluride, and these two towns. The northern one is Ouray.
The "Switzerland of America" is surrounded by steep mountains and outdoor recreation. The main draw though is its hot springs. The most frequented is the Ouray Hot Springs Pool.
The southern town on the Million Dollar Highway is Silverton. Like Ouray, wooded recreation is in all directions. It connects with Ouray via the 4×4 Alpine Loop, mentioned above under Lake City. This nifty town is quite secluded and therefore quiet most of the year.
It attracts some of the best skiers and snowboarders to its expert-only slopes at Silverton Mountain. Winter sports more suited for the family can be found at Kendall Mountain, including a tiny ski hill, ice skating rink, and Nordic trails.
Thanks for checking out our roundup of Colorado vacation destinations. They all feature something special and plenty to do. You're sure to find one that's suitable for your desired itinerary. And you can always just wing it!