You can hike pretty much anywhere in Colorado, as it's all pretty scenic. Some hikes lead you to the top of a snowy peak or through alpine valleys, while some pass spooky ghost towns and secluded hot springs. Read our hiking blog.
Hiking trails in Colorado
There are literally too many hiking trails in the state to name. Every city, state and national park has at least one, and that's only a small fraction of what's located throughout public land. Below are longer hikes, which can be done in sections as a day hike, or multi-day trek.
National recreation trails in Colorado
There are 34 federally-designated national recreation trails in Colorado. Two of them reside within the Rocky Mountain Arsenal NWR. See list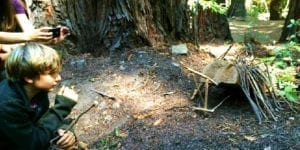 Wilderness Survival Training Adventure for Two - 70% off (affiliate) - Based in Colorado, with locations near Denver, Boulder and Durango, SERE Training School provides world-wide outdoor survival training and consulting services to civilians, outdoor...
Where else to hike in Colorado
Public Lands
City and county parks provide an easy opportunity for a relaxing trek. National parks and monuments are great places to hike. All state parks offer a chance to stretch your legs and walk around. Most towns show nearby hiking trails.
Guide to hiking in Colorado
Colorado is a hiker's paradise. From jagged 14,000 foot peaks to rolling forest hills, you can find it here. Remember to adjust for the elevation and prepare properly.
Summer is the most popular time of year to hike. The spring snow has had a chance to melt off the trails by June, and locals' and tourists hit the trails. Afternoon thunderstorms are most common in June and July, so always start your hike early, and turn back if you see signs of a storm rolling in.
Two of the most notable, long-distance hiking trails in Colorado:
Colorado Trail – 486 mile trail from Waterton Canyon in Littleton to Durango; built by mostly volunteers, this outstanding route connects the foothills, near Chatfield Reservoir with Southwest Colorado. It passes through 7 national forests, 6 wilderness areas, and 5 major river systems.
Continental Divide Trail – 3,100 mile national trail through the Rockies from Canada to Mexico. It passes through Colorado for approximately 800 miles. It crosses paths with the Colorado Trail several times.
What to pack
Depending on the hike length and difficulty, gear needs change. On a short, quarter-mile hike, you'll probably be fine with running shoes and a t-shirt. On longer treks though, you'll need to pack smarter.
Always dress in layers so you can remove longer-sleeves while you hike uphill and add them on again when you need them. It's smart to have a lightweight rain-jacket that you can compress inside your pack. It can double as a layer of warmth when needed. Most importantly, bring a friend, and tell someone else where you're going and when you expect to be back.
Here's are a basic hiking checklist:
Hat and sunglasses
Water and food
Knife, compass, map
Camera, cell phone
Sunscreen, lip balm
Poncho or rain gear – a heavy duty garbage bag is excellent
Cold weather gear – gloves, jacket, pants
Weatherproof matches and fire starter
Flash light and spare batteries
First aid kit
Waterproof zip-lock bags for select items
Featured hiking blog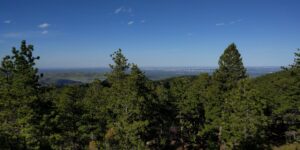 5 Incredible Day Hikes close to Denver – Imagine undertaking an incredible adventure hiking down the paths of the Rockies with the omnipresent blue sky, the whispers of the wildflower meadows, the ripples of the alpine lakes and the silence of the breathtaking…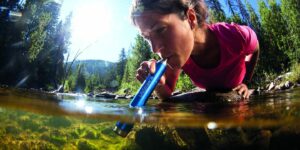 3 Life-Saving Gadgets to Take with You Hiking – The weather will go from "frightful" to "delightful", with ice and snow giving way to fresh green grass and flowers everywhere – the perfect weather to go on a hike. The mountains are wonderful in spring…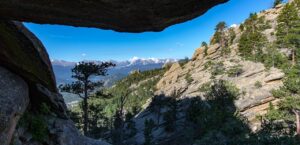 5 Fantastic Colorado Day Hikes Under 5 Miles – Colorado is a world renowned destination for all kinds of tourists and adventurers looking to experience the great outdoors. If it's going to be your first time visiting this Rocky Mountain state…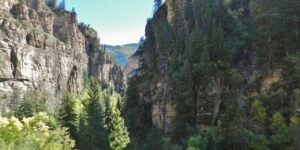 Hiking along Hanging Lake Trail – One mile up within the rugged terrain of Glenwood Canyon lies the Hanging Lake. This National Natural Landmark is a geologic wonder: waterfalls that spill into a crystal turquoise lake suspended on the edge of a cliff…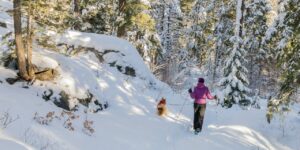 Snowshoeing Vallecito Creek Trail, The Weminuche Wilderness – You don't have to give up hiking or long walks in the woods just because there's a foot or two of snow outside. In fact, having a foot or two of snow is a great opportunity to experience the quiet…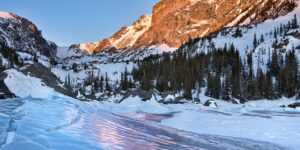 Spend a Day Snowshoeing at 10 Amazing Spot – There are plenty of ways to enjoy the great outdoors during the winter, but they're not always affordable or accessible. You can find a good pair of brand new snowshoes for about $100, or peruse the local Craigslist ads…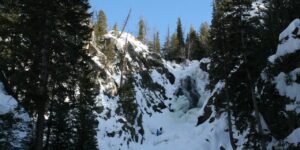 Winter Walk to Steamboat's Fish Creek Falls – Steamboat Springs is well known throughout Colorado for its champagne powder skiing, natural hot springs and sensational shopping & dining. Over the winter months, most travelers miss out on the opportunity…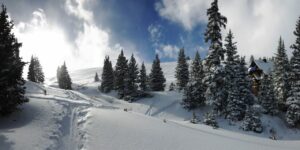 Adventure Year Round to a 10th Mountain Backcountry Hut – Plan your next mountain adventure with the 10th Mountain Division Hut Association. Choose from 34 backcountry huts connected by over 350 miles of trails accessible to hikers, mountain bikers…

Exploring the Springs' Garden of the Gods – Colorado is known for being a winter destination, but there's more to the state than epic ski slopes. Explorers, skiers, and snow-lovers in general flock to the state…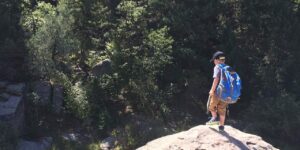 Get Down In The Canyon At Castlewood Canyon State Park – When people come to visit Colorado, they immediately head for the Rockies or spend their days scouring Denver for locally sourced delicacies that just can't be found in other cities across the…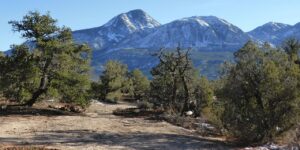 Snow-free Winter Hike on Sand Canyon Trail – When you need a break from snow and ice, try the red rock of McElmo Canyon and the Sand Canyon Trail in southwestern Colorado. The lower part of this trail in Canyons of the Ancients National Monument offers…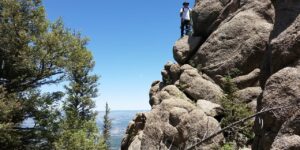 5 Dazzling Hikes around Colorado Springs
– The natural beauty of Colorado Springs invited explorers to the base of Pike's Peak in the early 1800s, and it has been a hub for those who relish the outdoors ever since. Hikers rejoice in the many, many trails…
Some hiking related activities
Most of the activities on this site can be combined with hiking in some way. At the end of the day, a campsite is a wonderful place to unwind. Some hikes lead to remote fishing gems, while others begin by them. Many of the snow fueled waterfalls require a short hike to reach.